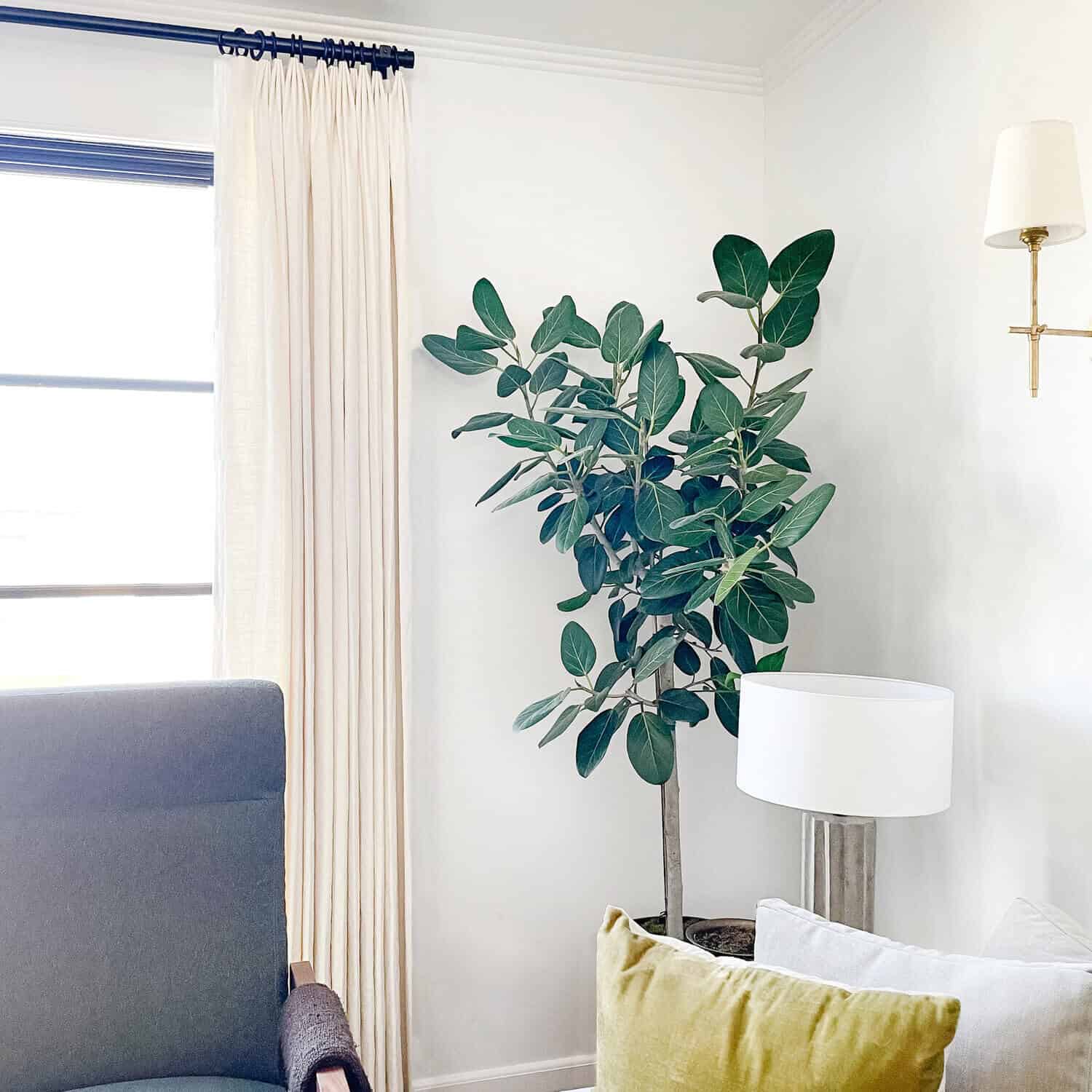 Okay, can we just talk for a second about another significant component in our living room that often gets overlooked? Oftentimes when people talk about drapes, they become immediately focused on choosing the right color and texture that they sometimes miss a very important step that will make any fabric of curtain look great.
For me, I like my walls and drapes in very simple, natural, and neutral colors/fabrics — this means whites, off-whites, linens, and creams. That's why I am so in love with my pinch pleat luxe linen drapes in the color Oyster because they are so delightfully appealing without being too formal. I usually rely on my styling objects for vibrancy and pops of color that create contrast while keeping the rest of the space minimalist and classic. While it's true that I like to have classic and contemporary elements in my home, I still like to maintain an overall feeling of coziness and familiarity as well. Take my Harmony Sofa, for instance. It has such a neutral unpretentious feel to it while letting the throw pillows and art around her shine. Of course, she complements my drapes nicely. Here are my favorite dupe drapes to get the look affordably.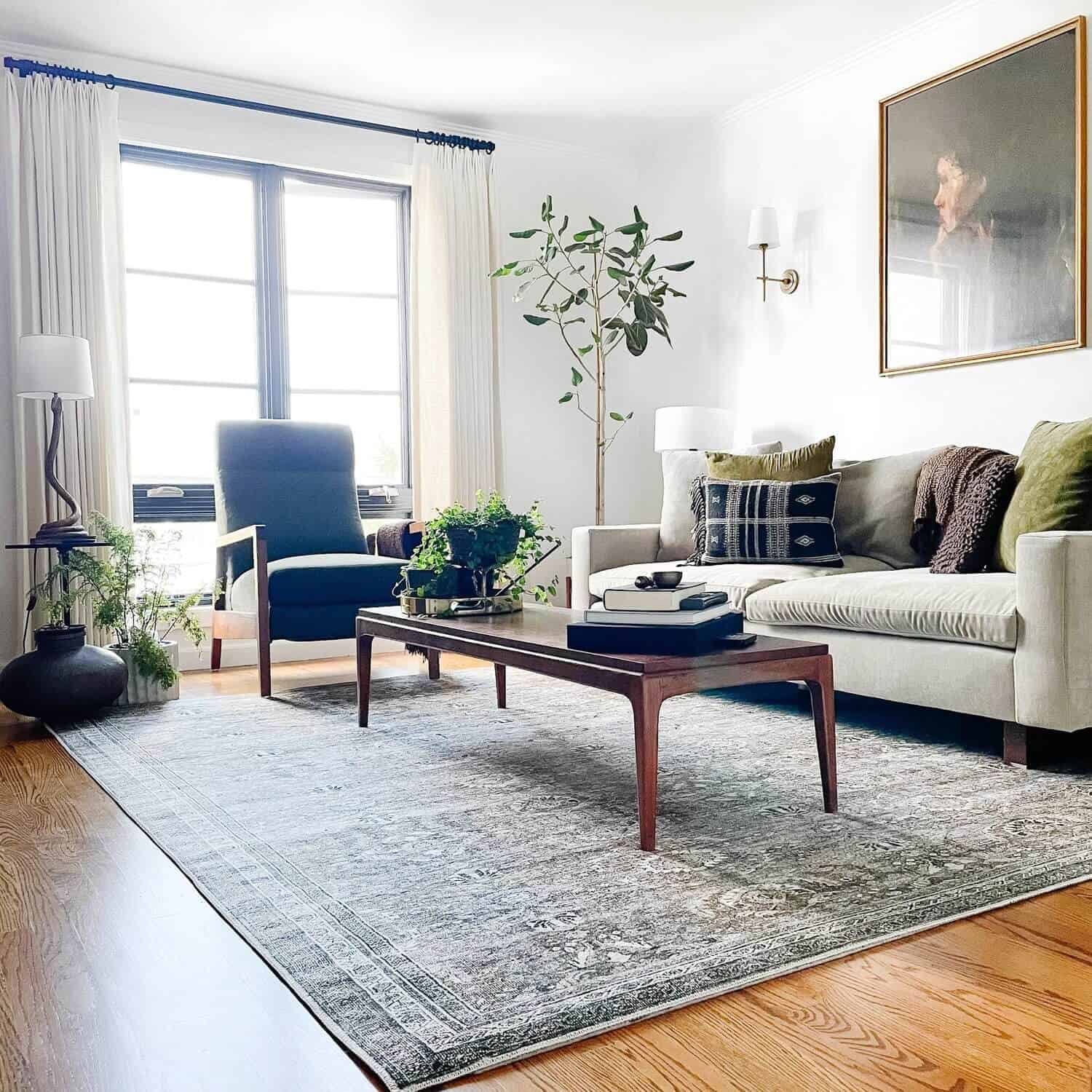 As I was saying – I get distracted easily. Color, fabric, and styling choices are just the beginning when it comes to getting your window treatments right, but don't fret! I've broken some PRO-TIPS: on how to hang your window treatments just right – to get that designer look. Read on for the five-step process:
MEASURE + MEASURE AGAIN
Grab your tape measure and start measuring! This is the most crucial step that will determine everything else in this process. You need to know your measures whether you are heading to Amazon to get your favorite affordable curtains or ordering online from a professional. Wither way. Get these measurements:
What is your window size? this should include the trim+ molding around.

Don't forget to measure the depth of the window too – just in case.
You want to make sure you can cover the window comfortably

What is the distance from your ceiling to the top of your window or window trim?

You want this to see how much space you have to hang your curtains

What is its distance from your ceiling to the floor?

Spoiler alert: you want your drapes to just kiss the floor. I am not even going to suggest an alternative.

What is the distance from your desired rod placement to the floor?

You want this to make sure you get the right gabric length

What is the length of your window including trim?

You want this so that you can decide how long of a rod you need
Spoiler: You want your rod to comfortably extend at least 6''-12" beyond the length of your window to create a lux look.

What is the entire wall length – along with any other windows to obstructions on the wall.

Get this just in case you want to go wall to wall with your curtains for a hotel-style look and feel. If you don't – just ignore this measurement.
This information is extremely important and is going to be the basis of everything from here on out. Take the time to do this right!
THE HIGHER, THE BETTER
When deciding on the height of where to place your curtain rod, a good rule to follow would be to install it a few inches above your window frame, about four to five inches higher at a minimum if your window to ceiling height will allow it.
Hanging your curtains as high up on your wall above the window creates the illusion of added height in any given space, which is especially important for homes with low ceilings. This will create a designer-worthy grand feeling. Even better? Hand one to two inches (as long as the rod will fit) below the ceiling. The higher the better! Just be sure it will fit in your space.
Constructing this visual illusion can really elevate your living room and turn it from looking average to just plain fabulous. Trust me!
EXTEND ON EITHER SIDE
Not only do you want to hang your drapes high, but it is also important that you choose a curtain rod that extends 5 – 12 inches on either side of the wall so that when you open your drapes, it lets all of the light in and doesn't obscure your window. This is a very easy trick that also creates the appearance of wider windows, making your living room look even more open and bright.
CHOOSE YOUR CURTAIN
Aside from the perfect color or fabric, it is also important to note that there are different types of curtains available for purchase, so you will want to decide on a specific vibe that suits your overall design. Sheer and flowing drapes create an ethereal atmosphere, while blackout drapes are better to hang in bedrooms as they provide more privacy and can help you sleep in late without being disturbed. With that being said, I prefer lined drapes for all my space because they are not too sheer but still allow the outside light to filter in beautifully – but when closed you can not see through. You can't go wrong. The choice is really personal preference!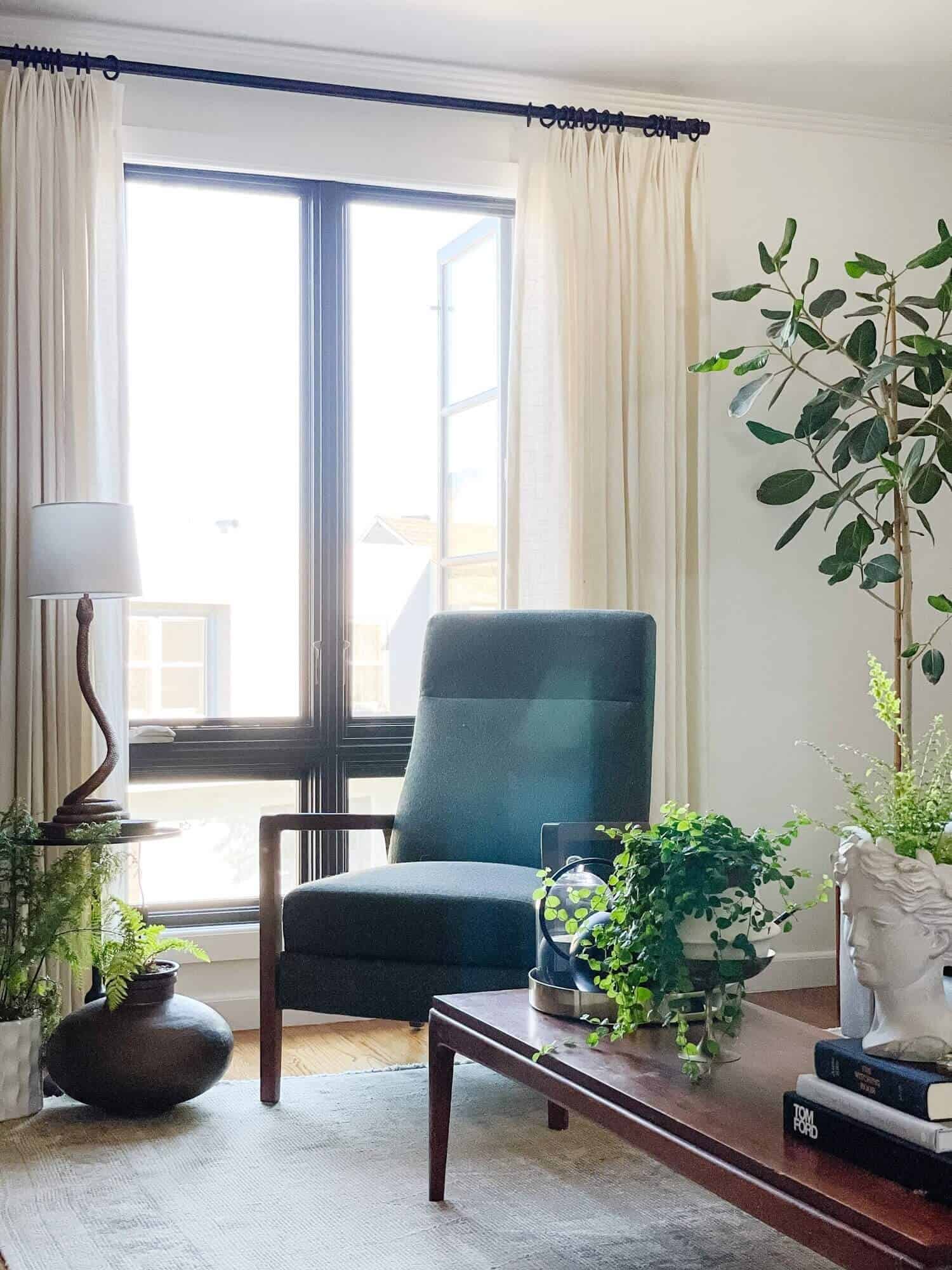 THE PERFECT LENGTH
One last (but important) step you should consider when picking out drapes is the actual length, taking into consideration the height of your curtain rod's placement, of course! It's nice to have the bottom of your drapes just kiss the floor or just hovering a little bit above it – no more than a single inch. When drapes are too short i.e more than 2 inches above the ground) you will feel it – and it won't be good. I personally prefer my drapes to be softly touching the floor because it creates a more luxurious feel, but when pulled they float unobstructed. The little details are important. Trust me on this one too. Sorry – to be pushy!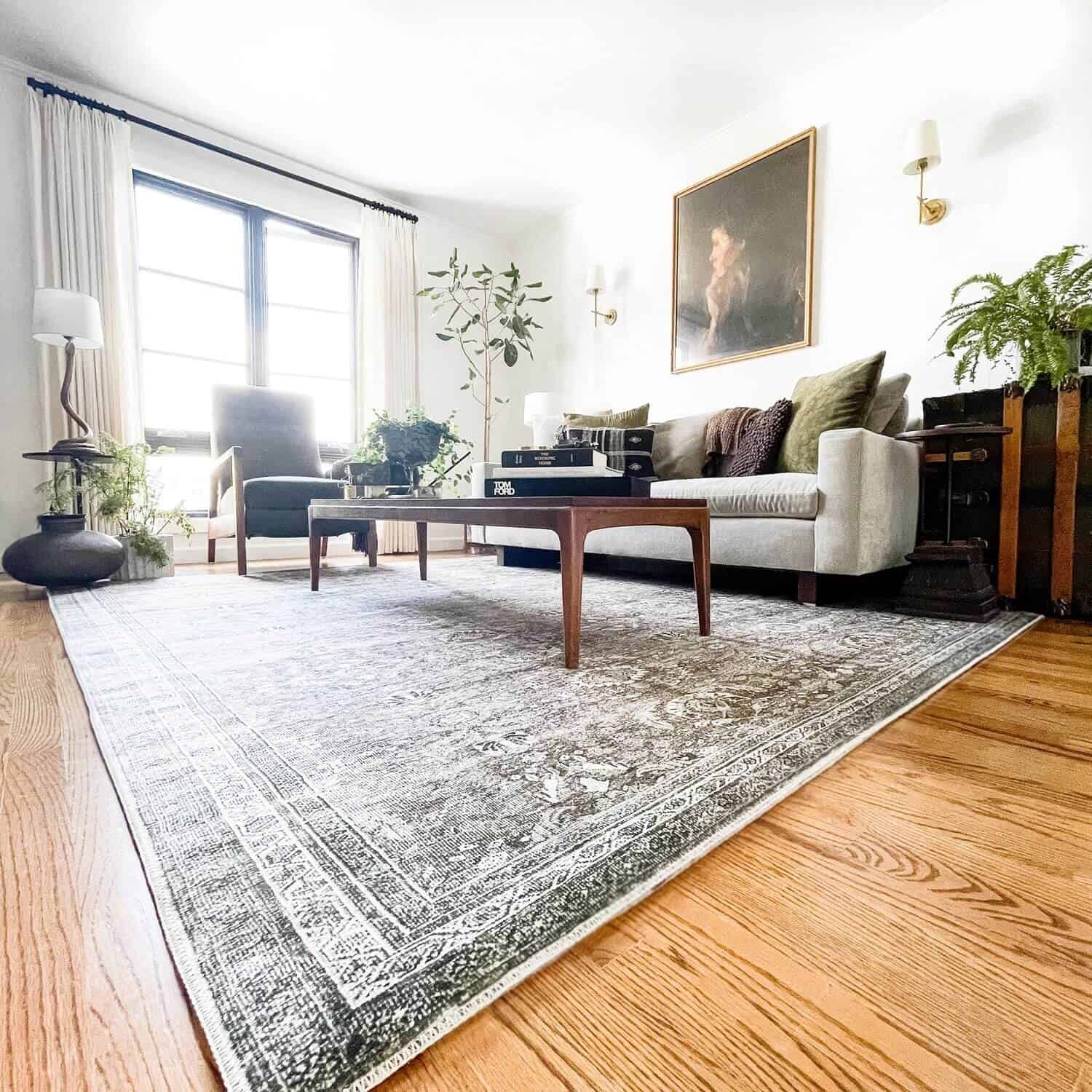 Following these quick and easy tips can really make a big difference with each of your windows! I wish someone had told me this when I started. They will take your living room or bedroom styling to the next level by generating a more luxurious look and help to create the impression of taller walls and a higher ceiling. Not only that but choosing the right drapes and hanging them the perfect length – like a pro will help to serve as a basic foundation for all the other elements in your space. I like my window treatments to match for a cohesive look. But, rules were made to be broken. Except – hanging your curtains as high up as possible – always follow that rule – please.
So get to it. Hang some drapes. Window treatments make ALL the difference. You will be shocked. Also, tight on budget? Don't worry consider these from Amazon. They are amazing and a great deal.

If you want more tips on how to elevate your home interior, head on over to my Instagram @136home. Creating an amazing living space can be a long process, so let's enjoy it together! Xoxo