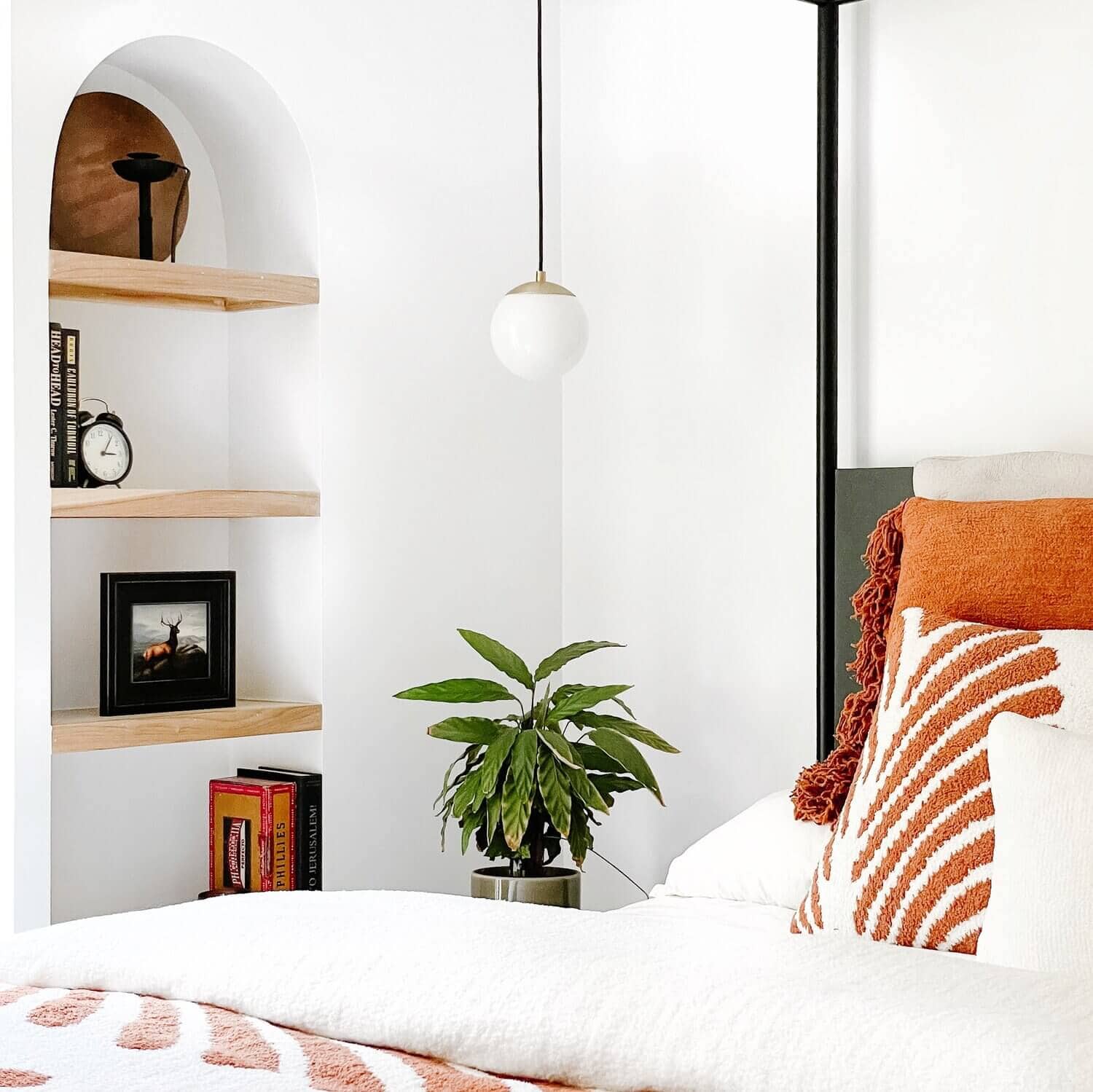 I absolutely love a warm and cozy bed. After all, sleeping in on Sundays around here is a must. I was super reluctant to switch up my bedding because if you have been around long enough you know that I think my bed is already the bee's knees. But boy am I glad that I did. I have fallen madly in love with the Sunday Citizen line of bedding. I can't get over my new comforter. It's like a big giant puffy cloud – it's so soft. I literally have been sleeping like an angel since I tried it out.
Of course, it's not just about comfort for me. My bedding also needs to look amazing. Are you guys freaking out over the look as much as I am? The color and amber splash of color just makes my heart melt. In the end when you can get form and function all in one – there's literally nothing that can be better in the design world. The good news? That's exactly what I got when I swapped out my bedding for this entirely new set. To me at last, this is the holy grail of bedding. It would be encouraging for you to know that getting a designer-worthy bed is not as difficult as it seems. All it takes is finding just the right pieces and putting them all together in a neat and beautiful manner.
For my bedding, I have chosen items from Sunday Citizen's amazing collection. Their products give you the perfect balance between style and comfort. Each individual item complements the other.. Putting together a beautiful bed has a lot to do with items that go well together. So don't worry you can't mess it up. Let's talk about the pieces I chose to better demonstrate my point. You are gonna love this:
Snug Throw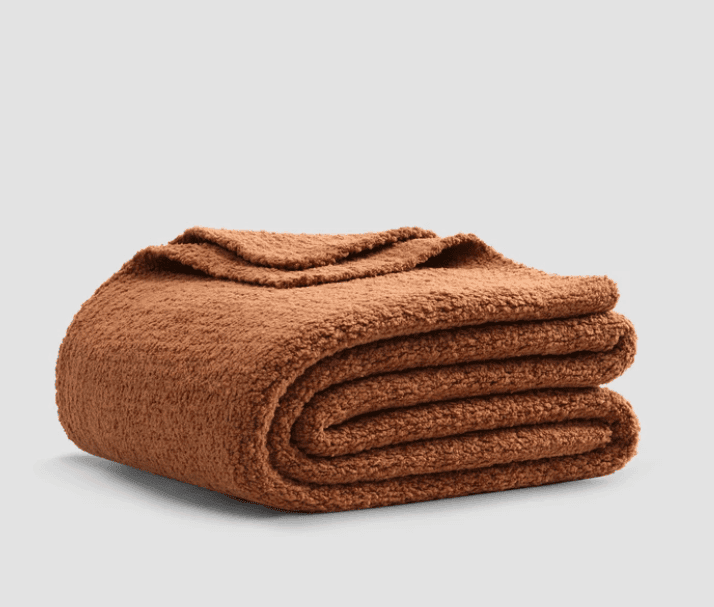 I chose this snug throw from Sunday Citizen for my bed. I just love starting with my pop of color. While this throw. the blanket is available in several color options, sienna is my pick. The color you choose will have a major impact on how your bedding will end up looking. I chose sienna for its earthy tone and ability to go well with many colors, especially white. Since I always incorporate lots of white. A such, sienna is a safe yet bold option. I'm so glad that I did.
Sunday Citizen's snug throw is incredibly soft to touch, and you can visually feel its comfortable fabric. It is made of hypoallergenic material so that you do not have to worry about any sort of allergies or skin irritations. For all its greatness in form, it lives up to the substance. This throw will keep you warm throughout the year without ever making you sweaty. It is a perfect item to start with and then build on. The snug throw will act as a foil to highlight other components of my bed while serving its full functionality.
Pom Pom Throw Pillows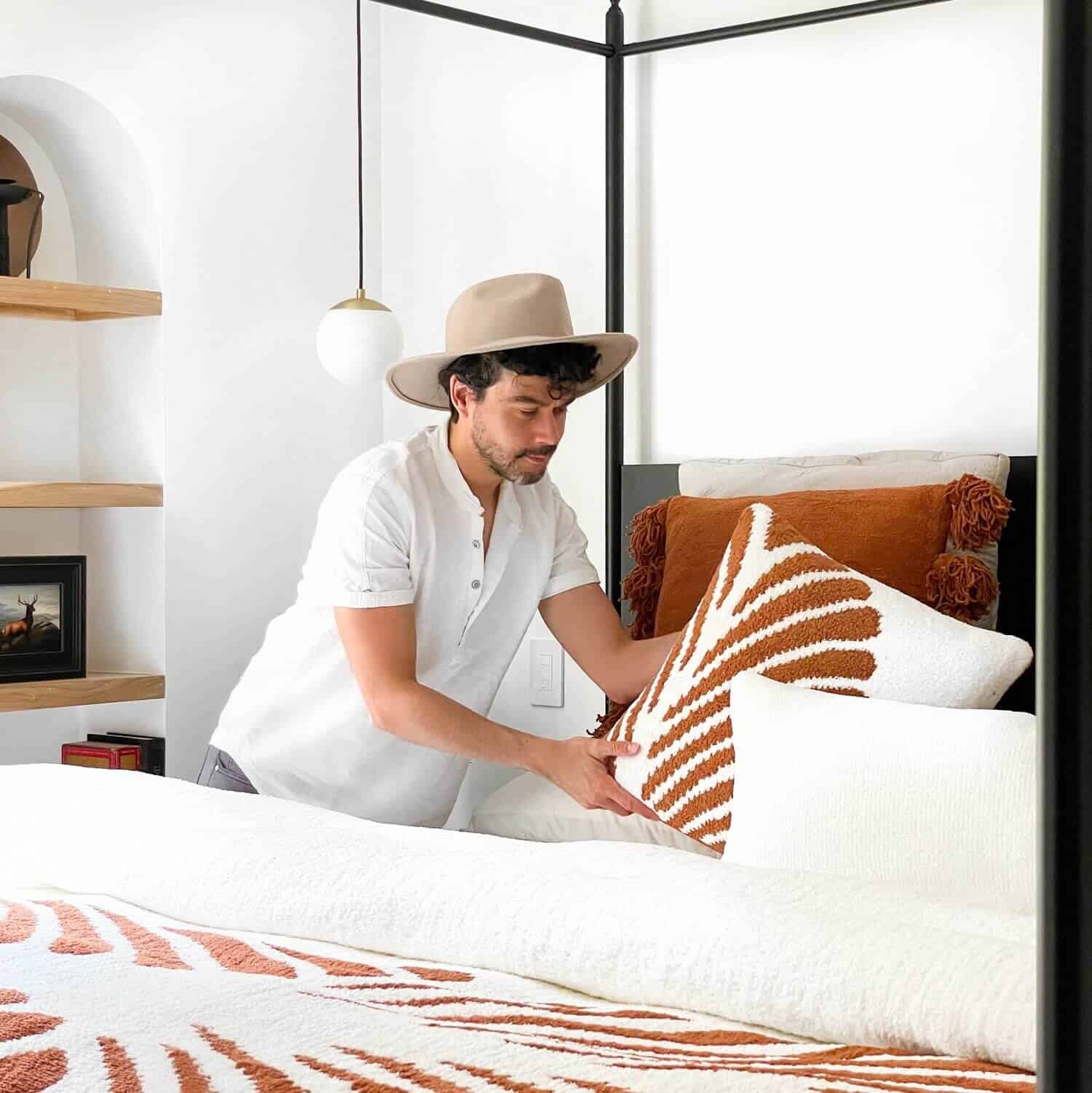 These pom throw pillows are a great way of bringing some fun and cheerfulness to your bed. I have chosen two of them for my bed because of their compact size. They are cute, warm, and very comfortable. Integrating them with the other items in your bedding will be very easy since these small pillows go with anything. They will especially complement the sleek look of the snug throw.
For my pom throw pillows, I have again chosen sienna. They are available in three color variants at Sunday Citizen, but sienna was my first choice. The rustic hue of sienna seamlessly blends in with the bedding, and the dangling pom-poms bring the much-needed fun element to the bed. As a general tip, I would recommend adding some fun and quirky element to your bedding to effectively highlight all components of the bed. It is made of memory foam and 100% microfiber, so you can be assured about the quality and durability.
Bali Throw Pillow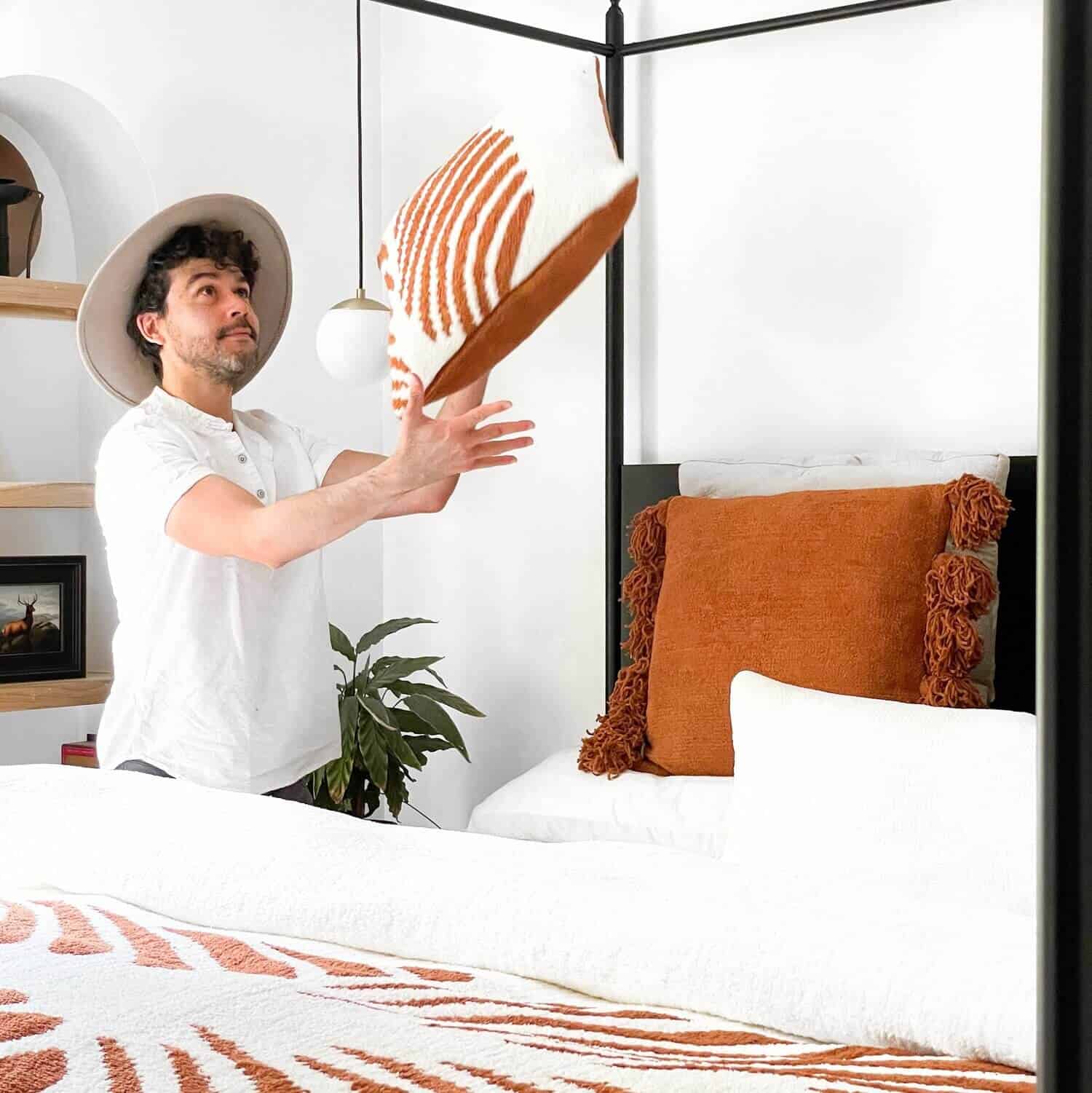 For my second throw pillow, I have chosen this Bali throw pillow. It has a stunning yet subtle pattern that instantly elevates the look and feel of your bedding. Having this in Sienna as well would complete the look when paired with a white comforter and sham sets.
The pillow is made of memory foam, which is known to assist people in sleeping better. Its high-quality materials assure you that it is not simply a showpiece; it serves its actual function very well. It comes zippered up in a tropical-inspired, double snug cover. The simple tropical pattern in the cover brings out its true beauty. It stands out among other components of the bed but without looking out of place. As with the memory foam, the extremely soft, snug cover will help you sleep better and wake up refreshed. Having the throw and both types of pillows in sienna brings a calmness to your bed, which will only be enhanced by the subsequent whites. The Bali throw pillow comes in the ideal size of 20×20 that complements all bed types and sizes.
Snug Comforter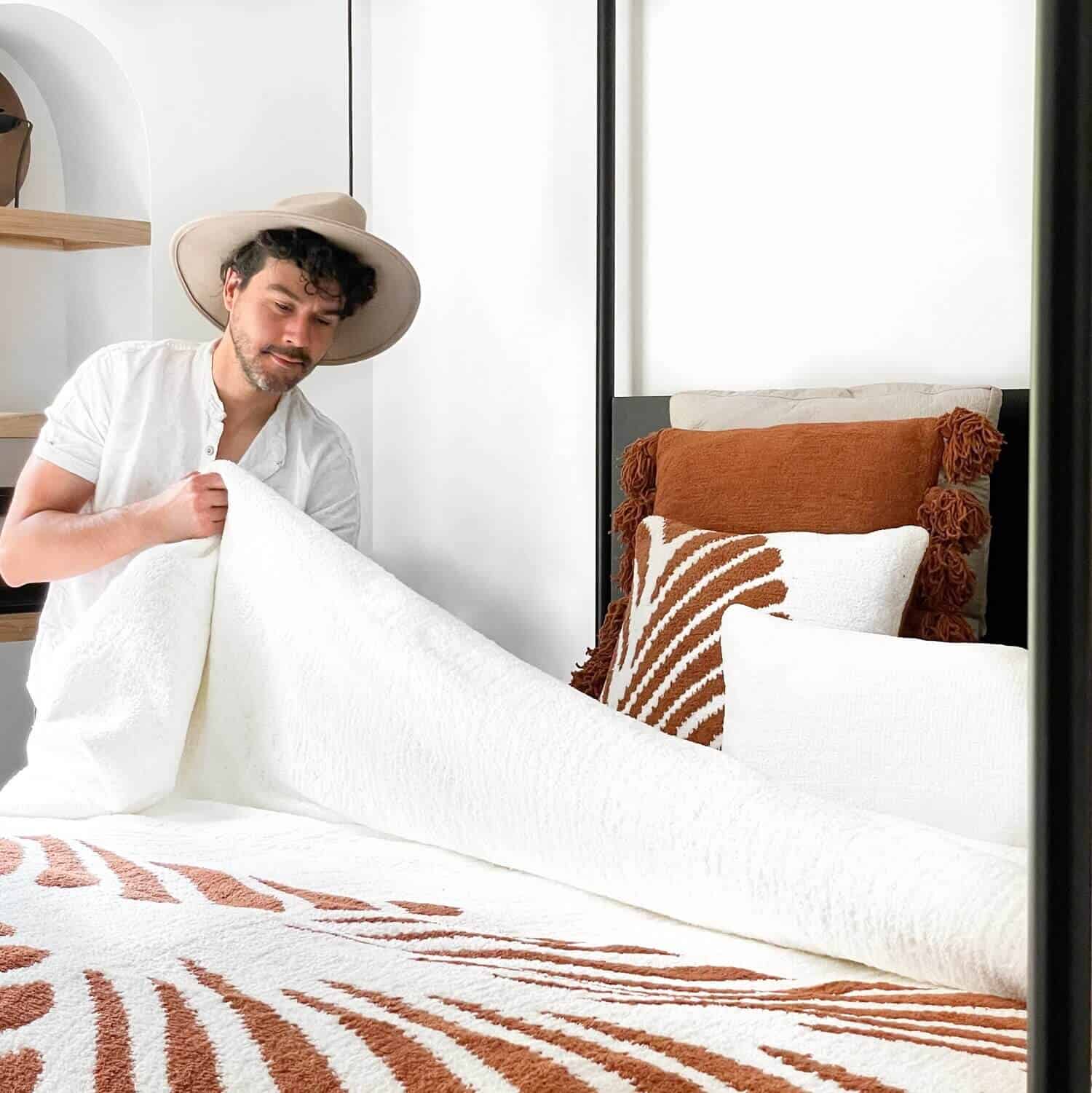 My snug comforter is the ultimate definition of warmth and coziness. I have chosen the king-size option in clear white color for getting the maximum out of it. You should also notice the size factor here, along with the color component. Having a king-sized comforter in clear white will bring out the sienna of the smaller pillows. The large size gives a clear white backdrop to the entire bed, upon which you can work your creativity. This bed cover has microfiber on one side and bamboo on the other. The filling of each comforter is made of 50 recycled plastic bottles, making sure that you contribute to the planet in some way while getting a stunning comforter.
Snug Sham Set
For my sham set, I have chosen this snug sham set in the clear white color option. As with the clear white comforter, the sham set is also in king size. Its pristine white color brings out the other elements of the bedding. If your bed size allows for it, having four of these will significantly elevate the look of your bed. It will ooze a sense of warmth and comfort. These sham sets look as comfortable as they feel. Made of 100 percent microfiber and washable material, there is no question about their superior quality.
How to make your bed look awesome
There are a few guidelines you can keep in mind while designing your bedroom. I have made use of them while designing my bed, and so should you.
Establish a color scheme of your bed, as I have done with the combination of clear white and sienna.
Incorporate layers to bring out the best of each component.
Position your pillows and shams in a way that makes them stand out. As with my pom pillows, quirky elements need to be highlighted. Mix pattern on solids.
Invest in quality over quantity. All items from Sunday Citizen I have used are made of top-notch materials and will keep looking fresh even after using for a long time.
Don't be afraid to have lots of white and create layers! That's the trick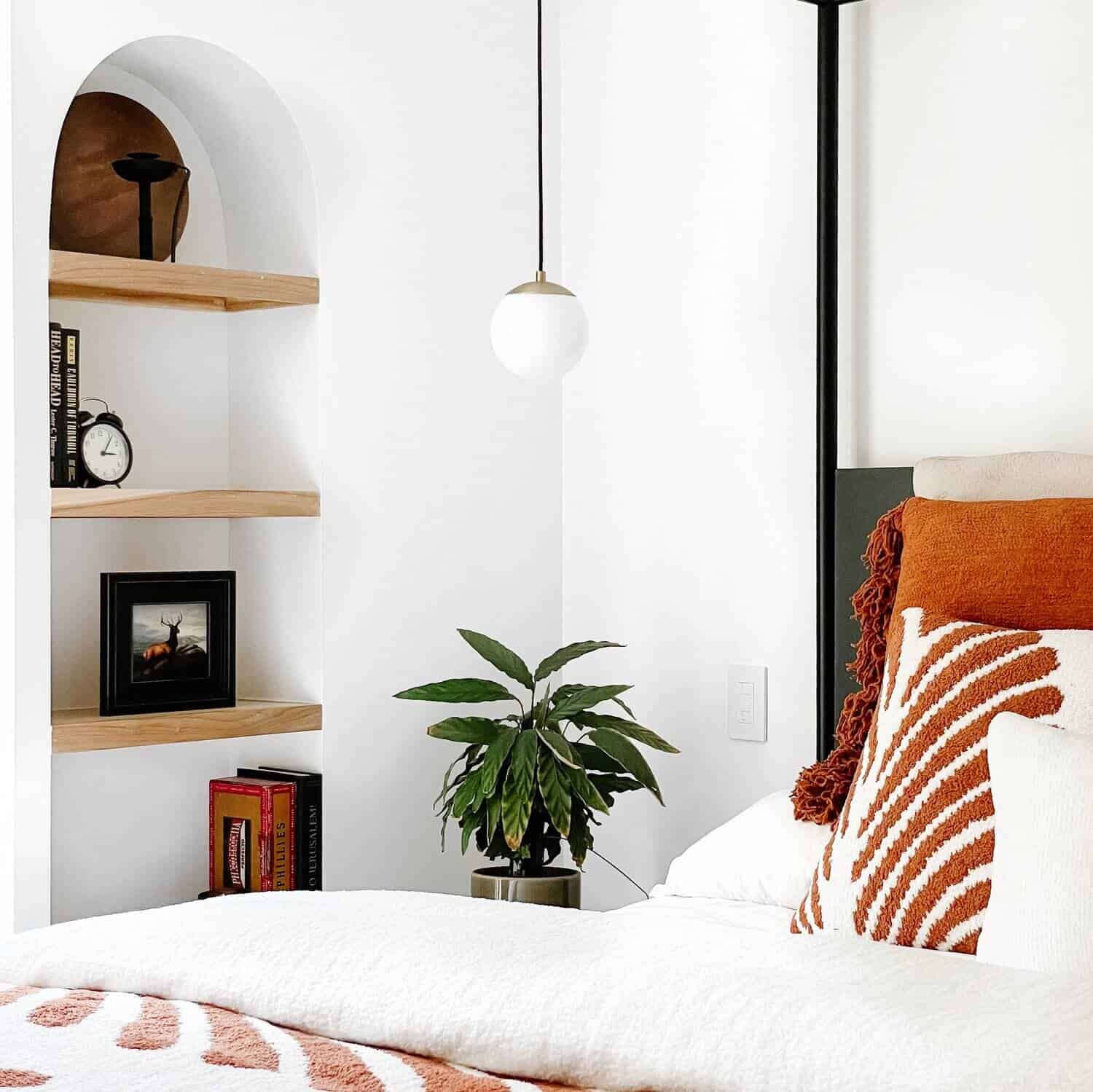 There it is guys. My brand new bedding that I can not stop raving about. It's so good, I can't get over it. Of course, when I love something – I share it. Why? Because I want y'all to have the best home possible – one detail at a time. Take a moment to invest in an amazing sleep experience. I promise it's worth it – even if a slight splurge. You deserve it after all anyway. XOXO