Choosing the perfect black paint color for your home is difficult. Trust me I know, because I've tried dozens and dozens of options over time. After all, it's natural to want the absolute best (paint) for your home-sweet-home. In that pursuit, I want to take the pain out of the process. Ya' ready for it? Tricorn Black Sherwin Williams (SW Tricorn Black) is by far the best black paint color there is. Trust me. It's the purest black without undertones, and it simply looks polished – always. Give SW tricorn black a try on a door or accent wall, if ya aren't quite convinced. I know you will like what you see.
Whether you are planning to paint for the first time or have ambitions to renovate your entire home, color should play a critical role in setting the vibe. Don't get it wrong. A good color choice will give your space a unique character and make it welcoming. Most importantly though, it makes it you.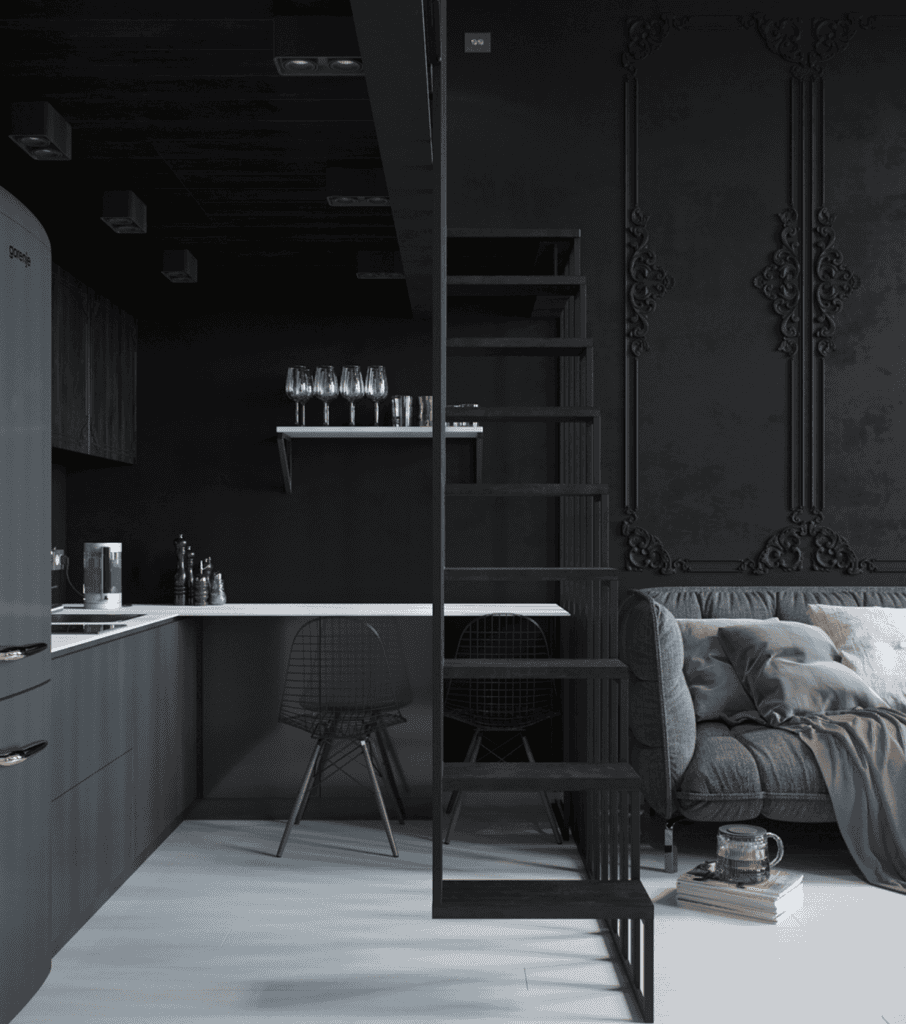 There are a variety of brighter and bolder hues of black paint. But, when it comes to my personal favorite bold paint color for homes, nothing can come close to the bold and beautiful Tricorn Black by Sherwin Williams (SW 6258). It looks design worthy, without feeling like you are turning your home into the inside of a dive bar. Some black do that. That's not the vibe.
One quick note. This is not a collaboration or ad with Sherwin Williams. I genuinely am in love with their stunning Tricorn black paint color. It's a great choice – far better than its biggest competitor Sherwin Williams Iron Ore. Plus it looks great in most home design concepts and far and wide the most popular black paint color. It's great as a focal point too and I have used it; my front door, interior doors, my kitchen cabinets, and even on my restored vintage roll-up desk. I can't get enough. Ok, let's dive in…
What is so special about Tricorn Black paint by Sherwin Williams?
Whenever someone asks for my preferences on paint colors, Sherwin Williams' tricorn black paint always remains my top choice and suggestion. It's because, for one, very few colors are as timeless as black paint. And two, the quality, smooth finish, and overall texture of this black paint are matched.
There are a large variety of black hues out there and all of them are not equal. They have different undertones, rgb values, textures, finishing, and requirements for application! So, you must carefully select a desired paint color and brand before going on to suit your design style.
However, if you want to skip all this hassle and just be done with it, (raises hand) then just go with Tricorn Black paint by the Sherwin-Williams company without any second thoughts. It looks great in natural light, and works great as a wall color, trim color, or even a whole room. It's a more modern and bold look that keeps your design or home feeling elevated. A few things to consider:
Tricorn black is very close to true black
One of the best things about Sherwin Williams Tricorn Black is a true black paint color. On the LRV scale where 0 displays true black and 100 displays pure white, Tricorn Black stands at 2.45. It means that it is an intense and neutral black shade. It will give a warm and cozy appeal to your home without being cold or depressing.
Tricorn black paint adds character to your home's exterior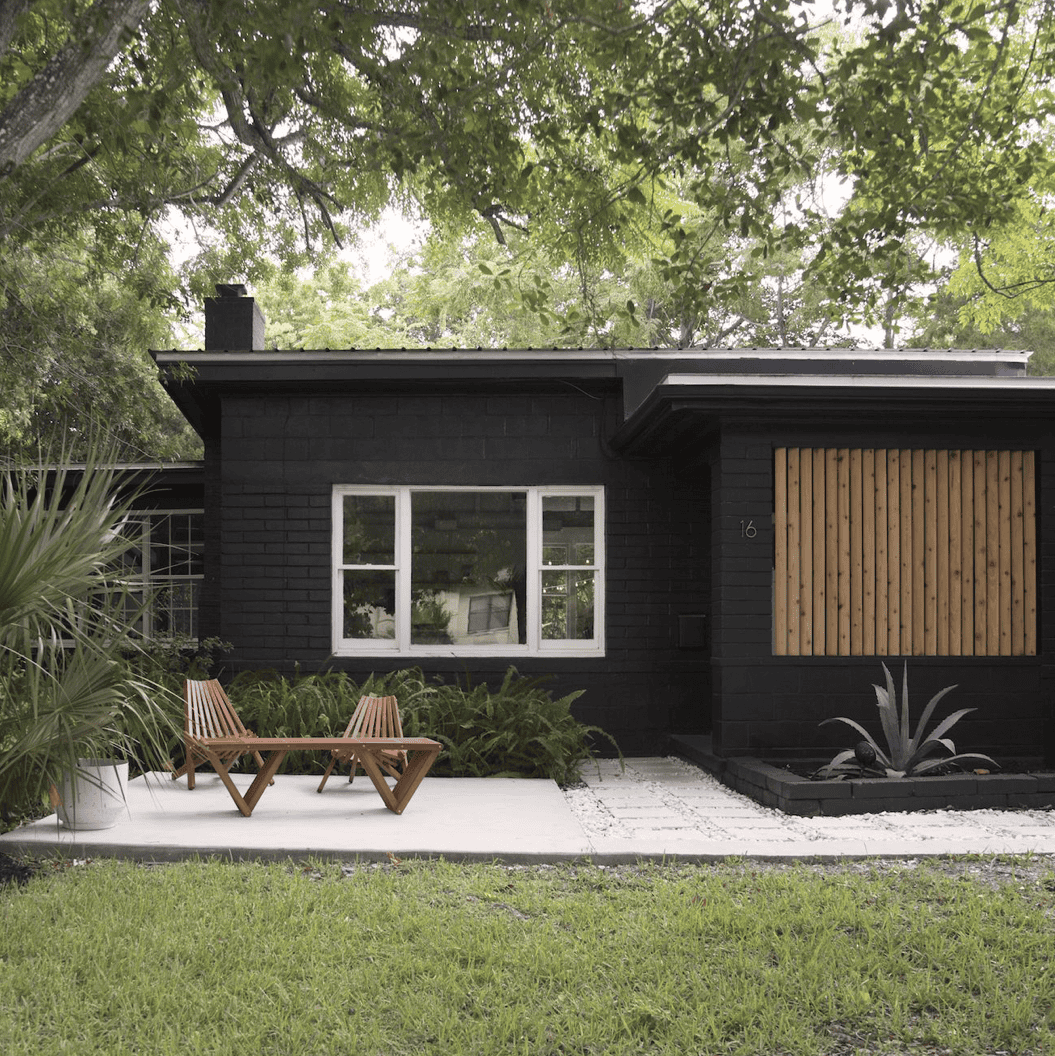 Many people think that painting your home's exterior with black color might appear to be odd or eerie. But this isn't true at all! In fact, black exteriors make your house stand out in the neighborhood (in a good way, of course) without looking like you are trying too hard. Paired with some other muted tones and home decor items, the Tricorn Black exterior paint looks quite impressive. I just love its eye-catching appeal and texture.
Art pieces look phenomenal on a Tricon black wall
Did I tell you that wall art and paintings look absolutely stunning on a black wall? The. contrast helps make everything sing. If you're like me (I bet you are) and love embellishing your walls with beautiful wall art like this Morning at sea print or this Man on Horse print, then grab a brush and paint that wall. Your art will look great on an accent wall of black.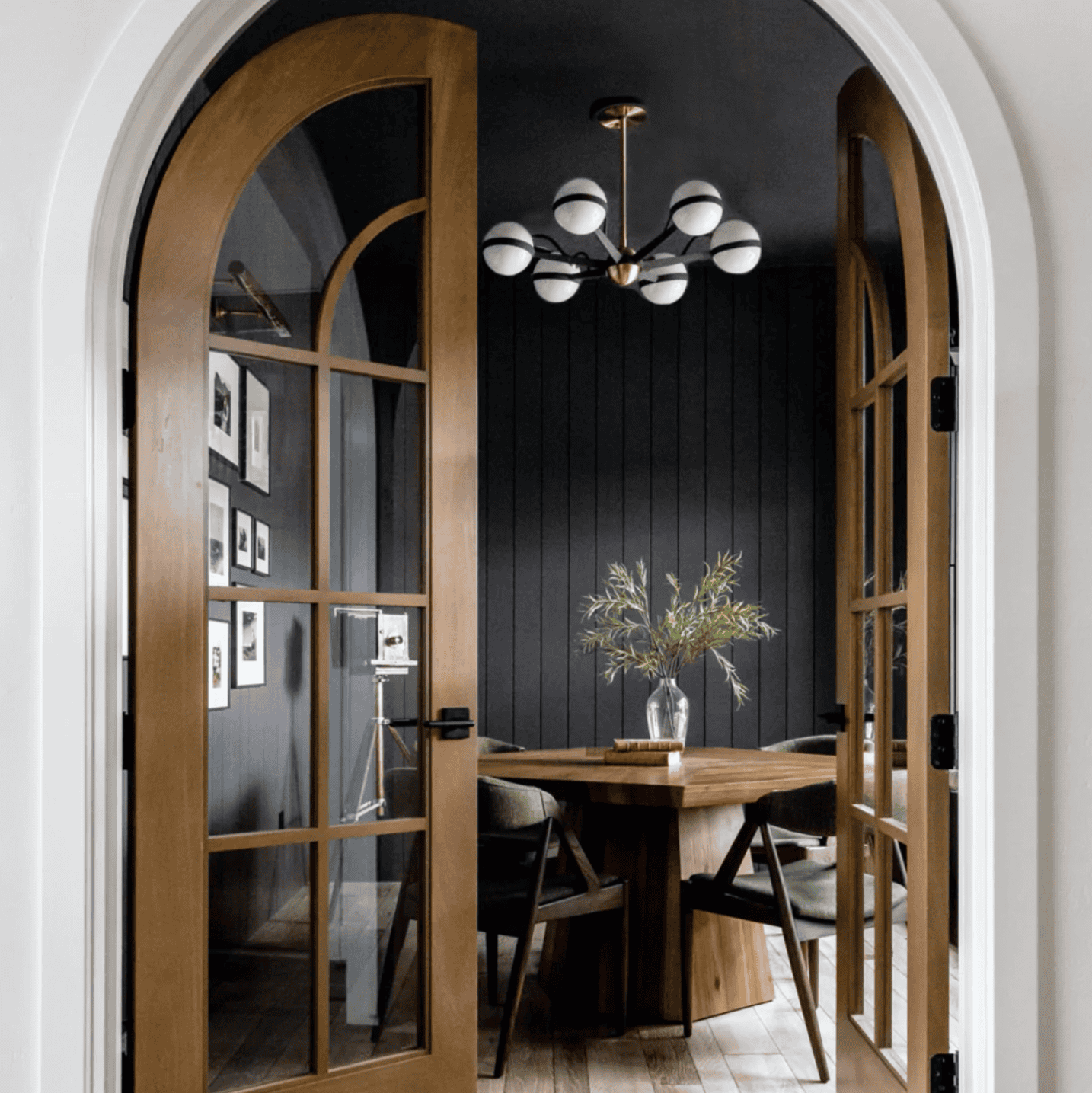 Image source and name: Light-colored painting on Tricorn Black wall
It's easy to find the perfect home accessories for a black wall
If you have ever gone shopping for home decor accessories, you will know confusing it can be. But not anymore because matching home decor items for a Tricorn Black wall is easier than you think!
For example, you can add this fantastic art piece and enhance the beauty of your gallery wall. Or buy this beautiful rug to make a big impact in any and every room. The best thing is, that it is affordable and super easy to clean.
Another must-have home accessory that will easily blend with black interiors is this recliner. It is good-looking and oh-so-comfortable!
What type of finish to choose with Tricorn Black paint?
Now that I have told you why I love Sherwin Williams Tricorn Black paint, let's have a quick look at what kind of finish you should opt for under different conditions. Here's what I recommend:
Walls and ceilings: When it comes to walls and ceilings, very few finishes can match the smooth look of matte. When you are painting your walls and ceilings with Tricorn Black, the shiny look of semigloss finish can make them look a bit tacky. Don't do that! The matte finish on the other hand will give them a subtle and clean look that looks gorgeous and sophisticated.
Trim: I always prefer using an eggshell finish for trim and moldings. It adds a nice sheen to the baseboards and makes them pop and goes with matte walls and ceilings quite perfectly!
Doors and cabinets: Selecting the perfect finish for your doors and cabinets is quite a task, especially if you are painting them black. While the matte finish looks stunning, it also shows dust, fingerprints, and other dirt more easily. So, I recommend going for a satin or semi-gloss finish for doors and cabinets as it is easier to clean. If you have kids at home, your doors and cabinets will get dirty sooner than you can imagine! So, save yourself some hassle and go for a nice satin or semi-gloss finish. Also, keep a microfiber cloth on hand. With warm water and soap, you can clean just about anything off your stunning new cabinets.
Further, to elevate the look of your doors, make sure to choose some unique door handles and knobs. P.S: Antique handles are my personal favorite!
Top 10 commonly asked questions about the Sherwin Williams Tricorn Black paint
Does Tricorn Black look blue?
Not at all! Since Tricorn Balck is very close to true black, it does not look like blue at all. In fact, it doesn't have any undertones like blue, brown, or gray. So, it looks like it should – a solid, and rich shade of "pure" black.
Does pure white go with Tricorn Black?
One of the best things about SW Tricorn black paint is that it goes with almost all kinds of hues. You can easily coordinate it with most hues without any difficulty. To answer the question, yes, Pure White will easily pair with Tricorn Black quite easily. In fact, the contrast will give a striking appeal to your place.
What is the most popular black paint?
When it comes to black paint, I am quite biased toward this bold color. But, if you want to consider another good choice (or four,) here are some other popular options:
Black Magic by Sherwin Williams
Wrought Iron by Benjamin Moore
Onyx by Benjamin Moore
Prairie Smoke by Magnolia
Is Tricorn Black shiny?
Yes, it is a bit. But, you can get it in matte, eggshell, satin, or semi-gloss. The shine level goes up from matte to semi-gloss. I love a matte finish, but semi-gloss is the easiest to clean. Tricorn Black does have a glossy sheen that gives a stunning and tasteful look to your home's walls without going over the top.
Is Sherwin Williams Tricorn Black warm or cool?
Sherwin Williams Tricorn Black is neither warm nor cool. Since the color lacks any undertone, it cannot be categorized as a warm or cool color.
What is the most popular black color?
This is the most obvious question considering the topic of this blog post. So, here is my obvious answer, Tricorn Black is one of the most popular and highly preferred black hues offered by any paint manufacturer out there. It's a great option being the truest black and working well on tons of architectural features as well as the exterior of a home.
How long does black exterior paint last?
Since dark colors absorb more sunlight, they tend to fade faster too. So, if you decide to go for Tricorn Black exterior paint for your home, make sure to get it repainted after three to five years.
What is the darkest Sherwin Williams black?
Sherwin Williams has a good range of dark black hues. Some of them are very close to true black. The darkest Sherwin Williams black colors include Tricorn Black, Black Magic, Greenblack, and Inkwell. It really is the perfect black paint color in my opinion.
What does a black front door say about you?
It is common knowledge that black reflects authority, power, and strength. Having a black front door displays boldness, style, and sophistication.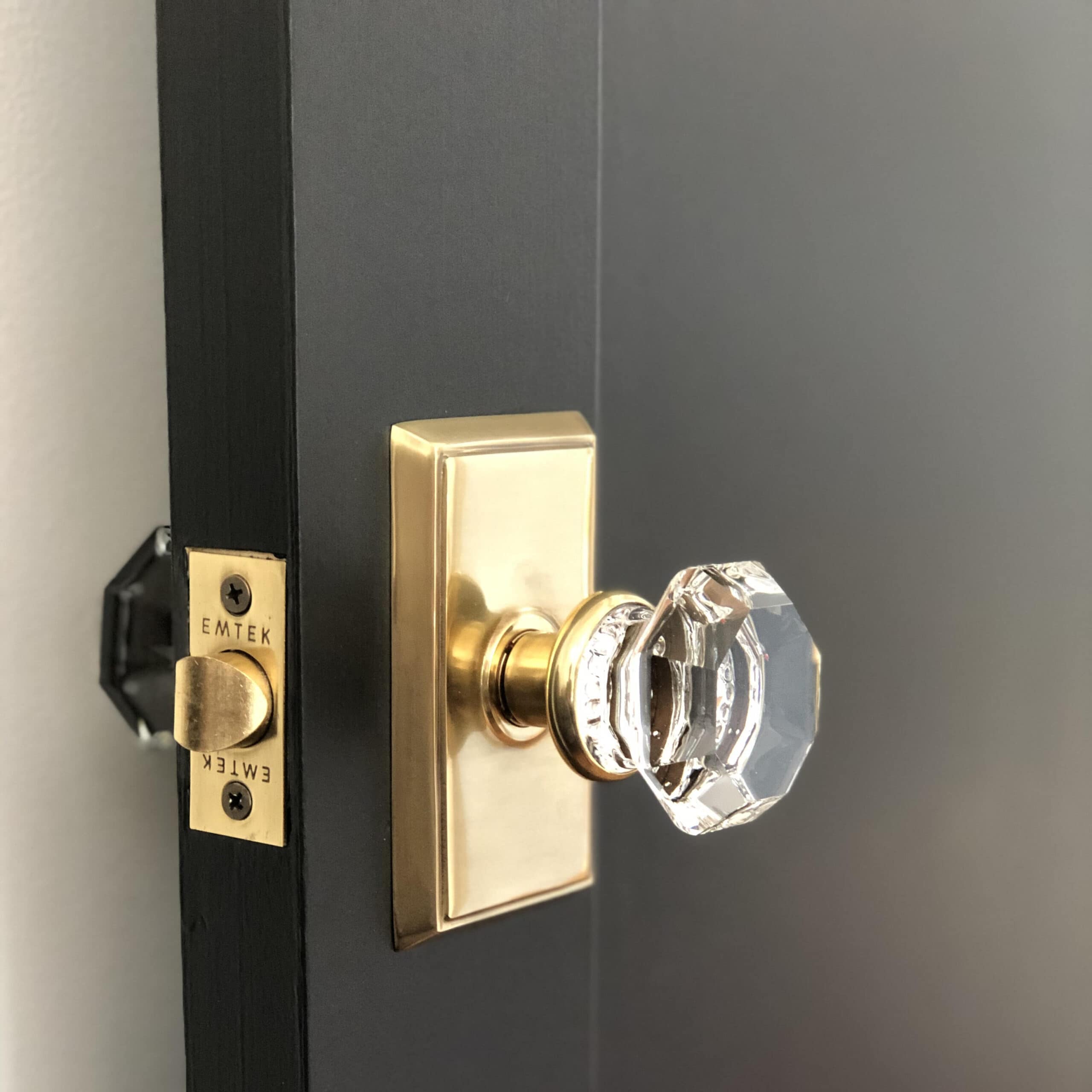 Image source and name: Tricorn black front door with brass handle
You can also go for a stylish brass door handle to take the appeal of your Tricorn Black front door several notches higher.
What color goes with Tricorn Black?
The best thing about Tricorn Black is that it is easy to mix and match with other hues. Whether we are talking about contrasting colors like white or colors with similar undertones like gray, Tricorn Black looks good with most of them.
Some colors that look superb with Tricorn Black are:
Sherwin Williams Agreeable Gray.
Sherwin Williams Ice Cube.
Sherwin Williams Pure White
Conclusion
So there you have it – the major reasons why Tricorn Black by Sherwin Williams is the best black paint out there. I hope you found this blog post helpful and are now ready to embrace this gorgeous hue with open arms. While you paint for home's interiors and exteriors with black paint, make sure also choose some contrasting paint colors, home accessories, and the right finish to complete the look of your home. Good luck and go for it. You got this. xoxoxo