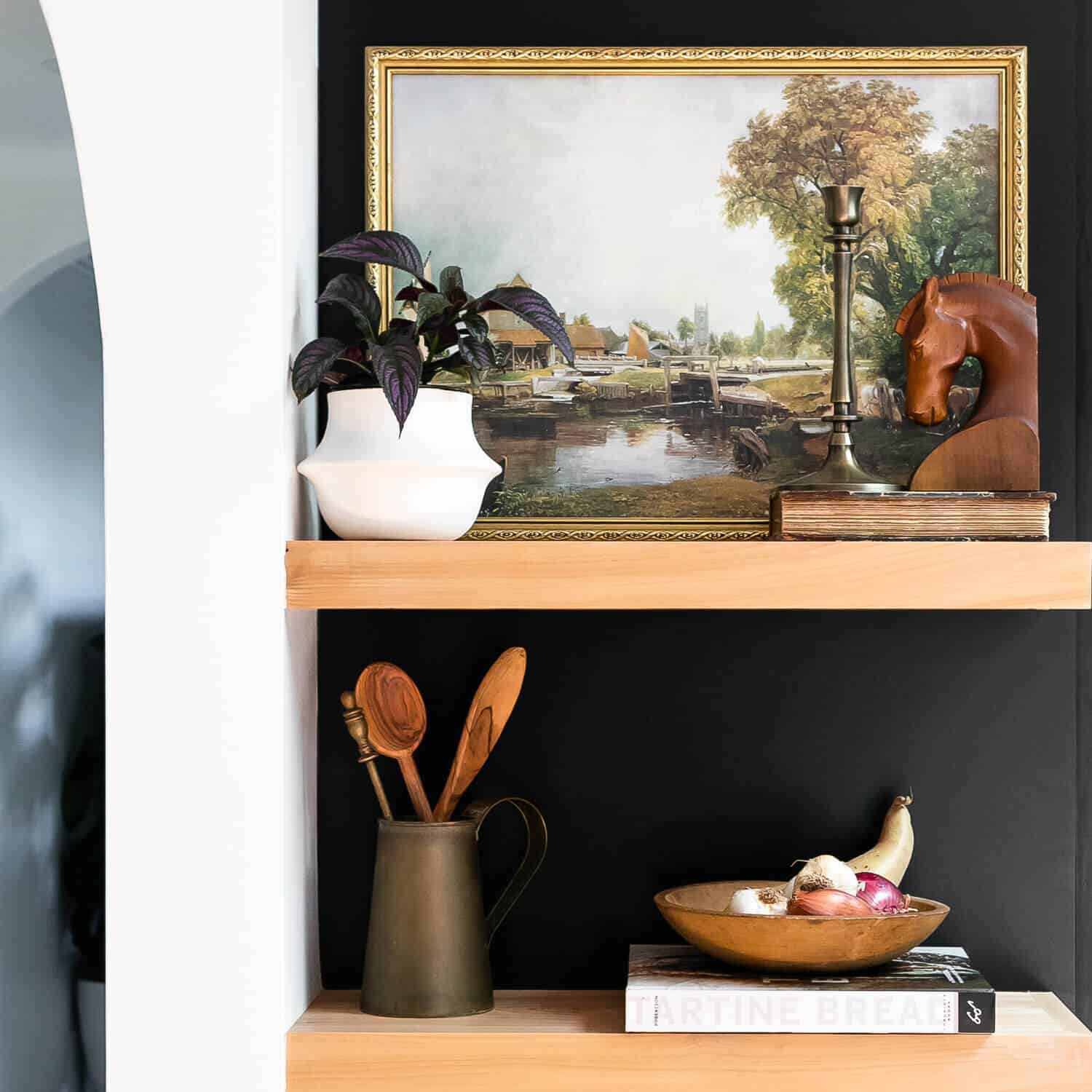 When it comes to DIY, home design, and styling home owners and renters alike have lots in common.
Often, wanting their home to be beautiful and functional all at once. But, if you rent, ya might have to think about things a bit more creatively given that you may at some point need to pass the space back to the owner.
But, never fear. There are some amazing DIY's you can do to transform your space from drab to fab – and quickly. All while making sure you home turns out looking like a million bucks.
Below I am sharing my top 10(ish) definitive home DIYs that are both renter-friendly and make a big impact to the overall look of your home interior without breaking the bank. Let's dive in:
Make a Gallery Wall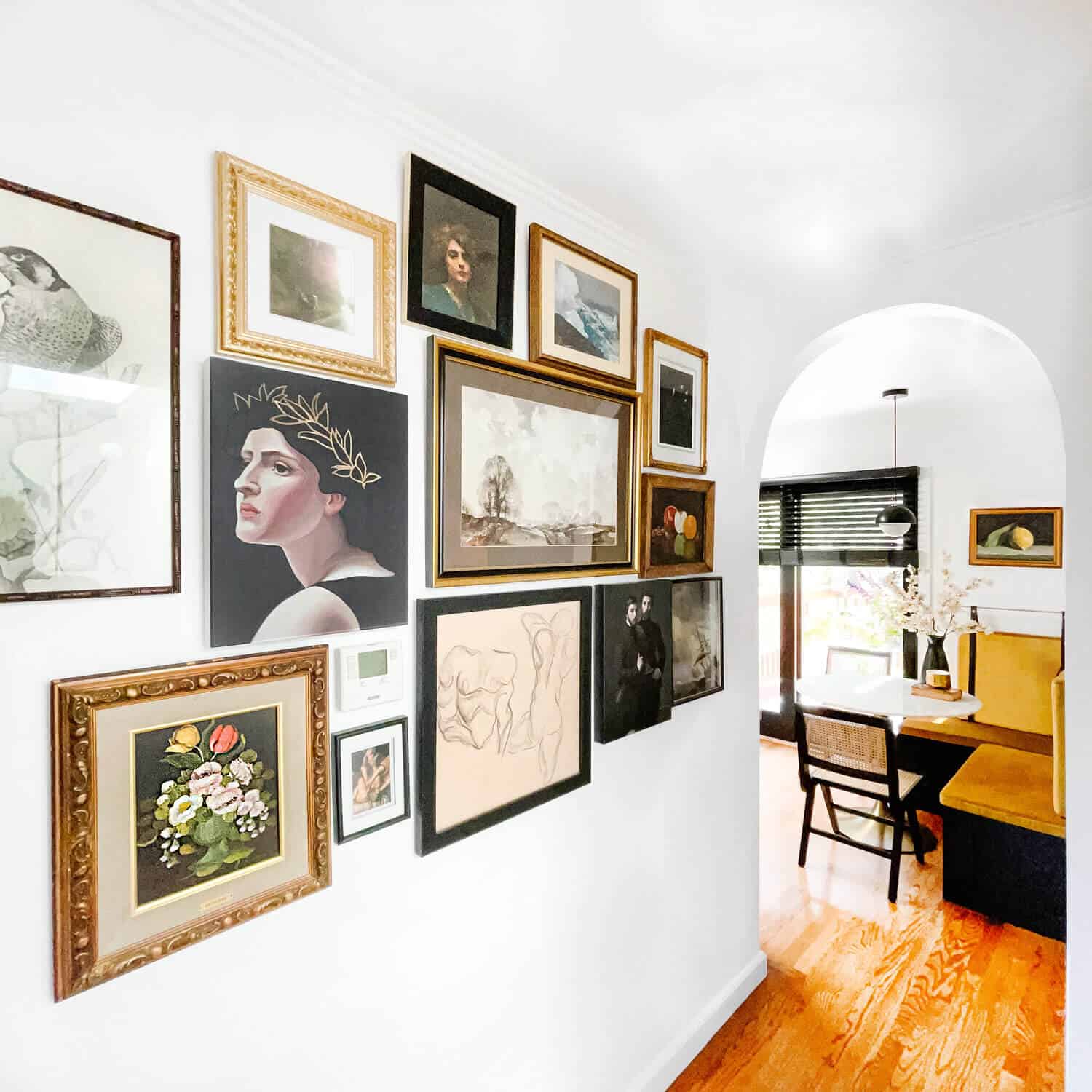 A DIY gallery wall is the perfect and affordable way to make a statement in ANY space – in my humble opinion. They create a strong design narrative, and are super rental home friendly all while keeping things simple. No need to bust out power tools for this.
Get some frames form a local thrift and collect prints or canvas's you love. I suggest curating artwork that truly speaks to you and make the magic happen. You can even buy wall frames in sets and use them on a wall of your choice.
Just make sure you move the heavier frames towards the bottom and lighter ones on top. You also want to contrast the artwork displayed in different frames. If you're an artist, you could even hang up some of your own artwork and make your DIY gallery wall stand out.
Add Stems, plants, and flowers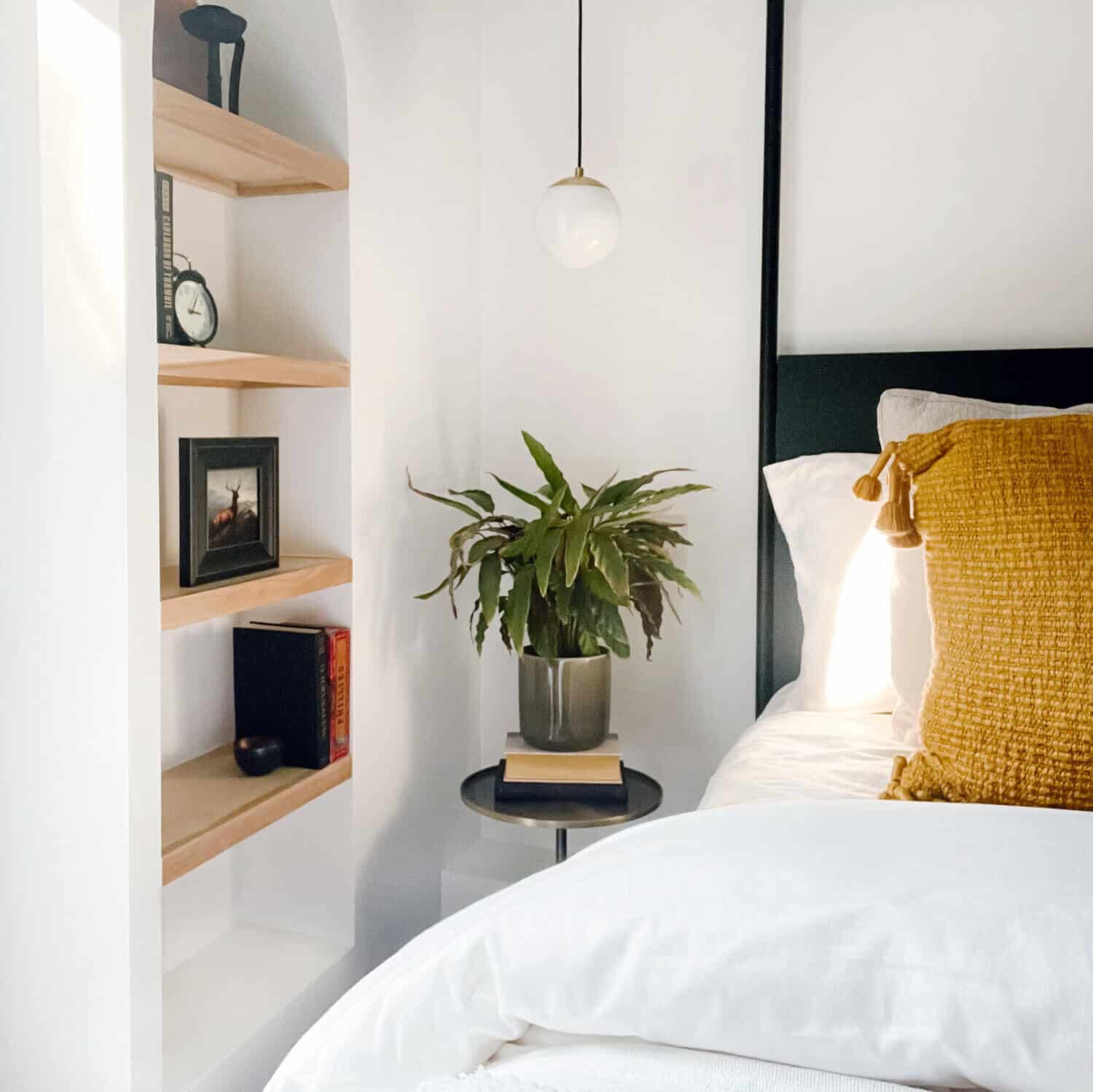 If you've been following me for a while, you will know just how much I love plants as a decoration design element in the home interior. Apart from smelling great and making your home feel more spacious, plants in the home offer several other benefits.
They clean the air and can help you relax. They also boost creativity and can make you more productive. There are many ways that you can add color and more to your modern home interior using plants.
You can even set up some faux flowers in the vase as a centerpiece on your coffee table and more. Guys – faux has come a long way. Trust me. Faux is great for those without a green thumb or dimly lit spaces like a bathroom too.
There are even hanging planters that you can use for your space that I love because keeping the eye up always make space feel bigger. When it's time to move out – simply patch and paint the holes.
I am always over the moon at how much a properly placed plant or branch arrangement from my morning walk looks in a space.
Paint (all of it)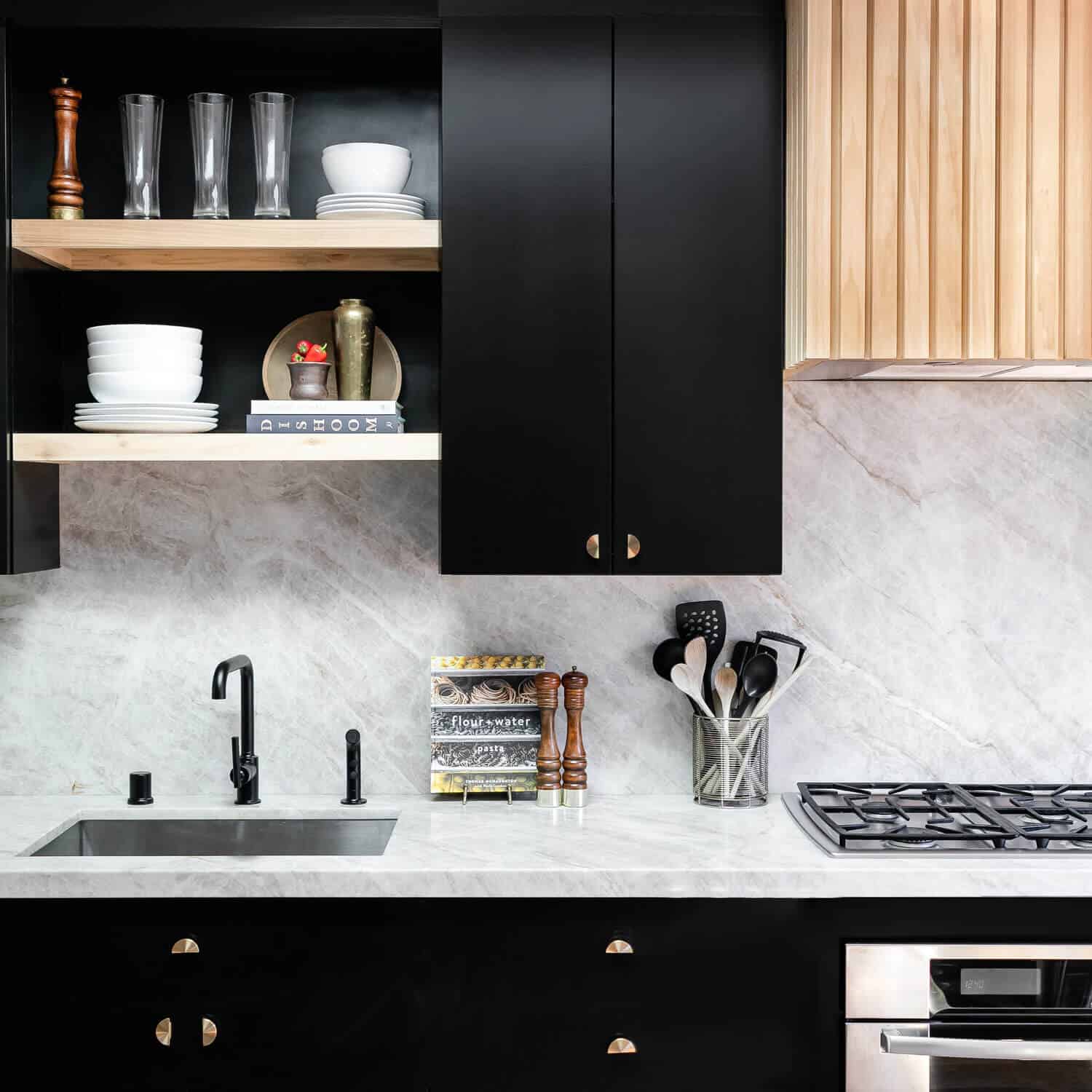 You can often paint to your hearts desire as long as the space is returned to its original color. But from my experience, the owner loved it and kept as is.
Either way one of the fastest ways to get a new look is to paint your walls, cabinets, doors (yes doors) or surfaces a new color. It's the best because it costs just a bucket of paint, and brush.
Of course walls are the obvious choice, but a black door, or midnight green cabinet can make your space a wow! For cabinets be sure to use quality cabinet grade paint that with cure and resist scratches. But go for it. Paint is your friend – always.
Add Shelving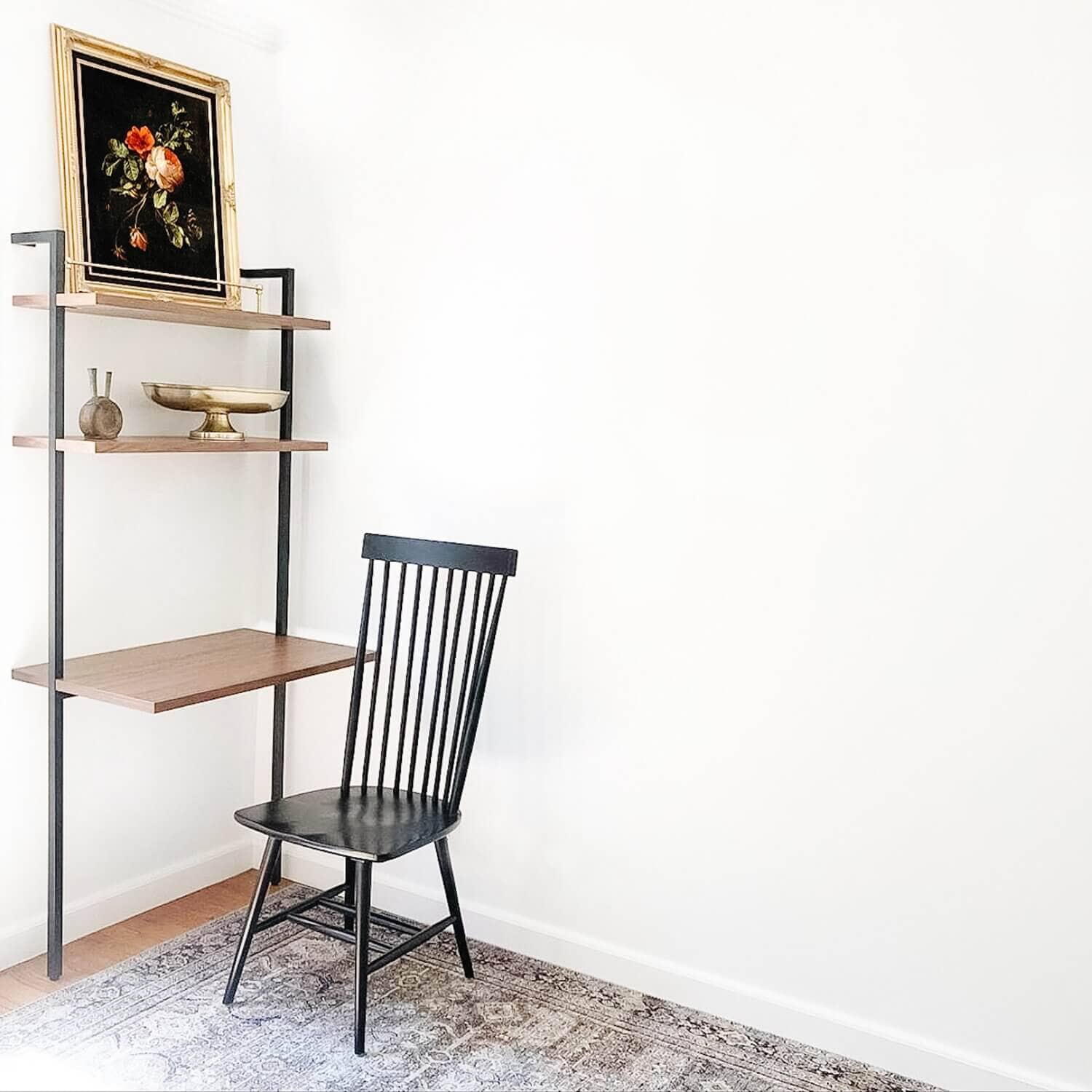 Storage space always seems to be a challenge in rental homes. For some reason, there always tends to be a lack of built-in storage, but with a DIY shelving unit, you can add tons of extra storage and have a spot to style and let your personality shine.
Here are some tips on how I style a shelf in a few different way. Take an opportunity to display your books, jars, plants, and oddities. If you can't afford purchasing some out of the box, here is a link to a solution for your own DIY floating shelves.
But, I might suggest starting with something out of the box that can be easily installed and removed when the time is right. Check out this awesome ladder shelf and display. It's great because it can double as a side table or desk in small space.
While you can buy shelving options, with the right DIY products and DIY tools, you will be able to build your own shelves for much cheaper. Just be prepared to patch and paint the holes when you are ready to move on.
Swap a light fixture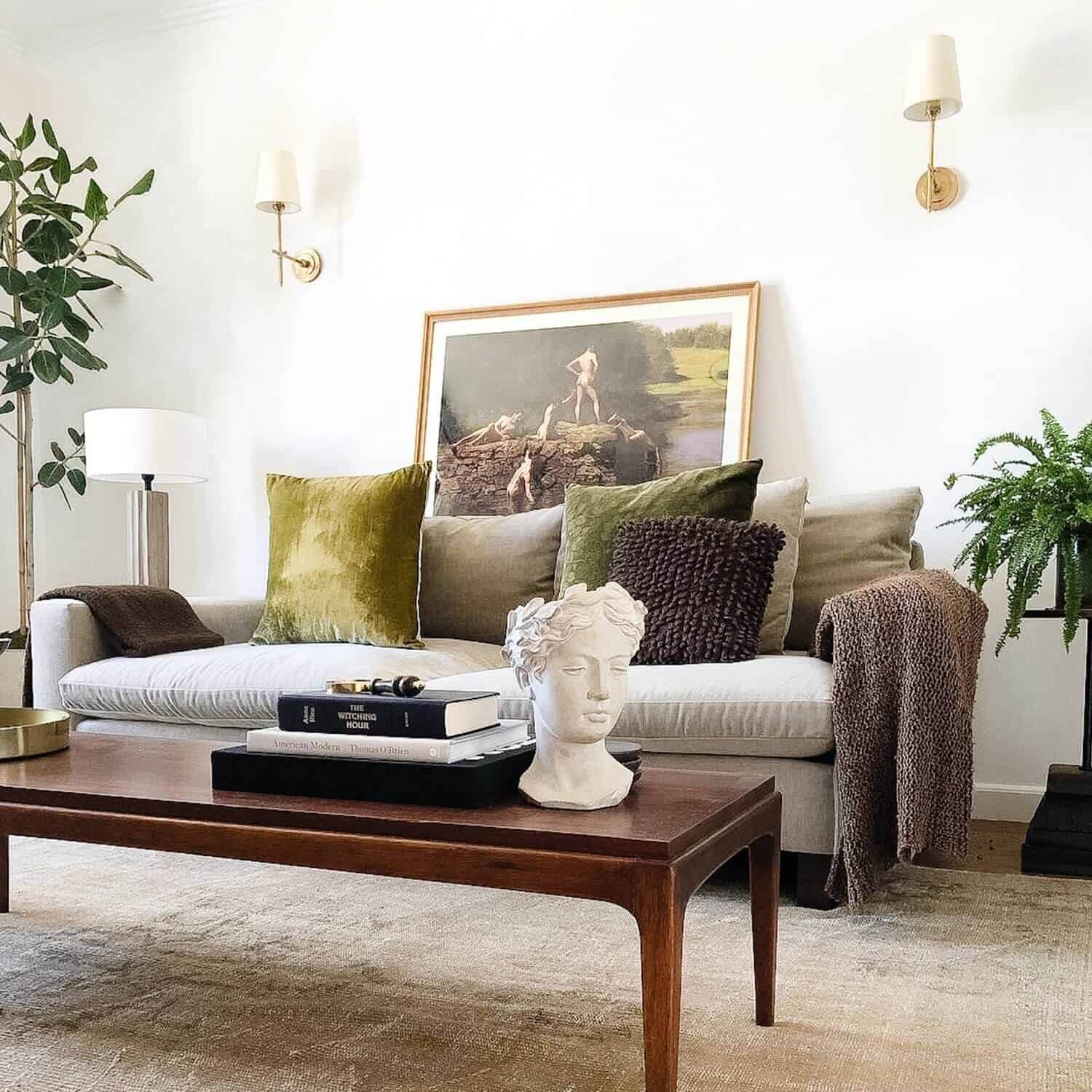 This is always such an affordable, fast, and impactful way to make your space pop. This is electrical so just be careful to turn off power to the light before installing.
Also, pro tip: be sure to keep the original light fixture in a rented home if you want to keep your security deposit safe at the end. You can simply swap it out and take your preferred design with you to your next home. Simply store the old light in a safe space in a trash bag.
There are so many amazing and affordable light fixtures out there. This swap makes a big difference. Also, flush mounts and chandeliers are great but don't forget to consider pendant lights too. Here's a look at the benefits. Go for it! You can do it.
Swap Bathroom Faucets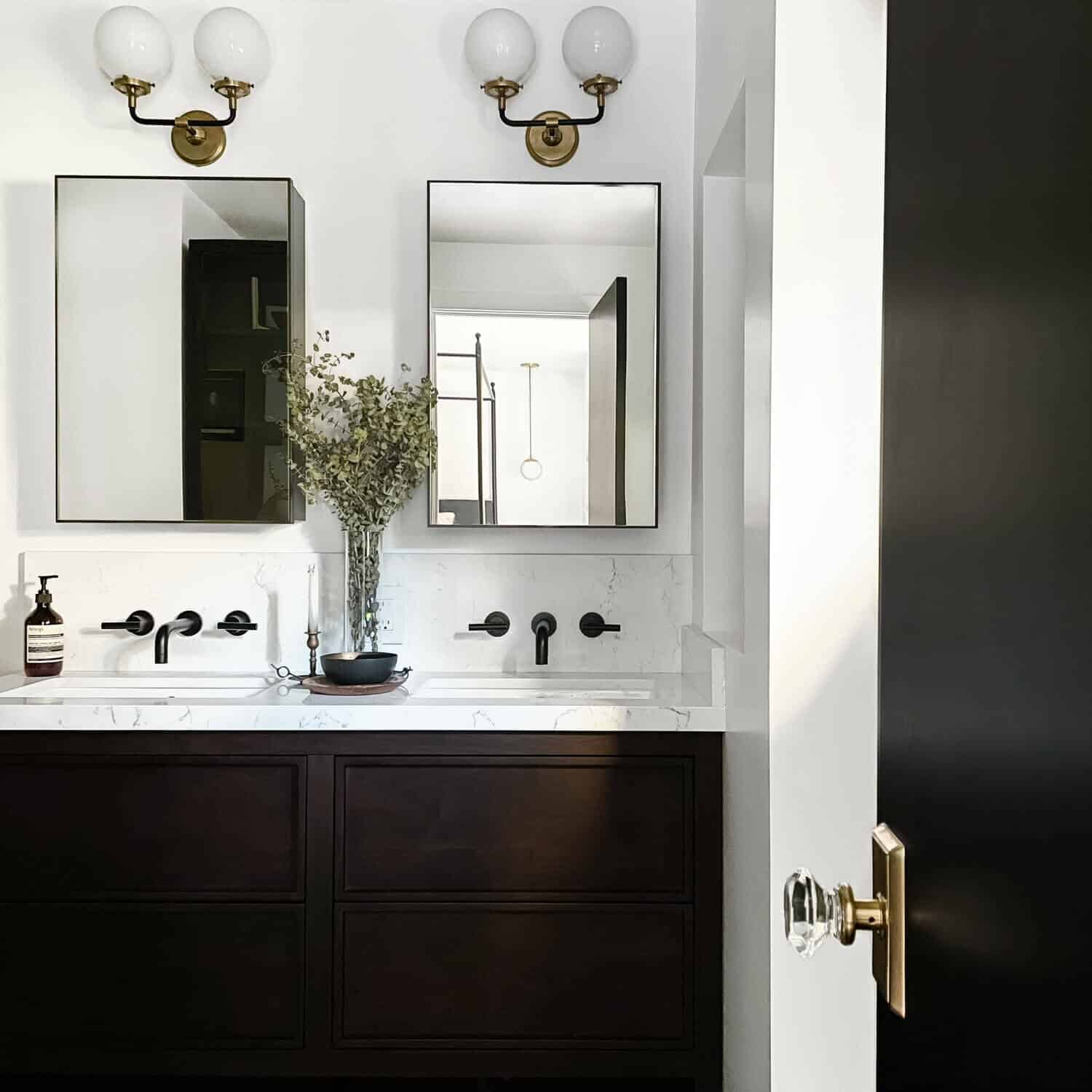 Guys, this isn't hard. I promise. Like the above you can swap out that builder grad faucet for something gorgeous – even a matte black option like I have in an instant. It makes such a difference.
You can even make upgrades to your shower head, faucet, or doorknobs to create the appearance you want. Just make sure you keep the old pieces safely so that your DIY upgrade doesn't cost you in a rented home.
Of course, I love Matte black finish options – but you can go brass too. Check out my bathroom for what I did. I am still obsessed over two years later.
Removable wallpaper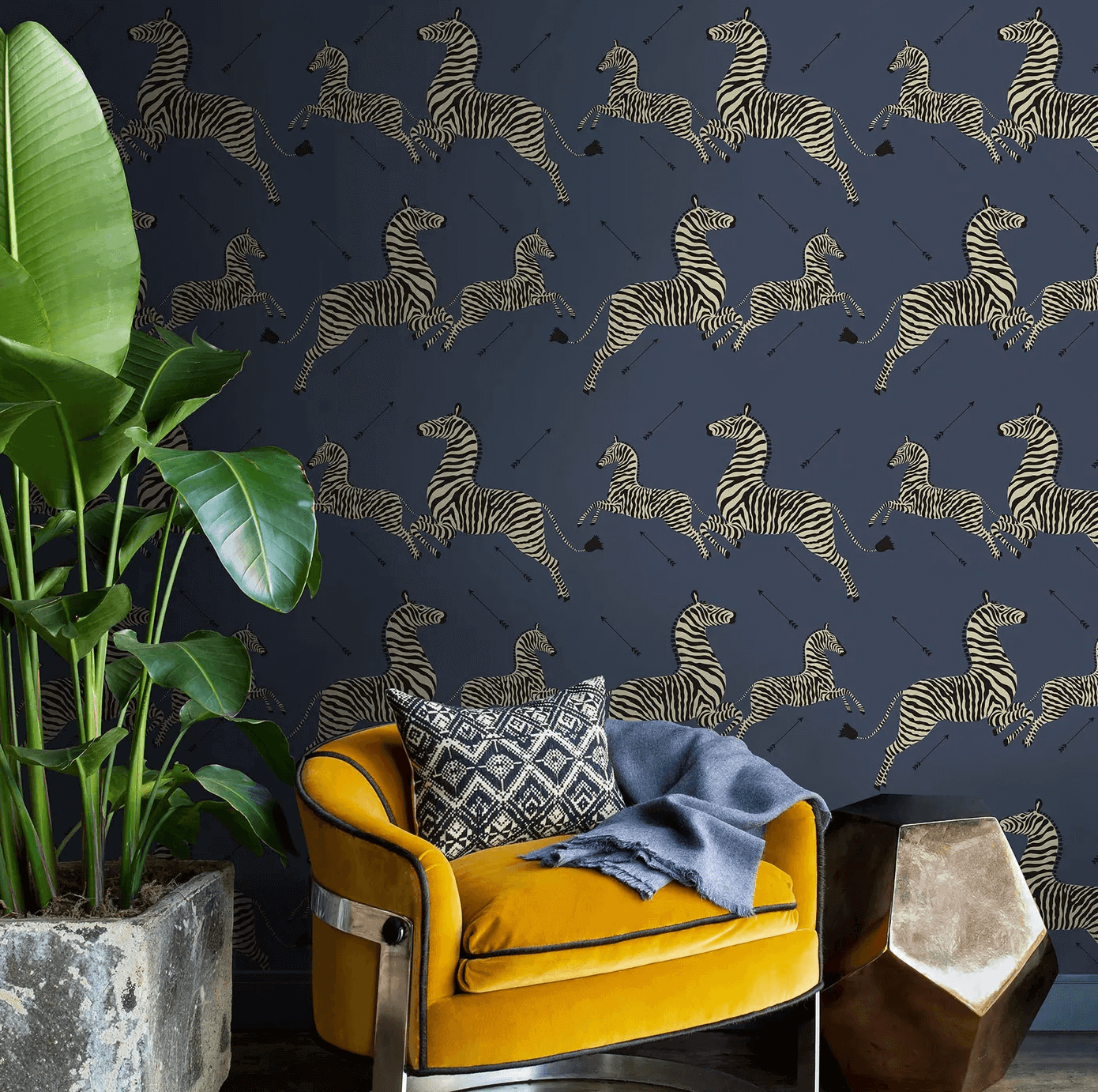 You had to have guessed that this was going to be on the list! But it's for good reason you guys. This is my favorite option for making your feel like your own.
You might not have the option of going crazy with your choice of wall paint for a rented home, but peel and stick wallpaper is a great way to glam up your walls.
This can be done in one afternoon and without having a long-term impact to your walls. I am totally obsessed – please do this. Thank me later.
Installing it is really easy. All you have to do is take the adhesive off from the back and apply the wallpaper strips from top to bottom along a straight line.
Mark the starting point and make sure each consequent strip aligns with the pattern of the previous strip. Use a plastic smoothing tool to press down on the strip and remove any air bubbles.
Don't forget that this is easy to put on and take off and it will make your walls pop.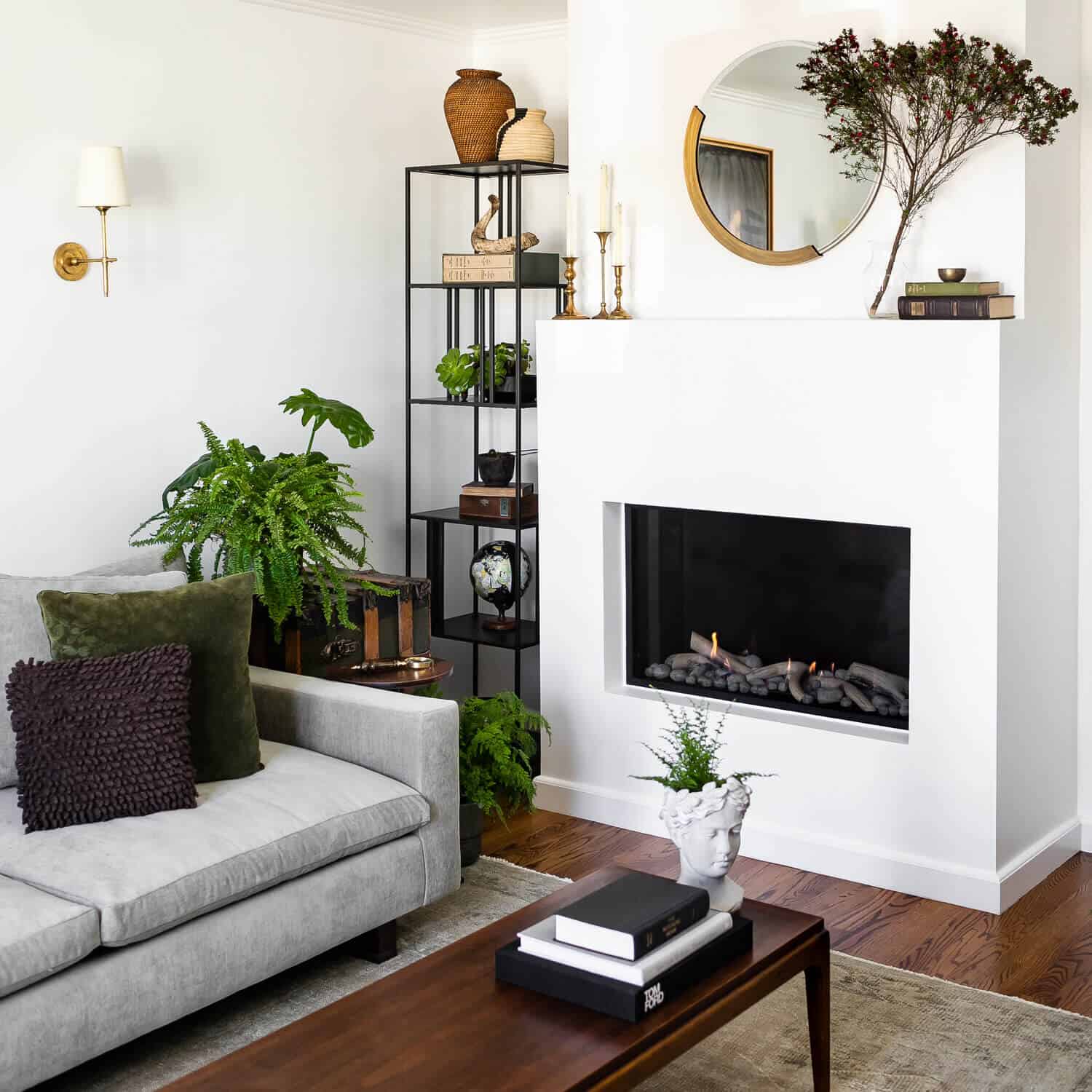 Add a mirror
Circular mirrors (or any really) are a favorite go to for any well designed space. By simply adding a mirror to a dimly lit corner, or in a bathroom that needs to feel bigger is always a great idea.
I have added mirrors in most any space I have ever lived in. They instantly make a room feel bigger, they can be a gorgeous focal point, and they often make a room feel brighter if placed to reflect natural window light.
Here are some of my favorites.
Styling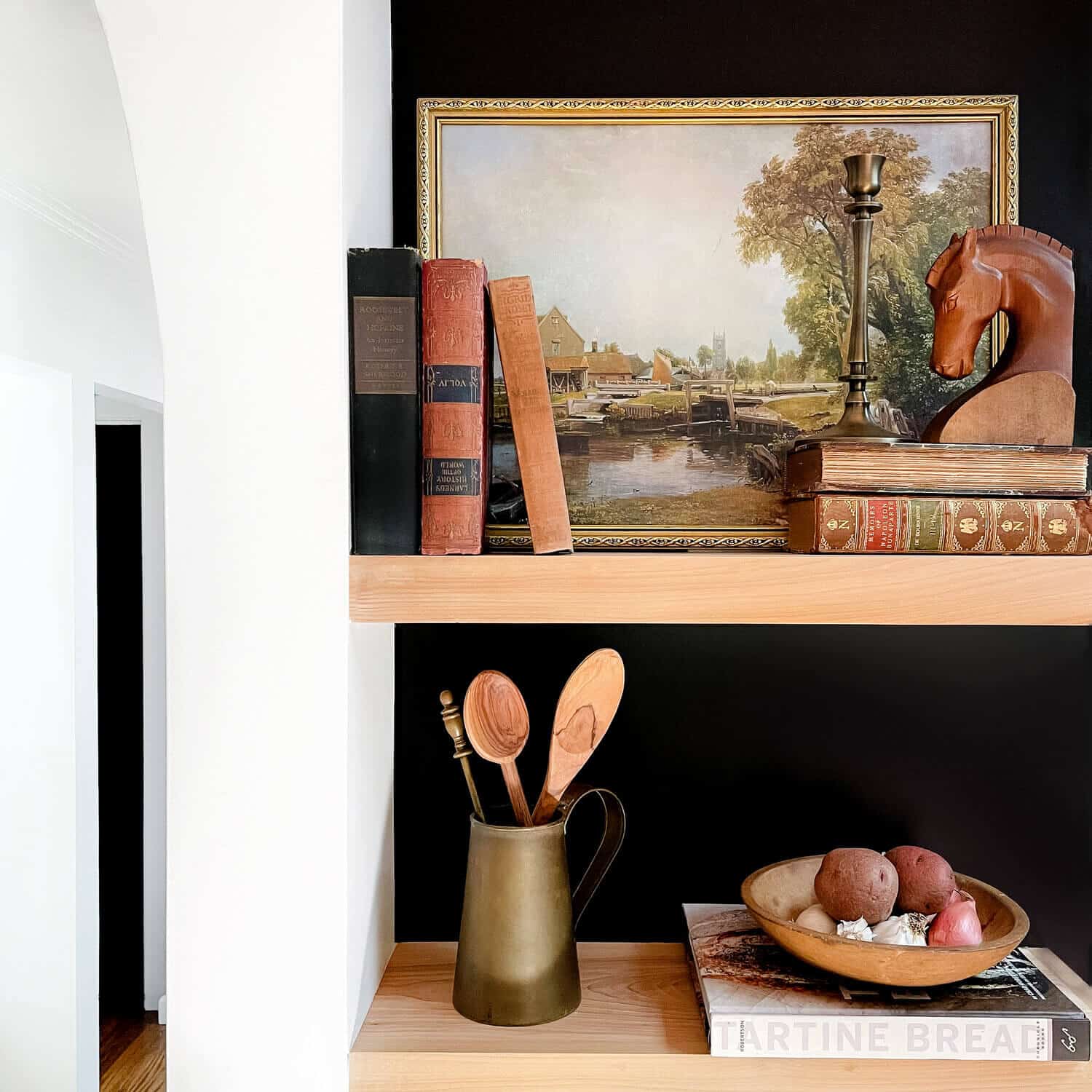 Not everything to improve your rented space needs to be a project of sweat. Some carefully curated styling objects for you coffee table, nightstand, or kitchen counter will make your space a design worthy room in an instant.
There are many things you can do while styling to get the look you want. Here are some tip to keep in-mind when attempting to style a shelf (or any room really)
Remember, most great rooms are the greatest because of intentional decorating. The best part? It can all go with ya, and you don't even have to crack open a can of paint to do it.
Faux Window Panes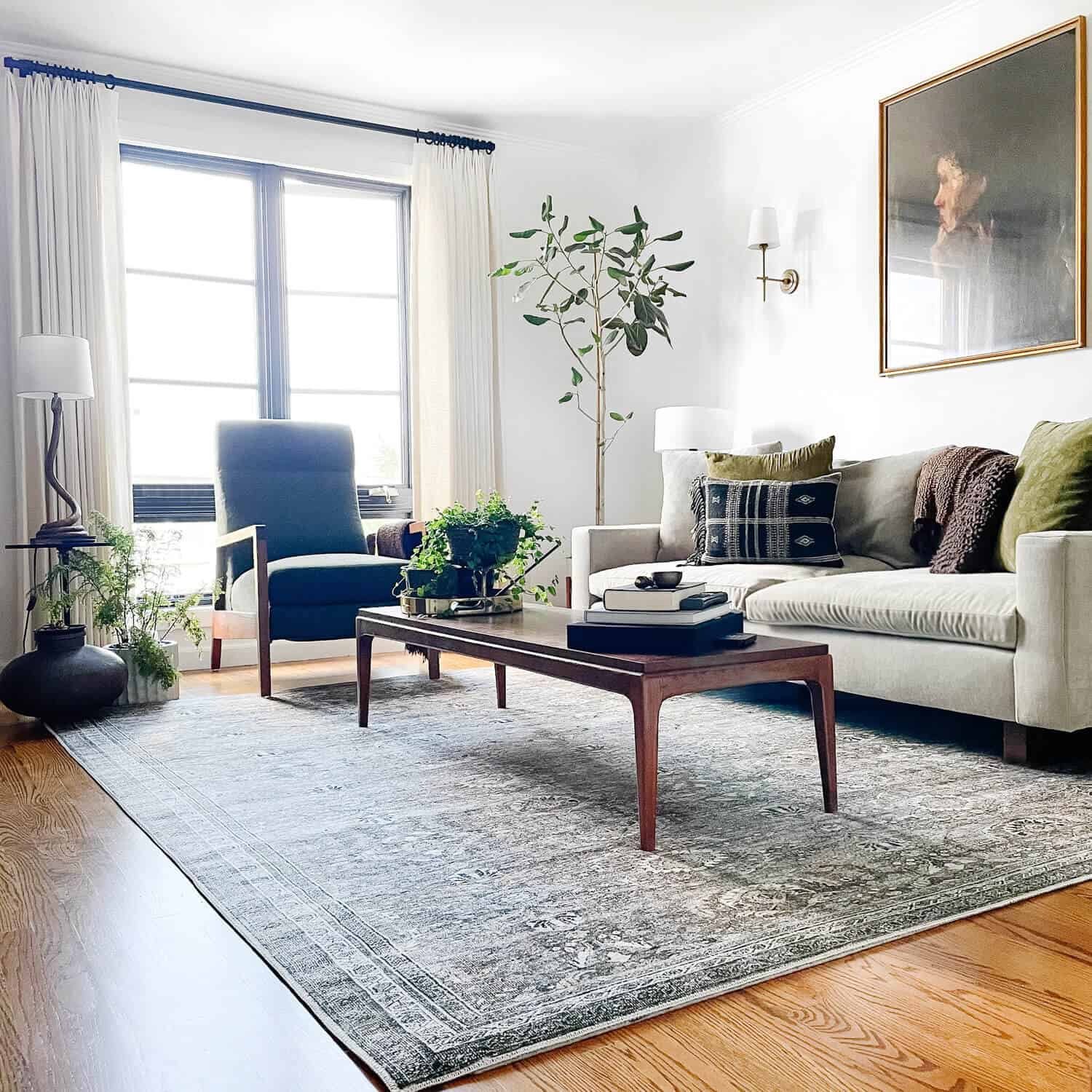 Guys, I love a black window frame. The thing is – lot's of newer homes don't have that cool grid look. Never fear, I LOVE this DIY for renters because it literally costs $5 dollars for a roll of black 3M electrical tape.
Simply divide your window into even panes and take the shape of a traditional window pane. I did six blocks for mine. Step back and look at the difference.
This DIY turns your window into a high contrast piece of art in my opinion. The best part is it only took 10 minutes and $5 dollars. Give it a try. If ya don't like it ya can take it down in a jiff.
Add a Backyard a fire pit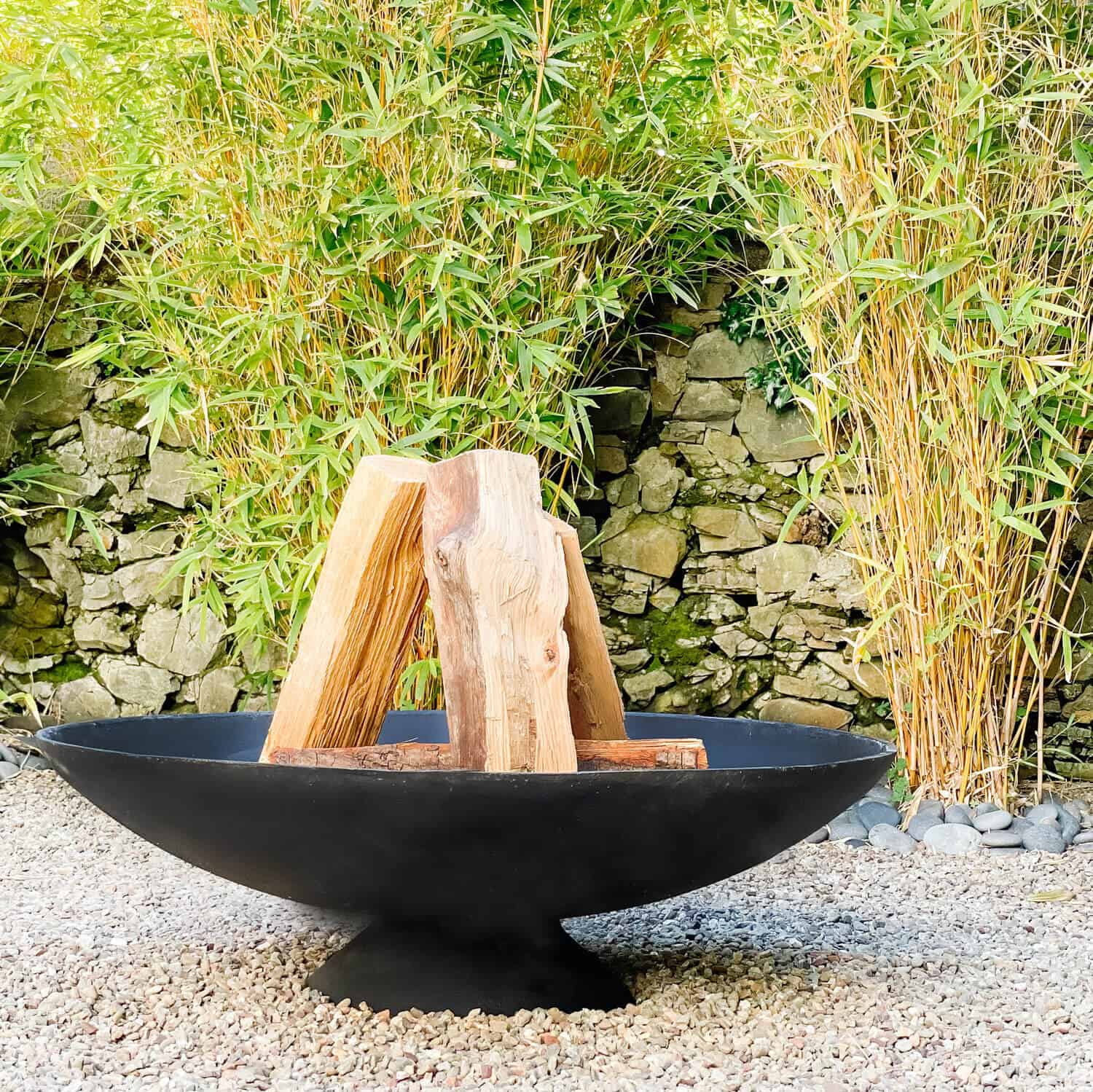 A fire pit or fire bowl is a great addition to your home for many reasons. While this the inside of your home, it can light up your home exterior or backyard and help to take your home experience to the next level.
Fire bowls or pits create strong focal points in a backyard, light up the space in the coziest of ways – and promote people to gather. What's better than having a backyard where you want to spend quality time with your friends and family.
Swap out Cabinet Pulls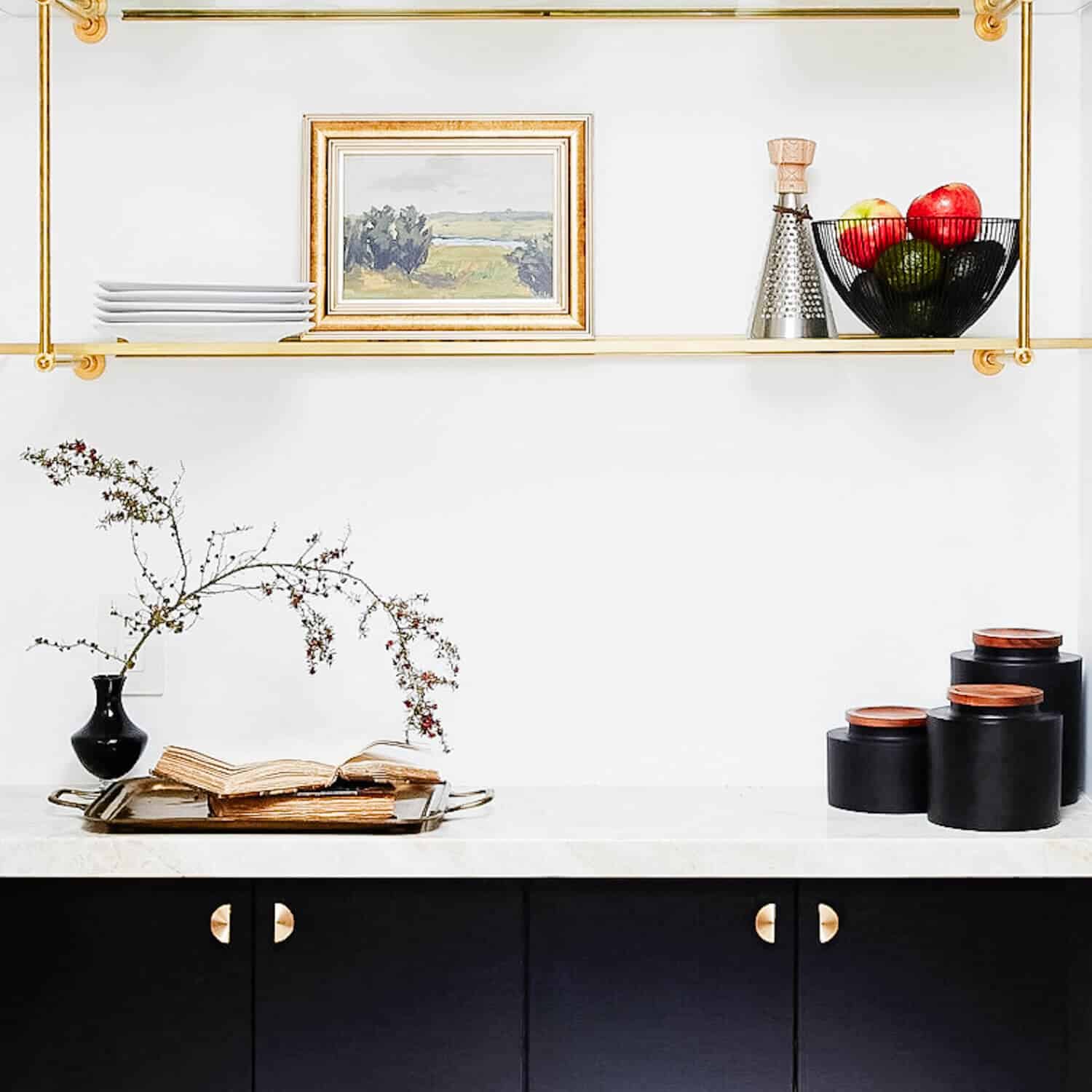 Do this! There's no need to have builder grade chrome cabinet handles. Simply unscrew your dated hardware and take it with you to the hardware store and match the screw backing to a cooler more exciting piece.
You can even order them online as long as you get a pull that matches your current drill holes. New hardware makes a huge difference – and quickly. I love my half moon pulls. The look is night and day.
There you have it folks! Make your space home. I hope these tips helped. Love y'all xo
A Few FAQ
How can I decorate my rental for cheap?
I would recommend starting by adding a few plants to your living space! This will give you the pop of color you're after (especially near a blank wall of white paint). From there, I would start on shelving.
Standalone shelves are a good place to start, particularly if you're worried about getting back any security deposits.. These will give you more space to decorate using tiny pieces you already own!
Of course, you can also customize the shelves with your choice of paint color, which makes for a fun, simple project.
How do I make my rental property feel like my own?
Generally, I find a place "feels like home" when the decor reflects my personality. So, gone are the plain white walls!
Showcase your personality through handpicked pieces of furniture, artwork, removable wallpaper, and unique decor projects throughout your property. This will make an noticeable difference. If something's not "you," remove, replace, alter, or upgrade it!
Does peel and stick wallpaper tear off paint?
Most of the time, it does not. However, a noticeable exception is when the paint is already peeling. In that case, it will likely tear off the flaking paint when removed.
How to decorate walls in rented apartment?
Removable wallpaper is one potential possibility. Other options, such as hanging framed posters, artwork, wall decals, removable shelving, or tapestries—are also great decor projects for an apartment.
How can I make my rental look good?
You can try any of the fun projects mentioned so far to improve the look of your rental. However, cleanliness is also something to consider. Not only is keeping the place clean a good starting point for decorating (since you'll have a neat starting point), but it also helps highlight your decor choices.
To example, let's think of rental kitchens. If there is custom artwork on the wall but the stove is covered in grease and the sink is filled with dishes, what are you likely to notice first? Not the artwork: so keep it clean if you want it to look good!