Are you in the middle of a kitchen renovation and wondering where to put knobs and handles on kitchen cabinets? I've been there. It's all (mostly) fun and games until it comes time to installing those knobs and handles.
I had such a hard time getting the proper cabinet knob placement when I remodeled my kitchen. So, I decided to pull together this how-to guide with all the pro tips to get it just right.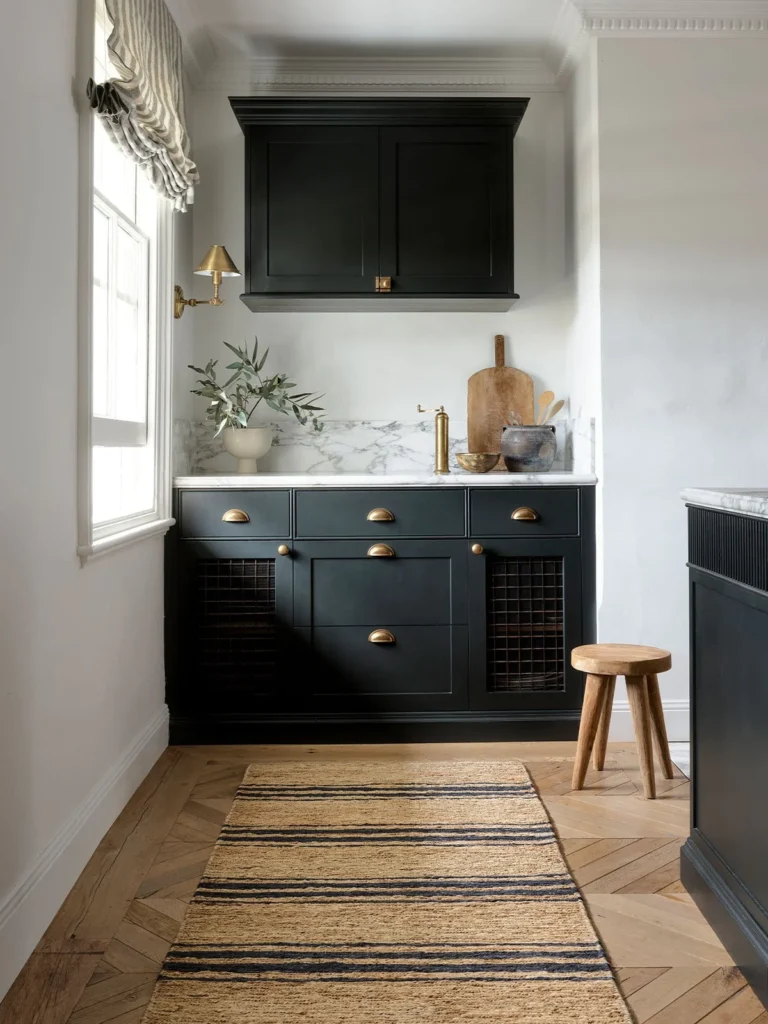 Where to put knobs and handles on kitchen cabinets
Cabinet knobs and handles are ideally installed on the stile opposite the hinges. As a general rule you should try to place a knob 2 1/2″ – 3″ from the corner of a cabinet door. For uppers, place knobs in the bottom corners. For lower cabinets, place them in the upper corners.
Is installing Kitchen Cabinet Hardware Hard?
Installing kitchen cabinet hardware can be a complex process — and even more so when figuring out where to place the knobs and handles. Fortunately, some established general guidelines for cabinet hardware placement will help simplify your DIY task to get a classic look with almost any standard type of hardware.
From traditional rules about knob heights to being careful about selecting two-tone door pulls, we'll discuss everything you need to know about adding style and function with the perfect cabinet pull setup. I also gotcha covered with all the types of kitchen cabinets you should consider and if your curious – here's how much it costs to paint kitchen cabinets too.
Read on and learn how to confidently complete your DIY kitchen project and enjoy well-placed knobs and handles for ultimate aesthetic appeal and usability.
How to Select the Right Kitchen Cabinet Hardware?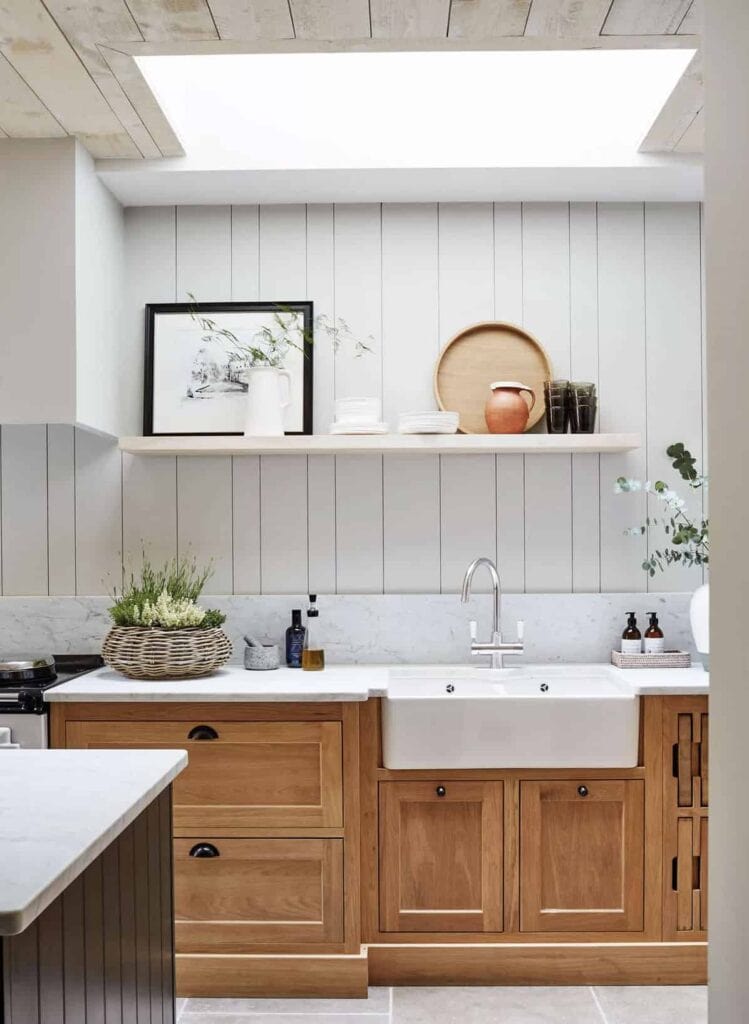 When remodeling a kitchen or even updating some aspects, people tend to focus on the larger elements, such as flooring, countertops, and appliances. However, choosing the right kitchen cabinet hardware is just as important. Hardware affects not only the overall appearance of the cabinets but also the functionality of the space.
There are several factors to consider when selecting the right kitchen cabinet hardware and deciding where to put knobs and handles on kitchen cabinets.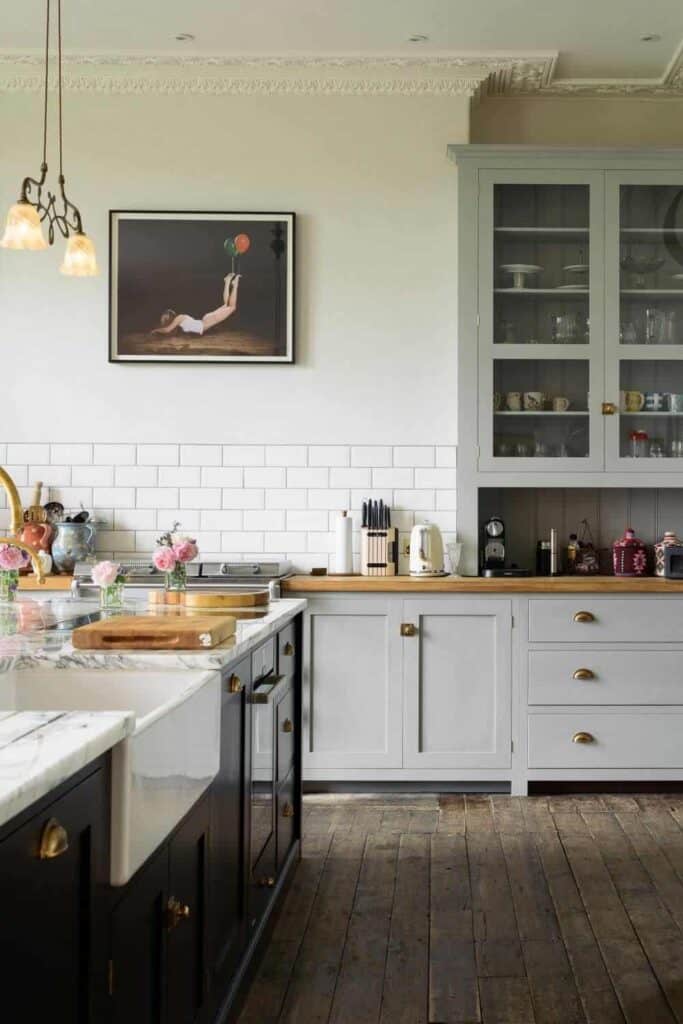 Firstly, the style should complement the cabinet design and any surrounding décor. Additionally, the right size and length should be appropriate for the cabinet size and have an easy way to grip the cabinet pulls. The finish should also match the other finishes in the space, such as faucets and light fixtures.
The main point, though, is that choosing the right kitchen cabinet hardware isn't something to overlook. It can make a significant difference in your kitchen's functionality and appearance.
Where to Put Knobs and Handles on Kitchen Cabinets for a Designer Look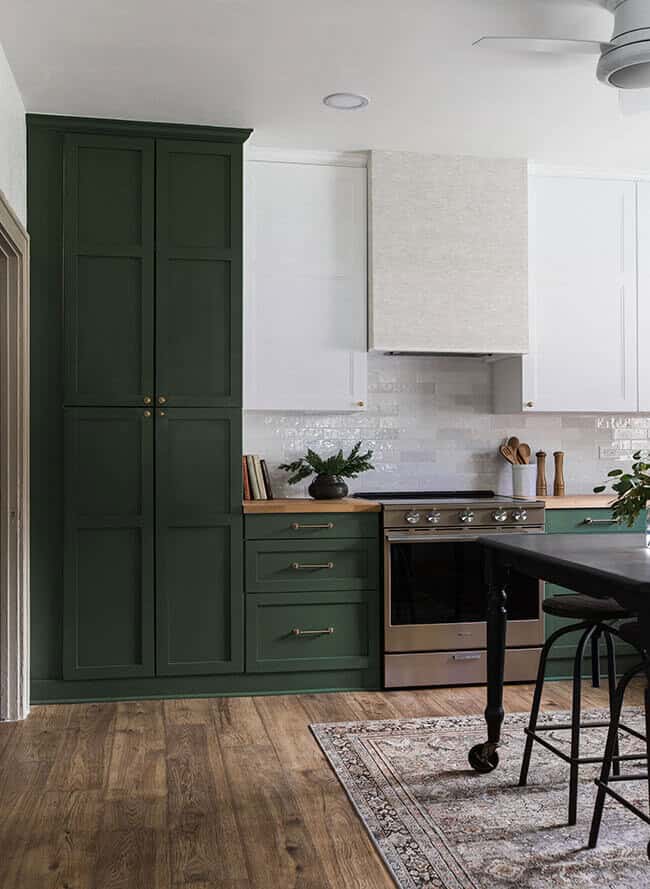 Now that you've (hopefully) chosen the right cabinets, it's time to think about placement. Does it really matter? Absolutely.
Hardware placement is a crucial aspect of kitchen design. When considering hardware placement, it's essential to avoid placing it too high or too low, as this can make opening and closing cabinets and drawers difficult. Also, familiarize yourself with different types of handles.
Knobs, traditionally designed with a round metallic shape, are typically used for drawers. While you can use them for cabinet doors, pulls are typically a great choice for doors, as they offer an easier and more stable grip, making them ideal for larger, heavier drawers.
What to Consider Pre-Kitchen Renovation?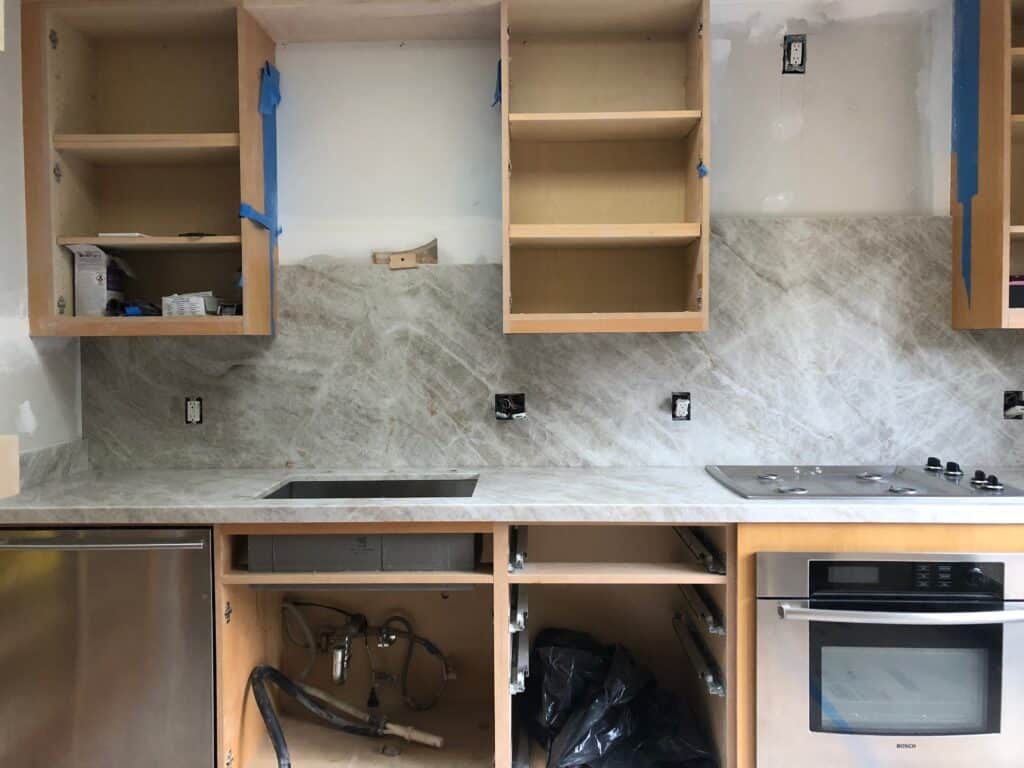 Renovating a kitchen is a major undertaking and a significant investment that requires thorough planning and consideration of various factors. Here are a few things to consider before you start your renovation to ensure it's not a stressful process.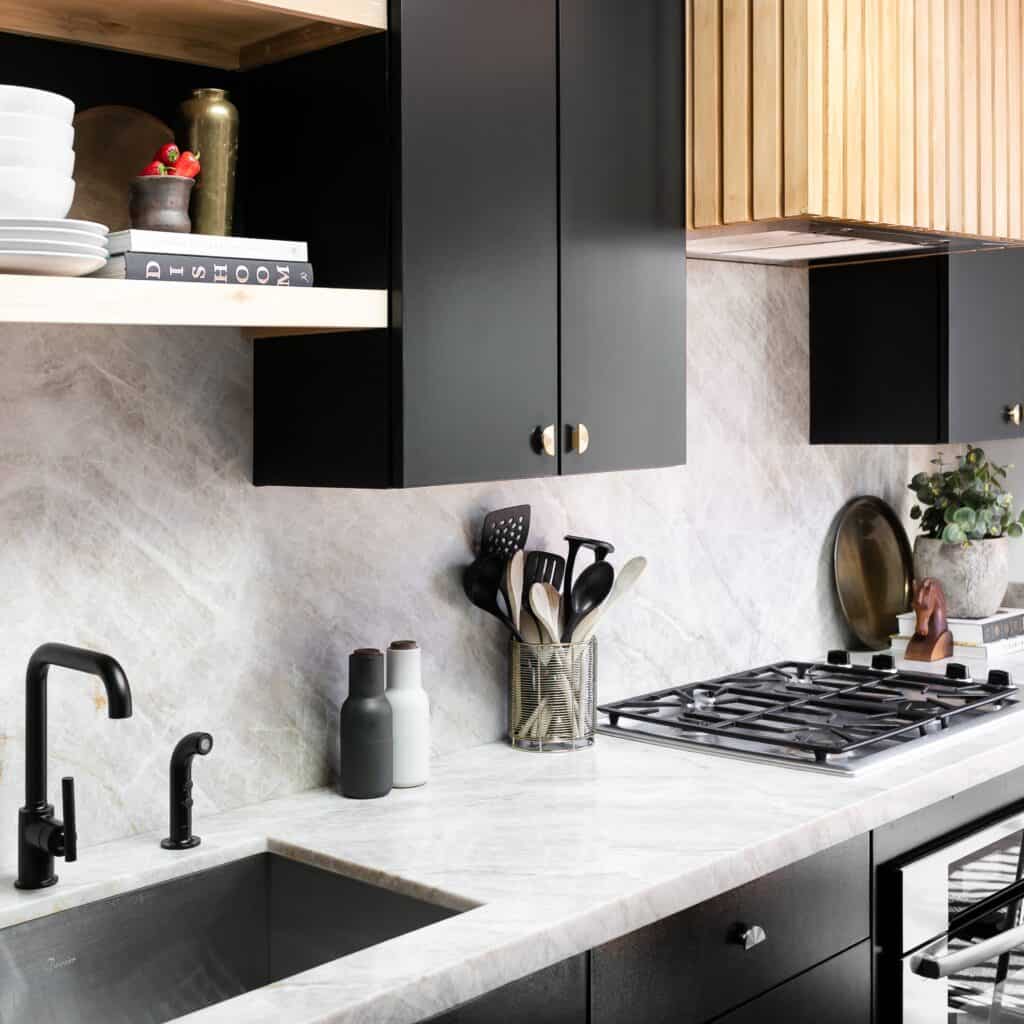 Types of Cabinet Doors
Consider the types of cabinet doors that best suit your style. Understanding the different door designs (panels, rails, and stiles) will help simplify the hardware placement.
Traditional-style cabinet doors are likely the most well-known and classic. They're the ones with the raised panel in the middle, making it look like the center panel is floating and outlined by a carved design.
On the other hand, modern-style cabinet door panels are simple. They look like flat pieces of wood or solid material used without any rectangular frame around the door panel.
Regardless of your style, considering the various cabinet door designs is crucial for achieving an ideal kitchen renovation that complements your home's style.
Quality of Knobs & Handles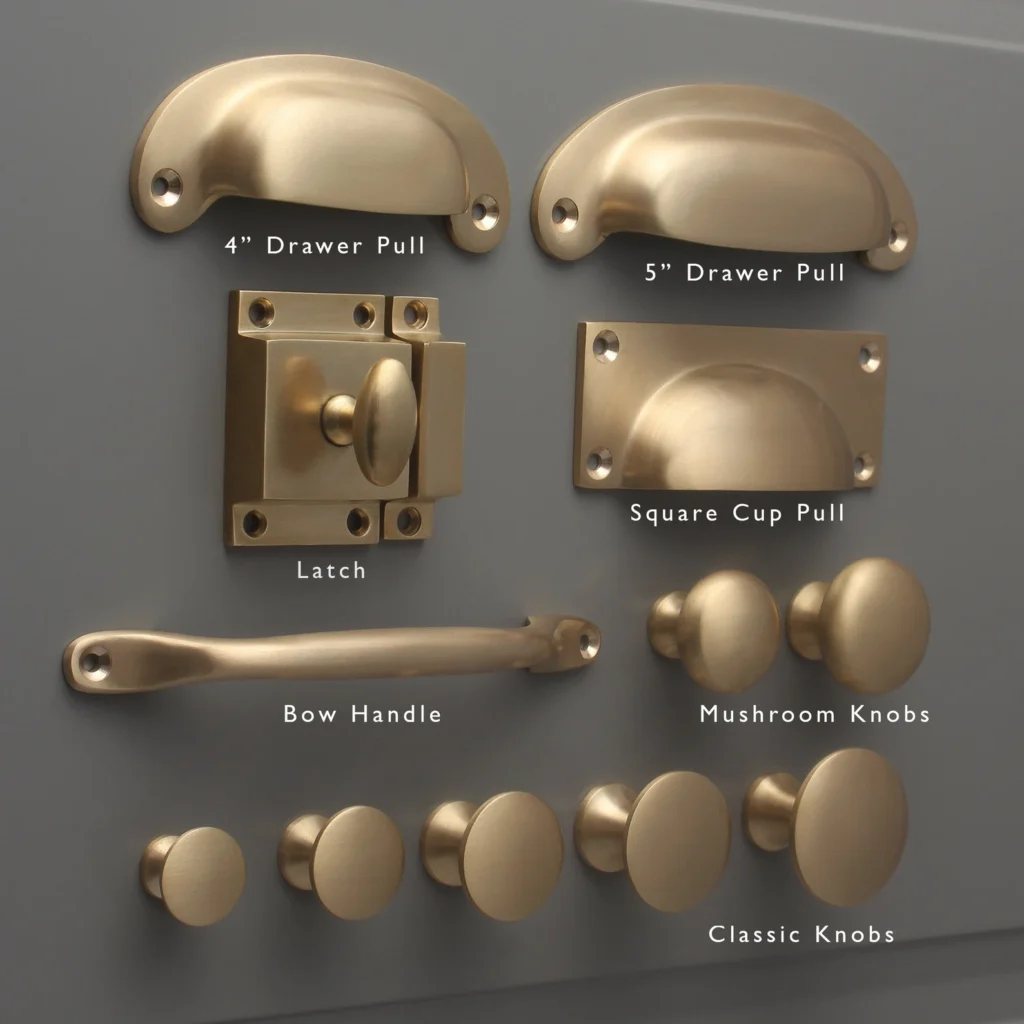 There are two key purposes to remember when placing hardware: functionality and appearance. To determine which types of knobs and pulls to use, consider the desired look and feel of the room.
Traditional knobs on doors and pulls on drawer front create a classic feel, while sleek pulls on drawers and doors are perfect for a modern look. It's also worth considering using a combination of knobs and pulls for a semi-modern design style.
Kitchen Installation Tools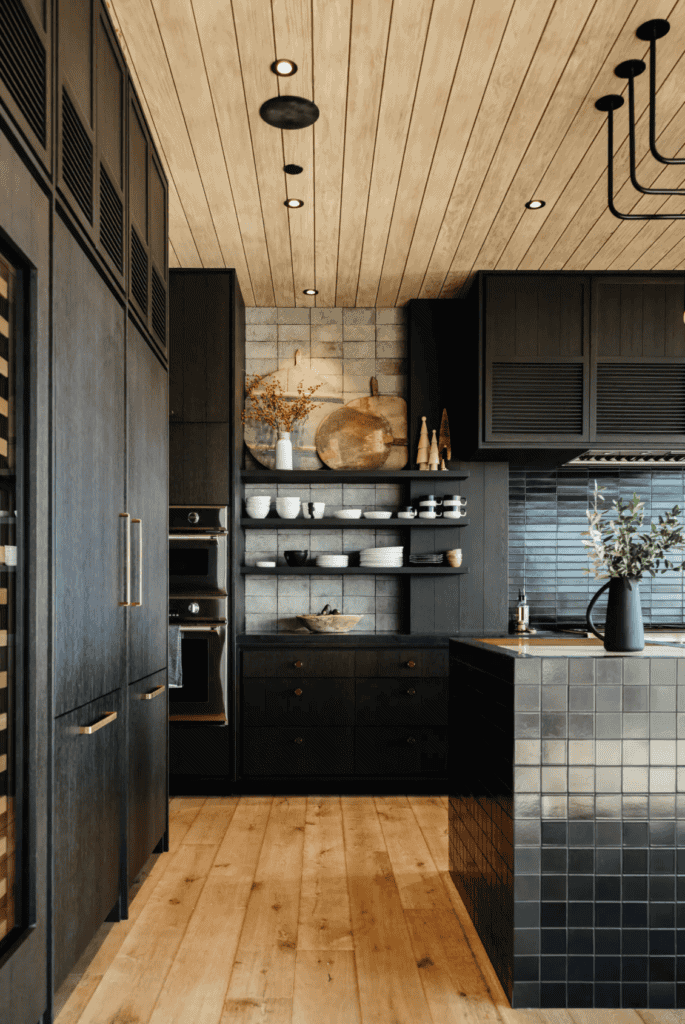 Before starting your kitchen renovation, it's important to consider the installation tools you'll need. Rushing the project is a common mistake regarding cabinet hardware placement, especially if it's your first time installing.
While it might seem like a hassle, choosing the right tools can significantly affect the installation time. Choosing high-grade materials and tools will save you time and frustration in the long run, so take the time to plan accordingly.
Where to Put New Kitchen Hardware on Drawers?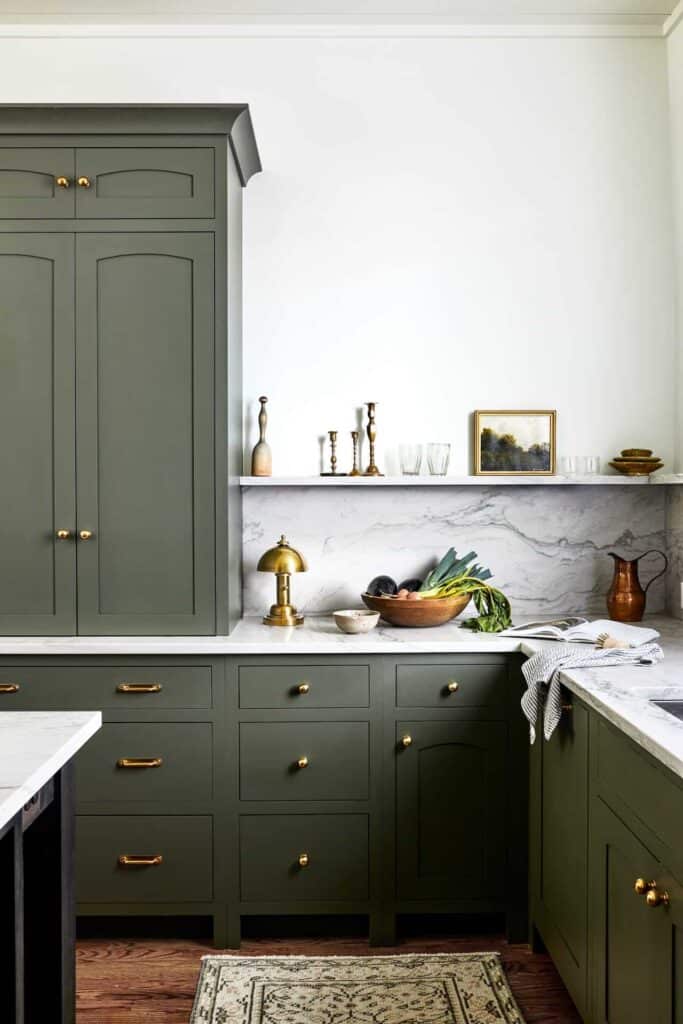 With the vast array of drawer hardware options available, deciding on the most practical and visually pleasing placement can be difficult. Here's what to consider if you're using pulls or handles.
Pulls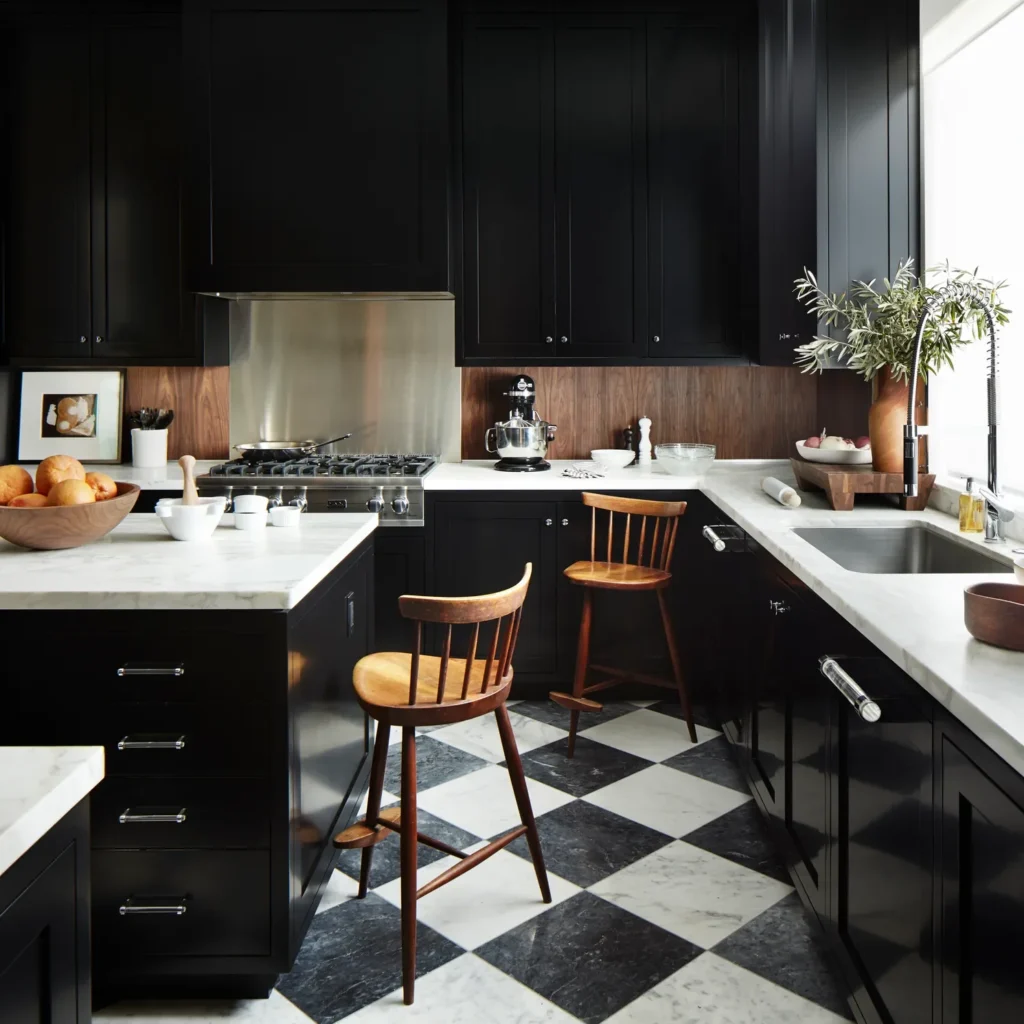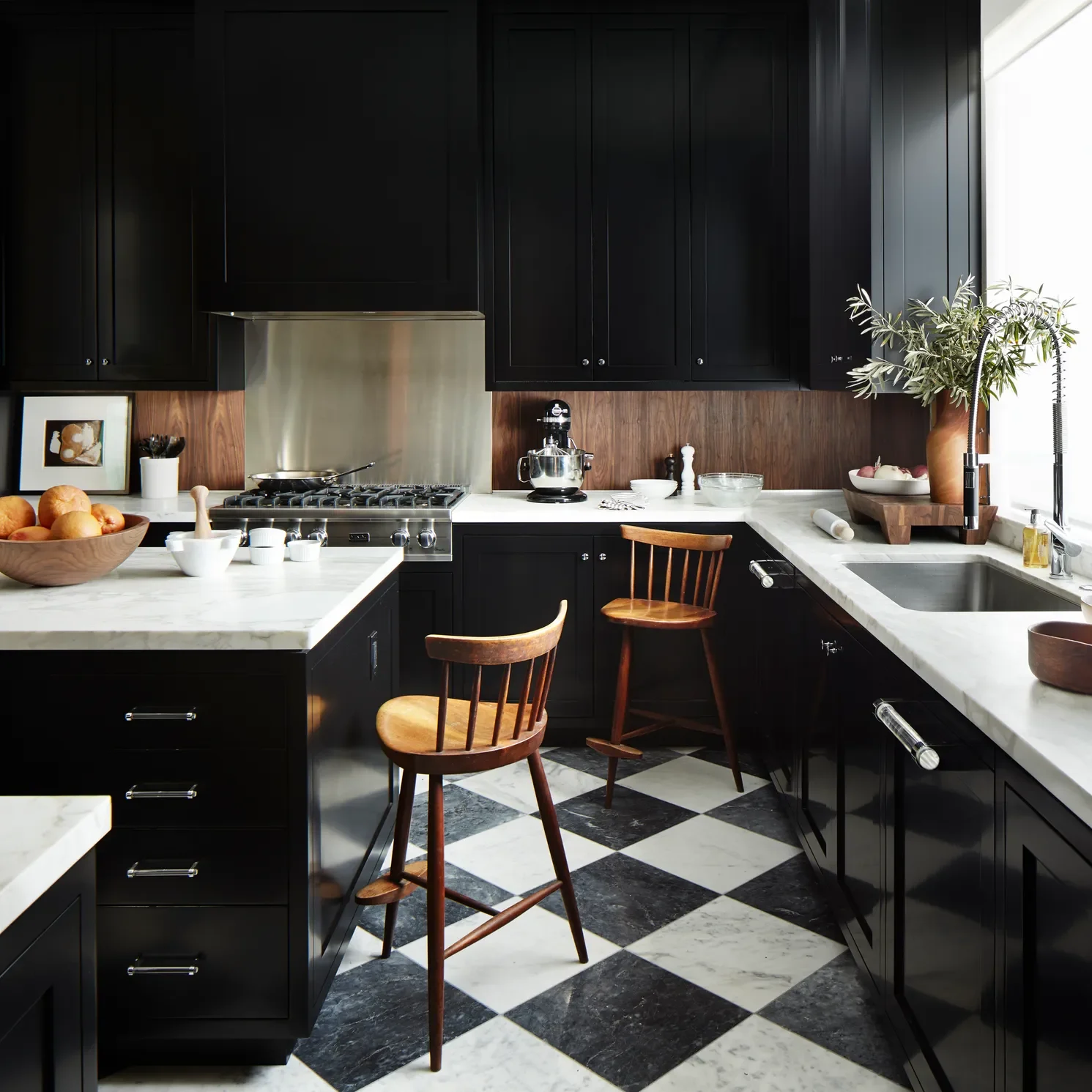 Looking for the perfect placement of pulls on your kitchen drawers? Place them directly in the corner of the doors, one to four inches from the edge. Avoid making your cabinets look too busy by not placing the pull handles flush with the door frame. For the best option functionality, place pulls vertically on cabinet doors.
Handles
When placing handles on your kitchen drawers, you have several options. You can put them in the lower corner of the door frame, above or below the corner, or vertically centered on taller cabinet doors.
For base cabinet doors, cabinet knobs can be placed two to three inches from the upper corner. Avoid placing them centered at the end of the door rail, as it can make the room look busy. Ultimately, placement depends on your personal preference and practicality.
Where to Put Kitchen Hardware on Base Cabinets?
Base cabinets are the lower cabinets in a kitchen typically used for storage and countertop space. Again, these are another area most homeowners overlook. However, measuring the cabinet handles is just as important on these cabinets, too.
Pulls For Base Csbinets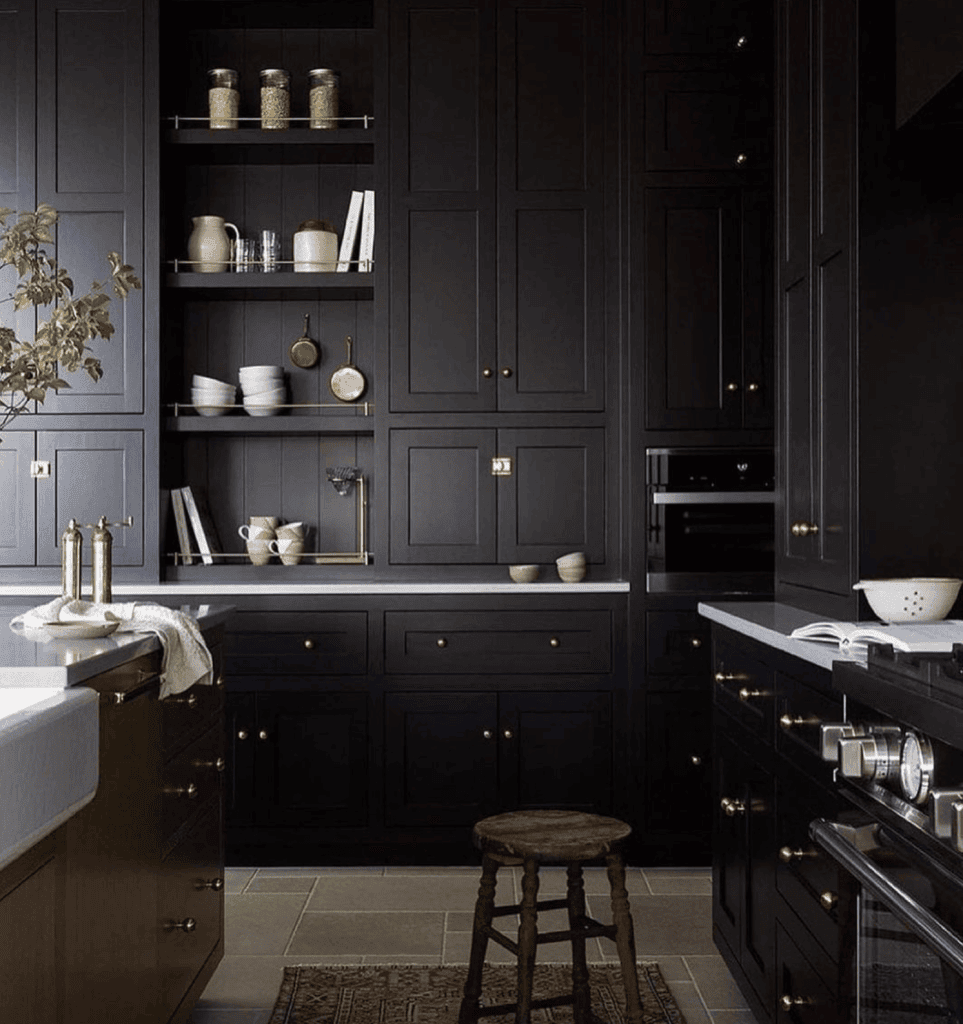 For base cabinets, you should aim for a placement that's both accessible and practical. Place knobs about two to three inches from the top of the cabinet door or top of the drawer for optimal leverage.
Then, position them approximately one inch from the edge of the door. Remember that they should be opposite of the uppermost hinge. This will help ensure the countertop overhang doesn't block them. This ensures easy access and makes opening the cabinet a breeze.
Handles For Base Cabinets
If you want to add handles to your kitchen base cabinets, the finger pulls should be placed at the upper corner, opposite the hinges, so it is easy to open and close the door. To create a seamless, clean look, you can position the handles flush to the edge of the doors when the doors open in opposite directions.
Where to Put Kitchen Hardware on Wall Cabinets?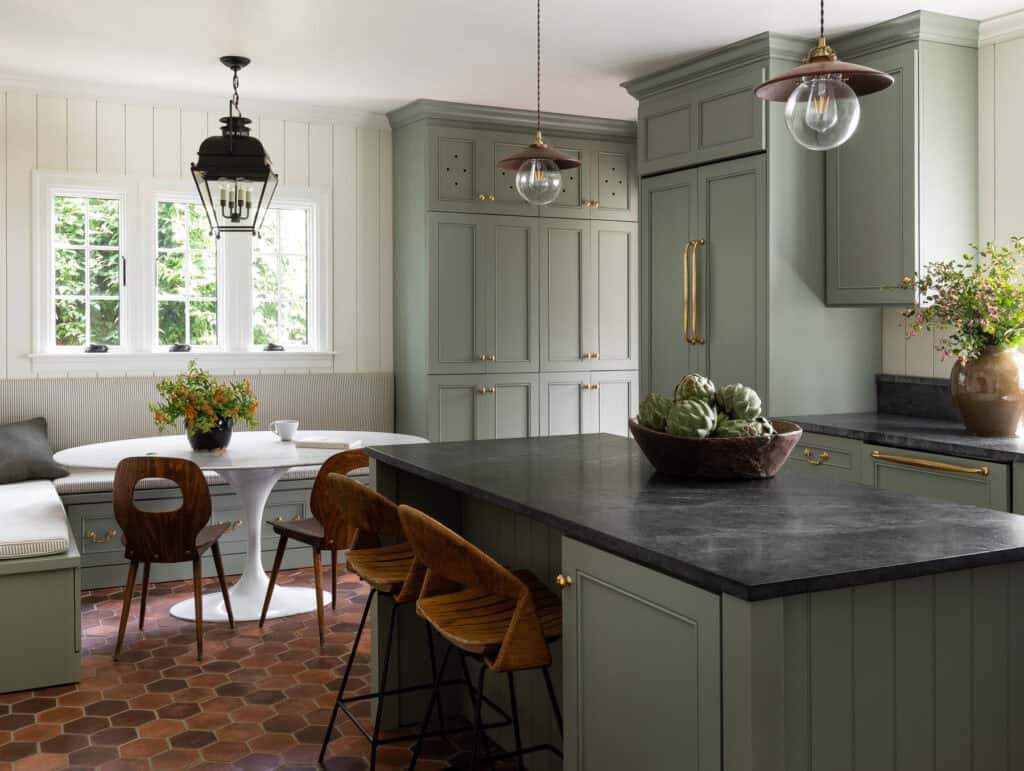 Finally, we have wall cabinets, which are the ones most people see. Spend time getting the measurements right here, as a slight misplacement could make the entire kitchen look slightly (ever so slightly) off.
Pulls For Wall Cabinets
To put pulls on kitchen wall cabinets, start by marking the spot for your lower screw holes, about two and a half to three inches from the bottom of the cabinet door and one inch from the opposite edge.
Then, use the pull to measure and mark the position of the upper screw hole. If you're installing a finger pull, position it so it's flush to the edge opposite the hinges so only the front edge is visible at the bottom of the door.
Handles for Wall Cabinets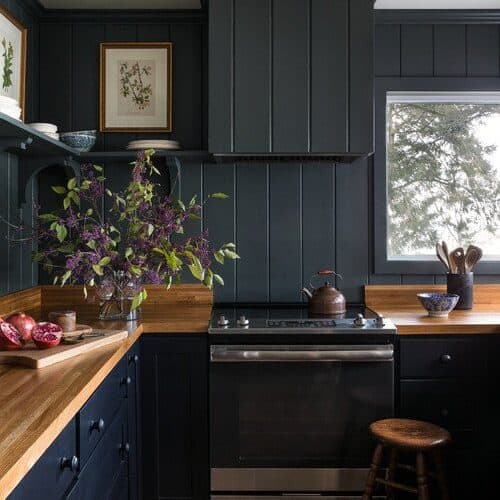 When installing handles on kitchen wall cabinets, it's important to put them in the right place. The knob should be located in the bottom corner of the cabinet door, about three inches from the bottom and one inch from the edge. This makes it easier to open the door and improves leverage.
How to Improve Your Kitchen Design with the Right Hardware?
Improving your kitchen design with the right kitchen hardware is a great way to give your space a stylish and functional upgrade, regardless of how much you know about interior design.
Hopefully, by now, you understand that the cabinetry is the room's focal point and needs to look excellent at every angle, especially regarding the hardware. Door and drawer cabinet hardware placement have a significant impact on the style and functionality of a room.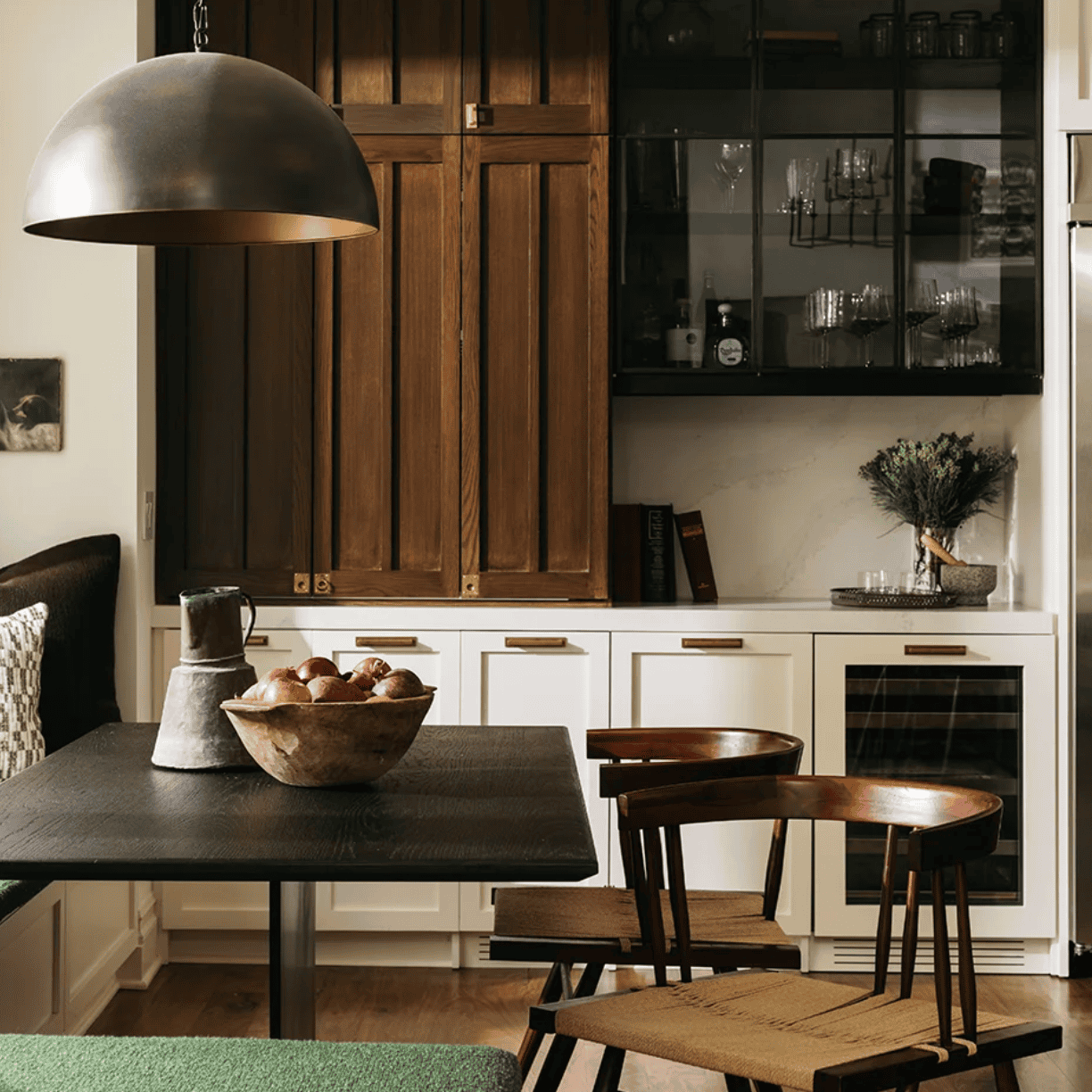 When choosing hardware, consider the following:
Overall style of your kitchen
Color scheme – I painted mine matte black
Finishes of your appliances and fixtures
Some pro tips? Sleek and modern hardware can complement a minimalist kitchen design, while traditional hardware can add warmth and character. Swapping outdated hardware for new pieces can easily enhance your kitchen's style and functionality.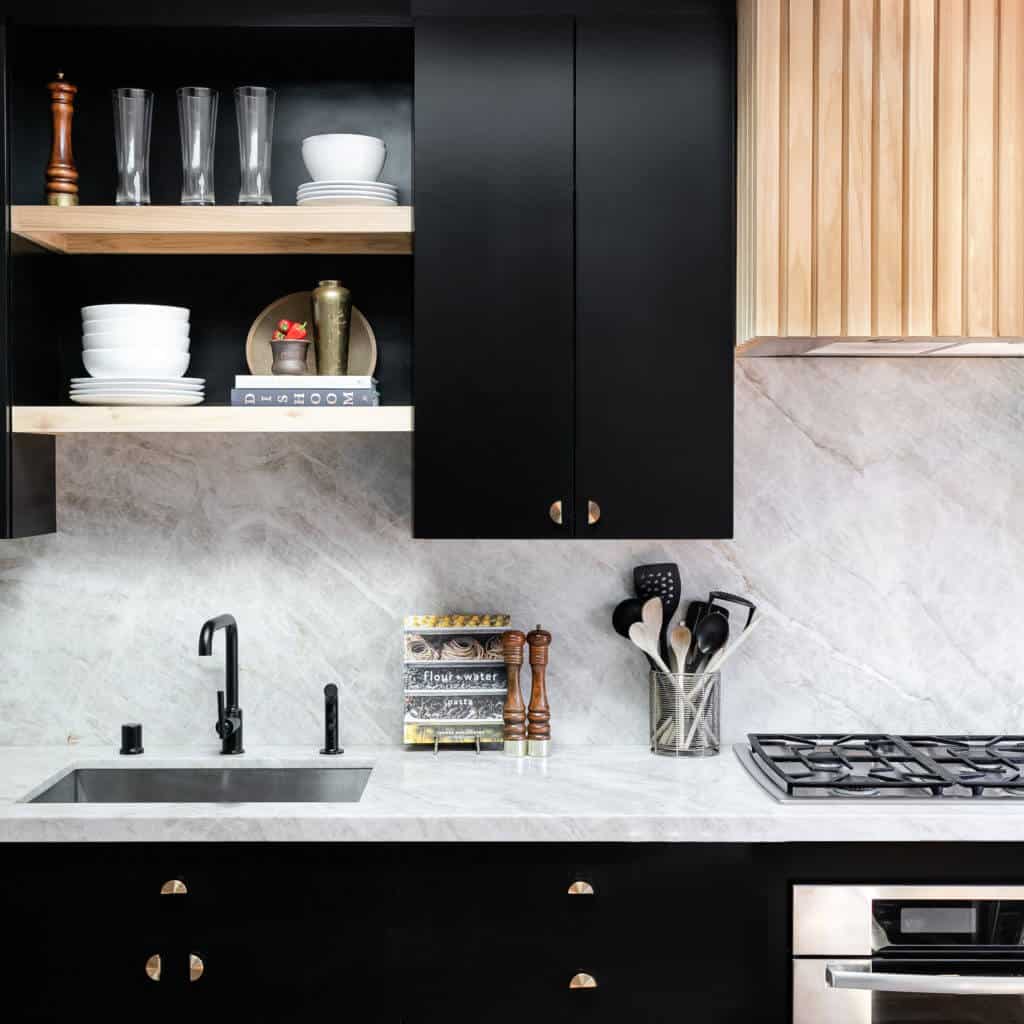 More DIY Kitchen Tips
In conclusion, choosing the perfect spot for your new cabinet hardware can make a huge difference in the look and functionality of your kitchen.
With the right placement, you can enhance the overall aesthetic of your space and make your cabinet hardware more functional and accessible. So make sure to take the time to plan out your placement, and don't be afraid to get creative!
And if you're looking for more DIY kitchen ideas and inspiration, check out my other kitchen articles. I hope they'll be helpful in designing a home you love, one detail at a time.