There are a lot of things to keep in mind when you start to think about a kitchen renovation. First, you want to think long and hard about the layout ensuring key elements like an island, stove, hood, and dishwasher are in the optimal location. However, there is so much more. After all, deciding what to consider when remodeling a kitchen can take time.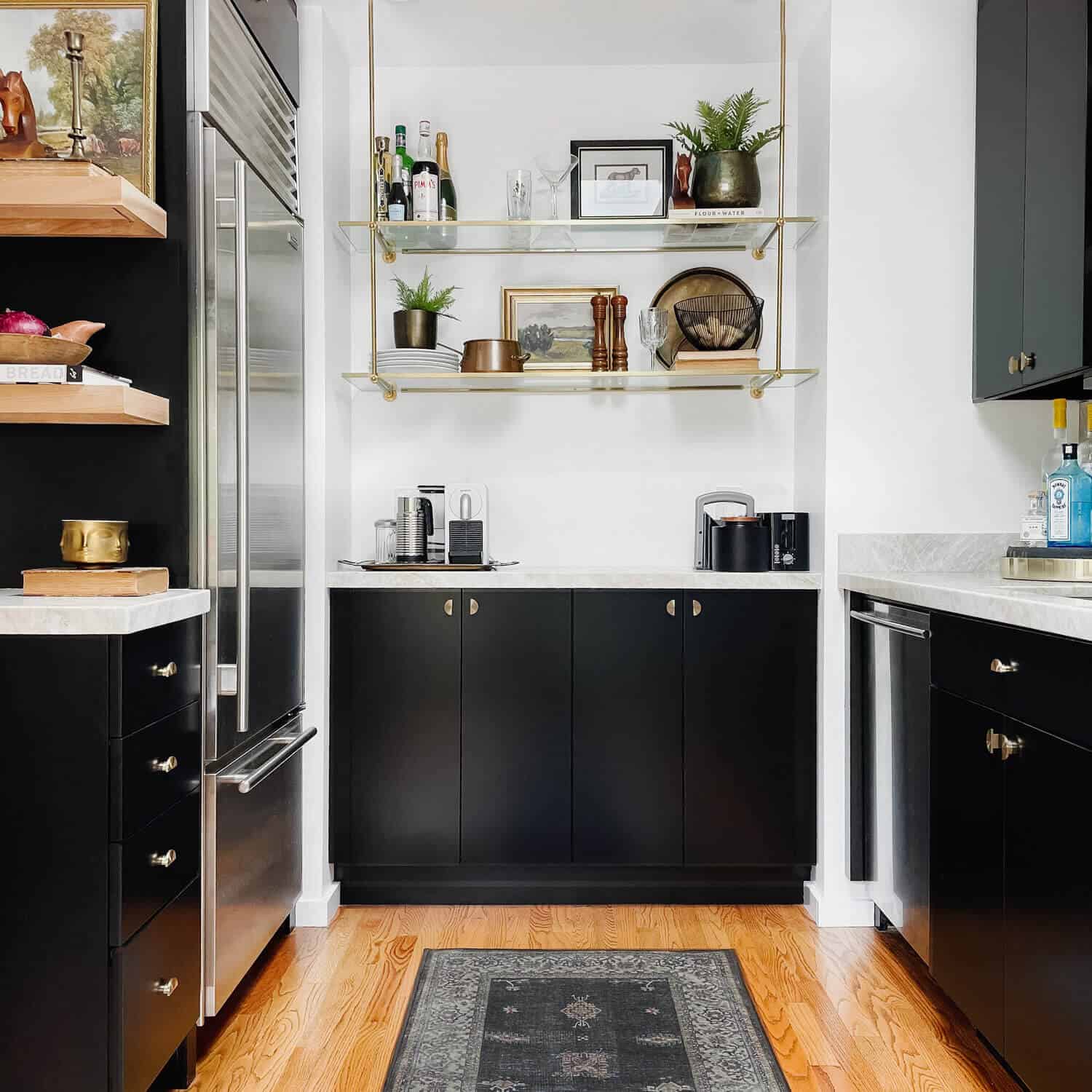 Did ya' know that having a home or kitchen that inspires you can actually help to increase the value of your home? Seriously, though let's think about it. Home buyers place a ton of importance (like a lot) on the look and feel of a kitchen. In fact, it's often considered the "make or break" room during the home buying process. In the end, kitchens sell homes. It's just a fact.
As such, investing in your kitchen can be one of the best decisions you'll ever make when it comes to your home, and is generally a great place to invest your budget because the return on your investment is often stronger than say the backyard or bedroom.
As such I wanted to loop together some affordable upgrades and things to keep in mind that can add up to big value. What changes and upgrades should you do? Here are my top 10 upgrades you should consider to make your kitchen magic.
1. Invest in Lighting
Generally, when it comes to the kitchen, you'll want to have at least two types of lighting for two different purposes. Ambient lighting, like this Simple Circle, LED Flush Mount, can serve as your general light to brighten up the entire room.
Task lighting, on the other hand, is used to illuminate specific areas where you generally cook and prepare food. These Single Dome Pendant Lights are a great option to add charm and character. They have a timeless appeal, but more importantly, help a space feel elevated. No one wants to be in a dark kitchen. Be sure to use recessed lighting and overhead lighting where appropriate.
2. Select a Bold Backsplash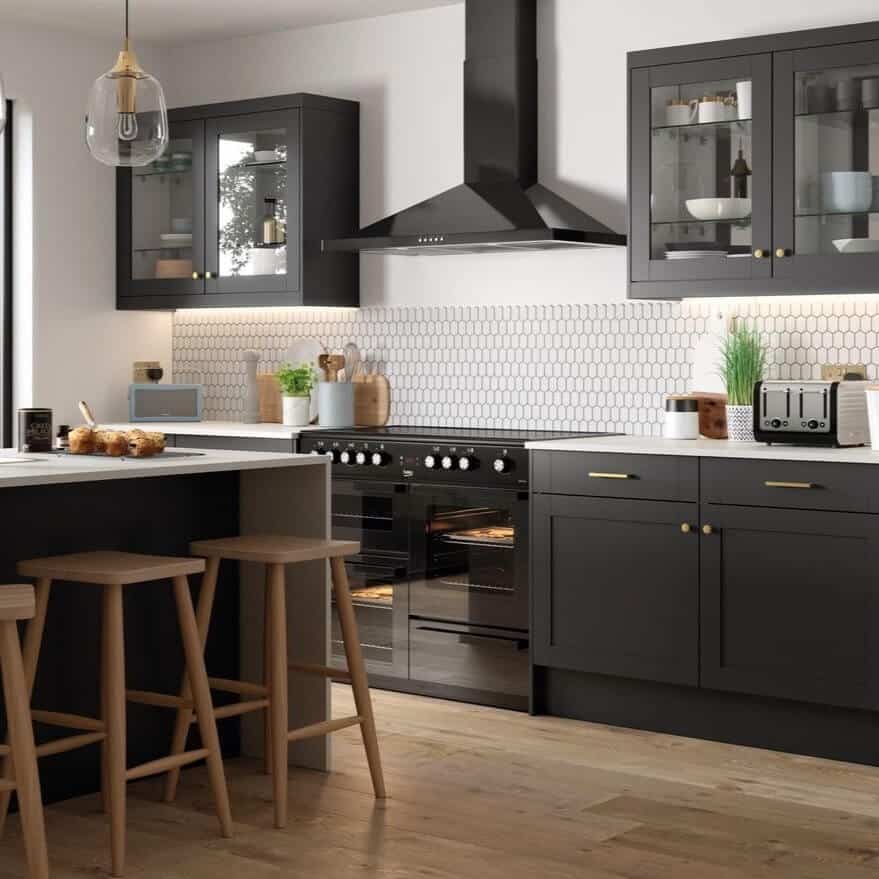 Your kitchen's backsplash is the one design element that will really define the vibe of the entire space – in a big way. Invest here. There are countless options available depending on your personal style, ranging from super classic options, to whimsical and Mediterranean.
My advice? Go with something bold but chic (like this Hampton Carrara Pillowed Marble) and don't go overboard with crazy patterns and colors.
3. Choose a Cohesive Color Palette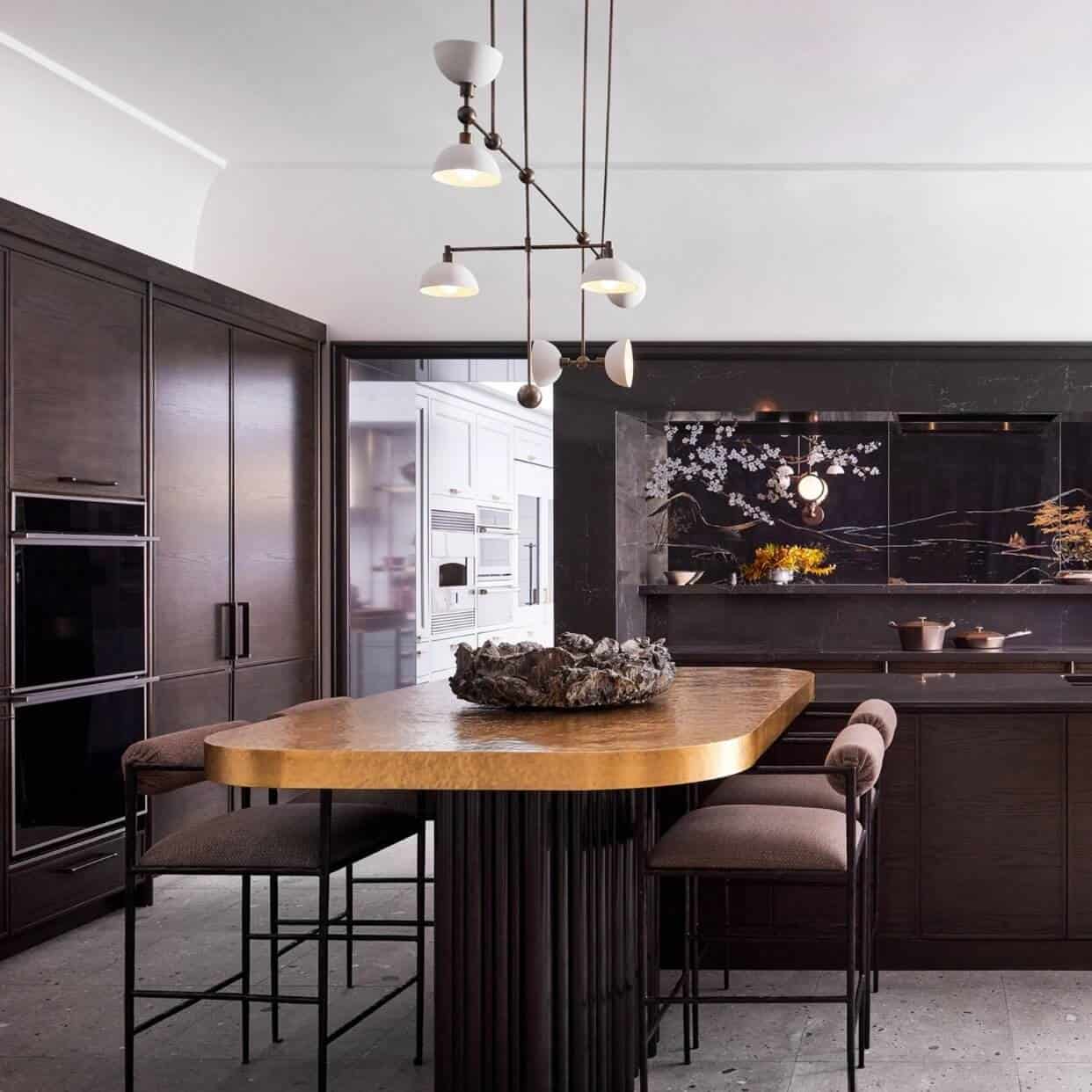 Honestly, I love a timeless all white kitchen as much as the next. They always look good. But, this is 136home. I want to be bold. As such I painted my kitchen cabinets black. Check out that entire process here. The difference in the vibe of my kitchen was mind blowing. Don't worry though, if you want to be a bit safer take a moment to simply update your kitchen in a moody or crisp paint color. Get ride of those builder grade tans!
In the end, it all boils down to what aesthetic you're going for: modern or classic? Opt for black if you're aiming for the former and choose white if you want the latter. But no matter what, take a moment to invest in the finish or color of your cabinets and make em' a moment.
4. Select a Style and Aesthetic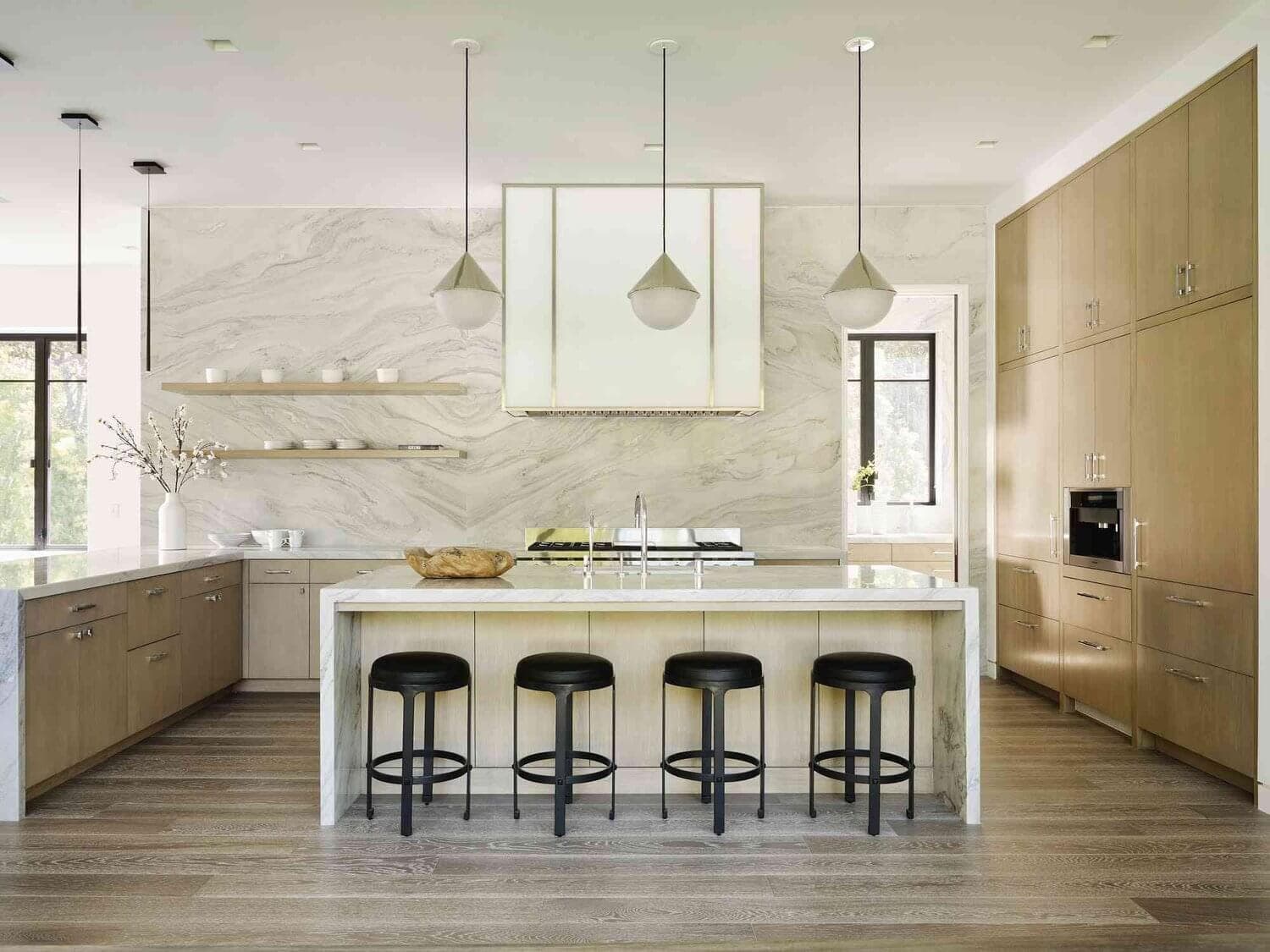 Before ya get going, start by choosing an aesthetic or vibe for your kitchen. This step is important. If ya want to get some ideas follow me on Pinterest. Get inspired and when all else fails start figuring our elements that you can pull from these inspiring spaces and bring them into your home. Is it the cabinet paint color, the hardware, pendant lights, backsplash or other? Start by breaking it down and staying focused on your inspiration to get the look you want.
You need to make this vision clear for yourself – don't get distracted by things that don't sit well next to your inspiration photo so that you can make smart choices when it comes to your backsplash, lights, paint, and your styling items.
5. Don't Forget to Have Intentional Flooring
Flooring (like backsplash) can really make a big statement. It can be an investment but if you have dates floors that don't suit your style consider upgrading to options like classic wood floors or even ceramic tile. Personally, I love hardwood floors in my home. They just look good no matter what. It's even better if you can do a herringbone pattern. However, there are other options you can consider as well. For a more current approach, marble flooring is a beautiful and popular option because of the lux modern appeal
This Hellas Marble is definitely worth checking out!
6. Upgrade Your Sink and Faucet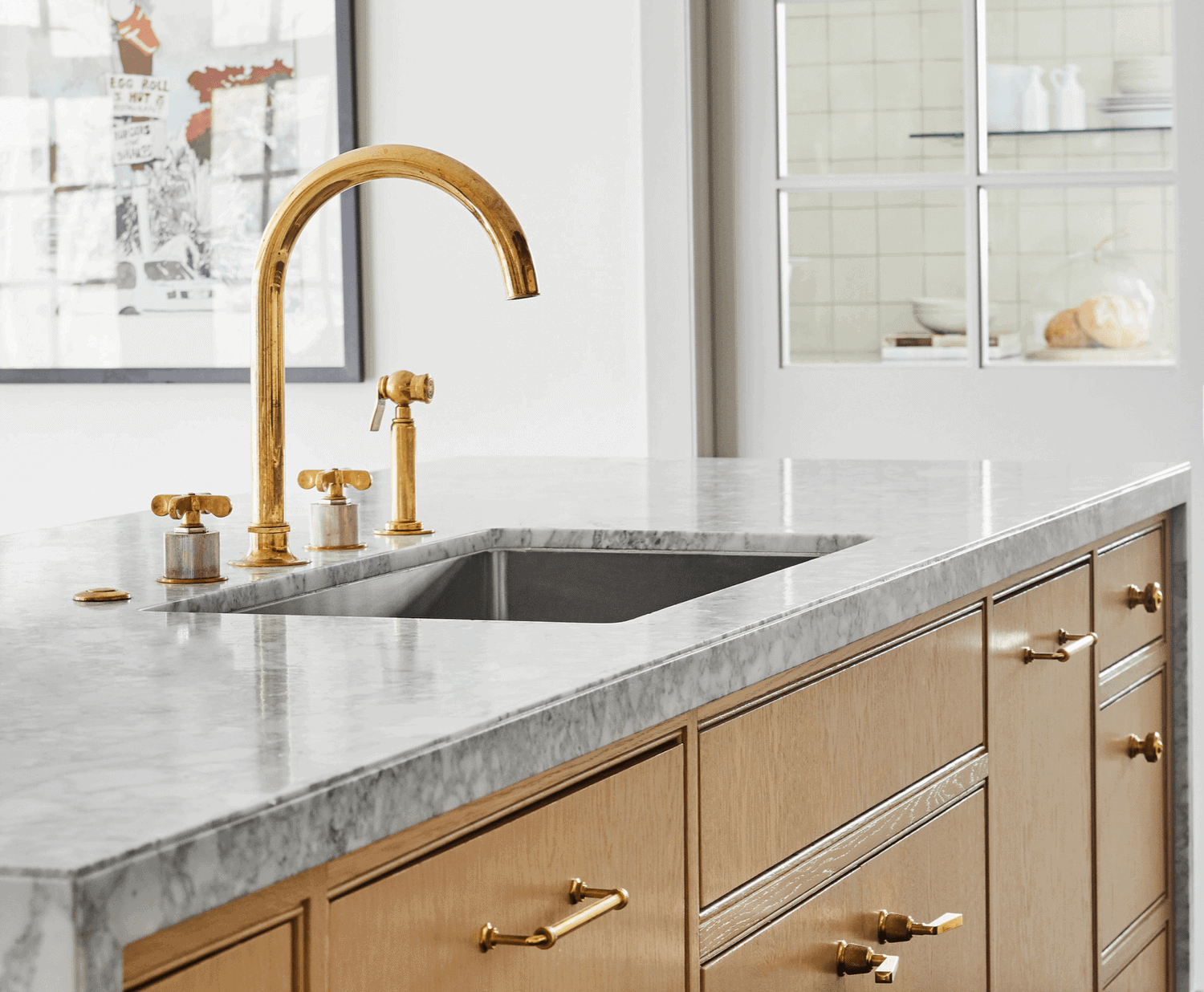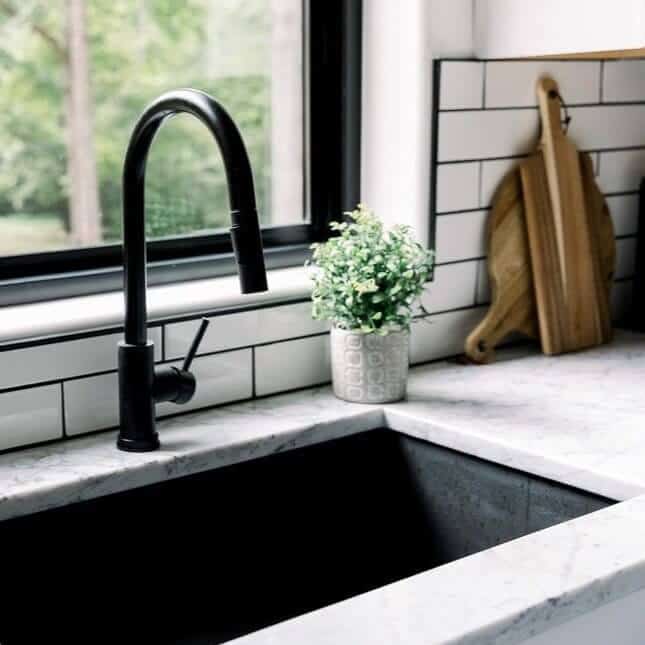 A kitchen faucet is really the jewelry of the kitchen, and there are so many amazing options that will instantly level up your space. You have to invest here. Be sure to pick one that will go with the above considerations and make it count. Also, when deciding between a single or a double bowl sink, the main factor is to think about its functionality. Faucets don't have to be fancy, but just make sure it works well with your sink and plumbing. Matte black is always bold (yet safe) and looks great with just about any kitchen design. In the end, choose something that you're comfortable using, has a spray gun for dishes, and can extend s you see fit. We wash dishes so much – ya want it to be good.
7. Upgrade Appliances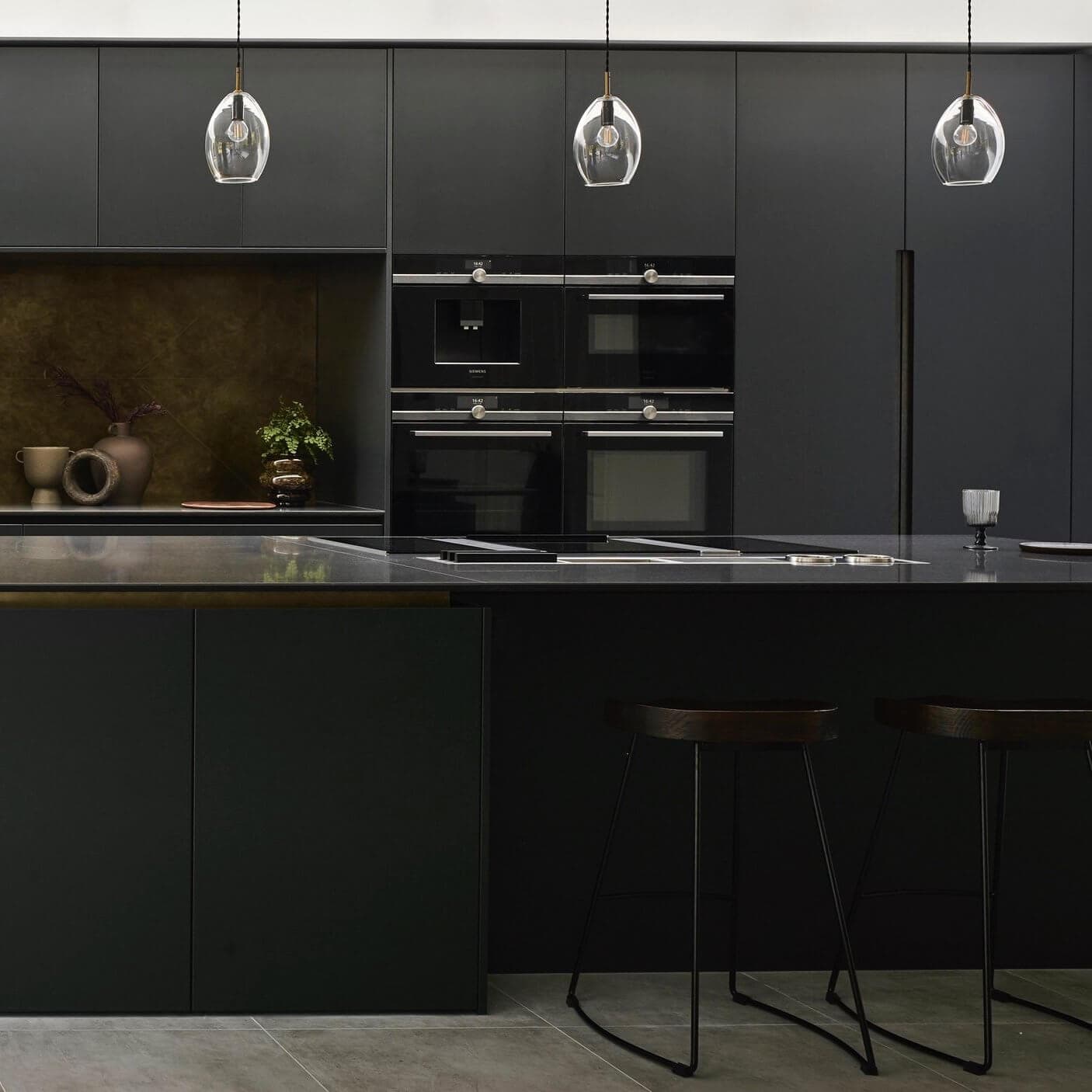 Your appliances will immediately tell a home buyer a lot about the quality of your home. They just do. If you can, don't be afraid to splurge and make it a goal to update your kitchen appliances when you are able. Stainless Steele, is classic and will always look great. A Viking range is a game changer. But, do what you can in small doses. Not ready for a new fridge or oven? I got a great suggestion. Consider a counter top Nespresso machine to replace your traditional coffee maker and wow your guests. I love mine.
8. Make it Count with Countertops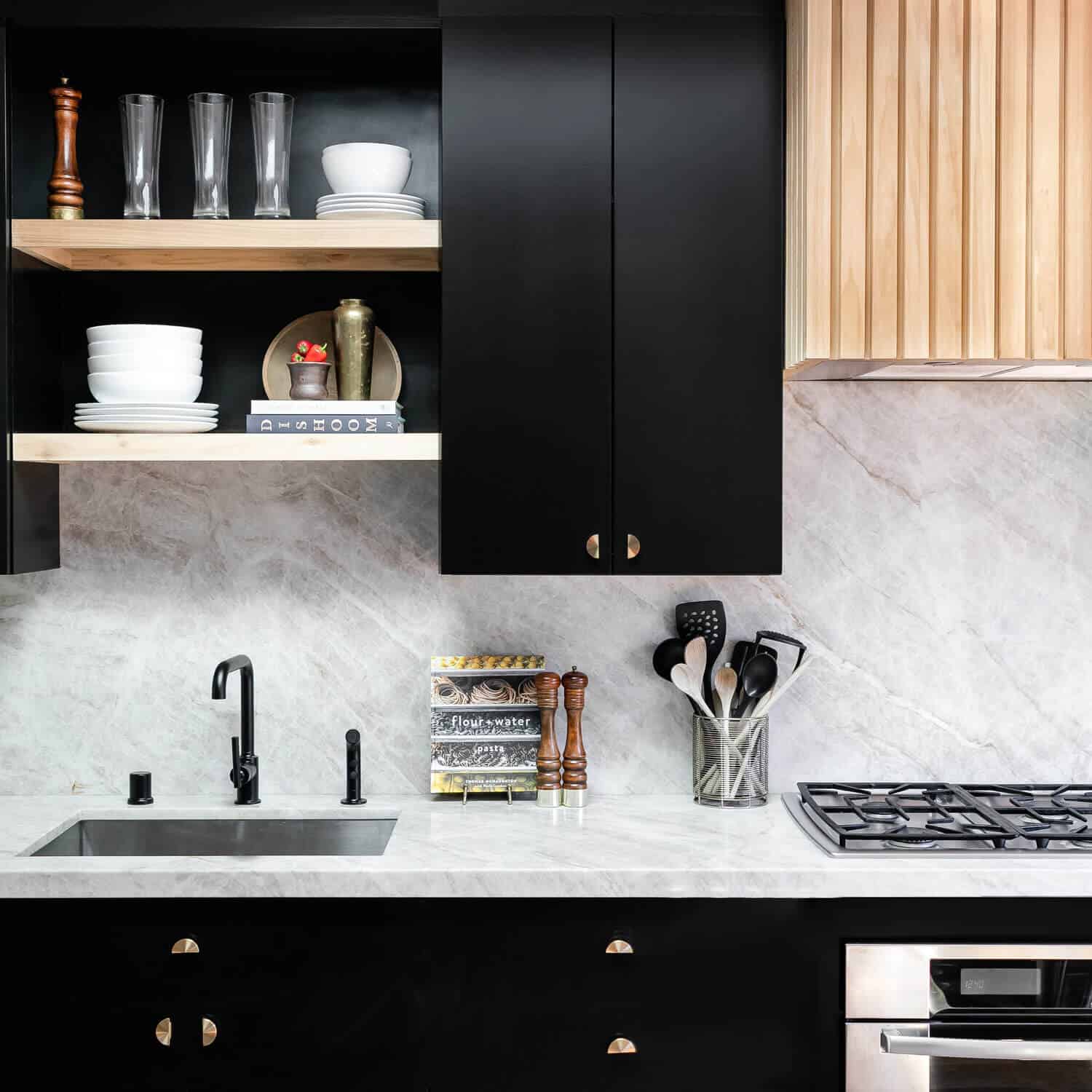 Okay, I am going to level with you. I splurged big on my countertops. I went with a gorgeous Taj Mahal Quartzite. More in a sec. Marble is great, but Taj Mahal is more stain-resistant and durable than marble, not to mention it's less expensive too. In the end, the look is breathtaking. It made my space.
Don't forget that counters take up a ton of visual space in your kitchen. Make it count with countertops that wow. I promise that people notice.
A couple of things. When it comes to countertops, my personal preference is good old-fashioned granite because it's the most durable.
Ask yourself how much time you are willing to devote to your countertop's upkeep, and then check out the available options that are appropriate for you.

9. Select Hardware Finishes That Pop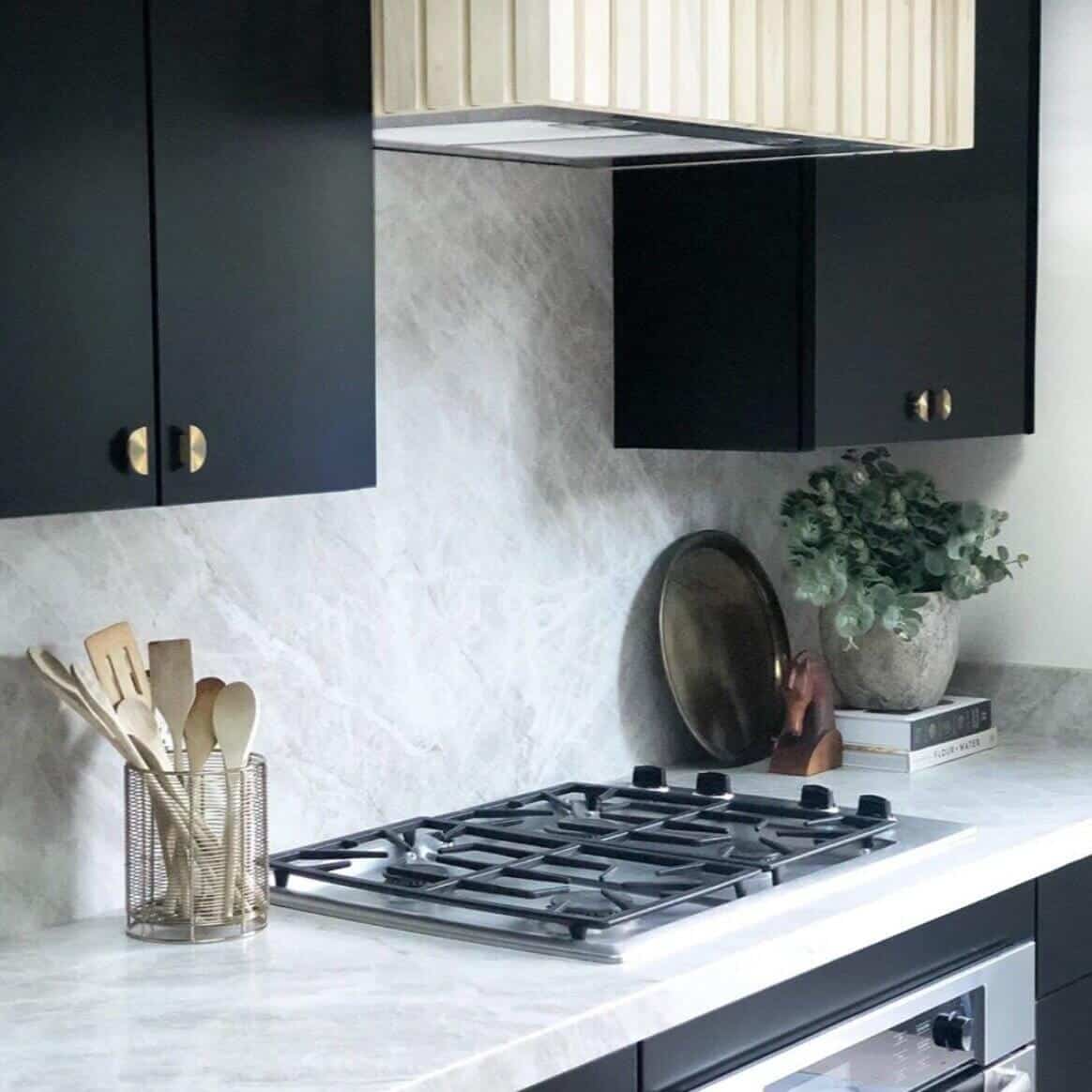 There are so many amazing options to upgrade builder-grade hardware. Don't settle for those pull bars. Ditch em'. Like a sink faucet upgrade swapping out chrome bars for brass pulls as I did. I love mine and they bring the entire space together in the perfect way. Go for it!
10. Be Mindful of Details
The little things matter. We know that, but you want to make sure that your ventilation is in the right spot, you have plenty of cabinets, and that things flow in a manner that is conducive to how you use the space. Be thoughtful, where you place the dishwasher and that your island is in the right spot. Don't let those bar stools stick out too far.
---
If you are about to, or even better – in the middle of a kitchen renovation be sure to keep this list of must do's to make the most of your time and budget. I know this will help you guys get the most out of the final result, and if you do sell your home in the future – I hope this will let you get the most of that moment.
Keep these 9 tips in mind as you breathe new life into your space. Remember, investing in your kitchen will provide you with both instant results as well as long-term rewards. Good luck guys.