With the cost of painting your cabinets remaining fairly high, it's important to make sure that the types of kitchen cabinet doors you're working with provide the look and feel for your home. After all, the paint color you can change, but the style will remain the same – and if you aren't into the style o cabinet you might end up redoing them and no one wants to do that.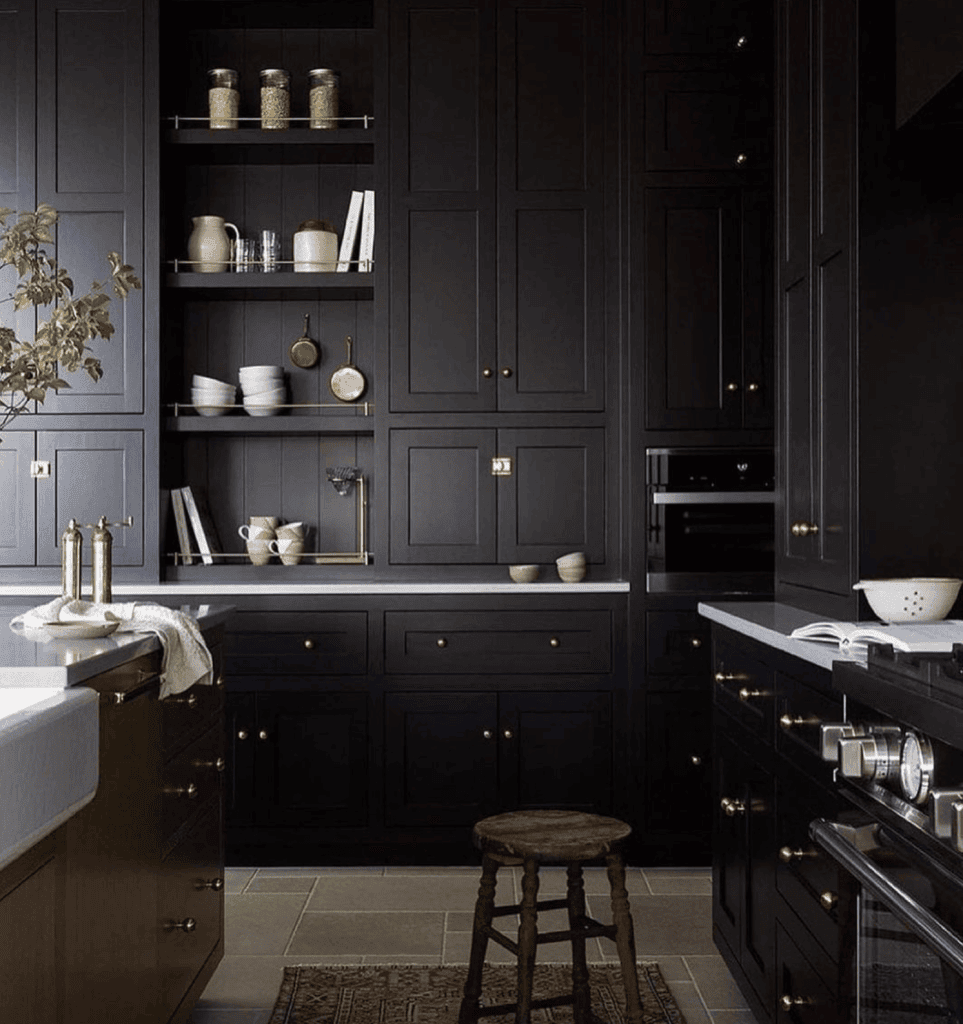 As such, there are many different styles of kitchen cabinets to choose from; arched to shaker-style, and everything in-between. Do you want a modern look, or perhaps a classic style instead? Whatever style you're after, I'm gonna get you all the tea on the most popular (and not so popular) options so you can get your cabinet style selection right – the first time!
There are so many types of kitchen cabinet doors. Here's the difference…
Fourteen Types of Kitchen Cabinet Doors You Should Be Familiar With
Decor styles come and go, as do the types of kitchen cabinet doors most commonly used. Remember, it doesn't matter if your kitchen fits in with the "in" styles so love it as you personally love it!
While comparing the different options below, try to envision each style of cabinet door on the face of your current kitchen cabinets. Remember you only need to get the type right for now. You can always use a paint sprayer to get any specific color you're after.
Arched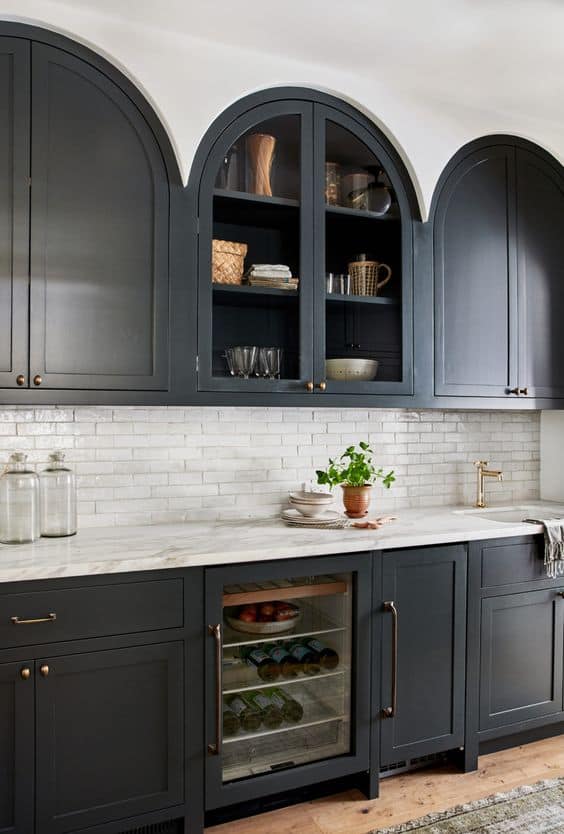 This type of door actually covers a few different kitchen cabinet door styles. Some arched kitchen cabinet doors may feature only a simple arch. Others may use slightly more complex arches on the face of the door.
Made from a variety of different materials, arched kitchen cabinets are especially popular in traditional kitchens. Even so, they will mesh perfectly with some of the more modern kitchen designs as well.
Beadboard
Beadboard cabinets utilize a unique style that lines slats of wood vertically next to each other. Each slate features a tongue-in-groove design that leaves a tiny ridge—referred to as a "bead"—in-between the slats.
Offered in many different styles, beadboard is an excellent choice. It works for both modern and classic design kitchens, although it especially shines in the latter. The downside of this type? Painting can be a bit more of a challenge. I do love a more utilitarian look every now and again. If ya' want a look that's a bit more fashion-forward – this is a great choice.
Center Stile
When a cabinet has a lot of space between each end, it tends to sag a bit in the middle. This is especially if it's loaded up with kitchenware
Fortunately, many cabinets solve this by using a center stile in the middle of the cabinet. This offers a great way to support the cabinet frame and prevent it from bending under pressure. I also think the look is pleasing and helps level up the designate be a bit more stately. This style reached peak popularity in the 1960s but is commonly seen today as well.
Since smaller cabinets won't be very long, it's unlikely you'll find a small cabinet with a center stile. However, center stiles are fairly standard in your standard double-door cabinet.
Distressed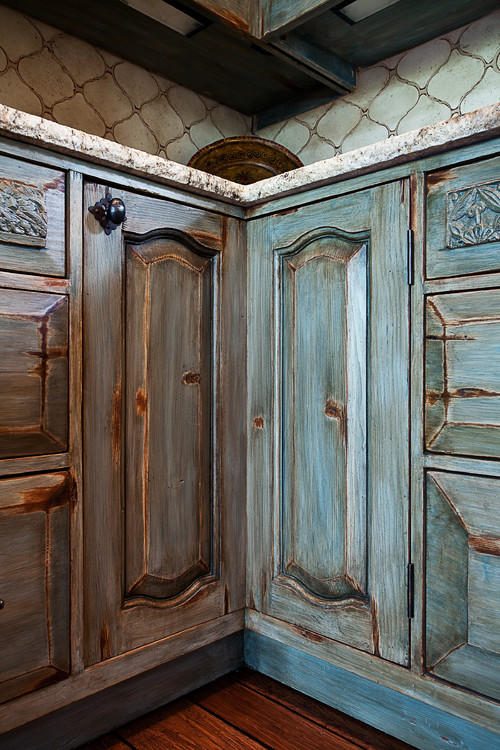 While many different cabinet door types favor modern designs with clean lines and flawless surfaces, distressed cabinet doors take the opposite more live in approach.
Although the cabinet itself may be completely new, a properly distressed cabinet door will look like it's been around for centuries. A distressed cabinet will at least offer the impression of wear in an attempt to provide character and charm. I especially love this look for cabins and retreats.
This effect is generally made by revealing the material underneath the paint using sandpaper or wire brushes. Decided this style is for you? Consider pairing it with my favorite black paint for a striking impression!
Flat-Panel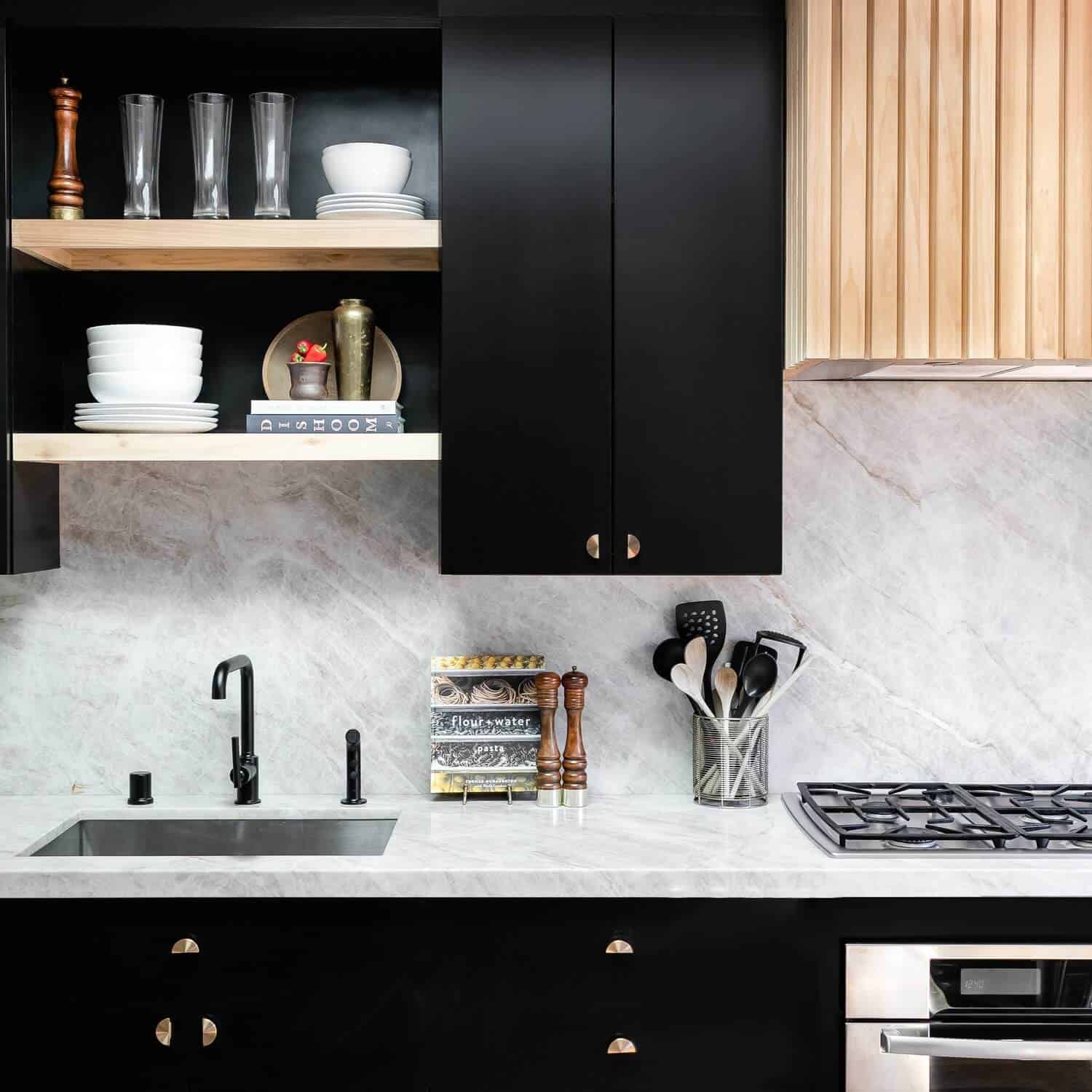 Flat panel cabinet doors (also known as slab cabinet doors) are one of the most popular cabinet door styles for their clean lines and ability to work in tons of home aesthetics.
Easy to manufacture due to their simplicity and blending in perfectly with most kitchens, true slab doors have a smooth face complete with 90-degree corns for a minimalist design.
These doors look great with white or black paint, but can also be painted or stained. You can even leave them as-is to match the color scheme of the rest of your kitchen.
Despite being relatively simple in appearance overall, you can easily spice up the look of your flat-panel cabinet doors with custom door handles, a favorite paint color, and brave styling for a unique look.
Frosted or Fluted Glass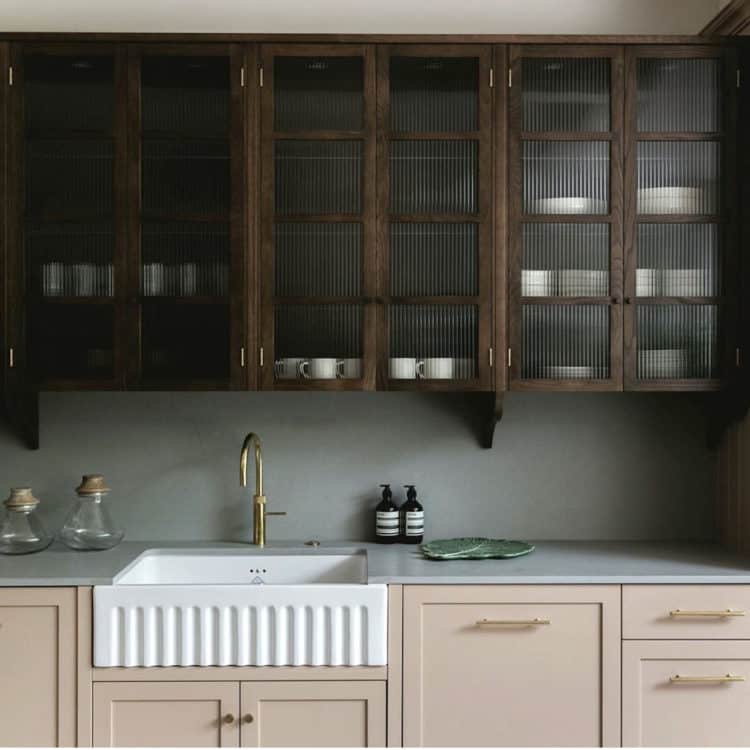 Storing extraneous items such as cabinet organizers or storage containers? Chances are, you don't want to put them prominently on display.
Ordinary glass doors may look premium, but—assuming they're kept clean—they will also show everything held behind them to passersby. If this doesn't sound ideal then frosted glass may be the better option for you. It's sorta the best of both worlds!
With this type of cabinet, you still benefit from the "premium" feel of a glass face. However, everything stored behind the glass will be blurred thanks to the frosted glass.
True, you may still be able to somewhat see what's inside, but that ugly set of plates you can't bring yourself to throw away will definitely look better slightly behind frosted glass, rather than being displayed front-and-center behind ordinary glass.
Glass-Front
While frosted glass is an excellent option for concealing items, an ordinary glass-front kitchen cabinet door will clearly display all of your crockery for the world to see.
These types of kitchen cabinet doors are perfect for people who own lots of nice crockery and cutlery, as they will keep your items safe from dust while still serving as an effective display. I personally love the look – but it does require you to keep things tidy! If you can do it I really encourage a few. The look is very polished.
That said, I probably recommend only having a few of your uppers be glass-front cabinet doors – especially if you have children, as they're prone to breaking if hit and expensive to replace.
High Gloss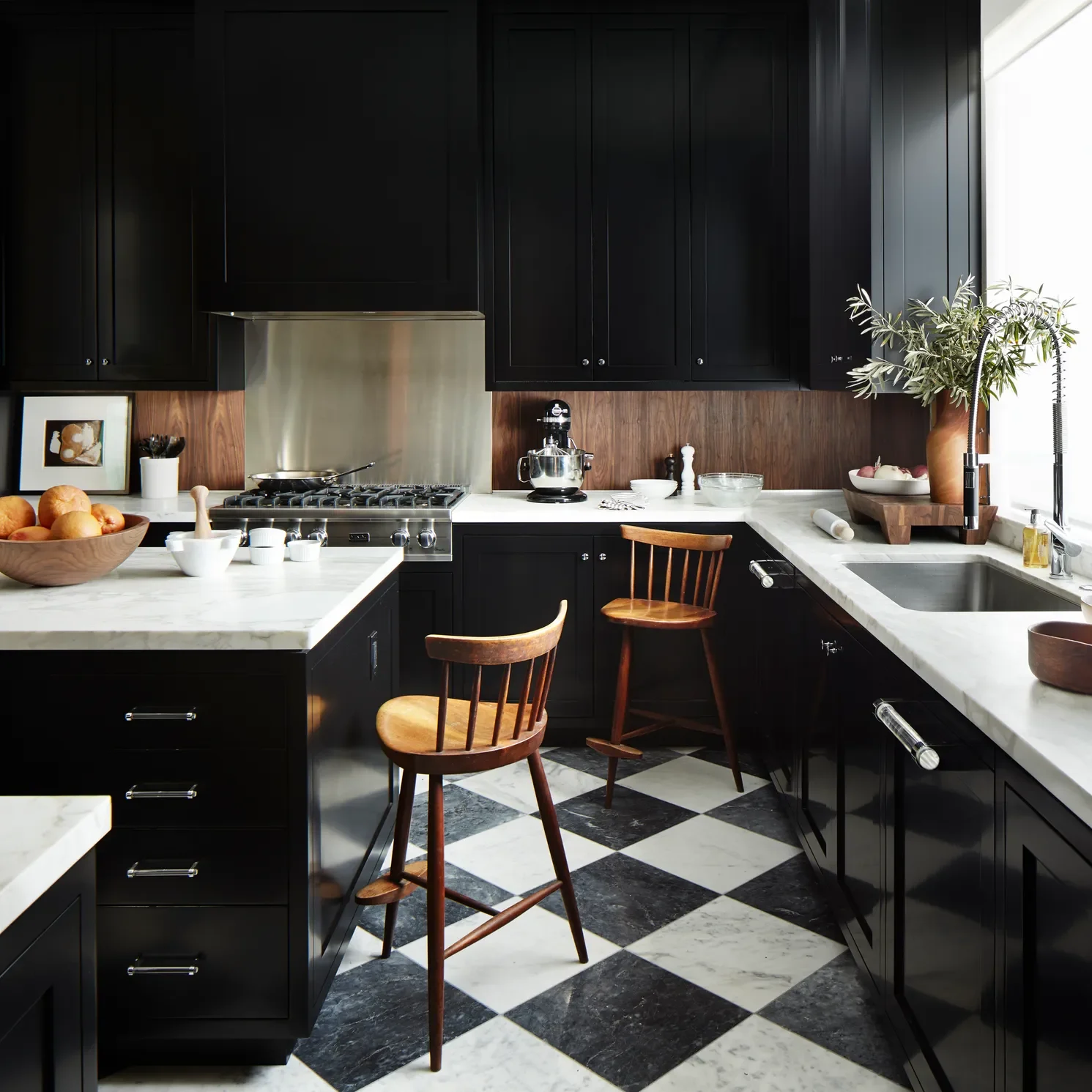 Expensive but beautiful, these types of kitchen cabinet doors are made from a variety of different materials including plastic and particleboard. However, no matter what they're made from, high gloss kitchen cabinet doors all have one thing in common: their shine!
Perfect for nearly any modern kitchen, these doors are excellent at improving the available lightning in a room as their shiny coats reflect light effectively.
If you do happen to be designing a modern kitchen, consider adding this unique chandelier into your layout for an original display!
While they may look impressive, being high gloss means that these kitchen cabinet doors get dirty easily and highlight any imperfections on the surface. As such, you'll need to be prepared for constant upkeep if you decide to go with this option.
Inset
Inset cabinet doors are cabinet doors that perfectly align with the door frame. Sitting flush with the frame, the inset doors provide a clean look with minimal lines and no shadows. Designers love this look for that "perfect" visual.
As one might expect, these doors must be measured perfectly and assembled accurately in order to easily fit inside of the frame.
For a more experienced craftsman, getting the parts to fit together just right shouldn't be too challenging.
However, if this is the first time you'll be building the cabinets yourself and you've never tried a project like this before, you may be better off going with a pre-made model instead.
Louvered One Of My favorite Types of Kitchen Cabinet Doors
Some years popular, some years not, louvered doors are one of the few types of kitchen cabinet doors that actually allow for ventilation in your cabinets. If you want a less traditional look with some edge. This is a great option for you.
Made by evenly spacing horizontally-placed slats up the face of the door, louvered kitchen cabinet doors can be either fixed or adjustable.
If you get adjustable doors then the angle of the slats can be adjusted, providing more—or less—airflow to the items hidden inside. On the other end of the spectrum, there are also faux louvered doors that look like they offer airflow (but actually don't!).
Although they won't look quite right in a super more modern kitchen, a more traditionally-designed kitchen—complete with a flower vase and a painting—will accommodate louvered doors nicely.
Mullion Types of Kitchen Cabinet Doors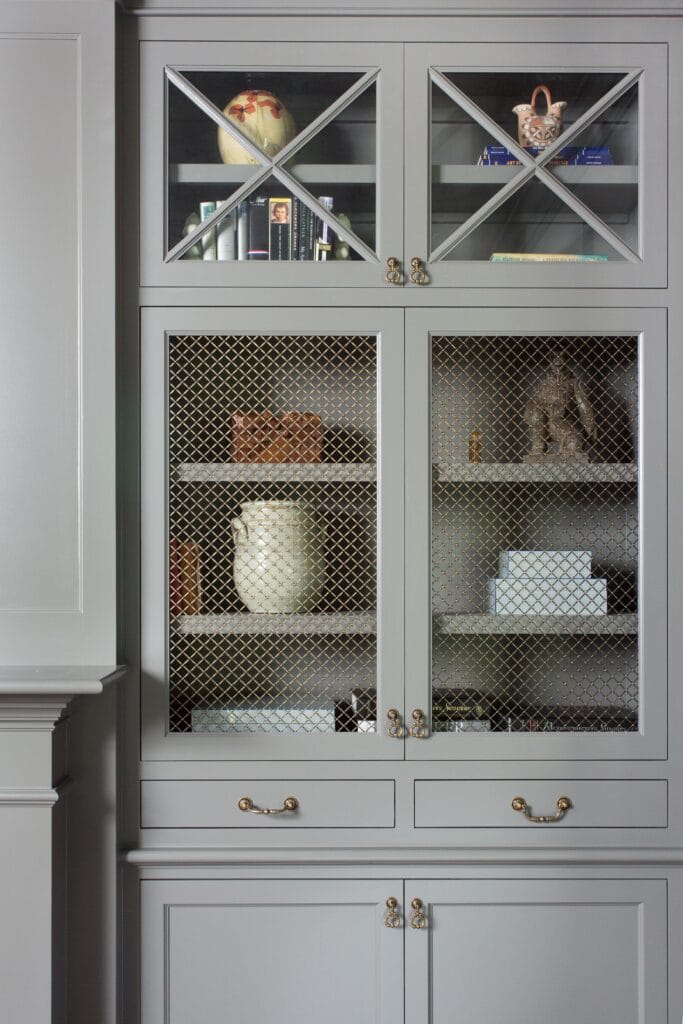 The term "mullion cabinet doors" actually covers a small variety of door designs. To be considered a mullion door, the door must simply have various strips that split the glass.
In days long forgotten, the strips were placed in this style as large pieces of glass were inaccessible; attaching smaller panes to the mullion strips was the only option!
However, these days a single panel of glass is generally used, with the strips being in place purely for show.
Mullion doors come in a variety of designs, ranging from simplistic square "panels" to more ornate, angled "panels" that form arches and other shapes.
Raised Panel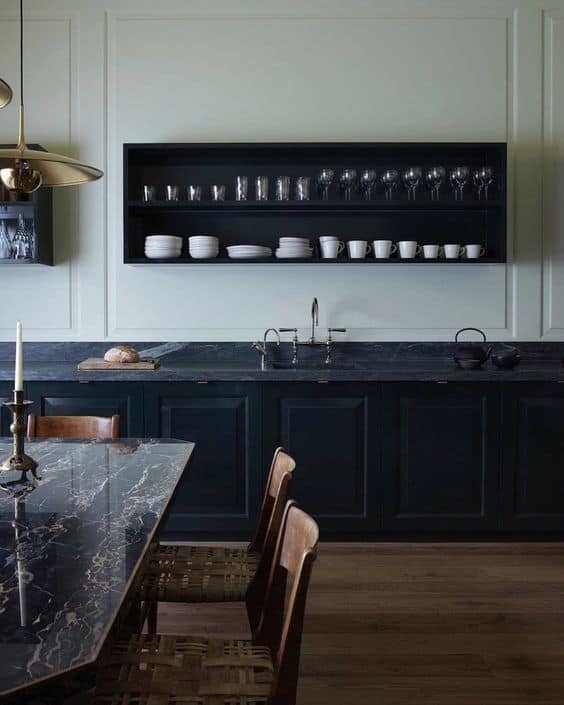 One classic option you've almost certainly seen before is the raised panel cabinet door. Whereas shaker cabinets feature only a (relatively) raised border, raised panel cabinets feature a raised center as well.
The most simple way to accomplish this is by raising the center panel at a 90-degree angle. However, most raised panel cabinet doors opt for slightly more ornate alternatives instead, such as a sloped raise or a notched raise.
Despite being slightly more visually appealing than simple shaker-style cabinets, raised panel cabinets are the less popular option, most likely due to their somewhat older styling and higher price tag.
Shaker-Style
Simple, effective, and popular, shaker style cabinet doors match perfectly with any style of kitchen. The recessed panel in the center of the door gives shaker cabinets their signature look, while also helping minimize damage from daily use.
Although historically made from hardwoods, nowadays, most shaker doors you find will be made from MDF. Designed range from a simple 90-degree recess to multi-layer recesses that add a bit of character to the door.
Fortunately, it's easy to give your shaker cabinet doors a bit of flair. The solution? Your choice of handles! Just make sure the finish of the handles compliments well with the color of the doors and gives the whole look some good lighting for a proper display.
How to Measure Kitchen Cabinets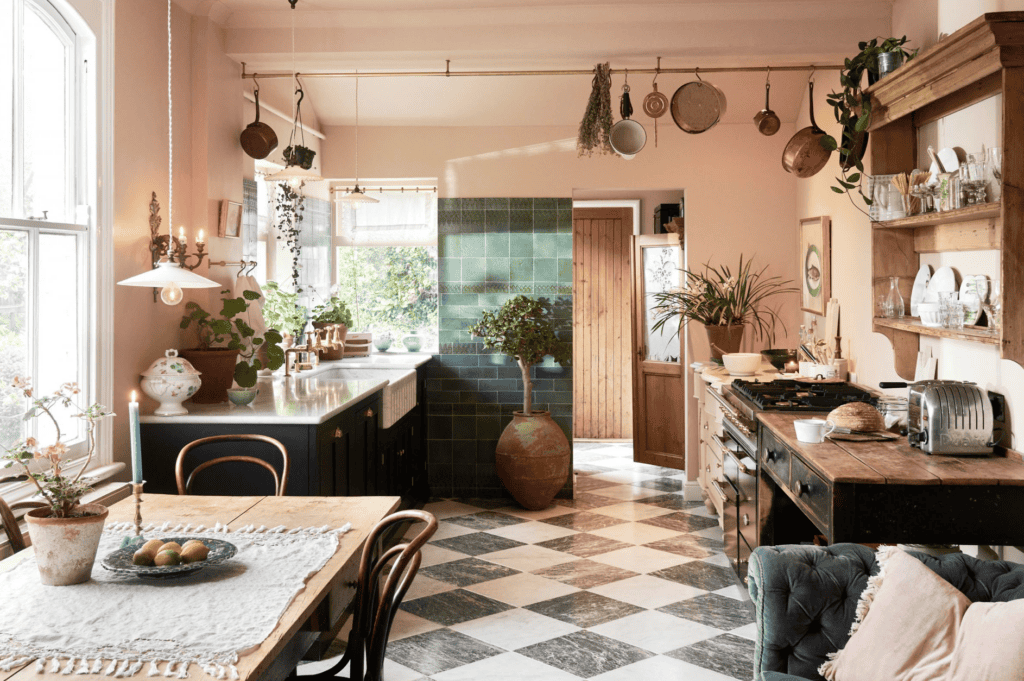 If you're simply replacing the doors, finding the right size is as easy as measuring the width, length, and height of your current doors.
However, if you're remodeling or placing cabinets in a new kitchen, the process will take a bit more effort. To help you along, here's a quick guide on how to measure your kitchen cabinets!
Draw a floor plan of the kitchen and determine where you want your new cabinets to do. Make sure to include any doors, windows, vents, lines, or any other obstructions you'll need to work around, as well as any appliances that could get in the way.

Measure the space you're working with, taking note of the width, length, and height clearance you'll have. Jot this down on the side of your floor plan, along with the measurements from any other obstructions or appliances you'll be working around.

Mark your floor plan with the appropriate measurements, starting with appliances and obstructions. With those written down, it should be fairly easy to determine how much clearance you'll have left for your cabinets.

Confirm your numbers are correct, double-checking everything before moving on to the next step.

Purchase your new cabinet box using the measurements you've determined for the perfect fit. If pre-made models won't fit, consider opting for custom cabinets instead.
Complement the Tpes of Kitchen Cabinet Doors
Whether you're swapping your kitchen cabinet hardware and replacing the doors or building a new kitchen from scratch, the cabinet doors can have an enormous effect on the final look of your kitchen.
With all of the different types of kitchen cabinet doors we've covered so far, I hope you've found one that will perfectly complement the look of your kitchen. Don't forget to add in a kitchen runner for the finished effect of a professional kitchen!
Well, that's pretty much I have for y'all today. Did you guys learn anything or see any designs you liked? If so, let me know in the comments below. I promise I read them!
Until we meet again xoxo
Commonly Asked Questions About the Types of Kitchen Cabinet Doors
---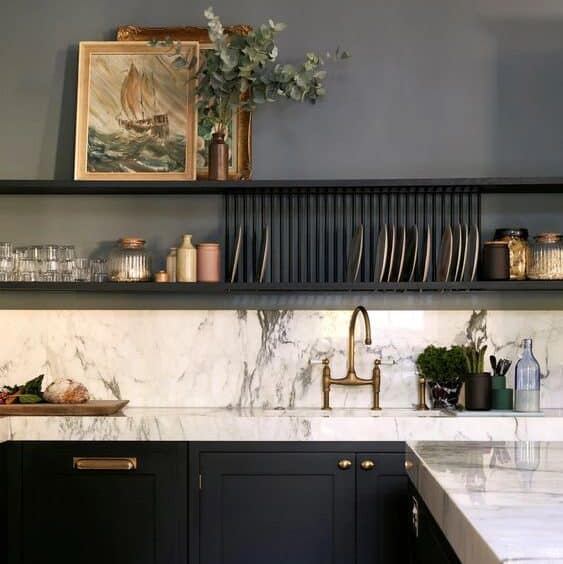 What are the three types of kitchen cabinet doors?
As we've gone over, there are many different styles of cabinet doors, but there are also different types of cabinet doors to consider as well. Cabinet doors can be split into three main categories:
Inset cabinet doors – This type of door is designed so that the panel doors fit entirely within the frame of the door. As such, the door itself won't extend beyond the end of the cabinet frame.
Partial overlay cabinet doors – These doors extend beyond the frame of the door and provide partial coverage. However, being a partial overlay, there will still be some separation between the end of the cabinet door and the side of the frame (or the next door over). This is also the most common type you'll see!
Full overlay cabinet doors – With this type of door, the entirety of the cabinet frame is covered by the cabinet door, ensuring the face of the cabinet is all that you'll see. Full overlay doors are the only option you'll have if you opt for frameless cabinets.
What is the most popular cabinet door style?
Although the answer may vary slightly depending on who you ask, most experts agree that shaker-style cabinet doors remain the most popular style of door in 2023.
What is the most timeless kitchen cabinet style?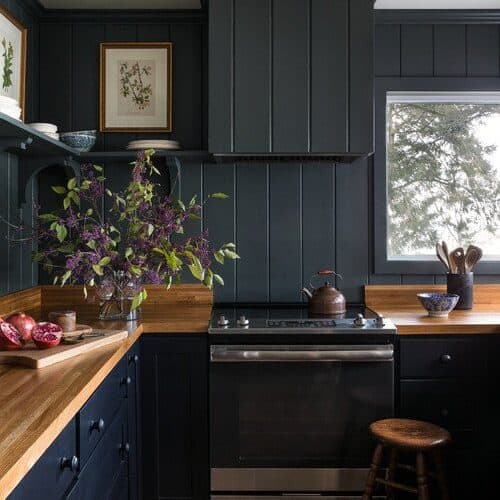 As established above, shaker-style cabinets are the most popular kitchen cabinet style. However, if you're going for a truly timeless kitchen style, you'll want to opt for white shaker-style cabinets. Looking just as great in a traditional kitchen as it does in modern kitchens, white paint works perfectly with nearly any aesthetic (check out my favorite white paint if you're interested!).
What are the best type of kitchen cabinet doors?
There are many different styles and types of kitchen cabinet doors made using a variety of materials. Doors made from MDF (Medium-Density Fiberboard) are generally regarded as the best option, although solid natural wood, stainless steel, and even plywood are great alternatives.
What is the least expensive cabinet door style?
Using a simple design that's easy to manufacture in bulk, flat (slab) cabinet doors are a relatively plain but extremely affordable option if you want your kitchen to have a classic look without breaking the bank.