Y'all know I love renovating and designing my home. But making a home you love, isn't just about the right tile, paint, and wallpaper. Sometimes it's the seemingly little details that make the biggest impact. This is especially true in small spaces like a bathroom. So, in that pursuit—I wanted to share with y'all some of my own pro tips for how to decorate bathroom counter like a pro.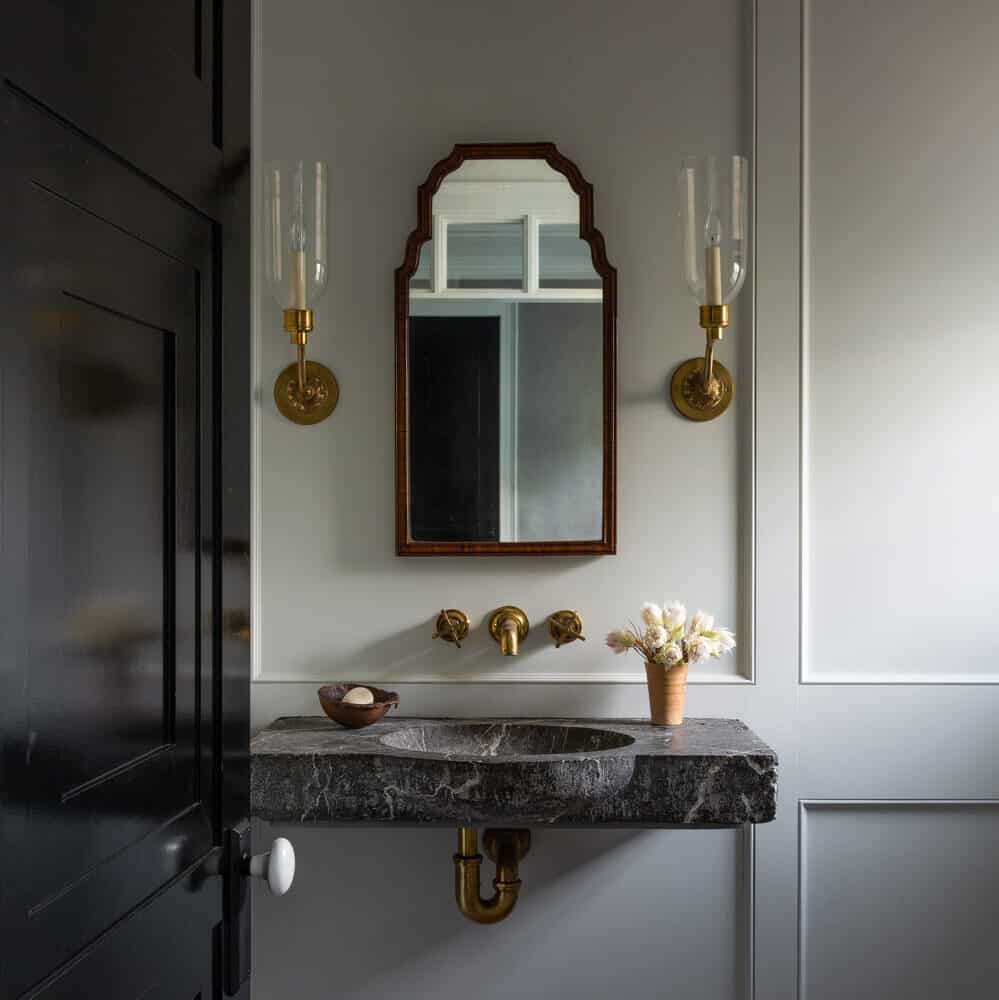 After all, counter space is a hot commodity in most bathrooms – and requires some special considerations to get the look just right. Good news? I am a less is more kinda guy, when people ask me how to decorate the bathroom counter. Really, keep it simple, and tuck away your bigger items with smart bathroom storage choices in drawers, open shelving, and baskets. By applying a few of these simple easy to easy-to-implement design techniques, you too can take your average bathroom look to epic. After all, If you already have a beautiful bathroom, then making sure that the counter looks great is an absolute must.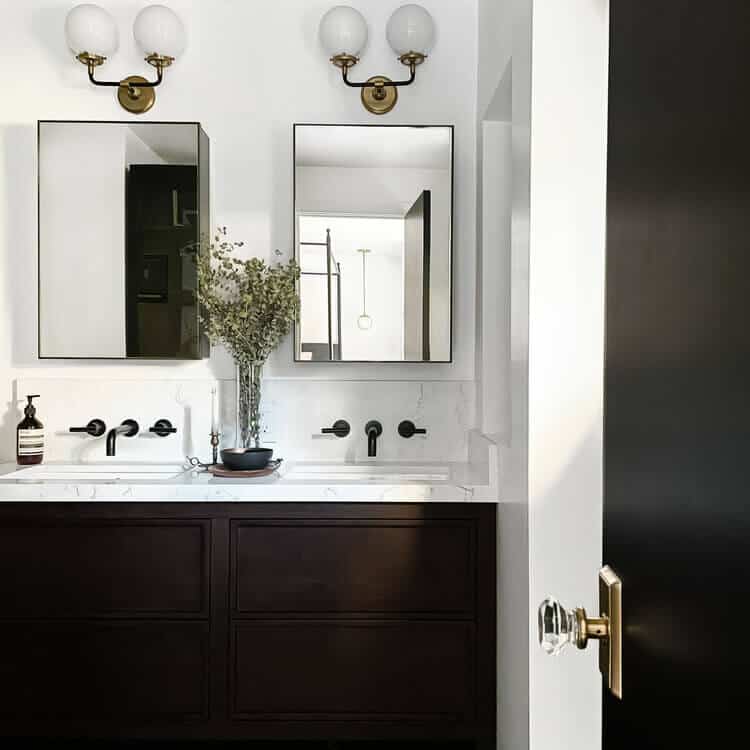 At first, it might seem straightforward, but I've seen so many of my friends miss when it comes to their bathroom counter, and I don't want that for you. We are friends after all. Not sure where to start? Don't worry, this blog post is for you. But first…
Here's How to Get Started
If you haven't already, now is the time to clear off your counter space. Part of learning how to decorate bathroom counter is figuring out the best way to organize, and—in my experience—it's best to start with a blank slate.
You don't need to remove anything from the room though, as we'll be organizing items based on how often we use them. With a bathroom countertop, you're not working with a lot of space. I generally try to place functional items in a practical manner, throwing a few decorative items in between.
Fortunately, there are many different bathroom storage solutions that you can use to overcome this issue. We'll start with the smaller ones, as these are ideal for storing the most frequently used items that you need on hand.
Trays
Placing a decorative tray is an easy way to organize your bathroom countertop. If you start with a large metal or wooden tray, you can place smaller trays, dishes, and bowls on the original tray. Fill these smaller containers with specific products, such as a dish for jewelry or a tray for first-aid equipment.
This type of arrangement is great because it allows you to have a lot of accessibility without leaving your countertop strewn with items. I suggest layering the trays, dishes, and bowls if possible for an extra clean look. Matching your toothbrushes, tissue box cover, and toilet paper holder to your trays can also help refine the aesthetic.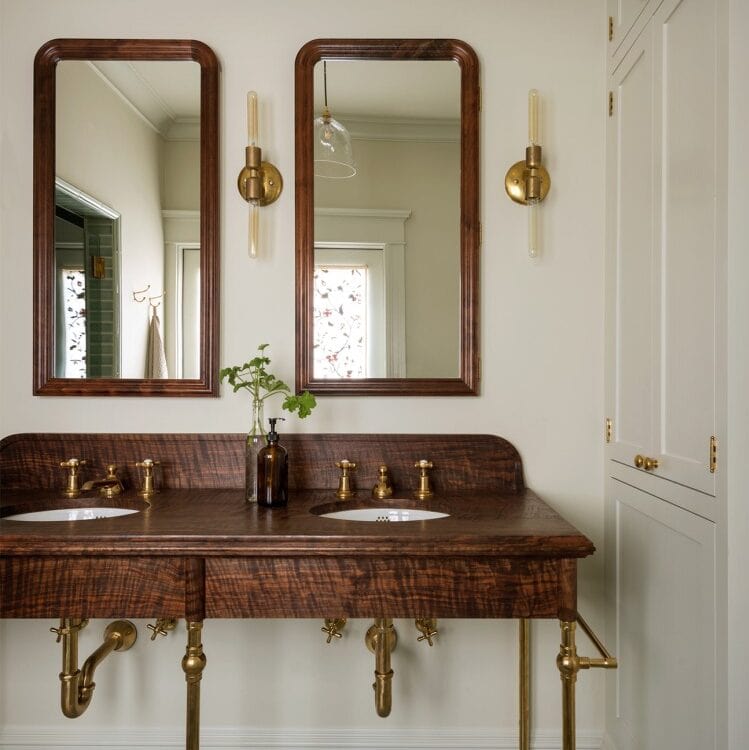 One way I love to organize my bathroom counter is with glass jars! Whether you use glass containers like these or even simple Mason jars, having your smaller items in glass containers looks great and makes it easy to find stuff.
There are many different items you can put in jars, but a few of my favorites are cotton swabs, cotton balls, small combs, and razors. You could also use a jar as a toothbrush holder, with another jar next to it specifically for your toothpaste.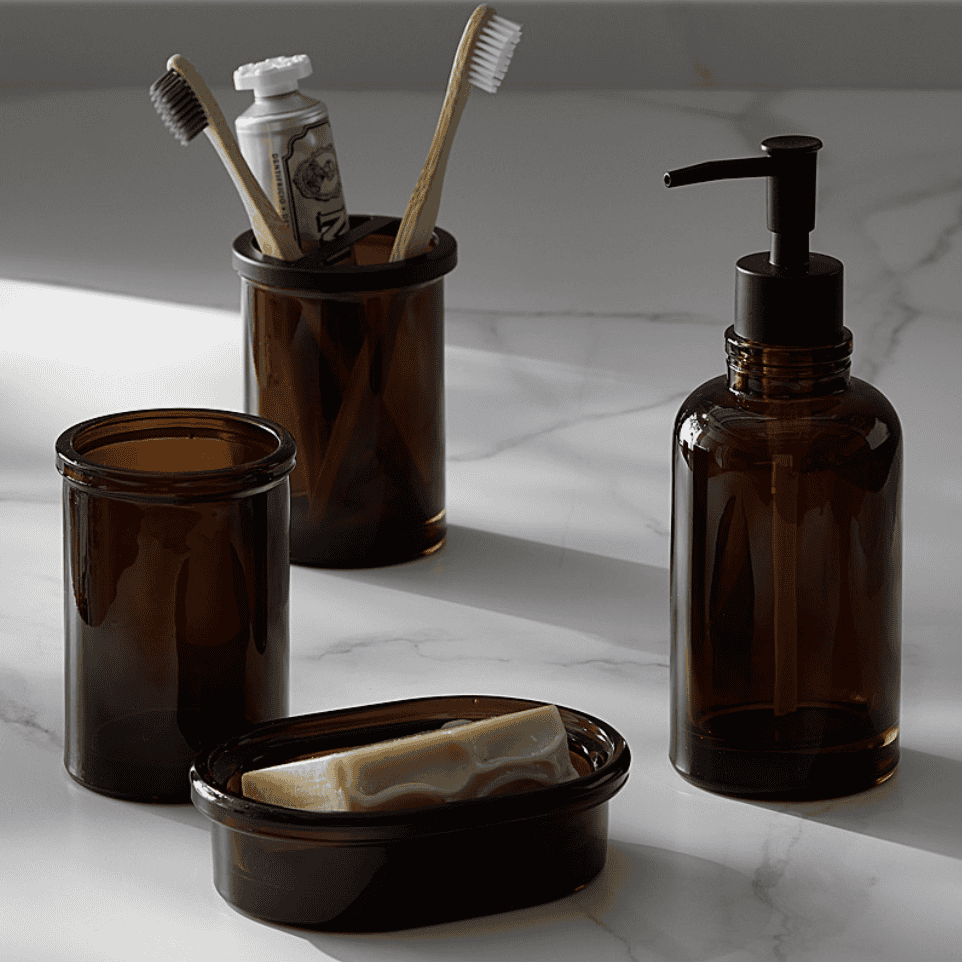 Jars aren't the only glass storage solution around either. Amber bottles, vases, and other types of decorative vessels can be used to eliminate visual text clutter as well. Place liquid soaps, lotions, mouthwash, and other liquids in dedicated decorative containers to reduce the number of unsightly labels.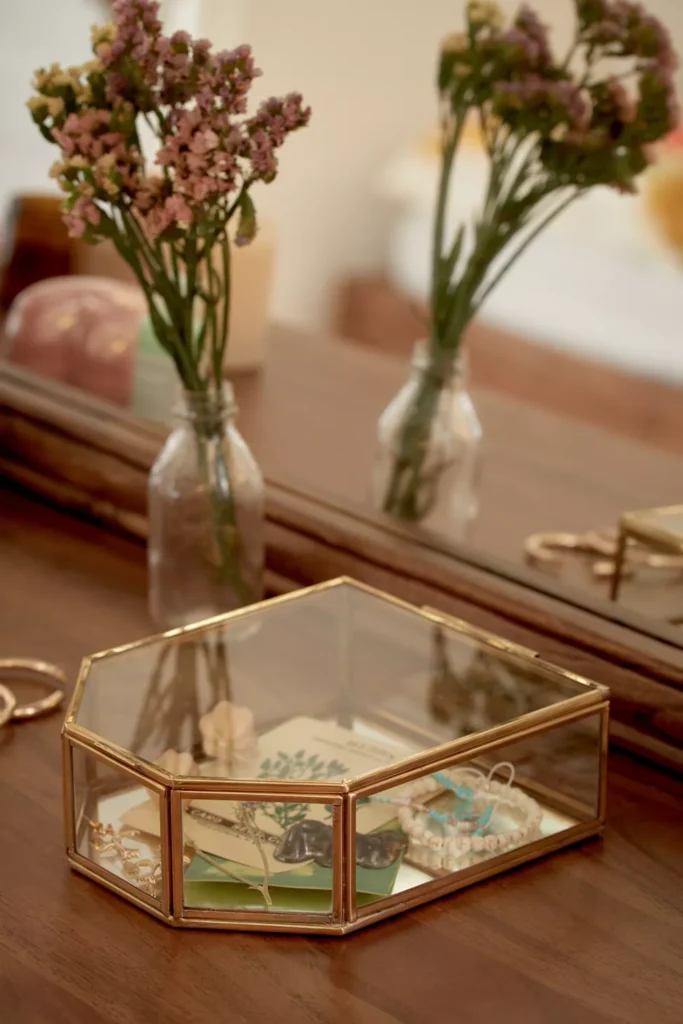 If you or your partner have jewelry, why not invest in a nice jewelry box? These make great display pieces and save slash contain your valuables in an aesthetically pleasing way.
There's also the added bonus of less jewelry getting lost down the drain, which can be a real issue if you're keeping jewelry in a dish. You only have to lose a ring down the drain to do whatever it takes to never do it again. Plus, you can great options that don't take up much space like this jewelry box from Urban Outfitters, which I love for its antique-inspired brass detailing and delicate glass casing.
Soap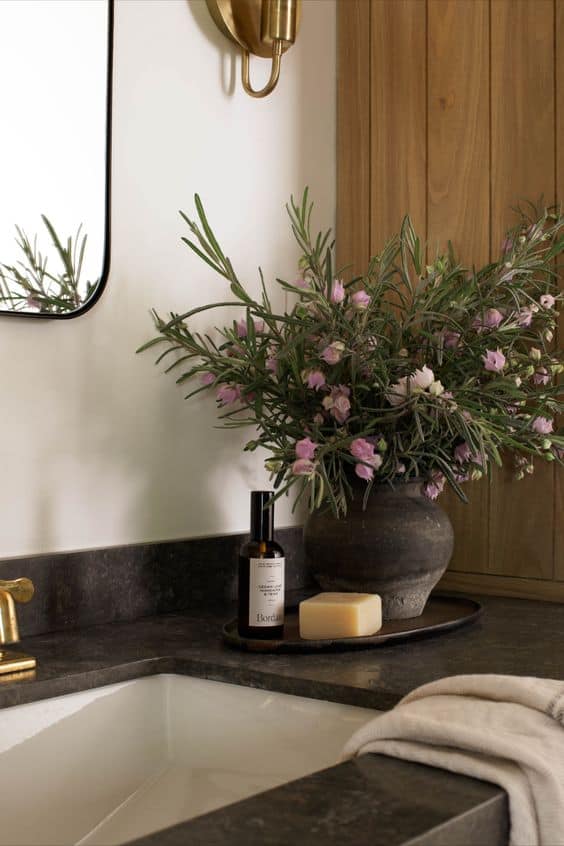 You'll need soap in the bathroom anyway, so why not make it part of the design? You can get rid of your plain old soap dispenser with liquid hand soap, and go back to the basics with a decorative soap dish!
Well, maybe not. It really comes down to personal preference when you're talking about soaps, and some people prefer liquid soaps to bars. Still, that doesn't mean you can't keep a few bars around for display, and you'll always have a backup if you happen to run out of the liquid version.
Perfume
Perfume manufacturers tend to put a lot of effort into making their bottles beautiful. You can use this to your advantage by turning your collection into a stunning display! A big part of mastering how to decorate bathroom counter is learning to work with what you have already. If what you have happens to be a large collection of beautiful bottles, then you might as well use them!
You can do the same thing with other bottled things, such as cologne or your favorite hair products. While these bottles generally don't have as much flair as perfume bottles do, they'll still look amazing if you put a bit of effort into arranging them.
Candles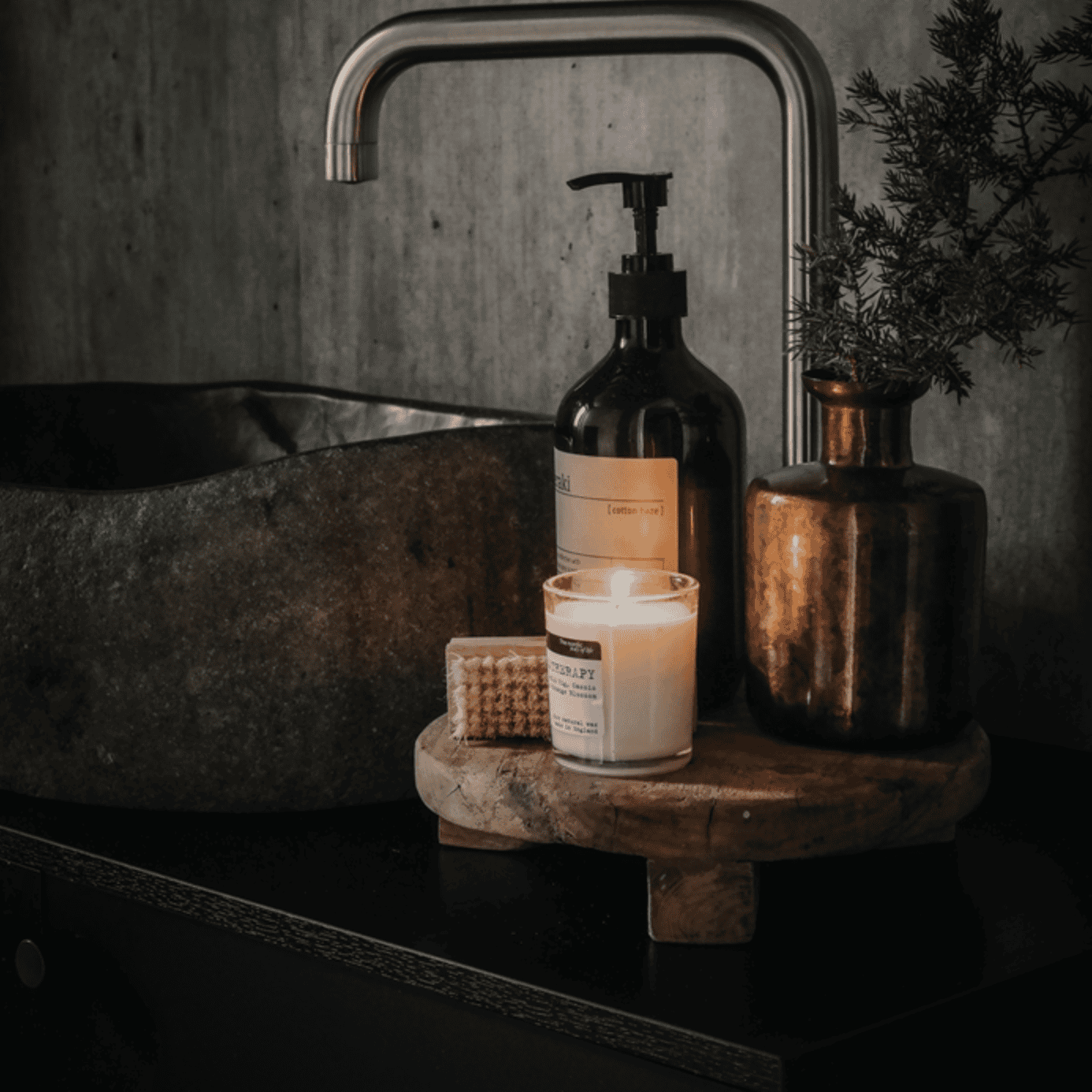 A timeless but stylish piece is the candle—or candles—in the bathroom! If you have the space then the counter is the perfect place for a candle, as you're unlikely to bump into it while getting in or out of the shower.
You have plenty of options when it comes to candle scents, and there's a scent for pretty much any ambiance you're after. Floral scents, sweet scents, and earthy scents are all great for a long soak, and you can even turn the lights off if you just want to relax by candlelight.
Flora and Faux Plants Make Good Answers for How to Decorate Bathroom Counter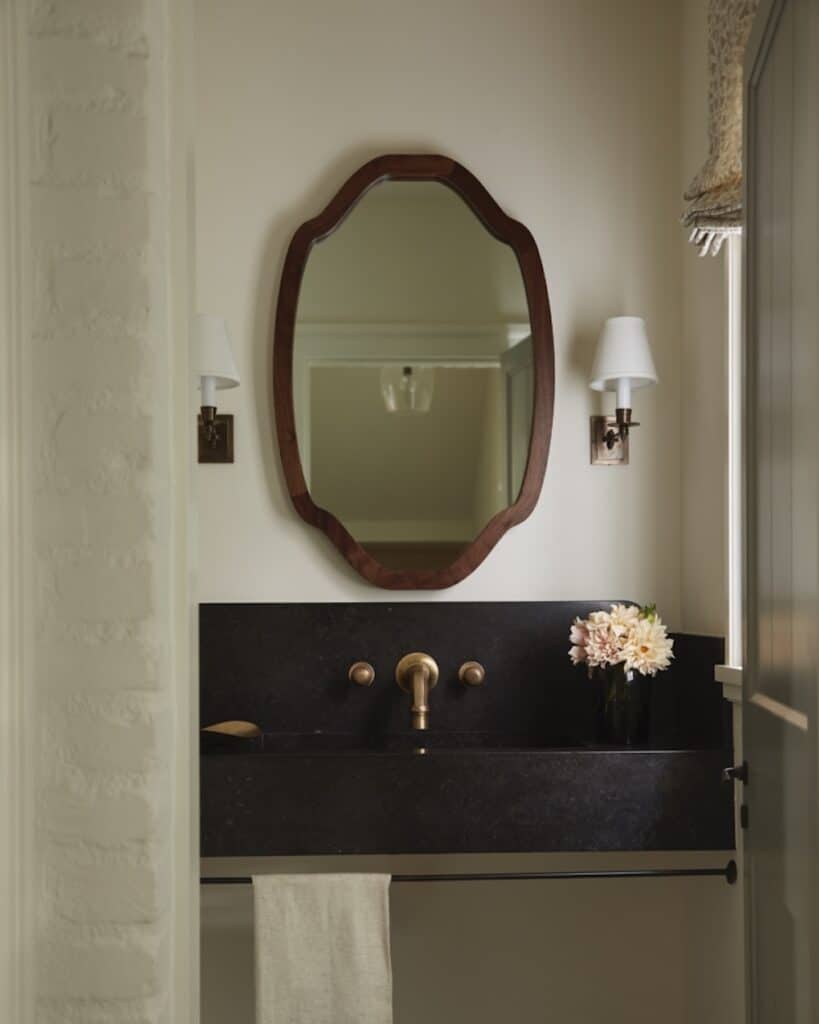 It might be indoors, but that doesn't mean you can't add a dash of nature to your counter! When paired with the sound of running water, I think having a small plant or two on your counter offers a relaxing atmosphere we can all enjoy.
Flowers are a classic choice, but hardy indoor plants like succulents, and even spindly branches are great as well. You'll have plenty of pint-sized options to choose from, but if you need inspiration, feel free to check out my favorite houseplants.
If your countertop isn't exactly a great place to put a plant, consider putting one next to the sink instead. Something like a Monstera plant would work great, as these plants start out small but can get quite big if you give them enough time.
Alternatively, if you simply don't have time to take on the responsibilities that come with house plants, getting a faux floral arrangement instead will offer the visual benefits without the added stress. I find fake plants are also the perfect way to add life to corners that get minimal sunlight!
How to Decorate Bathroom Counter Tip – Personalize Your Area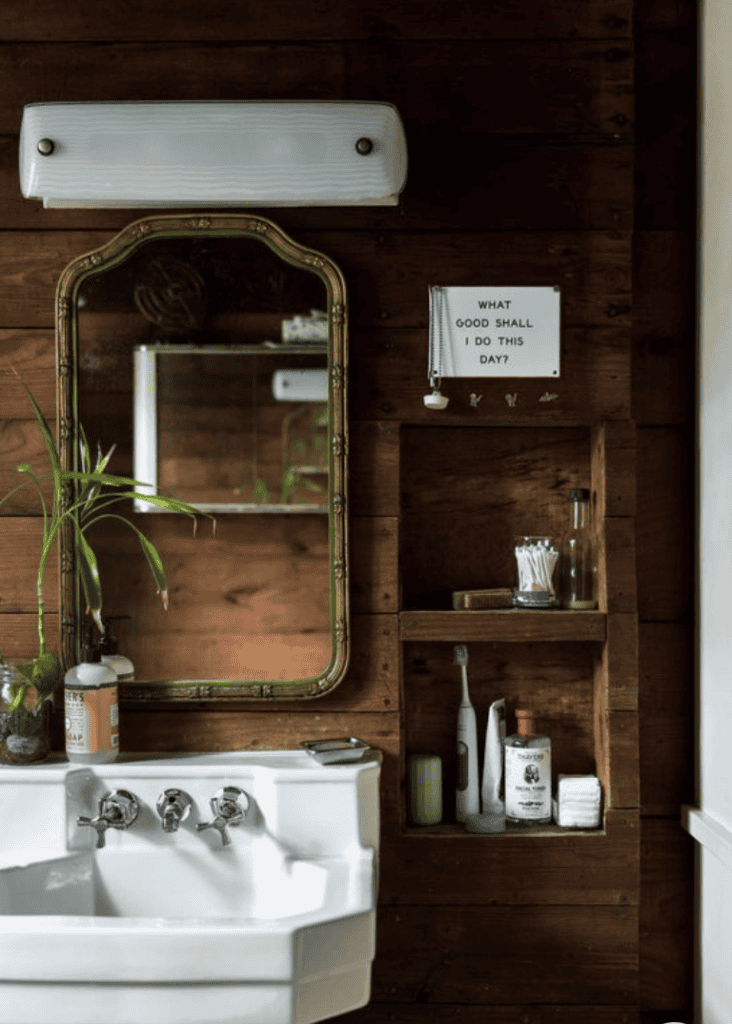 Adding a sense of personal touch is a great way to style your bathroom counter. In fact, I'd say that adding personality is one of the most important parts of learning how to decorate bathroom counter. Sprinkle on family heirloom glassware, or trays.
This isn't necessarily something you have to do, but it's something that I personally love doing. Not only will it help make any visitors feel more welcome, it also makes a house feel more like your own home!
No matter what you pick, just make sure that any additional decor matches the current aesthetic for a cohesive look
Framed Photos Make Smart Decor When you Need to Know How to Decorate Bathroom Counter
Adding framed photos to your bathroom counter is an excellent way to personalize the area! You have plenty of options too, from family photos and previous trips to beloved pets or even professional photography work.
I usually opt for more personal photos in the master bathroom, with more generic photos in the guest bathroom. Famous landmarks you've seen or beautiful nature scenes you've captured on camera are two pretty reliable options.
Vintage, framed art is a promising alternative as well, either for the countertop itself or for the walls nearby. This works great if you don't have many photo prints that you'd like to display.
Take a Look at the "Big Picture"
In my opinion, one of the easiest ways to decorate your master bathroom countertop is by starting with the bigger items and working down to the smaller details. You'll want to have pretty much everything else perfect at this point though, so items can stay in their "perfect place" once you find it.
Simply put, take care of all your bathroom upgrades—such as installing a marble countertop or retiling the floor—before you move on to the countertop. Assuming everything is all set, just work your way through the list below to learn how to decorate bathroom counter effectively!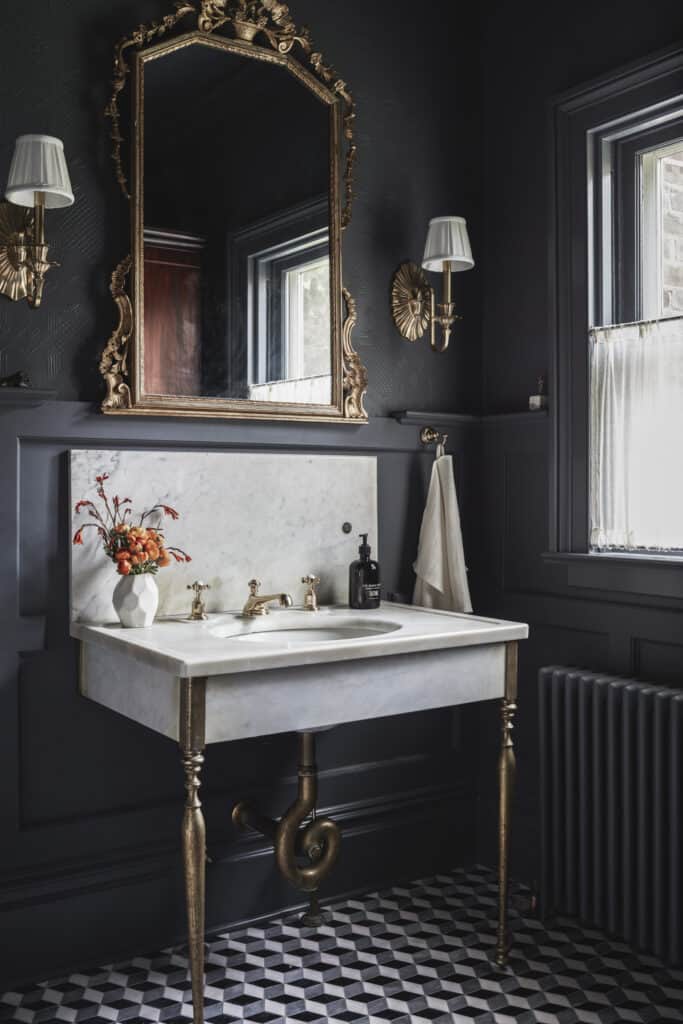 The majority of your time spent learning how to decorate bathroom counter will be focused on the smaller items that actually sit on the countertop. However, the work doesn't stop once you've optimized the countertop. At least, it doesn't have to! Here are a few bigger items you might want to consider upgrading after you've perfected the countertop.
The Mirror
As a staple of your bathroom vanity, the right mirror can go a long way for your countertop, while the wrong one can make the entire room seem mismatched and unappealing. Fortunately, the mirror you have already might work just fine. Even if that's not the case, replacements generally aren't that expensive.
If it definitely needs some new life but a new mirror is out of the budget, painting the frame or looking in second-hand stores are great alternatives that won't cost much money.
Shower Curtain
Replacing your current shower curtain with a new set is a budget-friendly way to revitalize the vibe of your bathroom. There are plenty of options available online, but you can always just head to a local store if you don't have a specific design in mind.
If you're after a more luxurious vibe for your bathroom, consider upgrading to a tempered glass shower door. Depending on the design of your current bathroom, this may require a complete remodel of your shower.
Ultimately, I'd probably suggest giving a new shower curtain a try before upgrading to a door, as this upgrade can be quite costly. You can always renovate your shower later on down the road.
Lighting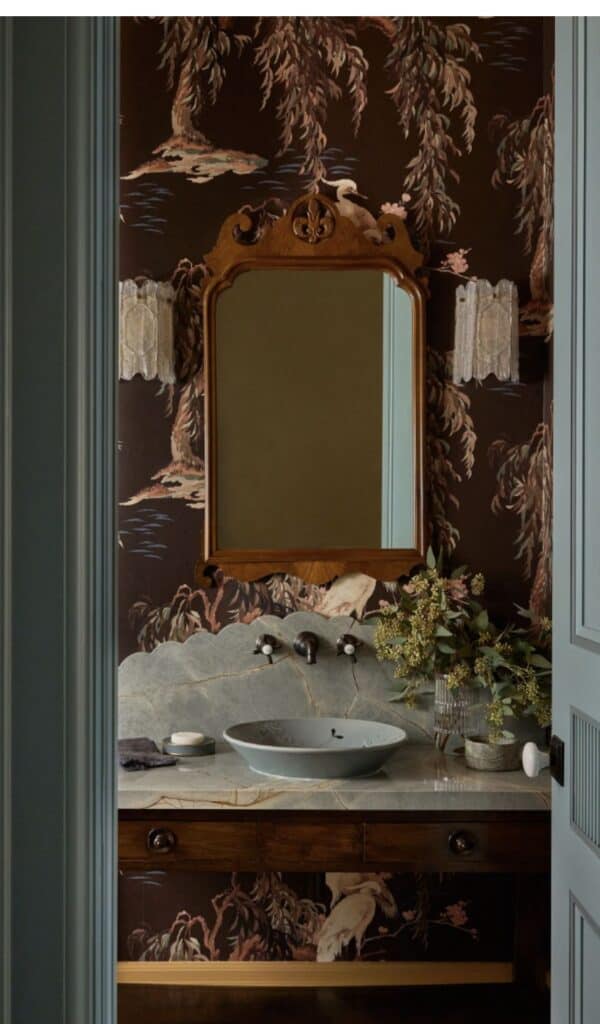 Upgrading the light fixtures in your bathroom is a great way to set your countertop up for success. Natural light is ideal if you have any, but a light fixture can provide consistent light no matter the time of day.
Not only will this help you show off your countertop, but additional lighting also helps highlight your choice of wallpaper and other room decor.
Plain lights will work in a pinch, but I recommend going with some premium modern wall scones if you can swing them for the cleanest aesthetic.
How to Decorate Bathroom Counter with Smart Storage Solutions
Some items, like toilet paper, can be placed in designated shelves or cabinets for easy access. Others may fit into smaller storage solutions, like in a decorative dish or in this Tuscan Farmhouse Distressed Ceramic Pitcher. Ideally, you want everything to be accessible but aesthetically pleasing simultaneously.
With that in mind, I'd recommend installing some cabinets around the room if you haven't already. This will help minimize how much "needs" to be on display. Depending on your current layout, it may be worth looking into towel racks, a medicine cabinet, shelving, or even over-the-door storage if you have the space.
Towels
Handpicking beautiful towels to display can be a simple way to bring some life into your bathroom. Since towels are offered in so many different colors and designs, finding one that fits with the aesthetic of your counter should be a cakewalk!
Whether or not this would be considered as a counter decoration or a bathroom decoration really depends on the specific layout of your bathroom. Either way, putting a few decorative towels on display makes for a great addition to your room.
While you're at it, consider upgrading the towel bars or racks that you're currently using. A simple but new bar can really help your towels stand out, whereas an old, worn-down rack will take away from their visual appeal.
Custom Towels
Ok, so these can really toe the line between luxurious and tacky, but I think it can turn out amazing if properly executed. Custom towels can be anything you want them to be, so everything from having your family name embroidered on them to having a printed recreation of a favorite photo is possible on a custom towel.
Of course, getting things custom-made can be a bit pricey, so I'd probably say to start with something cheaper first, like hand towels. If you fall in love with your personalized towels, you can always get larger ones made to match.
I really love these, so they're something I'd highly recommend looking into. Whether they're hanging from the racks next to your countertop or stuffed in the cute wicker storage baskets nearby, there's something about custom-embroidered towels that just makes the place feel cozy.
A Simple Summary
As you can see, there isn't much new information to process when learning how to decorate the bathroom counter. Really, most of it comes down to memorizing the steps and exploring your potential options to find the perfect balance between fashion & function. Oh, and knowing a few thrifting tricks can also come in handy.
Whether you're already planning on trying out most of these suggestions or just starting with fresh flowers and working from there, I'd love to hear what you have planned for your bathroom counter revamp. Be sure to let me know in the comments below, check out my curated bathroom must-haves list post for more bathroom decor ideas, and check out my Instagram if you want to see what I've been up to lately.
Until we meet again!
---
How to Decorate Bathroom Counter FAQs How to Decorate Bathroom Counter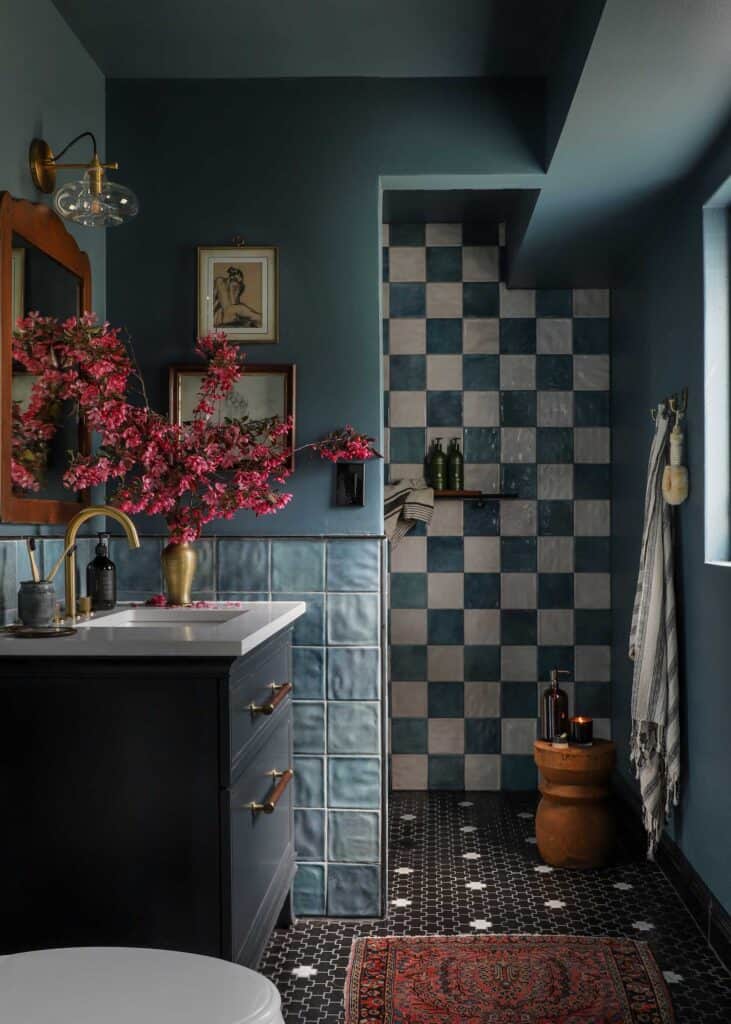 How do I make my bathroom counters look organized?
There are many different approaches that you can take to solve this problem, but I recommend starting by getting a tray and a few different containers for your items. Organize your items into different containers by type, then place the containers on the tray for a clean and organized appearance.
How do you decorate empty counter space?
Well, you can always try the "functional aesthetic" like I recommend above. However, if you're looking purely for decorations then I'd recommend going with a plant, as these can instantly liven up any space.
How can I decorate without adding clutter?
The best way to minimize clutter is by minimizing the number of small items you have around. This doesn't necessarily mean getting rid of your tiny items though. Chances are, you'll need them later on (it is a bathroom, after all!). Place as many smaller items as you can in a larger container. This will help minimize the visual clutter without requiring you to get rid of any items.
How do I organize my vanity area?
I always recommend organizing items by purpose. For example, keep the razors with the shaving stuff, the combs with the hair products, etc. However, I recommend organizing the actual sections as well, with items you use most frequently upfront and instantly accessible at a moment's notice.
How can I make my counter look better for cheap?
There are many different ways to give your countertop a makeover on a budget, but painting it might be the easiest option. This simple project only takes an afternoon with drying time included, and you'll get to enjoy a refreshed look right away!
Can you use peel and stick tiles on countertops?
Yes, if painting doesn't sound appealing to you then using peel and stick is a great alternative! Unlike paint, peel and stick tiles are often made to mimic the look of other materials, allowing you to have "marble" or "quartz" countertops on a budget.