Fall is (almost) here. I just can't wait. Fall is hands down my favorite season – of course, I love it for all the normal reasons, but one reason that you might now know about is that Fall is actually one of the warmest times of year here in San Francisco. I love just watching the leaves change color in and see the shadows get longer – and the air crisper – it's a kick!
With all that, I thought it would be fun to pull together a fresh approach to styling your entryway for a pop of Fall (or Halloween) this season that's not too literal. I headed to Target over the weekend – because believe it or not – I am obsessed with their home goods. The prices are great, and the looks are on point, ya just gotta know what to grab. As such, I got some suggestions for ya. What's not to love?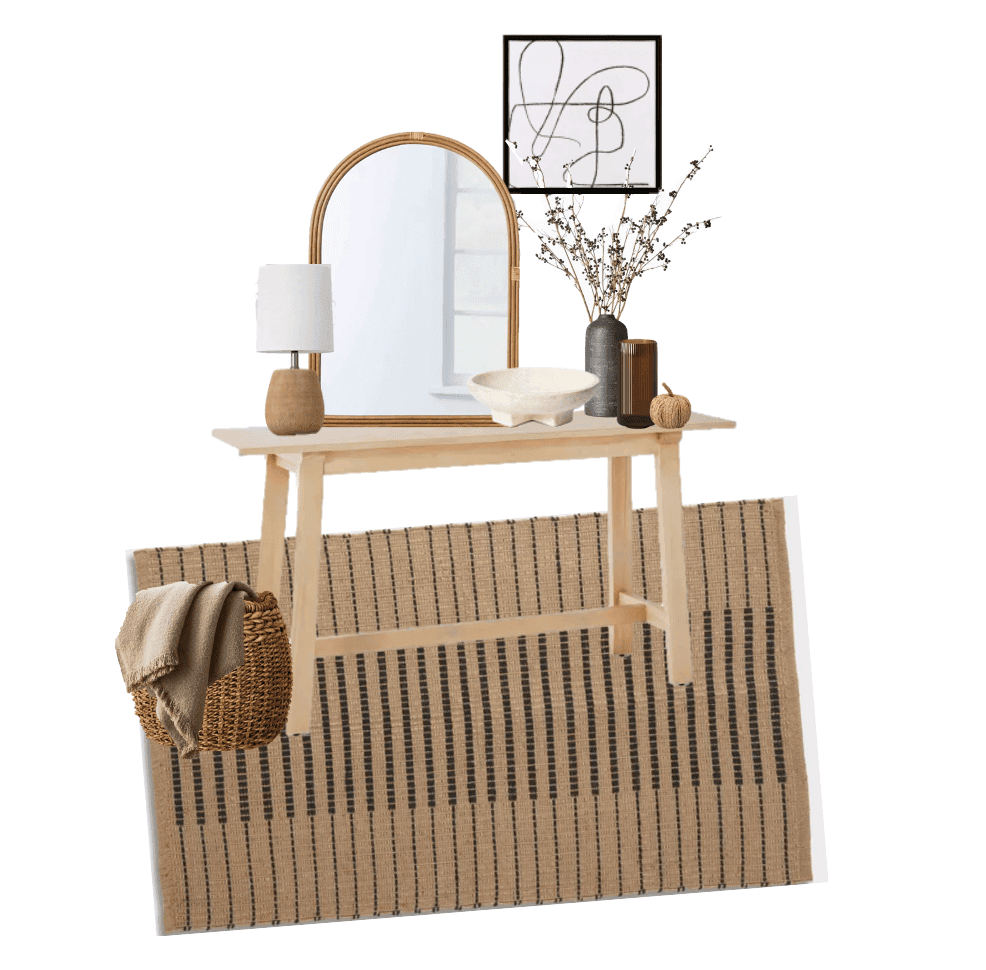 So let me share with y'all some of my Target favorite fall pieces for an entry or side table. All of these pieces are fun solo – but they work well as a complete look – that can be kept all year and freshened as the seasons change. I want y'all to have a great vibe that's easy to work with that stretches the budget too. Let's dive (fall) in: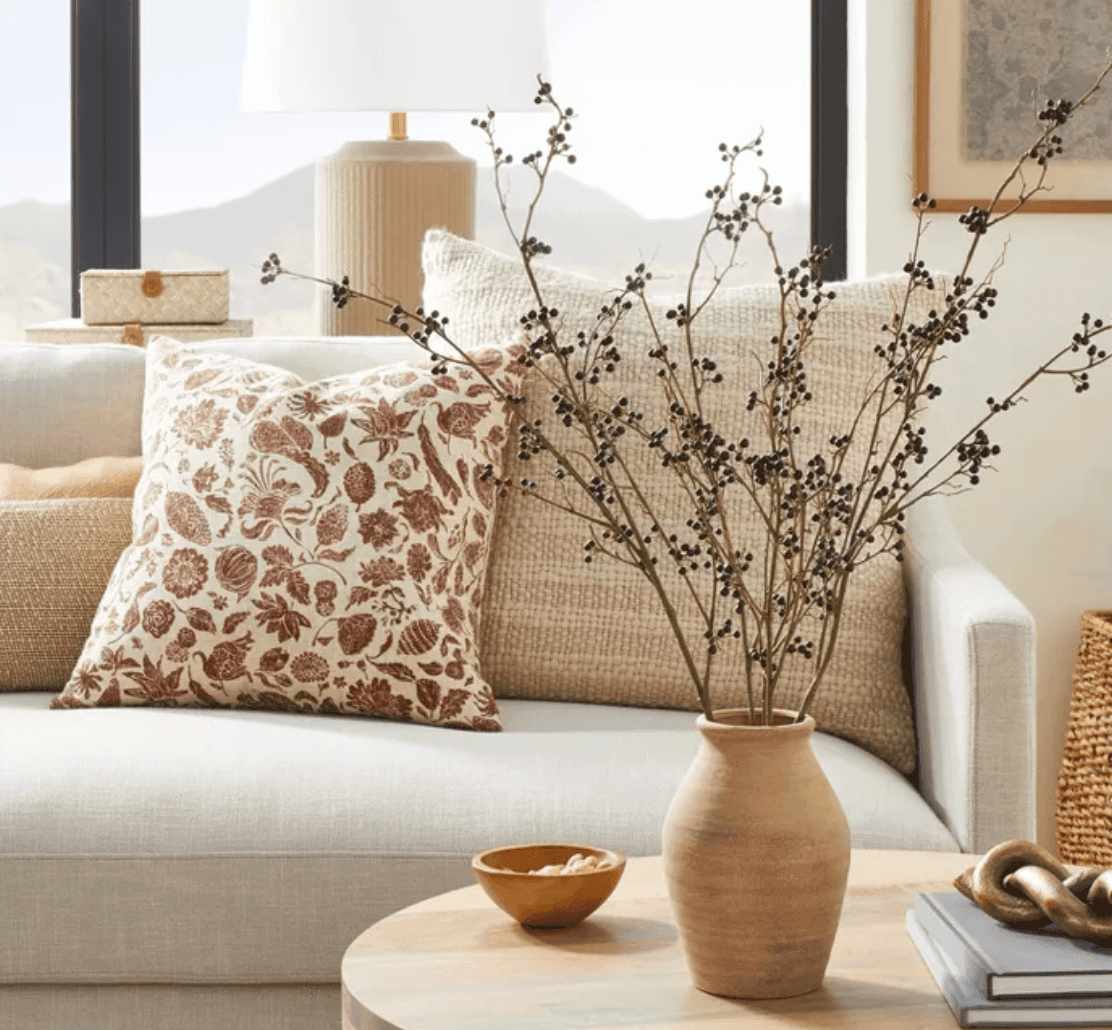 Y'all know I love branches – all day every day. But, they have to look real(ish) if they are faux and be a great deal. These are the perfect blend of each and are perfect for fall. I love the spindly look and the fact that they work for fall but can transition to winter too. It's a steal that it comes in a gorgeous ceramic pot too. Grab this, guys. They are so good.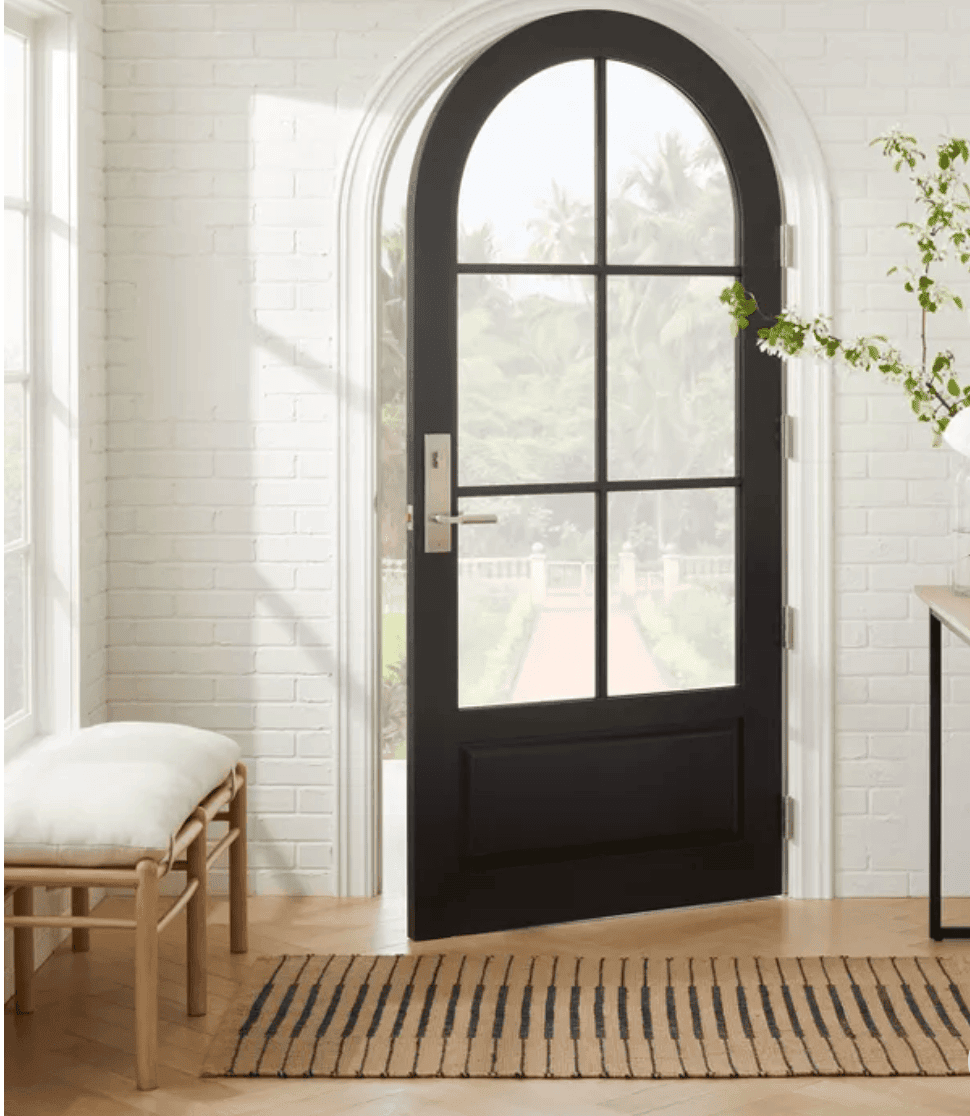 Any space needs to be grounded – and there isn't a better way to do that then with a gorgeous rug. How incredible is this runner? It's an amazing mix of modern and classic jute – good for both indoor and outdoor (which I love for an entryway) that can look amazing in literally so many spaces. I love the way it contrasts almost like piano keys too. This is a steal. It also comes as a runner in-case you want to add in a hallway or narrow space.
I screamed when I came across incredible console table that is a spitting image of a much more expensive expensive Lulu + Georgia console. This console is the deal of the season! The price is insane! She's a warm chic style with that perfect (but not too perfect) farmhouse look that can be dressed up or down all year long. She's a fabulous scale for an entry or under a TV, and at this price point, it can not be beaten.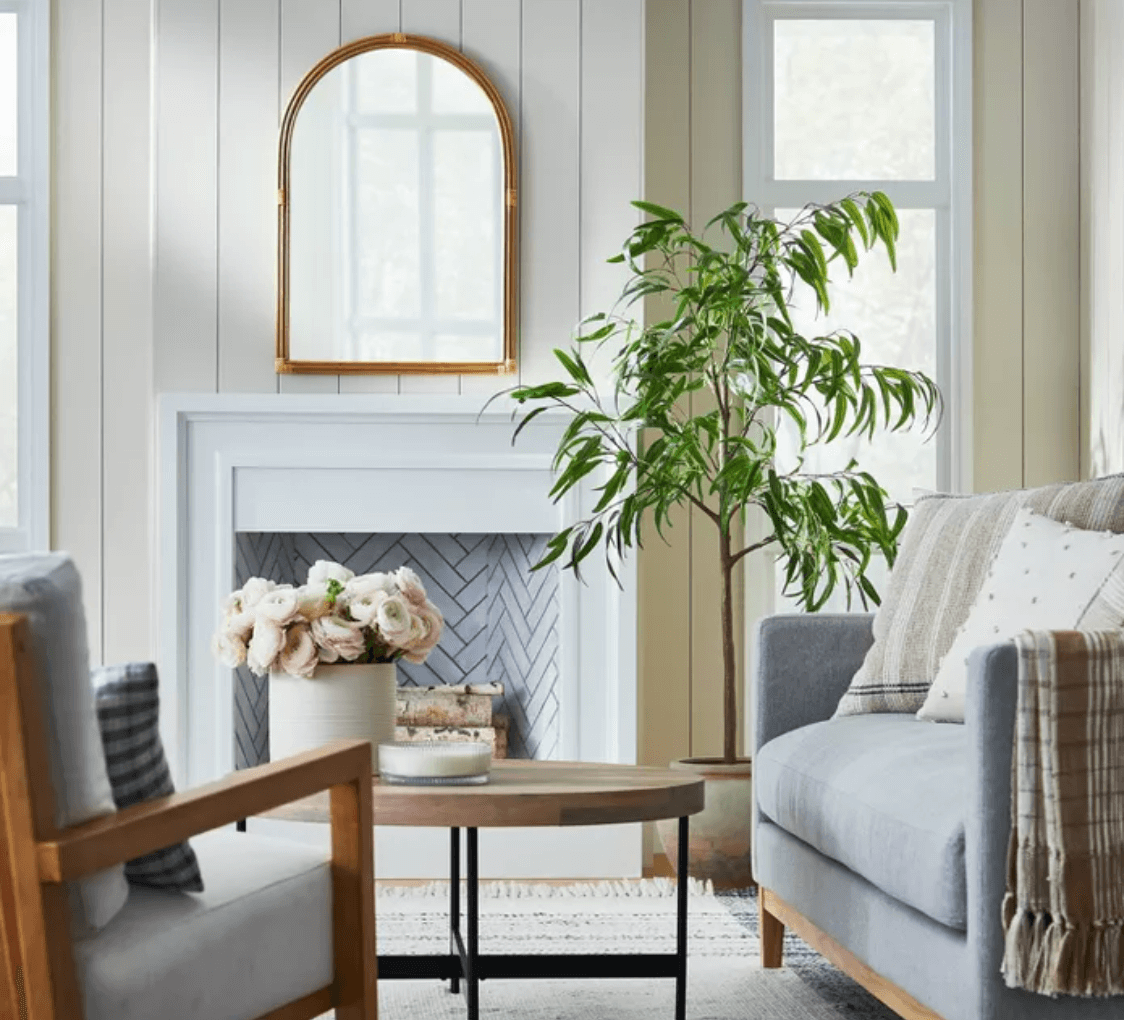 Look, I insist on a mirror (or two) in every room. They add light, help a space feel bigger, and create perfect focal points. The same goes for an entry. I love to lean or mount a mirror right above a console to create that moment. Plus we all need a spot to check our hair now don't we? I love this rattan arched design for the added dimension and charming touch it adds against modern accents. It just grounds the vignette nicely. Grab her now.
AMBER GLASS VASE + WOVEN LEAF PUMPKIN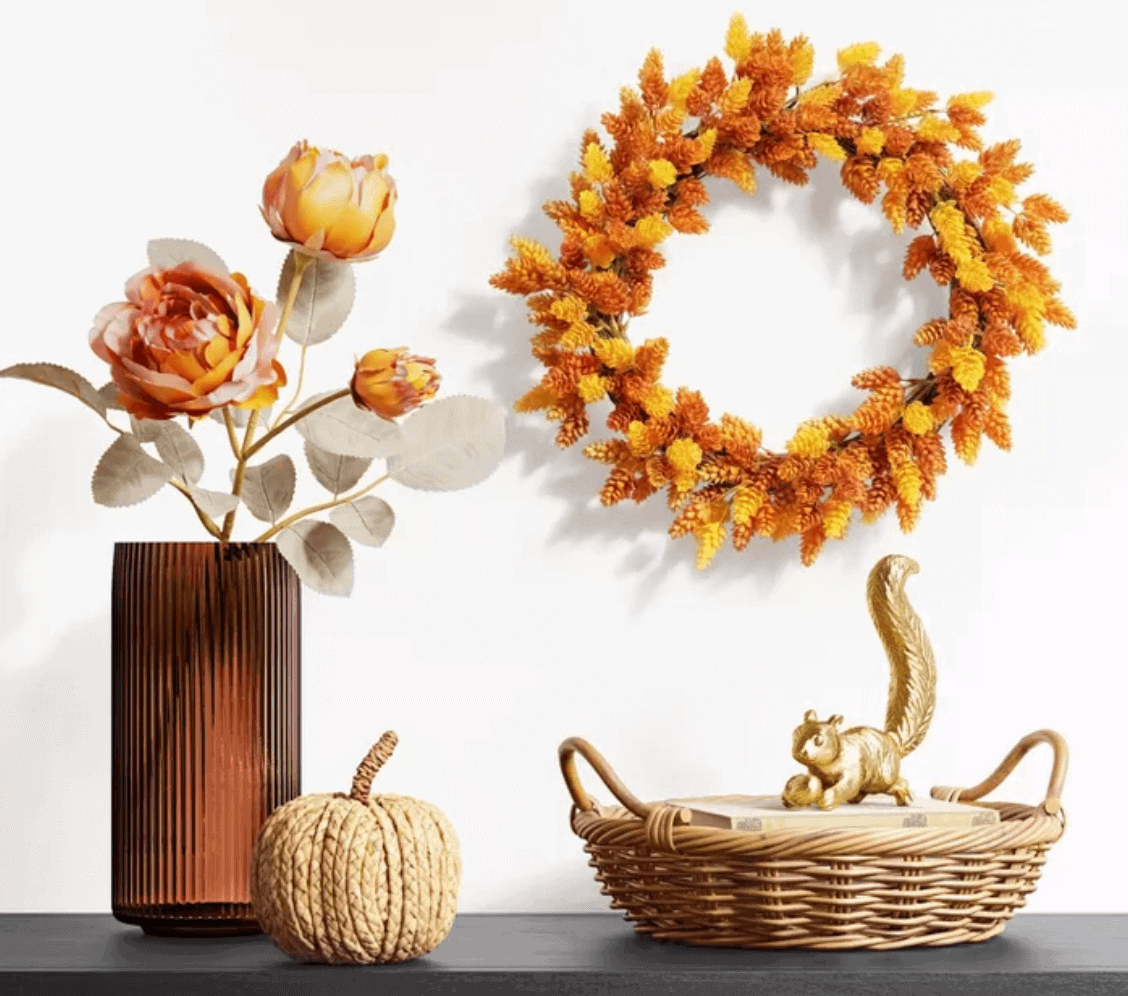 I love pumpkins and spider webs as much as the next guy (or they/gal.) But, I like to be strategic about how I use these more literal decor items when Fall rolls around. I like this woven leaf texture pumpkin that reads more organic shape than a standard pumpkin ornament and this amber candle balances it by bringing in that traditional Halloween glow, but with a more mature and sophisticated look. I had to fold these in – just to make the space extra fun! These are a steal.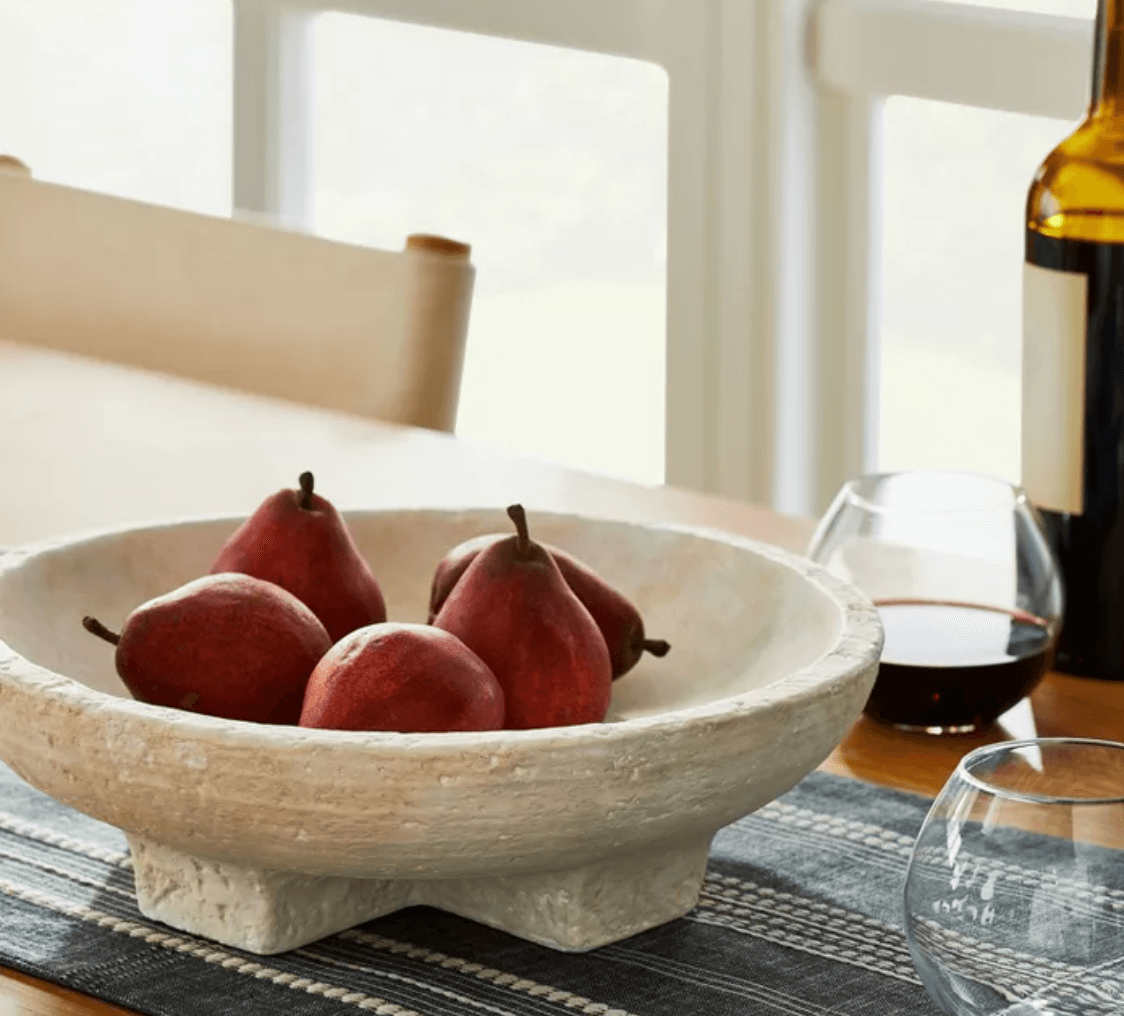 This simplistic off-white terracotta bowl is the perfect touch to create that lived-in historical look. This bowl can display beads, seasonal fruits or hold your keys perfectly. It's super easy to pair with classic + contemporary pieces that I had to share with y'all for this vignette. I have two and can't say enough good things. This is a must-have.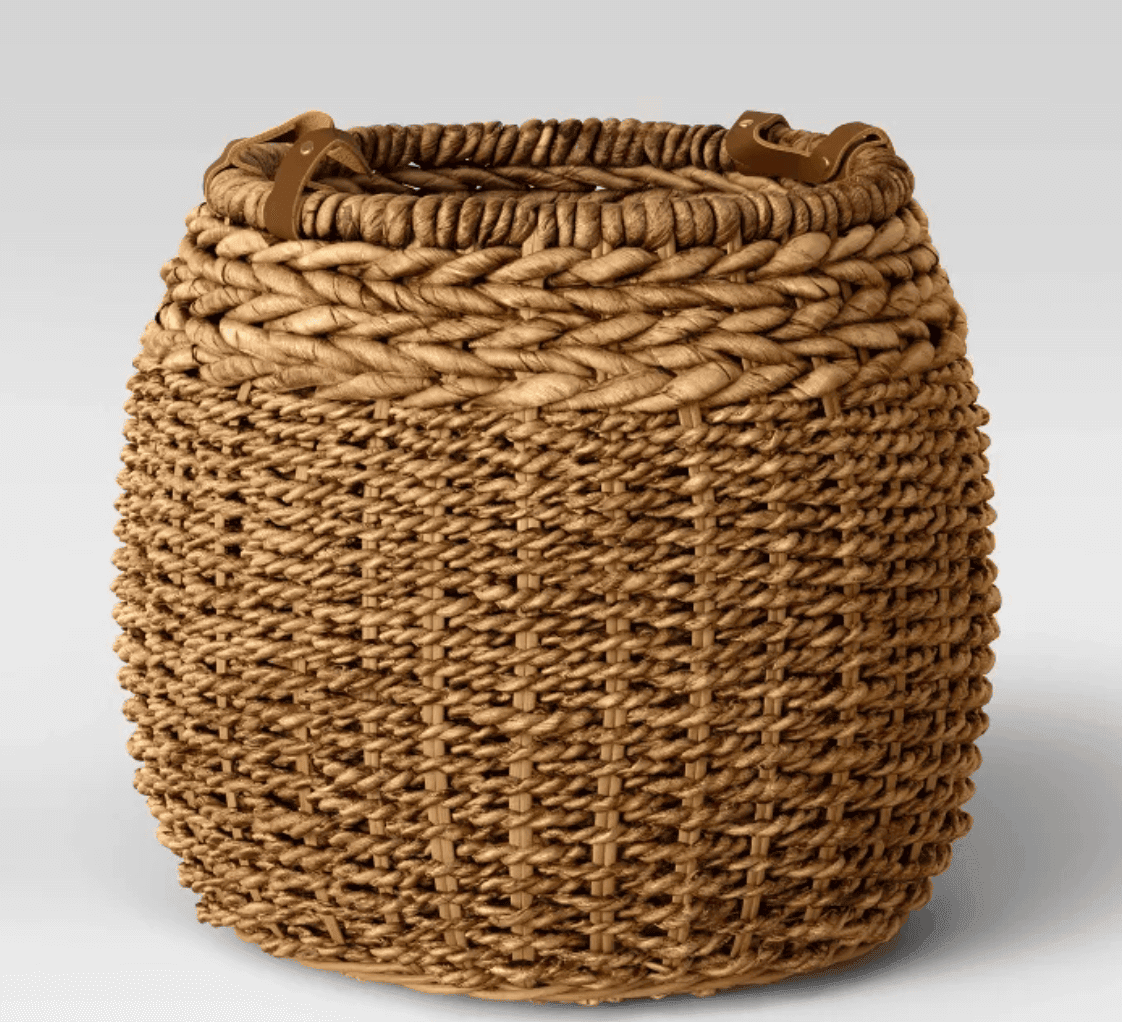 I love a woven vessel of any sort. Woven elements add instant warm, charm, and texture to any space. This banana basket with leather handles creates the perfect home to store umbrellas, throw a scarf, or even a blanket. You can even use it as a place for a Ficus Audrey too or any of my other favorite house plants. She's a beauty aint she?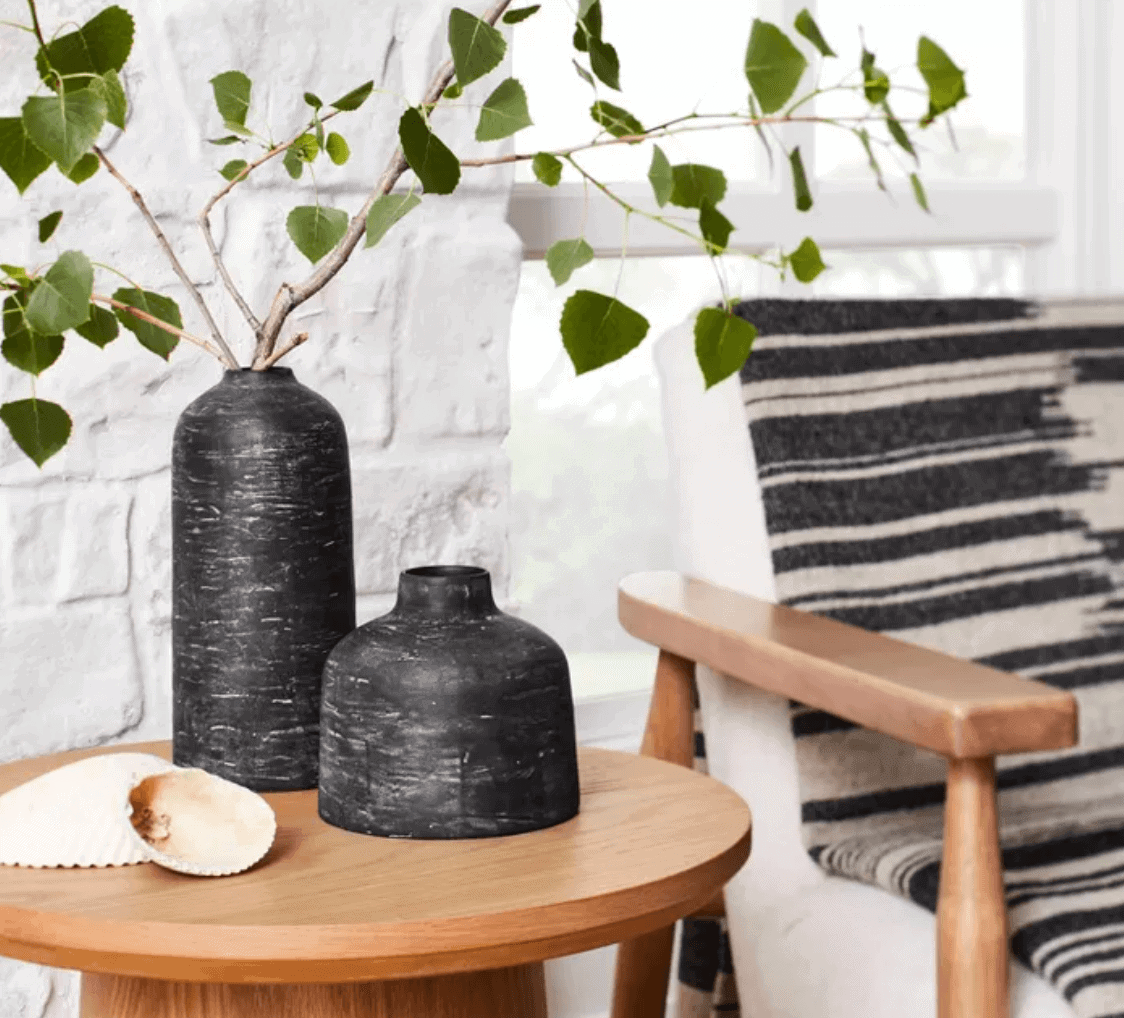 I love the modern distressed look of these vases. Plus, they come in a ton of different shapes and sizes that you can't not have the perfect fit for any table scape. They are literally so affordable, and will instantly level up any classic space with a pop of contrast and a great spot for stems. I suggest a tall and short version together – but you really can't go wrong.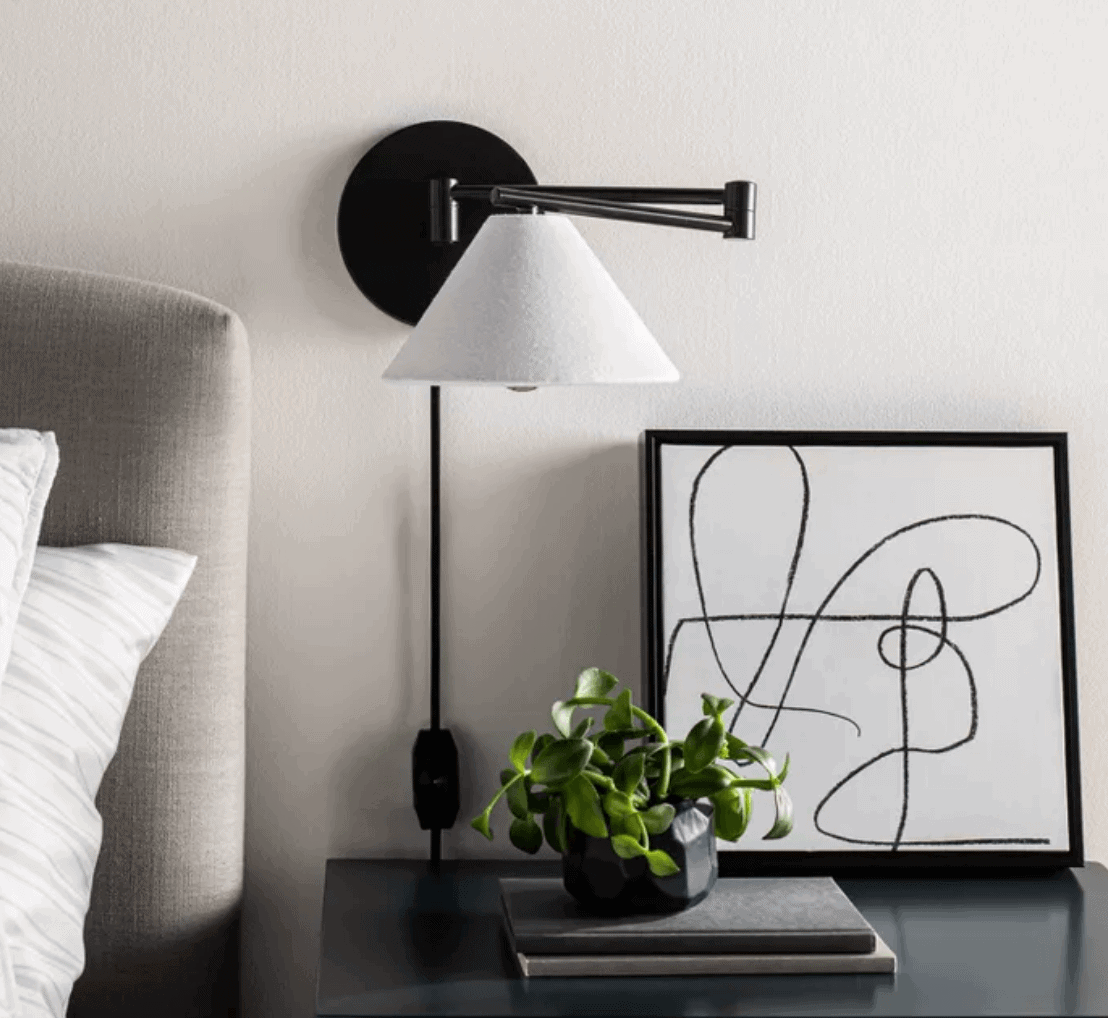 Modern art in a black frame always works for me – always. This splash of modern compliments any design – but especially in this case – juxtaposing the earthy palette and lived in look of the rest of these fall pieces. The price is amazing – and the look is impeccable. Grab one (or two.) I have three.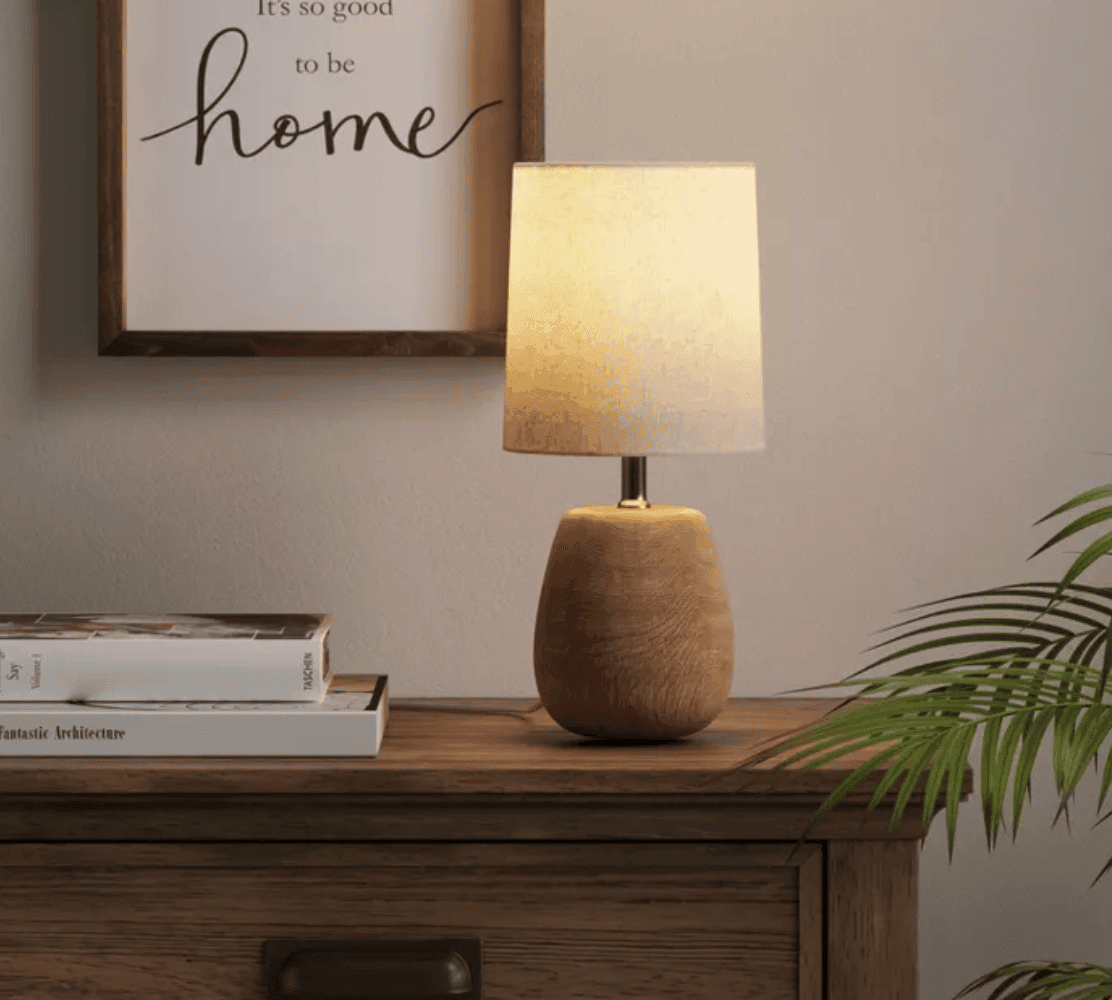 Every vignette, but especially an entry or nook needs a table lamp. The trick? Ya want something small that won't overwhelm the space. This tiny light provides a ton of warm golden light – the vibe you want when you first get home from a long day. Plus the best part? It's just $10 dollar. Yep, thats right. How can you not?
BOUCLE FAUX MOHAIR THROW BLANKET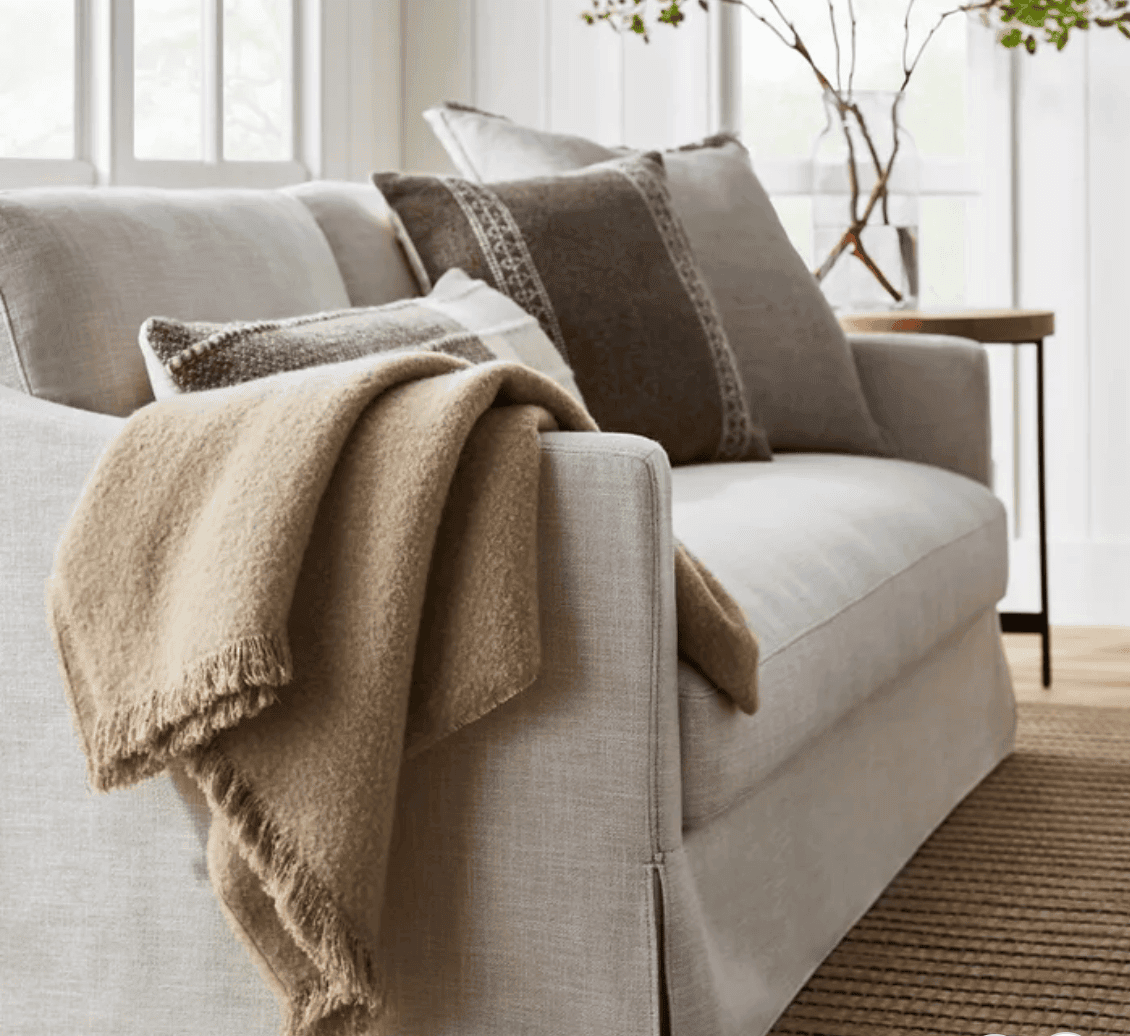 It's about to get cold. Like real cold. You want to have a textural soft throw blanket to not only keep warm but warm up the look and feel of your entry way. Nothing looks more chic that to have a rolled up blanket in a woven basket or next to your living space for guests when they arrive. This faux mohair blanket is a gem, and the price is even better.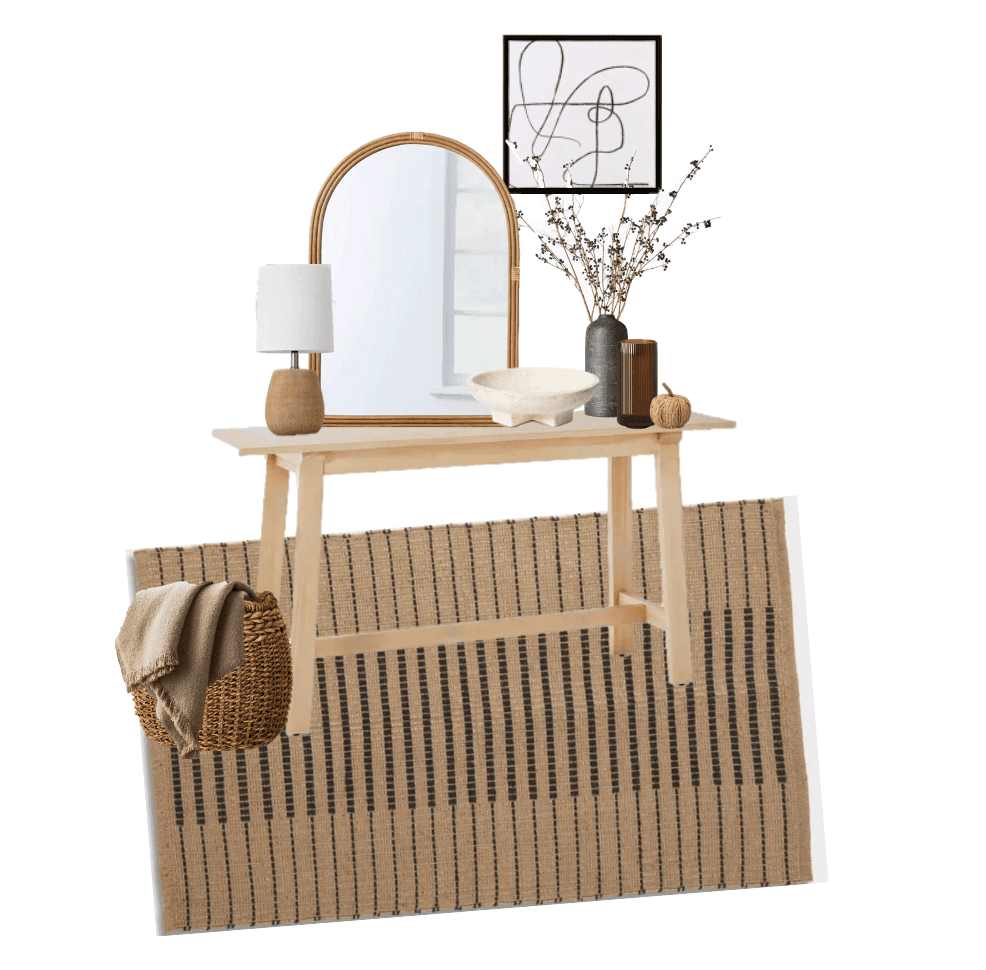 There you have it, my friends! A Fall Foyer entry design, complete with everything you need to take a look – and on the cheap! Even better? This look can last all year long. Simply swap out the pumpkin and Amber vase for something more season-appropriate. I hope you love the look – for less!
Which of these pieces is your favorite? Do you think you could incorporate any of them into your own space for Halloween or otherwise? If so, which ones? I'd love to know!
Curating fun seasonal and interesting pieces for your home is no easy feat – but I am here to help. DM me if ya have questions or let's work together on a project. Send me a note here. Have fun! Xoxo