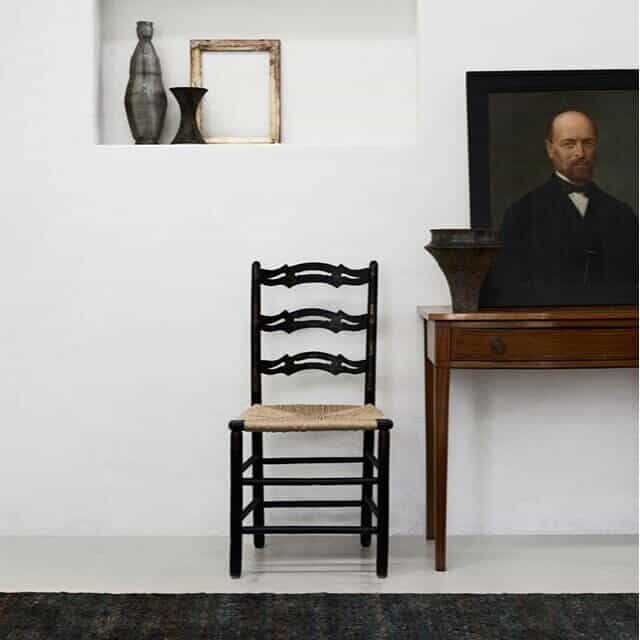 If Helen of Troy, launched 1,000 ships inciting a massive war on her behalf then this image is Helen of Troy for me when it comes to the inspiration for 136home – defining the visual language (causing only a few wars) and acting as a north star for all the choices I make for my home.
This image in and of itself encapsulates all the things I love most in my space; a clean palette for the foundation (paint: Chantilly lace white by Benjamin Moore in matte.) clean modern lines with moments of architectural detail, and layers upon layers (but not too many) of modern + vintage furnishings both brass, black, and distressed to deepen the visual interest.

I get asked all the time, "how would you describe your design style?" I used to find it impossible to articulate. But now, I feel like I have it down. It's "contemporary classic with vintage charm." I don't get overly academic about it, and if anyone gets confused I show them Helen – I mean this pic. In the end, this siren always acts as my north star referring to her over and over again when making design choices in my space helping to keep things cohesive and harmonious.
So, what's your muse, what's the Helen of Troy for you in your space? 'I'm dieing to know. Like seriously – my favorite thing to do is scroll image after image of beautiful home interiors.

Consider the question above and share with me your muse @136home or comment below.

For fun, I have compiled a galley of a few additional inspiration images from my just a few of my favorite designers + bloggers. I hope one of these images becomes your new Helen of Troy.