Okay, let's get serious my loves. Many of you have had questions about how to decorate a small bedroom with a king size bed. It's no wonder, these giant beds can sometimes be difficult to decorate with, especially in a small bedroom. I know when I started decorating I ran into many roadblocks trying to cram a king-size bed into a tiny space – so I wanted to share my pro-tips for maximizing your space for a big impact. After all, decorating a bedroom should be fun, not stressful.
Full disclosure – these days, I have been blessed with enough bedroom space to fit an Alaskan King size bed. Of course, I love it. However, in the past, I've had to get very smart with small bedroom designs.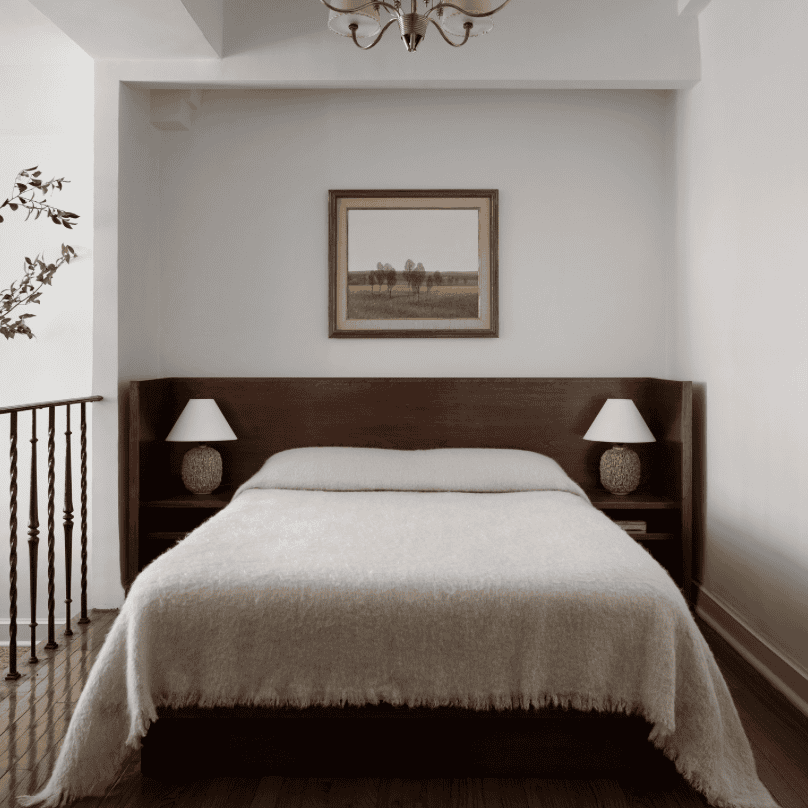 Although it was inconvenient at the time, I have come to really love a more intimate space – so let me share a bunch of tips and tricks to help you decorate your small bedroom with a king-size bed so that you can have the best of both worlds. No point in dilly-dallying, let's go!
Start With Your Measurements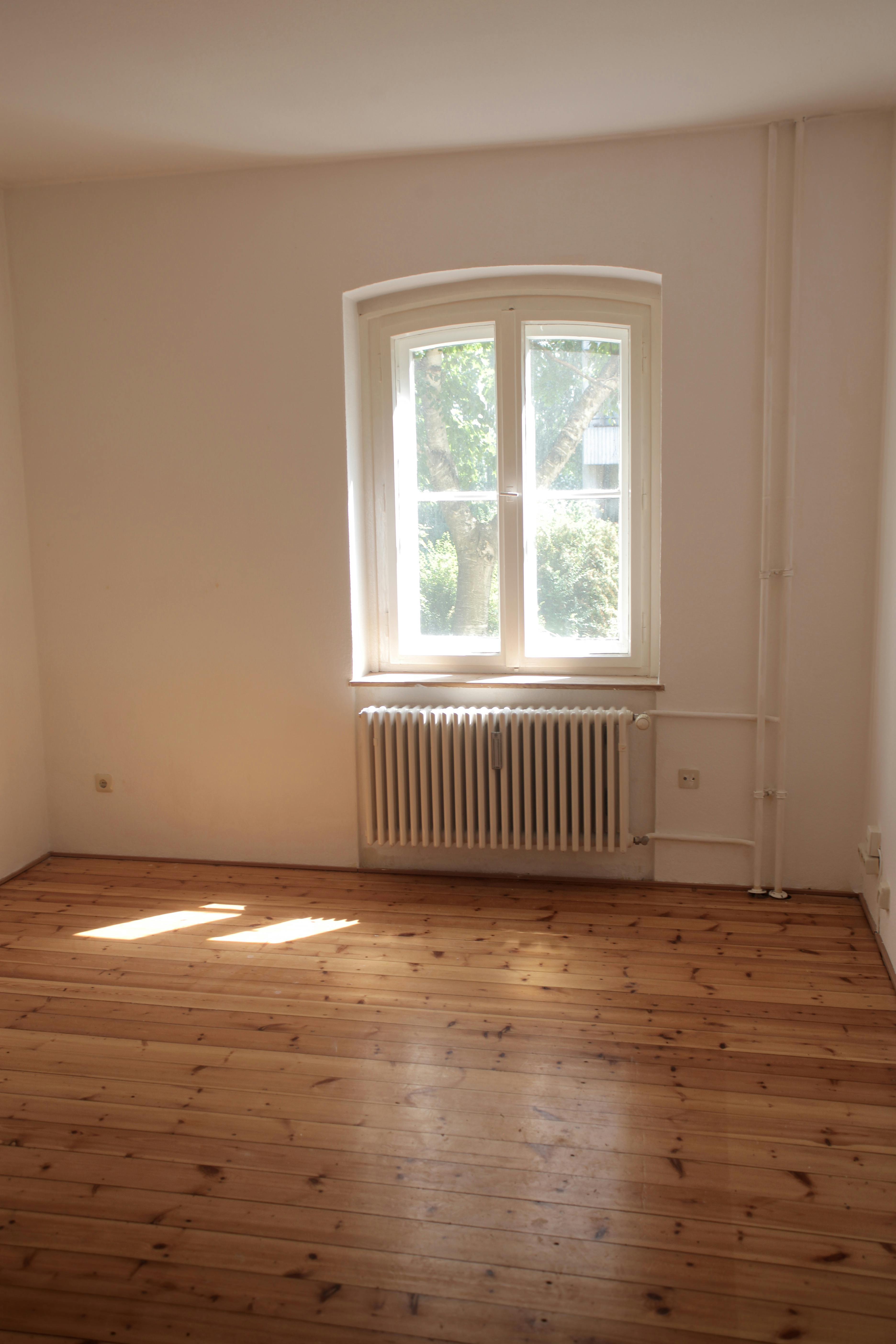 Before anything else, it's critical – yes critical, to know how much space you're working with. You'll want to try to maximize every inch of your wall and floor when working with limited space. Write it all down in a crude sketch.
I know, it can be tempting to just start buying things and placing accents without measuring. However, it's very easy to overpack a smaller room. Most of us simply don't realize how much stuff we have, so it's a good idea to measure first and confirm each item can fit into the space logically so you can ensure you have enough space to fit everything as you envision.
Measure your floor space and wall space, keeping note of these measurements. At the same time, make a list of everything you have in your room currently. Go over this list, marking items that could go elsewhere in your home.
With square footage and list in hand, you'll now be able to start planning your bedroom space. Remember, while the decor is important, functionality should be your main priority. A good floorpan will make everything feel "right."
While you're selecting furniture, you'll have to make sure that your items leave enough space for you to comfortably move around the room. Fortunately, there are a few tricks you can use to give the illusion of more space.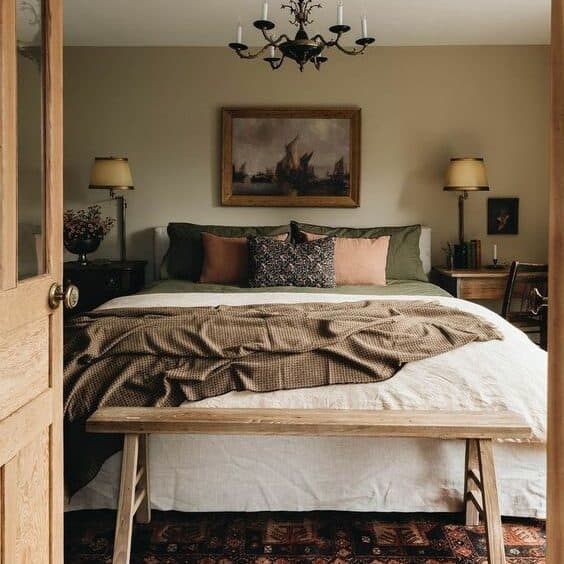 When it comes to learning how to decorate a small bedroom with a king size bed, it's best practice to go for multifunctional furniture that can do double duty. Think bed frame that has pull-out storage for example. Personally, I'd opt for handless storage if possible, as this will complement—not impose upon— the look of your room!
You may even want to consider creating an alcove for a nook bed and using your wall space for float shelves or nightstands. Using your walls can help make your bedroom space seem even more comfy and big.
Check out my post on house cleaning tips if you need to clean up before taking measurements. Starting a decorating project after a good cleaning is always a great way to kick things off right!
Set the Perfect Backdrop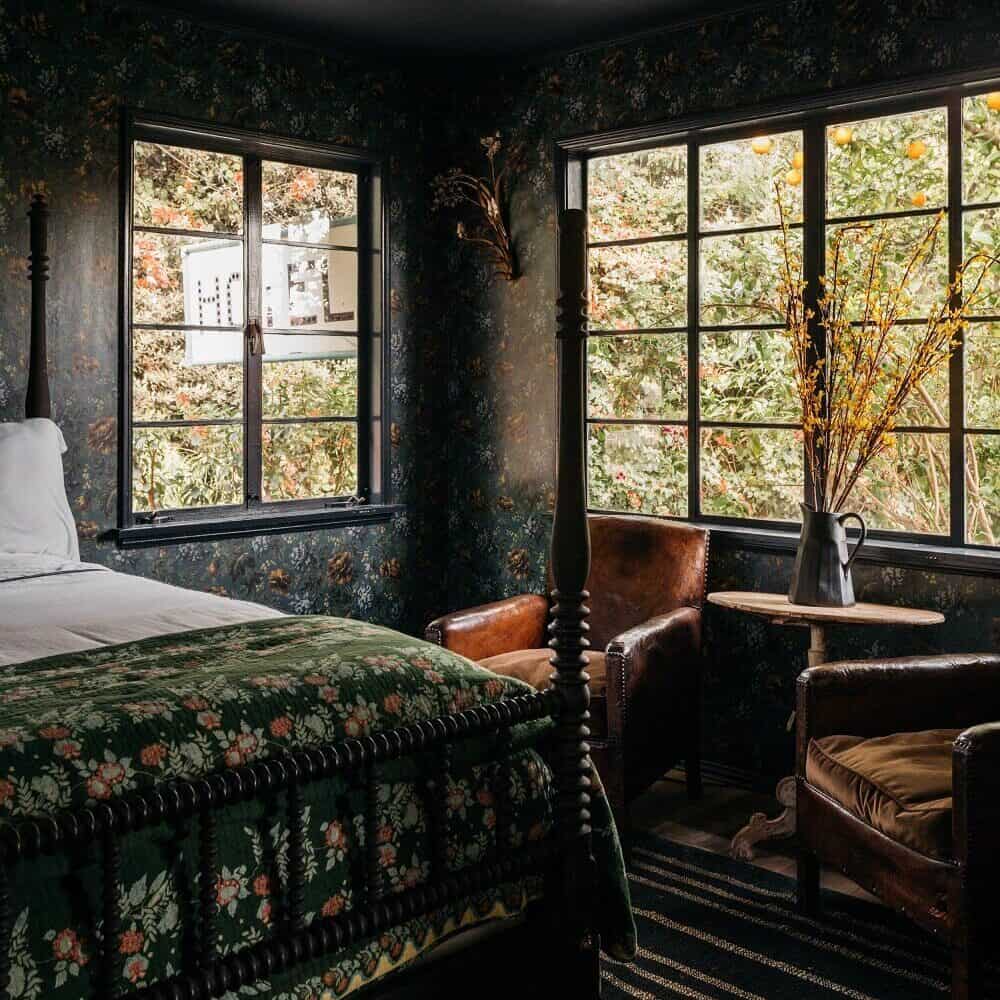 The next part of how to decorate a small bedroom with a king size bed is a good color scheme. This includes the color of the walls, the color of the ceiling, the color of the furniture, and even the color of bedsheets or pillow covers
Regardless of what color(s) you decide upon, it's crucial that everything stays within the same color theory. While having a few pieces that contrast against the larger color scheme is fine, you want to avoid ending up with a mismatched and visually distracting array of items. Don't go too matchy-matchy, consider contrasting colors, complementary textures, and lots of contrast for a winning look. When in doubt? Keep your bedding white and bring in pops of color with your throw pillows, and wall art. You can swap them anytime without the stress of committing to a shade or hue long-term.
Painting the Walls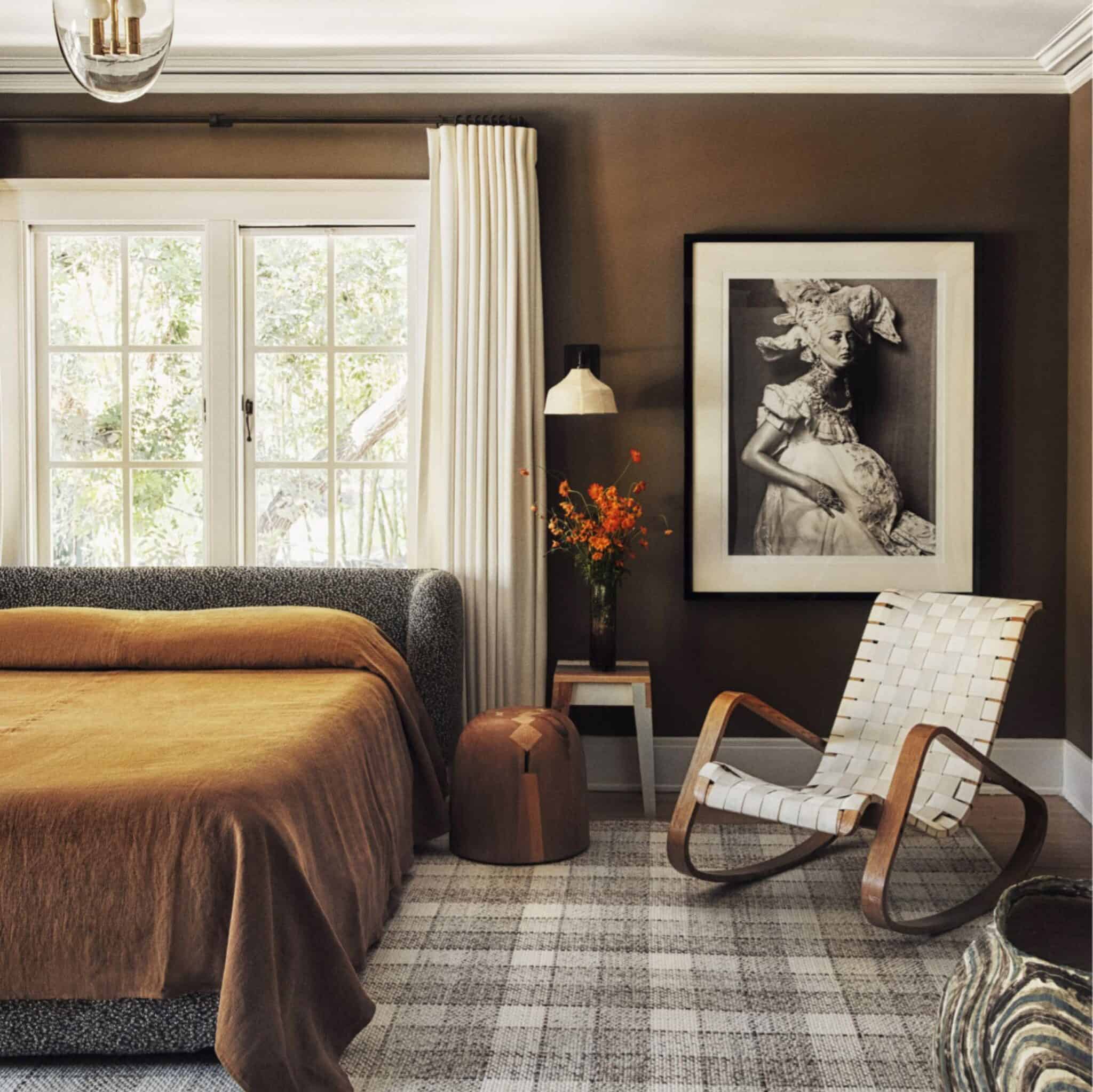 Generally speaking, going with lighter colors is a good idea if you want to make a room appear more spacious.
However, for rooms that receive little to no natural light, using dark colors can actually give the visual impression of more space and tons of comfort. I know it's hard to believe, but it's true. Y'all know I love a moody room.
While some shade of white is usually what people think of when they hear "light colors", you're not limited solely to white. Blush pink, light gray, muted green, or tan are all viable paint colors that go beyond plain old white. However, if ya want the best white pair for home use Chantilly lace white is my go-to. I painted my entire home in it.
What to Do With Wallpaper When Learning How to Decorate a Small Bedroom with a King Size Bed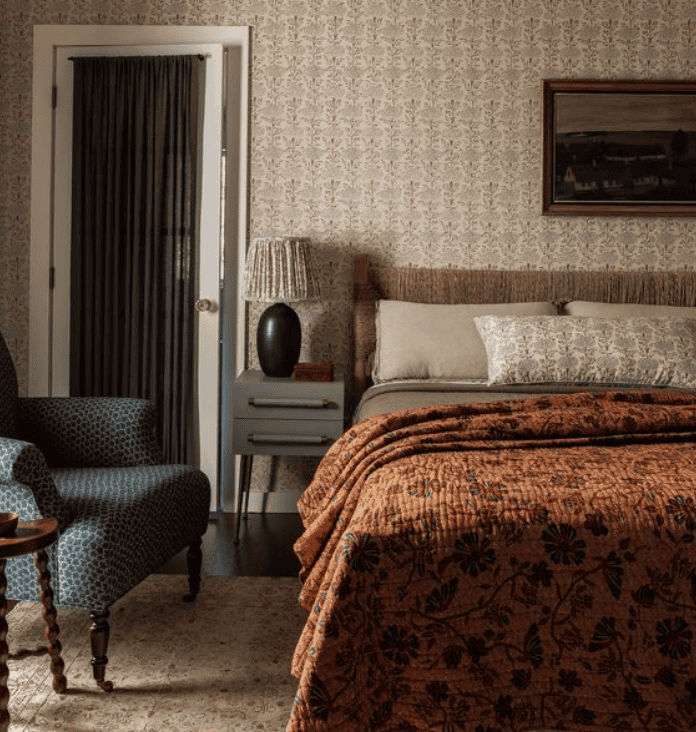 If you decide to go with wallpaper instead of paint then I first want to say – I am so proud of you! You have great taste. After that, know that it's important to select the right wallpaper for your aesthetic. Your wallpaper can work with you or against you, depending on what you select.
In my opinion, there are two options that work best. One is to opt for wallpaper with patterns. I like bedroom wallpaper patterns to be small, as having large patterns on your wallpaper can actually make the room seem smaller. I think make sure that my bedroom pillows have a large print, and alternating smaller prints on blankets to keep the patterns looking cohesive.
Another tried and true option is to go with striped wallpaper, running vertically up the wall. You don't necessarily have to do this across the entire space though. Even a single stripe can help make the ceiling seem taller, which—in turn—makes the room seem more spacious. Then bring in organic patterns in the other elements. Here is how I wallpapered my hallway. Don't forget you can do peel-and-stick options as well for a renter-friendly approach. Check out of my top ten ways to level up your home when you rent.
Optimize Your Bed Placement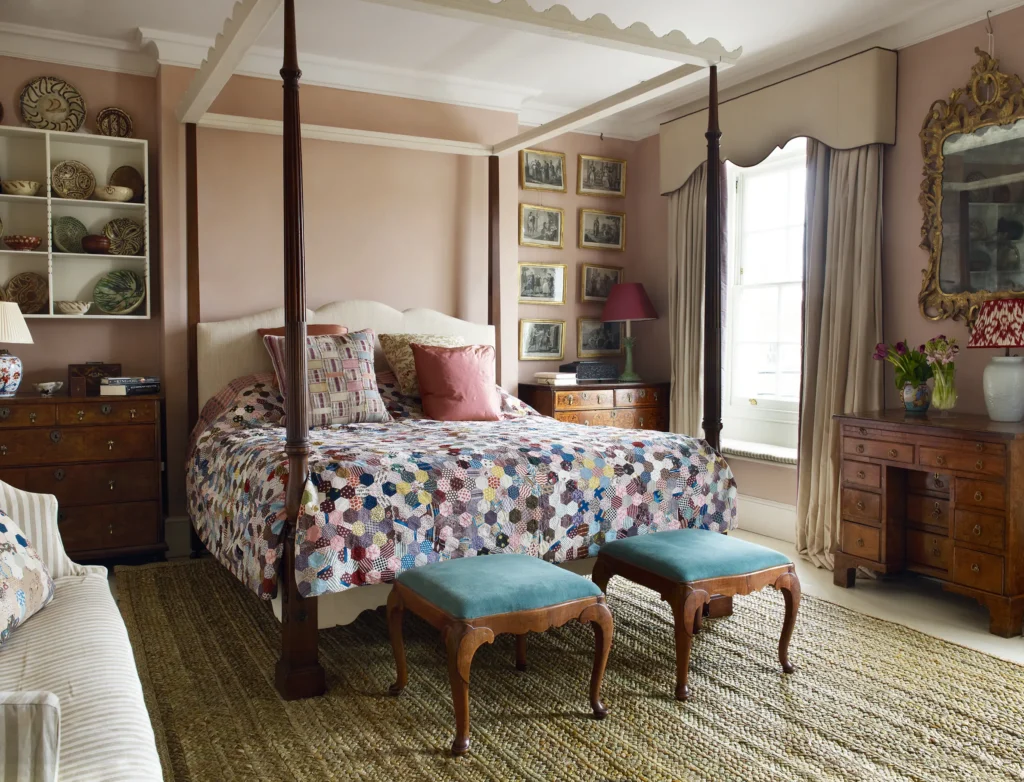 A king bed takes up a lot of space, especially in a smaller room. This can make it tempting to place your bed in the corner. However, placing it in the middle across from the doorway will often yield the best results. Here's a deep dive on how to place a rug in your bedroom for any size bed – including a king.
Try to arrange the room symmetrically around this focal point, making sure that you have adequate walking space around the entire room. You want at least 6 inches around your bed! Doing so helps make the space feel larger than it actually is and does not create any feelings of tension.
I'd also suggest adding an area rug at the foot of the bed or under it if you have the space. This really helps bring the entire room together. A rug in a bedroom is essential. Trust me. Already have the perfect rug placement? Great – check out this post for knowing when a rug refresh might be in order.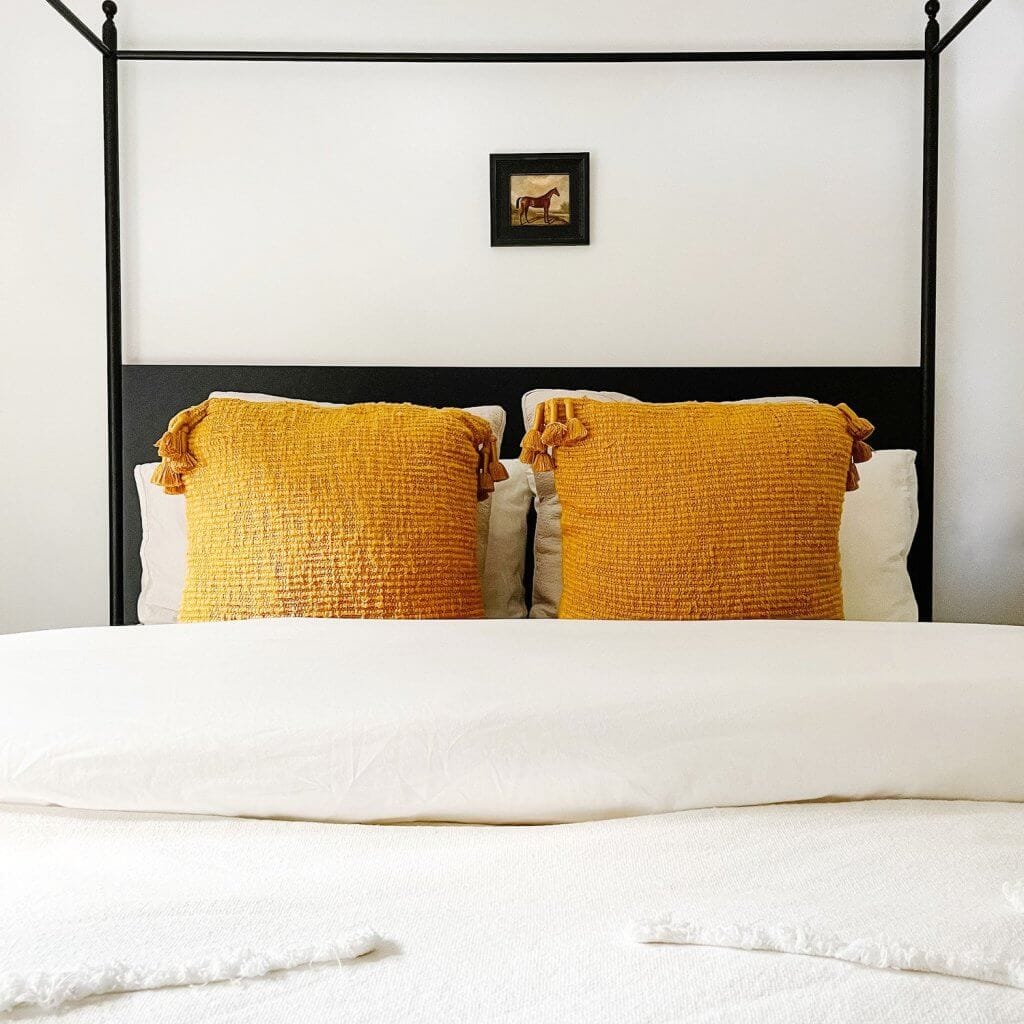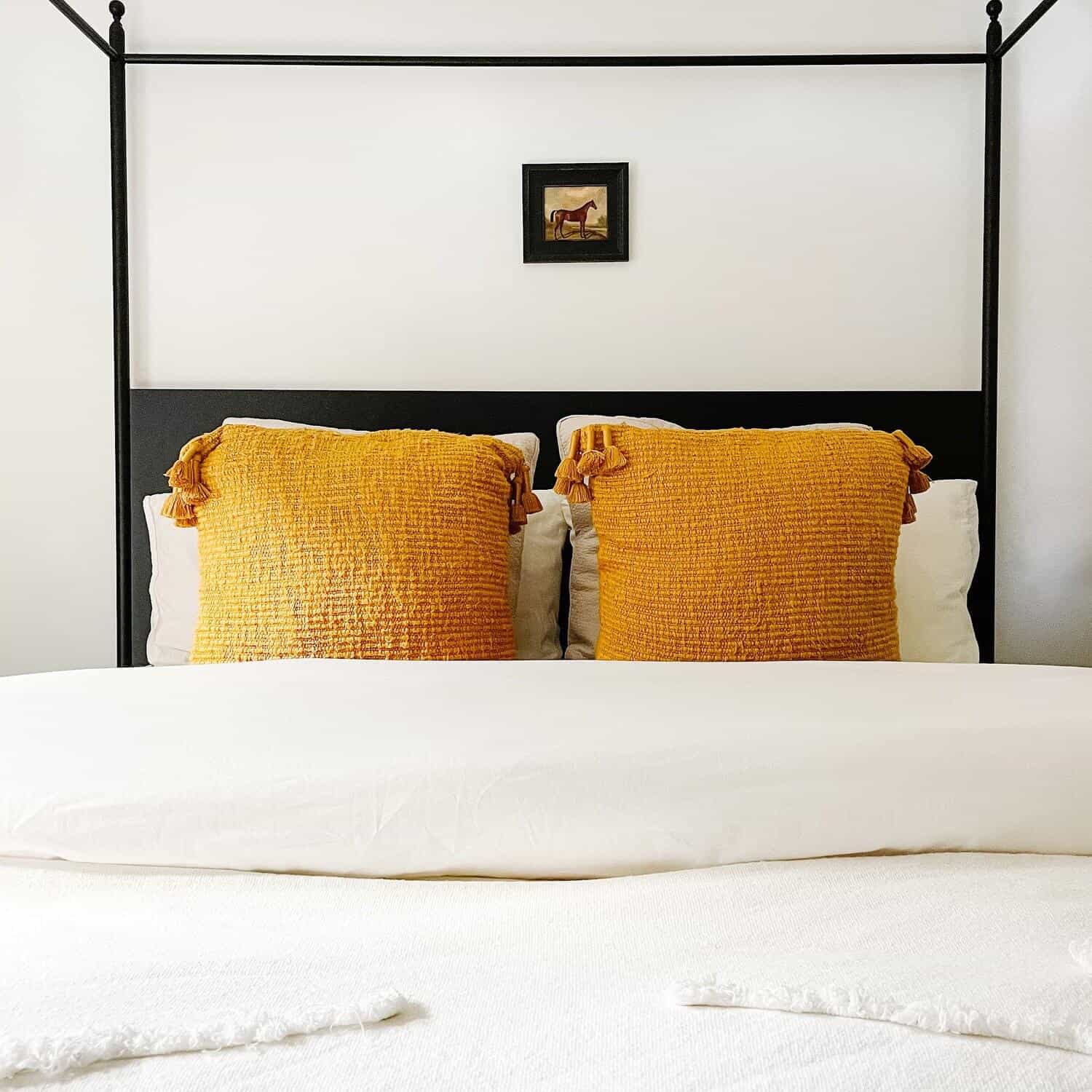 Remember how I mentioned making your room appear more spacious by creating vertical lines with wallpaper? Well, using tricks of the eye to your advantage is one of the most important parts of learning how to decorate a small bedroom with a king size bed.
You can create similar illusions by opting for lower furniture around your entire room. For example, consider getting a thin mattress instead of a thick one, especially if you're using a mattress topper.
When everything around you is at waist level or below, the room will "feel" bigger, even if it's actually not!
How to Decorate a Small Bedroom with a King Size Bed and Headboard
Chances are, you can maximize space by upgrading the headboard on your bed frame. I love a simple vintage wood or black head board – a textured option can work too. That being said, they don't offer much in terms of storage.
As such, if space is really tight consider a headboard that offers storage! This not only gives you more space to decorate but also helps store items away without imposing on the room.
If you want to level up your bed even more, be sure to grab some of new best bedding! It makes a huge difference.
Maximize Your Storage Space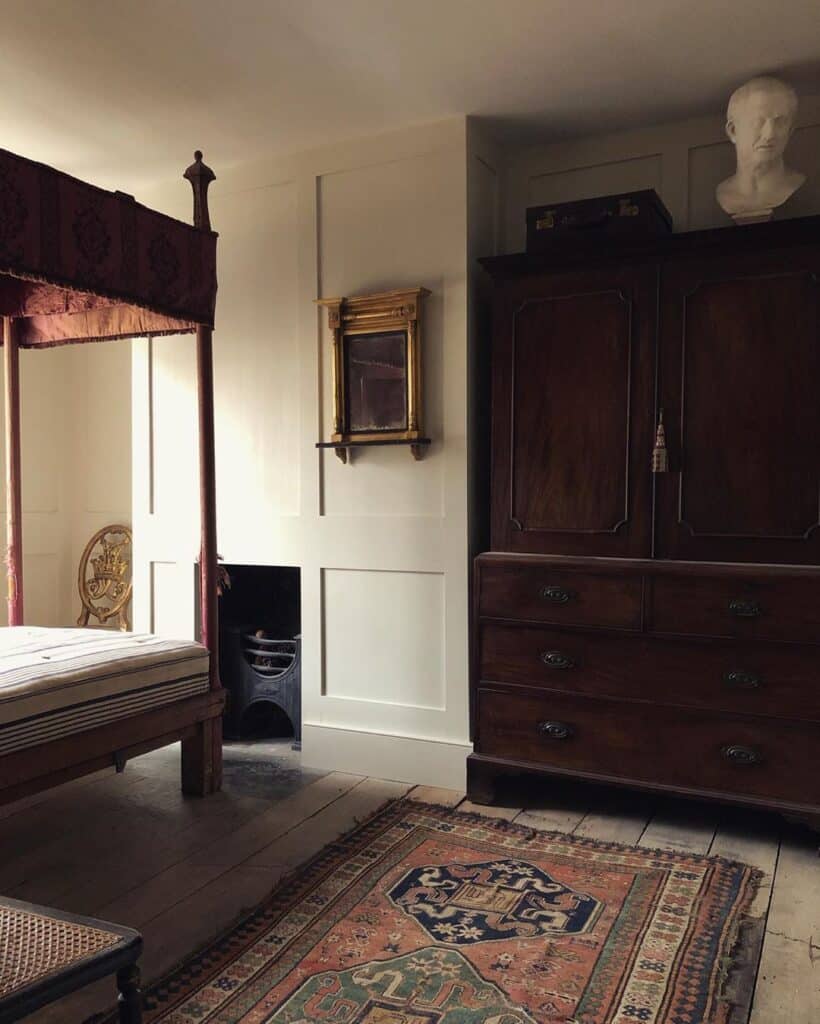 The problem with having a smaller bedroom is the lack of storage areas you're working with. If your room has closet space then this is a great time to take advantage of it.
Using drawers under a storage bed is another option, although this might not be the best from a visual perspective. Since these beds tend to be higher, this will work against the vertical optical illusions I suggested above.
Instead, I'd go with a mixture of headboard, closet, and bureau storage. You can also place a perfectly styled nightstand on the side of the bed. This will give you practical storage for everyday items, without taking up too much floor space.
At the beginning of this post on how to decorate a small bedroom with a king size bed, I recommended taking an inventory of the items in your room. This is where that list and the measurements you've taken will come in handy!
Remove everything from the room that doesn't absolutely need to be in there. This will help minimize the amount of bedroom furniture and storage space you actually need. From there, it's just finding the right place to put everything!
For example, I tend to keep certain bathroom items in the bedroom when they don't need to be there! What you really need in the bedroom ultimately depends on your daily routine, but it's a good idea to remove the unnecessaries if possible.
Getting the Lighting Right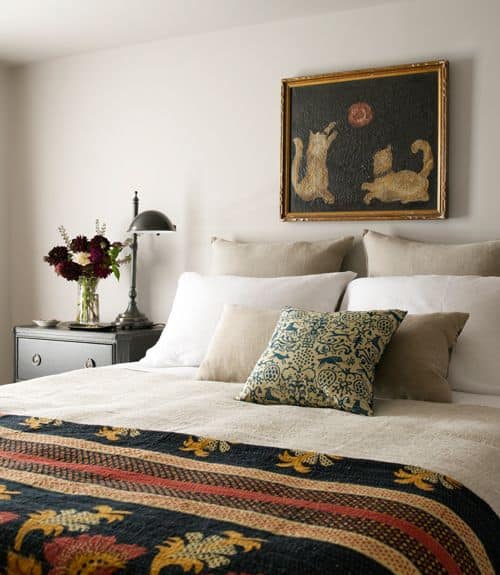 Optimizing good lighting options in your bedroom is a great way to give the appearance of a larger space. Here's the thing, three layers of warm lighting will make your space feel cozy and comfy. Table lamps for the win!
When learning how to decorate a small bedroom with a king size bed, it's a good idea to take a look at your current lighting solutions and see if there's room for improvement. Chances are, there are ways to both clear storage space and improve lighting quality at the same time!
Natural Lighting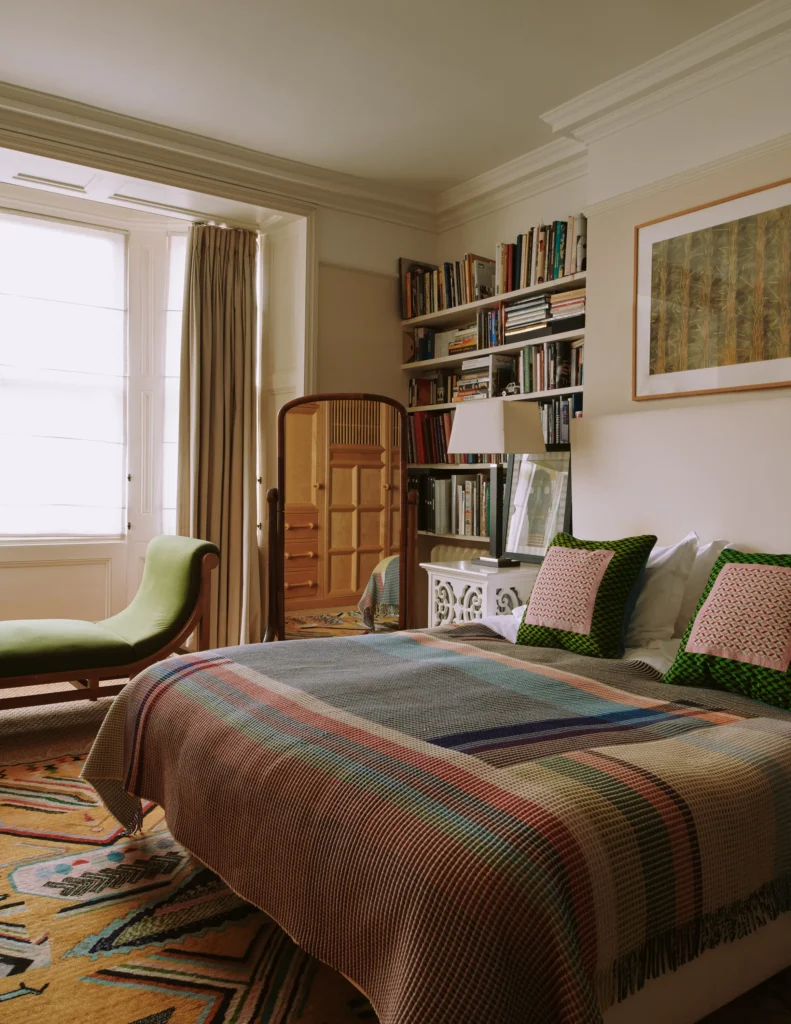 Part of learning how to decorate a small bedroom with a king size bed is learning to optimize your lighting. Using natural light is the best way to make a space look bigger with almost no effort.
Natural light really helps the lighter-colored items and decorations in your room pop. While you can't control it as precisely as you can with artificial lighting, you can always use blinds or curtains to minimize the natural light if it becomes overbearing.
That said, stick to blinds and curtains for light management. Try to avoid placing things in front of the windows if possible, as these obstructions will limit the amount of natural light that can make it into the room.
Ambient Lighting is Key When You Need to Know How to Decorate a Small Bedroom with a King Size Bed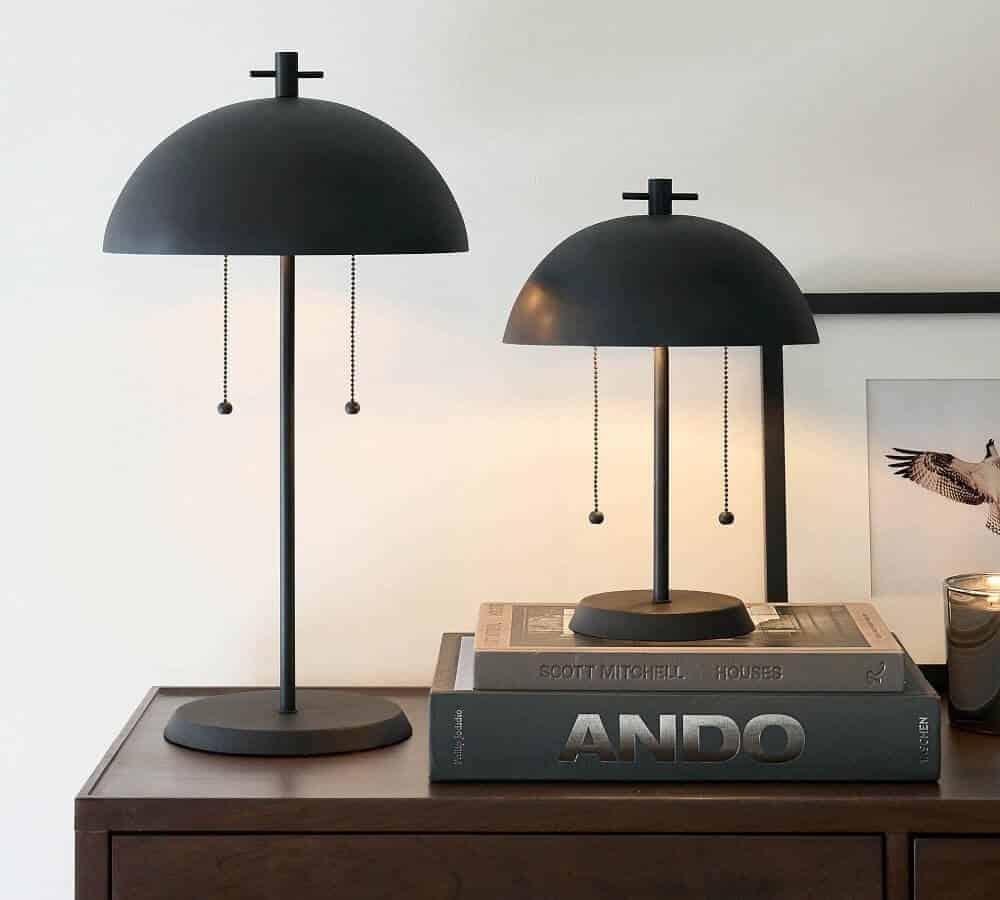 Having artificial lighting is essential, especially when nighttime comes around. It can also be great if you're trying to set a specific mood for your bedroom.
Many people place lamps on bedside tables. This works fine as a light source if you have the space, but it's not ideal in smaller bedrooms where storage space is limited. Fortunately, you can solve this problem by replacing bedside lamps with wall-mounted light fixtures instead!
Something like this wall sconce is relatively easy to install, frees up tabletop space, and generally ends up looking better than a freestanding lamp or two. Perfect this installment with a dimmer switch for effective on-demand mood lighting!
Add a Mirror or Two
Adding mirrors to your bedroom is an effective way to improve lighting while also making your ​room look larger. Large floor-standing mirrors placed across from your windows work great for this!
You can also wall-mount these mirrors, so long as they can take advantage of the natural light coming in through your windows.
Even if you don't have very much space, placing something as simple as a round mirror can provide the illusion of more space. Check out my round-up of fab round mirrors for some great options. Do you see what I did there?
Minimize Your Wall Decor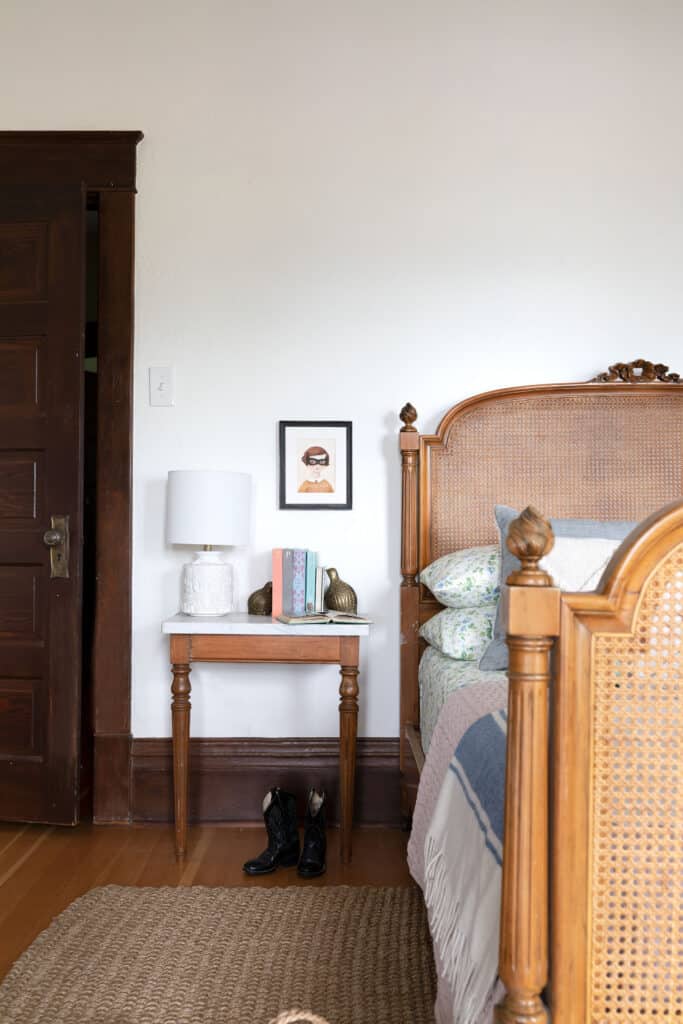 Your bedroom is a great place to highlight your personality and show off your favorite styles. However, an important part of learning how to decorate a small bedroom with a king size bed is knowing how much is too much.
Ideally, you want to only use part of your wall space, leaving most of it bare. This will help avoid making the room feel cluttered and cramped. Limit your wall decor to only a few pieces here and there for a more spacious feel. I love a piece of art above the bed that makes a statement.
Check out my post on DIY wall art if you need some inspiration!
Even a Small Bedroom Can Feel Spacious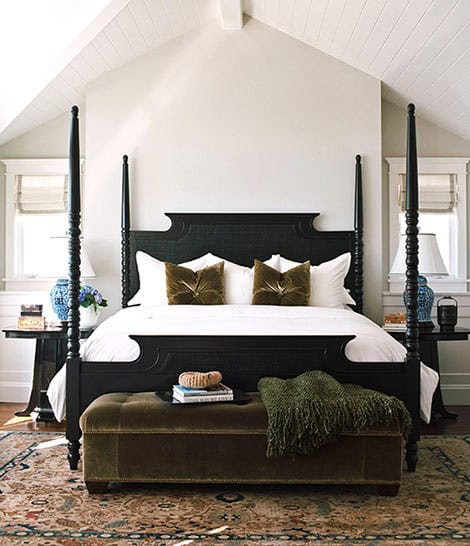 You really don't need to hire an ​interior designer, whether you're trying to turn your bedroom into a beautiful miniature bedroom suite or maximize the space you're working with.
Simply knowing how to decorate a small bedroom with a king size bed & implementing these simple decor strategies yourself can make a big difference!
So, which tips did you find most useful? Have you tried any of them out yet? If so, I'd love to hear about it! Feel free to share your experiences, successes, struggles, and tips of your own in the comments below.
Until next time!
---
Frequently Asked Questions for How to Decorate a Small Bedroom with a King Size Bed
How to make a small room look bigger with a king size bed?
There are three main things you'll want to do to maximize your small space with a king size bed: opt for light colors throughout the room, add mirrors to reflect light, and keep things minimalistic.
How do you set a king size bed in a small room?
Ideally, you'll want to place the bed in the center of your small room, against the back wall. However, if symmetry isn't possible, then you may consider placing it in a corner instead.
Is my room too small for a king bed?
Most experts suggest having a minimum room side of 12" by 9.1" feet to accommodate a standard king-sized bed. The bare minimum room size you'd be able to fit a king-sized bed in would be 6.4 by 6.7 feet, but this wouldn't leave you with any space left over.
Is a king size bed overkill for one person?
If you want to have a lot of space to yourself while sleeping then it's hard to beat the spacious embrace of a king bed. The only exception is a California King, as these are longer—but thinner—than a standard king bed. Having a king-size bed isn't overkill unless you think it's overkill: it all comes down to personal preference!
What colours make a small bedroom look bigger?
Lighter colors are usually best for small bedroom layouts. White, off-whites, and pastels are great options! Of course, make sure to match the color of your walls with the color of other items in your room—such as the pillows and blankets—for a harmonious aesthetic.
What are the disadvantages of king size bed?
There are a few, starting with price. A king size bed will obviously cost more than a twin, full, or queen bed! King beds also take up more space, meaning they'll require more arrangement effort on your part if you're trying to fit one in a tiny bedroom. Lastly, standard king beds are often too short for taller people. In that case, opting for a California King may be the best option.