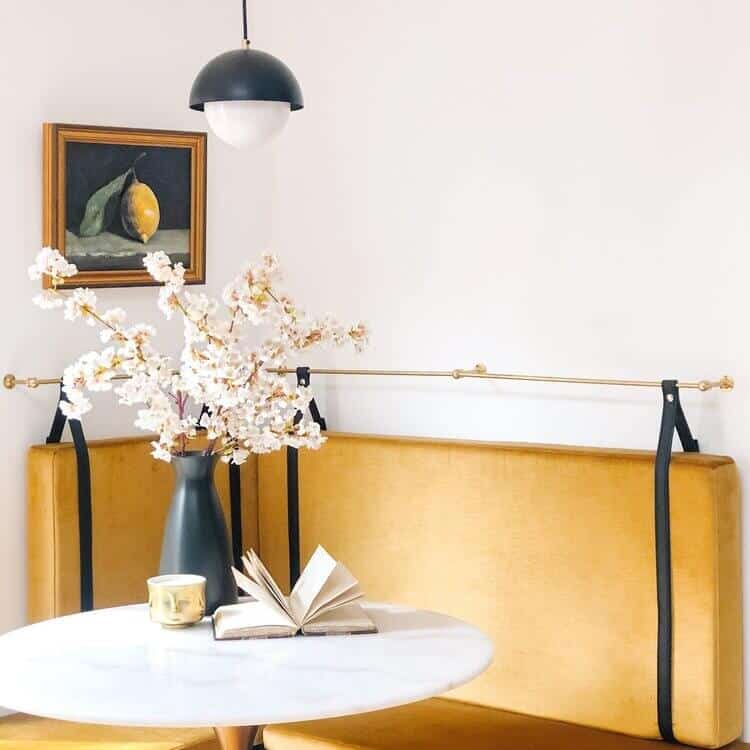 My favorite part of the design process is styling. As a kid I was constantly moving furniture around, carefully fanning out my collection of magazines in a precise manner, all while placing books and vases about my room ever so precisely.
It all comes quite naturally to me. I just see things, and they make sense in terms of composition, color, and layout. But, it's not magic. Anyone can do it, I promise. Sure it comes a bit natural to me, but there is a general rule of thumb that I have mastered over the years and I want to share it in hopes that it will assist you in your own styling at home.
The dining room table is a space that I get lots of questions about how to style. arguably, the kitchen table is one of the most important locations in a home. For me, it is an especially important one because you have a direct view of this nook through the hallway while in the living room. As such, we wanted to set the tone for the rest of the entire house with this vignette.⁠ ⁠After all, you do see this space first thing.

So let's break down how I approach an everyday kitchen or counter tablescape:
Florals

I never miss an opportunity to style a kitchen table with beautiful stems. These can be flowers or even branches. It's always a great idea to add something living into your space and change them out seasonally. Treat yourself to fresh flowers. Or, if you want something that holds up all year my go-to is Faux Cherry Blossoms. I suggest two bundles. You want them to feel lush and tall for visual interest.

Vase

As a next step, I would be remiss to not mention being intentional about the vase or vessel you use to style your florals. There are so many amazing vases out there. Make sure they are strong enough to support your stems of choice. You don't want it tipping over. But, for me, the palette of my house called for a black ceramic carafe-style vase. It also provided a pop of contrast against the Gold Savory mustard cushions in the banquette. I also liked the height of this vase, overall weight, and modern aesthetic. But anything can work. I love distressed pottery too.

Something Vintage

This is personal taste, but I almost always include an antique or vintage item in my vignettes. They can look beautiful solo, but here specifically it helps to juxtapose the uber-modern vase and create some balance. So I included an open (more visually interesting) antique book of poems from the 1920s. Don't break the bank here. I got this particular book for three dollars at the local Goodwill.

Votives / Candles

You can't go wrong with candles. Also, it's awesome to have mood lighting at night. When it's time to unwind I make it a habit to light a few candles around the house to signal to the household, it's time to relax. What you want to look out for is a votive that will look great in terms of the material it is made of. For me, my home always has a bit of brass. So I fell in love with the Muse' D'or ceramic candle via @jonathanadler. It's completely decadent, and the scent isn't overpowering even when we are eating at the table. It's just perfect. Always include a candle or two if you can. You can even use a candlestick. I suggest melting the candle a bit to get that lived-in look. Go for it!

Art

Think of the view that you see the most, then incorporate a piece of art in a composition above it. In my case, I chose "Lemon Stillife," an oil painting from @StudioMecgee via @Mcgee and Co. that uses a color from the room in a bold way. This placement and art selection helps the vignette pop and dance the eye back and forth from the tablescape and up onto the wall, then back again. This creates visual interest. Give it a shot. I promise it works every single time.
Remember, that less is sometimes more. Especially on a dining room table. You don't want the space to get overwhelmed, which can happen easily with the hustle and bustle of everyday life. So simply stack these elements together in a triangle, optimized to look their best from the view that matters most and you are on your way. Try a few arrangements out and let each sit with you for a day or two. You will have a favorite in no time.
To this day, I still never tire of the banquette. View. It just blows me away every single day. Sure, the foundation is great, but really it's the styling of a space that takes something from flat to fantastic. See below. This spot is still ⁠ by far my favorite part of our entire home, and that's saying a lot because I really like a lot of our spaces.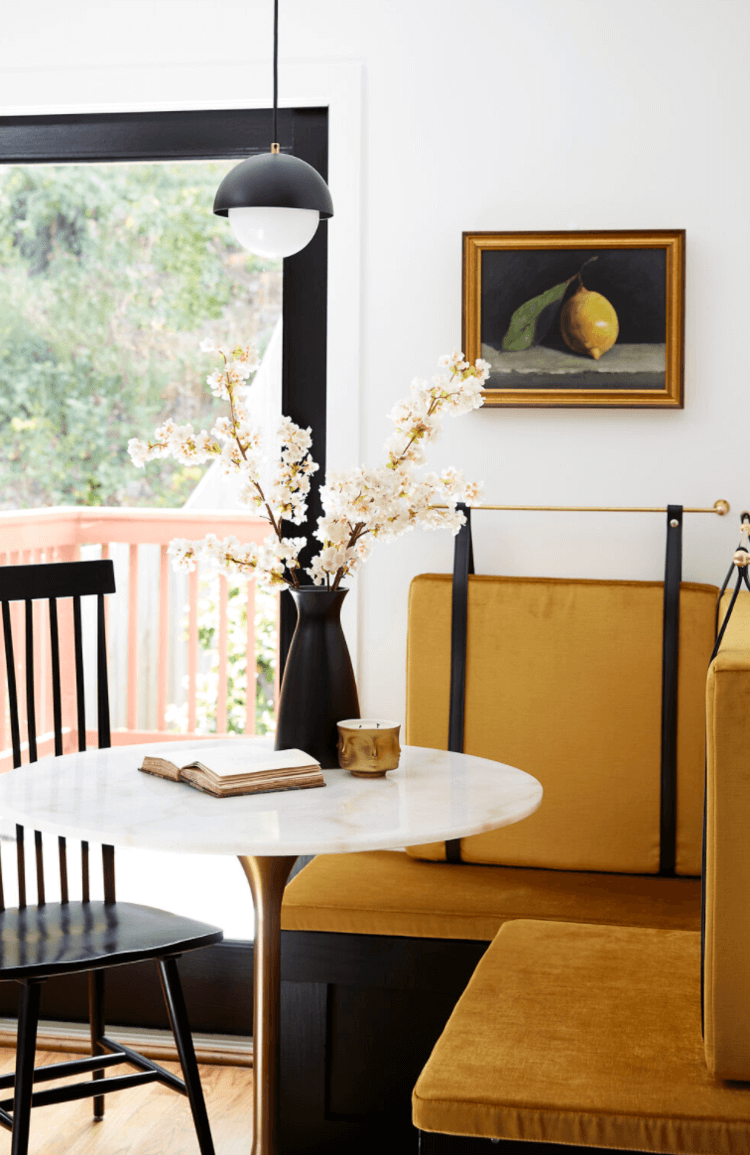 Have fun with it! There is no right or wrong way. Also, styling should be the fun part. I hope the above was helpful. If you want to follow along on Instagram for more styling tips, DIY, and design.