As someone who loves all things interiors + design, I've learned a few things along the way. One of those things is which white paint works "the best," in most circumstances. Your white paint color – especially for walls is a choice that you just don't want to mix up. See what I did there? It impacts the entire feel of your home. It's funny though because I see a lot of people who don't place as much importance on this decision as they should. But don't worry, I did the research and painted all the test swatches for ya.
The best tried-and-true white paint in my opinion is Chantilly Lace White by Benjamin Moore. I have used it on every single wall, time, and ceiling in my home – and I simply love it! I know you will too.
Varying shades of white will always be essential in any home regardless of your personal aesthetic and taste. However, when it comes to a classic, pure, and clean shade, Chantilly Lace will forever be the go-to. Why? Because it's a universal white with no undertones so you know exactly what you're going to get: a bright space that feels clean and inviting rather than sterile and cold. The name itself evokes certain emotions of coziness and familiarity along with images of silk so refined and delicate, as if from a long-forgotten memory that you can't quite place.
Oftentimes when we use white paint, you don't really see the underlying tones until the entire room is finished and then realize that the walls are either too warm or too cool, so when you stick to a shade that looks pure and to the point, it's really assuring as you move into the styling phase because you know exactly what you are going to get. In the end, you are able to place any object against it and it will pop naturally and not accidentally go orange or blue. I love this because it makes planing a space much easier. Plus the pure white is just intoxicating to look at – trust me.
Chantilly Lace is perfect for walls, ceilings, and trim as long as you're strategic and smart about which finish you use in which location. Here's the finish I used for each location:
Walls – Matte
Trim – Eggshell
Ceilings – Matte
Bathroom Walls – Eggshell
If you have a more traditional home with high ceilings and windows, Chantilly Lace is also a great choice to use to paint over your doors. This will make your home appear brighter and crisp, which works well as a solid foundation for any design aesthetic.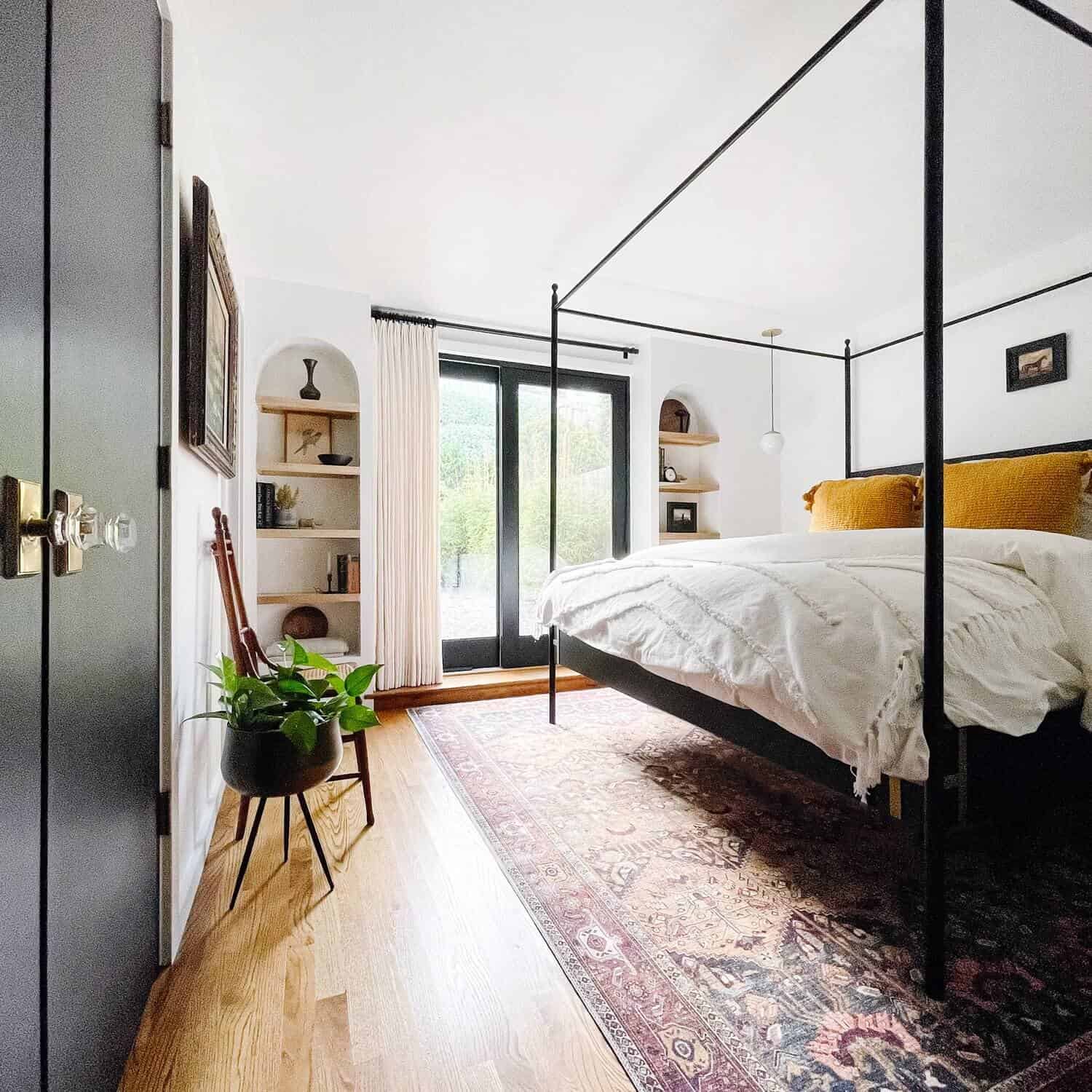 Of course, there are plenty of other white shades available on the market, so it really depends on what you're planning to paint and what vibe you are going for. When checking out other available shades, use Chantilly Lace as a base color to compare other shades with. Since Chantilly Lace is a true white with no underlying tones, you'll be able to see even the most subtle differences between other white hues. Check it out for yourself against others – it might shock you.
Pro tip: A white paint job can be a little bit of a pain in terms of achieving an even finish. It's best if you use a primer first before going over it with the actual paint.
As much as I gravitate towards darker colors most of the time, there's no denying that white will always be a timeless, classic choice for any home. Nothing beats that crisp clean look, right? Just wait till you place a vintage rug or ancient candlestick in front of this paint color. It will shine like never before. That's a fact.
Chantilly Lace will always and forever be a favorite of mine, and it's really not surprising that it ranks high on most interior designers' lists of top white paint colors. So go for it – give it a try. Think of this paint color as ya loyal friend in your design journey – uncomplicated, gorgeous, simple, and something you can always rely on to go back to no matter what.
Have you tried this tried-and-tested shade in your home yet? What other shades would you consider a "classic" and what's your personal favorite? I'd love to know! Xoxo