When I was thinking of ways to dress up my kitchen there were thousands of options we could have chosen for this highly visible recessed area. This spot was important to get right because it is a view that we stare at often, given it's what we see while dining in our hand made brunch banquette. So, needless to say, I wanted it to be both beautiful and practical for our small space. Brass Bistro shelving was the answer.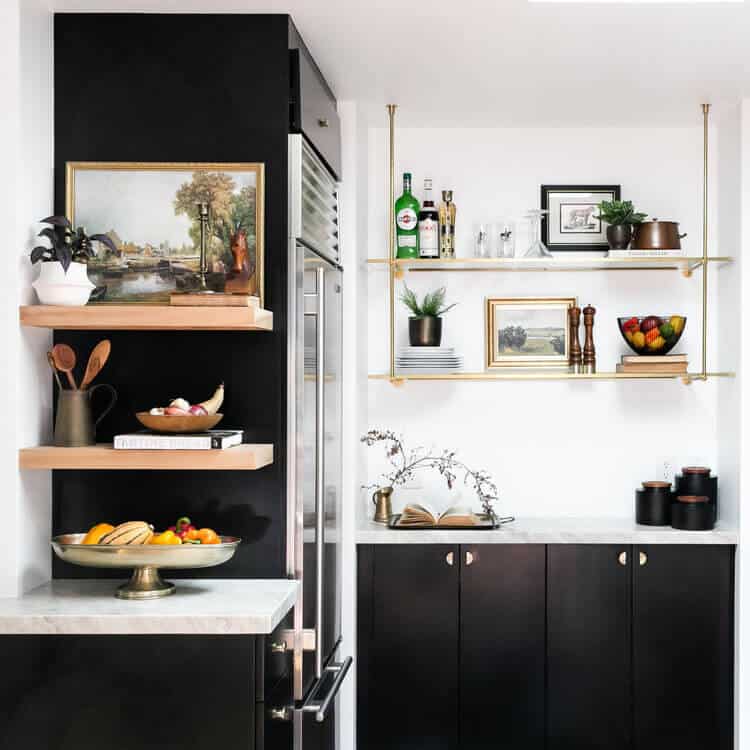 After much deliberation, we decided to go with an open brass restaurant-style bistro shelf. As self-proclaimed foodies having dined all about the city we discussed how much we love the open brass bistro shelving units you commonly see in upscale restaurant kitchens. We cook a ton here. So why not pretend we are master chefs too? Also, there really isn't a better way to class up the place, while still adding much-needed storage for cookbooks, plates, pots, and cups, etc. Of course, the shelf needed to be brass. This is @136home after all.
Now more than a year later, I am still loving the decision to go with open shelving here. She pairs perfectly with my favorite black paint, Tricorn black @benjaminmoore and half-moon hardware pulls. The finishes matched perfectly.

The thing is, I love this space (and my bistro shelving) all year long. She's perfect to swap seasonal decor in-and-out. Or even just a spot to refresh whenever the mood arises, which is often for me. Here she is for the Christmas holiday. But really, she looks amazing with and without garland.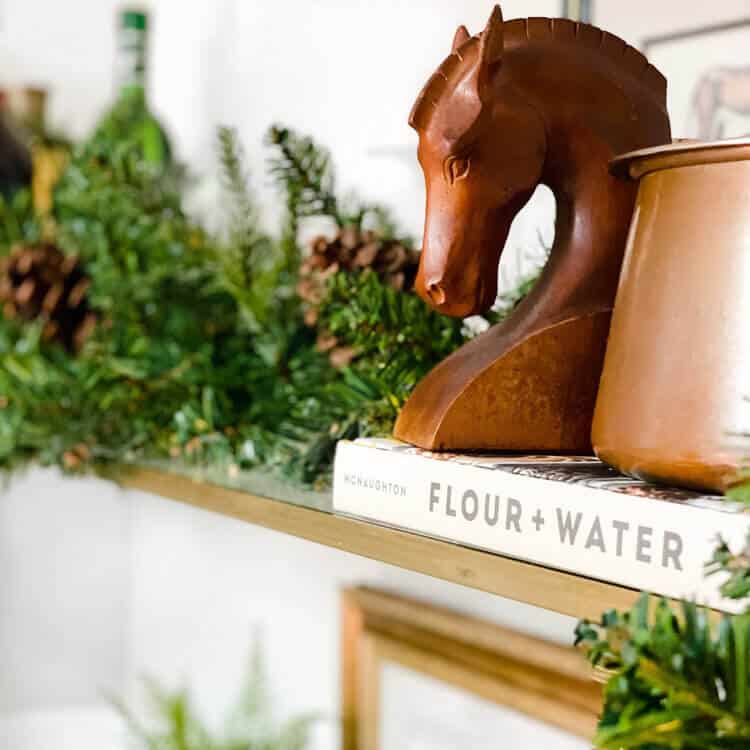 What's fun is that this space offers countless opportunities to display fun and beautiful things, but is also functional for our everyday life. I feel that sometimes we think it's one or the other as if we don't deserve both. I'm here to tell ya that with just a little bit of planning and permission from yourself your space can absolutely have both, I promise. I know we all deserve a space that helps support our daily routines but is also gorgeous to look at. This bistro shelf proves that for me in our home.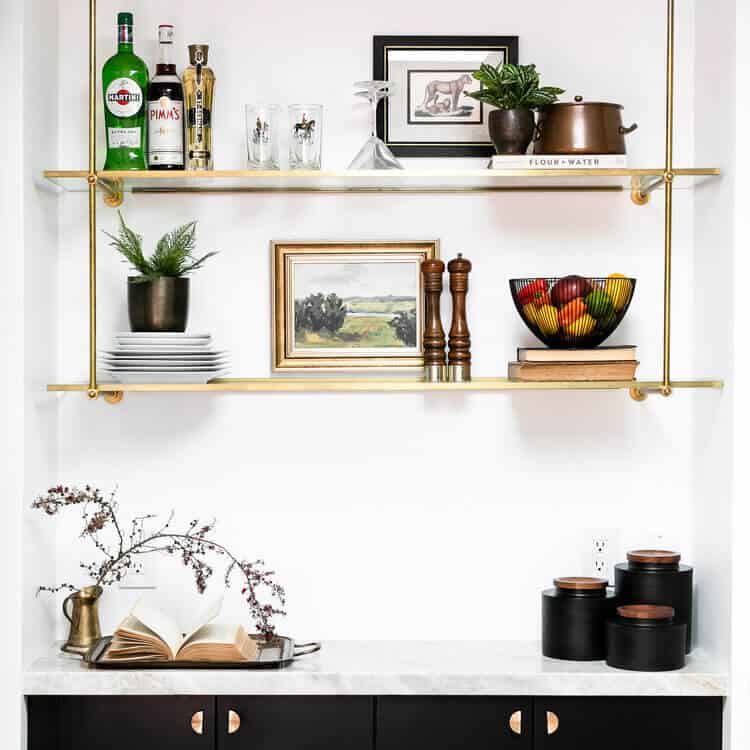 Also, the addition of the floating poplar shelves rounded out the look ever so nicely. For more on how I style an open shelving head here. The contrast that the floating shelves added with the addition of the brass bistro shelf are simply magic. They pair perfectly with bistro shelving don't you think?
⁠
I am so glad we went custom and brass here. Just another reminder to be brave even if it's scary. It almost always pays off. In this case, it paid off big – yet again!⁠ In the end, I am so grateful for this little area of our kitchen. Thanks for all the love. If you want to follow along on Instagram and check out more of what we got going on @136home head over there. We will see ya soon. xoxo.
Want More Decor, Design, and DIY? Check Out What's New Below: