My antique nightstand that I found on Facebook Marketplace is where I place all of my nighttime essentials. It is the last place that I gaze at before I go to bed too. So, naturally, I insist that it be a moment of delight and look to refresh it seasonally with contemporary items that I love. It makes such a big difference to my primary suite's ambiance. After all, we are all about the ambiance over here – it's key to have your bedroom feel designer-like. In fact, I went a little overboard and refreshed my entire bedroom look here.
In today's post, I am going to walk you through a few nightstand decorating ideas using some new home styling accents – that I love. All of these pieces are exclusively from Target and I have to say I was thrilled by the quality, but more importantly the price. This entire refresh only cost me three hundred dollars – yes girl, just three hundred. In addition, these nightstand ideas are perfect to create that comfy but practical and stylish atmosphere.
As part of my nightstand styling refresh this time around, I decided to include some classic faux plant stems too. Just the look of plants feels relaxing to me and they look great on top of my antique books. The idea was to create something brighter and more spring that fits in with my current design aesthetic while keeping it approach for him/her or them. Here's exactly how I did it.
What Items Should I Style My Nightstand With?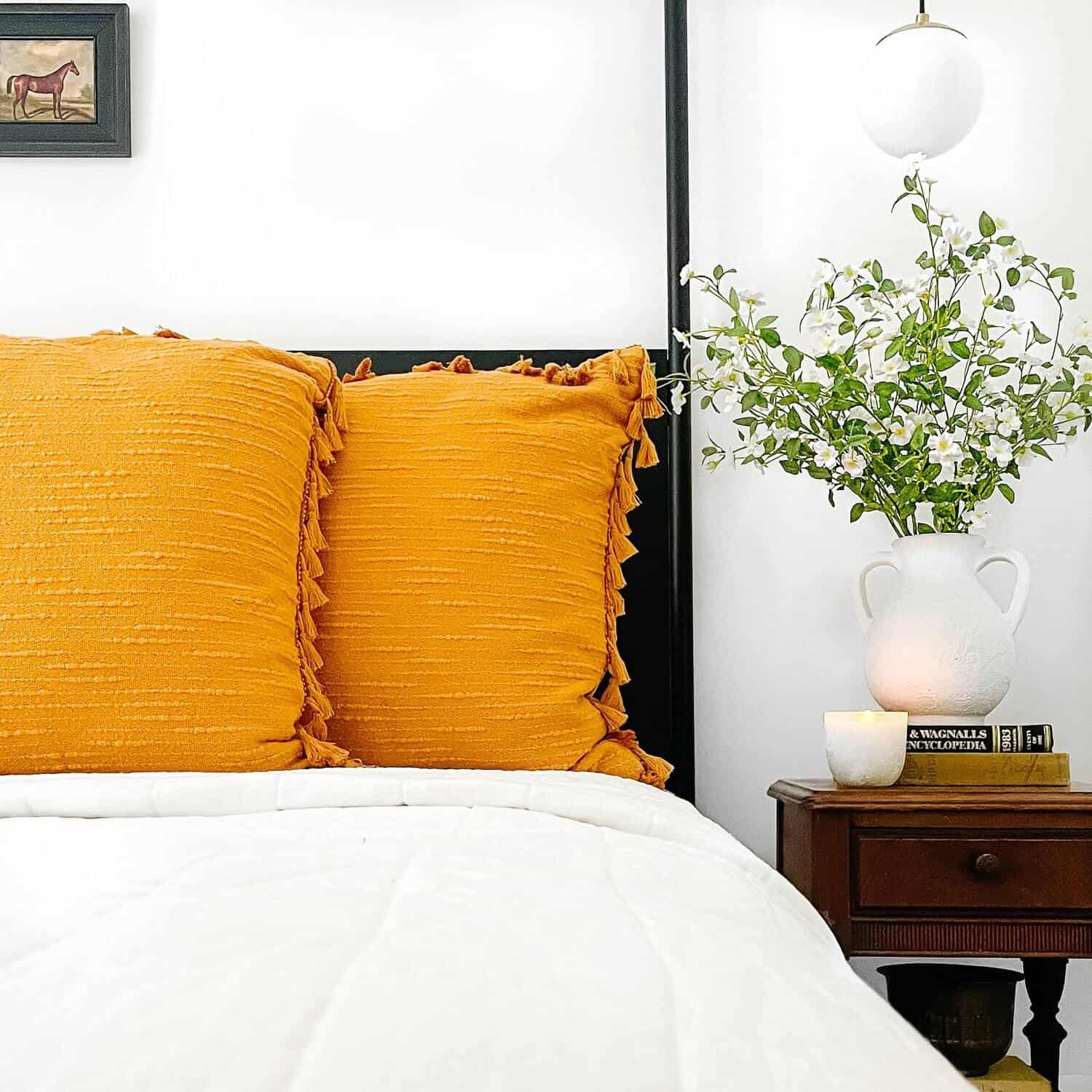 If ya want your nightstand to look great. Ya, gotta liven up your bed – I don't make the rules guys. Trust me. But, don't worry. I gotcha. Add two giant throw pillows when in doubt. These beautiful mustard yellow decorative throw pillows with tassels are an impressive start to enhancing your nightstand area. They have a bold vibrant color and a cool inviting texture. When accompanied by a strategically placed piece of furniture or wall light, it will instantly set the tone in your space. You can't go wrong – just wait till you see the price.
I chose the mustard yellow, as it contrasts perfectly next to the whites and blacks in my bedroom. But, I'd also check out the dark teal or terracotta as an alternative, depending on your current bedroom palette. These other color options might work well with a more colorful design aesthetic. Go for it loves!
Also, do forget that every nightstand needs some vintage and thrift store finds. Here's how I thrift like a pro. Common items I use are; stacked books, old clocks, and brass trays.
These smart striped sheets are 100% cotton with a 400 thread count, so they will feel silky soft on your skin while looking sharp. Cotton is a great choice for a sheet set because it is breathable, durable, and not at all sweaty when paired with a light duvet. I just love the crisp white and sharp stripe.
If you are using a polyester blend, it is time to upgrade – you won't regret it! Plus, these sheets are wrinkle-proof and easy to care for, as well as Oeko-Tex is certified to be free from harmful substances.
SEA SALT & COCONUT CREAM SCENTED CANDLE
When you have had a long day at work and you are ready to hit the sheets, I love to light one of my favorite luxury scented candles They are an essential accessory for any room, but particularly on your nightstand. A well-placed scented candle will infuse your room with an inviting aroma, make it look great, and help to set the mood for a good night's sleep. There isn't a better way to unwind than lighting a candle.
This salt finish glass candle has a fresh coconut and sea salt scent, perfect for the summertime. Plus, they are so affordable, that you can keep them burning all day, every day. For something more ornate, I love this gold ceramic candle with a pink pepper and sage balsam scent from Jonathan Adler. Don't forget to team it up with a quality set of matches for added effect.
A throw blanket absoultely key to to a well styled bed. Plus, they are a great way to add some extra warmth in the middle of the night. They look great, and are just never a bad choice. There are many, but I prefer a traditional quilt style stitch. It's just more inviting and helps create a sense of softness. I went with this warm brown color, but there are a ton of other optiosn for any design aessthetic, including white or green etc. Check it out and get your refresh on now.
TERRACOTTA VASE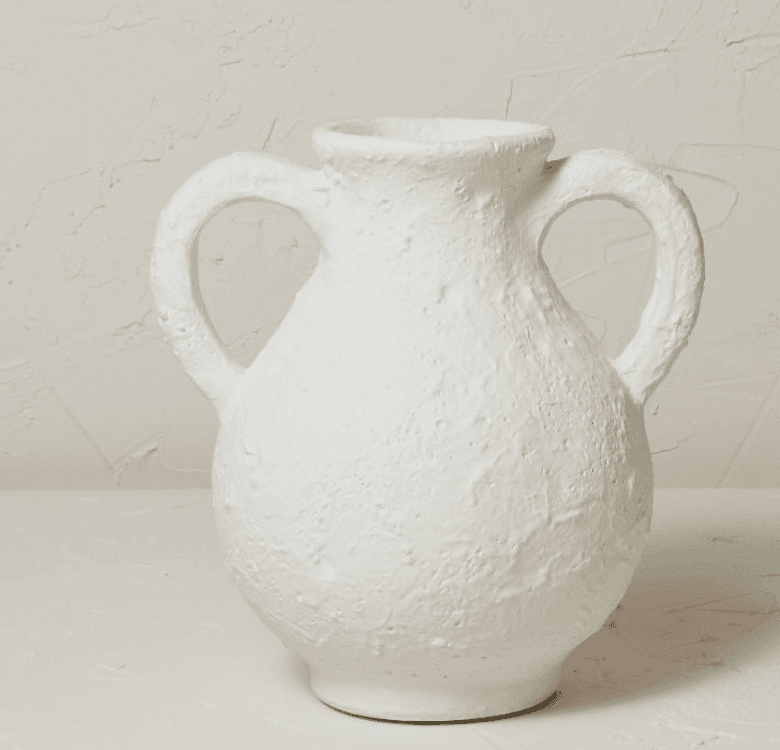 This decorative white terracotta vase has a sumptuous textured finish and incorporates almost any style of decor. It has a great volume without taking up too much space on your nightstand, but is a robust piece and would work in just about any room. They hold flowers and faux stems like a dream. More on that in a sec.
If you find that you want to fill more space vessels are great in a bedroom. They can work well to store kitchen utensils, on your dining table or floating shelf. Or, you use them to display your faux plant stems of choice as I did. Read on…..
Faux plants have come a long way in the past few years and look much more realistic now. For this season, I opted to include a bunch of these realistic white branch stems in my white terracotta vase. My nightstand is in a low-light area of my bedroom, so a faux plant is ideal because I don't have to water it or worry about cleanup/watering. We all love low maintenance now, don't we?
For a smaller nightstand or additional botanical accessories, this ready-made ceramic planter and this small leafy planter have a crisp bright white and green combination. You can team these up with this faux grass floor basket too.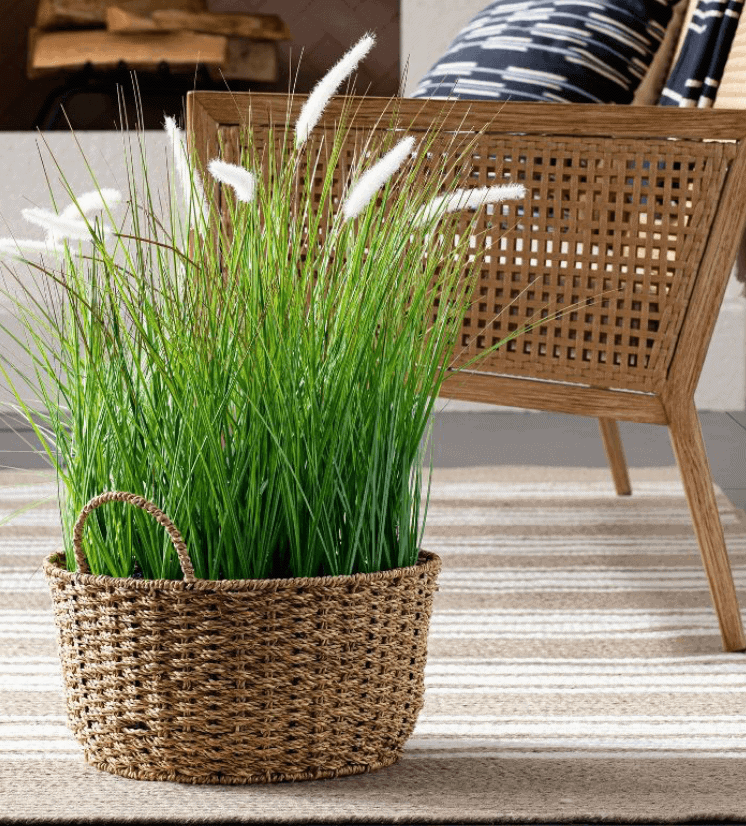 FAUX VS REAL PLANTS: WHICH ONE IS BEST?
Ok, I hear you guys – faux plants are a hot button issue in the world of interiors. Real plants are ideal for a lot of reasons – they can reduce stress levels, studies have shown that they can reduce sickness and they can improve the quality of air in your home. Plus they just look great. We know this. But, the problem is that if you are busty, the requirements for keeping them looking their best can easily be overlooked and as a result, they take a plunge.
Faux plants won't ever die or wilt, so you don't have to worry about upkeep. That's a win They also won't attract pests and don't require any additional care. You don't have to water them and they will last a lifetime regardless of where you place them. That is, as long as you don't break them. So, they look good all year round. Plus, if you have a cute little dog as we do, you don't run the risk of them getting into anything that they shouldn't.
What do you think of the refresh? Do you love it as much as I do?
There's something about waking up to a well-balanced gorgeously styled nightstand. There are countless ways to style a nightstand, but a good book, votives, and a few stems are always a safe bet. So, play around with these different options in various placements and discover what works best for you.
Are you guys going to use any of these nightstand style tips this spring? Be sure to leave a comment if you have any more suggestions or ideas for styling your nightstand! xoxo
DON'T FORGET IT. PIN IT.