Today, we'll once again be visiting the topic of painting kitchen cabinets. More specifically, we'll be looking at spray paint kitchen cabinets cost!
I'm always looking for new ways to style my kitchen and perfect the space to my liking. Reorganizing and redecorating can be a great way to improve the current look of your kitchen, but painting your cabinet boxes can give it a new look entirely.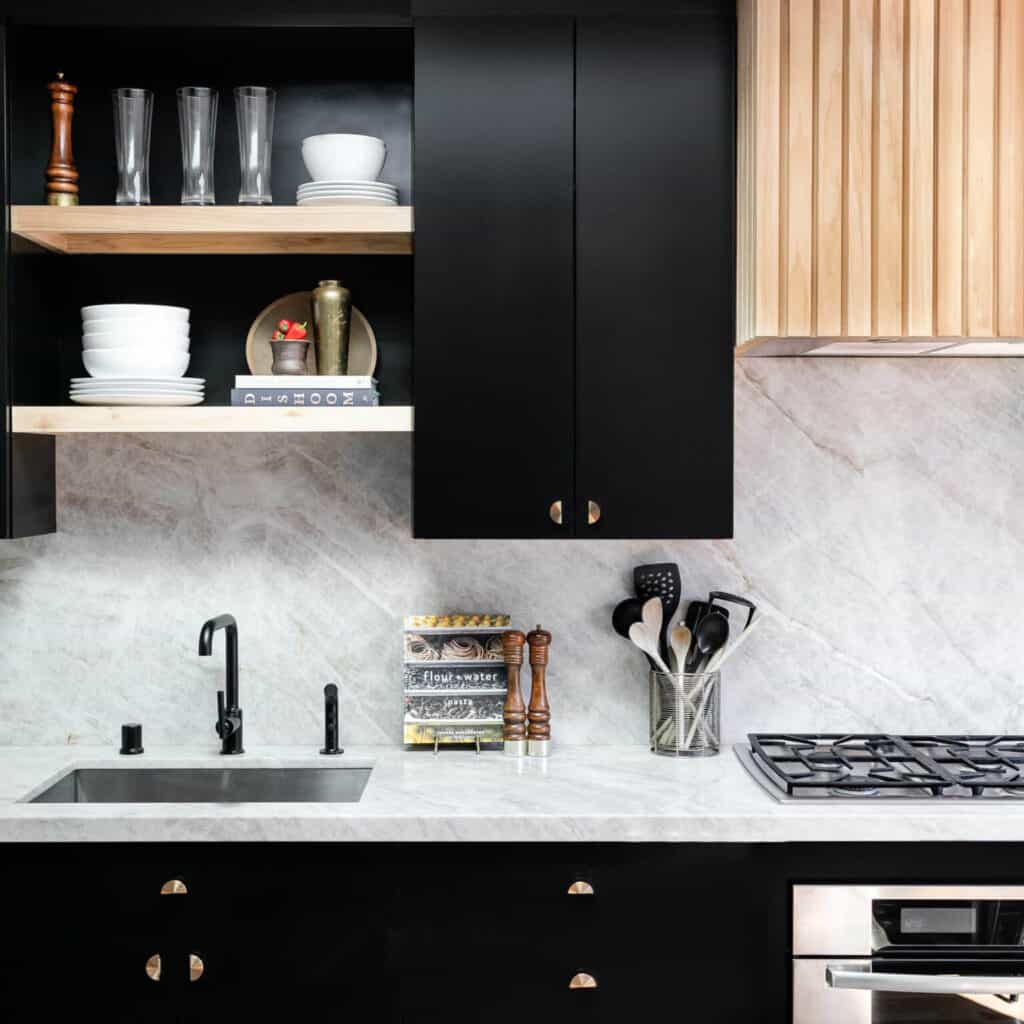 Using spray paint may not be the cheapest option around, and true, there are other alternatives available. Even so, once you consider all the various factors at play in this seemingly simple painting job, I'm sure you'll quickly see there are some merits for choosing the spray paint method.
The General Cost of Painting Cabinets
If you've already read my blog post about the cost of painting kitchen cabinets then you might remember just how much project costs can vary. If not, then let's quickly go over some numbers to give you a general idea of the ​overall cost this type of project can accrue.
Average Cost to Repaint Kitchen Cabinets
Based on the latest data from Smart Remodeling, LLC, the average homeowner will spend around $2,113 to repaint their kitchen cabinets. On the lower end, a DIY job could take as little as $400 to complete the project.
On the high end, some homeowners may spend up to $8,000 (or more) getting their kitchen cabinets painted professionally. It all comes down to how many cabinets you have and the quality of the paint you use.
Unfortunately, these numbers don't really tell much about the final spray paint kitchen cabinets cost as you may have hoped. In reality, there are a wide number of factors that can influence the final cost of your project.
Is a lot of prep work required? Are your cabinets in good condition, or will they need minor—or significant—repairs? You also need to consider the specific paint(s) and other items you'll be using in your project. Believe me, material costs can skyrocket fast!
Speaking of paint, check out this post where I share my favorite black paint!
Ultimately, you'll need to go over each and every aspect of your project, itemizing materials as you go, before you can even start to come up with an accurate estimate. With that out of the way, you can then decide whether you want to do a DIY project or take the professional route.
The Methods: Professional vs. DIY
Choosing between these two options becomes much easier if you settle on a priority for your project: price or perfection.
Are you willing to sacrifice a lot of time yourself to save money by taking on a DIY project? Or would you prefer to pay the labor costs of hiring a professional painting contractor who's practically guaranteed to complete the job without issue?
It's important to remember that both options will require some prep work on your part, so even if you pay, you won't be able to get out of work entirely. Fortunately, the prep work you'll need to do is very minimal if you're hiring someone to replace your old paint.
It mainly involves removing any kitchen gadgets you may have lying around, getting rid of visible dust, clearing the floor space, and ensuring everyone is out of the area ahead of time. See, not too much work!
On the other hand, if you've selected the DIY method to lower your overall spray paint kitchen cabinets cost, then a bit more prep work is required. In addition to the prerequisites above, you'll also be responsible for removing cabinet hardware, masking the area, sanding the surfaces, and applying primer.
DIY requires sourcing your own materials for the job, which include paint, a paint sprayer, and a small variety of tools. Personally, I'd make sure that a level and a heavy-duty apron are on that list as well, since these two items will help make your project infinitely easier!
Paint Sprayers vs Spray Rollers
Looking at the average price of a paint sprayer, it may seem like the best way to lower your spray paint kitchen cabinets cost would be to use rollers and brushes instead of a paint sprayer.
In many cases, this is true! However, that doesn't necessarily mean that opting for rollers and brushes is the best way to approach your particular project.
Many professionals prefer using a paint sprayer over brushes as this method makes it easy to accomplish more in a shorter amount of time. However, you may also notice them using brushes and/or rollers for select areas where a paint sprayer won't produce ideal results.
Let's quickly go over the pros and cons of using a paint sprayer. If you're hiring someone to do the job for you then this will mainly be interesting facts that you can pick up. However, if you're doing the project yourself, this information could prove invaluable!
The Pros
There are definitely plenty of options available when it comes to paints. There are oil-based paints, latex paints, and water-based paints, which will give you enough options to find the perfect type of paint for the job.
You'll also have plenty of paint colors to choose from, since most "regular" paint can be thinned and used in a paint sprayer.
Beyond paint options, using a paint sprayer also helps streamline the entire process. You'll be able to cover multiple square feet in the fraction of time it would've taken using a brush or roller.
Paint sprayers are very effective at applying an even layer of paint, which produces beautiful results and helps minimize drips.
Another thing they excel at is painting hard-to-reach places. Whereas using a roller can make it hard to get paint into tight corners, a spray painter can evenly apply paint in these areas with ease.
The Cons of Spray Painting Cabinets
Of course, using a paint sprayer isn't without downsides. First and foremost, you'll be dealing with a higher average cost per project. The required equipment itself will instantly add a lot to your initial costs.
You'll also need to prepare to buy more paint than you would if you'd used only brushes and rollers to paint kitchen cabinets. Depending on the type of paint sprayer you use, you'll be looking at a 10% to 70% paint loss! Unfortunately, since some of the paint is bound to drift away as you're painting, you'll need to prepare for this in your budget.
This won't be as noticeable if you're painting a few cabinets in a small kitchen, but the costs can quickly add up in larger areas, making this an important factor to consider.
Using a paint sprayer also requires a bit more skill than brushes or rollers. There's a bit of a learning curve to the process. Using enough painting tape becomes the difference between success and failure! For larger areas, masking and covering is essential as well.
Unfortunately, paint sprayers aren't effective at detail work. While this likely won't be an issue for painting kitchen cabinets, this inefficiency makes them a poor choice for more precision-based tasks. They're also not very effective at covering blemishes.
Lastly, there's the pollution to consider. There will be paint particles left in the air after using your sprayer. This makes using protective equipment a top priority. You also need to consider noise pollution, since paint sprayers can be quite loud when being used.
A Last Resort: Replacing Your Kitchen Cabinets
In most cases, cabinet refinishing and repainting will be enough to solve your kitchen woes. However, considering how high the spray paint kitchen cabinets cost can get, you may be considering just replacing the old cabinets with new cabinets instead.
Well, in some cases this may be the best option, but that's usually not the case. While having your cabinets professionally painted can cost up to $8,000 or more, that might not be much when you compare it to the cost of replacing your cabinets entirely.
The replacement costs typically range from $4,000 to $13,000, with $11,000 coming in as the nation average. Of course, this price is affected by a variety of factors including the total square footage, the number of cabinets that need to be replaced, and the complexity of the specific project.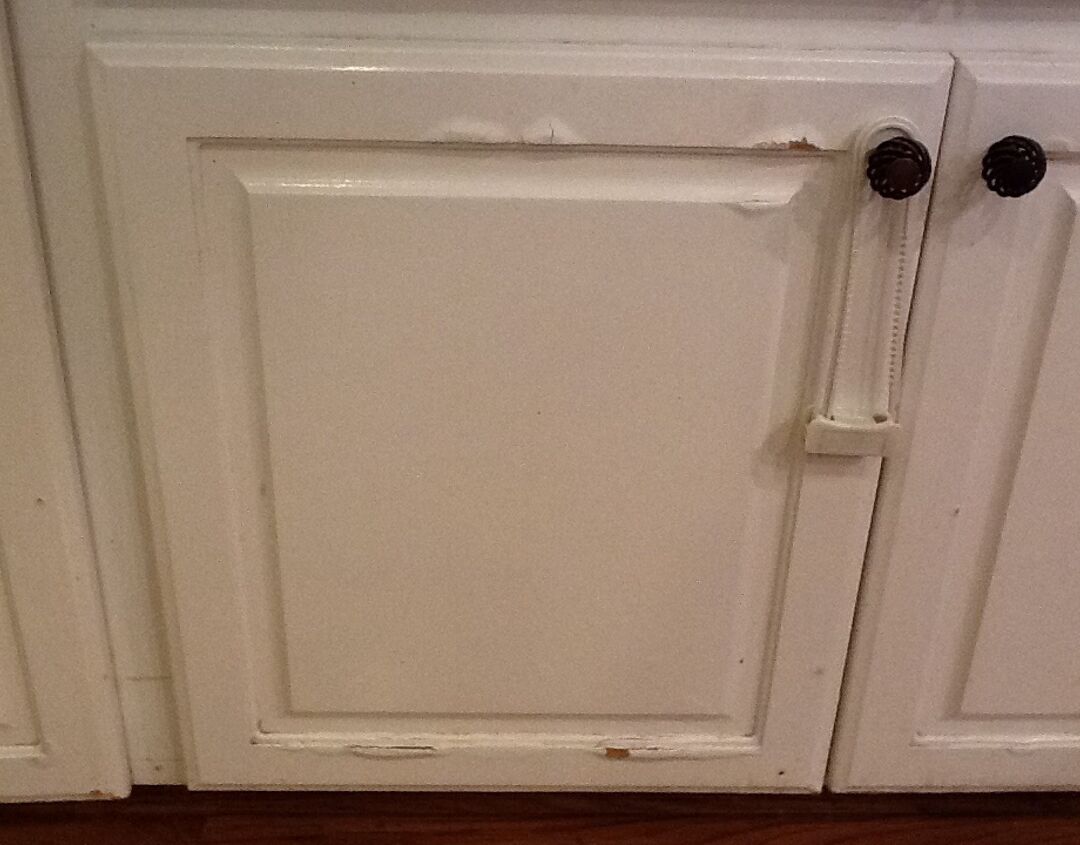 You'll also need to factor the specific materials into the total cost of your project. While having a large kitchen can definitely increase costs, so can choosing premium cabinets as opposed to considering more budget-friendly ones.
In most cases, I would recommend against replacing your cabinets entirely. Unless they're severely damaged, falling apart, or would cost just as much to paint as they would to replace, it's usually not worth it.
Instead, I would recommend repainting first, then moving on to shelf styling and implementing hand-picked items into the area to give you the aesthetic you're after in your kitchen! There's likely a lot you can do with the existing cabinets if you're willing to get a bit creative.
Making Small Upgrades to the Area
Remember, the project doesn't end once your paint job is complete! There are many other ways to give the area new life. A great place to start is by arranging the cabinet surfaces once you're putting items back inside.
Using basket organizers to arrange smaller items like kitchen herbs can greatly improve the aesthetics of your kitchen, even if you won't see them all the time!
You can also consider replacing some of your older items with newer versions that complement the interior color of your cabinets. For example, check out my favorite pot. Offered in multiple colors and beautiful no matter where you put it, items like this can really help make your new paint job shine!
Of course, external decor is also important. If your spray paint kitchen cabinets cost wasn't very high then you may want to consider other mini projects. Replacing the handle on your cabinets and drawer faces is always a solid option. You could also add more lighting, arrange your countertop items, or add decorative items to the space for a more personalized refresh!
As always, plants are definitely on my list of suggestions. Even a few tiny plants here and there can really help add a sense of life to your kitchen.
Estimate Your Spray Paint Kitchen Cabinets Cost: A Simple Summary
All in all, it can be really hard to estimate your final spray paint kitchen cabinets cost. The complexity of painting projects can vary widely, and prices vary widely depending on where you live. For the most accurate estimates, it's best to reach around to a few companies in your area and get quotes right from the horse's mouth.
That said, if you really want to save money and don't mind investing some of your own time, the DIY approach is definitely the way to go. The final choice is up to you, but either way, I'm sure the end result will turn out fantastic!
Have you recently repainted or refreshed your kitchen cabinets? If so, leave me a message and tell me all about it! I love hearing from y'all.
Until next time!
Frequently Asked Questions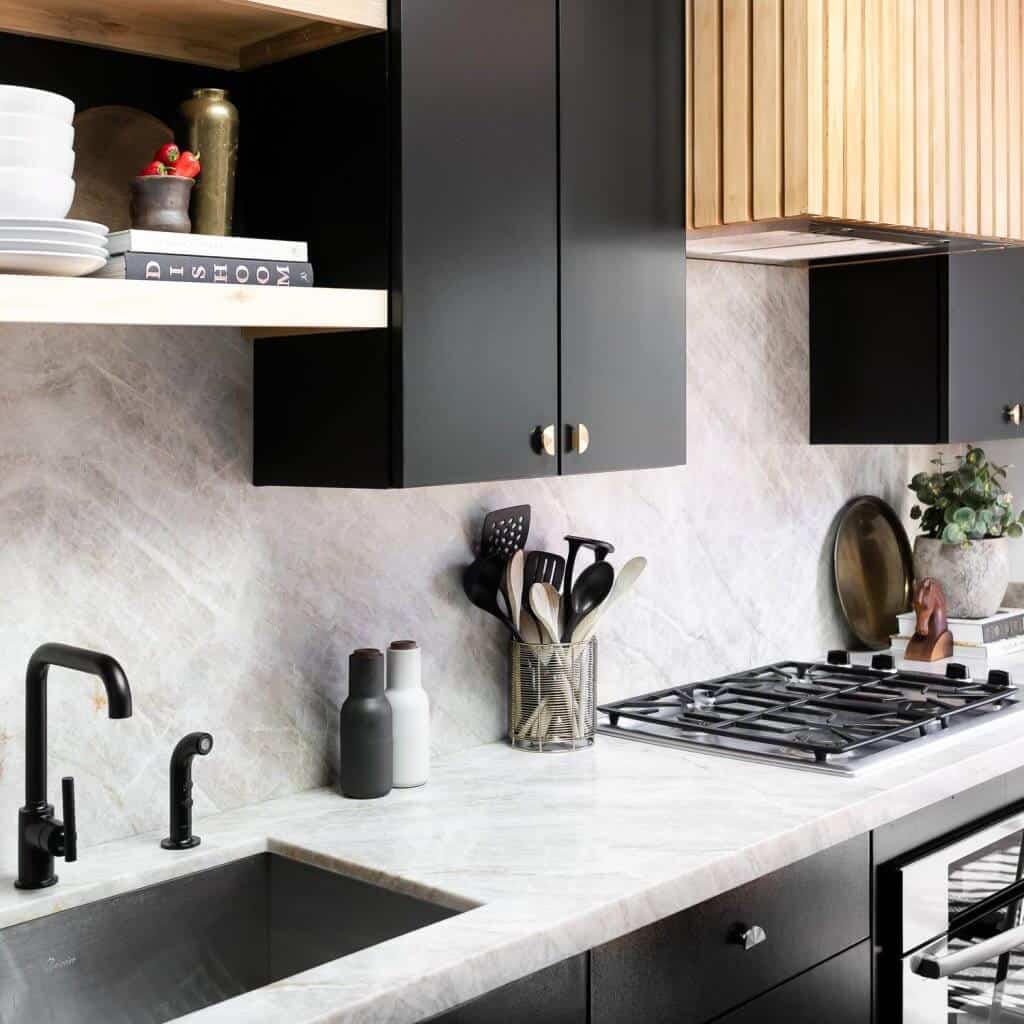 How much does it cost to spray paint kitchen cabinets?
As mentioned above, the cost of hiring a professional painter can vary widely. The current national average is $2,133 for painting kitchen cabinets. However, your actual costs will be a result of labor costs and material costs. There may also be additional costs that may arise from unexpected-but-necessary repairs.
Is it worth spray painting kitchen cabinets?
This approach is worth it in most cases. If you hire professionals who use high-quality paint, the end result is almost certain to turn out exactly how you imagined it! However, if you're planning on replacing the cabinets within a few years then it may not be a worthwhile endeavor. In that case, the money would be much better off simply invested in saving for new cabinets.
How long do spray painted cabinets last?
That depends on how well the spray painting was done. While even a poor paint job will instantly give your cabinets new life, a poorly-done job may only last a year—or less—before it starts chipping. Contrarily, well-done jobs can last from 8 to 15 years before needing to be refreshed!
Is it better to spray or roll paint kitchen cabinets?
Spray painting is the preferred painting method when it comes to painting kitchen cabinets. Fast and nearly flawless when correctly executed, spray is almost always a good option if it's financially feasible.
How many coats of spray paint on cabinets?
The perfect number will vary, depending on factors such as previously existing paint, the color in question, and the condition of your cabinets. Three coats is a commonly quoted number (one coat of primer, two coats of paint).
What do professional painters use to paint cabinets?
It varies from contractor to contractor. However, many professional cabinet painters use professional spray equipment to paint cabinets. This results in the factory-smooth finish you want on your cabinets!