Who's excited about Thanksgiving this year? I know you can't see me, but I'm raising my hand up high because I definitely can't wait for Turkey Day! Of course, I'm excited to see my family during the holidays but I'd be lying if I said I wasn't looking forward to the food just as much. I mean, come on! Let's keep it real.
If you're hosting this year's festivities and looking for THE BEST recipes to cook for your guests, I got ya covered! There are a lot out there, but I think these versions are the very best because they are traditional with a twist that makes each extra special. I know how overwhelming it can be when you're in charge of feeding a large group of people, so I curated this set of recipes to make sure you are covered – no matter what. I am serving every single one of these this year. Some might surprise you. Let's dive in:
BROWN SUGAR GLAZED HONEY HAM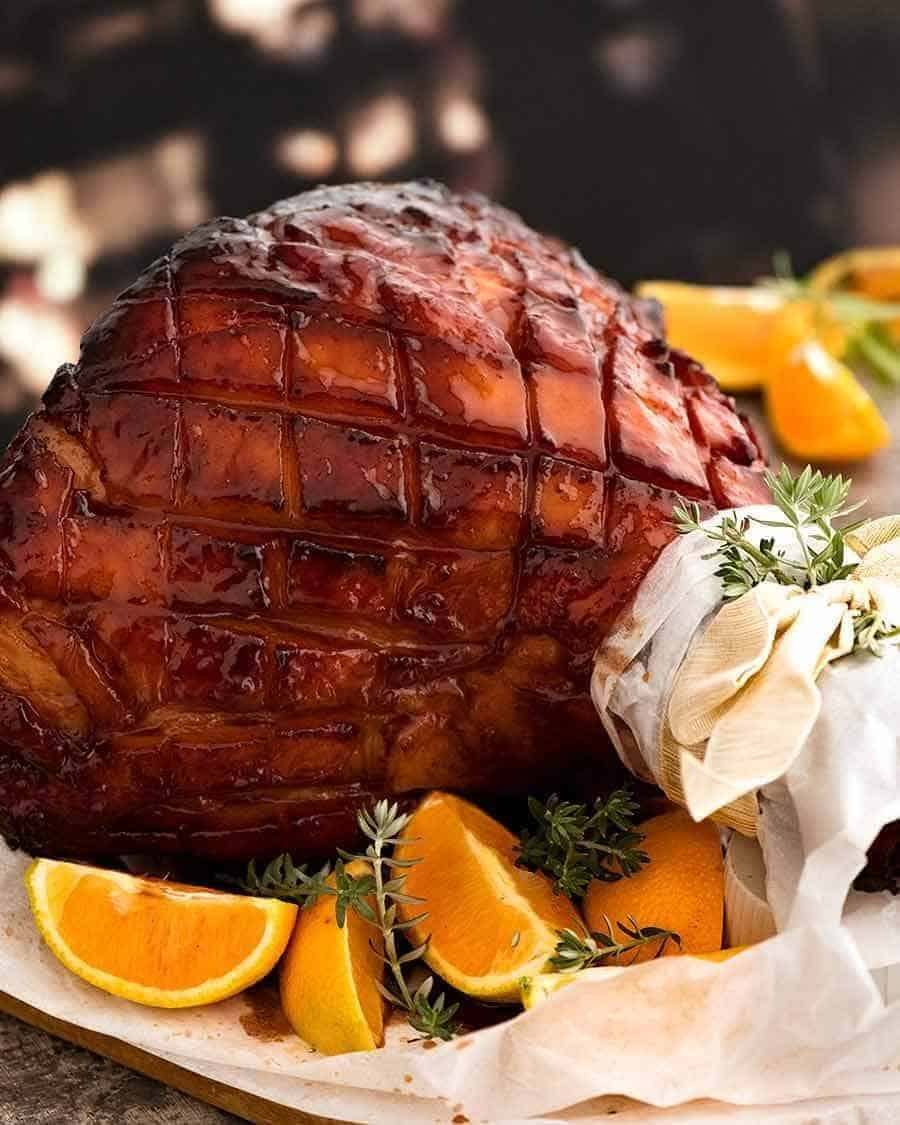 Honey baked ham has been the star of my families thanksgiving for years. I know that turkey is a tradition, but we love this main course more – like way more. The crackle of the skin and the drip of the sweet brown sugar and pineapple glaze are simply mouth waveringly delicious. If you want to level up your turkey day – this is the way to do it guys. Ya simply have to try this. I promise your guests will be impressed. Even better? It's so easy to do too.
Ingredients
5-pound bone-in ready-to-eat ham (you can even buy it pre-sliced!)
24 whole cloves
1 cup dark corn syrup or Pineapple juice
2 cups of honey
2/3 cup butter to drizzle
2 cups brown sugar
1 can pineapple rings – to place on ham
Orange and rosemary slices to garnish


Instructions
Start pre-heating your oven to around 325 degrees
Score the ham and stud it with the cloves. Once done, place the ham in a foil-lined pan.
Pat brown sugar into ham – don't worry if it drips down into the pan, but make sure its enough brown sugar to create a dusting for a crusty skin – then pop in a pre-heated oven. Meanwhile….
Heat the butter, honey, and corn syrup, and pineapple juice in a double boiler's top half.
Start brushing glaze over the ham after about 15 minutes in the oven, then continue to bake in the pre-heated oven for an hour and 15 minutes. Don't forget to baste with the honey glaze every 10 minutes or so. Turn on broiler during the last few minutes of baking to caramelize the glaze. But just for a minute or two – don't burn it!
Feel free to cook with pineapple rings resting on the brown sugar (optional)
Remove from oven, then let sit for a few minutes before serving.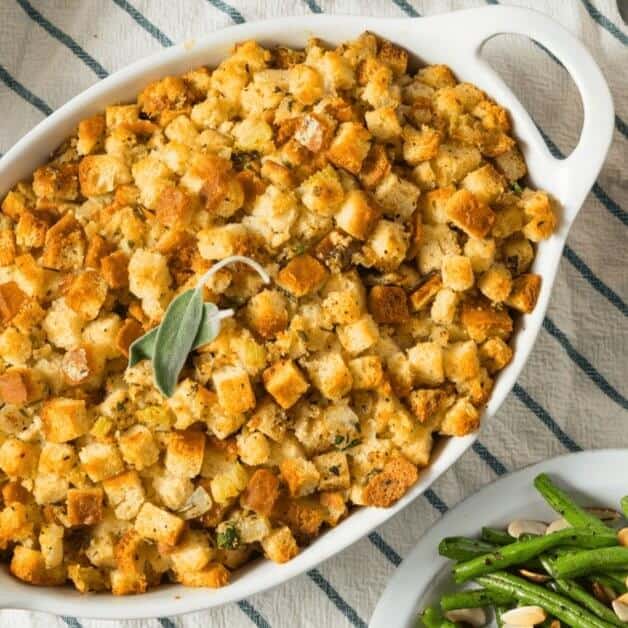 SIMPLY SPLENDID STUFFING
This is crucial, you guys. No Thanksgiving is ever really complete without stuffing. Plus, who doesn't love stuffing. Just be sure to get started on this recipe at least a day or two beforehand. That's the secret and why it's the best stuffing recipe around. Start with some fresh bread and cut it down into cubes (around 1"). Place them in a bowl and let them sit out for two days to ensure that they dry out completely. This makes them sturdy enough to absorb all the goodness thats about to come.
INGRIDENTS
13-15 cups dry bread cubes – I prefer sourdough
1 cup chopped celery
1 cup diced onion
1 1/2 cups butter
2 1/4 teaspoons salt
1 teaspoon ground black pepper
1 1/2 tablespoons poultry seasoning
1 1/2 cups chicken stock
2 large eggs
Rosemary and sage to garnish
DIRECTIONS
Sautee the celery and onion on a frying pan together with the butter until they become tender (around 12 minutes)
Pour the mixture on the bowl over the breadcrumbs and start mixing. Add the rest of the ingredients and mix them well.
Spray some cooking spray on a 2-quart casserole dish. Pour the stuffing in a pan and bake for half an hour at about 350 degrees. Baking time may vary, so make sure everything is golden brown before you remove the pan from the oven.
Voila! That's basically it! This recipe is a traditional classic and the end result tastes deliciously familiar, like a recipe that's been handed down for generations within a family and embodies what this holiday is all about – bu without all the fuss. Ya gotta try this.
SWEET POTATO PECAN CASSEROLE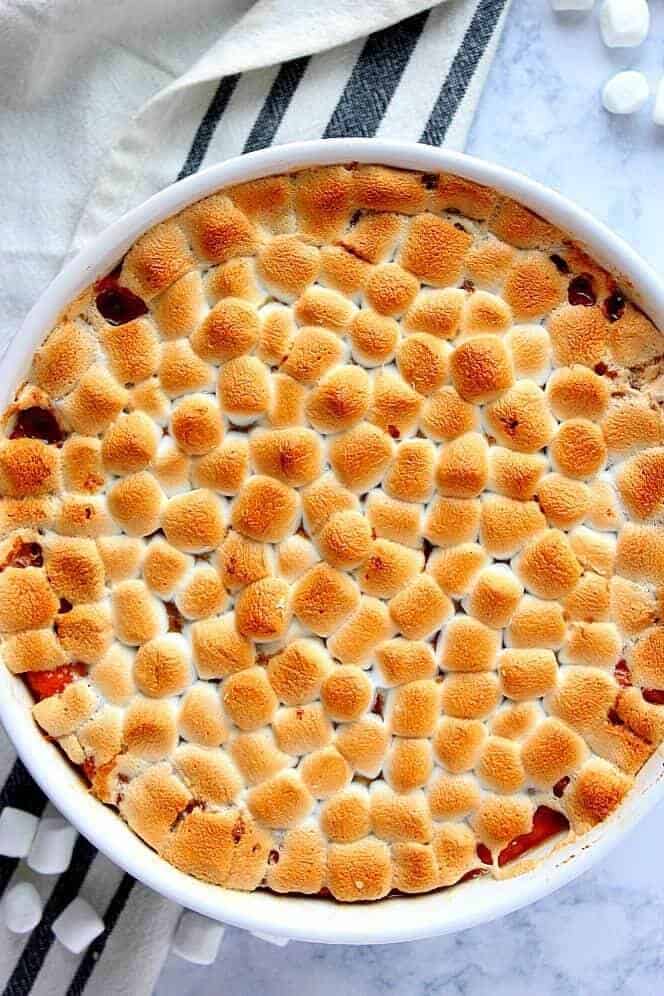 Is it even thanksgiving without this dish? I love this version because of the added pecans that create a texture balance and crunch. If you want something a little sweeter to serve during dinner, try this sweet potato casserole with marshmallows. It never disappoints and I just love how the sweetness pairs with salty meats. It's so so good (and easy) to do.
Ingredients
Cooking spray
4 cups of large sweet potatoes, peeled and cubed
1/2 c up packed brown sugar
8 tbsp. (1 stick) butter, melted
1 tsp. pure vanilla extract
1/2 cup milk
2 large eggs
1/2 tsp. kosher salt
FOR THE TOPPING
1 cup packed dark brown sugar
1/2 cup all-purpose flour
4 tbsp. butter, melted
1 cup of chopped pecans
2 1/2 cups mini marshmallows
Instructions
Using the cooking spray, grease a baking dish and preheat your oven to 350 degrees.
Put the sweet potatoes inside a pot and cover it with water. Bring to a boil then simmer at a reduced heat until the potatoes become tender (around 15 minutes or so).
Drain, let cool, then transfer the sweet potatoes to a bowl.
Stir the sweet potatoes in the bowl together with butter, sugar, milk, vanilla, salt, and eggs until you get a smooth mixture. Pour everything into a newly prepared dish.
Mix together flour, butter, and sugar in a different bowl until the mixture becomes clumpy. Then, add in the pecans and stir well.
Once done, spread the finished mixture evenly over the potatoes, then top everything off with the marshmallows.
Bake for around half an hour, or until everything is golden and cooked through.
SPINACH + SOURDOUGH DIP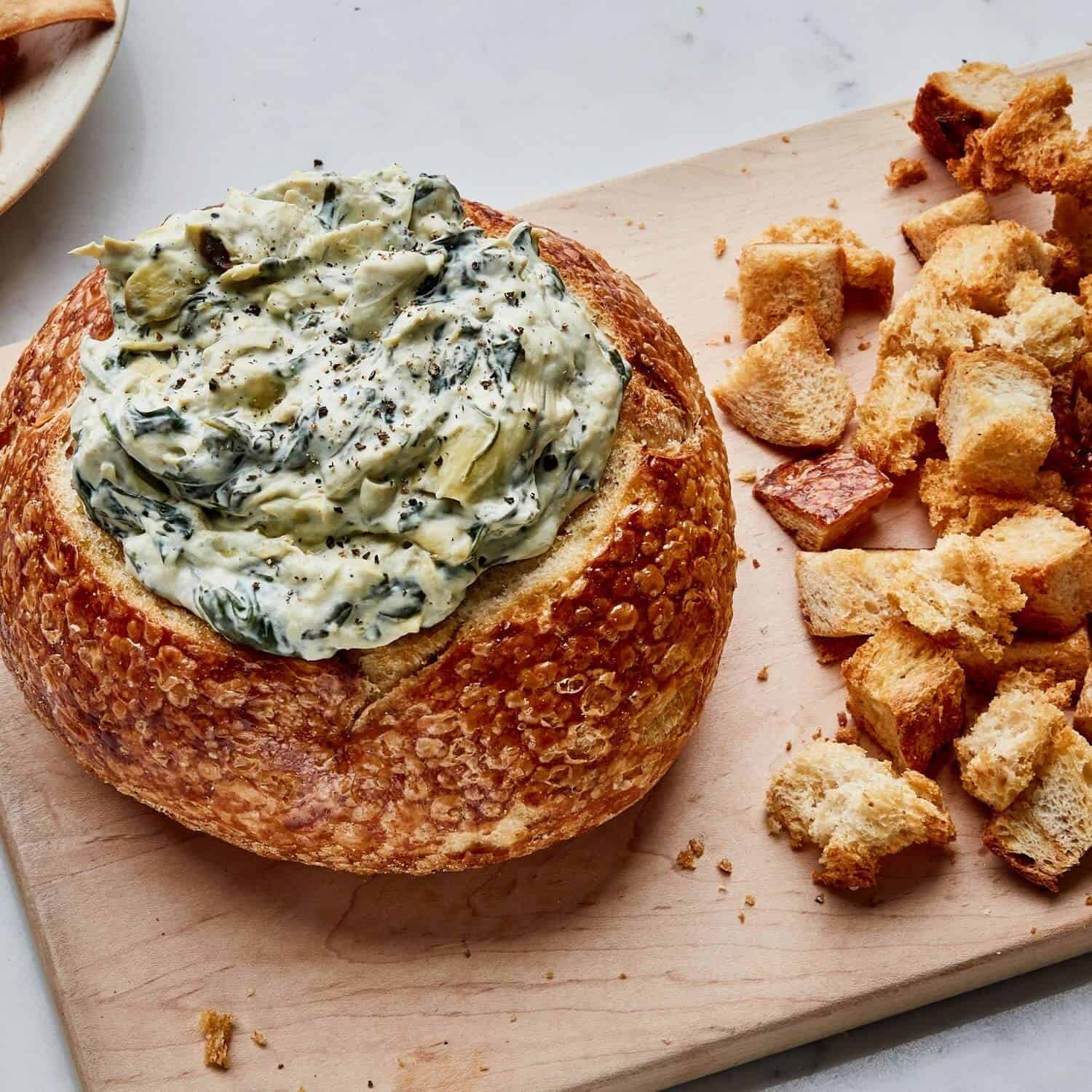 If you thought that honey glazed ham was my most popular thanksgiving dish, think again my friends. It's actually this insanely creamy rich dip served inside a San Luis Sourdough bread bowl. It's absolubalty my favorite thanksgiving treat. We have it every years and it is always a crowd pleaser. You simply dice and combine all the ingredients listed below, and service in a sourdough bread bowl. I buy extra bread and cut down into 1" cubes. Do this because trust me. You are gonna want lots of extra bread to dip. Serve this while guests arrive. You won't regret it.
1 box (10 oz.) frozen chopped spinach, cooked, cooled and squeezed dry. Make sure no water is left. sit to dry an hour.
1 container (16 oz.) sour cream *
1 cup Hellmann's® or Best Foods® Real Mayonnaise
1 package Knorr® French onion soup packet recipe mix Don't get the spinach dip packet. This is the trick.
1 can (8 oz.) water chestnuts, drained and chopped (optional)
1 can (8oz.) canned artichokes (My mom likes this)
3 green onions, chopped (optional)
CREAM CHEESE PECAN PIE
Look I know pumpkin pie is the jam, but my all-time-favorite is pecan pie around the holidays. I think it is amazing. But, I do a little magic by making it with cream-cheese so that it's cheese cake like upgrade. I bet ya' have never tried it. But, I assure you this is the best version of the classic. Nothing beats a (sorta) classic dessert taken up a notch, so be sure to incorporate a pecan pie into your Thanksgiving menu to finish everything off with a statement!
Ingredients
FOR THE CHEESECAKE
Cooking spray
3 (8-oz.) blocks cream cheese, softened
1 c. packed brown sugar
3 large eggs
1/4 c. sour cream
2 tbsp. all-purpose flour
1 tsp. pure vanilla extract
1/4 tsp. kosher salt
FOR THE PECAN PIE TOPPING
4 tbsp. butter
1/2 c. packed brown sugar
1/2 tsp. ground cinnamon
1/4 c. heavy cream
1 3/4 c. whole or chopped pecans
Pinch of kosher salt
DIRECTIONS
Preheat oven to 325º and grease an 8″ or 9″ springform pan with cooking spray. Make cheesecake filling: In a large bowl using a hand mixer (or in a stand mixer using the paddle attachment), beat cream cheese and brown sugar. Add eggs, one at a time, then sour cream, flour, vanilla, and salt.
Pour filling over crust. Wrap bottom of pan in aluminum foil and place on a baking sheet. (If you want to bake the cheesecake in a water bath, wrap bottom of pan and place in a deep baking pan. Pour in enough boiling water to come up halfway in the baking pan.) Bake until center of cheesecake only slightly jiggles, about 1 hour 30 minutes. Turn off heat, prop open oven door, and let cheesecake cool in oven, 1 hour, then remove aluminum foil and refrigerate cheesecake in pan until firm, at least 5 hours and up to overnight.
Before serving, make pecan pie topping: In a nonstick skillet over low heat, melt butter and brown sugar until bubbly (keep heat low to avoid burning butter). Stir in cinnamon, heavy cream, pecans, and salt until completely coated, then remove from heat and let cool and slightly thicken. (You can make the topping up to an hour in advance and keep at room temperature; don't refrigerate as the butter will solidify.)

ROSEMARY GIN FIZZ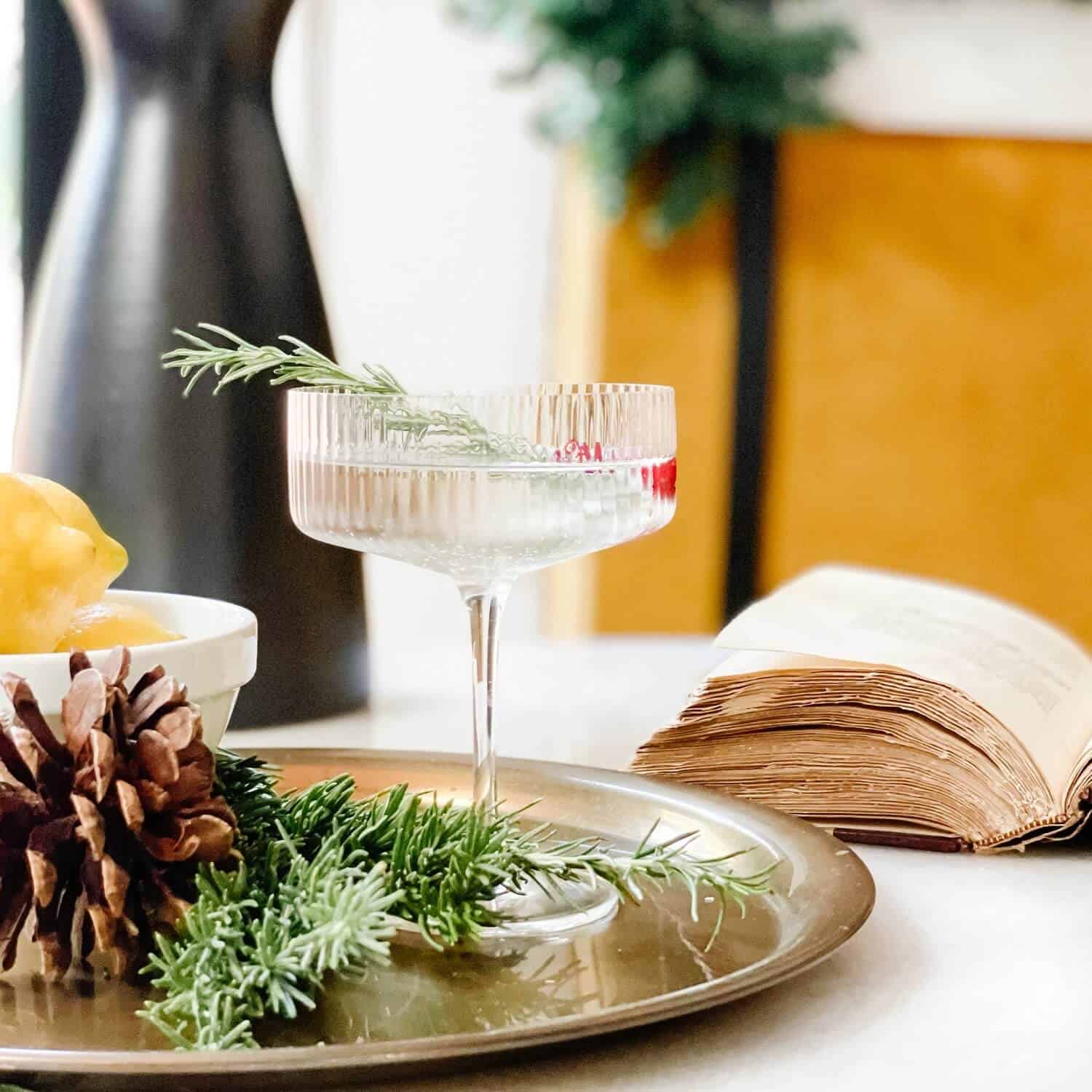 What says the holidays more than a signature cocktail? This is my favorite. It screams Thanksgiving (and Christmas) and is so easy to make. I serve them up in my favorite Coupe Glasses. Every-time I make these drinks everyone asks for the recipe. The simply syrup makes them sweet (but not to sweet) and floral. You will love them. Be careful though. They pack a punch!
Directions:
Make rosemary-infused syrup (Rosemary soaked in hot 2:1 parts water + sugar overnight)⁠ See Below:
Shake 2 oz. Gin with 1 tbsp. lemon juice with 1 tbsp simple syrup⁠. Simply shake gin, lemon juice, and rosemary simple syrup in a cocktail shaker with ice.
Splash with Add club soda.
Garnish with a rosemary sprig or frozen cranberry for the holidays.
Simple Syrup – Rosemary
Combine sugar and water in a pot on the stove.
Bring up to a boil.
Stir and slowly cook until the sugar dissolves.
Settle. Remove pot from the heat, then add cleaned rosemary
Steep for at least 1 hour. I do 3. Throw away the rosemary sprig after.
Let Syrup cool and then shake into the cocktail as indicated above.
Well there you have it, guys! Those are my top must-have dishes and dessert for the upcoming holiday. Let me know which of these recipes you're going to be saving for the big day, and what other dishes you have planned that weren't included in this list.
That being said, while I know we're all excited about the feast and all the food we're going to be enjoying, let's not forget the real point of this holiday and remember to be thankful for all the good things that we've got going on. And on that note, I just wanted to say that I'm thankful for y'all. Truly. Xoxo