I love two things in life – beautifully designed homes, and food. This recipe not only tastes delicious, but it looks good too. I just love the way the accruements shine like a beautiful piece of art all on their own. I promise your guests will love the taste (and look) of this dish too.
Here's the other thing. This chili is super easy to make, quick, and all done in a single pot. You know I hate a mess. Also, I have yet to meet anyone who doesn't love this meal – how could you not it's literally made with chocolate -yes that's right- chocolate. Interested in trying chocolate chili? I thought so. Let's get started
This one-pan pasta perfection is a burst of honey-sweet bacon with melty cheese and zesty lemon. It's literally my favorite quick + easy pasta. I make it at least a few times a month. I think you should too. Want to learn more? Read on.
Time:
Prep: 10 min
Cook: 20 min
Total: 30 min
Serves: 2-4
Ingredients:
3 oz semi-sweet chocolate
12 oz ground beef 80/20%
1 Can of black beans
1 Can of stewed tomatoes
2 tsp Chipotle chili Paste
1 Red Onion
1 Carrot
1 Lemon or Lime
1 Bunch of Green Onion
2 oz. Sour cream
Pinch of: Garlic Powder, Ground Cumin Chili Powder, Paprika, Dried Oregano,
Chili Flakes to taste
1 Tbsp Butter
1/2 cup Shredded Extra Sharp Cheddar
1 Bag of Tortilla Chips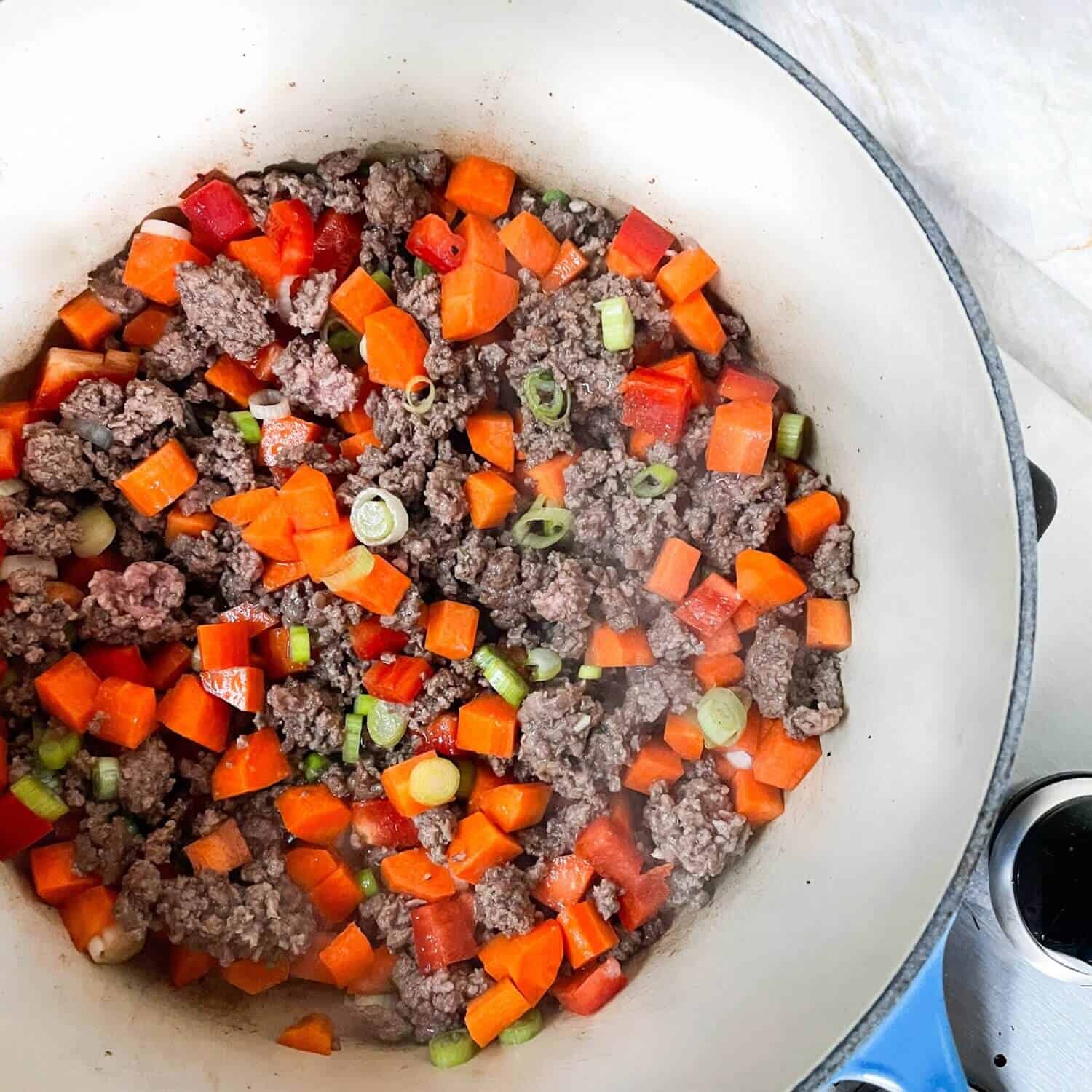 Directions:
Wash and clean fresh produce. I like to place washed produce.
Dice Onion, and carrot into bite-sized cubes
Do the same to the green onions but separate the white bottoms from the green tips. The greens will be used to garnish.
Strain and Rinse Black Beans
Heat 3 teaspoons of cooking oil in a pot.
Cook Beef breaking up as you go – until lightly golden brown. This should take 4-5 minutes.
Strain cooked beef to remove excess liquid fat.
Add back into the pot the white bottoms of the green onion along with the carrots and diced red onion
Sautee together with dry spices including salt and pepper to taste. This should be 4-5 minutes
Now the fun part, add in the semi-sweet chocolate, tomatoes, 1 1/2 cups of water, and chili paste. Give everything a few goods stirs to incorporate
Bring chili to a boil on high heat, then reduce to a simmer and let simmer for 10-11 minutes. Once cooked let sit for 2 minutes before serving.
Shred cheese and set aside to finish the dish
Combine sour cream with the juice of half a lemon and a pinch of salt + pepper. Serve – with a few tortilla chips, a dollop of sour cream, and a sprinkling of both cheese and green onion tops. I use two shallow bowls. Be ready for seconds and enjoy. Pro Tip: Double up on this and serve as leftovers.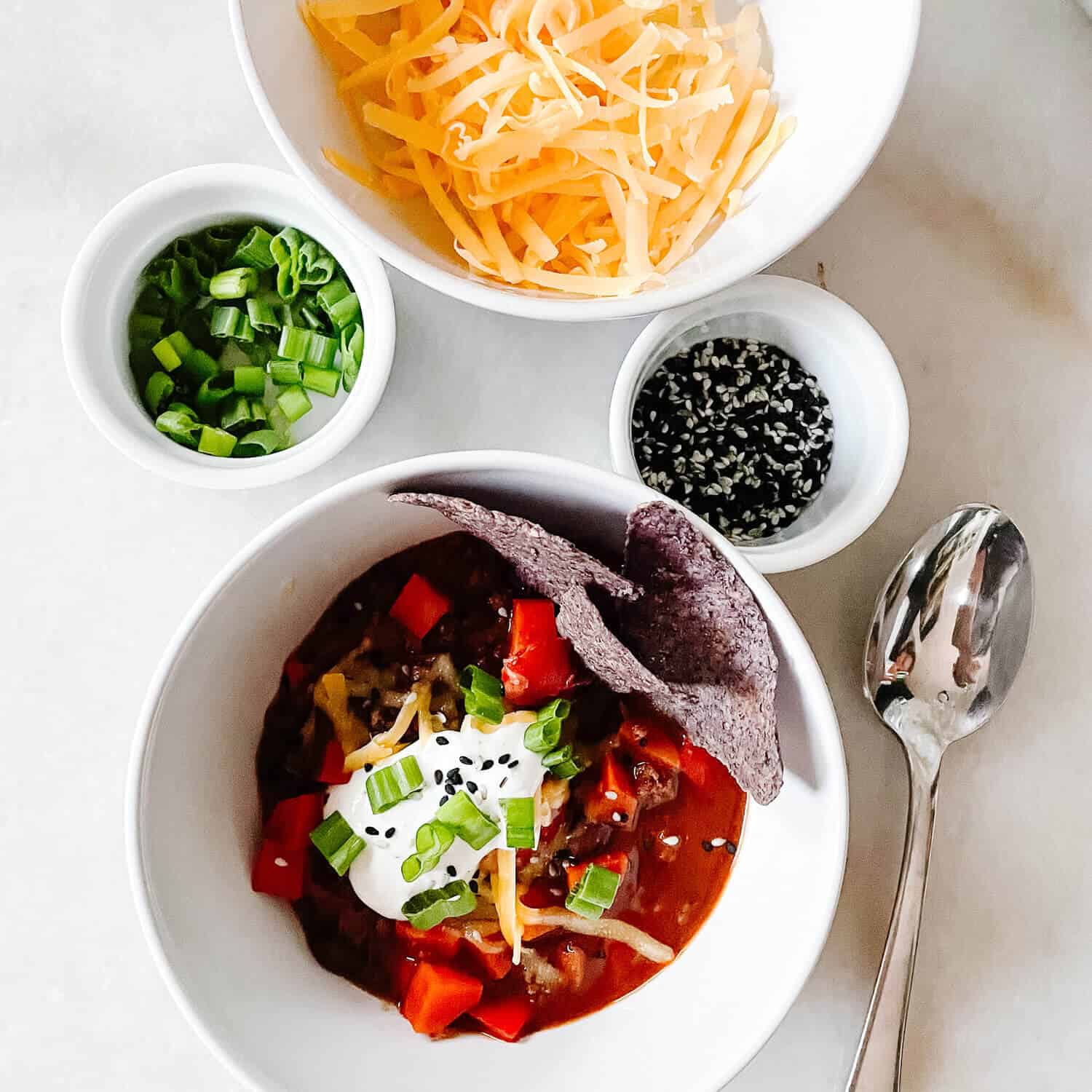 This chocolate chili is a must-try. I still can't believe how delicious it is. Serve on a rainy Sunday day and make extra to have leftovers all week long. Because if this, I almost always end up making this dish on a Sunday because I am usually too tired to do much else, but also because it's just too darn good. I always crave ir after a long weekend. This chili is a crowd-pleaser and you won't regret trying it out. It has been a staple in our household for years. Enjoy and xoxo.