When I was thinking about what I wanted my "Cooks," section of the blog to be for 136home I was forced to sit down solidify what type of recipes I wanted to share with you – my friends. To me, this recipe was the perfect first to share. It personifies all that I believe in when it comes to cooking at home.
I want my dishes to be; delicious, easy to make, and not require a ton of time to prepare. It's an added bonus when clean-up is quick and painless too. I think it goes without mention – but to be clear these dishes need to serve up flavor profiles that make your eyes grow wide with excitement upon each and every bite. After all, food should be fun and delicious without too much fuss. Because sitting around the table eating a good meal is so important to me, I wanted to make sure you got something that would be sure to please when you try it too. I love cooking (but not for hours at a time.) No one has time for that.

Keeping all that in mind is how I ended up wanting to share with you my purely perfect pasta. Why? Have you ever met someone that doesn't like pasta? I dare you to think of a single person – everyone loves it, and that's especially true in my household.
This one-pan pasta perfection is a burst of honey-sweet bacon with melty cheese and zesty lemon. It's literally my favorite quick + easy pasta. I make it at least a few times a month. I think you should too. Want to learn more? Read on.
Time:
Prep: 15 min
Cook: 20 min
Total: 35 min
Serves: 3
Ingredients: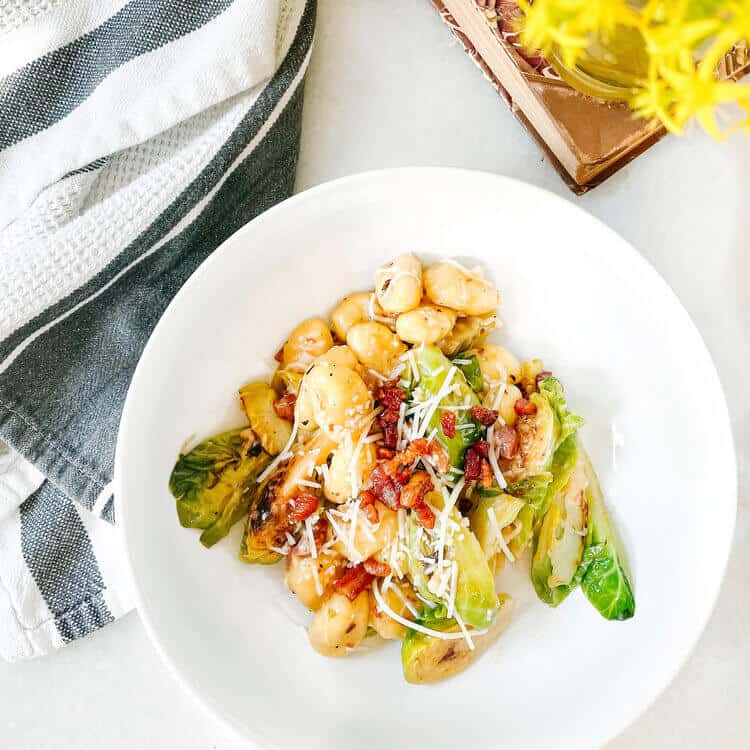 6 slices of Thick cut bacon or 6 oz Prosciutto
1 pd. Brussel Sprouts or Broccoli
1 Lemon
6 cloves of Garlic
1 Tbsp honey
Chili Flakes to taste
3 Tbsp Butter
1/2 cup Parmesan Cheese
Directions: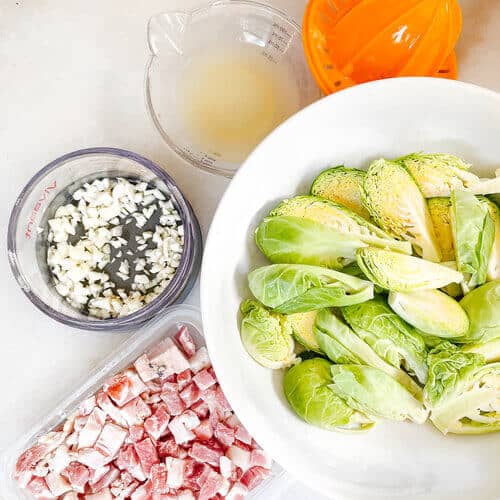 Wash and clean fresh produce. I like to place washed produce on an absorbent kitchen towel or paper towels and lightly pat dry. The dryer produce is before being cooked the better it will carmelize and prevent splatter.
Cut off the thick stems of sprouts or broccoli and dice each into quarters. Do the same with the lemon.
Juice Lemon – Juice half a lemon. Don't do this by hand guys. Use this juicer. It's a lifesaver. I have two.
Dice bacon or prosciutto into small cubes. It doesn't have to be perfect but you do want it all the same size so it will evenly caramelize.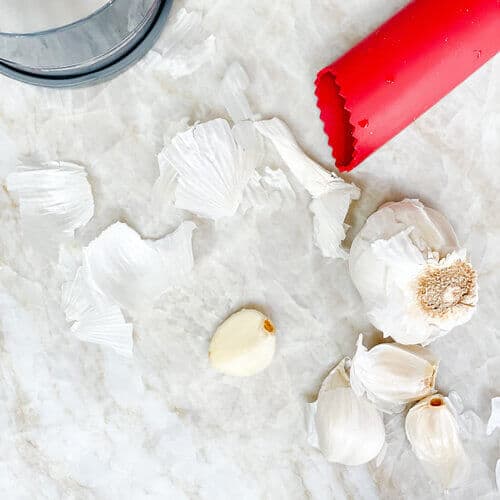 Peel + Dice 6 cloves of garlic. A lot I know. But if you use my favorite garlic clove hack you will love to peel and dice garlic as I do. First, remove a few cloves and roll them in this skin remover. It takes the skin off in an instant.

Never fuss with garlic again. Guys, it's so satisfying. Don't worry about dicing with a knife because you can…



Use this garlic chopper to get perfectly minced garlic and never have the oil residue left on your hands the way you do with a traditional kitchen knife dice when chopping. I love peeling and chopping garlic now. Plus, everything tastes better with garlic – so go all-in with these kitchen tools.

Crisp Protein – In a large pan of choice (remember this all done in one pan so make sure it can hold pasta and the rest of the ingredients too) warm it up on medium heat and crisp up till golden brown. Remember you want things to be crispy but not burnt. Keep on medium heat to achieve this. This should take 3-6 minutes.
Set Protein Aside – to cool leaving any oils and bits in the pan.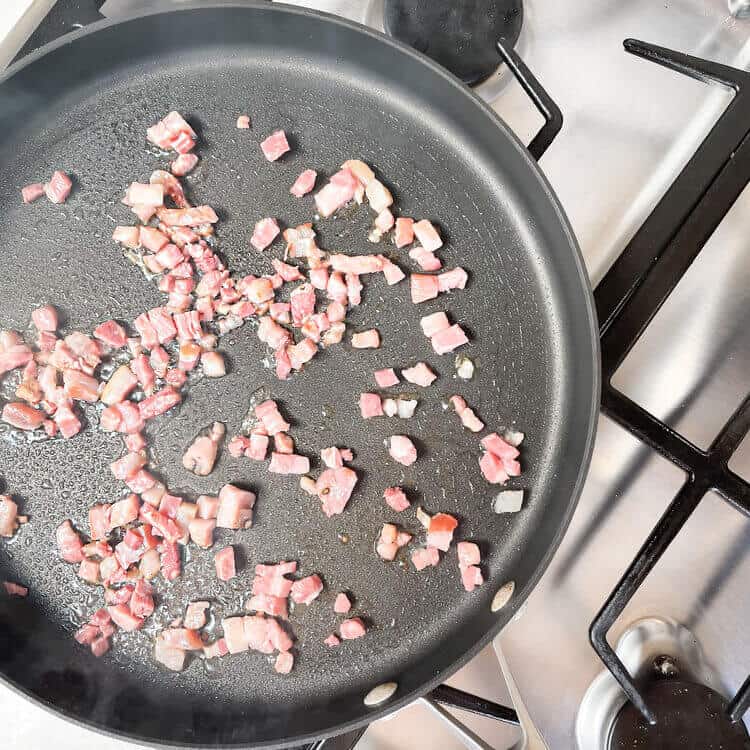 Sautee Veggies – Add a tbsp of olive oil and sautee on medium heat. Be sure to crisp the outside of your sprouts or broccoli first by cooking them for a few minutes in an even layer without moving them around the pan. You want the outsides to carmelize just a bit. This should take around 4-5 minutes.
Add Aromatics – Garlic and chili flakes to the pan. Cook em' up til fragrant. Don't forget to add salt and pepper here too.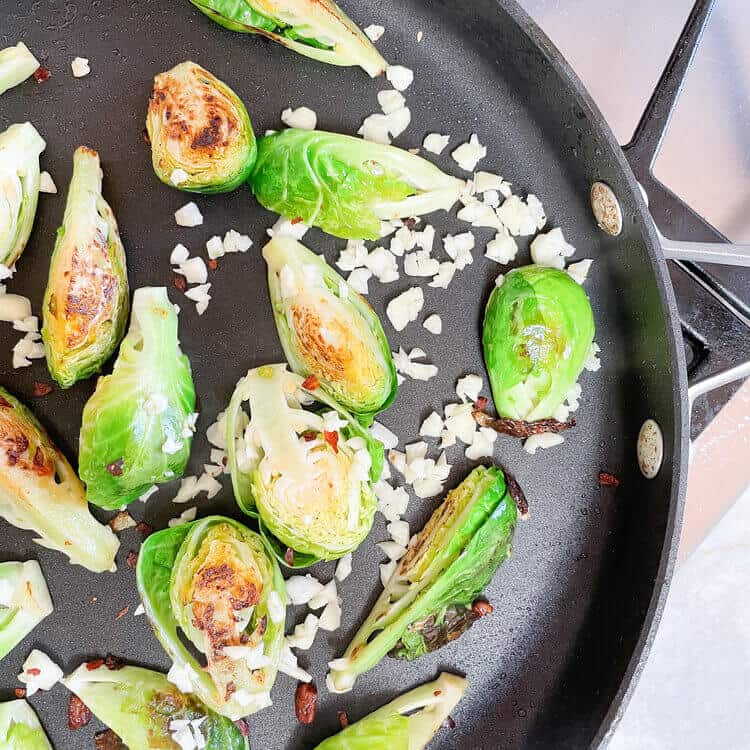 Cook Gnocchi – Throw in your gnocchi with 1/2 cups of salted water. This will deglaze the pan, cook the pasta, and incorporate all that flavor goodness into the dish. Be sure to scrape the bottom with a wooden spoon. All the flavor is down there at the bottom. This is a 3-4 minute process to cook the pasta through.
Create Magic – this is the best part. Drizzle honey, toss in your butter. and dust the dish with parmesan cheese. Incorporate into the pasta by gently mixing on low heat for 1 minute. Can you smell the goodness?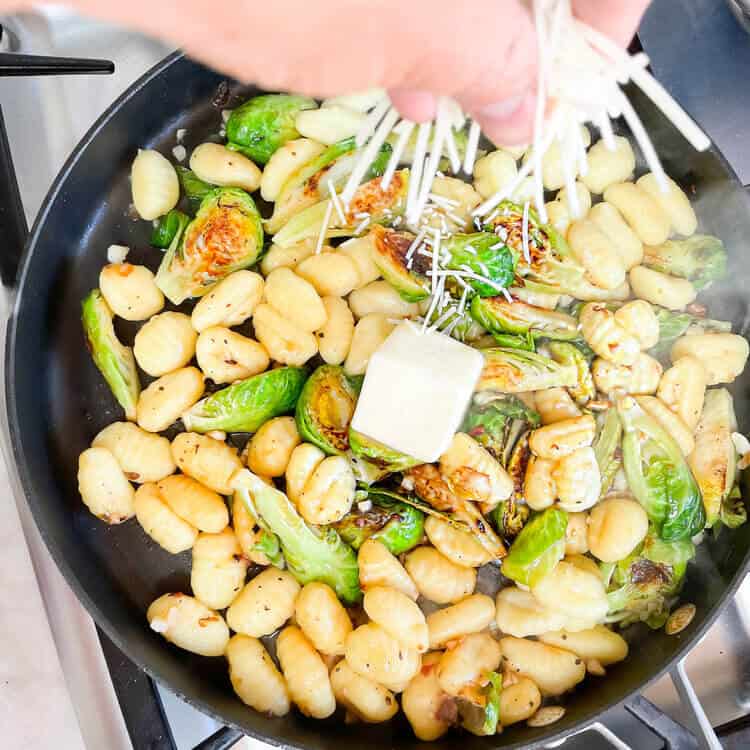 Add Lemon Juice – Remove from heat and add the lemon juice. This really brings out all the flavors. You are a chef now!
We love this pasta. It goes great with a side of sauteed spinach or even a mixed green salad. Looking for wine? A Sauv Blac or Chardonnay will be a perfect pairing.

It's quick and easy while bursting with savory-sweet deliciousness. Also, it's literally so easy to clean up. The icing on the cake (or pasta) for a busy home chef. Enjoy any day of the week and let me know your thoughts in the comments. Follow along on Instagram for more food, home decor, design, and DIY one detail at a time. xo.