I love recipes that can be made in a single cooking dish. It's even better when it's pasta.
This baked feta and tomato pasta pleases the entire household with a single baked feta pasta recipe! It bursts to life with sweet tomatoes, fresh thyme, garlic, and rosemary.
Of course, the ooey-gooey block of salty feta cheese just takes everything to a whole other level. It's really that good, especially if you're already a fan of feta. I'm not even joking guys.
Even better? This baked feta pasta recipe is super easy, doesn't require a lot of cooking time, and is beyond satisfying.
If ya' want to get started on the fastest most delicious baked feta pasta then grab a deep baking dish or skillet. Then, gather all the ingredients below. This fantastic recipe goes fast, so be ready to eat soon. Let's get to it:
My Favorite Oven-baked Feta Pasta
PREP TIME:
Prep: 10 min
Cook: 40 min
Total: 50 min
Serves: 3-4
BAKED FETA PASTA INGREDIENTS:
2 pounds of cherry, or grape tomatoes.
5 cloves garlic minced. Use this garlic peeler on your head of garlic.
1/2 c.extra-virgin olive oil, divided
10 oz. pasta – I used Gemini, but corkscrew or penne works great as well
Kosher salt
Pinch crushed red pepper flakes
1 (8-oz.) block feta
3 sprigs fresh thyme
3 sprigs of fresh rosemary
1 bunch of fresh basil
HOW TO MAKE BAKED FETA PASTA:
Preheat oven to 400°. In a large ovenproof skillet or medium baking dish, combine tomatoes, garlic, basil, and Thyme with a drizzle of olive oil.
Season with salt black and red pepper flakes.
Toss all ingredients together and make sure everything is coated with a glossy shine.
Place feta into the center of the tomato mixture.
Sprinkle additional rosemary, thyme, salt, black and red pepper.
Drizzle feta cheese block with a bit more olive oil.
Sprinkle the entire dish with more thyme and rosemary
Place in the preheated oven, and bake for 40 to 45 minutes (until tomatoes are bursting and feta is golden on top).
Meanwhile, place the uncooked pasta in a large pot of boiling water. Cook pasta until al dente according to package directions. Reserve ½ cup pasta water on the side. Drain pasta.
To skillet with tomatoes and feta, add cooked pasta, reserved pasta water, and lemon zest (if using) and stir until combined. Garnish with basil.
Possible Variations
The original recipe is already pretty amazing, but what if you want to go beyond the seasoning with salt, fresh garlic cloves, and other ingredients used, here are a few additional options to consider:
Italian seasoning
A different pasta of choice (such as gluten-free pasta)
Larger tomatoes
Roasted garlic
Black pepper
Extra salt
Fresh spinach
Other fresh herbs
Lemon juice
Altering the original recipe can be exciting and rewarding, but make sure not to make too many drastic changes at once. It can be easy to accidentally go overboard (especially with potent ingredients like black pepper!).
FAQ
Why is my Feta Pasta not creamy?
A block of feta cheese won't ever turn into a creamy sauce. Rather, feta becomes grainy and crumbly.
Which feta is best for baking?
If you're wondering which block of feta is best for your feta pasta recipe, I have a recommendation: Greek feta! You might need to head online to purchase a Greek feta block, but this is the best type of cheese—at least, best feta cheese—for baking.
What can I use instead of feta for Feta Pasta?
If you don't want to follow the original recipe exactly, you can substitute cottage cheese for the feta in this pasta recipe.
You may also consider looking at another type of pasta!
Does feta cheese taste good in spaghetti?
Yes, feta works well with nearly any juicy tomato flavor, creating the perfect balance of flavors. Cherry tomatoes make for great roasted tomatoes in sauce with pasta, and using raw garlic only enhances the overall flavor of the dish.
Does feta cheese melt when heated?
Used in many delicious dishes, feta will melt and soften when heated. This means it can be used as part of a flavorful sauce, but it won't turn creamy like other types of cheese. However, it will also maintain a stronger flavor when melted than many other cheeses!
The Perfect Balance of Flavors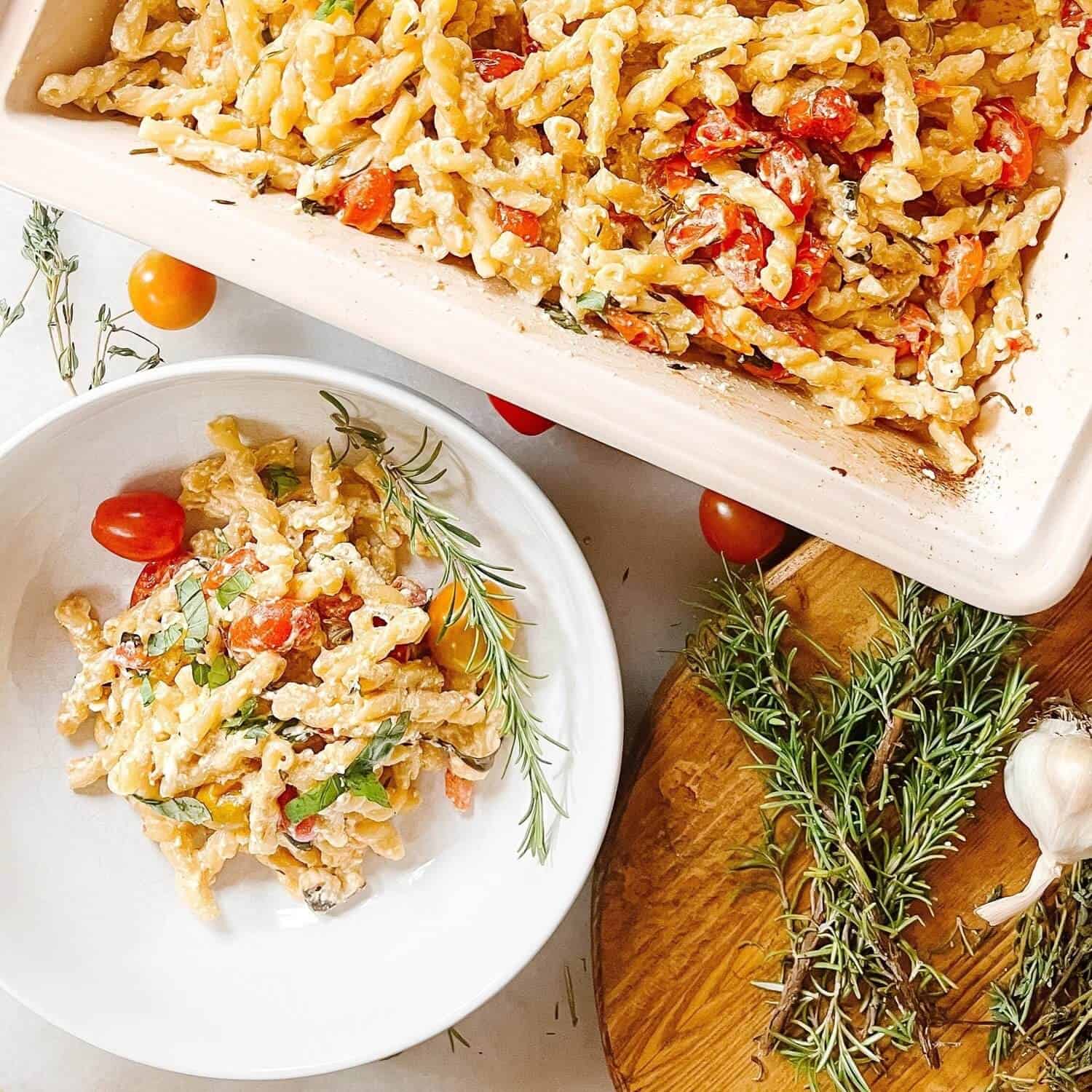 I love a warm cheesy pasta with tomatoes any day of the week. This one takes the cake. It's so easy to make and the clean-up was a dream (even with the olive oil!).
It's worth mentioning that the leftovers were even better. Yes, they really were. I just can't believe how much flavor burst from the cherry tomatoes and feta cheese.
Will you give this a try? It's quick and easy. There isn't much easier (and more delicious) than this. Give it a go!