I love recipes that can be made in a single cooking dish. It's even better when it's pasta. This baked feta and tomato pasta pleases the entire household. It bursts to life with sweet tomatoes, fresh thyme, garlic, and rosemary. Of course, the ooey-gooey block of salty feta cheese just takes everything to a whole other level. It's really that good. I'm not even joking guys. Even better? It's super easy, fast, and beyond satisfying.
If ya' want to get started on the fastest most delicious baked feta pasta then grab a deep baking dish or skillet. Then, gather all the ingredients below. It goes fast, so be ready to eat soon. Let's get to it:
PREP TIME:
Prep: 10 min
Cook: 40 min
Total: 50 min
Serves: 3-4
BAKED FETA PASTA INGREDIENTS:
2 pounds of cherry, or grape tomatoes.
5 cloves garlic minced. Use this garlic peeler.
1/2 c.extra-virgin olive oil, divided
10 oz. pasta – I used Gemini, but corkscrew or penne works great as well
Kosher salt
Pinch crushed red pepper flakes
1 (8-oz.) block feta
3 sprigs fresh thyme
3 sprigs of fresh rosemary
1 bunch of basil
HOW TO MAKE BAKED FETA PASTA:
Preheat oven to 400°. In a large ovenproof skillet or medium baking dish,
Combine tomatoes, garlic, basil, and Thyme with a drizzle of olive oil.
Season with salt black and red pepper flakes.
Toss all ingredients together and make sure everything is coated with a glossy shine.
Place feta into the center of the tomato mixture.
Sprinkle additional rosemary, thyme, salt, black and red pepper.
Drizzle feta cheese block with a bit more olive oil.
Sprinkle the entire dish with more thyme and rosemary
Bake for 40 to 45 minutes, until tomatoes are bursting and feta is golden on top.
Meanwhile, in a large pot of boiling salted water, cook pasta until al dente according to package directions. Reserve ½ cup pasta water before draining.
To skillet with tomatoes and feta, add cooked pasta, reserved pasta water, and lemon zest (if using) and stir until combined. Garnish with basil.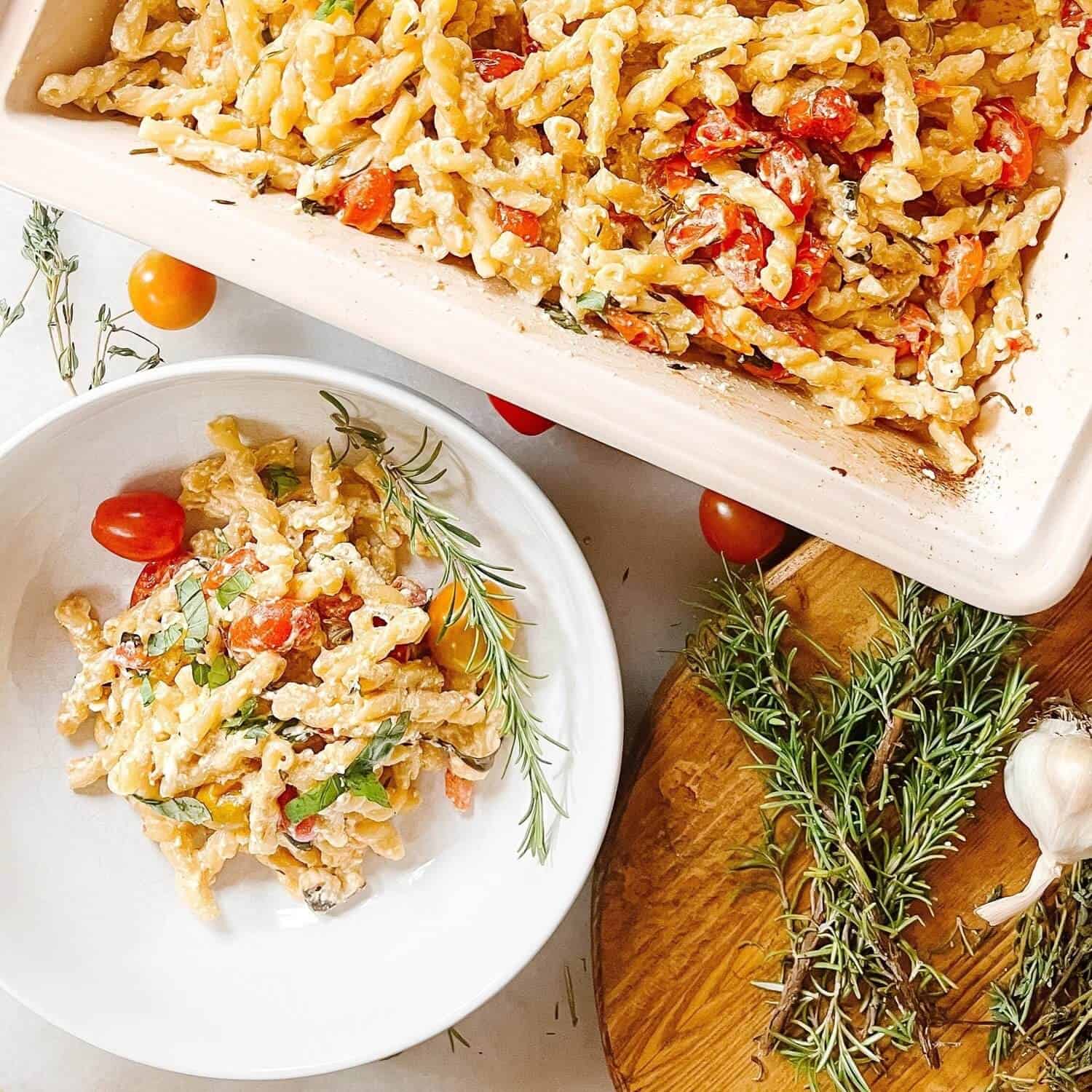 I love a warm cheesy pasta any day of the week. This one takes the cake. It's so easy to make and the clean-up was a dream. It's worth mentioning that the leftovers were even better. Yes, they really were. I just can't believe how much flavor burst from the cherry tomatoes and feta cheese.

Will you give this a try? It's quick and easy. There isn't much easier (and more delicious) than this. Give it a go!