Cupboards and cabinets aren't the only way to store your possessions. Floating shelves can help you make use of that underutilized vertical space while providing an opportunity to flaunt some of your most precious styling possessions. These shelves are sturdy wooden pieces that can be installed onto the walls of your home and help maximize your space with a seamless look. The name derives from the fact that these shelves seem to be floating in the air without any visible support. To me, this is a great design choice – I love a streamlined look.
Check out the entire process in my Instagram Stories here.
They can look complicated, but they are actually really easy to build on your own and can be completed with just a few tools quickly. But, before we learn about how to DIY your own float shelf let's discuss why these can be a great solution for your space: good idea.
THEY ADD PERSONALITY
These shelves add character to your home and brighten up any wall or corner. Floating shelves also look a lot more stylish than bulky cabinets, shelves with brackets, or dated cupboards lending an air of sophistication.
THEY'RE ESPECIALLY GREAT IN SMALL SPACES
When you have a small apartment or space, floating shelves can help maximize the space available by bringing the eye (and items) up and off the floor. The free space available around a floating shelf also creates the illusion of a taller and thus larger room. That's why you see lots of small apartments using vertical space – a floating shelf is perfect for this.
THEY CAN BE INSTALLED IN ANY ROOM
Floating shelves are also great because they can be added to almost any room – they aren't just meant for a kitchen, etc. Living rooms or even bathrooms (like me) can be enhanced by displaying your favorite books, and oddities. Bedroom interior design can be enhanced by placing artwork, artificial flowers, or contemporary décor. Kitchens benefit from a floating shelf by displaying prized cutlery jars of dry goods and even plants. If ya need some extra storage in a bathroom an added float shelf is a natural home for scented candles, extra towels, or even a box of tissues. No matter which room you need to style, a floating shelf will come in handy – I promise.

While it is possible to get pre-made shelves from stores like Home Depot and IKEA, you don't have to. Also, if space is not a standard size making one yourself might be the best route. You will be able to customize your shelf to the size and color of your choice if you're up for a DIY.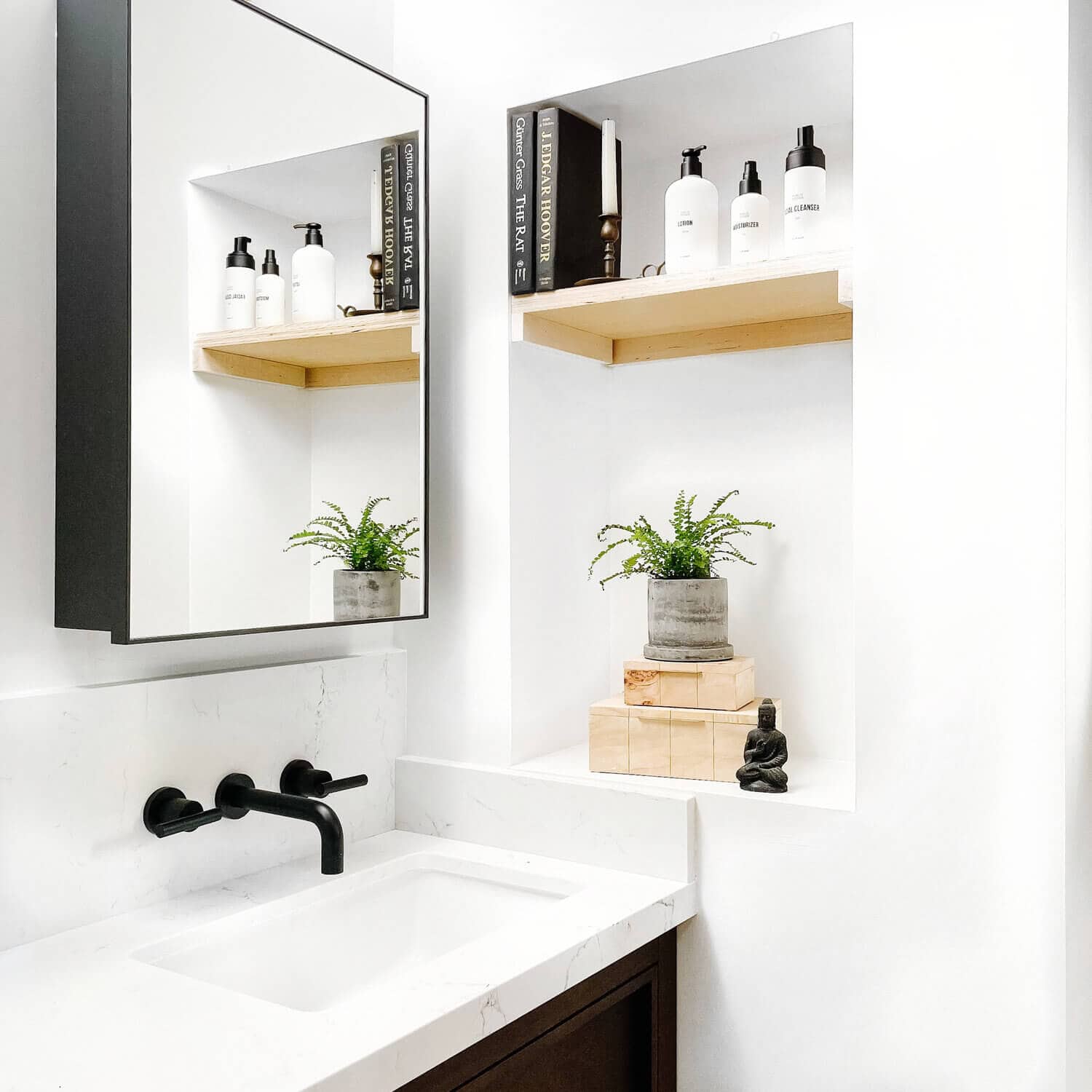 Convinced? Great! Here is a quick how-to guide to DIY your own:
SUPPLIES

CUT TO SIZE
First, get an idea of the space available in the area where you want to install your float shelf. Measure the wall or alcove so that you don't end up with a board that is too big or too small. You will want a support board flush to the back of the wall and depending on the length of the shelf two to three support pieces that will be placed perpendicular to that back support piece.
You will want to measure the length and decide on the depth of the shelf. Makes sure it's not too shallow or long – especially if the shelf is in a pass-thru space. 8" inches is a good standard shelf depth.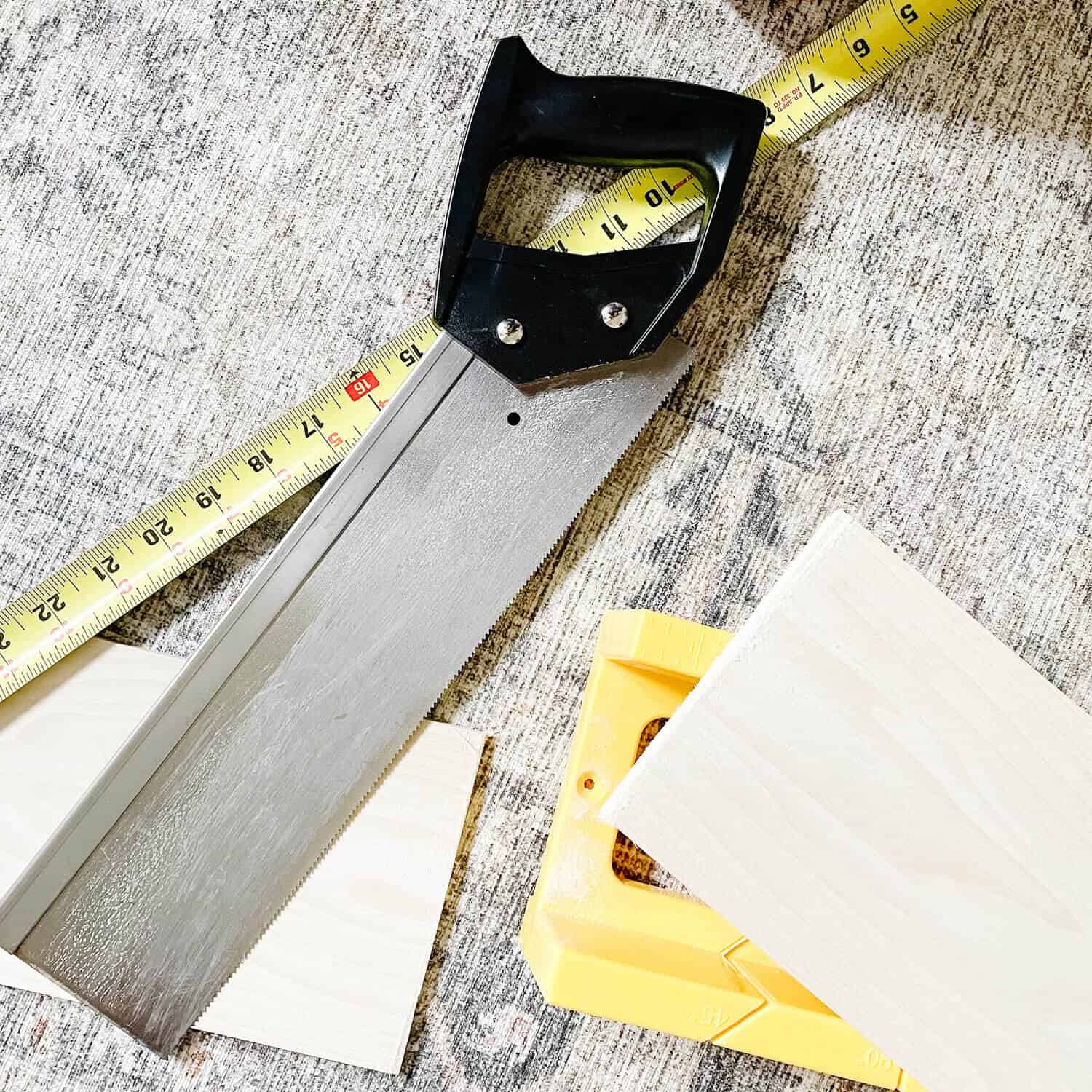 Once you have the right measurements and have figured out what size float shelf you want, use a saw to rip it into the desired size. If using a power tool saw is too intimidating. Don't worry, use a miter box and saw or grab your lumber at Home Depot and ask them to cut to size.
You can use three support pieces or boards for the back to support the top shelf. Mine were one inch thick and 19 inches wide. Two more poplar pieces measuring ten and a half inches in length can complement the back-support piece. This will serve as strong support for your shelf. The top and bottom pieces will need to go on after the support pieces. A finishing front piece will complete it. See below and adjust to suit your specific goals.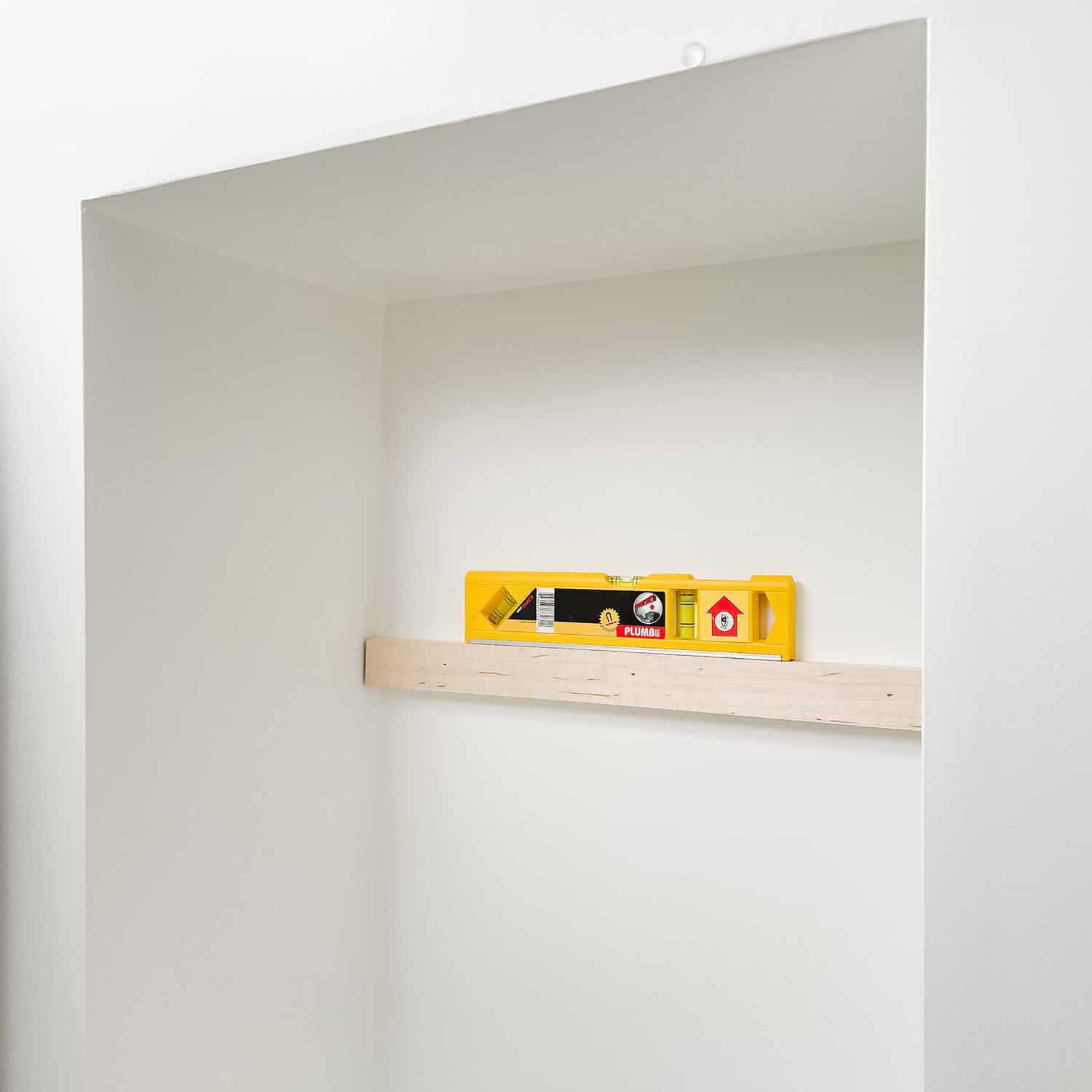 SAND AND STAIN
To get rid of any rough edges, and ensure that the stain adheres give the entire shelf a light 220 grit sand. I like to vacuum up the dust as I go with a dustbuster. Don't press too hard, just enough to open up the wood and smooth out and splinters or imperfections. After that get to staining your wood shelves. I insist on Dark Walnut. Be sure to ventilate the room properly, and apply the stain with a rag. Don't use a paintbrush or the color will apply too dark. I did two coats, and let the stain dry overnight each time.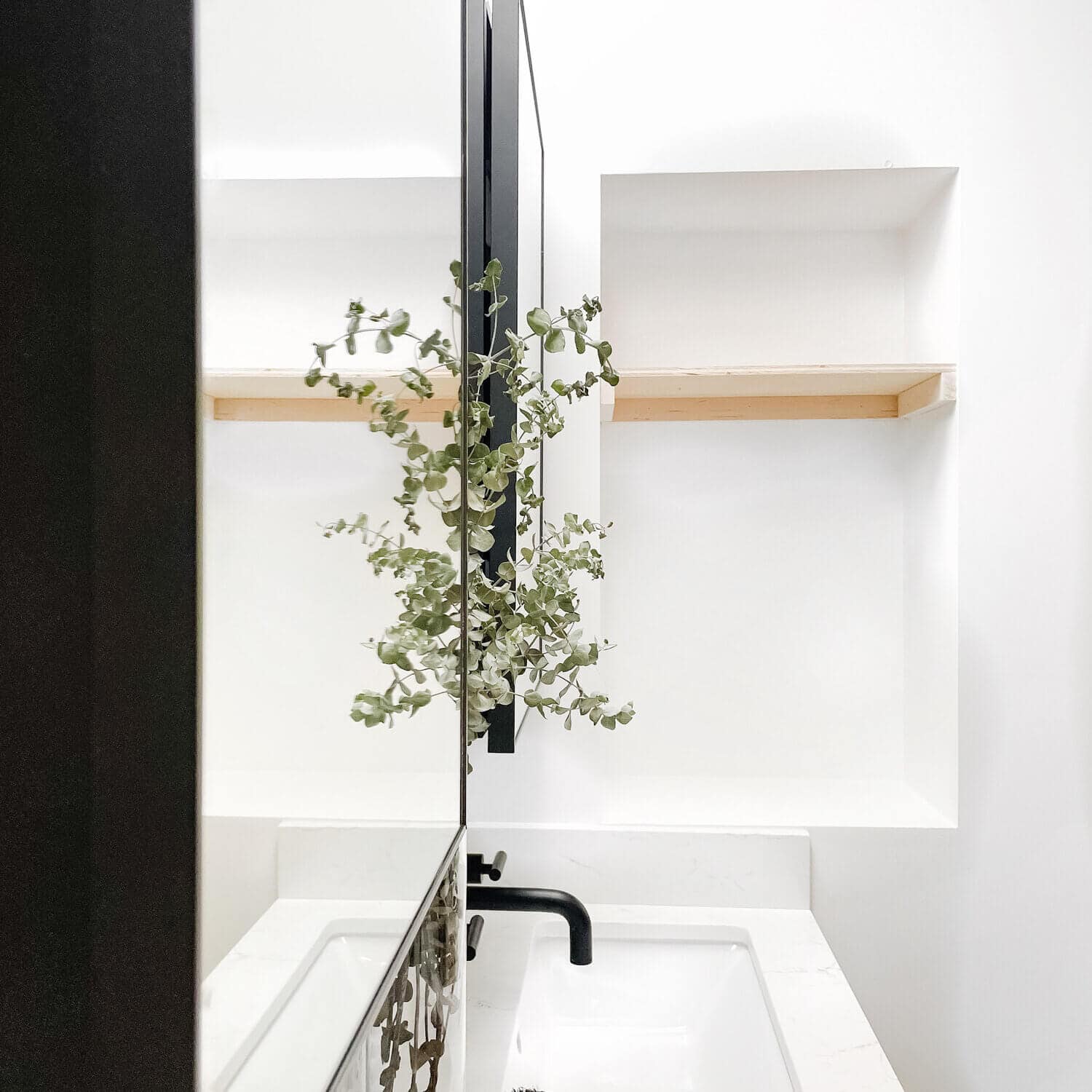 You can achieve a high-end a customized look for your shelf by picking the paint or stain of your choice. Using dark colors will help you create a moody interior design but you can also create a more minimalist interior design by making use of light colors. That's something a store-bought shelf won't allow you to do! You can also do this step after installing the shelf but I highly suggest staining the wood first. Just make sure to rip the wood to size first and make sure it all dry fits. It makes it easier this way rather than painting once it's installed I found.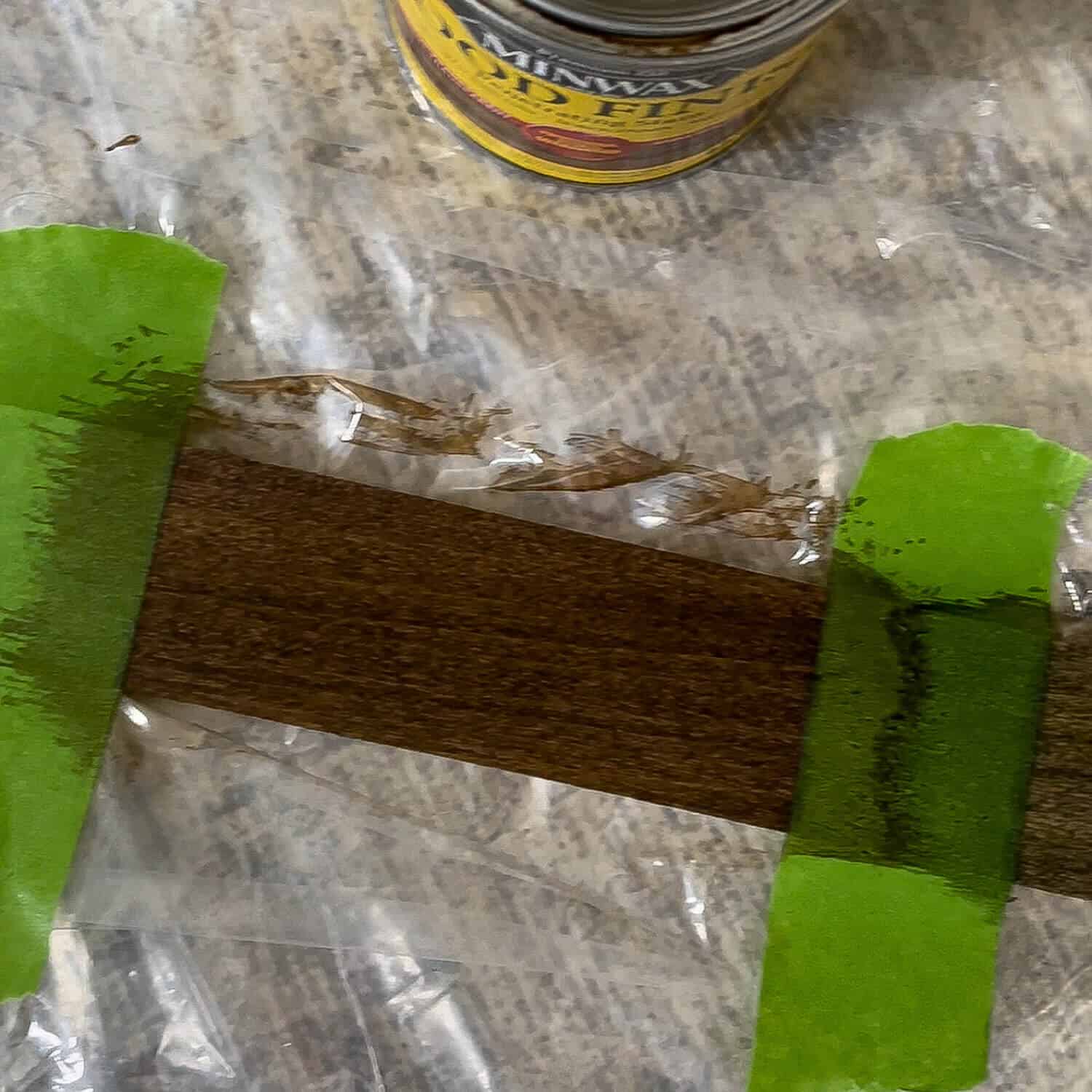 INSTALL SHELF
Simply wait for your paint or stain to dry. Once dry you can begin assembling and hanging your float shelf. Map out the region where you will be installing your shelf using a level as your guide. You need to make it's straight. You can also use frog tape to help visualize the scale and proportions. I love to do this just to confirm. If you are feeling good about the placement and scale simply nail the support pieces in place and make sure they are evenly spaced. I use three nails per board. If you can nail into a stud all the better. Depending on the size and weight you want this shelf to support it may be required to do this into a stud. Mine was small so it didn't matter. Anything over 12" I would suggest locating at least one stud.
Secure the back support first, then move to the sides if in an alcove or simply the edge pieces if an exposed float. . You can also hold the wood in place more firmly after nailing by using wood glue. Don't forget to caulk the edges with paintable caulk and smooth them out with a wet finger.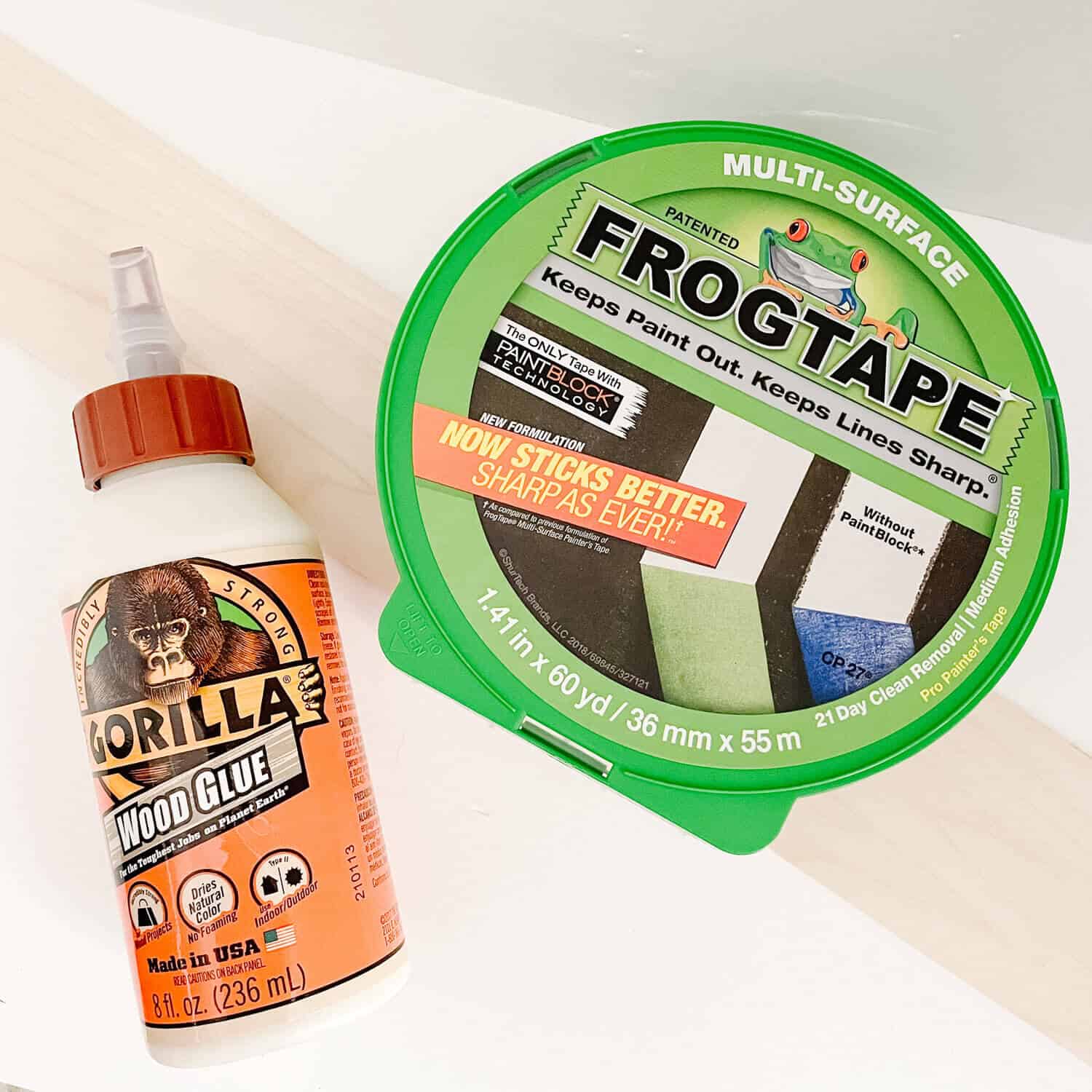 Once the caulk dries, you can attach the front piece with nails or wood glue. Just be sure to use wood putty to cover up any nail holes. Then, sand down the nails and re-apply any stain needed. After that, all you have to do is apply a clear topcoat if desire to protect the finish.
That's all there is to it. Not so hard right? I am over the moon at how this DIY turned out. It was easy enough to do – and they look really took my entire space up a notch. Will you give it a try? I have more DIYs here. Check em out.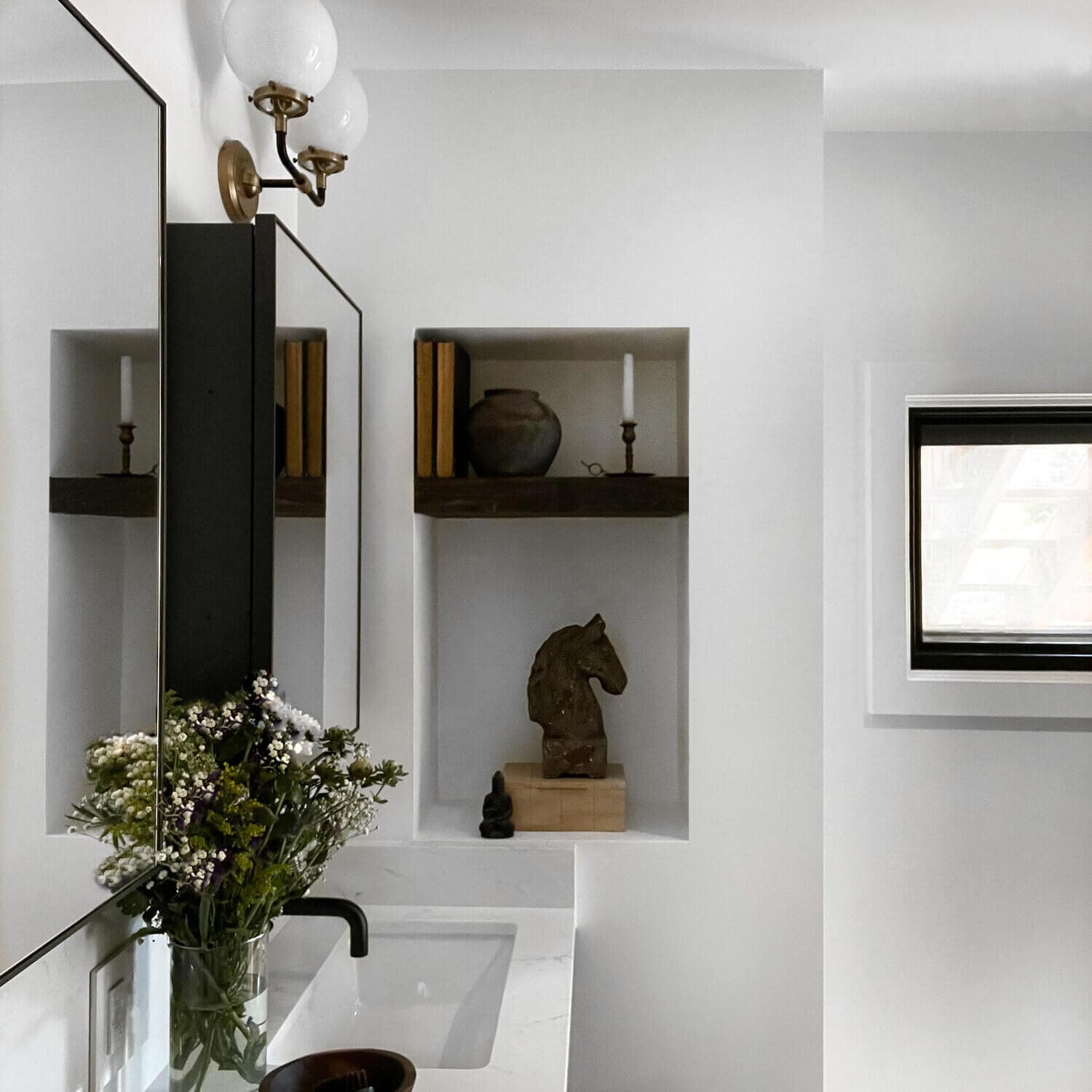 Remember, that home takes time – and the details matter. This little detail makes all the difference, and I know that a floating shelf in your home can make the difference too. Let me know your thoughts in the comments below. What are you waiting for? Give it go. Love ya. xoxo