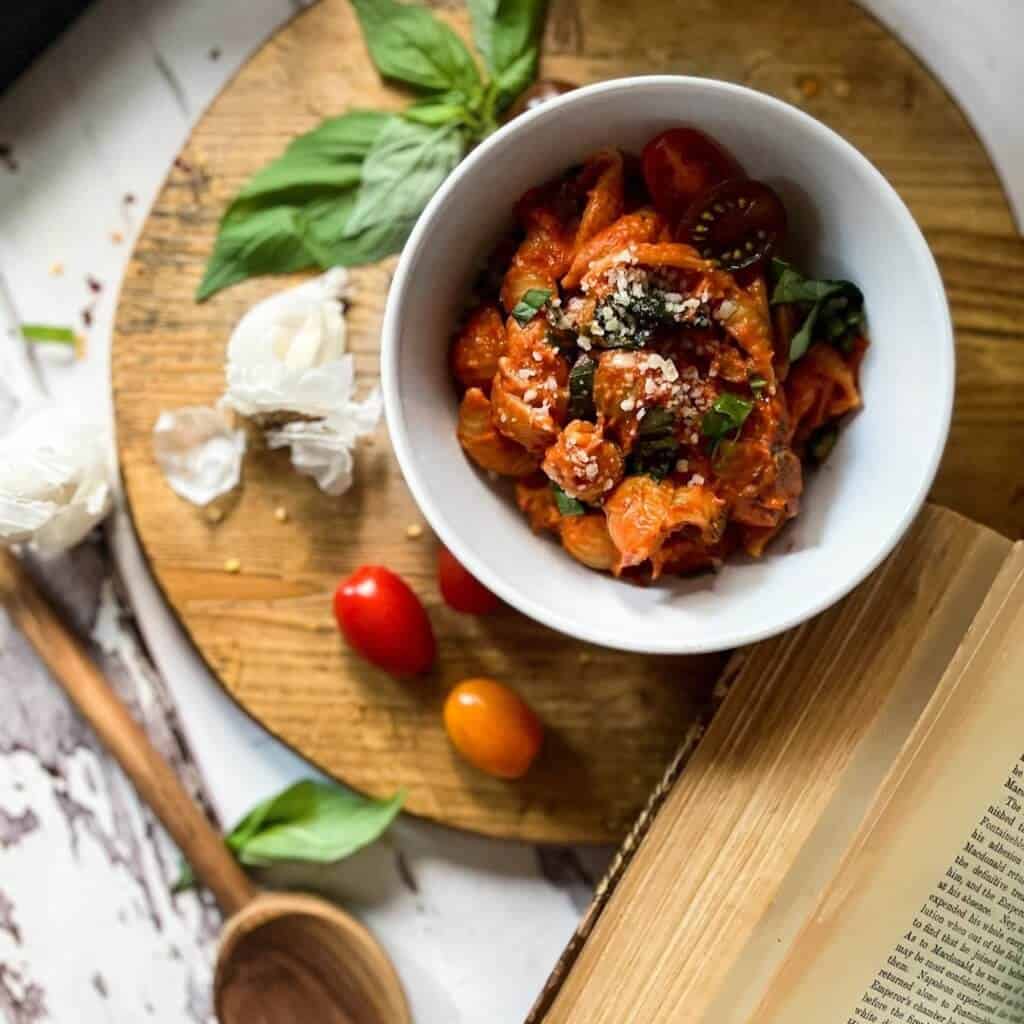 I love two things in life – beautifully designed homes, and (pasta) food. I was so excited to make this recipe when I stumbled upon it on the inter webs. I mean, who doesn't like cream, butter, and a splash of vodka. I know I know – it sounds to good right?
I just love the way the sauce blends together with the sweet tomato, and creamy-ness of the butter. The dash of chili flakes gives it a fun kick when paired with the vodka. Don't skip on this step – it makes the dish. If you love pasta as much as I do I promise your guests will love the taste (and look) of this dish.
Here's the other thing. This chili is super easy to make, quick, and all done in a single pot. You know I hate a mess. Also, I have yet to meet anyone who doesn't love this meal – how could you not it's literally made with chocolate -yes that's right- chocolate. Interested in trying chocolate chili? I thought so. Let's get started
It's dinner time, why not add some vodka into your pasta to spice things up? Yup, that's right. Vodka!
This recipe was shared by model Gigi Hadid and I gotta tell ya: It's definitely worth the hype!
TIME:
Prep: 10 min
Cook: 20 min
Total: 30 min
Serves: 2-4
INGREDIENTS:
1 cup olive oil
1 small clove of garlic, diced
1 green onion
1 cup tomato paste
1 cup heavy cream
1 tablespoon vodka
1 teaspoon red pepper flakes
225 grams of shells pasta
1 tablespoon butter
1 cup parmesan cheese
1 bunch of basil, chopped, to serve
Handful of cherry tomatoes
Salt and pepper to taste
DIRECTIONS:
In a large saucepan, heat the olive oil, garlic and onion. Cook until soft. Add tomato paste and cook until it appears "darker in colour / a bit caramelized", says Hadid.
Add in the heavy cream. Add in the vodka and cook through until evaporated.
Add in the red pepper flakes. There is a special note from the chef here to add in more flakes if you like your pasta extra spicy
Keep stirring until combined. Season with salt and pepper. Remove sauce from the heat.
Cook pasta separately. The chef uses shells but Orecchiette would also work well. When the pasta is done, save ¼ of the pasta water before draining.
Add in the butter. Stir over a medium heat til the butter has melted and the sauce is "sauccyyyy", says Hadid.
Add pasta – and the pasta water – to the sauce. Add parmesan cheese and stir. Add more salt and pepper to taste.
Top with a sprinkling of parmesan cheese and basil to serve.
This pasta is a must-try. I still can't believe how delicious it is. Serve whenever you need a fast dish that bursts with flavor. i just crave this sometimes and it always delivers! This pasta is always a crowd-pleaser and you won't regret trying it out. It has been a staple in our household ever since we discovered it. After all, if it's good enough for a super model, it's good enough for us. Enjoy and xoxo.