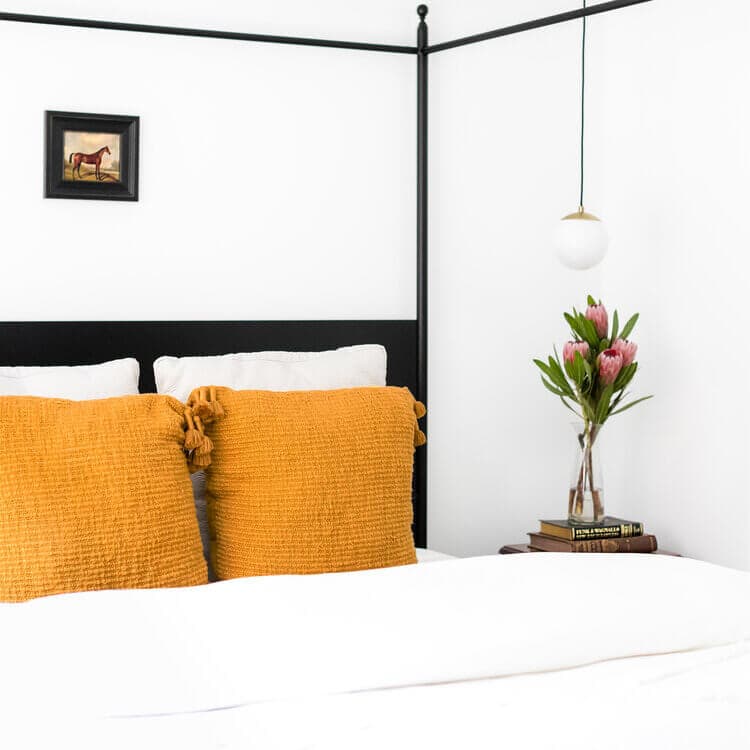 You know that feeling of joy you get when you finally find that perfect piece of furniture you've been hunting forever for?

That's the joy I experienced when I found this vintage nightstand on Facebook Marketplace. It never ceases to amaze me how one's man trash is another's treasure. I got this stunner for almost nothing. She's the perfect (hard to find) size to fit next to our modern bed and brings a rich vintage charm to my bedroom. See it and the rest of my bedroom styled here.

I searched for almost a year, while we were renovating our home. It was totally worth the searches and late-night scrolls on Facebook Market Place. Do ya like her? Do you have a piece of furniture you've hunted forever for and finally snagged? Let me know. I can't be the only one that does this for this long right?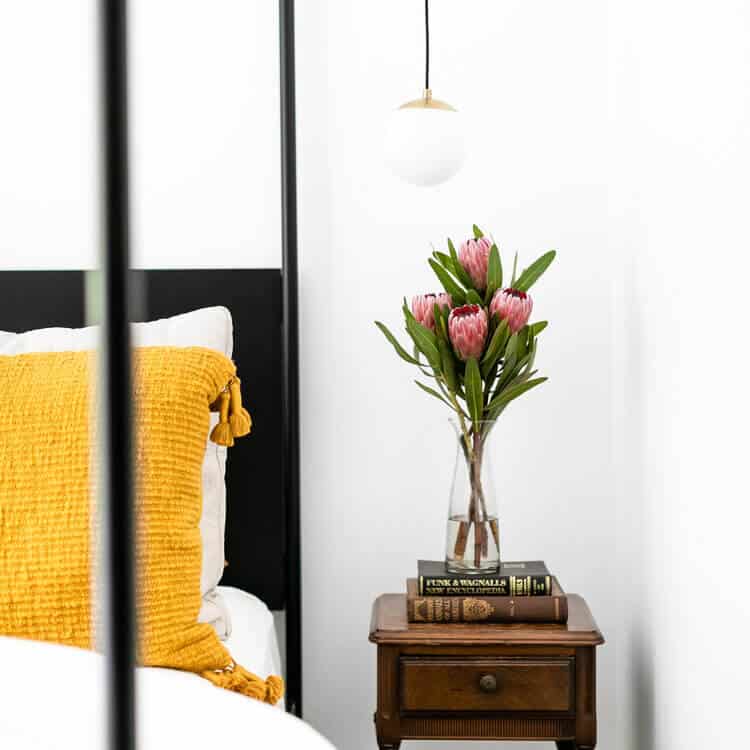 The thing is, in that process, I learned a few things. Some, I wish I would have known from the start. It would have saved me a ton of time. So, today I am sharing a few tips on how to leverage my favorite pastime, Facebook Marketplace to snag your next perfect (or nearly perfect) piece. Let's dive in:
Use the save button

When in the Facebook market place be sure to hit the saved button. Why? Not only is it easy for you to find your favorite items of interest, but it also pings the algorithm to surface similar listings like the one you just saved. Let Facebook do the work for you

Don't be scared away by low-quality pictures

Guys, use your imagination. Of course, a dimly lit messy room is going to make even the most gorgeous of pieces look terrible. But, you are creative and have a vision – I know it! Try to imagine them in your space, maybe with a bit of a clean-up or upcycle. The good news is if you have the vision you can find great pieces. Also, a bad image will keep the competition away.

Negotiate

The listed price is not set in stone. After all, this is not a pottery barn. If you think you can get a better price then make an offer. I suggest making an offer you are comfortable with bidding slightly above where you want to land on the final price as they will most likely counter. No stress! Just plan for it. Also, a great way to lock in the deal is to confirm when making the bid that you will pick it up, pay in-cash, or their digital platform of choice while setting a date and time you can pick it up. DO NOT SHARE personal information. Providing some concrete next steps will show the seller you are serious. The seller will be excited to not have to deal with countless non-serious inquiries and may settle for a lower price to be done with it.

Search

Google your item if there are any clear indicators of the make or brand. This will help you know how much you want to spend and or negotiate. I was thrilled to learn that the nightstand I bought was selling on Charish for hundreds of dollars. I was MORE than happy to pay the $40 (negotiated down from $80) to take her home. It was a deal and then some! I was hooked.

Check Dimensions

Don't be shy. You do not want to drive all the way across town, only to discover that the piece you wanted is either too small or too big for your space. Worse, your vehicle. Ask the seller to confirm all dimensions if not already listed in the posting. You don't want to waste time with something that isn't even going to fit in your home.

Inspect

It's not a done deal until you can see the object in person. Never feel like you have to purchase something until you see it and it meets your understanding based on the images provided. If you get there, and there is more damage than was stipulated (or otherwise) you have the right to walk away. You don't want to waste anyone's time – but if the item doesn't meet your needs you can politely let the seller know that it's not a match for you and your space having seen it in person.

Rate

If the experience went well rate them in the app appropriately! If you are like me it helps when dealing with a buyer or seller to know they have a history of good transactions with others.

Safety

Never give credit card information to a seller. I use cash or Venmo pay pal only. Also, please do not enter a person's home or garage, etc alone. Try to meet on the street in an open and public space. I would also suggest bringing someone with you, keeping your phone open, and letting someone know where you are going and why. I have never had anything happen, but you always want to be careful when interacting with people you do not know

Check Back

With Facebook Marketplace you want to check regularly and often, even at different times of the day. Just scroll for a few minutes on the days of your choice. If you are like me I do it while going to bed at night. I know, I am a bit crazy but the item you want is bound to show up. It just takes a bit of patience

Use the Keywords tool

You can set alerts to be notified when and if a new item becomes available based on your wants. IE" Vintage desk," or "walnut dresser," etc. Again, let Facebook do what it does best. Serve you posts that you know (or didn't) know you wanted

Facebook Messenger

Chatting and negotiating are done through Facebook Messenger. It's a little clunky and not inside FB Marketplace. Be sure to check it to see when and if people reply to your requests. Also, be nice here. You would be surprised about how far a "hi," and, "I hope you are well," message will go. Also, consider personalizing responses and not just using the canned options. Let them know you are a real, serious buyer, who is going to take good care of their items for sell
There you have it! A few pro-tips to get the most out of your @FacebookMarketplace experience. Let the app do the work for you, have fun, get a great deal, shop safely, and get that perfect hard-to-find item for a steal. Also, enjoy the hunting process. It's gonna be there – it just takes a bit of patience and due diligence. Who knows, you may even meet a new friend along the way. I have met some of the kindest people through buying on the marketplace. LMK how your hunt goes and if you grab anything great.

To see how I styled this find with the rest of the room check out my post on the matter here. I love a great find, and even better when I can style it into my space. Have a great day. xoxox.