The bedroom is where we spend the most time in our homes. Often times people think it's the living room or even the kitchen. Wrong.

When you consider that we spend on average 6-10 hours a night sleeping in our bedroom, this space becomes the clear winner in terms of time spent. You have to have great bedding options.

Given that, I wanted to take some time to share a few of my must-haves for achieving a hotel-style bed experience. To me, having a perfect mix of fluffy soft bedding, and perfectly placed accents are key to creating an inviting bed for a good night's rest. After all, why can't we have that hotel bed experience at home all the time?


I like to invest some time and budget here. I am always shocked at how often times people say, "It's just a bedroom I would rather focus our time on spaces that people actually see." But really, you see it, and most importantly you feel it. So, let's get you on your way to a hotel-style experience at home every single day. After all, you deserve it.
Mattresses can get pricey. I know. We love ours because it is affordable and has a mattress topper for extra comfort. However, if you are unable to invest in something at this price point you would be amazed at what a foam top can do along with simply flipping your mattress every few months. Give it a shot. You won't regret it.
I struggled with this initially as I thought I had to piece together each sheet and pillowcase one at a time. There's no reason to do that now. I love a complete set that includes everything you need in one order, and you can ensure the color will match perfectly. Of course, it's gotta be soft and inviting. I insist on a 480 thread count or higher. The good news is I adore my current bed set. It's amazing and includes everything you need; a flat and fitted sheet, a duvet cover, and four pillowcases.
Don't sleep on this item. (see what I did there?) Getting a fluffy fresh down comforter is key to having that soft hotel-like feel. You can do faux or real goose down. But honestly, I love mine and it's a mix of cotton and feather. If you can only invest in one item, have it be this. You will sleep like a baby once you have one of these. Don't forget a cover too.
Pro tip: Want that big department-style fluffy look? put two, yes two down comforters in your duvet. Thank me later 😉
I insist on having texture in my bedding. If you have a white comforter and white sheets, adding a pop of color in a knit or waffle texture will really elevate your bed. Plus it helps to take the chill off at night. This blanket should be integrated into your bed on top of your sheets and folded over once to create a beautiful layered look. Be creative here!
This blanket is important. It s should be used as an accent – typically found at the foot of the bed. In my bedroom, it's folded in half and acts as another white-on-white textural element to create more visual interest. I alternate between the one above and this depending on my mood. Do what you fancy. Just make sure it's a moment either in color, texture, or pattern. These do a bit of both.
I love a good throw. In fact, here's a peek at my favorite bedroom throw pillows. I just love a pop of color, Especially on an all-white bed. But this is a perfect opportunity to make your bed uniquely your own. I like to place two standard pillows on top of one another side beside. Then, I take two 24×24" throw pillows in the center of those leaning up against my favorite standard pillows.
Make the bed
Then be sure to make the bed by folding your comforter in thirds to create some height, and the sheets the same ensuring each sheet has a moment to show when completely made. Drape your throw blanket over the foot of the bed and wa la! Try to coordinate colors that go together and contrast with the entire space. Give those pillows a good fluff too. Then you are complete. Don't overly fuss with it. You want it to feel put together but not overly produced. Finally, remember to use warm lightbulbs like this. Lighting is key.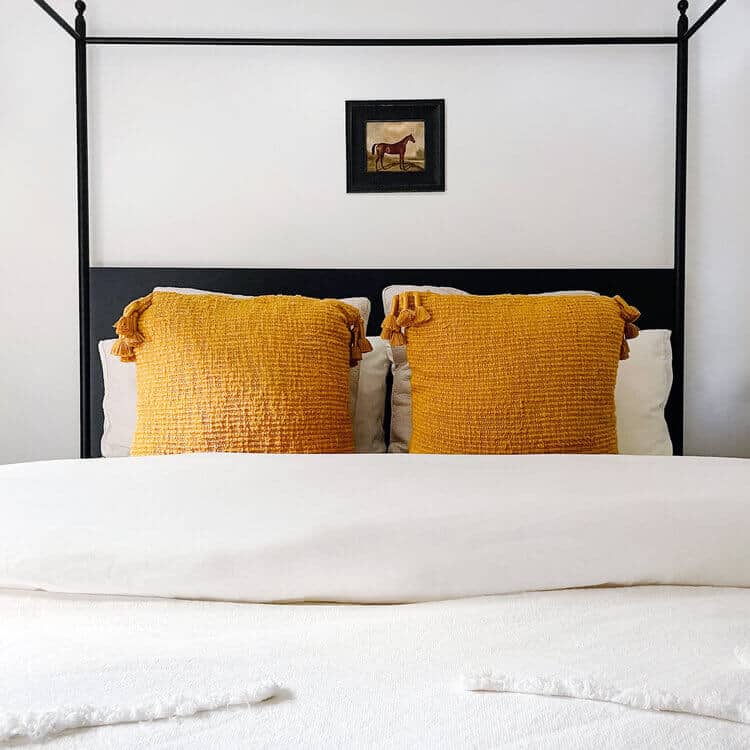 I hope you found these suggestions and sources helpful. LMK if you do and don't be shy if you have questions. Reach out to me on Instagram and all the sources for this space are linked below. Good luck. Now, go get that hotel bedroom you deserve now.