Is there anything better than fried chicken? I think not. Well, maybe new wall art but that's a story for another day. When you guys asked about my fried chicken recipe I knew you were in for a treat. This version used buttermilk, herbs, rosemary, and crunched-up cornflakes to deliver a super moist, crackly crusted chicken that explodes with flavor. I make this often, usually in the summer, but in the winter too.
The trick to getting the perfect fry is soaking the broken-down chicken in buttermilk overnight. But, even just milk to plain yogurt will do. The added crackle of corn flakes sizzled herbs, and the hint of garlic in the frying batter seals the deal-making this fried chicken officially even better than your mom's. Just don't tell her I said so okay.
Wanna fry some up? Good, you will love it. Here's how to do it:
Time:
Prep: 8 hours min
Cook: 20 min
Total: 8 1/2 hours
Serves: 3-4
Ingredients:
1 (3 pounds) chicken, broken down into as many pieces as you like. I have the butcher do this at the grocery store. Tell them it's for fried chicken!
2 cups flour
2 cups buttermilk
2 eggs
1/2 cup crushed corn flakes
1/2 teaspoon garlic salt
1 large onion, sliced
1/2 teaspoon onion salt1/4 cup chopped mixed fresh herbs (parsley, tarragon, thyme) or a tsp each of the dried herbs.
2 cups canola oil, peanut oil, or other high smoke point oil
1/2 teaspoon paprika
1 tablespoon of Lawrey's season salt
Salt and pepper
1/2 teaspoon cayenne pepper
Directions:
Soak chicken overnight (at least 8 hours and up to two days) in buttermilk with onions, herbs, (but not the Lawrey's seasoning) paprika, and cayenne pepper. I throw the diced chicken in with the buttermilk and herbs in a freezer bag and call it a day.
When ready to cook remove chicken from buttermilk by straining in a colander, leaving some of the herbs on the chicken. be sure to let chicken rest and come to room temperature before frying.
Beat 2 eggs and coat each piece of chicken in egg wash and place on a paper plate
In a large paper or plastic ziplock (sturdy) bag, mix flour with seasonings.
Meanwhile, heat 2 cups of oil in a large, heavy-bottomed skillet (cast iron, stainless steel, or anodized aluminum – something that can take the heat) on medium-high heat until a pinch of flour starts to sizzle when dropped in the hot oil (but not so hot that the pan is smoking).
Remember when working with hot oil, always have a pan lid close by.
Drop chicken pieces in a bag with flour, crushed cornflakes, and Lawrey's seasoning.
Then shake until thoroughly coated then shake off any extra coating…
Add chicken to the hot pan and fry on 1 side for 12-15 minutes, until golden brown, and then use tongs to turn the pieces over and fry for another 10-12 minutes, again until golden brown.
Be careful to keep the oil hot enough to fry the chicken, but not so high as it burns the chicken. I use a thermometer and check the oil making sure it stays at 325′ degrees. Be sure to temp chicken too. It's done at 165'
If frying in batches warm up your oven at 325' and let chicken rest on a paper towel lines plate until ready to serve.
When ready to eat serve with a Strawberry Caprese Salad, Mashed potatoes, or corn on the cobb.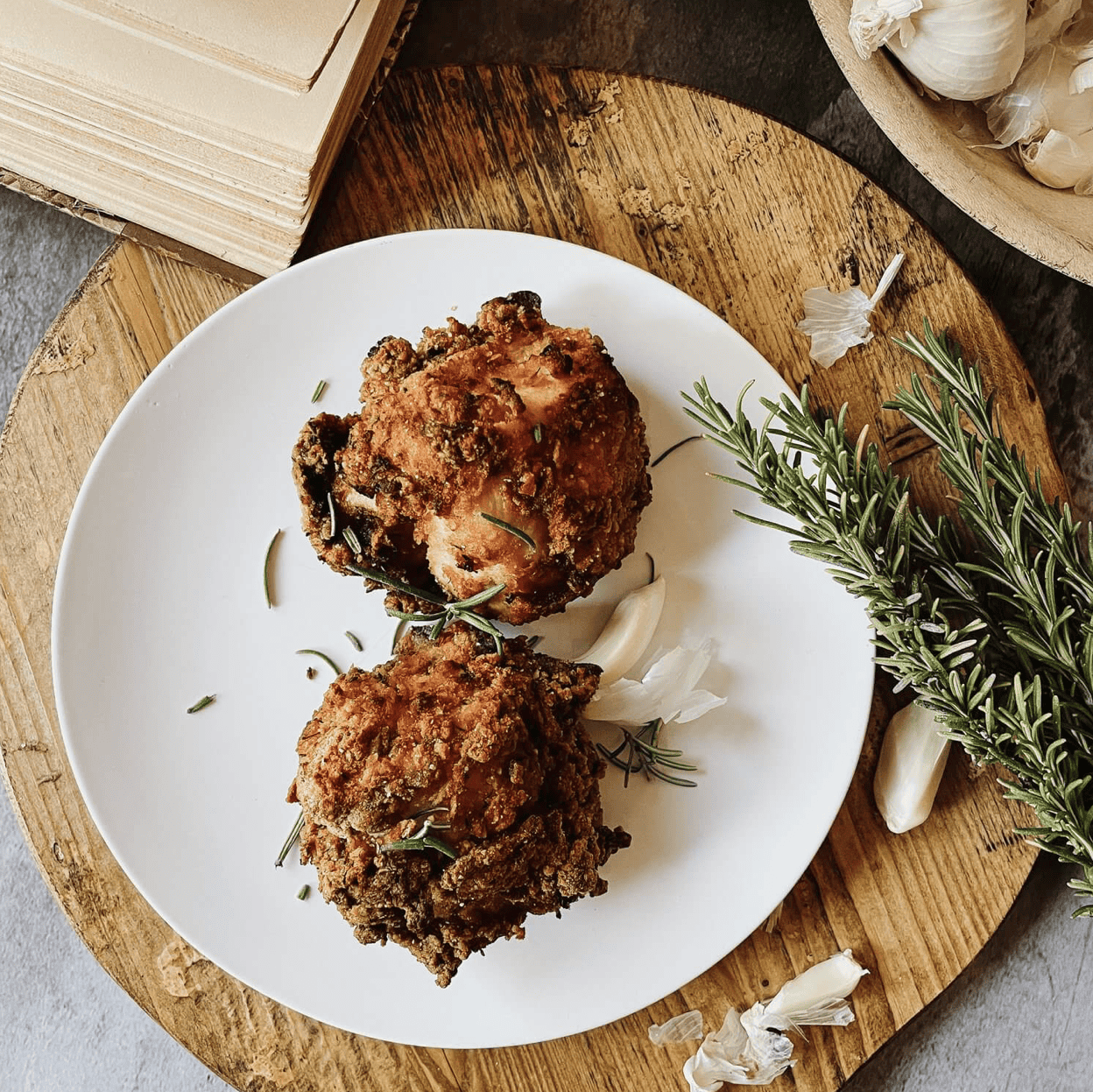 That's it guys! I simply love fried chicken – especially this recipe because it's super juicy, crunchy on the outside, and has an extra kick of garlic and rosemary. I even like a bit of Franks hot sauce with it too. Will you give this recipe try? Your family thanks you for it I promise. It's literally the best ever and bursting with deliciousness.
DON'T FORGET IT. PIN IT.