Spring to me means fresh flowers, dinner on the patio with a cocktail of choice, and a crisp delicious salad. I have been waiting for winter to conclude and bring out my favorite quick + easy salad that is not only sweet but refreshing. Good news? It takes less than 10 minutes to make and is a complete show stopper. It always amazes me how much people love this dish – myself included. Wanna give it a try? See below:
Time:
Prep: 5 min
Cook: 5 min
Total: 10 min
Serves: 2-3

Ingredients:
2-3 Heirloom (or 3-4 Beefsteak) tomatoes
1 pack of cherry tomatoes
1 bunch of strawberries
1 pd. of Fresh Mozzarella
1 bunch of fresh basil – whole.
1 Tbsp olive oil
Salt + Pepper
Directions:
Wash and clean the fresh basil, tomatoes, and peaches. I like to place washed produce on an absorbent kitchen towel or paper towels and lightly pat dry. The dryer produce is before being mixed in the better. Pro Tip: Throw produce into the freezer to crisp up for 10 min.
Pluck off the thick stem of the tomatoes + strawberries. Slice each into thick 1/2'" half circles. You want each tomato slice to be the thickness of a piece of steak and a good mouth full when cut with a knife and fork.
Rip – The fresh basil leaves from the stems being careful to leave the leaves whole as needed. It's okay if a few are double leafed.
Slice – Fresh mozzarella into similar half circles and at the same thickness. I like to pat the fresh mozzarella dry if it came out of the storing liquid.
Arrange – on a small salad plate the tomato, then mozzarella, strawberry, and basil. Rotate this so that you get at least 2 of each on a plate. Springle sliced strawberries and cherry tomatoes as you see fit.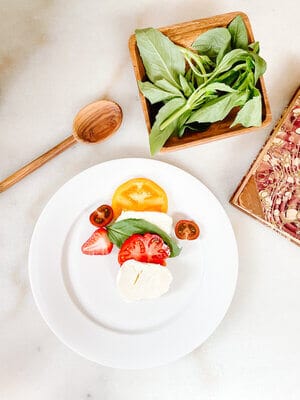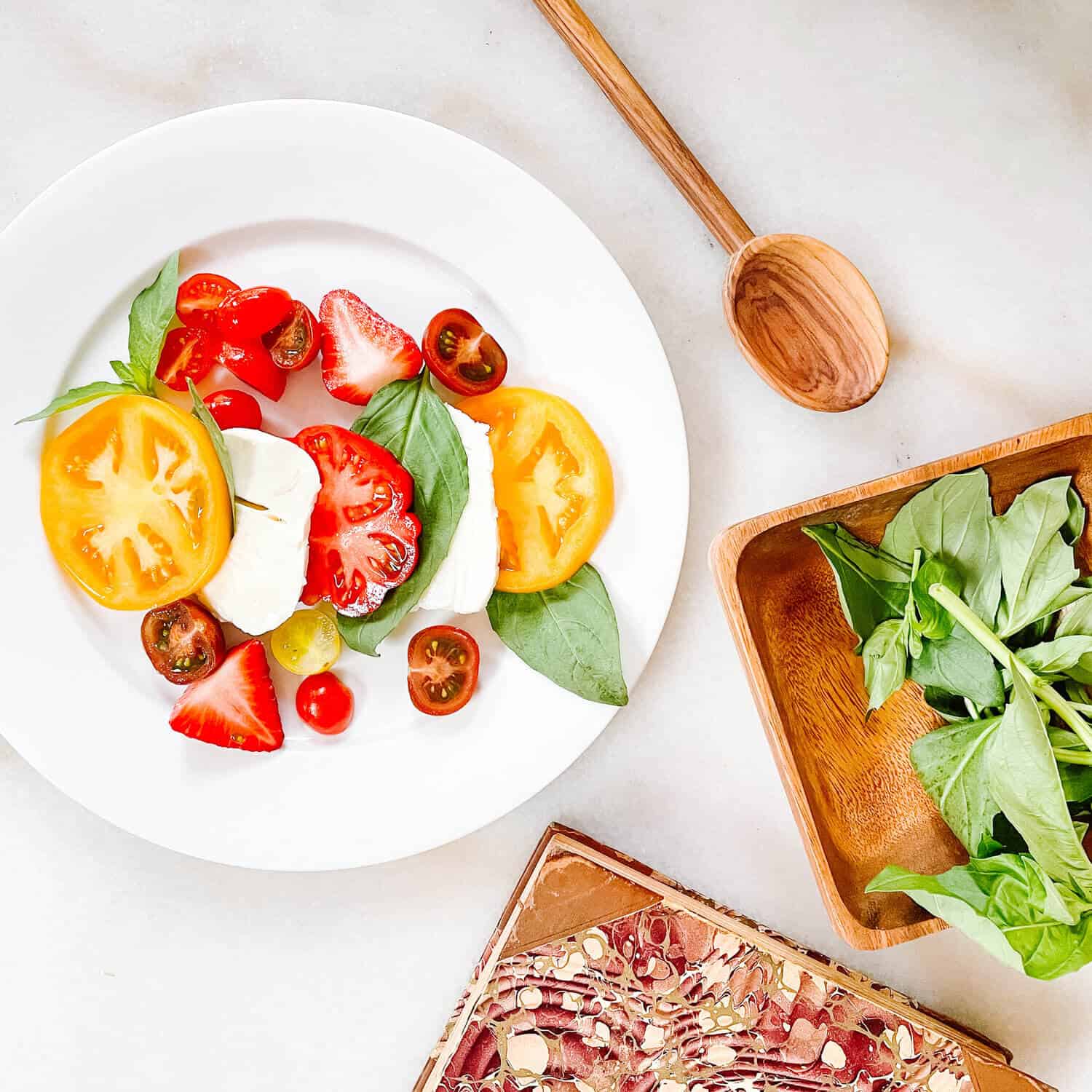 Season + Garnish – with cracked black pepper a pinch of salt and a drizzle of extra virgin olive oil – but just a splash. Then the best part….
Drizzle – with my absolute favorite balsamic reduction. It's sweet and delicious. A little bit goes a long way so don't use too much.
Serve – after chilling in the fridge for 10 minutes and watch your guests enjoy every bite (with their eyes too)!
We love this salad – like we have it all the time. It goes great with a side of pasta or even a steak or grilled chicken. Looking for wine? A Sauv Blac will be a perfect pairing.

Will you give this a try? It's quick and easy while bursting with fresh sweet deliciousness. There is nothing easier (and more delicious) to make than a fresh Caprese salad. Enjoy!