Easter is coming, and that means lots of brunch around here. With friends dropping in (like a lot) I love to make a crowd-pleasing Cinnamon Toast Crunch Shot. Why? They are delicious and great for creating a festive moment while helping kick-start a fun-filled day full of joy. Plus, it's festive and that's always a win. In the end, these Cinnamon Toast Crunch shots are a dose of nostalgia from childhood when we could slurp down bowls of cereal without a care in the world – and who doesn't recall those days fondly?
Even better? A Cinnamon Toast Crunch shot is incredibly fast and easy to make only requiring a few ingredients. It's essentially a shake of RumChata and a shot of Fireball whisky with a rim-garnish of crushed Cinnamon Toast Crunch. What could be easier? Not much – so let's get to making this shot:
CINNAMON TOAST CRUNCH PREP TIME
Prep: 5 minutes
Prepare: 5 min
Total Time: 10 minutes
INGREDIENTS
HOW TO MAKE CINNAMON TOAST CRUNCH SHOT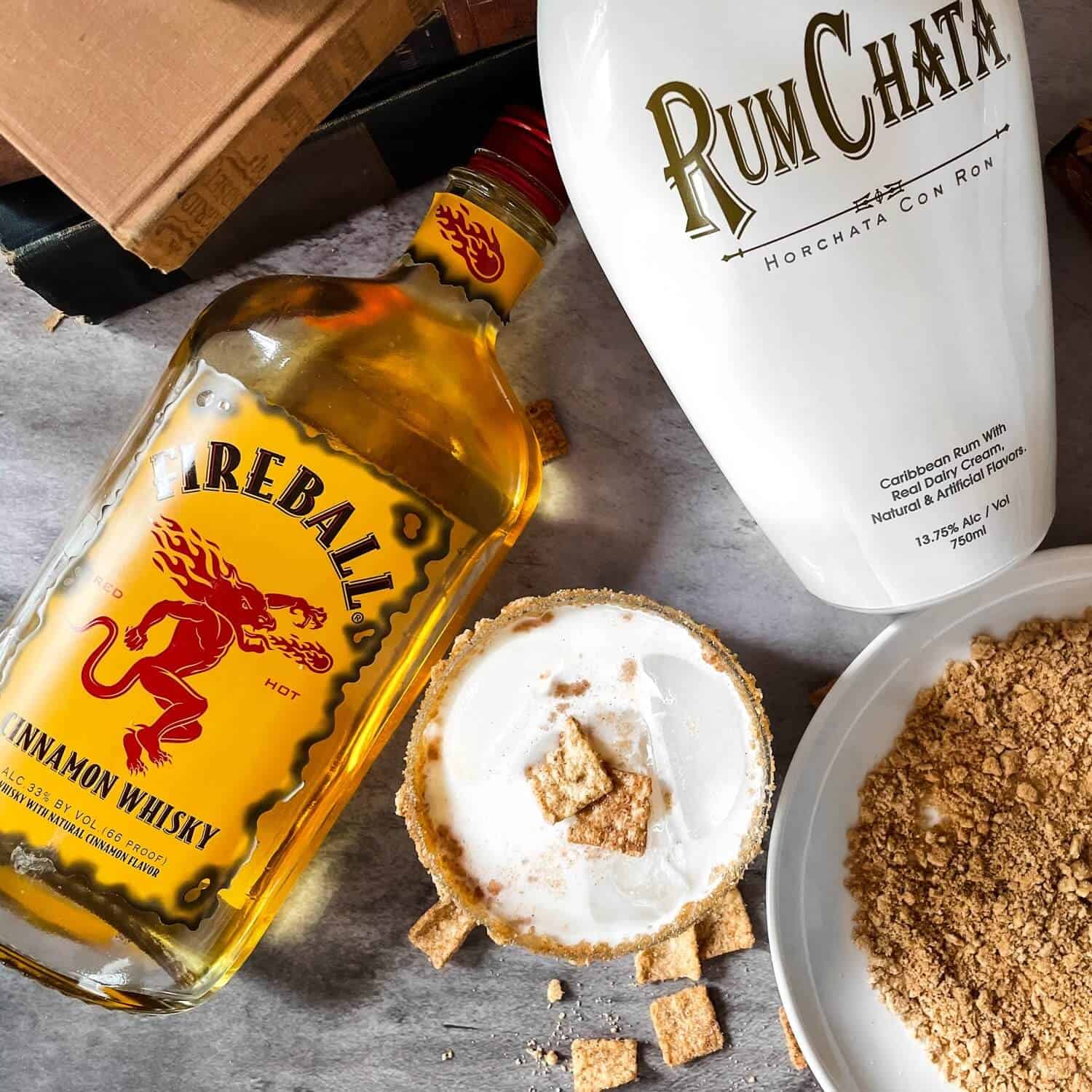 TIPS FOR MAKING THE BEST CINNAMON TOAST CRUNCH SHOT
Make sure the cinnamon toast crunch dust is a fine powder – Be sure to use your rolling pin well and break the cereal down into a fine powder. You don't want people chewing their shot. Also, be sure not to break the ziplock bag when you do. Just practice a little bit of patience – it will break down if you give it time.
Make Sure your proportions are right – Don't pour too much or too little of the whisky and RhumChata. Too much will make the shot too milky, and too much whisky will overpower the shot. Be sure to measure out to get the optimal bursts of flavor
Shake in a Martini Shaker– It's not required. However, shaking the ingredients with lots of ice will make your shot is ice cold and taste the best.
Serve this shot ahead at any brunch with pancakes, and bacon, but really anything savory will do. It's always. festive crowd-pleaser in my home – and a tradition around the Easter holiday. Want to go wild? Service this shot with cinnamon sugar toast to keep the good times (and sugar) rollin. xoxoxo
Cinnamon Toast Crunch Shot
These seasonal shots are a dose of nostalgia from childhood when we could slurp down bowls of sugary sweet Cinnamon toast crunch cereal without a care in the world – They burst with a delicious blend of fireball and Rum Chata churned into a silky sweet shot you have to try.
Ingredients
2

oz.

Rhumchata

1

oz.

Fireball Whiskey

6

oz

Cinnamon toast crunch

Crushed. Or use Cinnadust for rim

1

tbsp.

Maple Syrup

Used to coat each shot glass before dusting
Instructions
Candy coat each shot glass
Start by crushing up your cinnamon toast crunch into a fine powder. Or you can buy the Cinnamon Toast Crunch dust here.

Do the above by pouring your cereal into a ziplock bag and crush it until a rolling pin until a fine powder – you don't want it chunky – about 5 minutes

Dust your shortgrass rim by pour syrup onto a small plate and then turn each shot glass upside down and dip the rim into the plate. Coat evenly, but don't apply too much that it drips

Pour crushed Cinnamon Toast Crunch onto a second plate

Dip your syrup rim into the cereal dust and turn in it till the rim is evenly dusted
Serve
Pour into a shot glass of choice

Garnish with one piece of Cinnamon Toast Crunch cereal on top and a dash of the Cinnamon Toast Crunch dust – but just a pinch! Serve immediately and have fun.

More delicious and easy recipes, desserts, and cocktails are below:
Don't Forget It. Pin It!