Easter is coming, and that means lots of brunch around here. With friends dropping in (like a lot) I love to make a crowd-pleasing Cinnamon Toast Crunch Shot. Why? They are delicious and great for creating a festive moment while helping kick-start a fun-filled day full of joy.
Plus, it's festive and that's always a win. In the end, these RumChata and Fireball shots or Cinnamon Toast Crunch shots are a dose of nostalgia from childhood when we could slurp down bowls of cereal without a care in the world – and who doesn't recall those days fondly?
Even better? A Cinnamon Toast Crunch shot is incredibly fast and easy to make only requiring a few ingredients. It's essentially a shake of RumChata and a shot of Fireball whisky with a rim-garnish of crushed Cinnamon Toast Crunch.
What could be easier? Not much – so let's get to making this shot:
INGREDIENTS
HOW TO MAKE CINNAMON TOAST CRUNCH SHOT
CINNAMON TOAST CRUNCH PREP TIME
Prep: 5 minutes
Prepare: 5 min
Total Time: 10 minutes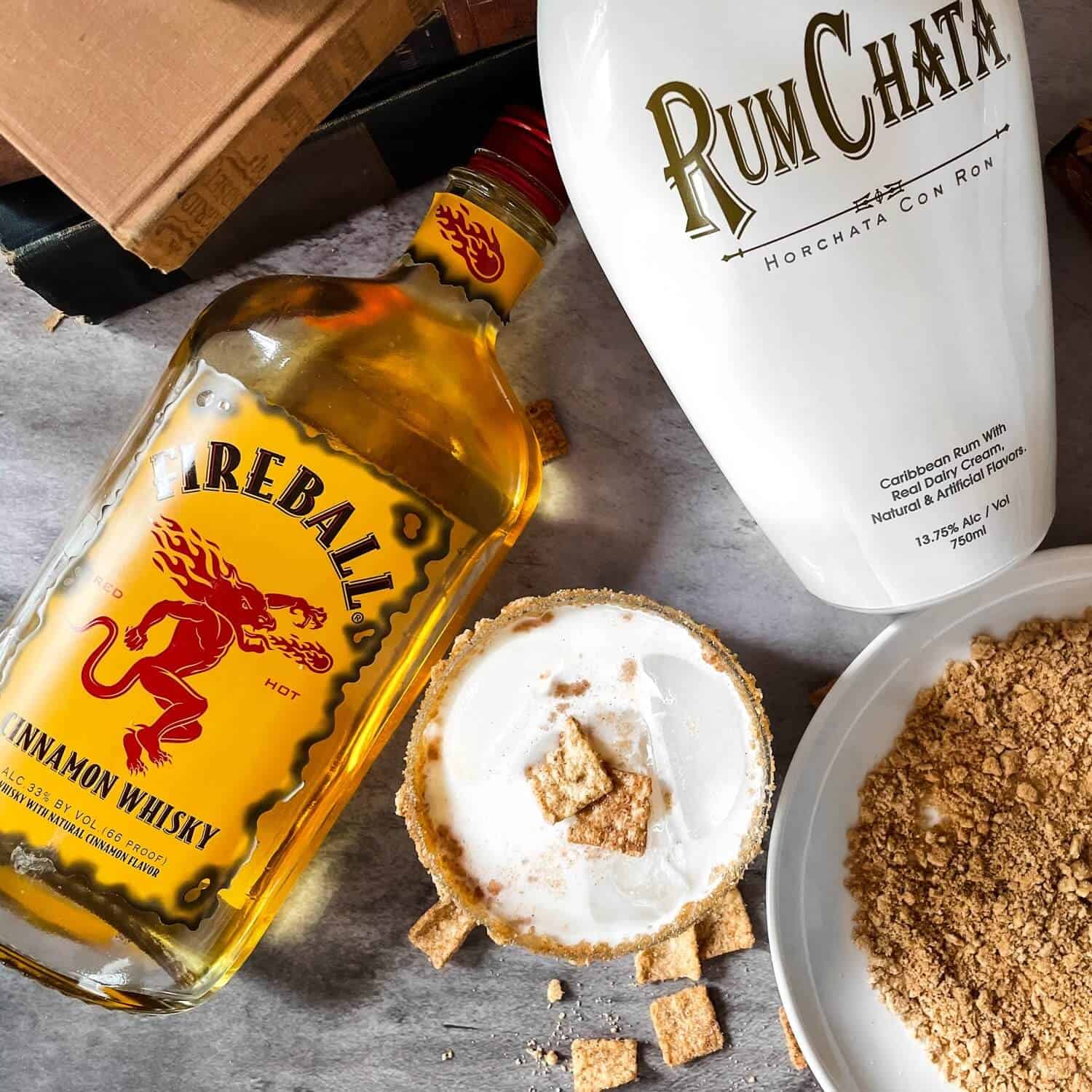 TIPS FOR MAKING THE BEST CINNAMON TOAST CRUNCH SHOT
Make sure the cinnamon toast crunch dust is a fine powder – Be sure to use your rolling pin well and break the cereal down into a fine powder. You don't want people chewing their shot. Also, be sure not to break the ziplock bag when you do. Just practice a little bit of patience – it will break down if you give it time.
Make Sure your proportions are right – Don't pour too much or too little of the Fireball and Rumchata. Too much Rumchata will make the shot too milky (giving it too much vanilla flavor), and too much whisky will overpower the shot with spicy cinnamon flavor. Be sure to measure out to get the optimal bursts of flavor for your cinnamon toast crunch shots.
Shake in a Martini Shaker– It's not required. However, shaking the ingredients in a shaker with ice will make sure your shot is ice cold and tastes the best.
Serve your rumchata and fireball shot ahead of any brunch with pancakes, and bacon, but really anything savory will do. This Fireball and Rumchata drink is always a festive crowd-pleaser in my home – and a tradition around the Easter holiday.
Want to go wild? Service this cinnamon toast crunch shot recipe with cinnamon sugar toast to keep the good times (and sugar) rollin. xoxoxo
FAQ Cinnamon Toast Crunch Shot
What is Cinnamon Toast Crunch made of?
It's primarily made of whole grain wheat, sugar, rice flour, canola and/or sunflower oil, fructose, maltodextrin, dextrose, salt, and cinnamon. The main ingredients you'll taste are wheat, sugar, and cinnamon, all of which mix perfectly with the Fireball and Rumchata flavor profiles in this drink!
How much alcohol is in a RumChata shot?
RumChata has an ABV of 13.75%, which makes this sweet treat drink perfect for the cinnamon toast crunch shot (as it doesn't overpower the flavors with an excessive alcohol content).
What is the cinnamon liquor called?
In this cinnamon toast crunch drink recipe we used Fireball. However, there are other cinnamon liquors available, such as Fire Water Schnapps Liqueur (which has an ABV of 50%).
How much alcohol is in Fireball?
Regular Fireball has an ABV of 33%. However, there's also a version with an ABV of 21%. EIther one can be used in this cinnamon toast crunch shot, although you'll likely have to adjust the proportions to suit your taste.
Can 2 shots of rum get you drunk?
It varies from person to person, but generally, no. You may feel a little bit tipsy after a few of these Fireball and Rumchata drinks, but you likely won't feel "drunk" until 3-4 drinks in.

Is Fireball actually whiskey?
Fireball is not actual whisky because sugar has been added and is thus a liqueur that is 33% ABV (66-proof) made with a mix of Canadian whiskey, sweeteners, and natural cinnamon flavoring.

What can you mix fireball with?
There are tons of great mix mixers you can splash with Fireball including; coke, coffee, ginger ale, cranberry, and orange juice just to name a few.

Is RumChata or Baileys better?
If you are looking for traditional chocolate and vanilla-flavoring for your cocktail Baileys might be better suited to your palate. However, if you want something cinnamon forward RumChata takes the lead.

Why is RumChata so expensive?
Rum Chata uses only high-quality distilled Caribbean rum, dairy cream as well as all-natural cinnamon, and vanilla to get a smooth clear taste. These are all premium ingredients and come with a premium price tag.
Cinnamon Toast Crunch Shot
These seasonal shots are a dose of nostalgia from childhood when we could slurp down bowls of sugary sweet Cinnamon toast crunch cereal without a care in the world – They burst with a delicious blend of fireball and Rum Chata churned into a silky sweet shot you have to try.
Ingredients
2

oz.

Rhumchata

1

oz.

Fireball Whiskey

6

oz

Cinnamon toast crunch

Crushed. Or use Cinnadust for rim

1

tbsp.

Maple Syrup

Used to coat each shot glass before dusting
Instructions
Candy coat each shot glass
Start by crushing up your cinnamon toast crunch into a fine powder. Or you can buy the Cinnamon Toast Crunch dust here.

Do the above by pouring your cereal into a ziplock bag and crush it until a rolling pin until a fine powder – you don't want it chunky – about 5 minutes

Dust your shortgrass rim by pour syrup onto a small plate and then turn each shot glass upside down and dip the rim into the plate. Coat evenly, but don't apply too much that it drips

Pour crushed Cinnamon Toast Crunch onto a second plate

Dip your syrup rim into the cereal dust and turn in it till the rim is evenly dusted
Serve
Pour into a shot glass of choice

Garnish with one piece of Cinnamon Toast Crunch cereal on top and a dash of the Cinnamon Toast Crunch dust – but just a pinch! Serve immediately and have fun.
More delicious and easy recipes, desserts, and cocktails are below:
Don't Forget It. Pin It!