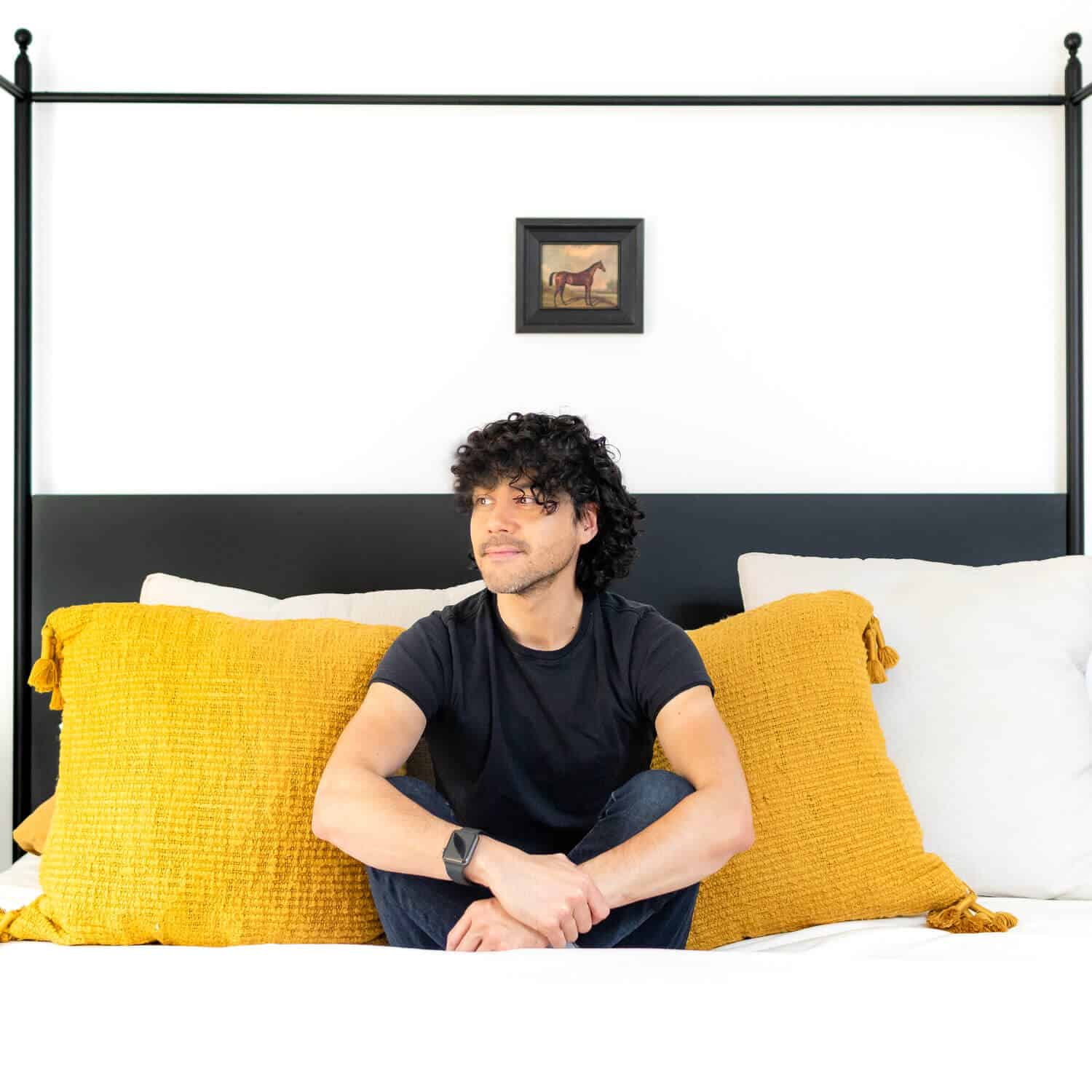 Who doesn't love the look and feel of a boutique-style hotel bed? I know I do. Oftentimes these hotels offer carefully curated designs in an intimate setting, with tons of attention paid to the styling details. So today, I wanted to share a few things you might want to consider if you are looking to get that hotel bed look and feel right at home.
Let's dive in…
Get your bedroom right
First things first. Plan out the floor plan based on the size of your room and what you plan to do in it. If your room is going to be used for sleeping, reading, working, and grooming, it's a good idea to make sure your space can accommodate all of the furnishings you have or want without being too cramped. Do what I do. Bust out that measuring tape, and use some of my favorite frog tape to space plan. Don't skip this step! It pays off big.
It can be tempting to just dive straight into furnishings, but try not to. You don't want to tackle styling elements + furniture if your actual mattress isn't selected and you have measurements. Invest here y'all. Getting the right bed frame. It isn't just about picking the biggest bed in the store but rather selecting a bed that is both your preferred look and feel but will also seamlessly integrate into your design. Consider a four-poster bed like me or even a few others that are more minimal in look
When it comes to the mattress, try to select one that suits your desired comfort. We all have preferences. But no matter what I have found most people love our down mattress topper. This padding adds extra comfort and allows you to sink into the bed like you are on a puffy cloud. This mattress and topper help create that feeling. Grab em!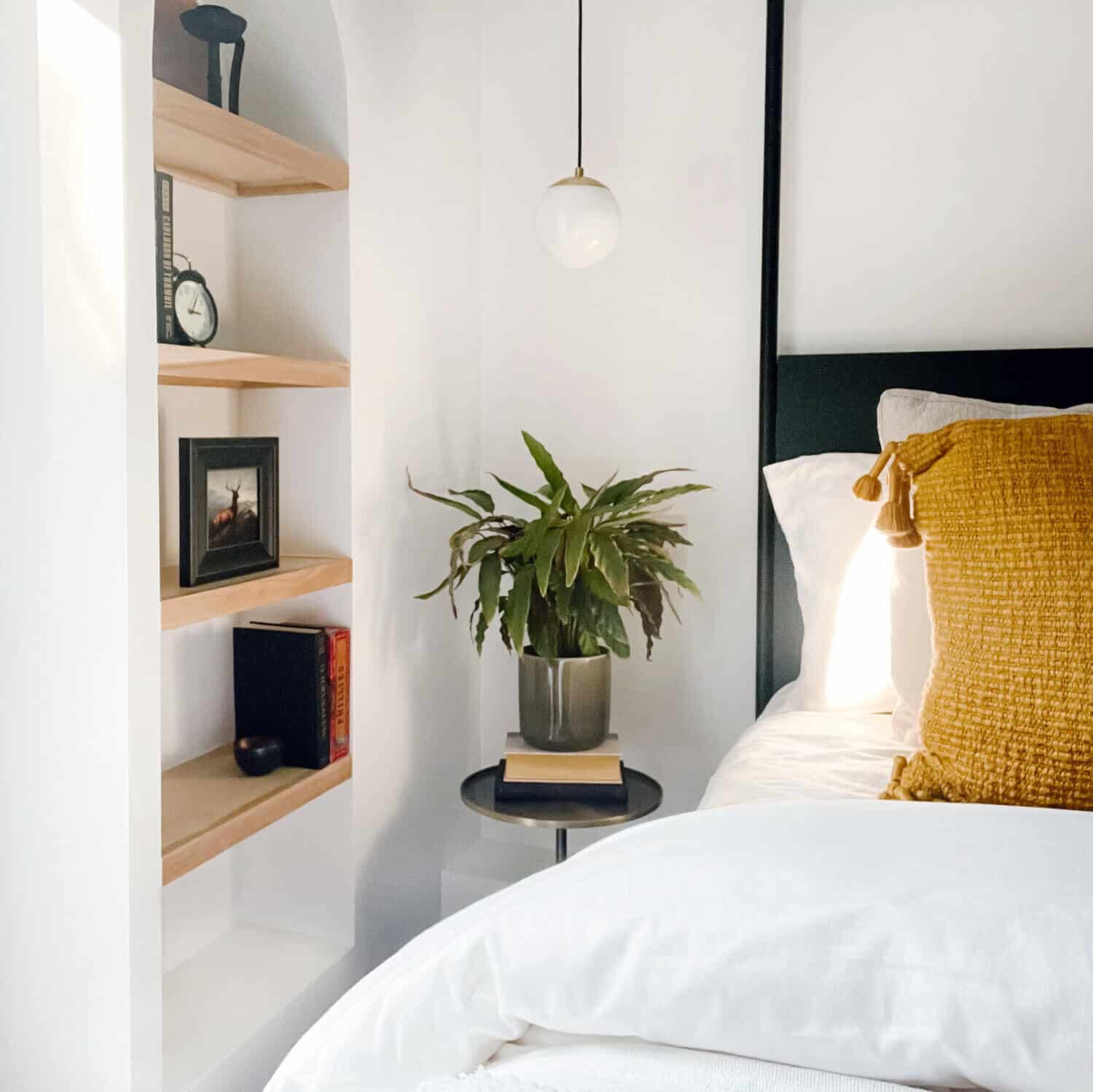 Okay, now that the boring part is out of the way we can turn our focus to the fun interior design + styling elements that will bring personality to your space.
Throw yourself into it
Let's talk sheets – my favorites linked here. The higher the thread count, the more comfortable they are going to be. You should opt for a sheet with a thread count of 300 or higher if you want to have a comfortable experience – if you can swing it go with these. They literally get more comfortable after each wash – I am not sure how.
The next big decision to make is regarding pillow inserts – These are my favorites. Just slide them into your pillow cover of choice. Then, Position some European pillows at the back of your bed to incorporate height with standard pillows in front – and you are already halfway to creating a boutique hotel-style bedroom look. Using a comforter is a good way to make sure you stay warm and infuse personality into space. On days when it isn't too cold, a quilt waffle blanket can do the trick too. Better yet? Layer both in contrasting patterns and scale to get that rich layered look. Or if your bed is mostly neutral like mine is adding a pop of color or new texture for added interest. You can also place a throw blanket above your quilt to complete the look. I just love a good throw blanket, don't you?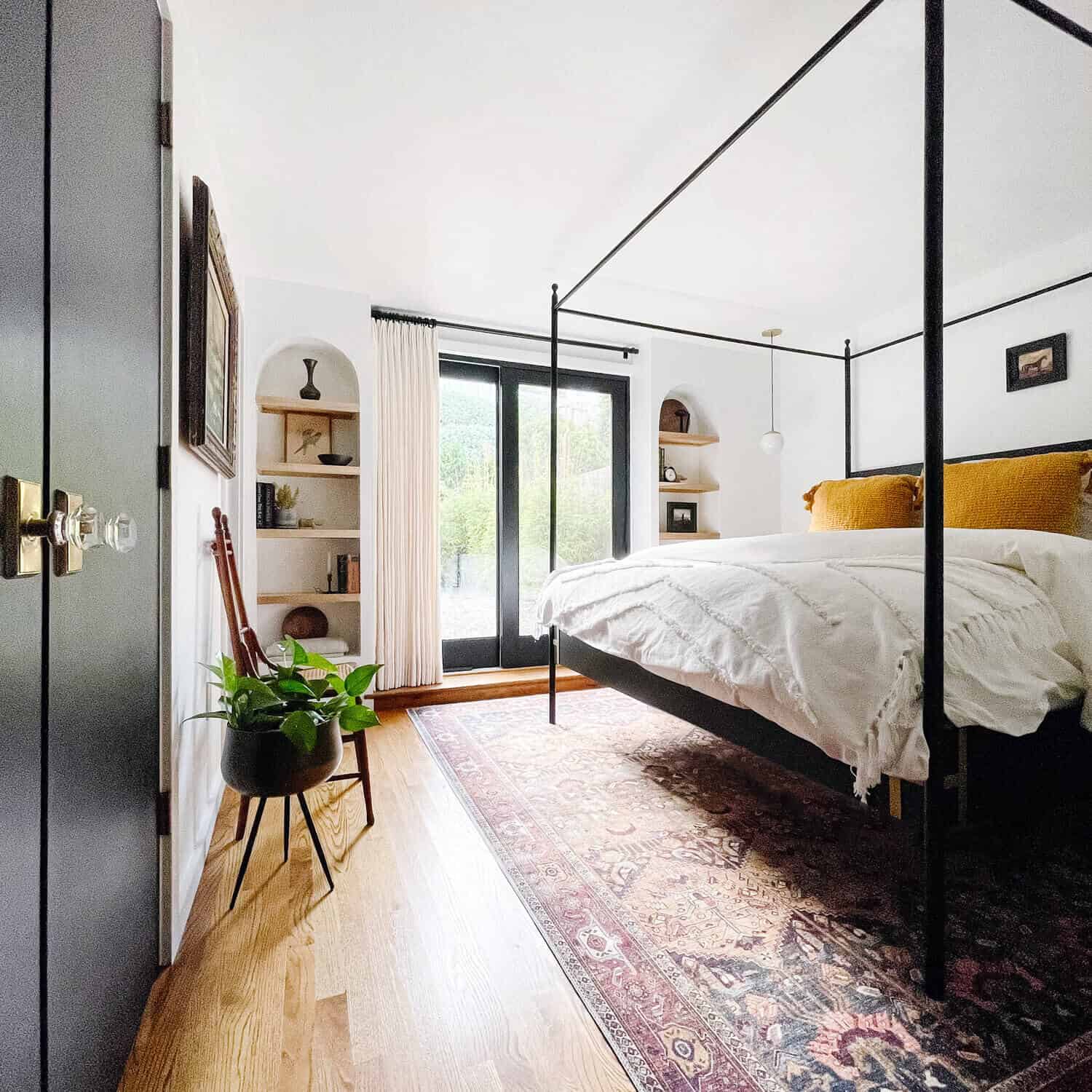 Choose the right colors
Whether you're looking for a modern sophisticated look or you want a maximalist aesthetic picking the right color for your bedding is essential to help create a look you love. Picking a color palette to center your home interior design around will also offer a coherent feeling to not only your bed but the rest of your home too. Give it some thought before making purchases.
Choosing neutral colors like white, beige, cream, or lighter shades in-general will offer flexibility when you're planning other elements of your bed – such as throw pillows, bedding blankets, and quilts, etc. You will even be able to contrast some of the furniture in the room when you pick a neutral color palette as your foundation for the bedroom. Furniture in dark brown, or black, will serve as a good contrast to neutral bedding. That's why I always end up going white – as I can change up the throws and accent pillows when inspiration strikes. You can't go wrong, but a well put together bedroom almost always has a color palette that is cohesive with a pop of color or pattern for interest.
Lighting is Everything
Lots of interior designers will tell you about the importance of lighting when it comes to making your bedroom (or really any room) beautiful. I am here to tell ya, listen to em! Walking into the room of a boutique hotel isn't just about the bed. It's the overall experience, and lighting plays an important role in creating that vibe. I suggest, a few different levels of lighting in your bedroom including overhead, task or bedside lamps, or wall sconces. All three (or four) types of lighting will work together to create the warmth I know you will want. That reminds me, only use warm lightbulbs here – not daylight. You want a cozy feel. If possible, try to have all lighting operate from the bedside and integrate lights and bulbs with a dimming system – here's ours so that you can adjust them to suit your needs. Just having lights on a dimmer make a huge difference. Give it a try.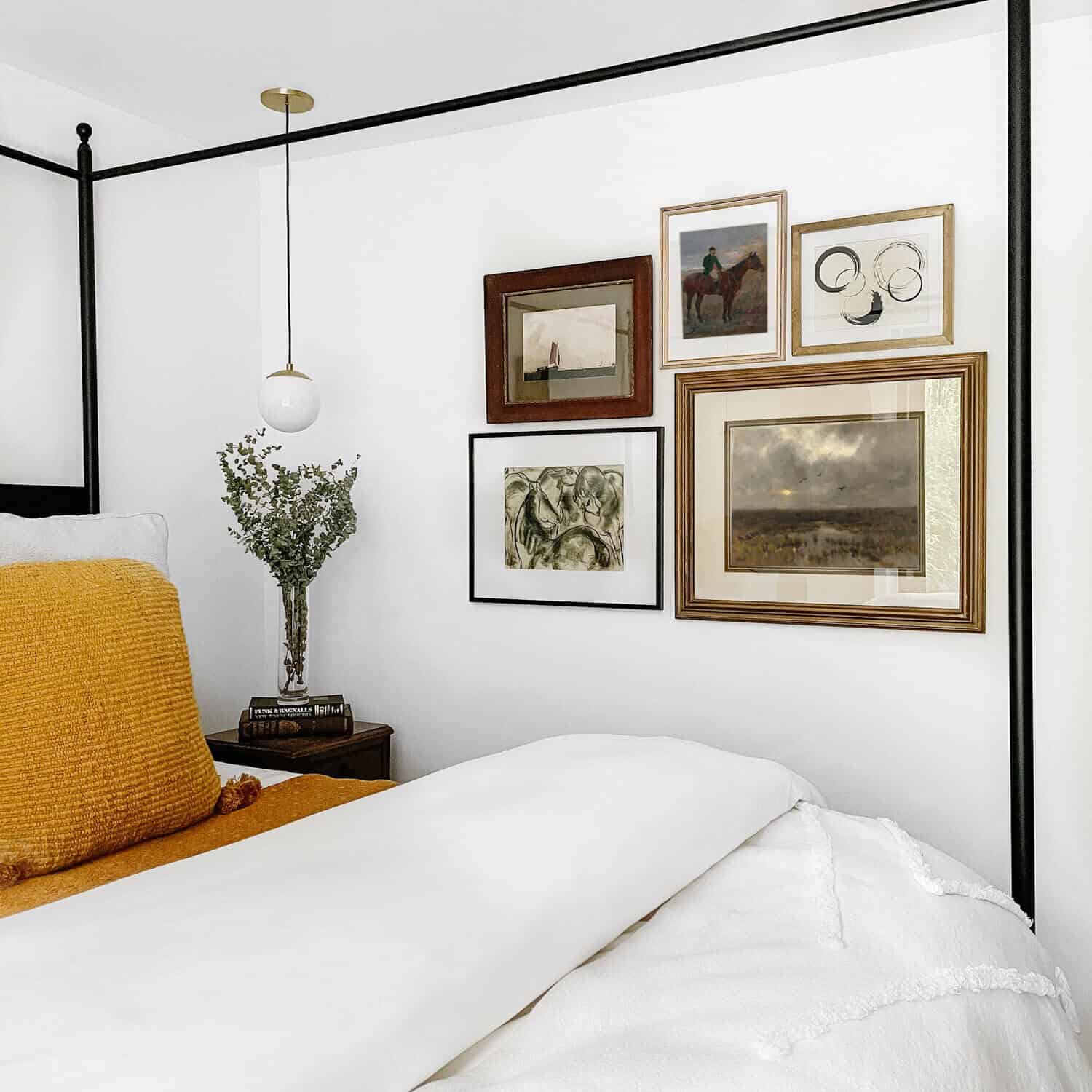 Select statement artwork
A great deal of the visual interest in hotel rooms are created via artwork. Grab art that speaks to you like this, this, or this. Select styling elements that speak to you and place them in opportune spots like the nightstand, on a mantle, or shelf. If you ever want to create a gallery wall head here. Remember, you can always hang art on the wall above your bed to create a strong focal point. Just make sure it's not so big that it takes the attention away from the rest of the space. Showpieces and other decorative elements can and should be placed through space too. I use command hooks for the task. I love doing this on the cheap with thrift store finds that I can swap in and out over time. Get creative – this is the fun part! Tips on how to thrift here.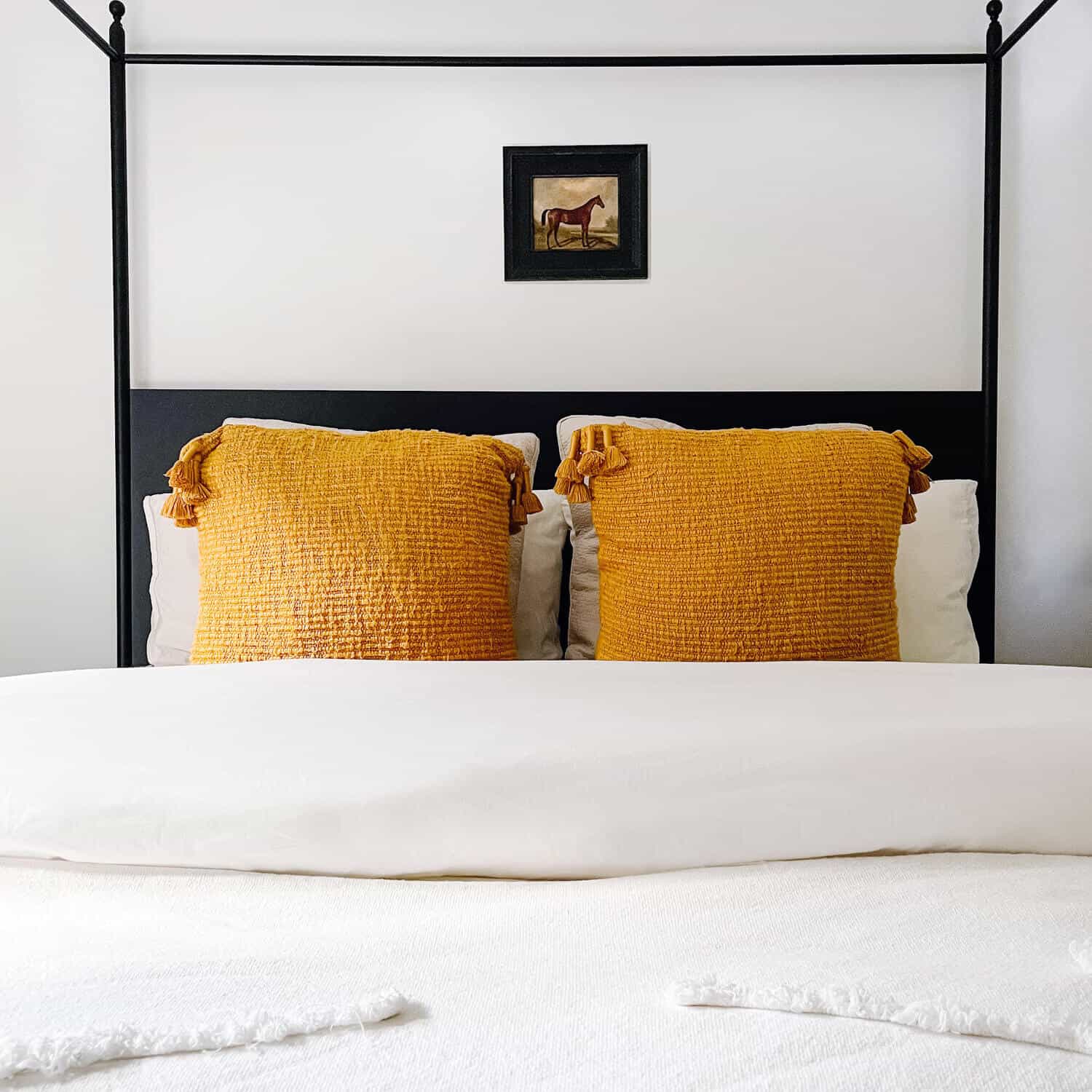 It's in the little details
Good interior decoration makes ample use of the details to create a look and feel that keeps you inspired. Some great options for affordable and beautiful styling pieces include; faux flowers such as cherry blossoms or eucalyptus in a vase on a bedside table, wireless speakers, or even just water glass and pitcher on a tray. Positioning these elements next to the bed is inviting and a great way to treat yourself. These little details, like flowers in a vase on a bedside table, can instantly brighten up up your space on a budget and make all the difference.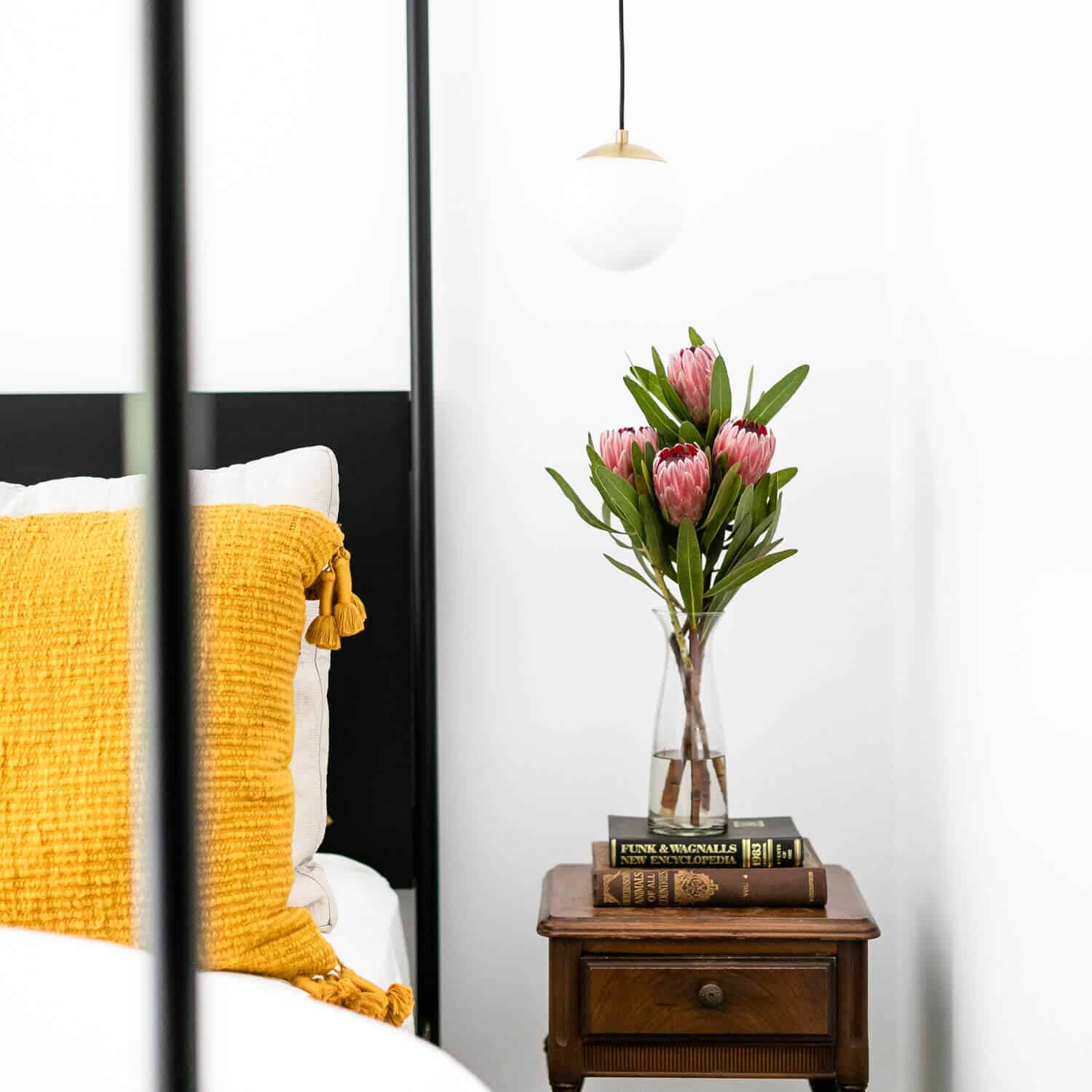 Experiment with scented candles
It's all in the vibe. Using scented candles like my all-time favorite in a bedroom can really help to set the mood. Who doesn't love the aroma of a scented candle? Set a candle next to your bed or on a shelf and light it before bedtime and during your nightly routine. An inviting well-designed bedroom isn't just about the design, bedding, and styling but also the scent, creating an overall experience, so experiment with placing candles and votives in your room to set the perfect mood.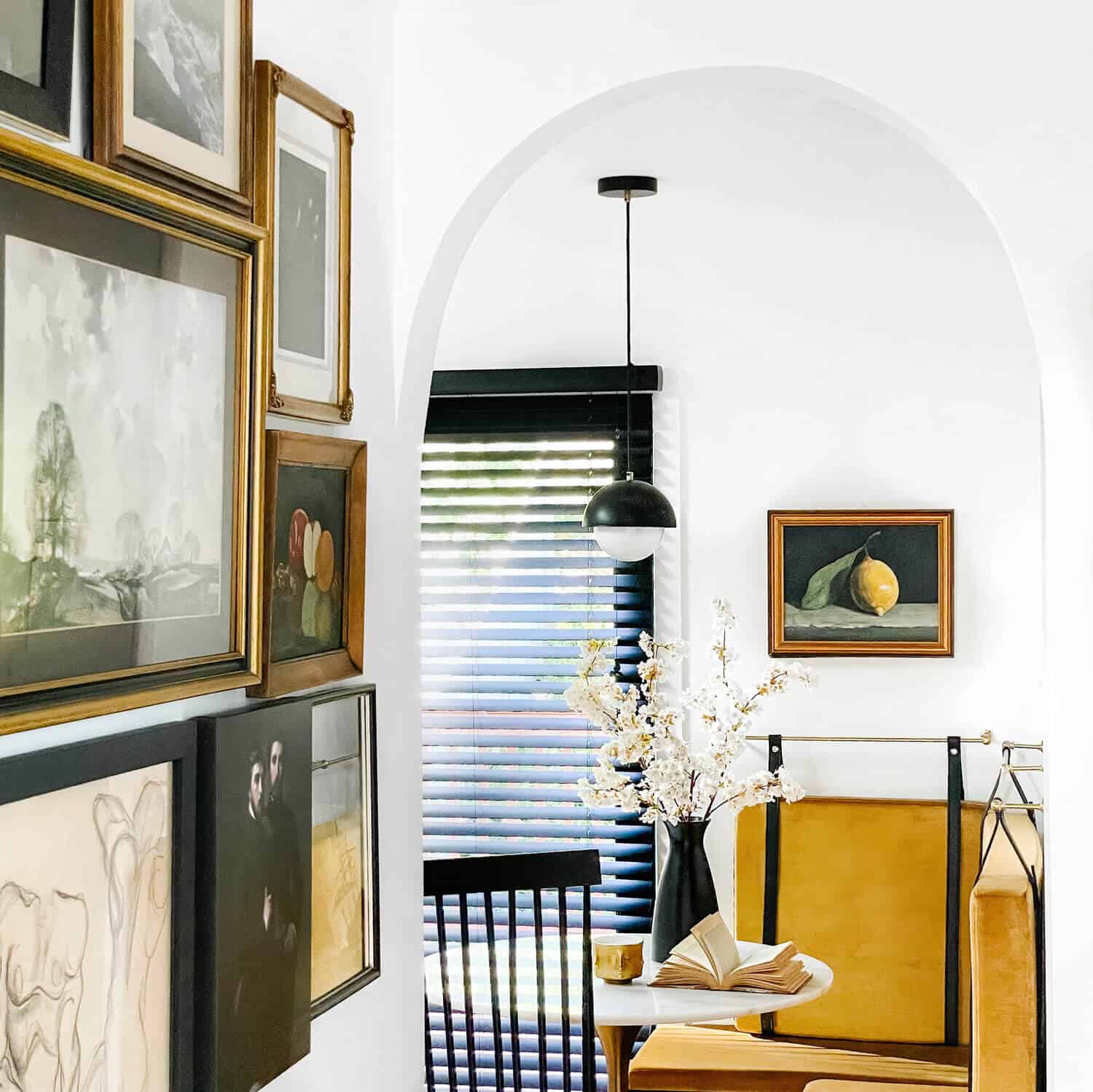 In the end, to create a hotel suite vibe starts with a great bed – including high thread count sheets, comfy bedding, and throw blankets to layer visual interest, add art, candles, and your favorite vintage finds. Don't forget to use European and standard pillows to create that hotel-like bed look. You should also choose pops of color that inspire and select accent details that speak to your soul. Don't forget to consider thrift finds. Some of my favorite styling items are here. These items should help to bring a smile whenever you look at them. A good bed just takes a bit of focus, time, and styling. You got this – give it a try!
I hope this was helpful for you. We spend so much time in our bedrooms – why not make em' count. Let me know your thoughts and if this was helpful in the comments below. For more interior design tips, DIY, and more visit us on Instagram @136home.