There are few things more impactful than selecting the perfect rug, especially after a successful kitchen renovation. Want to know how to find the best kitchen rug for hardwood floors? I've been around the block a few times, so just say that I know exactly what to look for having helped folks for years style and decorate their spaces. Drop me a note if you need some help.
We'll be going over everything from the benefits of natural fibers to safety considerations in the following post. Be sure to pay close attention if you want to ensure that your next kitchen rug or runner is truly a perfect fit for your home.
After all, just because kitchen rugs look similar doesn't mean that every rug is safe or a great option. Let's dive in.
What Makes the Best Kitchen Rug for Hardwood Floors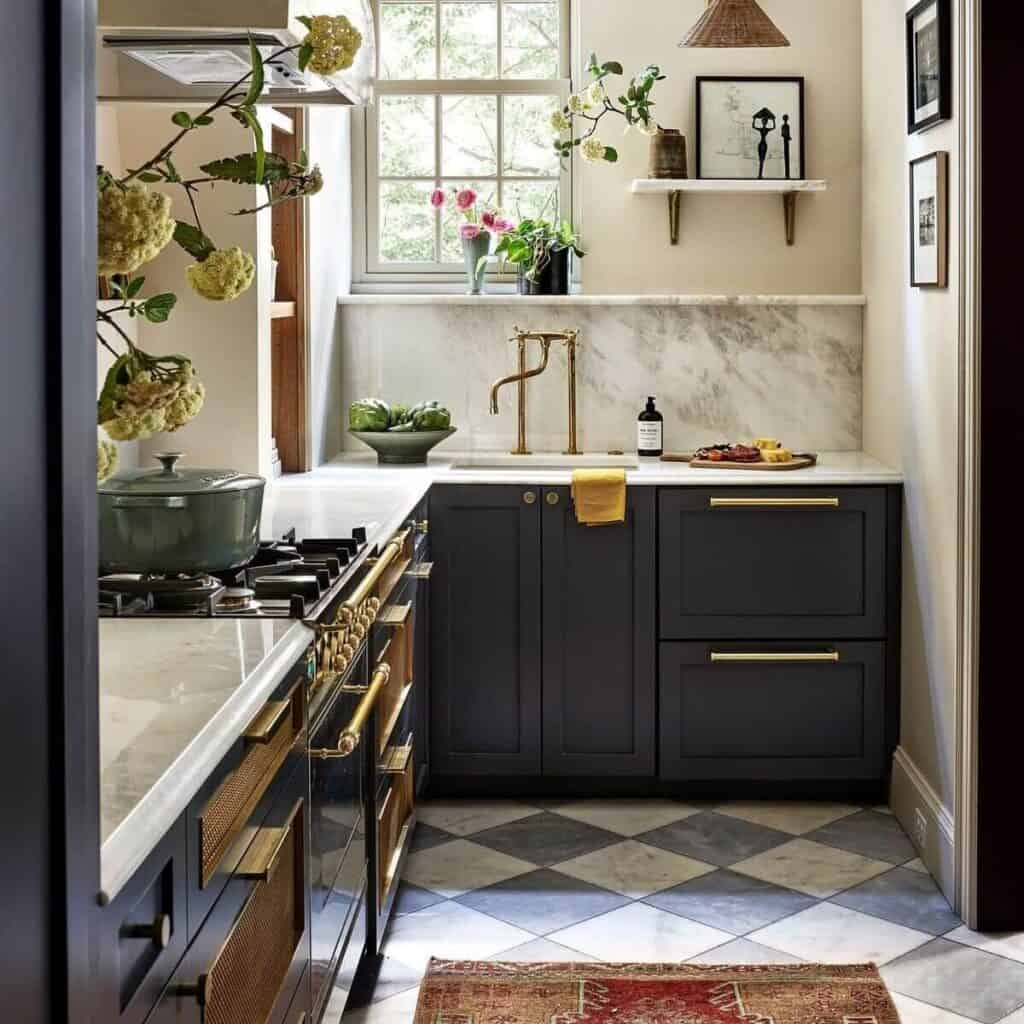 You can replace or upgrade your kitchen rugs at any time, but a great time to do so is when you're completing kitchen renovations after installing cabinets of your choice or painting them.
Before making a choice take note of your cabinet materials, style, color, and hardware color. Don't forget to consider your surrounding wall colors too. This should all act as a guide to select the best kitchen rug for hardwood floors.
Materials best kitchen rug for hardwood floors
You'll have a choice between synthetic and natural materials when comparing rugs. But which one makes for the best kitchen rug for hardwood floors? Well, it depends!
Each option has its own advantages and disadvantages. While I definitely love the look and feel of all-natural options, even I'll admit that synthetics can offer some benefits including ease of cleaning, stain resistance, and the ability to hold up longer over time. Honestly? I love both options. Take a peek at some of my favorite synthetic rugs. If you do go natural know that you might pay a premium but there is something that a natural material vintage rug that can't be beat in-terms of aesthetic.
Cotton
Many people think that cotton rugs are the best rugs all around. These rugs are extremely common, which means you'll have plenty of color options, patterns, styles, and sizes to choose from. Even better, they're super soft, which means they won't scratch up your floor.
Cotton rugs are also very affordable, so budgetary constraints shouldn't be an issue. However, they do have a few downsides to be aware of.
These rugs can get dirty easily, aren't as stain resistant, and require cleaning from time to time. As such, I'd recommend steering clear of the all-white cotton. That being said, if you are brave this is a white cotton rug I love.
Wool
Wool rugs are another popular option. These timeless natural fiber rugs are great because their soft bottoms allow any water that makes its way down to evaporate away quickly. This makes them ideal for a kitchen setting!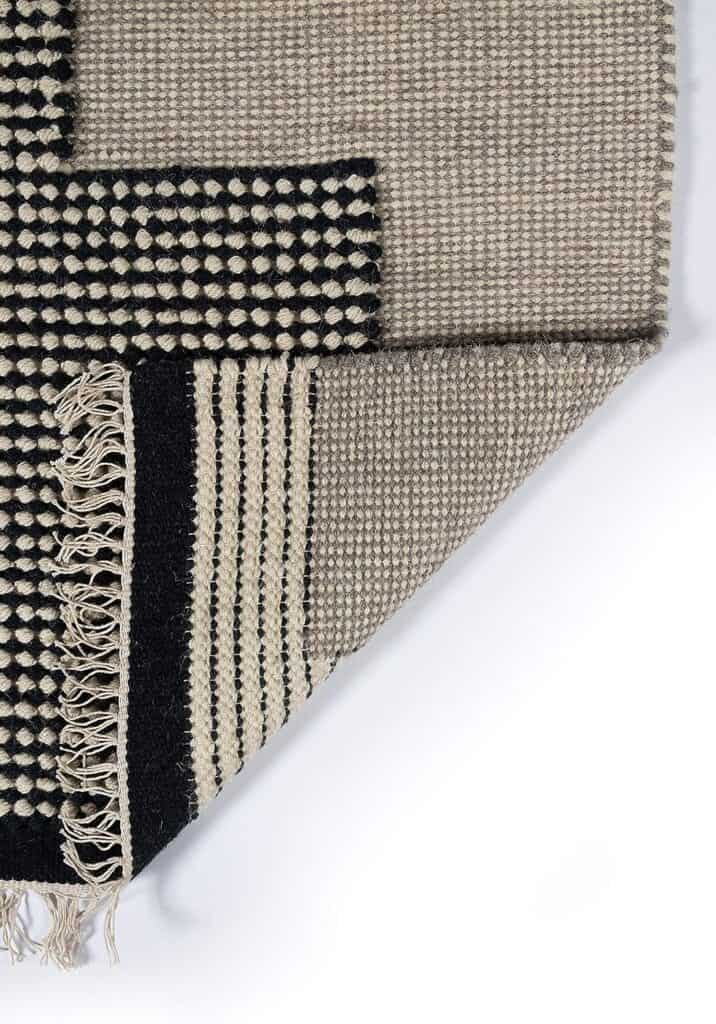 Of course, you can find wool rugs—like this wool rug blend—for other places in your home as well. I like this design for the mix of textures and monochromatic vibe that can literally be incorporated on to any hardwood floor despite the aesthetic.
Unlike cotton, wool is very resistant to stains, meaning it's usually enough to clean these rugs with a damp rag. That said, if you do manage to stain them then you'll need to take a trip to the dry cleaners for that "brand-new" look.
All-wool rugs tend to last for generations, but they don't provide as much softness that cotton rugs can so measure the pros and the cons that will work best for you.
Other Natural Materials
Cotton and wool may be classic choices, but they aren't the only options you have. There are plenty of other natural fibers used in rugs, although durability, designs, and prices vary. Here are a few of my favorites.
Hemp rugs are great for high-traffic areas, thanks to their high level of durability! They're also resistant to mildew, which is a major plus for the kitchen. However, these rugs do shed over time and will require regular vacuuming & spot cleaning.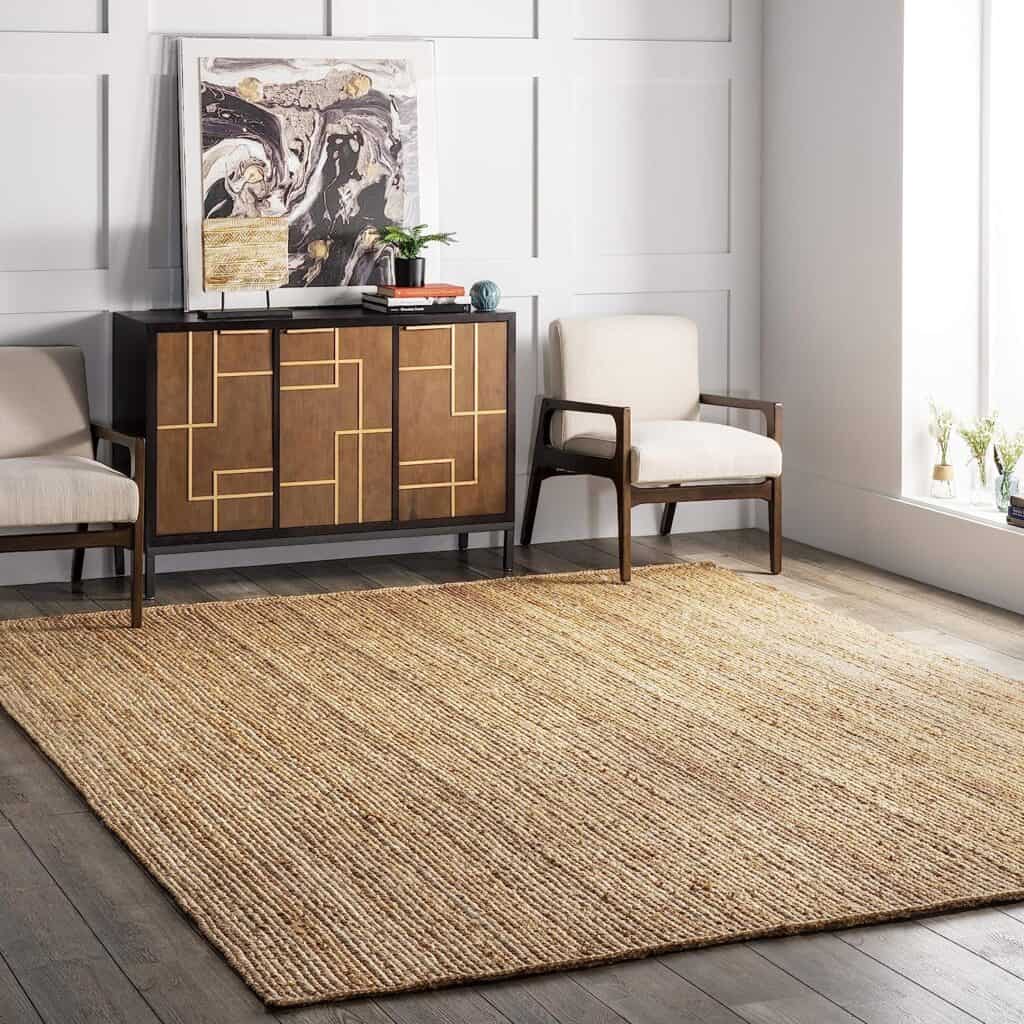 Jute rugs—like this handwoven area rug—are great at providing a sense of nature to your space. They're very soft, nearly as soft as wool! However, this softness means they're not very durable, making them less than ideal for active kitchens. You'll also need to blot spills quickly to avoid stains.

Seagrass rugs are nearly perfect for the kitchen! They're non-porous, meaning water won't pose an issue whatsoever. Like other natural fiber rugs, they require routine vacuuming and quick cleanups to avoid stains, but they are considered stain-resistant. The only major downside is the lack of color options.
Synthetic Materials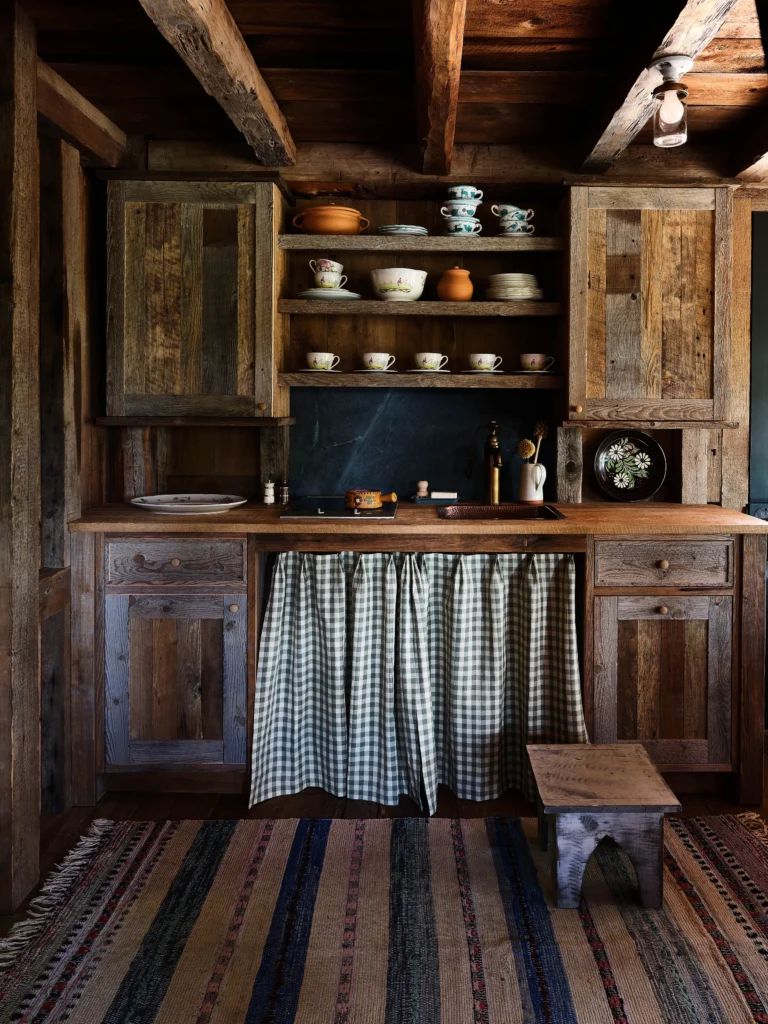 Natural options may be popular, but that doesn't mean you'll be left lacking for choice if you're considering synthetic rugs instead! The best kitchen rug for hardwood floors in your place might require a specific color to match the theme of the room.
Synthetic materials are offered in a wider variety of colors than natural options, which adds to their appeal in modern spaces. Check out all of the color options in the Loloi II Loren Collection to see what I mean. I promise there is an affordable option for you here in a color that you will love.
Another benefit of picking up a polypropylene rug or a similar synthetic alternative is the low price point. These rugs are usually much cheaper than natural fiber rugs! That said, these rugs usually won't last for ages like a wool rug will and might not offer the "feel" you're looking for against your feet. Proper care can help extend the life of your rug, but the "feel" tends to be as-is.
Here are affordable kitchen runners I love
Features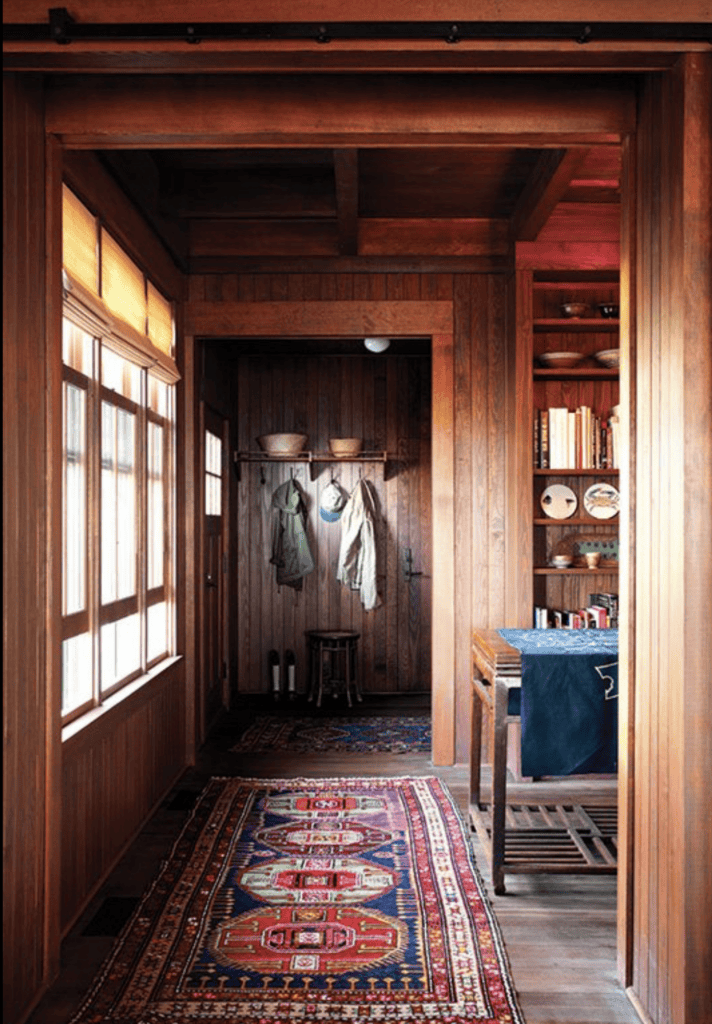 Now that we've covered the various material options you'll have when trying to find the best kitchen rug for hardwood floors, let's move on to the specific requirements you'll want your choice to meet.
That's not to say you can't sacrifice one in favor of the other. It just means you'll need to consider all of the factors at play and make your selection accordingly
Washable Options for the Best Kitchen Rug for Hardwood Floors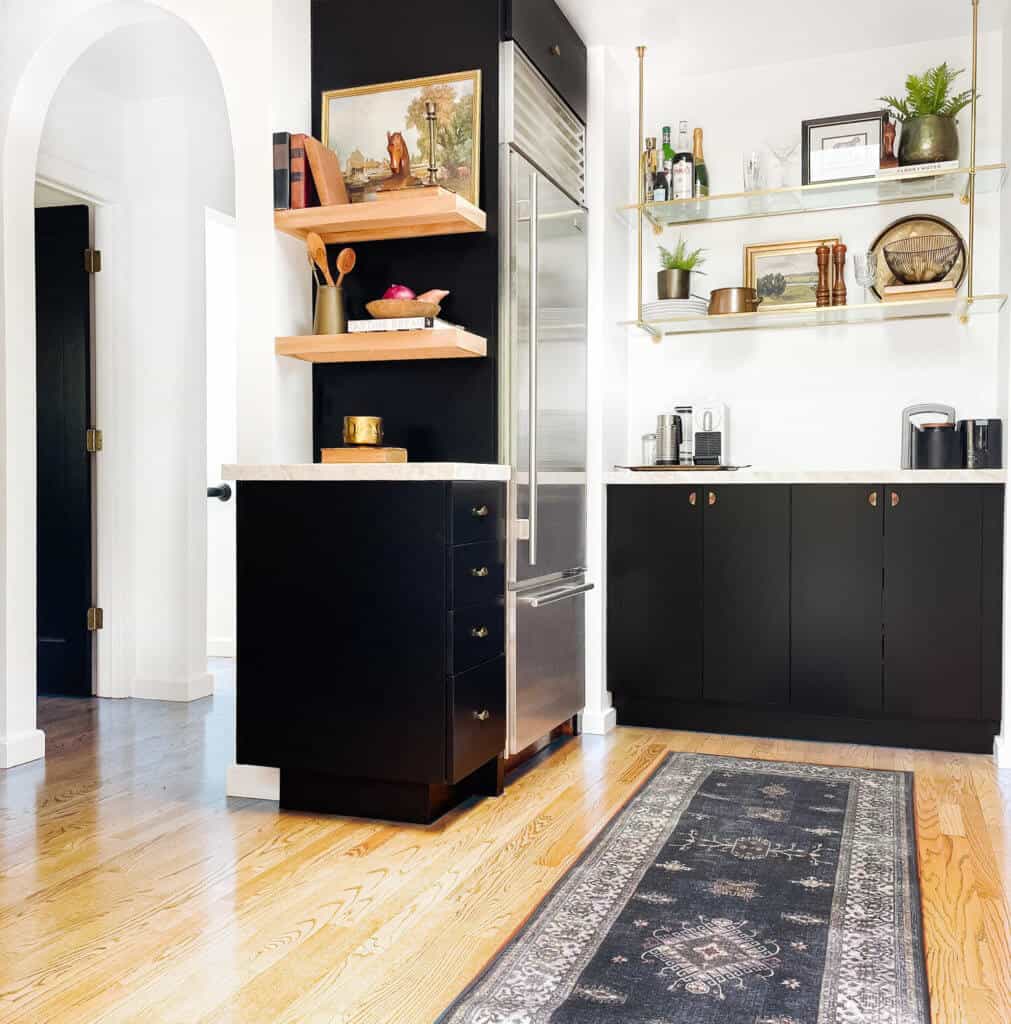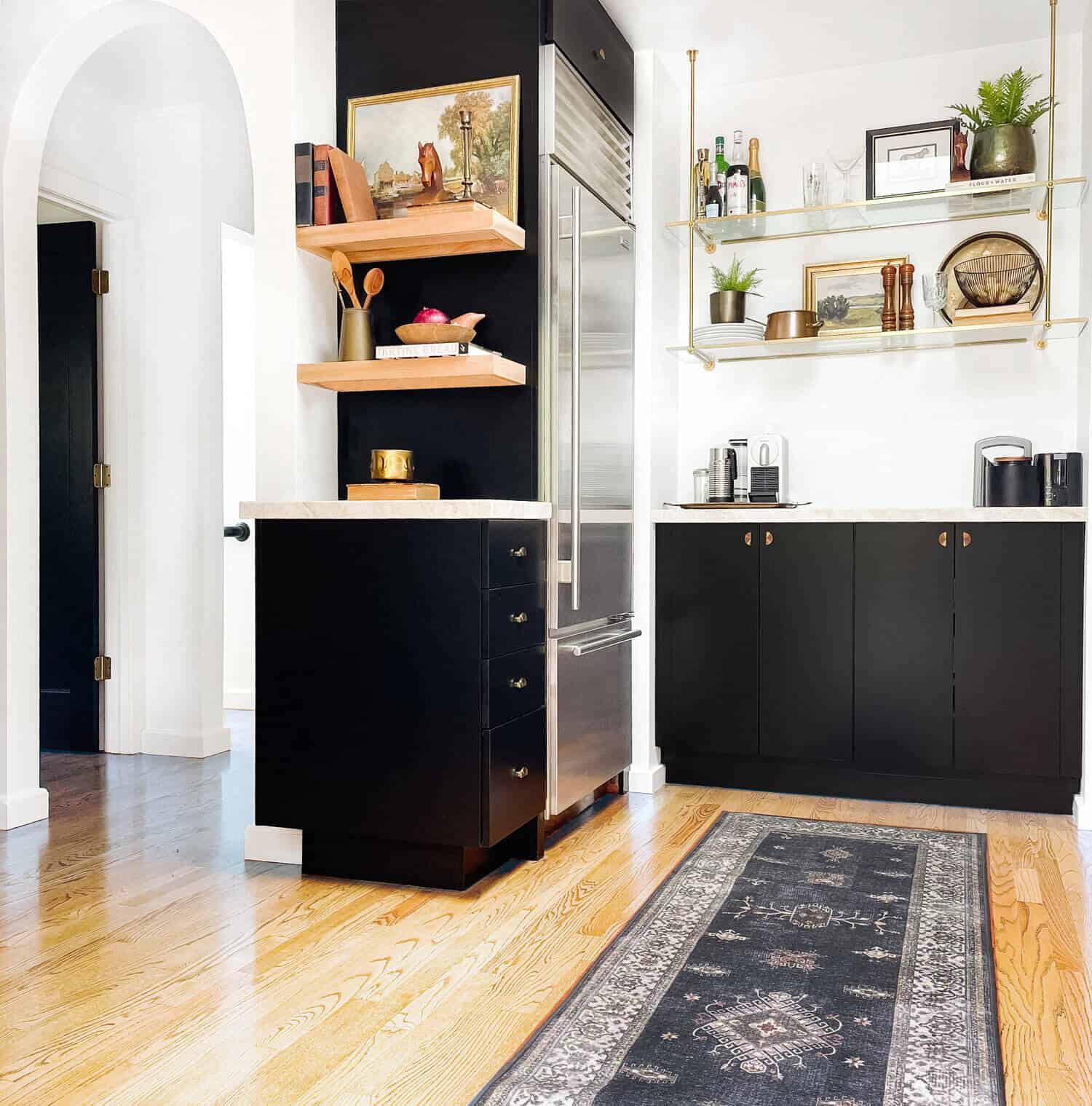 Being able to clean your rug in a washing machine might not be a necessity, but it sure is convenient! Generally speaking, you can expect cotton and synthetic rugs to be machine washable. However, this often isn't the case with other materials.
If your rug can't be washed in the machine then you'll likely be limited to spot cleaning, vacuuming, or dusting. In some cases, a trip to the dry cleaners may be the only solution to your dirty rug!
Do your research before purchasing a rug to make sure that cleaning it won't pose an issue later on down the road. This is my favorite washable rug I use in my kitchen.
The best kitchen rug for hardwood floors That are Waterproof
A great way to protect the hard surface of your hardwood floors is by ensuring you pick up a waterproof rug. Of course, the best option is always to avoid spilling things, but let's be honest. That's not always possible, and accidents happen.
Bear in mind, there's a major difference between "waterproof" and water-repellent". "Waterproof" materials protect the surface(s) below them from water by simply being impermeable. Aside from being an excellent option for rugs, this means that waterproof rugs like these are often used to make shelf liners.
Check out my post on shelf styling if your shelving needs some love too. After all some simple shelf styling and a new rug can make all the difference in taking your kitchen to the next level – trust me!
"Water-repellent" materials, on the other hand, can only hold off the water for a little while. If you pick up a "water-repellent" rug then you'll still want to clean up the spill right away. The main benefit is that you'll have a bit more room for error!
Safety
The last thing you want is to have a wipeout in your kitchen! Unfortunately, most rug materials are highly slippery on hardwood floors, which means that using a rug without a non-slip bottom can pose a health issue.
Don't despair though if your number one choice doesn't come with a natural rubber non-slip bottom by default. You can easily solve this problem by grabbing rug pad. Do yourself a favor and don't skip this ok? I love ya, and I don't want you to get hurt.
It's a good idea to try and find the best rug pads within your budget, rather than opting for the cheapest one you can find. Super-cheap pads can scratch your flooring!
Other Things to Consider
Alright guys, we've covered the basics for finding the best kitchen rug for hardwood floors. Let's move on to some tips and tricks you might want to know.
Finding the Right Size of Rug for the Best Kitchen Rug for Hardwood Floors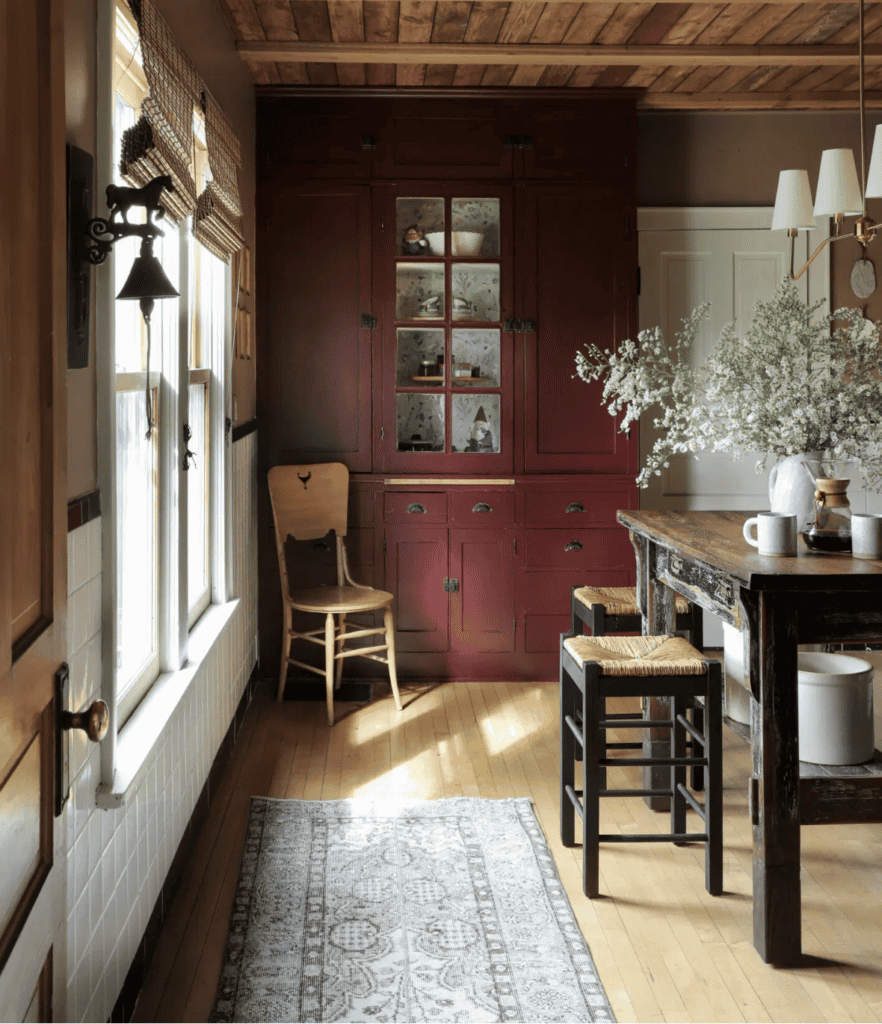 Whether or not you should opt for a smaller rug or a larger one really depends on the space you're in. Thankfully, both area rugs and the best kitchen rug runners are offered in a wide variety of different sizes, so all you'll really need to do is find the right measurements!
Grab your trusty tape measure and measure the area your rug will be placed in. With these numbers in hand, simply subtract a few inches from each side to find your ideal rug size. Anywhere from three to six inches from the edge is fine, although I would recommend leaning toward the latter.
Colors & Design
Y'all know how much importance I place on the design of a room as a whole! Fortunately, whether you're purchasing a small runner rug or a large area rug, you'll have a variety of colors to choose from. This should make it fairly easy to find something that complements your kitchen.
Having a colorful kitchen like this beauty is great, but your main focus should be choosing a rug that goes well with your cabinets. If these two points look great together, chances are, your kitchen as a whole will look amazing.
Once you have these two complementary focal points in perfect harmony, then you can move on to the decorations, houseplants that are easy to take care of, and other finishing touches. If you can swing it, I recommend picking up some statement lighting options at an affordable price. You got this love. Really!
Where to Place Your Rug in Relation to the Kitchen
Having the best kitchen rugs is only half the battle. Knowing where to put your rug is just as important. There are a couple of different options, but the best choice is right in front of the sink. This is an excellent spot as it allows you to enjoy the extra padding of your rug while washing dishes. I like to keep it 6 inches from the sink.
Trust me, you'll quickly realize how much of a difference this extra cushioning can make! Since you'll probably be standing there for a long time, this is a great place to add any original art or styling accents you might have. Just make sure to keep them away from the water!
Ready to Get Shopping?
Now that you know what makes the best kitchen rug for hardwood floors, it shouldn't be too hard to find the best choice for your kitchen.
It doesn't matter if you're looking at small rugs, big rugs, or something in-between. As long as you use what you've just learned, you'll be able to find the perfect rug that will last for a long time and perfectly complement your kitchen!
Check out my list of kitchen gadgets if you're giving your kitchen a complete upgrade!
I always keep you guys updated with any changes I make in my home, but I'd love to hear what y'all have been up to as well. Let me know in the comments below!
Frequently Asked Questions About the Best Kitchen Rug for Hardwood Floors
What type of rug is best for kitchen hardwood floors?
Either cotton or wool rugs are always a good choice for your kitchen area! Prefer a synthetic option instead? If so, then a polypropylene rug will likely be what you need.
How do I protect my hardwood floors in the kitchen?
There are a few different things you can do to protect your hardwood floors. First, seal the wood to prevent water from having direct access should a spill occur. From there, protect the sealed surface with a rug pad and place your rug on top.
What rugs to avoid on hardwood floors?
Rugs with backings made from synthetic rubber, PVC, plastics, or latex should be avoided, as these can damage the finish of your hardwood flooring.
Do rubber backed rugs harm wood floors?
That depends: are we talking natural rubbers or synthetic ones? Natural rubbers play fine with wooden hard floors. Synthetic rubbers, on the other hand, can actually harm your flooring due to the various chemicals they contain. As such, stick to natural rubber-backed rugs!
Does kitchen rug go in front of sink or stove?
First things first, you'll want a kitchen rug to be in front of your sink. However, you can always add more rugs around the room if you'd like to adorn more floor space!
Why do people put rugs over hardwood?
People use rugs on hardwood surfaces for a number of reasons, ranging from simply decorating the area and protecting the floor to covering up blemishes in the flooring itself. Making the floor more comfortable to stand on is also a common reason!