Hey, ya'll! This week has been truly amazing. We spent some time this weekend at Timber Cove Resort in Sonoma. If you haven't been yet, I highly recommend checking it out. It has the most stunning views of the California coastline with an incredible history. We also visited the Fort Ross Vineyard and did some tastings and oh my gosh the Pinot Noir was to die for. We joined the wine club immediately and feel so lucky to have this as an option to visit. After all, know how much I love a good glass of wine. It was great, but now I am thinking we need a hot tub.
1. Tree Sketch Art / 2. Italian Ruscus Leaf / 3. Tall Ceramic Vase / 4. Neutral Coffee Table Book / 5. Blue Upholstered Sofa / 6. Patterned Throw Pillows / 7. Moss Area Rug / 8. Matte Black Coffee Table / 9. Cream Table Lamp / 10. Decorative Wood Bowl / 11. Mid-Century Accent Chair
Did anyone catch the US Open finals?! Tennis professionals are so incredible to watch and I'm so stoked for Coco Gauff winning her first Grand Slam! There were also so many celebs there- maybe I'll check it out in person one year. Anyway. Last week, I showed off a stunning Fall-inspired bedroom that I adore. While we all understand the importance of a cozy bedroom for happiness, I firmly believe that crafting a welcoming living room can truly transform the soul of a home.
On that note, I found this stunning modern cottage living room design by Chris Loves Julia that I am head over heels for. It exudes such an inviting ambiance and radiates a serene atmosphere with its straight & clean lines. I also sorta fell in love with this Vintage Garden wallpaper for the Library.
What do you think? When I select wallpaper, I insist that it has a good pop of visual contrast, but I still feel like it could be one hundred years old. It's not as easy to find as you might think. I wonder if this may be the perfect match. Moody palettes with vintage furniture pieces and a modern dash blend nicely together to create my signature look. But on to days look for less! Let's jump into the pieces…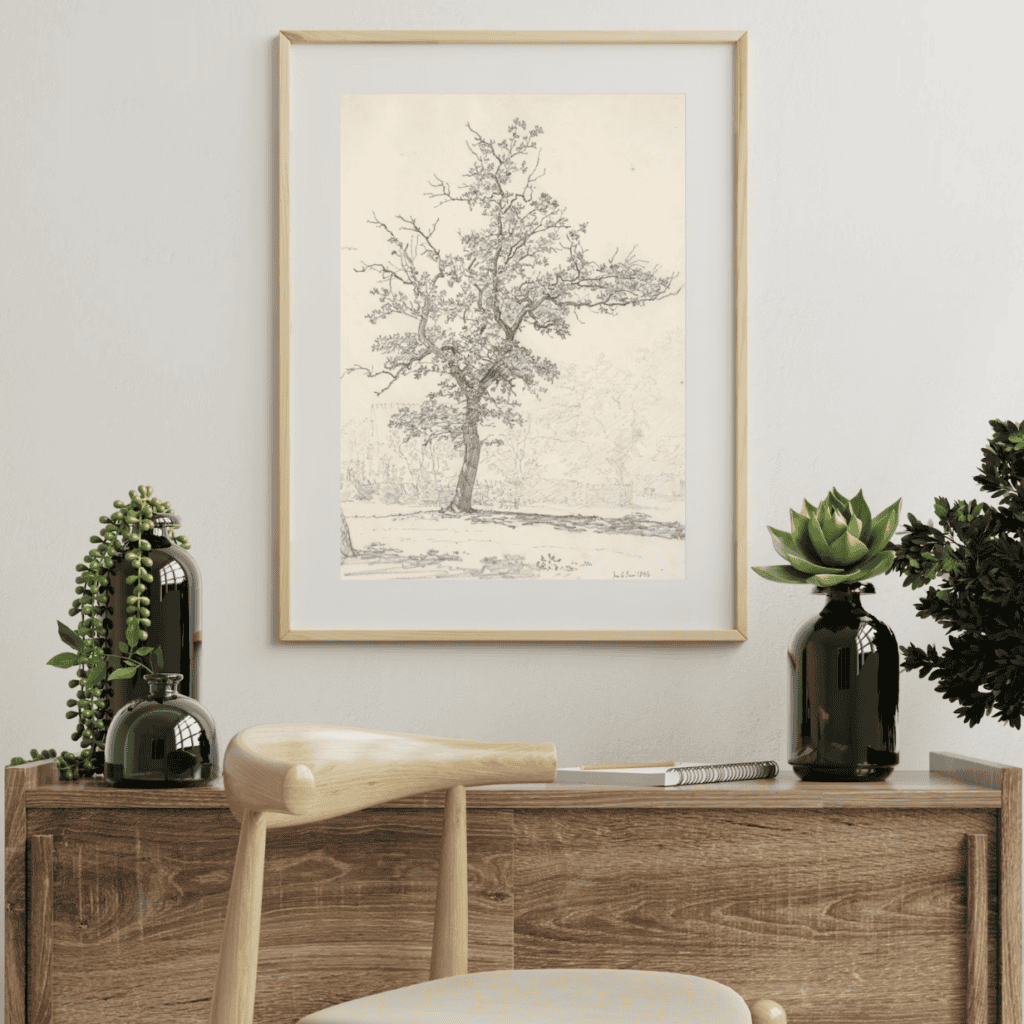 First up, we have this beautiful tree sketch art piece. This piece of art is perfect to add to your living room wall or gallery wall because it's a neutral and subtle piece that effortlessly brings the outdoors inside. Its understated charm complements any decor in your space while creating a soothing connection to nature.
Okay, next up, we have this faux Italian Ruscus leaf to bring some greenery into your space. Adding a faux branch to your space is a fantastic idea because it brings in a delightful layer of charm in. This little touch doesn't just spruce up the room but also adds a friendly and natural vibe that I am obsessed with!
Check out this tall ceramic vase! The perfect vessel for all your florals and stems. The soft neutral color just effortlessly blends with the all types of decor and adds a friendly and cozy charm that makes the room even more inviting and delightful.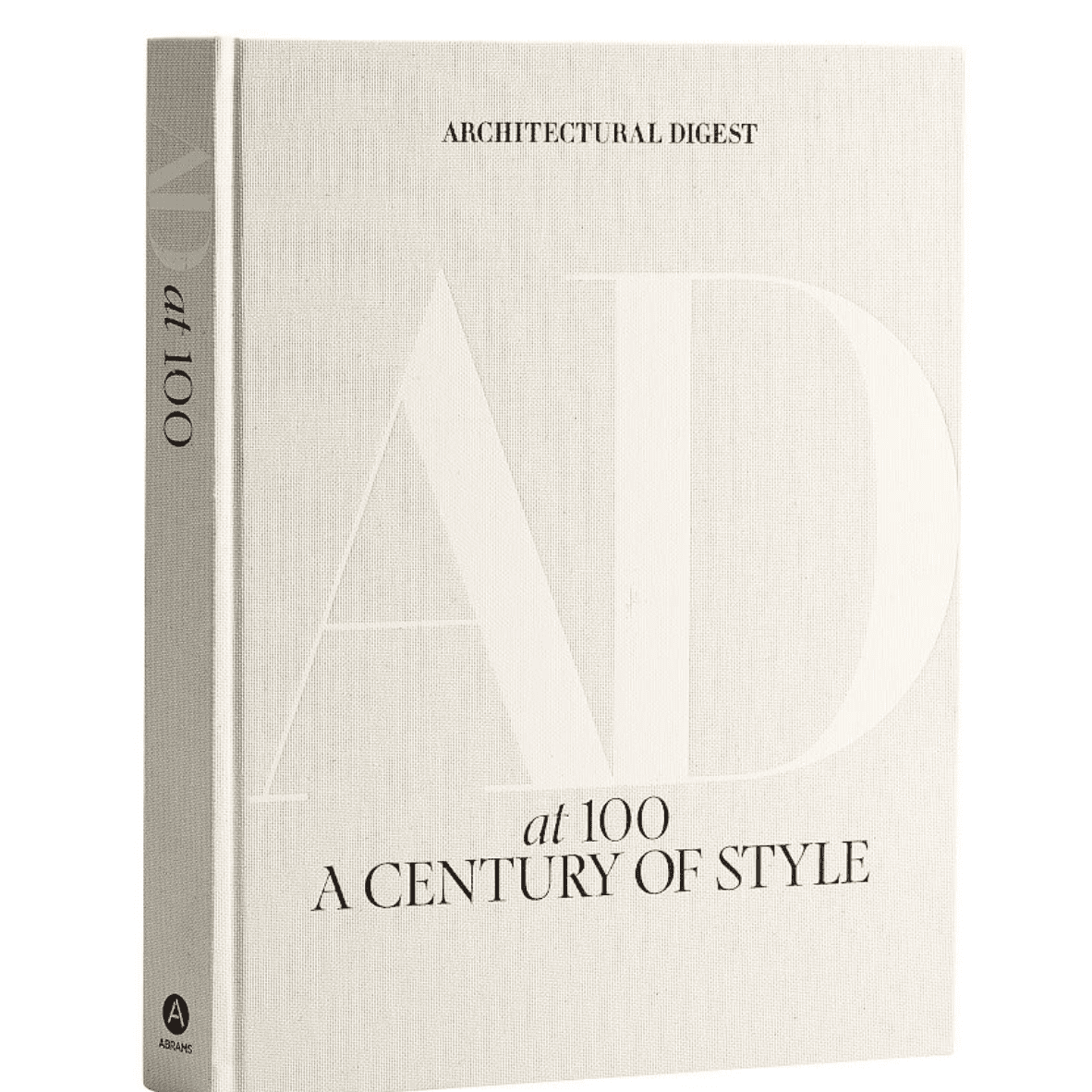 Continuing with the neutral color palette, we have one of my favorite coffee table books. Coffee table books are not just stylish additions to your living room; they're delightful conversation starters that bring a sense of warmth and inspiration to your home. Check out more coffee table books here!
Next is this stunning blue upholstered sofa. This sofa has a fun vintage flair and adds character to the space while mixing perfectly with the neutral accents. It's just so comfortable and perfect for a modern cottage living room vibe!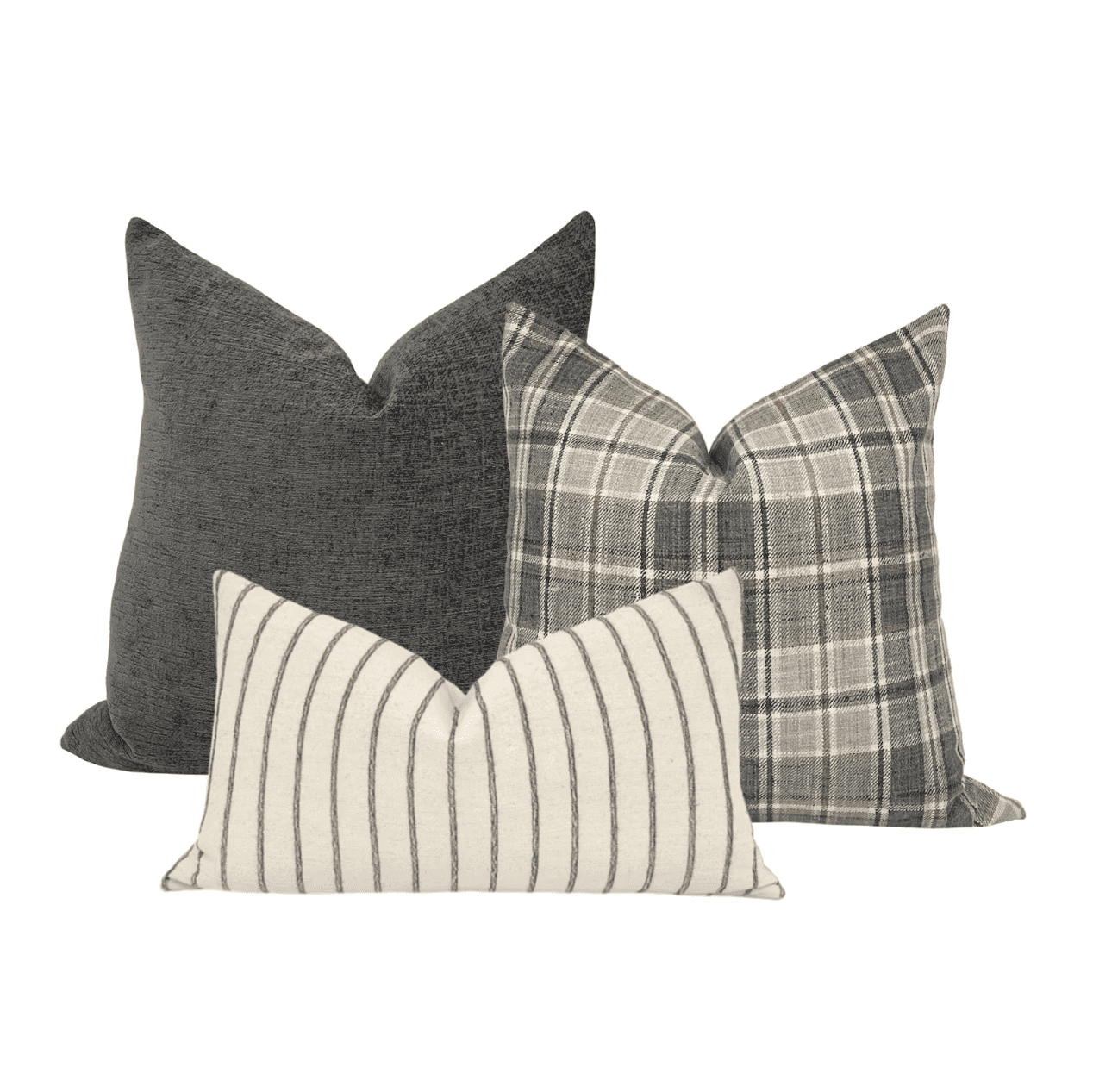 Every sofa needs some patterned throw pillows! These vibrant accents not only infuse a burst of color and texture but also bring an extra layer of dimension to your decor. Throw pillows are just so much fun!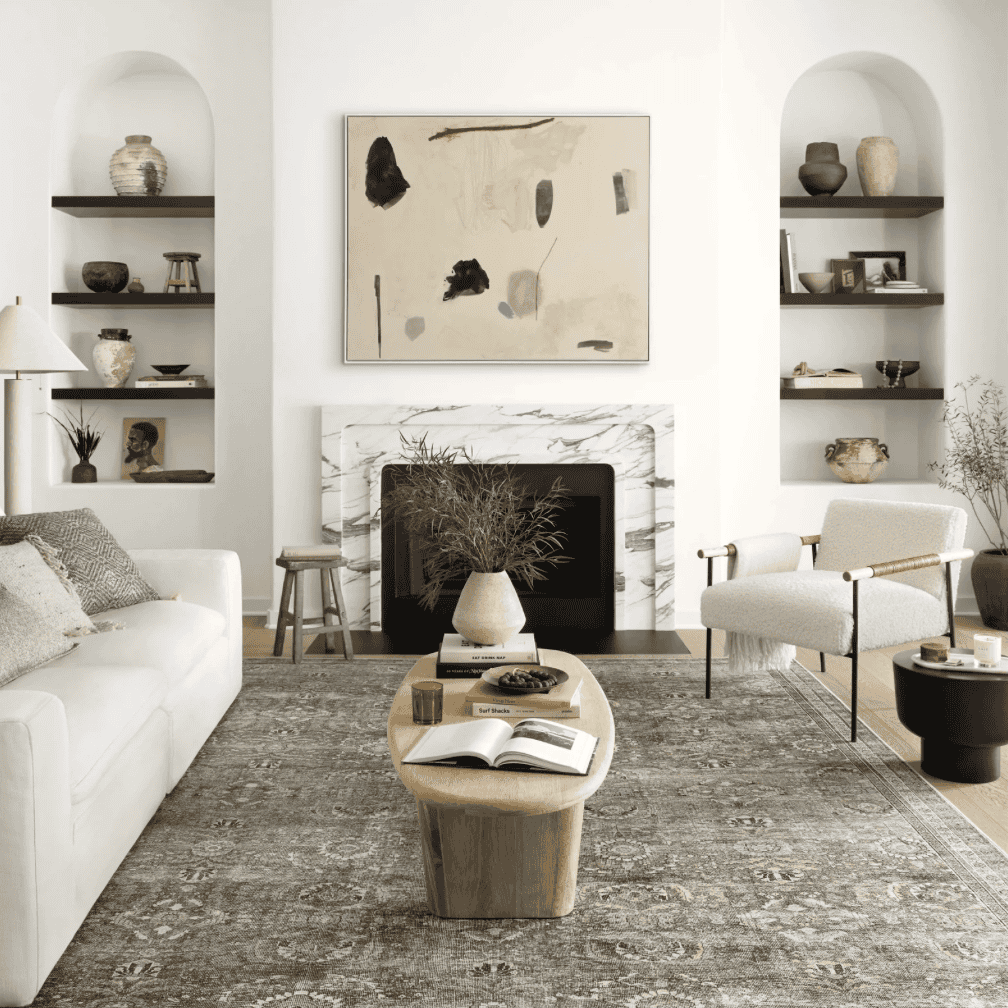 Next we have this moss area rug. Beyond its stunning visual allure, this area rug will ground your space & provide both a focal point and a cozy atmosphere that makes your living room more inviting and complete.
This matte black coffee table is a perfect piece for your living room. The solid black finish not only blends seamlessly with the neutral tones of the room but also adds a touch of modern sophistication. Its clean lines and chic design make it a standout piece and perfect for some fun coffee table decor.
This cream table lamp is the icing on the cake for a clean and inviting room aesthetic. Having a lamp instead of the main room light adds a perfectly soft, warm glow that sets the relaxing ambiance in a living room. Here are more lamps that I love!
This decorative wood bowl is a perfect addition to your coffee table decor. It adds a rustic touch and is a versatile piece that ties everything together in this space. I love to mix in natural materials like this one to soften modern designs.
Last, we have this mid-century accent chair! It's both stylish and comfortable and the perfect spot in your living room to sit with a drink and a good book. Another timeless piece that fits the vibe of the modern cottage living room!
Aren't the vibes in this living room stunning? I love it so much and hope you enjoyed it as much as me! Check out more mood boards on my blog here. Hope you all have a beautiful rest of your week! xoxo