When it comes to furniture and home styling, I know we all have our favorite go-to places to shop for when we need to decorate or renovate a space. I have a ton of favorites; CB2, Pottery Barn, Etsy, and Charish just to name a few. But, today I have to share my most tried and true favorite source for all things home decor. Are ya ready for it? Drumroll, please.
My personal favorite place to source beautiful, curated, items is Lulu and Georgia. Why? Because their pieces feel one of a kind, high quality, and have a flair for putting a modern touch to classic looks that remain timeless without looking fussy. While they aren't the cheapest option, they are. beyond reasonable for what you get. These pieces are amazing!
I really could style an entire home using only items from Lulu and Georgia! So today, I thought it would be fun to share with y'all some of my favorite pieces from them for a small corner, entry, or nook. All of these pieces are breathtaking solo – but they work exceptionally well as a complete look too. Let's dive in: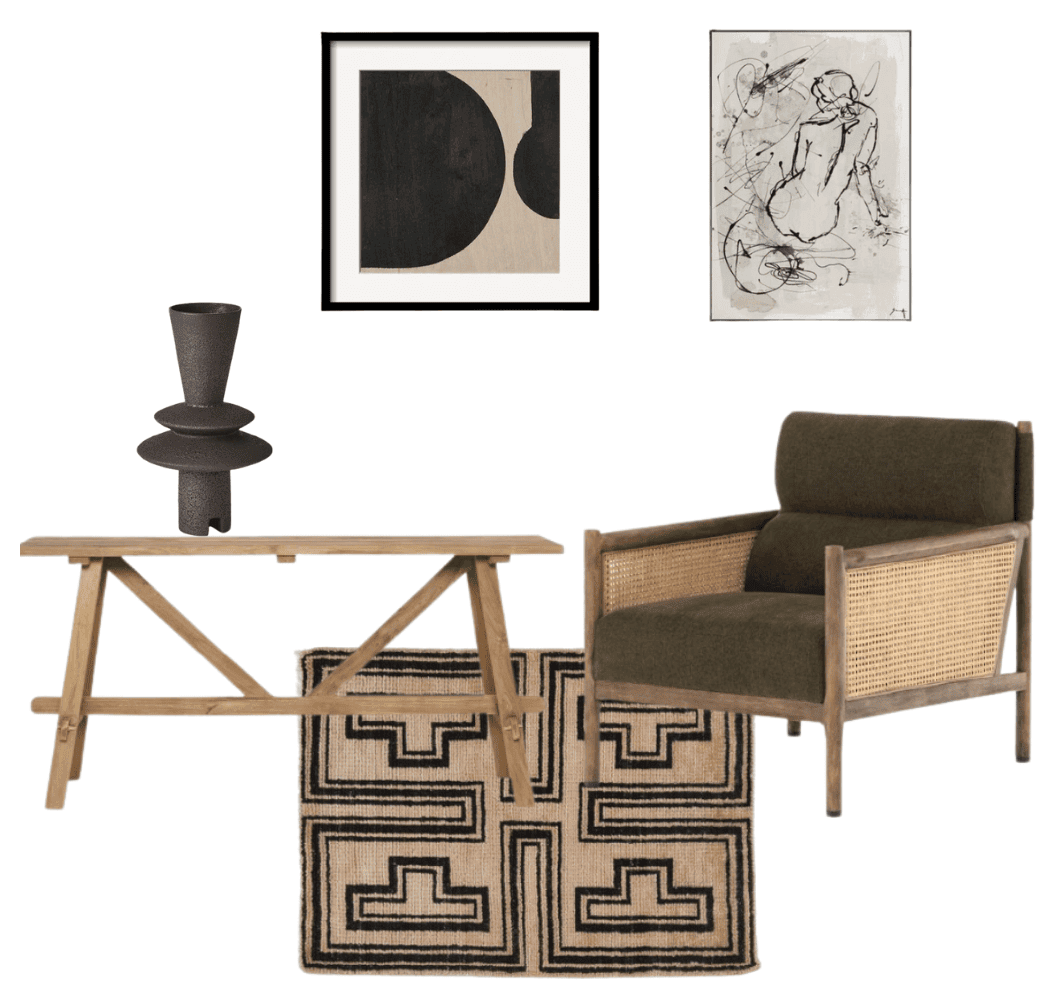 When searching for console tables that will look great in an entryway, I try to look for three things: silhouette, function, and materiality. Luckily, this table has all three! The distressed unfinished wood gives the table a strong antique-like character, it's incredibly sturdy, and a great size to hold all the required elements – making it the perfect all-around piece. I just love the look and it can go classic or contemporary as you see fit.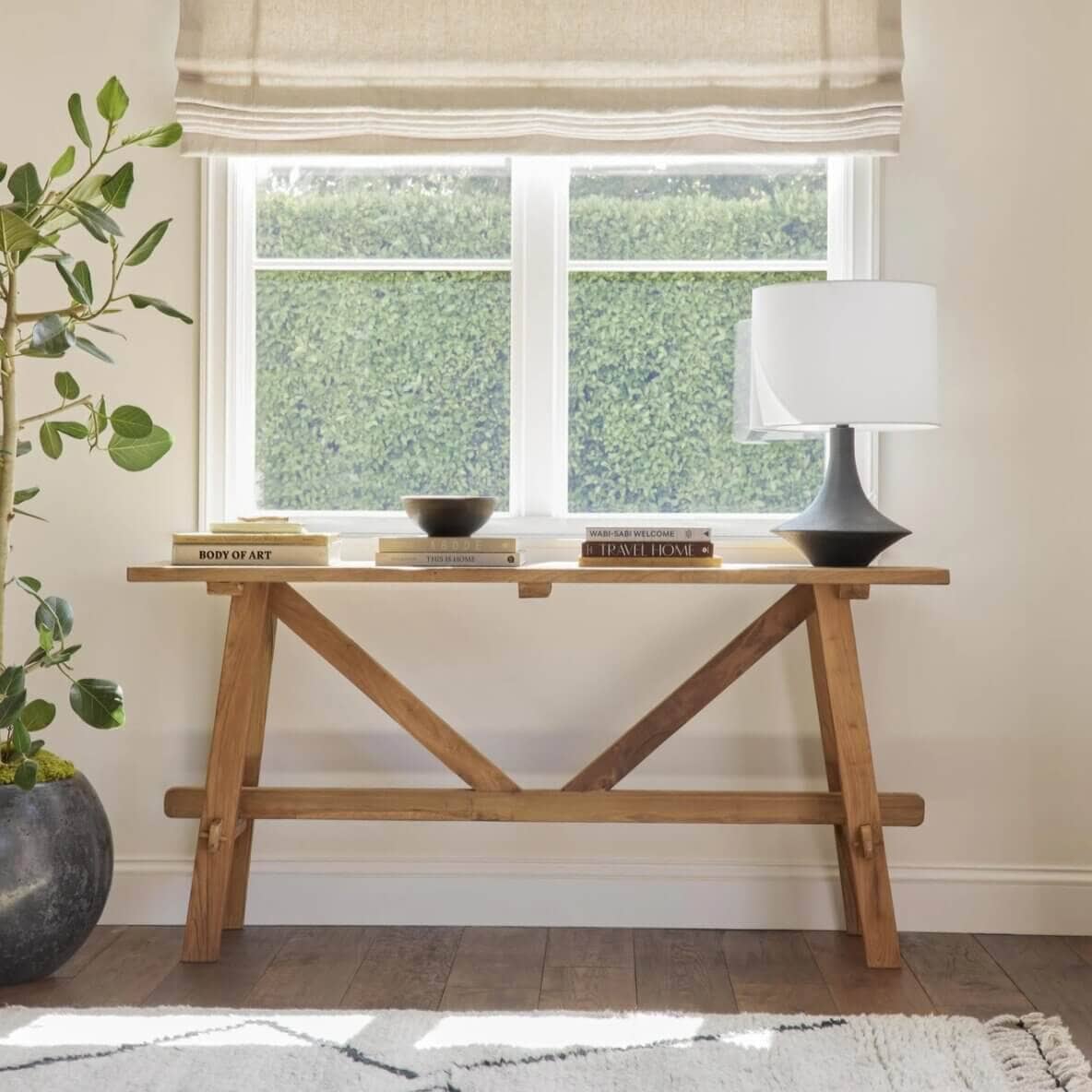 I think most of ya know that in my opinion, a room is not complete without a good rug. But this begs the question: What makes a rug a worthy choice? In my opinion, it's really the scale, and "print" that makes or breaks the area rug. The design doesn't have to be too bold or ostentatious as long as it's flattering the design and acts as a foundation for the room to breathe. My heart skipped a beat when I saw this neutral design with bold black block lines. It's a perfect grounding element while making a big bold statment. I don't see how you could go wrong with this handwoven rug.
Look, it's kinda a secret – but I want to tell you all. The best styling moments have "oddly," shaped elements that break the traditional square and circle silhouettes incorporated into the space. One of the best ways to get a designer look is incorporating sculpture-like pieces with unique shapes. Vases are always a good way to introduce new shapes into your styling. This is a really great vase because it acts both as a beautiful styling piece even without fresh florals. Of course, it can hold beautiful flowers whenever you want to add life and vibrancy to a space, but it can also stand on its own. Get two!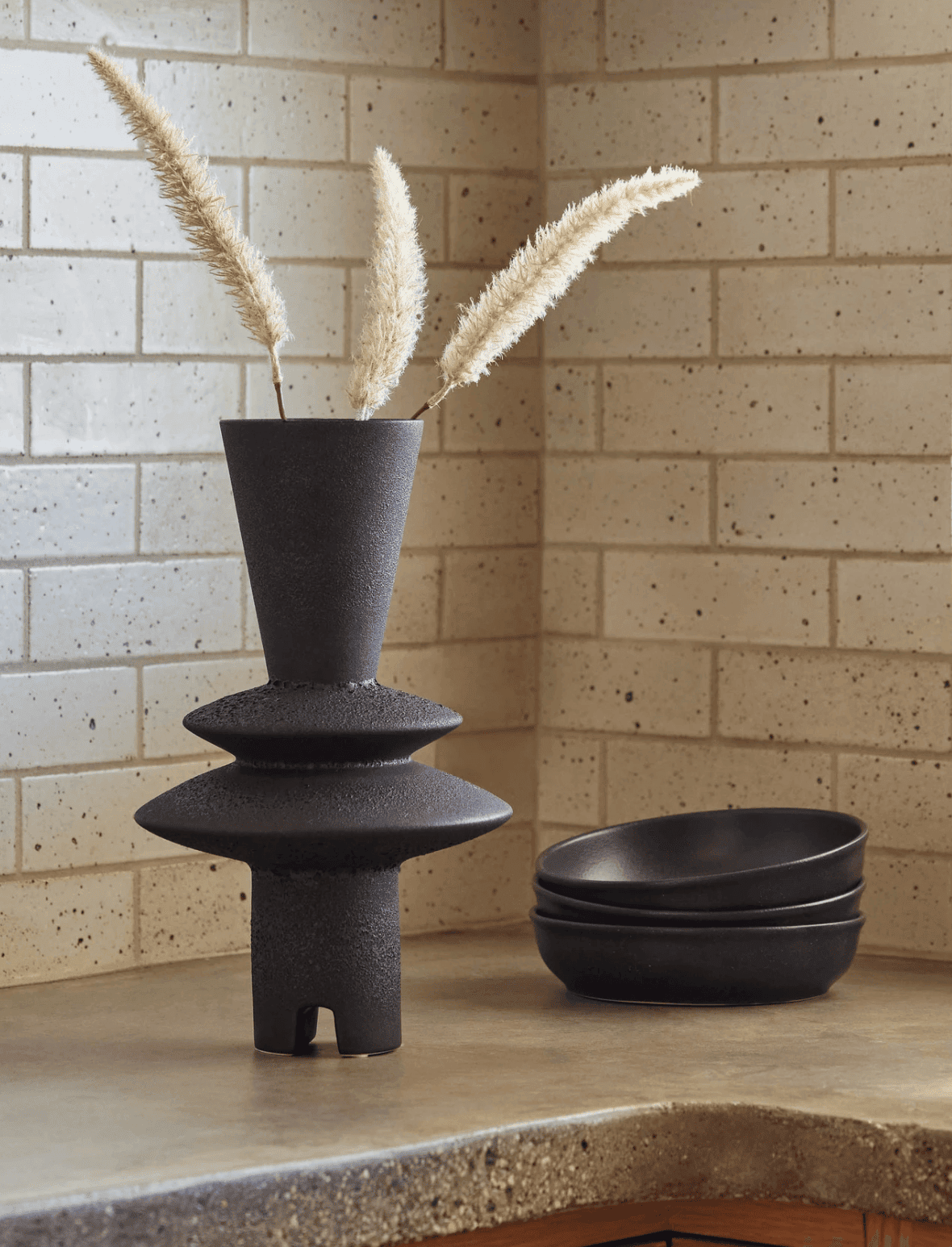 Hanging artwork is absolutely essential for me to have a completed look. The blank space to the left or right of a console is a great spot for art. If you don't have your TV directly above it, I suggest placing art there! Remember, art is an easy way to elevate the visual interest of any room while telling a story. I prefer to mix something ultra-modern with something vintage. The look will be chef kisses – I promise. As such this Figure of Ebba is enough to capture anyone's attention and encourage conversations, especially when paired with this alluring abstract Woman Motion Study No. 12 painting. With both, ya' got yourself a mini art gallery wall that makes a powerful statement!
A statement accent chair is a must for a small corner vignette. And, I can't get over this cane, walnut, and lush moss green velvet look. Just amazing! It will add a little French-inspired element to your corner of choice. It's a beautifully crafted accent chair blending cane and a modern silhouette in perfect harmony. At first glance, it has a predominantly vintage appeal, but the longer you stare at it, the more contemporary it looks. Isn't that awesome? I guess that's Lulu and Georgia in a nutshell for you! Obsessed.
There you have it! These are my absolute favorite console or corner nook pieces from Lulu and Georgia, although I love every single piece on their own I think they work incredibly well as a complete look. Their pieces always somehow manage to captivate my attention blending my favorite looks into single pieces – feeling old and new. Check em out.
How about you, though? Which of these pieces is your favorite? Do you think you could incorporate any of them into your own personal living space? If so, which ones? I'd love to know!
Curating classic yet interesting pieces to style your home with is no easy feat. Fortunately, some stores make it such a fun and exciting task! Have fun! Xoxo