Let's be honest. I have a major sweet tooth around here. Do you too? I feel like you can indulge in moderation. As such, if you are in the mood for the most magical of treats, boy do I have ya' covered today. This Lucky charms-inspired sweet is the ultimate delight for any kid or adult alike. It's just too adorable. Best part? It literally only takes five minutes to make and will have your kids (or loved ones) howling with delight. It's of course delicious. In the end, who doesn't love being the best mom (dad) or others on the block? Serving this treat should be a quick trip to top parent status. At least for a few minutes. Wanna give it a go? Check out the quick + easy recipe below::
Time:
Prep: 5 min
Cook: 5 min
Total: 5 min
Serves: 1-2
Ingredients:
3-4 slices white bread. If you can grab Kings Hawaiian bread do it!
4 oz of cream cheese, soften by sitting out on the counter for an hour or so. Remove from wrapper and zap for 15 seconds if you need to go fast!
3 tablespoons honey
Food coloring of choice – I prefer blue or red and make it pink by using half a drop
1/4 cup Lucky Charms™ Honey Clovers cereal
Dash of decorating sprinkles.
Directions:
Toast your bread to the desired doneness
Grab cream cheese, then combine both the cheese and honey. You will want to blend it slowly until it's smooth – about 3-4 minutes.
If you want more than one color of spread divide cream cheese + honey spread into 3 bowls
Add one drop of food coloring to each. I do half a drop of red – to make it appear pinker.
Spread on toast. You can use a butter knife or spatula. Be generous guys. I like little waves honestly.
Then the fun part! Sprinkle with a generous amount of Lucky charms.
Then sprinkle with, well – sprinkles!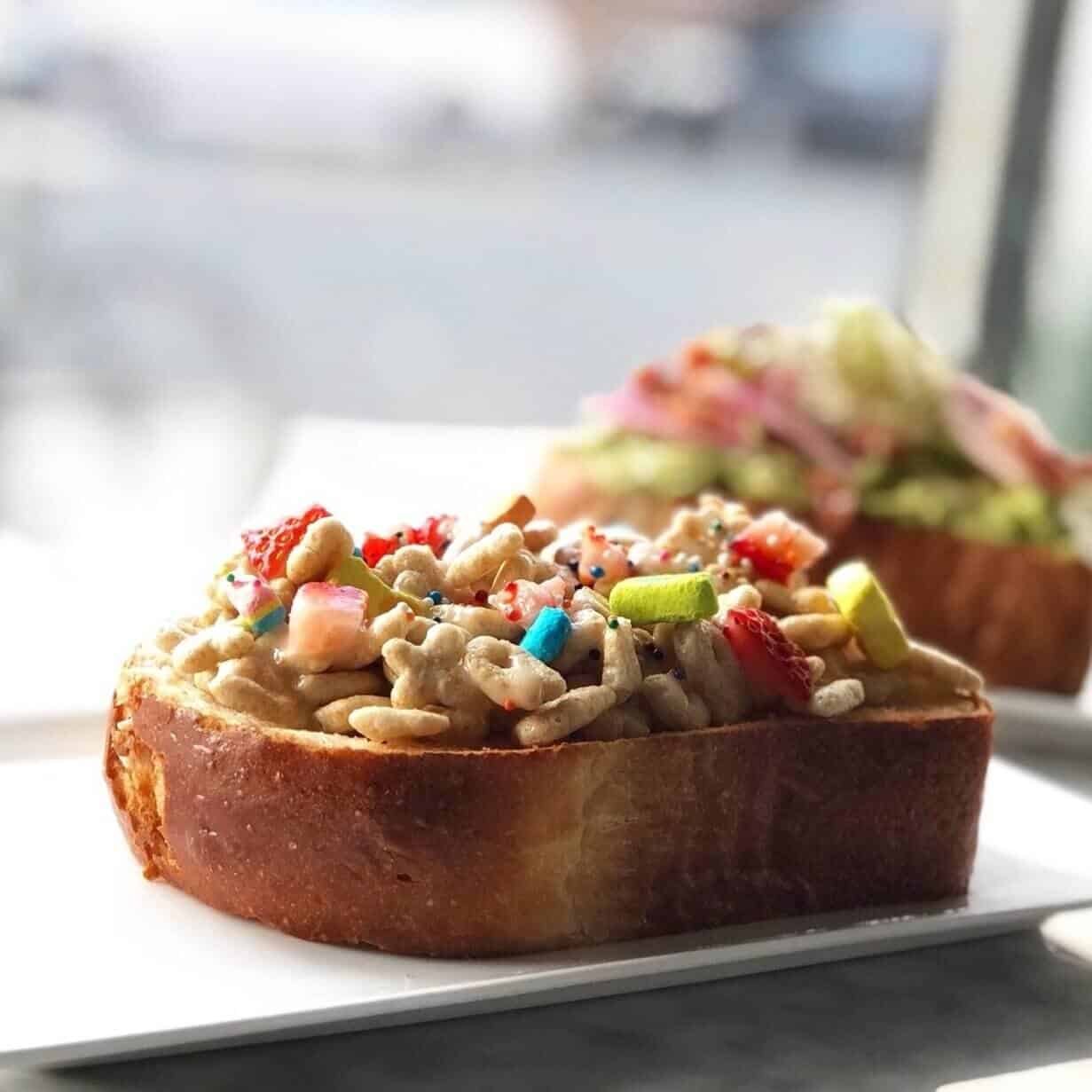 Guys, don't we just love a quick and easy breakfast. It's icing on the cake that it's gorgeous too. When I am in the mood for something fun and sweet – this is a great go-to. Especially when I have my nieces and nephews over. They just love the fun of it. Of course, they always devour it.
For another sweet treat – check out my Cinnamon Sugar Toast. It's epic.

Will you give this a try? There is nothing easier (and more fun) to make than Lucky Toast. Enjoy! xoxo