What's better than a Rice Krispie Treat? A Peeps Rice Krispie Treat, that's what! With Easter almost here, I had to share one of our favorite traditions – making these fun festive treats. These Rice Krispie Treats are even easier to whip up than the traditional versions because you simply substitute your favorite Peeps flavor (mine is cotton candy) for a bag of marshmallows – No need for extra marshmallows. Plus it's beyond fun to get to try the Seasonal Peeps as a Rice Krispie Treat. Of course, you can't go wrong with original, delicious Peeps.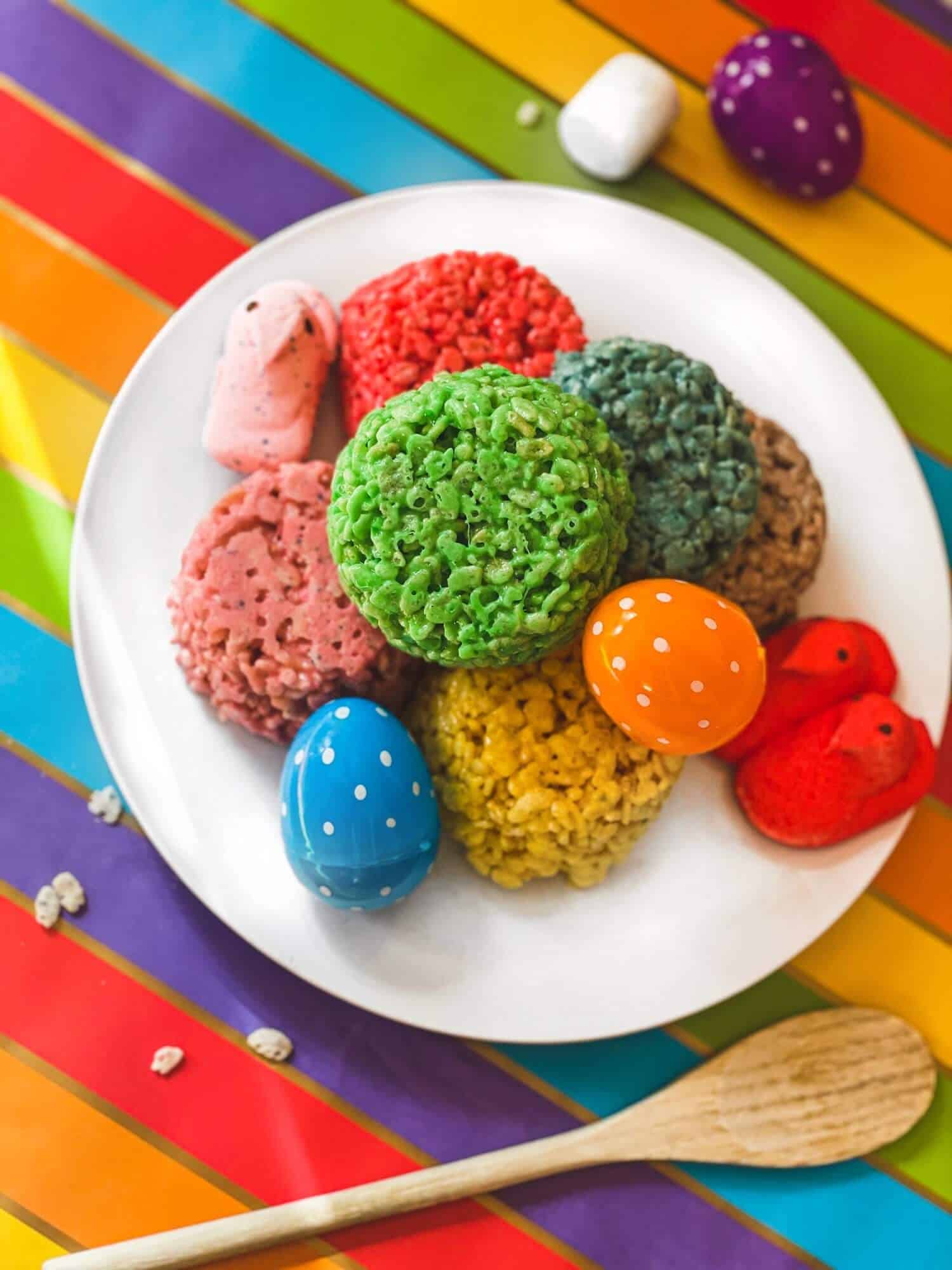 Even better? These Peeps Rice Krispie Treats are super simple to make and don't require any baking or cooking, just some butter, and a microwave will get you on your way. Wanna jump in? Of course, you do – that's why I love ya.
One quick note. The seasonal flavors change every year. This year's Peeps Rice Krispie Treat flavors are Cotton Candy, Fruit Punch, and Party Cake. They were all delicious, but cotton candy was hands down my favorite. Let's jump in:
PEEPS RICE KRISPIE TREAT PREP TIME
Prep: 15 min
Cook: 15 min
Total: 1/2 hour
Serves: 3-4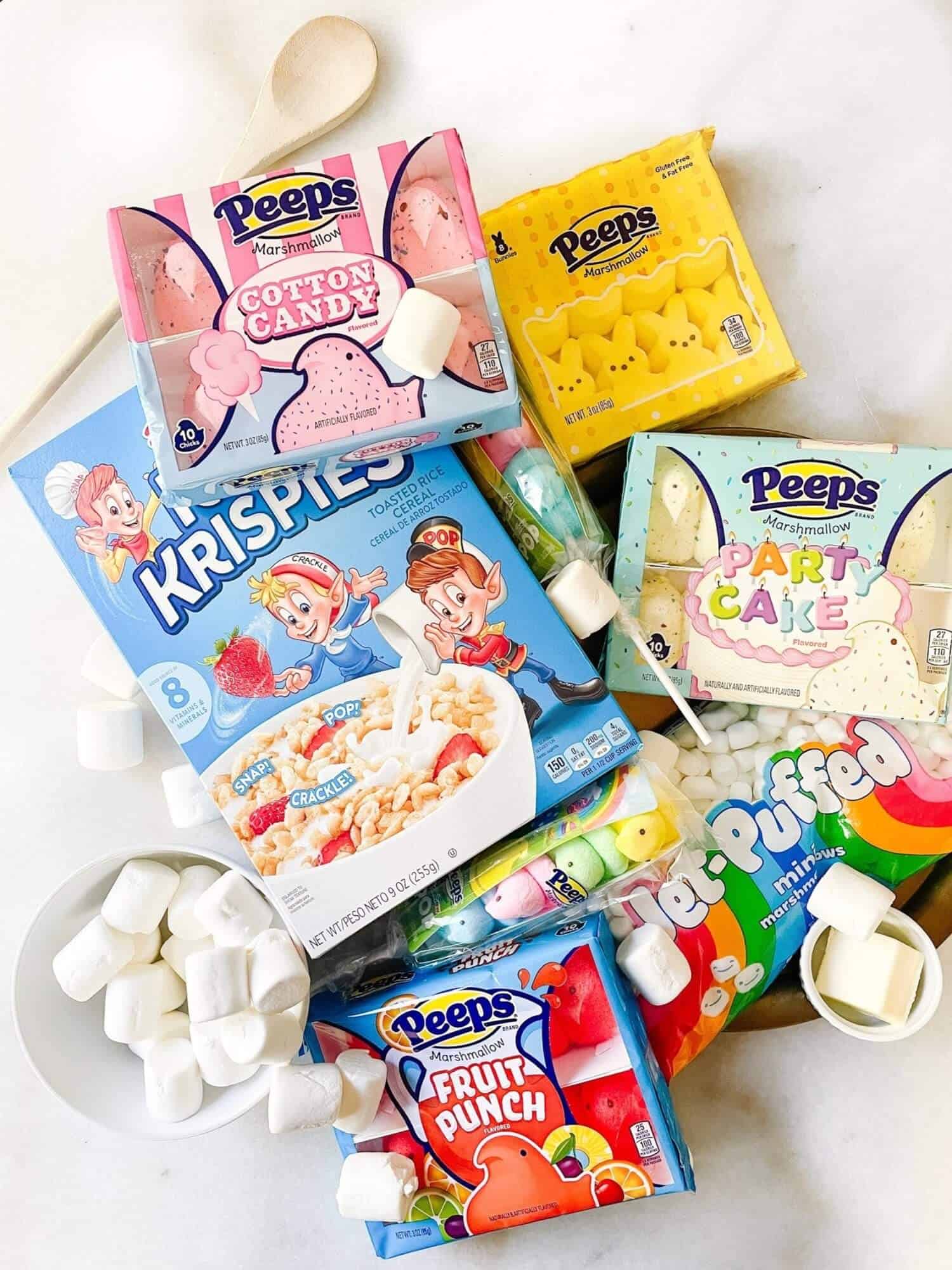 INGREDIENTS
2 boxes of Rice Krispies cereal
Peeps of choice – (Each 8 piece Peeps should get 1 1/2 cup of Rice Krispies)
Peeps – for this recipe I used the 8 pieces 3 oz. package
1 cube of butter – 1/4 tbsp. butter for each package of Peeps
Food coloring of choice to create more saturated colors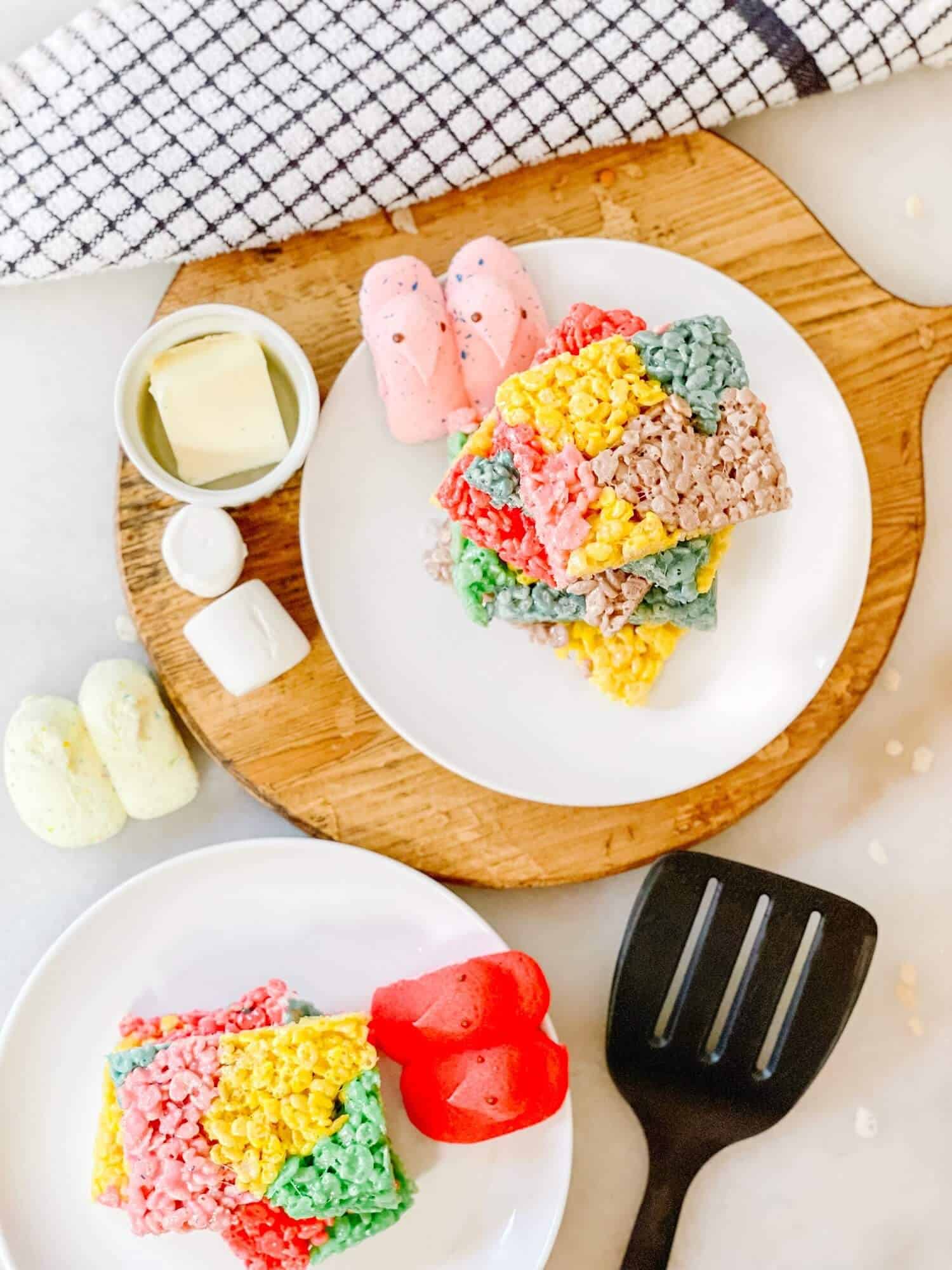 HOW TO MAKE PEEPS RICE KRISPIE TREATS
Grease your pan of choice with butter – I prefer a 9" x 13'" Don't skip this step, it helps when the time comes to remove your treats and adds a ton to the flavor.
Remove the eyes from each Peep to avoid getting a black bleed
Add them to a microwave-safe bowl with 1 tbsp of butter and microwave on high for 1 minute
With a spoon (careful it's hot) mix the Peeps and butter until you achieve a smooth consistency – if you want a deeper color feel free to add a drop of food coloring now
Quickly add 1 1/2 cups of Rice Krispies to Peeps and butter mixture and combine. When blended add to a……
Already greased pan and/or muffin tin. I like to do both. For the muffin tin keep the colors separate. But….
In the pan add small dollops randomly of each color. You want the Rice Krispies to touch but not necessarily touch
Do this for as many peeps as you like, and you are welcome to double up the recipe but I like to make many small batches so I can try different Peeps flavors.
Once all the Rice Krispies are in their pan of choice take a piece of parchment paper and gently press them into the mold. Don't do this too hard – you don't want them to compress too much and get tough. You just want each treat to fill the mold or pan
For the pan sheet simply release the edges with a spatula and flip it upside down on a cutting board. Cut into small cubes of choice and serve when ready!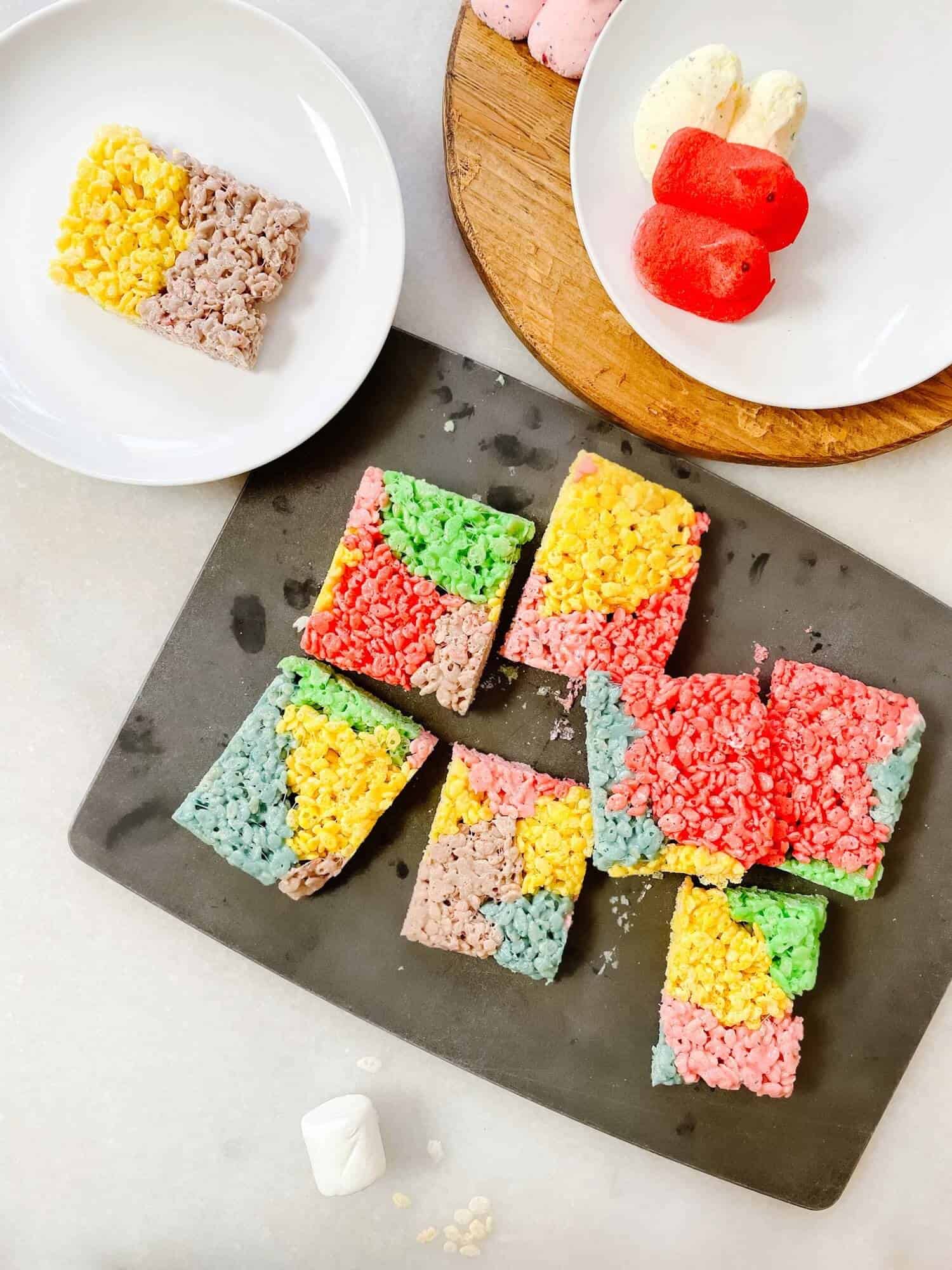 TIPS FOR MAKING THE BEST PEEPS RICE KRISPIE TREATS
Don't overheat the Peeps and butter mixture. You want to microwave them on low, and mix till smooth and gently – if you overheat them the mixture will get too sticky and be unmanageable.
Be sure to grease your pans, hands, and spatulas. Peeps Rice Krispie Treats are sticky! This will help make the work quick and easy. Trust me!
Want a more vibrant color? Don't be afraid to add a drop or two of food coloring. Also, consider mixing blue and red to make purple! It's Easter we're starting with Peeps, just have fun.
It's that simple y'all. Are you going to try making these sugary sweet treats on your own? If ya' do tag me @136home on Instagram. It's my favorite. In the end, these Peeps Rice Krispie Treats are an amazing way to celebrate Easter and Spring holidays. Don't forget to try out the other fun Peeps flavors and enjoy them with your family – you will be their all-star after this. xoxoxo
Peeps Rice Krispie Treats
Make this salty, crispy, low fat, heart-healthy snack quickly and easily in your oven or air fryer – so simple!
Ingredients
1

15 oz. can

chick peas

(garbanzo beans)

2

tsp.

flaky sea salt
Instructions
Conventional Oven Instructions

Drain the chickpeas. Rinse under water and dry thoroughly with paper towels. Spread the chickpeas out onto a baking sheet and allow them to sit for 10-15 minutes to dry out.

Air Fryer Instructions

Preheat air fryer to 375 degrees.
Notes
This is test recipe card.