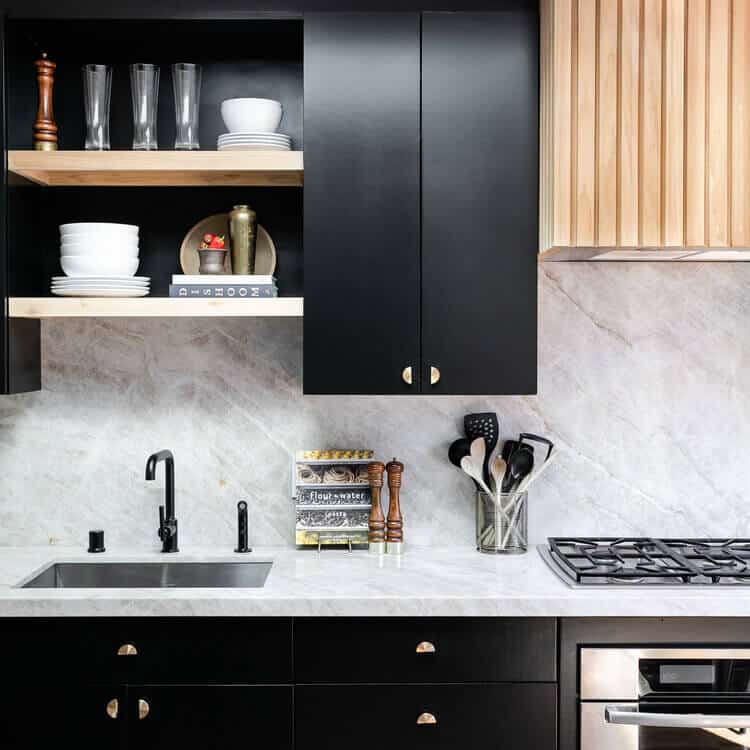 I get a ton of questions around here. Like a lot. The good news is, I love nothing more than chatting with you all and answering every single one of your questions. If I had to pick one, and only one question that I get asked most, like, all the time. It would be, "What color did you paint your doors and kitchen cabinets?"
Settling on this paint color was a saga, really it was. Sure, you may think how many black paints can there be? Just pick one, it's not a big deal. Wrong. All paints are NOT created equal. There are a ton of variables you want to consider to avoid heartache later. Things like; finish, how it looks in the space at different times of the day just to name a few. In the end, ya gotta get the color and finish right and make sure it's durable enough to stand up to every-day life.
Now that I have painted my entire home floor to ceiling, every wall, and every door, let me reveal what black paint color I think looks best for doors and cabinets and in what finishes.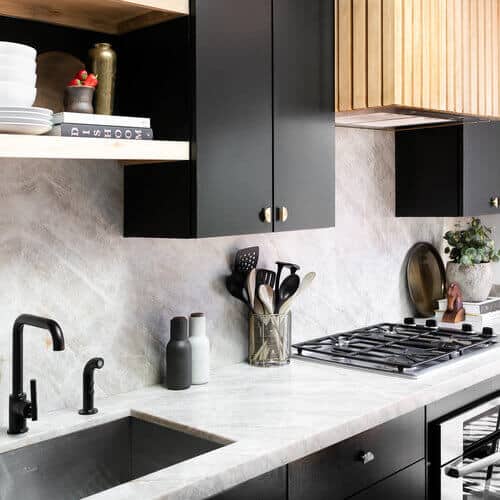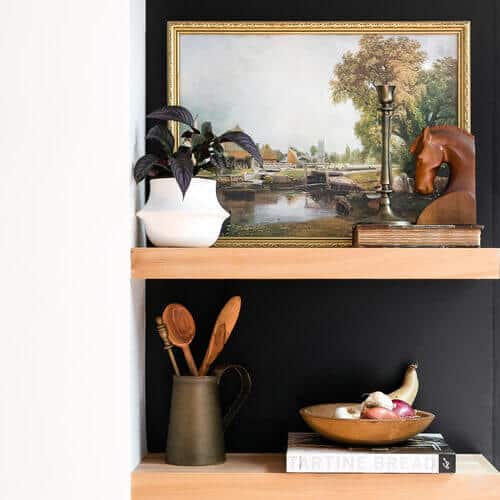 My preferred black of choice is:
Tricorn Black by Sherwin Williams. That's it. Stop, don't look anymore. Bold statement right? I know. I believe in this color that much. This is not a collab, etc. I just love this black paint that much.
One caveat: It's still always a good idea to test a painted swatch on the surface wall or cabinet you are considering painting black and evaluate the tone with a few others at different times of day before you go. If at a minimum to validate, that tricorn black is the perfect paint for you.
Okay, let's assume you love this color as much as we do. Great! Let's talk about a few things to consider in terms of finish and what I decided.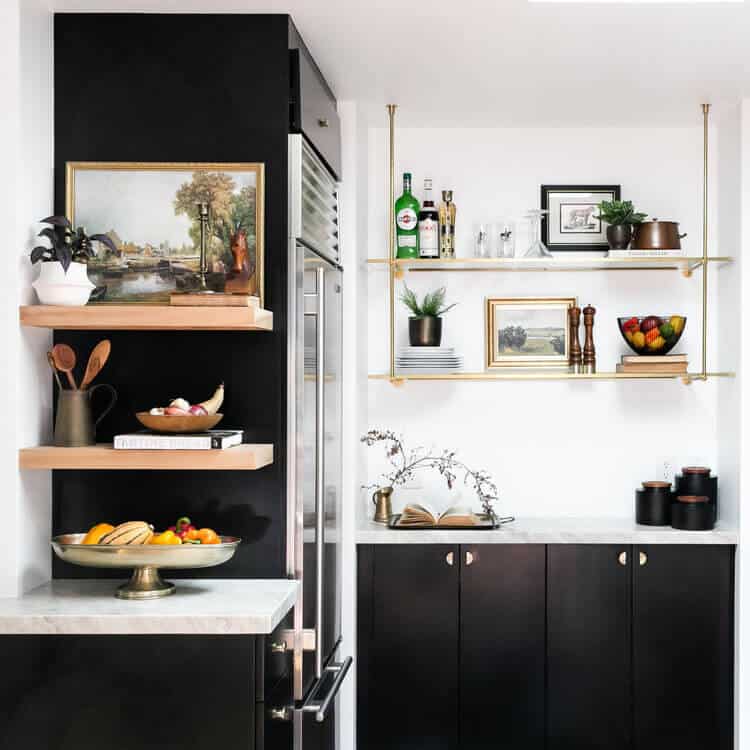 There are three primary interior finishes for paint. There are more, but these are the only three I consider; matte or flat, eggshell, and semigloss.
They all have their purpose. Here's where I use each and why:
Walls / Ceilings – I am drawn more to a neutral non-reflective surface with my walls. (in my home they are white.) But if you were to paint your walls black, matte is the best to finish for them in my opinion. Black (and white) look amazing, but with too much shine as in semigloss, it can quickly look cheap and nightlife like. Stick to matte for walls and ceilings
Trim – It's my opinion that if you are going to paint your walls and ceiling matte, that a slight sheen as seen with eggshell, really pops trim and baseboards or molding. If you paint everything matte things will blend together a bit more. That's okay! But I have found that a bit of eggshell which is still matte, but helps to define these detail elements works wonders!
Bathrooms – The only exception to my rule on the above is in a bathroom. Because there is humidity, and moisture there is a functional need to have the paint be easily wipable. Matte paints are much harder to clean. Stay tuned for more on this. So, to be clear; in a bathroom, I will do everything in eggshell. I still avoid semigloss here. I just can deal with the shine.
Doors – Okay, this is the controversial one. I almost always WANT a matte finish. I just think it looks more luxe. However, doors – especially black ones can show dust, and fingerprints easily. If you want to avoid having your doors look instantly dirty (as will happen with a matte) I strongly suggest going with eggshell, but semi-gloss is best. this is especially important to consider if you have children etc. I went Matte, and the doors that don't get much action looks A+, but the high traffic ones do show fingerprints as lot and have to be wiped down often. However, cleaning only does a decent job of removing those elements. If I could do it again I would have done my doors in eggshell, but probably semigloss if we had kids etc.
Kitchen Cabinets – What you were wondering right? Please, if you forget anything else. Make sure your paint is semigloss and prepped and primed properly. That includes sanding, degreasing, removal of all lint, applying with a roller or spray gun, and ensuring the mix for your paint cabinet quality strength. Note that I would allow at LEAST 5 days for the paint to cure and harden. 10 days if you can allow for it. You really really really (Did I make that dramatic enough? ) want your kitchen cabinets to be easy to clean. Black is beautiful. It really is, but you want the kitchen cabinets to be easily wipable. They will show watermarks, and dust, etc. This is totally fine if they do, but we wipe down our cabinets with a microfiber cloth and warm soap and water weekly. Use semi-gloss. Also, note that I do not suggest painting matte, and then applying a clear topcoat as it would peel and look terrible quickly. Please don't do that my friends. The Sherwin Williams Triocron black for the kitchen cabinets (tell em it's for cabinets) has a natural oil-based seal that can hold up to everyday use. If you have any doubts, don't. DM me on Instagram and I will help ya out. Don't get this step wrong

So there you have it. I hope these quick and dirty rules of thumb will help you if you quest if you are seriously considering black paint in your space. Be sure to select the right finish, for the right job, and consider taking to heart my points above. Got more questions, or want to learn more? Head on over to Instagram. See ya there.