Look, making your home feel beautiful and joyful doesn't have to break the bank. Sure, it's easier to acquire things with a big budget – but I spent most of my interior life on a tight ( like really tight) budget. However, I was always able to feel rich in my spaces.
How? Find affordable and joyful ways to infuse character into your space one detail at a time. This one cost me $20 and took 5 minutes to do. Everything you need here.

Here's what I did:
Purchase a favorite mature herb of choice.
I suggest something that is hardy that can withstand heat and doesn't need to be watered every single day. My Favorite is a rosemary bush.
Be sure to rinse your plant thoroughly before placing it in a pot and let dry – we do want to ACTUALLY use these herbss to cook. It's so much fun, you guys. Wait till you cut your first herb right off the vine from your kitchen. It's the best!
Ideally, your herb plant is already in a plastic pot with soil – Like these. However, if it's not…
Go ahead and pot it with soil. just make sure that the roots can properly drain. Most plastic store-bought plants have holes in the bottom which is great. You can also throw a few yard rocks at the bottom of your pot too. Just check! Then…
Place in your favorite decorative pot. You don't have to be too fussy with it.
What's cooler (magical really) than shopping for fragrant basil or rosemary etc. right from your very own kitchen. Just grab a handful as needed and add to any home-cooked meal.
I love rosemary in the kitchen. It smells amazing but practically it's sturdy enough of an herb to withstand everyday life and not wilt. Basil is good too. Just water 2x a week and enjoy!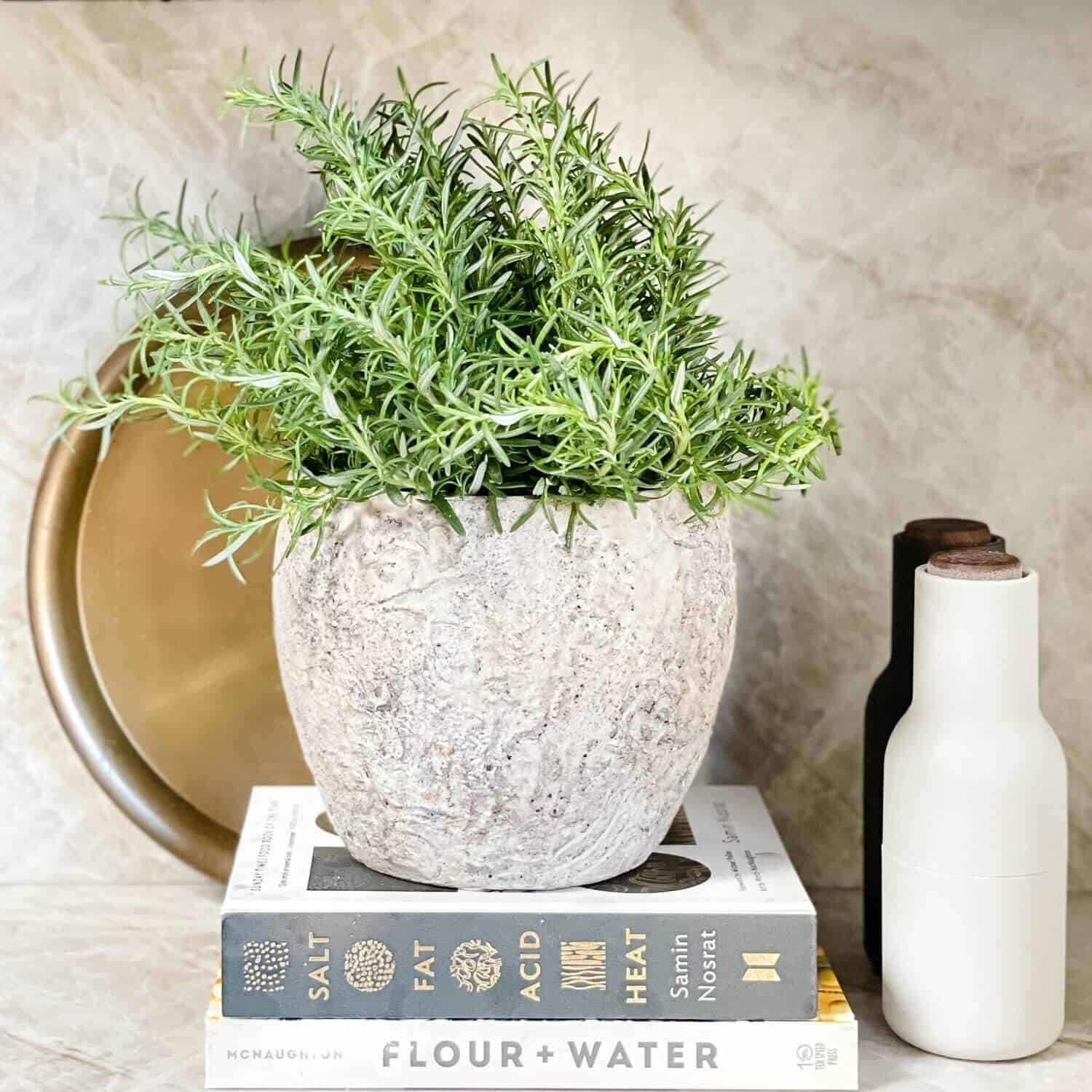 Okay, so are ya gonna give this level up a try? There's literally no reason not too. It's inexpensive, everything can be ordered online, right now. Like it's all here for ya – and I guarantee this will make your kitchen feel like a bed and breakfast in a jiff.
⁠
I hope the above was helpful. If you want to follow along on Instagram for more styling tips, DIY, and design. Also, too busy to heck the gram? Subscribe for my weekly round up full of DIY, Styling tips, amazing sales and more here. xoxo
DON'T FORGET IT. PIN IT.