Home cleaning can be fun. But, I know for lots of us it's really the last thing we want to be doing on any given day. So, I thought it would be fun and maybe needed to share with you some of the ways I make spring cleaning a blast. I want y'all to get through it with ease.
Here's the thing – Nothing (well almost nothing) feels better than a clean and organized home. I love the smell, the sparkle, and the zen after everything is done. It's just the best. Let's dive in: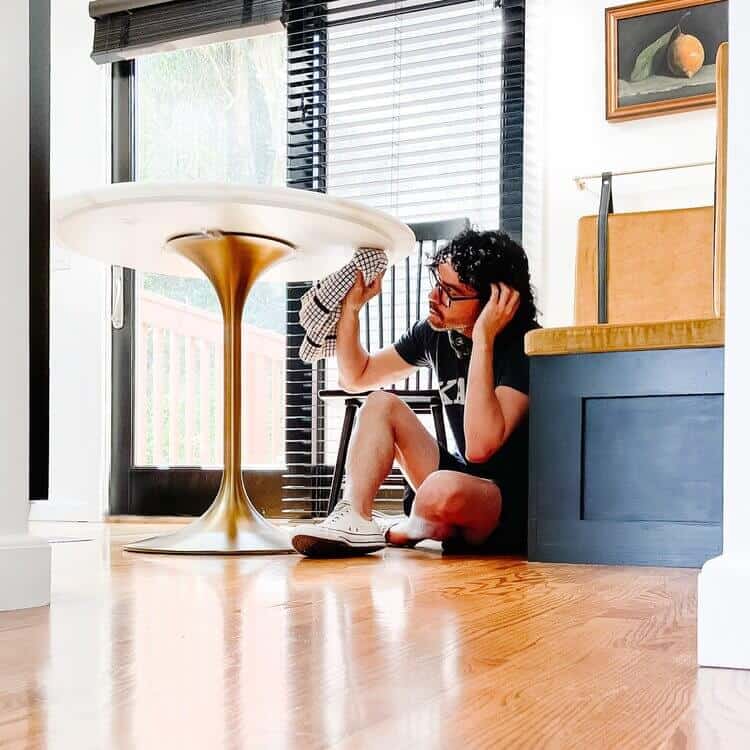 Make a Playlist and/or listen to a good Podcast

This is the secret guys. Period. The end. I never miss an opportunity to listen to great music or dive deep into a podcast that interests me when I am doing something that I don't want to feel like it's dragging on forever. I do this at the gym too. I have so many favorite songs – and I know a lot of ya love my song choices in stories. So I went ahead and compiled them into a Spotify Playlist here. Check it out. Who knows, we will probably end up listening to the same songs at the same time. See ya there!
Also, who doesn't love a true crime? But, if you do you gotta try In the Dark, and Serial Season 1, 2, and 3. they are incredible and completely engrossing if not at times enraging. Hang on to your seats and go in eyes wide open.

Clean in an Order

Okay, so this may make common sense to some, but if I am being honest I used to mess this up all the time. Don't make the mistake of making things extra hard on yourself IE: dusting AFTER you vacuum. Start your cleaning from the top and work your way to the bottom. This means get up on a chair, dust your cabinets, wipe down the counters and then furniture etc . After move onto wet wiping where needed, sweep vacuum, and then mop, etc. By cleaning in this way you are doing it all at once and not having to repeat steps. Also, Pro tip: I do a few rooms at once – RE: Sweep both the kitchen, office, and powder room, then Windex windows and mirrors. Why? It prevents repeating trips and swapping cleaning supplies as these rooms are all on the same floor etc.

Declutter First

Guys, I love this tip. It makes the actual cleaning process so much faster and easier. Even better? You can get rid of that stuff that's been junking up your life which is always a win. Just layout a big box, trash bag, (or trash can) and start throwing stuff away. Rule of thumb – if you haven't used it in a year get rid of it. Again, if you get rid of the clutter before you start cleaning everything goes so much more smoothly. Be brave guys. You don't need the one sock that doesn't have a match I promise.

Get Organized

How many of us have cleaning supplies under every sink in our homes? Guilty. But, for deep cleaning, I suggest getting all your cleaners and rags, etc into one caddy. It makes it so much easier do you don't have to keep starting from room to room when you need the bleach or pine sol. My caddy is actually meant for tools. I find the ones made for cleaning are too small. I like lots of room for all my supplies.

My Top 2 Cleaning Hacks

Okay, okay. The time has come. Ya gotta get to cleaning. Here are my two favorite hacks for cleaning and a great checklist for all the areas to get. I love a list, don't you? Get to it guys. You will be so happy when it's done:

Sanitize your Sponge – Microwave a soaked sponge for 2 minutes. It will be sanitized and good as new. You can even start your spring cleaning with it now.
Clean Coffee Mug Stains – fill your mug with one part baking soda and two parts water. Soak for 24 hours. Rinse and wipe clean with a sponge. Wa la! your coffee mugs are good as new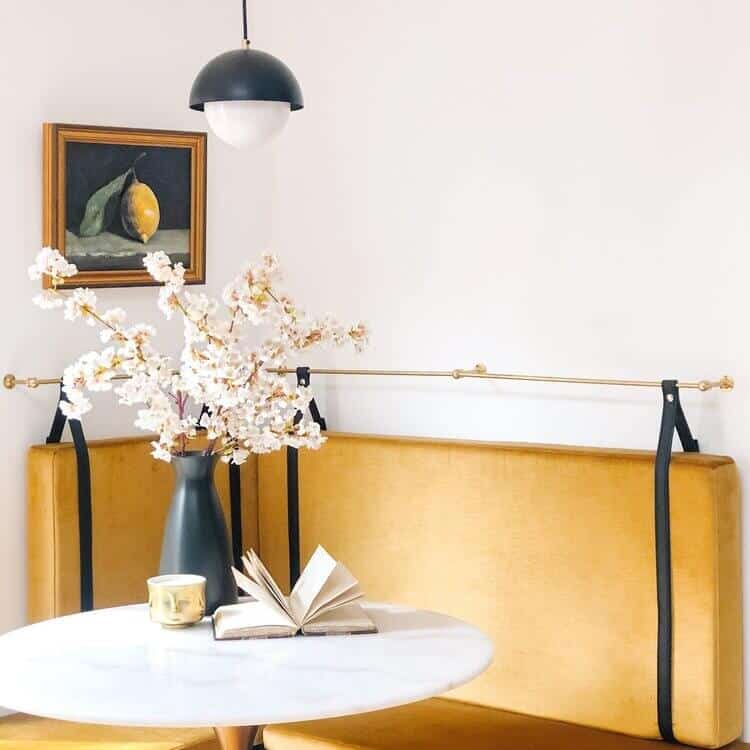 Cleaning Checklist (via @MarryMaids):

Every Room

Wash Baseboards, door ceilings, window sills, doors, and walls.
Vacuum and wash vents.
Wash window treatments (drapes, etc.).
Dust blinds.
Wash Windows – inside and out
Dust and shine overhead lights – replace burnt light bulbs.
Dust and/or vacuum light fixtures and lamp shades.

Kitchen

Clean out pantry.
Wash kitchen cabinets.
Deep clean oven.
Move fridge – vacuum and mop behind it.
Vacuum coils on the fridge.
Deep clean fridge inside – wash outside.

Living Room

Dust and wash any and all mirrors, frames, and decorative items.
Vacuum all upholstery.
Vacuum all lamp shades.
Dust furniture and fixtures.
Wash all throw pillows and blankets (use steam).
Dust and polish furniture.
Vacuum and shampoo carpets – mop and wax if necessary.

Bedroom

Wash all bedding.
Wash all bed and throw pillows.
Flip Mattress – if using a pillow top, rotate the mattress.
Purge anything stored under the bed you don't want anymore.

Home

Change batteries in smoke and carbon monoxide detectors.
Check all electronics, make sure they are plugged in, cords are untangled and everything is plugged into a surge protector.
Check expiration date on fire extinguisher.
Sweep front porch and back deck.
Store all winter items, clothes, and decorations.
Disinfect all computer keyboards and mice – Use compressed air to remove crumbs, dust, and other particulates. Use a dampened microfiber cloth and wipe the keys down. Use dry microfiber to remove any leftover moisture. Disinfectant wipes are okay to use as well.

Bathroom

Clean and disinfect tub and shower.
Wash bathmats.
Dust and replace decorative items.
Wash and/or replace shower liners and shower curtains.

Other

Discard old and expired makeup. Clean your makeup holders
Update all your house first aid kits. Toss expired medication while sorting other medication.
Dry clean any necessary winter clothing or items. Store all winter items for next year.
Donate any unused clothes items to Goodwill, The Salvation Army, or other local community organizations.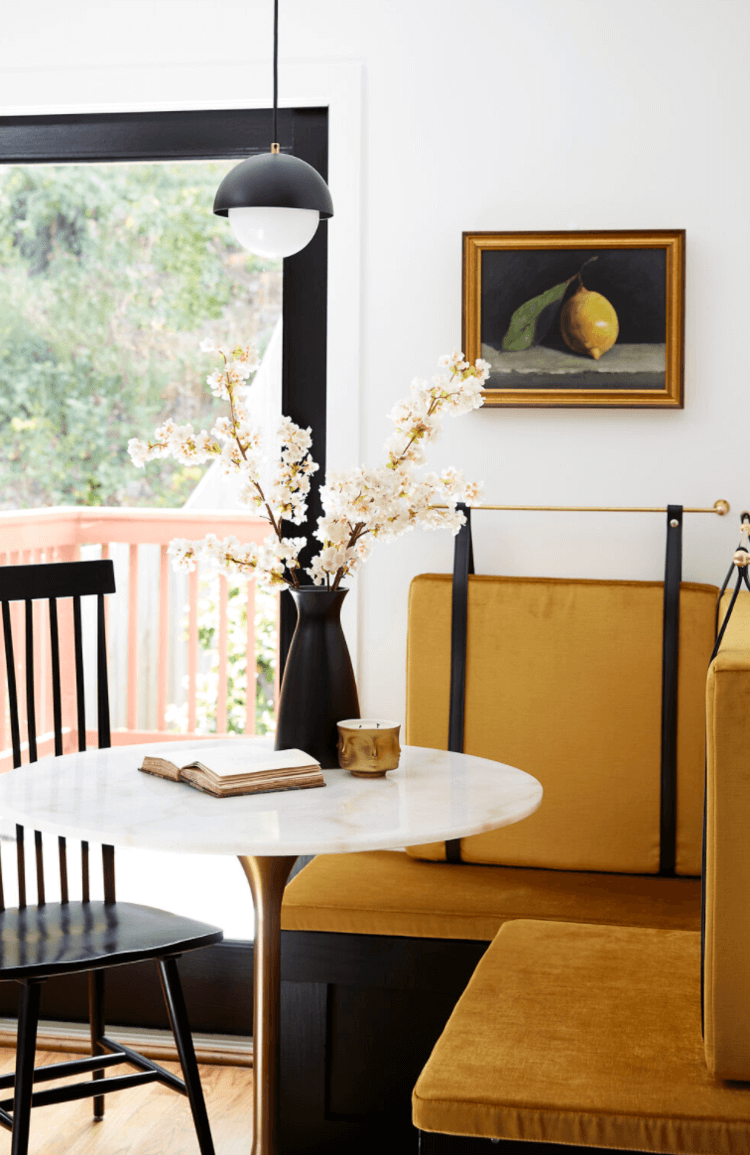 I hope you enjoyed this spring cleaning list, tips, and tricks on how to get through it with ease. I know cleaning can be a challenge – but it can also be fun! Enjoy the process and remember that a clean home is a happy home. For more home, design, and decor head over to Instagram.
Once your home is clean and decluttered if you are looking for a few must-have items for styling and finish touches check out my must-haves here. I bet you worked up an appetite with all the cleaning. Here is my favorite one-pot pasta dish that's easy to make, delicious, and super easy to clean up. Have a great day guys. See ya soon. xo