November has been nothing but sweet. We have these magical 48-hour periods in San Francisco where the sun shines golden, and pink – like a London sky. They are often followed by bouts of rain and ethereal fog. Literally, it's been that extreme back-to-back – and I love it! I guess the seasons are changing again. Like they always do.
As the Thanksgiving holiday approaches, I've been testing variations of my brown sugar and pineapple ham recipe. It's literally my favorite main course to serve. I don't know about you but I practice recipes for years until they are just right – and then share them with you here!
Also, I don't really do gift guides – because I do weekly favorite finds all year long! However, as the gift-giving season looms – I wanted to share my top 10 gifts for him. Of course, these are great for any gender, but I get asked a lot for ideas on what would make the perfect gift. These are them. Give them a go!
Also, I insist on holiday decorating that isn't too over the top. I rounded up my favorite affordable Christmas decorations and wrapping essentials for y'all. Just wait til you see those ornaments. It's not too early to decorate, is it? Speaking of decorating – I updated my office desk decorations. Did ya see it in stories this week?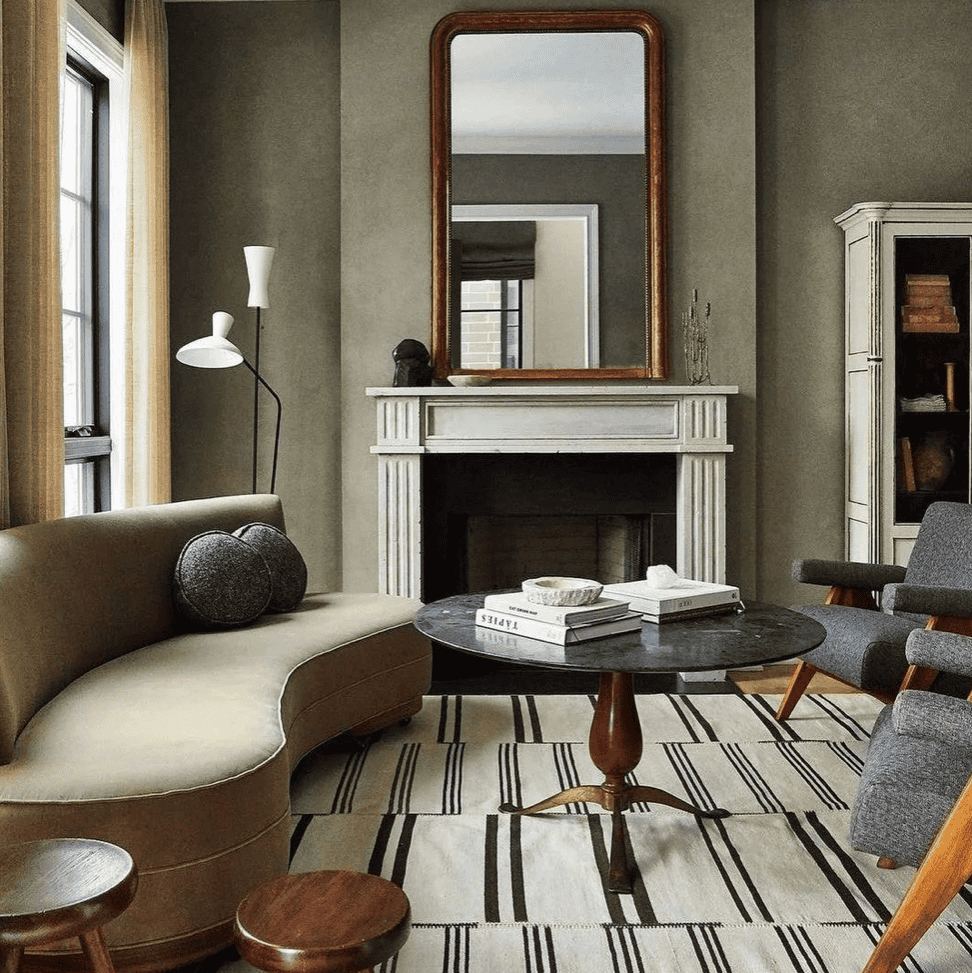 I'm gonna say it now….enjoy the season and have some fun. Remember it's about experiences – not the gift. Be kind to yourself… But onward to this week's: Look for Less." It's a knockout.
This collected yet comfortable living room has it all. Wendy Labrum knows how to pull together a classically contemporary design – the pack's graphical punch, while still keeping it calm and sophisticated. The off-kilter geometric rug immediately grounds the space, while the mixed medium agate coffee table makes a bold statement. I just adore the gentle velvet curve of the sofa that cascades into the linen drapes and mantle. It's literal perfection. Don't you want to start a fire and sip a cup of tea with one of those statement coffee table books? Let's re-create the look for less:
Geometric Rug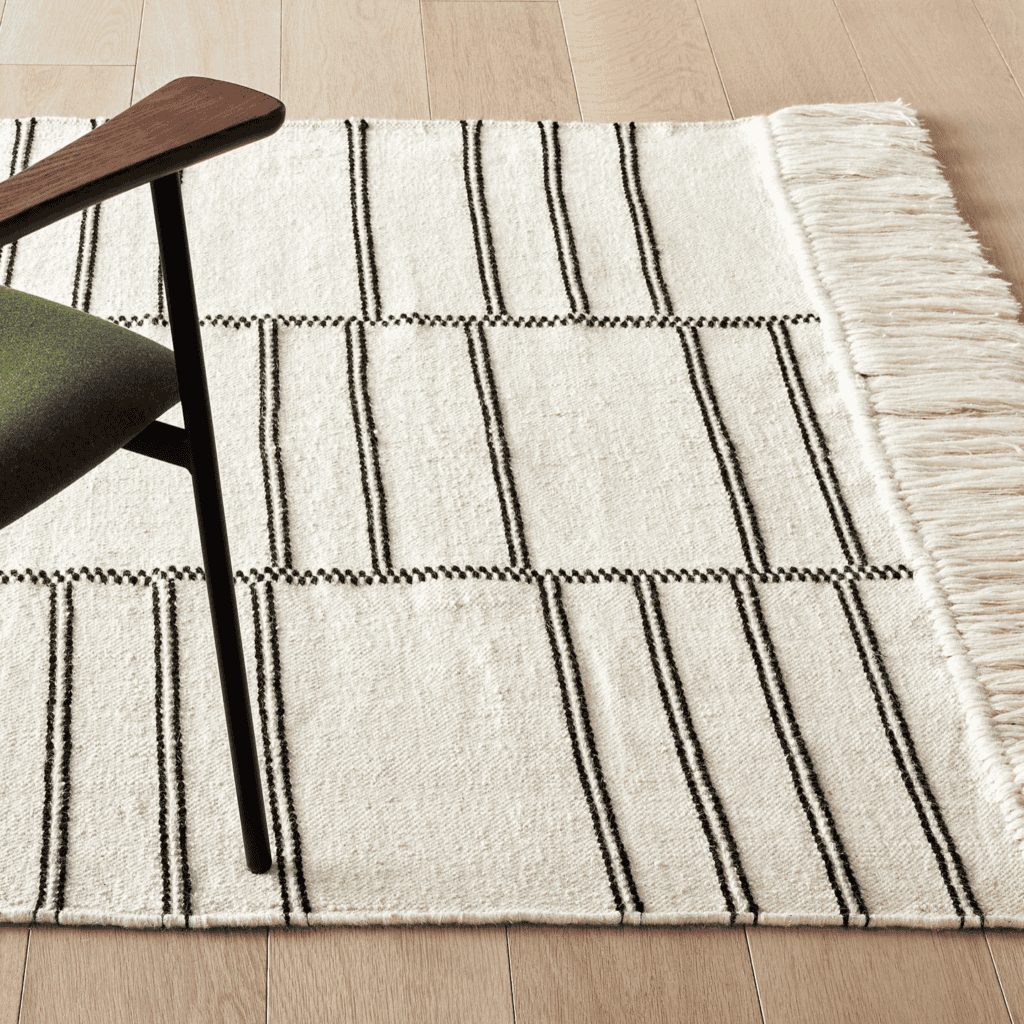 We all know that a good rug is essential. In fact, it's critical in helping you ground and create a space that feels complete. This monochrome geometric black and white cotton rug makes this space sing-like for real. It grounds the entire design and creates a ton of interest. That fringe is the icing on the cake.
Soft Sofa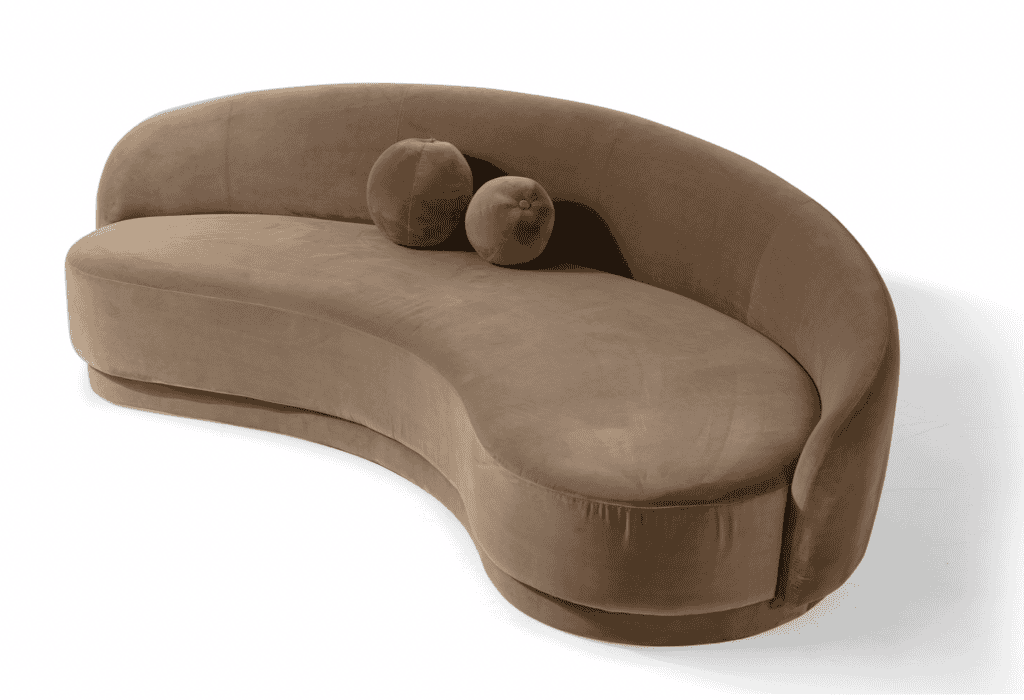 Who doesn't love the lux feel of velvet? I insisted on velvet in my banquette, because of the sophisticated look. This delicate curve sofa juxtaposes the sharp angular lines of the fireplace, rug, and chairs with ease.
Agate Coffee Table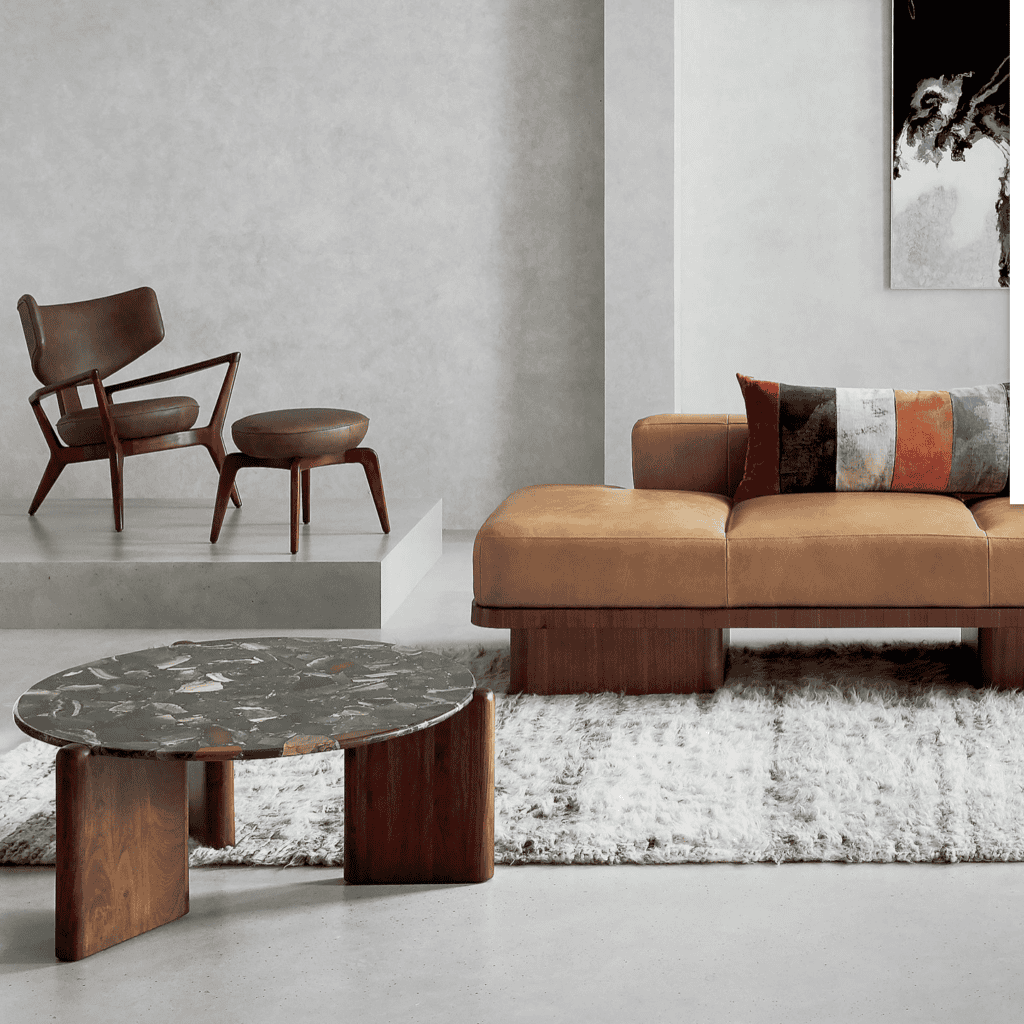 I mean, just look at the charisma of this coffee table. The inspiration also had a vintage piece – and it was hard to find an option that anyone could grab quickly. I love this option because it provides the same level of interest, in a similar palette. I promise this will be the talk of the room. Grab it!
Milk Stool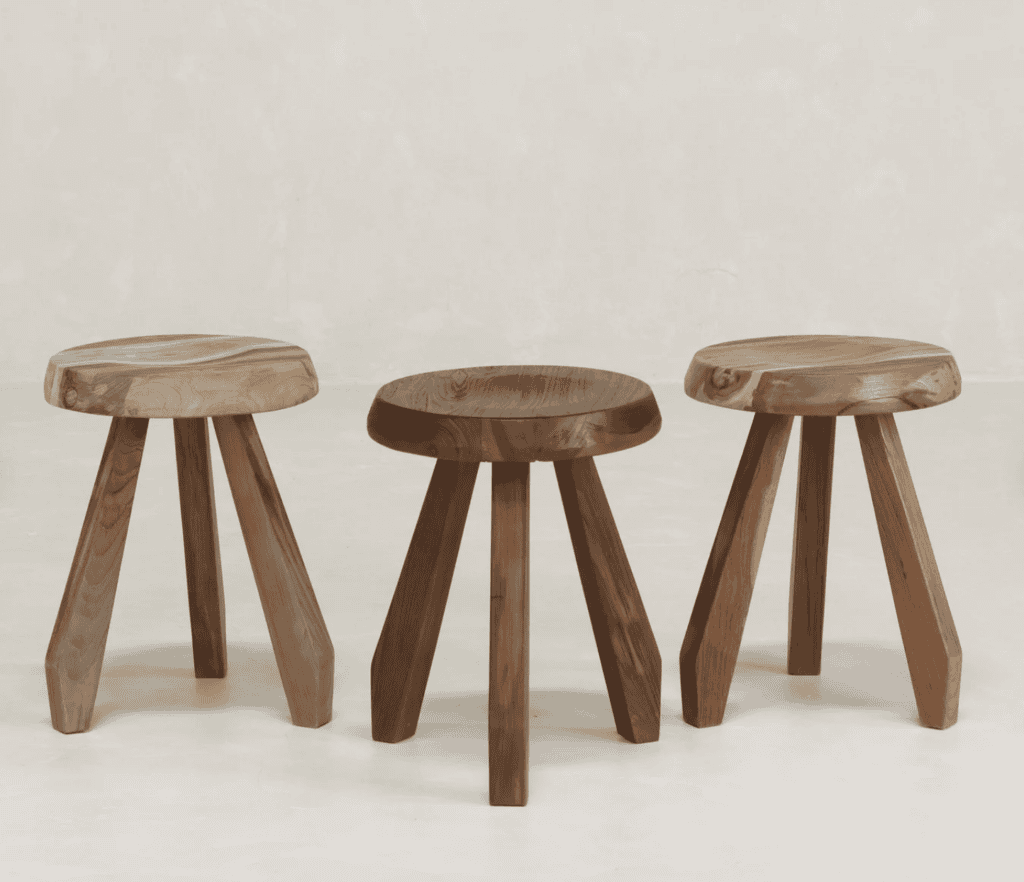 I mean, I never met a vintage milk still I didn't love. Have you? Confession, I already have 4 – but that's a story for another day. These stools are perfectly polished – feeling modern yet vintage all at once. They come in various tones – of course, I love walnut best. Gran these – and quick!
Samira Floor Lamp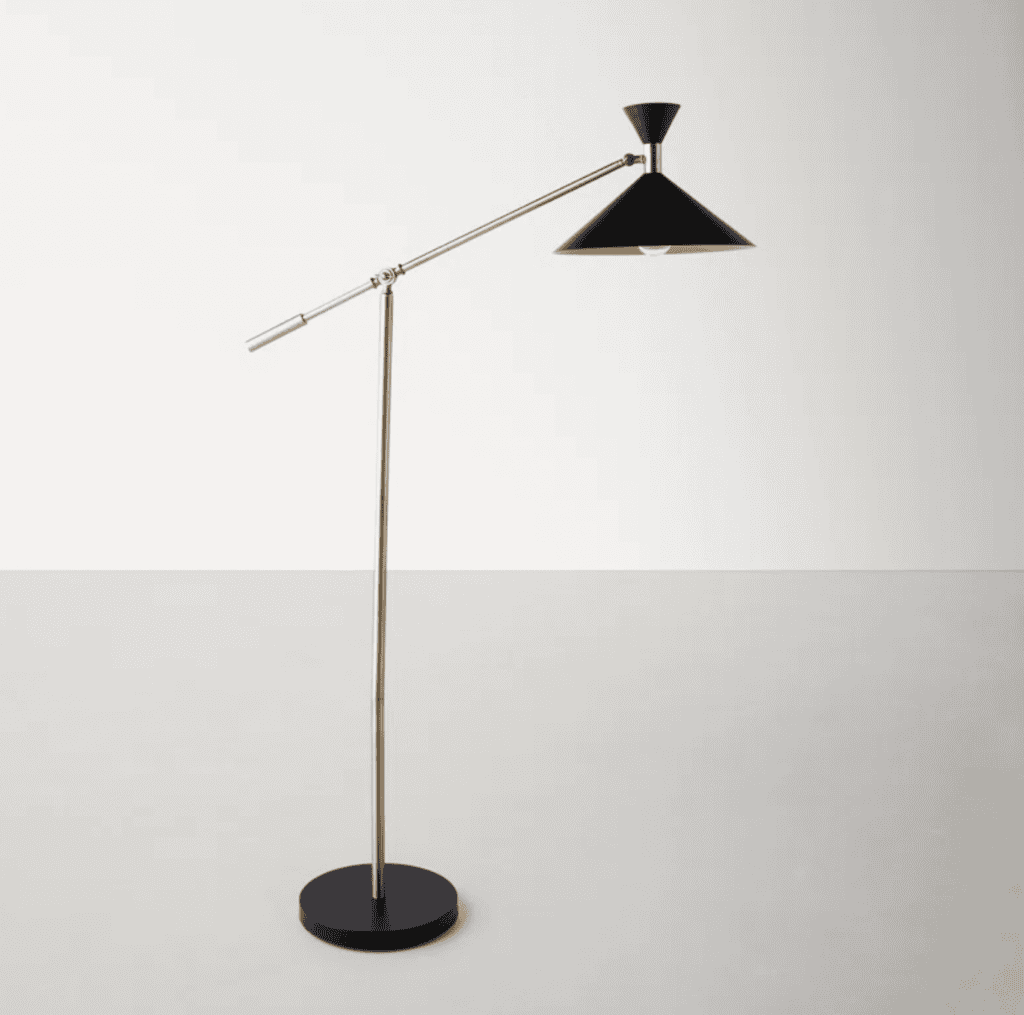 Lighting is essential; this piece looks similar to the one above but for way less. The black and brass shine while being super functional as a task light for reading, watching some Netflix, or just staring out the window. No living space is complete without a good floor lamp in my opinion. This is a great option and for less!
Tom Ford 002 Book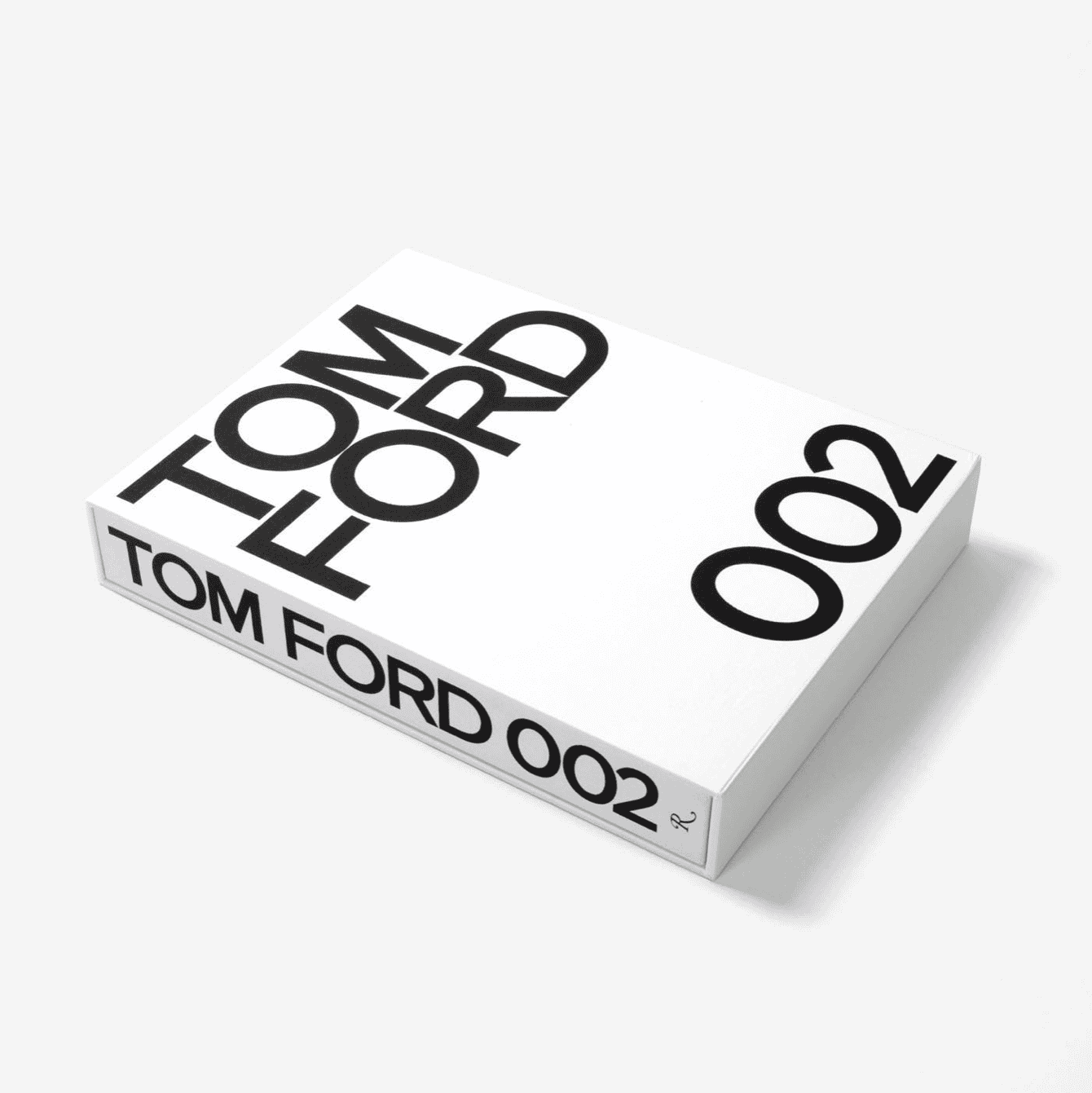 Every coffee table needs great coffee table books. This design is successful for many reasons – but one of them is the monochrome palette of coffee table styling objects. This Tom For 002 book is the perfect size and scale to make a moment for you. Invest in this book – you will use it forever.
Scalloped Marble Bowl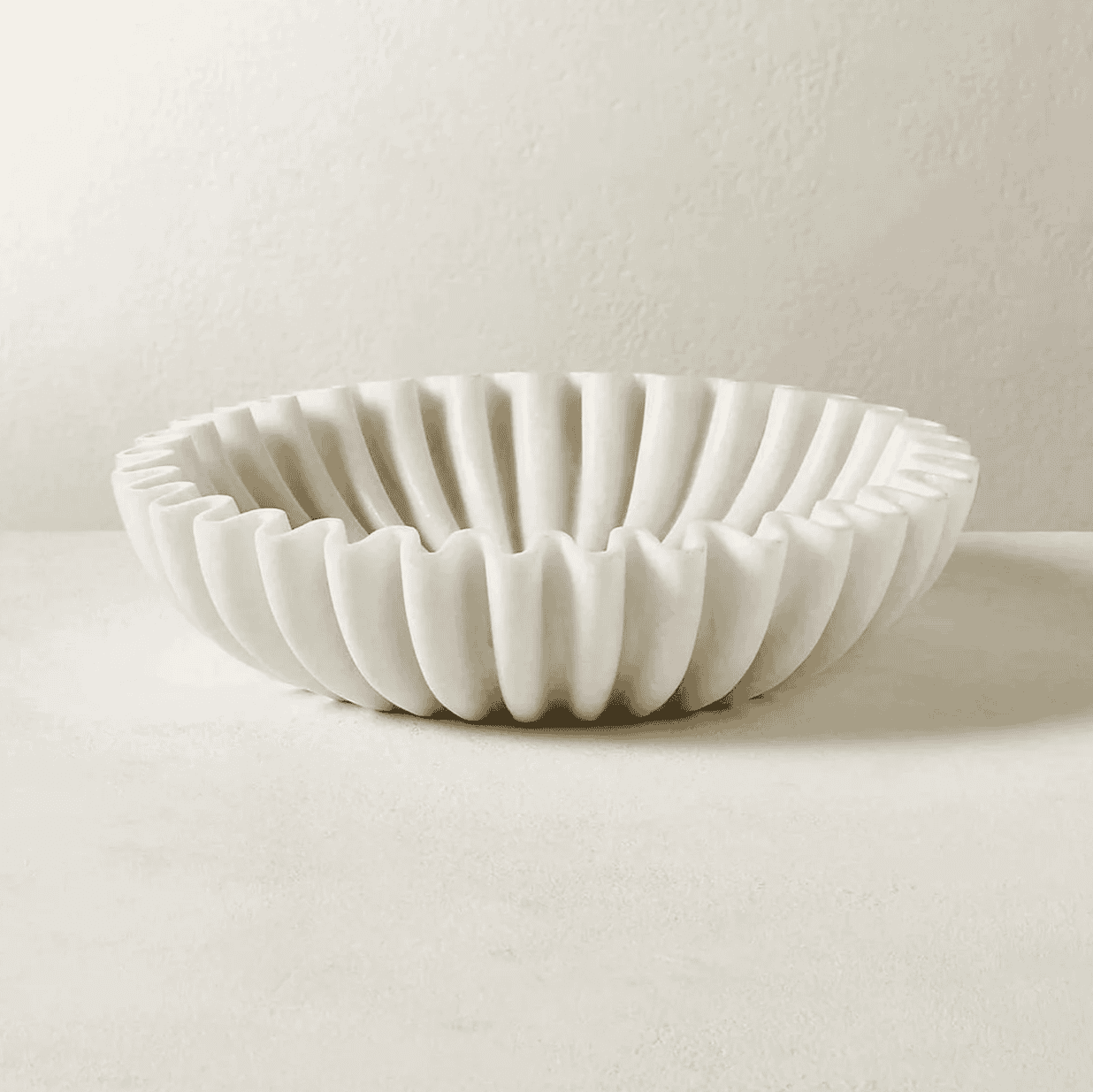 Of course, we need a place to stash our keys, or in my case candy wrappers while curled up on the couch with a good book. This dish is delicate and declines. The price is insane too! Go ahead and grab 3. You will want to when you see the deal I found on these. Stash in your bathroom or next to your nightstand for your watch, rings, etc.
Lodge Mantle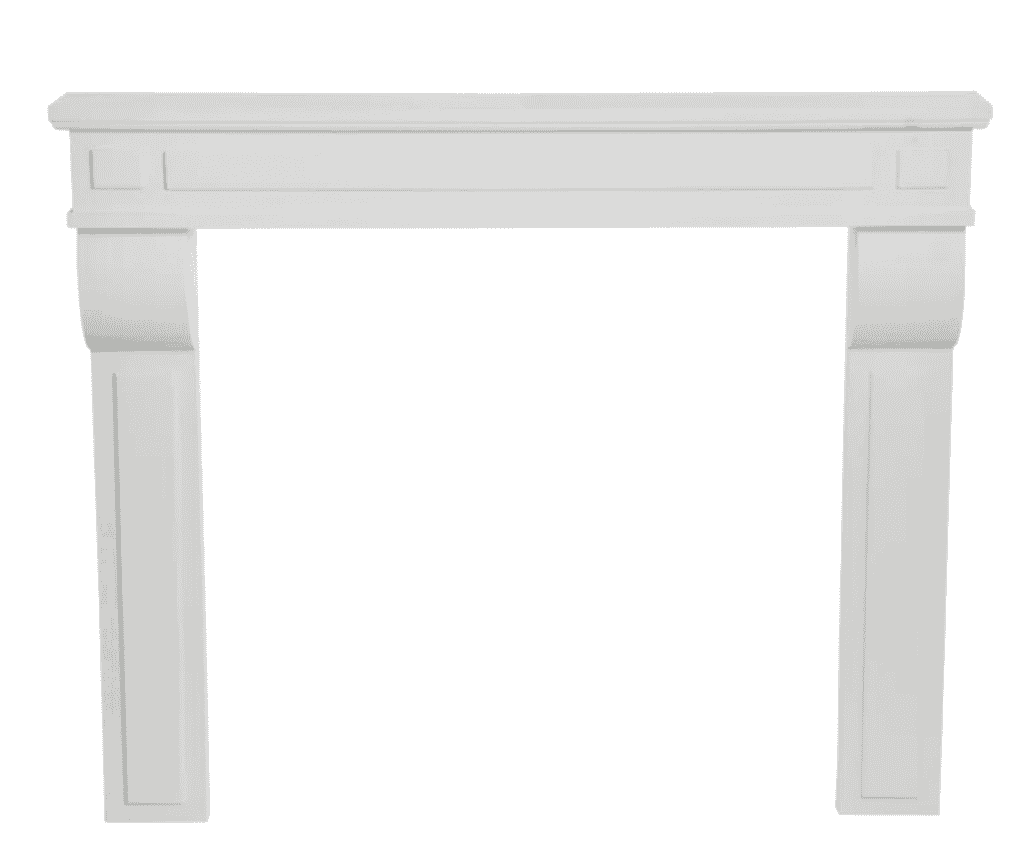 You can create a vintage-inspired mantle when one doesn't exist. I love this option because it's super affordable, and ships right away. I love the way the mantle above draws your eye in with rich lived history while then being elevated by the more modern elements that surround it. Get yourself and mantle and install it in a jiffy.
Harley Pillow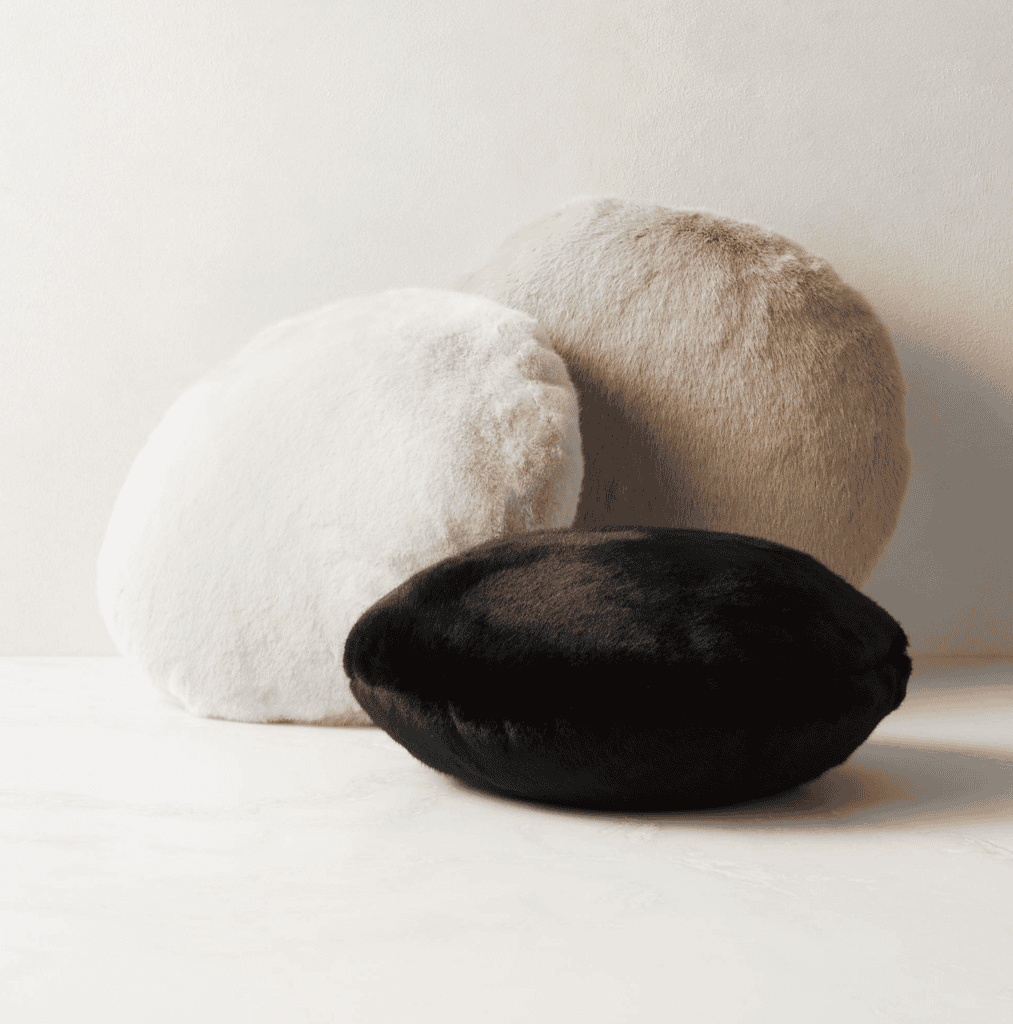 Every sofa or couch needs a throw pillow. Here are a few great options that will look fabulous tossed onto a velvet sofa. The gentle fur texture will dance in the sunlight and help to make the space feel not only complete – but comfortable and inviting as well.
Olive Grasscloth
You need a mood with your walls. Go for it! This design has a gentle olive lime wash – but I dare say it would look even more handsome with some grass cloth for added warmth and texture. An instant way to make your space look leveled up is to simply install some grasscloth. I like this source best.
Arch Mirror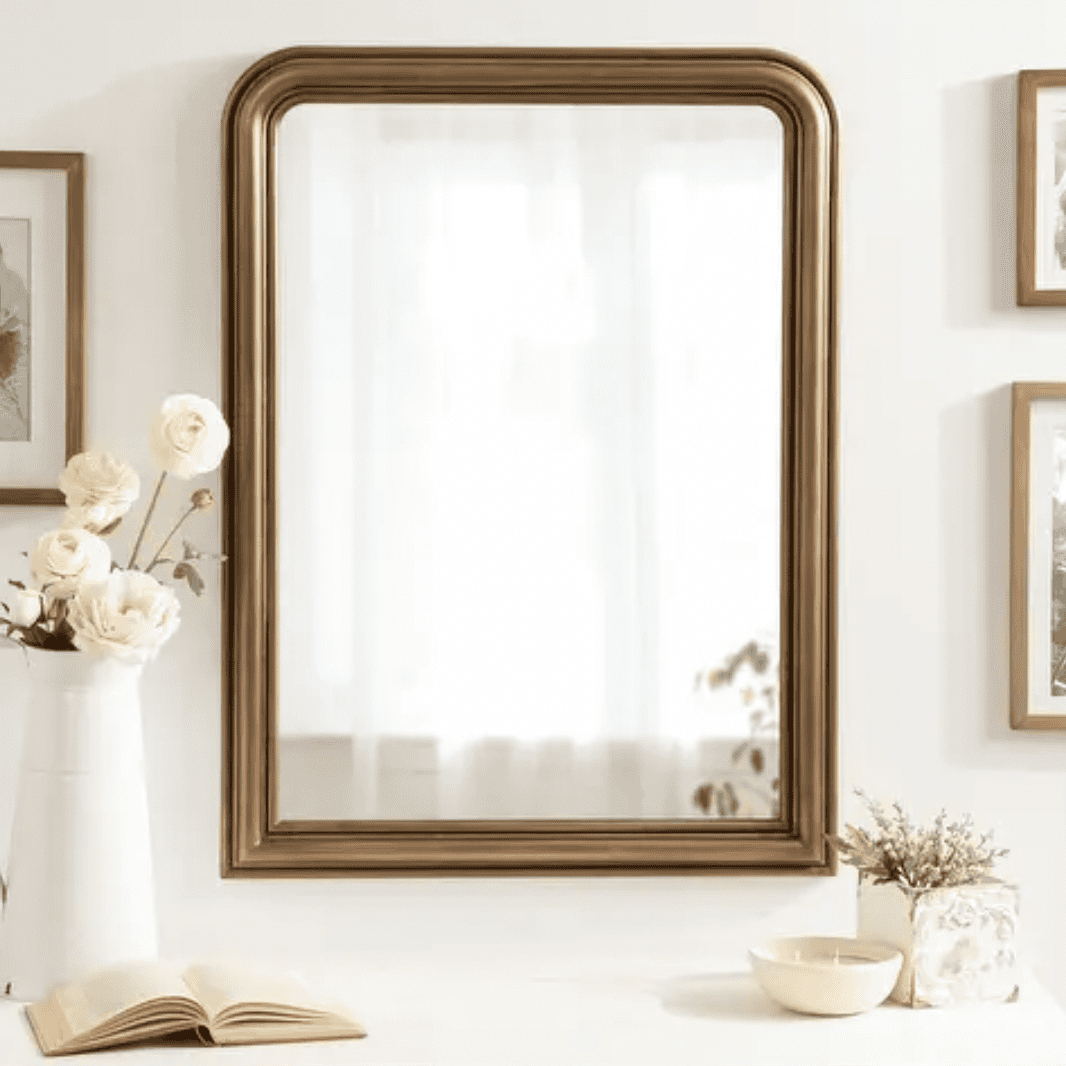 Mirrors can be super expensive – trust me I know. This option is awesome of course because of the price, but the scale makes it a literal steal. Mirrors help bounce light and open up the space above your mantle to create the illusion of grander scale. Gran this mirror and watch your room come to life.
What do y'all think? Do these designer dupes for less help achieve the million-dollar look? I think so.
Head here for last week's curious corner look for less if you are still wanting more, and tune in next week for a brand new dupe you won't want to miss.