Not too long ago, "going to the office" meant heading out of the house, braving rush hour traffic, and settling down for a long day at your desk. True, things haven't changed entirely, but many people don't need to leave their houses to "go to the office" anymore! So I wanted to share some gorgeous office desk decoration ideas that will make your homework life more inspiring.
Whether you're working from home or still heading into the office, chances are, your workspace could use a little life. Many offices are plain, generically decorated, and lack any sense of personalization beyond the occasional company branding and drab corporate wall art. Wouldn't it be so much better to have an office that actually had character!?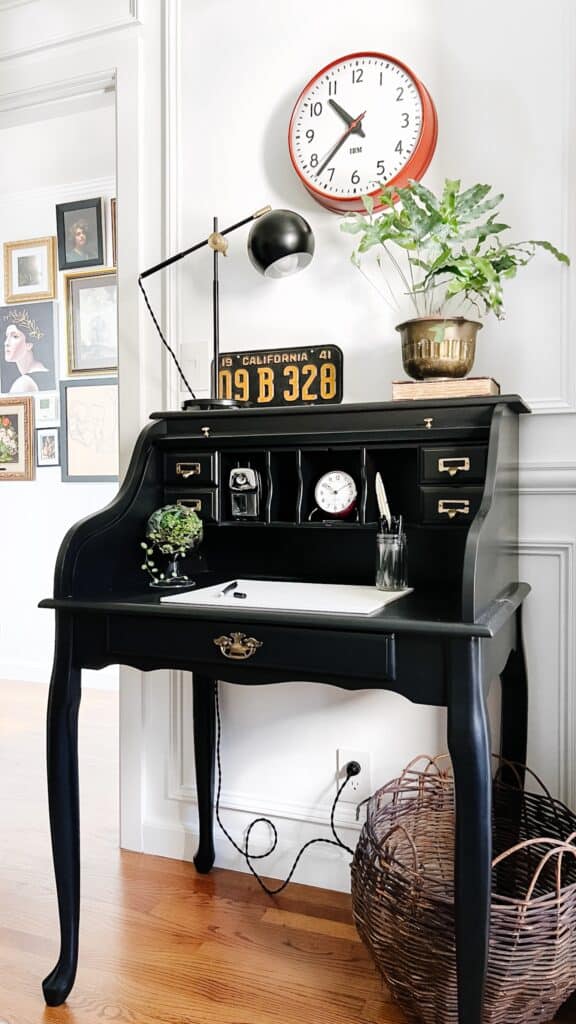 Personally, I work both from a home office and an "office" office, but one thing's for sure: I don't want my workspace to look dreary! Just because your workspace needs to be practical, doesn't mean you can't experiment with some fun office decor. That's why I've gathered this collection of office desk decoration ideas, ranging from cute-yet-useful accessories to must-have essentials.
In this short post, we'll be taking a look at some of the best products I've found to turn a plain room into a comfortable working area. Use a few of these office desk decor ideas, combine them with an efficient workspace layout, and you'll finally have an office that you *hopefully* won't mind spending your day in!
Fashionable, Fun Office Decor
As I mentioned before, many offices look nearly identical to one another. Even if you only have a tiny cubicle to yourself, you can still find practical items that serve a purpose while brightening up the space around you. There are many office desk decoration ideas that seem great at the time but end up just being distracting. If you're working from home then that might be ok, but not if your boss catches you dilly-dallying at your cubicle!
Don't get me wrong: I have plenty of items that are purely for aesthetics, but today, we'll be focusing on practical—but still stylish!—office desk decor ideas. We'll begin by taking a look at some of my all-time favorites (then we can go back to the basics for a bit!). If you're working strictly from home, don't worry. You can use stylish products for your home office as well!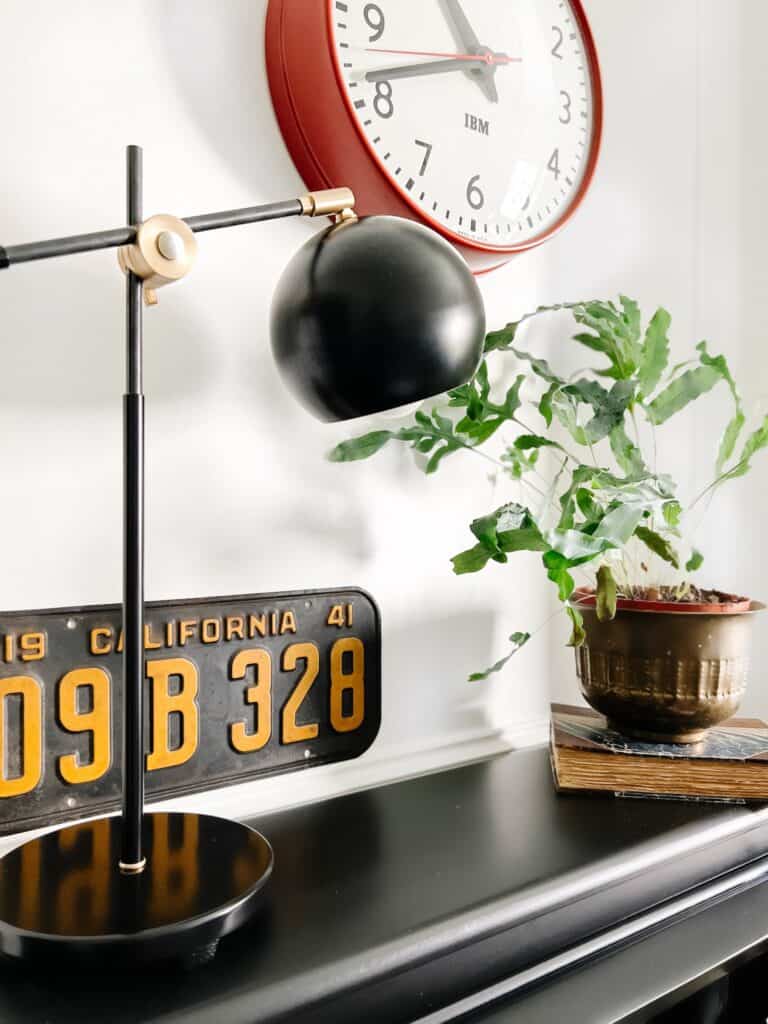 Even the best office desk decor ideas won't do you much good if you can't see your efforts! Proper lighting is essential, especially in a working environment. Without the proper lighting, you'll be straining your eyes, which can feel uncomfortable and make a long day seem even longer.
Fortunately, I have just the thing to solve that issue: this studio desk lamp! Personally, I prefer the "Satin Black" version—such a classic color—but it's also available in "Gloss White", "Industrial Yellow", "Juniper", and "Persimmon."
Although sizable overall, the base is quite small, meaning you'll easily be able to incorporate it with any of your other office cubicle decor ideas. By adjusting the arm and swiveling the shade, you'll be able to illuminate your paperwork for a strain-free experience. Of course, I'd never recommend any subpar products, and this particular lamp is no exception. Made from steel, bronze, and cast iron, you can rest assured that this sophisticated piece will last for many years to come!
If you love springtime and adore flowers, then the Garden Party Pillow should surely be included in your office desk decoration ideas! Adorned with crocus flowers and available as either a throw pillow or lumbar pillow, this pillow looks great just about anywhere. You can purchase it in either green or blue (although the green version has my vote!). However, since we're shopping specifically for office cubicle decor, I have to recommend the lumbar pillow.
Many people spend hours sitting every day but are left with a sore back by the day's end. Oftentimes, this is simply due to bad posture! Lumbar pillows are designed to prevent this by providing lower back support, naturally perfecting your posture as they sit in the small of your back. If you already have a pillow, the beautiful cover can be purchased separately as well. For home office decor, you can pair the lumbar pillow with a matching throw pillow for a consistent aesthetic.
Let's face it: digital clocks may work great, but… they're pretty ugly! If you're trying to improve your home office decor, adding a more traditional clock to your desk can help give your workspace a bit more class. This particular clock—available in burgundy, gray, and dark green—fits the bill perfectly!

Nearly all of your office desk decor ideas can work alongside this clock, as it's so small you'll barely lose any desk space. Despite that, the face is extremely easy to read, the brass feet keep it firmly in place, and you can even illuminate the clock if needed.

In an office environment, the alarm function may not be very useful (and even potentially distracting for your fellow employees). However, if you're one of the lucky ones working from home, the function could come in handy. You'll never miss a meeting again (not that you were anyway!).
Office Essentials
Now that we've added a little bit of life to our workspace, it's time to look at some more "basic" office desk decoration ideas. Fortunately, basic doesn't have to mean boring! While these office desk decor ideas won't add pizzazz to your office, they will make it feel more like a nice, clean workspace. Remember, my aim is to suggest items that are both practical and visually appealing. True, there is only so much you can do with a pencil sharpener, but—when set in the right place—even a simple item such as this can really help bring the room together.
If you're trying to decorate two separate workspaces (such as your home office and office cubicle), there's more good news. These next three recommendations work great as cubicle and home office desk decor ideas! I'd suggest you pair these practical office items with a few complimentary, ornamental objects to truly personalize your office.
There's no way you haven't seen this clock before (or at least one that looks just like it!). This accurate recreation of the classic IBM wall clock can instantly provide any space with a sense of business authenticity.
Unlike the original, cord-powered clocks, this IBM look-alike is offered in "Paprika", "Textured Gray", and "Satin White." In addition to offering a small color selection, this clock doesn't even require a plug for power. Instead, it's powered by a single "C" battery (which is included).
It may not be the most visually appealing option around, but no one can deny the allure of this classic-styled option. This clock is also a great alternative for those who lack the desktop space for a standing clock.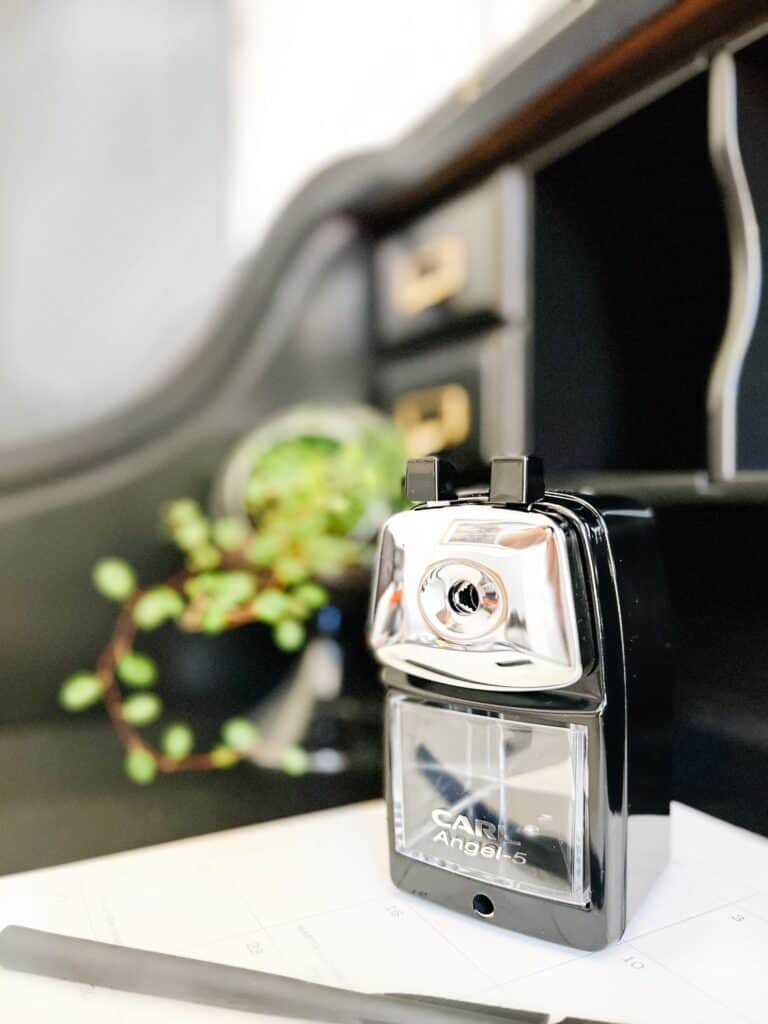 Unsurprisingly, pencil sharpeners aren't very common when it comes to office desk decoration ideas. After all, not everyone uses a pencil these days! Most people complete their entire workweek digitally, and everyone else seems to use a pen. Still, pencils are the go-to option for when you're writing something that might need to be erased later… until your pencil goes dull.
Fortunately—for less than $35—you can get a stylish, heavy-duty pencil sharpener to ensure you'll never deal with a dull pencil again. Although I prefer the black version, this model is also available in a deep red. Complete with both auto-feed and auto-stop features, the steel construction of this device will last for years to come.
Of course, you can simply place it on your desk for as-needed access. However, if you want more permanent office desk decor ideas, you'll be happy to know that this sharpener includes a desk mount clamp as well. You may not use it often, but when you do, you'll be glad you picked this essential piece of office cubicle decor!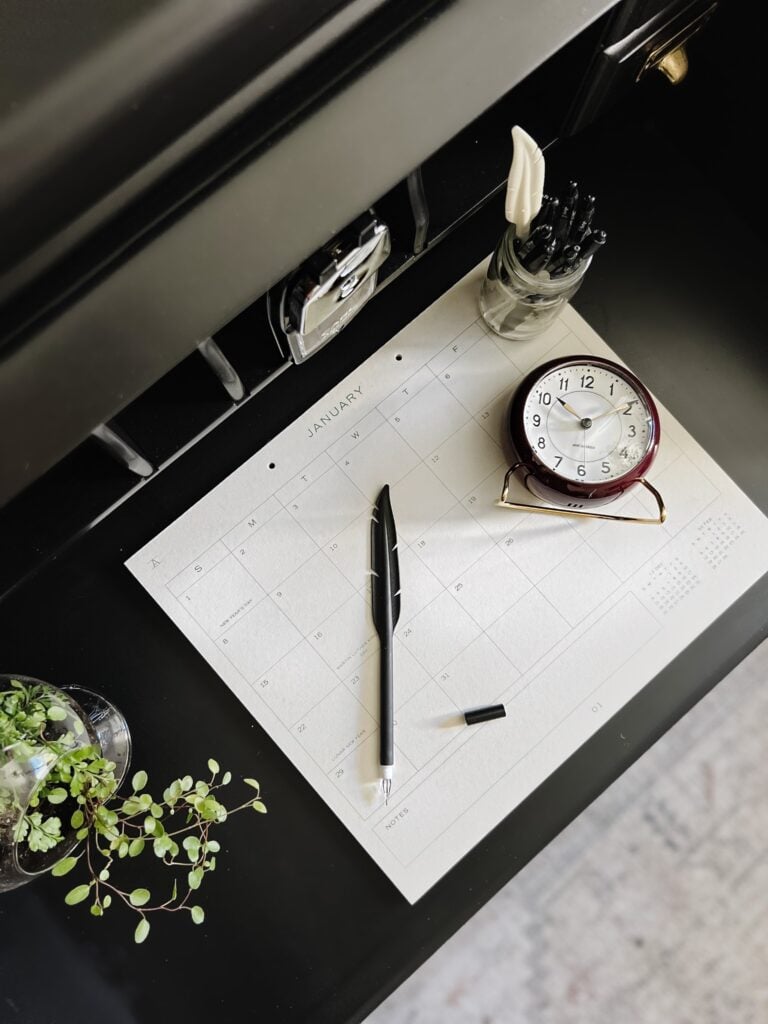 It's easy to miss important notifications when your phone is constantly blowing up with them. That's why I prefer to use an actual, physical calendar—old fashioned, I know—to keep track of my important dates, rather than relying on my smartphone and a keen eye.
This calendar is unlike any of my other office space/office desk decoration ideas, simply because it doesn't have an aesthetic appeal. In fact, it's practically plain! This might seem like a drawback, but I find that the additional space to write notes is worth the small sacrifice.
Having a plain calendar is especially useful if you're looking for desk in bedroom ideas, as the large boxes leave plenty of space for both personal and work-related notes. If you're tired of constantly saying "oh no, that was today!?" then I can't recommend this calendar enough!
A Simple Summary
Truthfully, any office desk decoration ideas will vastly improve your workspace experience once implemented. You may not always be able to use bright, fun office decor in your workspace, but you shouldn't let that discourage you. Whether you're looking for classic, contemporary styling or something a bit more modern, I'm sure you'll find some of my suggestions look right at home in your office. So, which of these office desk decor ideas did you end up using? Let me know in the comments below: I can't wait to see what you guys did to spruce up your workspace!