Let's face it, folks. The material you choose for your kitchen countertops can make or break the design of your kitchen. Spoiler alert Taj Mahal Quartzite is my all-time favorite material for kitchen counters and backsplash. The look is creamy and delicious with a marble-like essence, but way more durable. Remember, the total surface area and visual space counters occupy can often be more than half your floor space. Crazy right? So it should go without saying that you want to give it some serious thought and consideration when the time comes to make the decision. Of course, your budget will impact what you can do. But the good news is that there are a ton of great countertop options out there including; Taj Mahal quartzite, tile, marble, granite, butcher block, etc. Read on to learn why Taj Mahal quartzite is the best choice if you can swing it.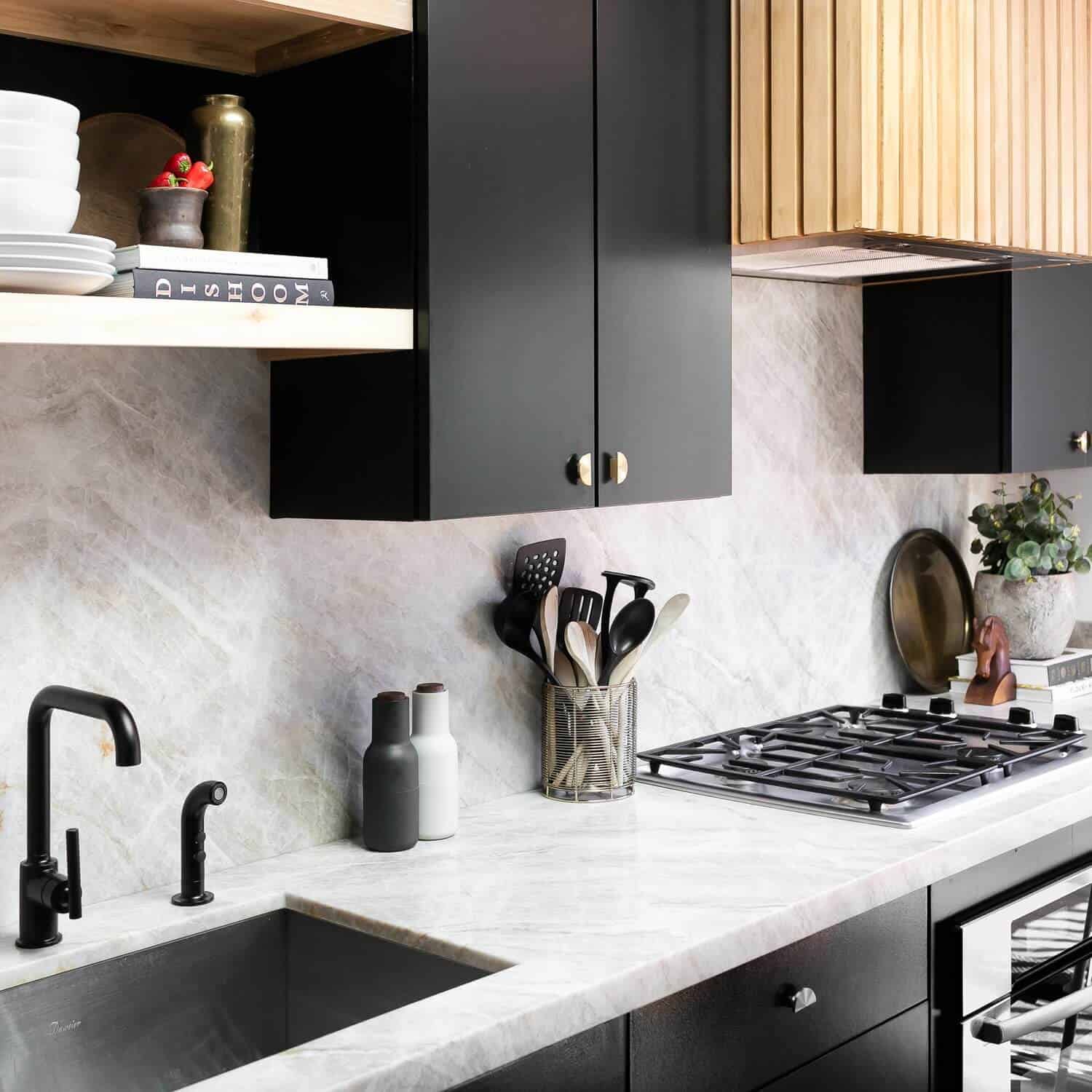 First things first. Marble can be great – it's classic and complete luxury. But, my personal opinion (please don't @ me,) is that it's actually not worth the trouble or budget. Gasp, I know! I just can't with marble guys. It's so fussy and really expensive. Taj Mahal Quartzite counters and backsplash are far superior.
I cook a lot, and simple things like lemon juice or even a glass of slightly spilled wine, or vinegar-based sauce will stain the surface incredibly easily. I don't have the time (or patience ) to be constantly cleaning and repairing my counters. I'd rather be chatting with you via DM on Instagram. Plus, I am so OCD I just can't stomach the idea of seeing wine and water rings all day long.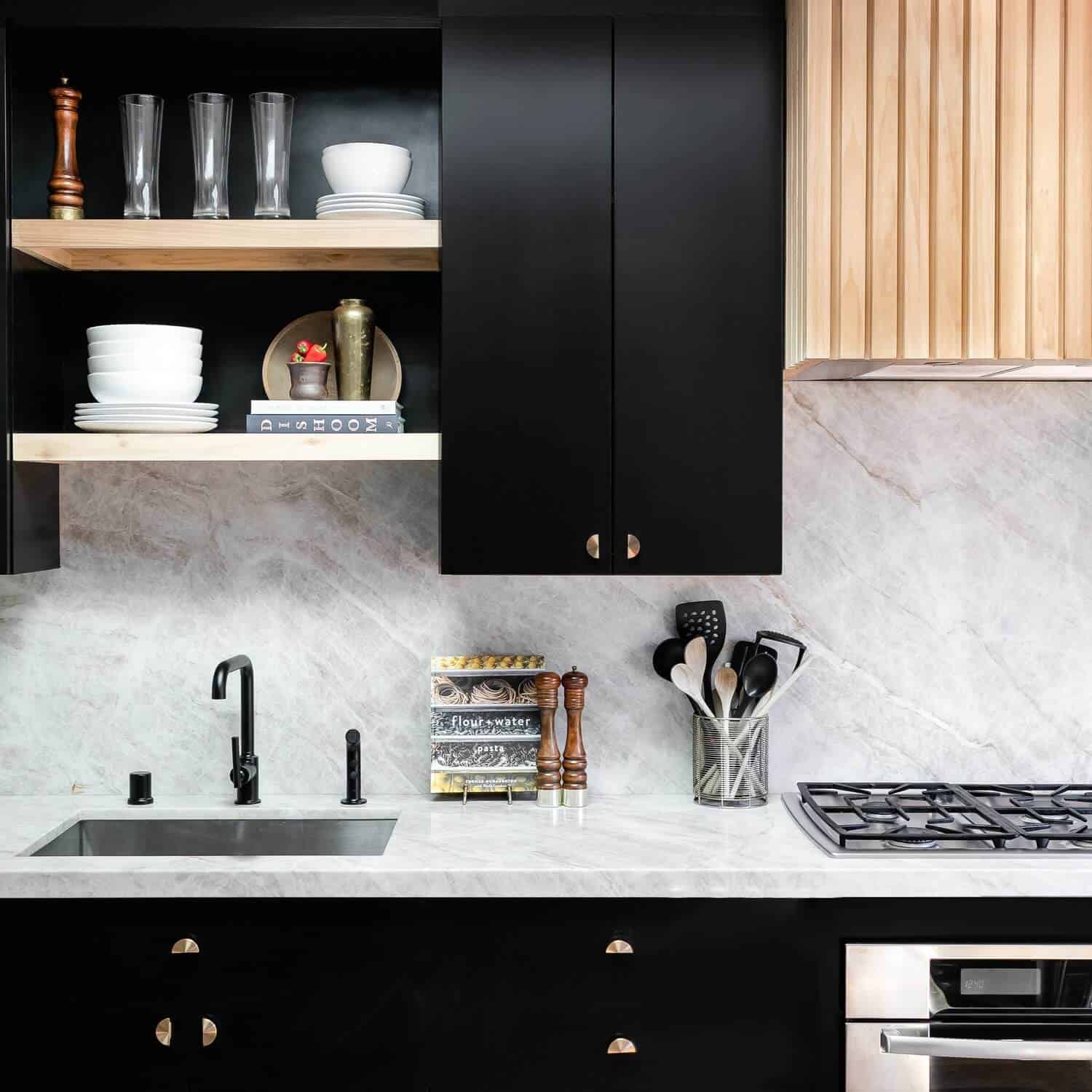 You don't have any of those issues with this material. It looks great, can withstand literally anything you throw at it, and looks like a million bucks. Some things you might be wondering:
WHY GO WITH TAJ MAHAL COUNTERS?
The surface looks just as lux as marble. I think it looks better in fact. Just look at my kitchen counters and backsplash above. It's a literal daydream. Plus, it's warmer, more enchanting, and less sterile often containing a golden caramel veining. Plus, it's super resilient to the everyday wear and tears of a kitchen that gets lots and lots of use. It even stands up to fryer oil spills from my rosemary and cornflake buttermilk fried chicken.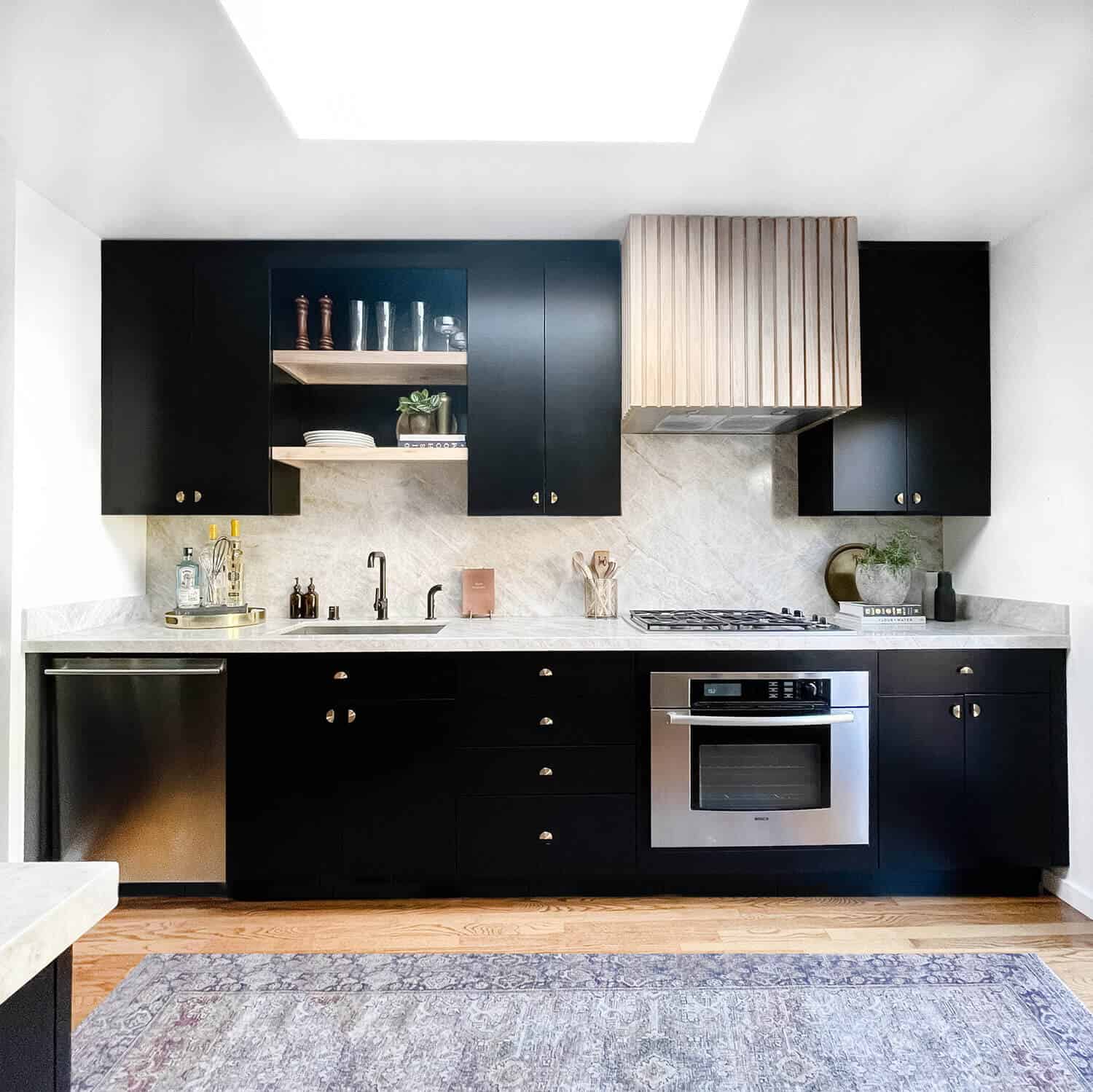 HOW MUCH DO TAJ MAHAL COUNTERS COST?
The kicker? The cost of this route is on average about the same or less than marble. I mean, what's not to love about that. Marble and Taj Mahal Quartzite tend to run around $100 a square foot in California – but ranges vary depending on the rarity and dealer up to $200 per square foot. While marble is popular, the look of the Taj Mahal Quartzite is better, and so much more durable. No, chips or stains here. Plus your kids can try to rough them up and they will still look great. It's a win/win/win.
Common Questions About Taj Mahal QUARTZITE:
WHAT COLOR CABINETS GO WITH TAJ MAHAL QUARTZITE?
The good news? Anything. The bad news – that means there are too many options. I went black – and the contrasting look is stunning, but a muddy neutral, tans, off whites, natural woods, and even a deep green will look great too. You can't go wrong!

WHAT BACKSPLASH GOES WITH TAJ MAHAL QUARTZITE?
Spoiler alert. Just use the same slab for your counters as the backsplash. The seamless look is breathtaking and it makes the look for cohesive than trying tile or otherwise. Go for it!
IS TAJ MAHAL GRANITE HARD TO TAKE CARE OF?
No, in fact, it's more durable than marble and stronger than granite. It can even withstand heat in a way marble can not. Hot Coffee and piping hot pots of chocolate chili rest comfortably on this surface.
IS TAJ MAHAL QUARTZITE EXPENSIVE?
It's not more expensive than its most popular arch-nemesis marble. It runs on average about $100 / Sq. Ft. in CA but varies up to $200 based on supplier and region.
DOES TAJ MAHAL QUARTZITE NEED TO BE SEALED?
Yes, like more natural stones you should get it professionally sealed, and clean with soap and water as needed. Be sure to seal it every 4-5 years.
WHERE IS TAJ MAHAL BEST USED?
Because it's so durable you can use it just about anywhere including; counters, a kitchen, bathroom; bar, fireplaces, and even surround
WHAT TYPE OF STONE IS IT?
It's quartzite but is often confused with granite. Quartzite is similar to granite but is even stronger.
WHAT DOES TAJ MAHAL LOOK LIKE AND IS IT CLOSE TO MARBLE?
Taj Mahal has an enchanting creamy look, with warm whites, and caramel veining that looks shockingly close to marble without all the fussiness.
IS TAJ MAHAL QUARTZITE A GOOD CHOICE?
Absolutely, it has all the benefits of looking like marble but is more durable and heat resistant. It will stand the test of time and stay looking gorgeous for years to come.
WHAT IS A GOOF TAJ MAHAL ALTERNATIVE?
Marble if you want a similar look. But if you want similar hardiness – granite works well.
IS TAJ MAHAL QUARTZITE DURABLE?
It's extremely durable. It's stronger than granite because it contains quartz. As such it won't ship and ding easily with most common household activities. I've tried! lol.
WHERE IS TAJ MAHAL QUARTZITE FROM?
This material is from Brazil.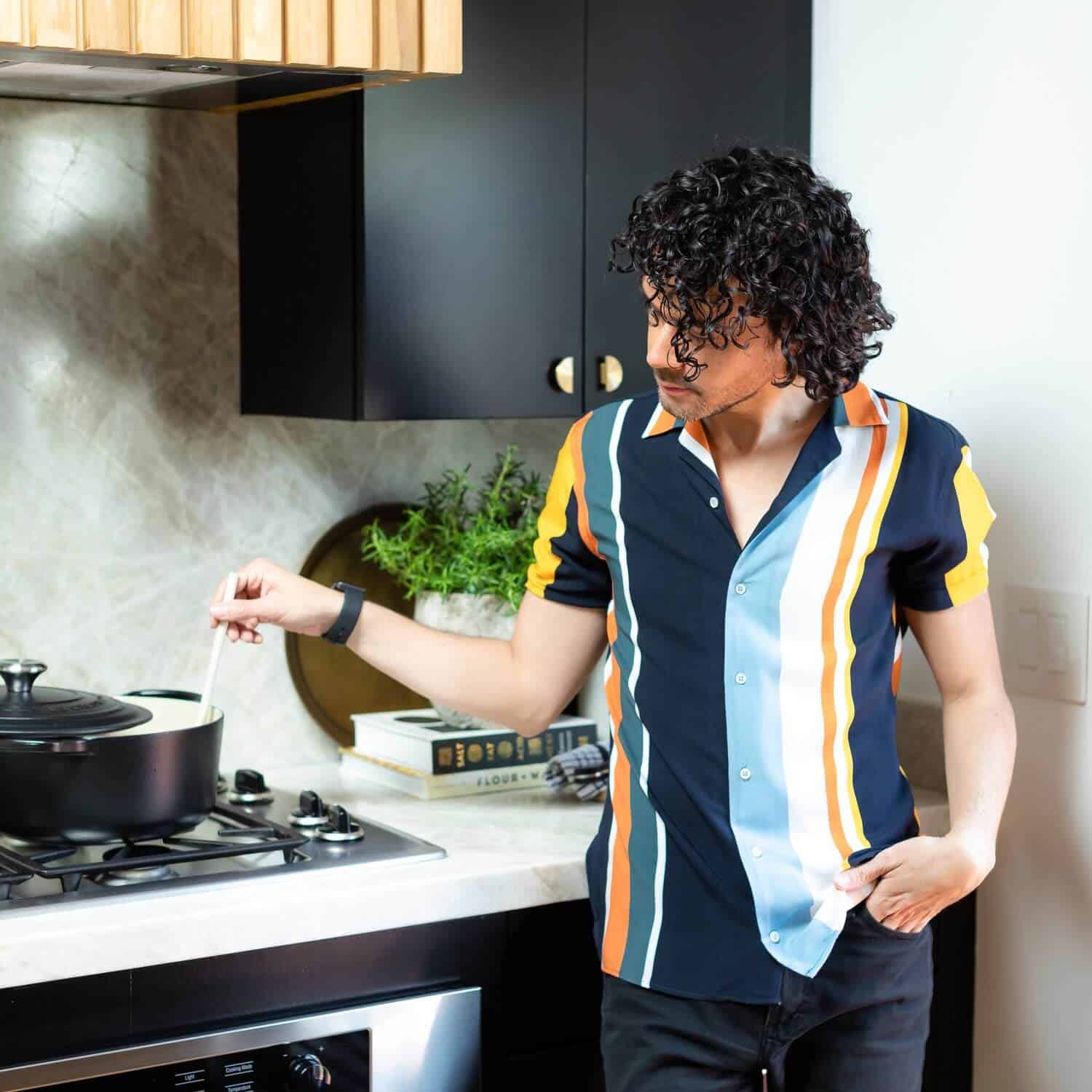 So what do ya think guys? Have I convinced you to consider this material versus granite or even marble?
I do not regret my final decision one bit. Not only does my kitchen look fantastic but I don't have to be too careful when preparing food on my countertops because Taj Mahal Quartzite is nearly impossible to scratch. Plus, I was able to save some money because it was actually cheaper than marble, so I was able to use some of that extra budget to buy other things for my kitchen. It's a win-win! Give it a try, if ya can swing it! You won't regret it. xoxox