Paint can be a great way to freshen up your home, but not every project is the same. While some projects can be easily completed with a paintbrush, paint rollers, or a can of spray paint, taking on a more ambitious painting project—such as painting your kitchen cabinets or updating your bathroom walls—may require a different approach.
In the past, I've recommended the Wagner Spraytech as my go-to air sprayer. I love it. However, there are tons of air sprayers on the market today. It's always best to get one that's best suited to your particular paint job. The Wagner is great for furniture flips and decks etc.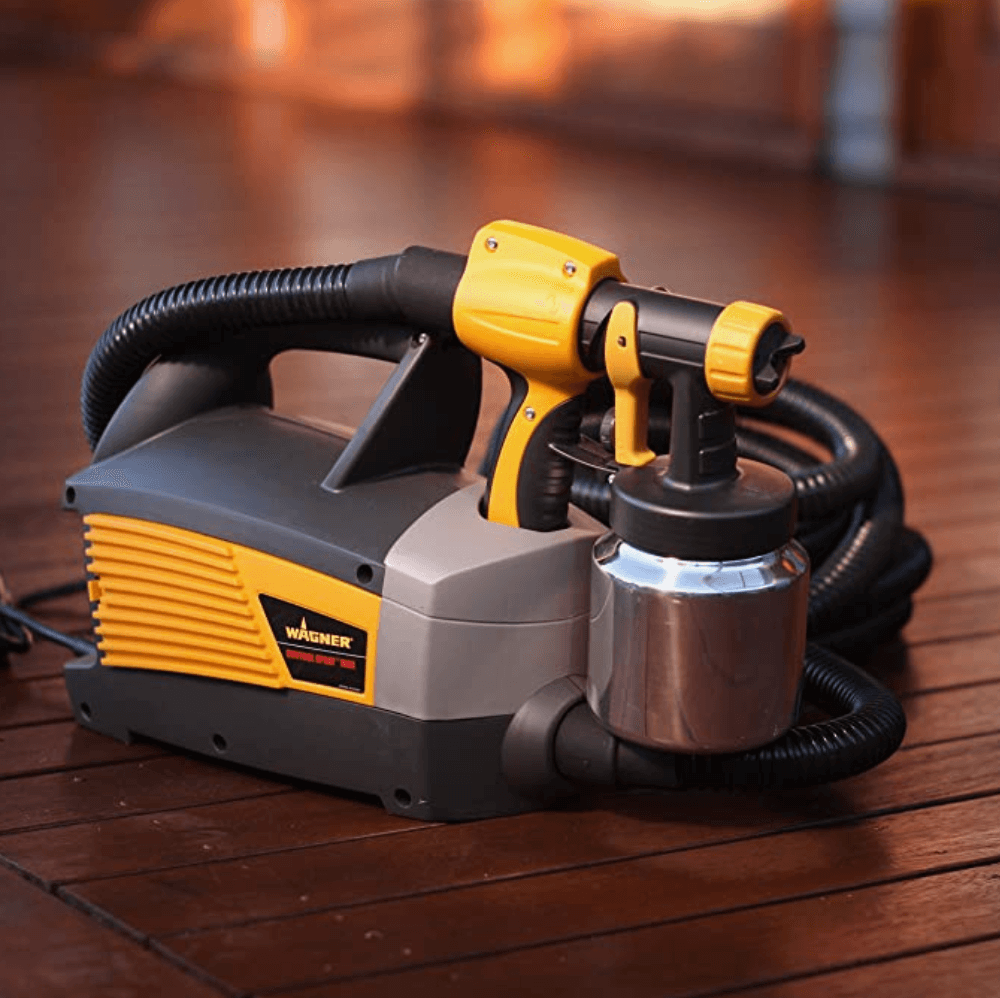 With that in mind, I've decided to take a look at the latest models and find an option for smaller projects, larger projects, and everything in between. Ready to see what I've found (and which one I chose as my best paint sprayer for home use)? Let's dive into it!
My top picks for the best paint sprayer for home use
First up is this spray gun from YATTICH. Costing less than $80 at full price, this model will give you the best results on a budget. Coming complete with five differently-sized nozzles and offering three different spray patterns, this sprayer is a good choice for beginners.
It's also easy to clean and doesn't even require an air compressor. However, you'll likely need to pick up an extension cord (as the sprayer's cord is only 6.6 ft long. Still, it's perfect for most paints such as my favorite, Chantily Lace White paint – and ideal for smaller jobs. I'd definitely recommend this model if you've never used a spray gun before!
My next pick is considerably more expensive, but it's also much better for larger tasks – like a complete bathroom remodeling project. Rated for "up to 125 gallons per year", these airless sprayers from Graco use a suction tube to feed paint directly from the paint bucket!
Whereas some other airless paint sprayers require you to thin paint before use, this model does not, giving it a clear advantage over the competition. It also comes with a Power Flush Adapter, which makes the cleanup process quick and painless.
All in all, this is—in my opinion—the best airless paint sprayer you'll find for the price!
If you're not a big fan of having to deal with cords (and the limitations that come with them), then this next pick is worth taking a look at. I'll warn you ahead of time: it's expensive! That said, it does have a few things going for it that may make it worth your while.
Equipped with a 0.25-gallon tank (that doesn't require you to thin the paint!) and powered by a DEWALT lithium-ion battery, these Graco handheld paint sprayers are best suited for painting in small, hard-to-reach places. Thanks to their unique design, they can even be used upside-down. This makes them the best paint sprayer for home use in small spaces.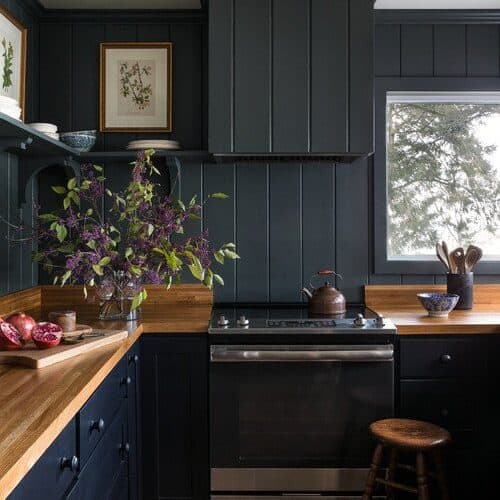 I definitely wouldn't recommend picking one of these up if you're planning on painting large areas. Still, one could be a worthwhile investment if you tend to do a lot of small paint jobs, finish work, or simply want something to spray mineral spirits (for targeted cleanup).
Whether you're planning on giving your car a fresh new paint job or making the metal shelving in your garage look a little less "meh", this HVLP paint sprayer has got you covered!
Once you pair it with an air compressor, you'll be able to apply lacquers, clear coats, top coats, and more to pretty much any metal surface you can reach. The gravity feed canister holds 600ml of paint, which—-while not a lot—should make the tool relatively easy to manage.
Unlike some of the other models on this list, it only comes with one nozzle, which is a bit of a bummer. On the plus side, at least the spray tip is adjustable, producing a fan pattern from as slim as 1.5 inches to as wide as 9 inches across. This should be more than adequate for most projects.
One of the surfaces I paint most often is wood, so you know I need a good paint sprayer for the job! Fortunately, this option for Wagner is perfect for nearly any wooden surface. Whether you're updating your kitchen cabinets or putting the finishing touches on your front door replacement, this sub-$100 option should do the trick!
Offering a 0.5 to 9-inch adjustable spray width, variable paint flow, and coming complete with two differently-sized paint containers, it's a good budget-friendly option for smaller projects. Plug it in, fill it up, and you're good to go.
I probably wouldn't recommend this for big projects like painting your whole house, as you will likely have to thin your paint (which can make the process rather time-consuming). However, for tinier outdoor & indoor jobs, it's perfect!
Lastly, let's finish things up with a sprayer that's perfect for smaller projects, like a chair restoration or repainting your nightstand. My The Quick Finish sprayer doesn't hold very much paint in its cup, but I think its price spray control—and intended purpose—makes up for this.
You can use it for various types of paints as well as stains, which makes it a good option for furniture. Since it doesn't require a separate compressor, setting it up doesn't take very long either!
With three different spraying patterns, a quick cleanup process, and a one-year warranty to boot, this model is the best paint sprayer for home use if most of your painting projects involve refreshing the various pieces of furniture around your home.
For Every Sprayer, A Purpose
Air sprayers can be split up into three different types of paint sprayers. It's important to know the difference between each type of paint sprayer so you can pick the option that will work best for your project. Let's go over them now.
Airless sprayers work by using a high pressure pump to atomize paint, resulting in a relatively thick paint application. Airless sprayers are the best option for painting large surfaces where precision isn't a prerequisite.
HVLP sprayers (High Volume, Low Pressure) offer a more precise paint application, making them ideal for detailed work that requires a smooth finish. Easy to use and wasting minimal paint, these sprayers are often the sprayer of choice for DIYers and professionals alike.
Handheld sprayers are small, portable paint sprayers that are ideal for small projects like furniture refreshes or touch-ups. You can find handheld sprayers as both airless and HVLP models.
How to Make Your Paint Sprayer Last Longer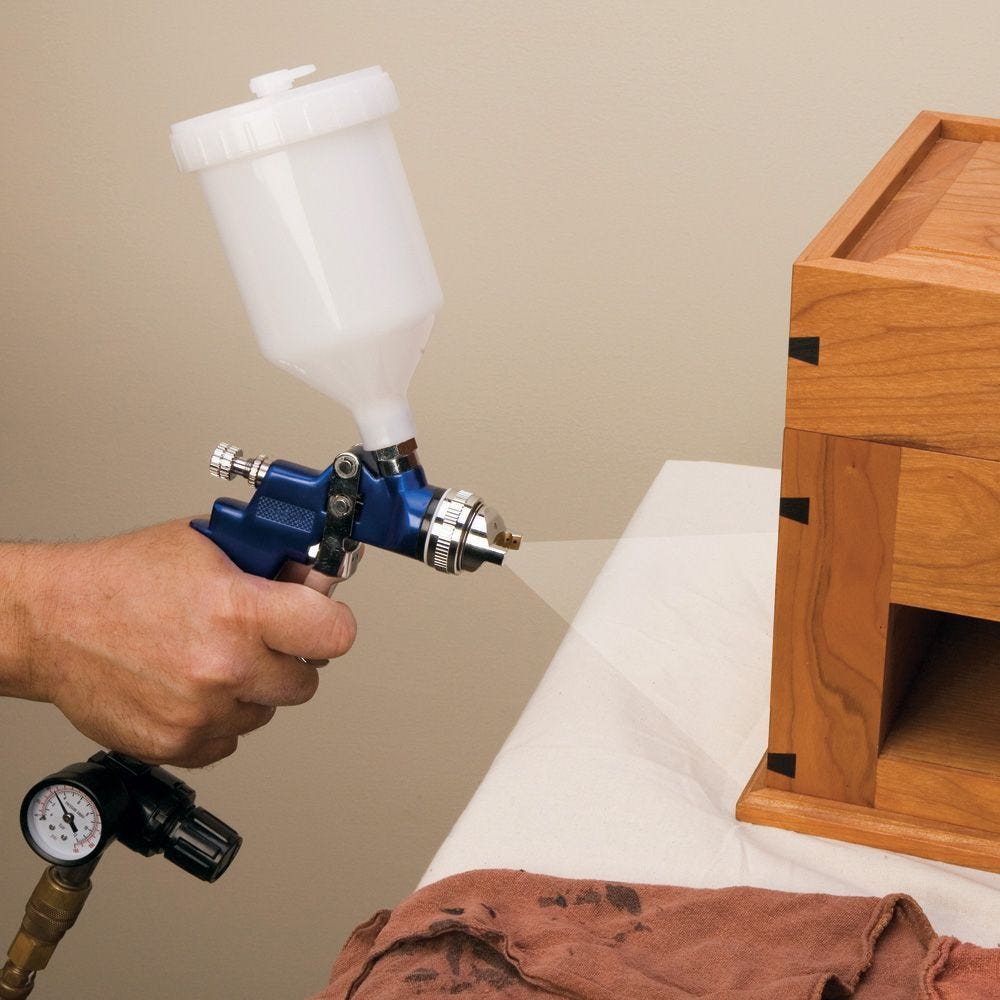 When you're working on large projects that take multiple days and a lot of paint, it can be easy to forget to clean everything once the project is finally complete. However, aftercare isn't something you want to forget about (especially if you want to use your sprayer again in the future!).
If you want to make your paint sprayer last for years to come, it's important to make sure that you properly maintain it. This means cleaning it after every use, which simply involves flushing out the remaining paint and cleaning the various parts.
Leaving even the smallest amount of paint in your sprayer could cause it to be clogged. This will be an issue when you need to use it later on. Don't set yourself up for failure: just take the time to clean it now!
Beyond cleaning it properly, you also want to make sure you're storing it in a good spot. Cool and dry places are best, as this environment will prevent any metal components on your sprayer from rusting.
Lastly, just give your sprayer a quick look over each and every time you use it. Doing so will help you identify any parts that are wearing out, allowing you to fix them before bigger problems arise.
Simply follow these few simple steps to ensure your paint sprayer sticks around for a long time!
Commonly asked questions about the best paint sprayer for home use
Is it worth it to use a paint sprayer indoors?
If you have the budget for a new sprayer (or already own one), then yes! Paint sprayers work in nearly any size of space, generally complete the job(s) faster, and reduce the likelihood of paint dripping on the floor.
That said, you should make sure that the type of sprayer you'll be using will work well for your particular project. If—for example—you have a sprayer that only applies thick coats but you need light coats, you may be better off completing the job with a roller instead.
Which is better air or airless paint sprayer?
Which option is "better" ultimately depends on your specific needs and the exact sprayer models in question. However, air sprayers generally excel at precision work (making them ideal for detailed work) whereas airless sprayers are more effective at transferring paint to a surface, giving them the upper hand when it comes to larger surfaces & spaces.
Do professional painters use spray guns?
Some—but not all—professional painters use spray guns for their work. Professionals often use airless spray guns, which are arguably the best choice when it comes to painting large surfaces quickly.
However, spray guns can require additional masking and always end up wasting a percentage of the paint (which can add up quickly when you're working with multiple gallons of paint). As such, some painters may only use spray guns for part of their work, while others may choose to avoid them entirely.
Can you leave paint in airless sprayer overnight?
Opinions vary on this, but I would recommend trying to avoid this unless absolutely necessary. That said, you should be fine if you're only leaving it in the sprayer overnight, but I would avoid more extended periods. It's always best to clean your sprayer when not in use!
Do you need to thin paint before using airless sprayer?
Sometimes. The answer really depends on the type of paint and the sprayer you're using! Thicker paints (such as latex) usually need to be thinned, whereas thinner paints do not. However, you should always refer to your model's manual to get recommendations from the manufacturer. This will help you avoid any painting mishaps!
Ready to Start Painting?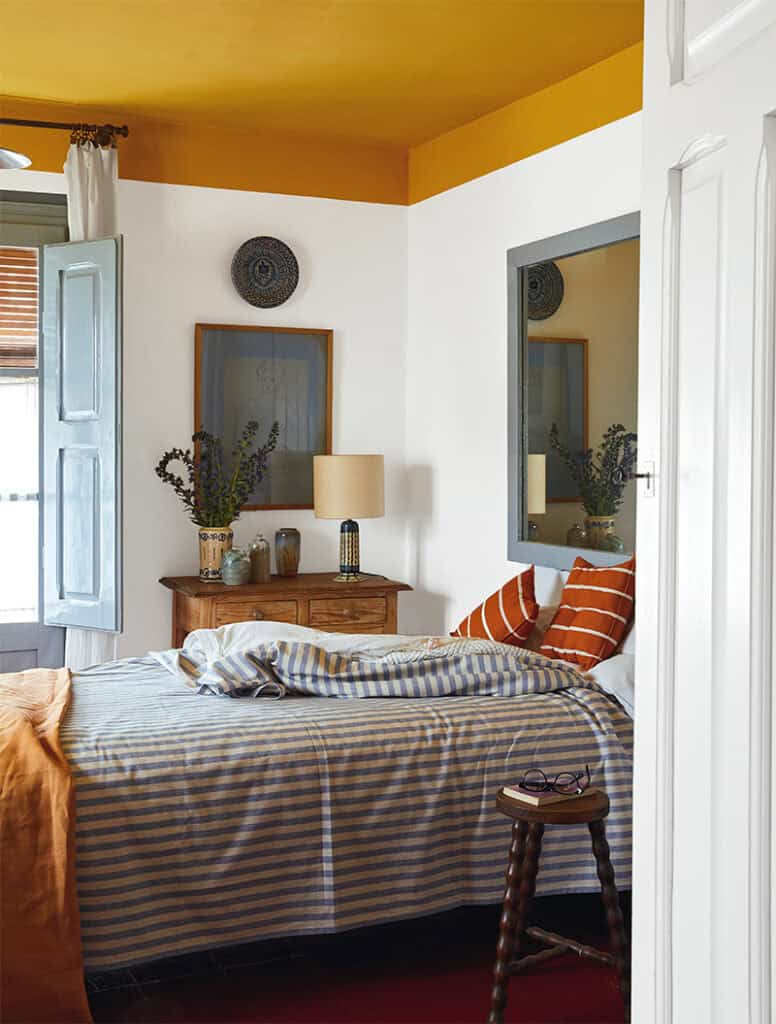 As you can see, there isn't any one "best paint sprayer": each model has its advantages and disadvantages! What might be a great choice for one project could be a poor choice for another.
It's always worthwhile to do your research before going out. You don't want to end up spending hundreds of dollars on equipment that doesn't suit your needs!
That said, I hope you've found this article not only helpful but informative as well! With the right paint sprayer for the job and the essentials you need on hand, you shouldn't have any trouble tackling pretty much any at-home painting project.
Have you tried any of the models I've listed above? Maybe you have a different top pick when it comes to the best paint sprayer for home use? Either way, let me know in the comments: I always love hearing from you guys!