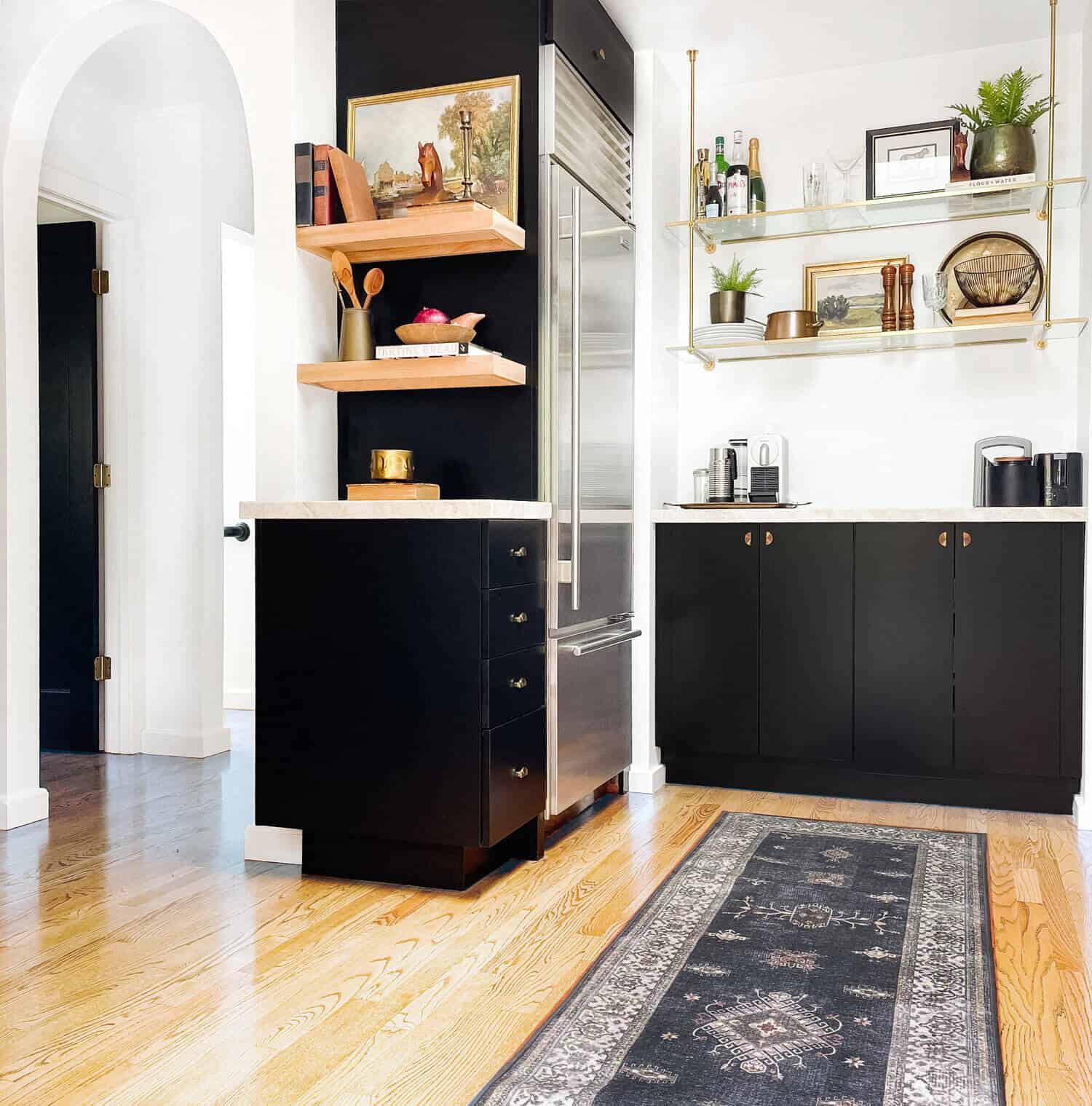 What comes to mind when I mention kitchen styling? Is it buying a new light fixture, decorative wooden spoons, a vintage cutting board, a table, or even a toaster? Those are often great options to make a room shine. But if you haven't considered adding a rug to your kitchen – then I am here to tell ya' you gotta try it. Wait, just hear me out!⁠
Kitchens are actually a great place to add a runner. Believe it or not, rugs aren't only meant living rooms or formal dinner areas. Plus, a kitchen runner will instantly warm your space, being both functional and beautiful all at once.⁠

If you haven't given a rug in your kitchen a try, I compiled a list of all the reasons why you should get it a try. Let's dive in:
Rugs are comfortable and cozy. Look, I love to cook. Some of my favorite recipes here. But, because I spend lots of afternoons slowly preparing and cooking meals, it's important to me that I have a comfy place to stand while whipping things together Having a long runner like mine from Ruggable – makes time in the kitchen relaxing and comfy all at once. Plus, I am always barefoot – do no cold kitchen floor for me. Speaking of cold…
Rugs provide extra warmth during colder seasons, that insulate the space and will keep things cozy all year long.
They reduce noise by adding a kitchen runner or rug to your space it will reduce the noise transfer both in the space but also to your downstairs neighbors. Some of you might know, if you rent – it can be required to have floor rugs on hardwood floors. Adding a rug is a great way to be a good neighbor – and we all want that, right?
They can prevent unwanted accidents. Okay, it's the kitchen. There are bound to be spills, and dropped dishes. Never feat tho, because if you have a rug they can help with protecting the floor from scratches and dings – along with absorbing spills. This rug from Ruggable is the best because you can just throw it in the washer and it comes out clean and ready to go. I
They add charm and personality to the room, instantly leveling up your interior space. With so many options out there you can really help make your space look more inviting and designer-like. Don't forget a cushioned slip pad.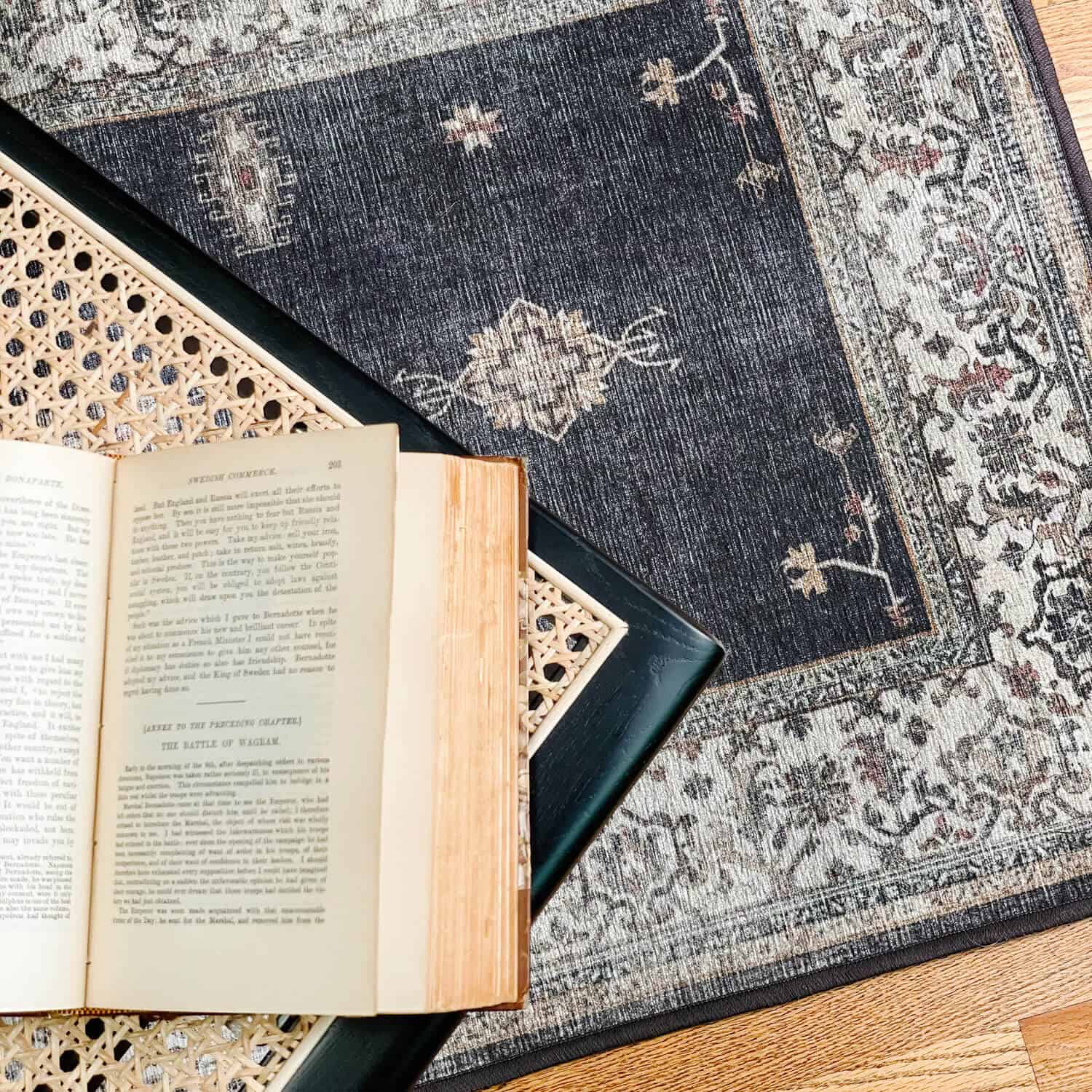 Okay, now that you are convinced a kitchen runner is a way to go, let's talk about a rug I love. There are some things you should keep in mind. Aside from the fact that darker rugs are the safest choice because they don't show stains as easily, it's also great to choose a design that mixes harmoniously with your kitchen decor, furniture, walls, and floor. I know I say this often, but always think of the bigger picture when you're visualizing adding a new element to an existing space. Then get in on the details. I just loved the vintage yet modern charm of the Verena dark wood rug for my kitchen. Love the look? Get 10% OFF a rug of your own @ruggable use code: FUNANTHONY10⁠
The material that the rug is made from is also crucial. Opt for one that is water-resistant, durable, and machine-washable. You want to avoid feeling hassled whenever the runner becomes dirty, which might be often considering it's on the kitchen floor.
This probably goes without saying, but the size is an important factor too. Make sure the rug you're going to buy will actually fit in the space you're placing it in, but about 6'"-12" inches of space from cabinets. It doesn't have to touch. In fact, avoid that so things don't have any visual tension.
Pro tip: Buy a rug pad that is smaller than the actual rug to ensure it stays in place, maximizing safety and functionality. This is mind.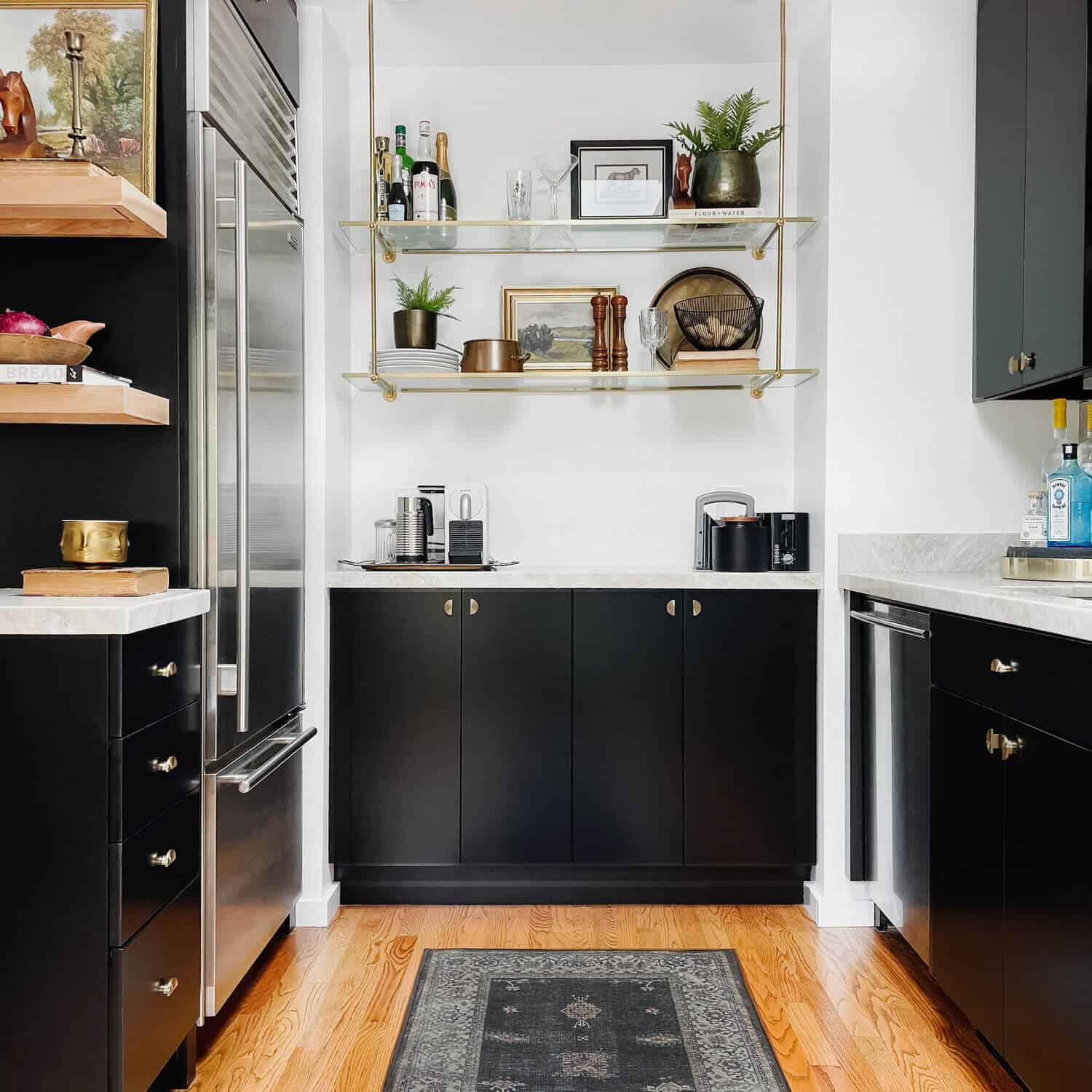 Once you have your rug, it's time to place it in the space. My advice would be to place it in front of the sink along with areas where standing is essential. I prefer runners and rugs to be aligned parallel to cabinets and islands.
Setting up the runner is an easy task that you can manage quickly and with little effort. Clean your floor to get rid of any unwanted dirt first, and then carefully unroll the rug starting from one corner. If you have my runner and rug pad be sure to place the rug grip side down and position it on the pad and roll out smoothing along the way. This will save you the time of having to smoothen out any wrinkles afterward.
Once the rug is set up then you're good to go! I promise you will see and feel the joy of having a kitchen runner in your space as time passes. You will thank me later when a small plate accidentally falls but doesn't break, or when you're standing by the sink for hours an hour and your feet are snug as a bug. I hope you will give a runner a shot.
Do you think you'll add a rug to your kitchen space any time soon? What design and color do you have in mind? With all of the different options out there, I'm really curious! Just remember, choose the material with care and really think about where you can set it up so that you can maximize its function. You won't regret it, I promise. Xoxo