I love mood boarding.
It's the best way to get a general idea of how the furnishings of a room will look and feel together. The best part? Creating a mood board costs zero dollars and you can try countless groupings before committing to a purchase.
I find them especially helpful when deciding between an item or two that are similar but you aren't quite sure. Also, if you are like me, and have mostly finished rooms in your home it can be a great way to keep your design skills sharp and get your creative energy on paper. I never design an entire space without making a mood board.
So today, I am sharing one room done two ways. In this particular design, I wanted to mix bold striking colors with modern contrast in a way that was both masculine and approachable.
Each design provides a similar aesthetic if not a slightly different vibe by simply swapping a few key furnishings up. Here's the tea on each room's furnishings and why I love how they work in the space. Let's dive in to design one: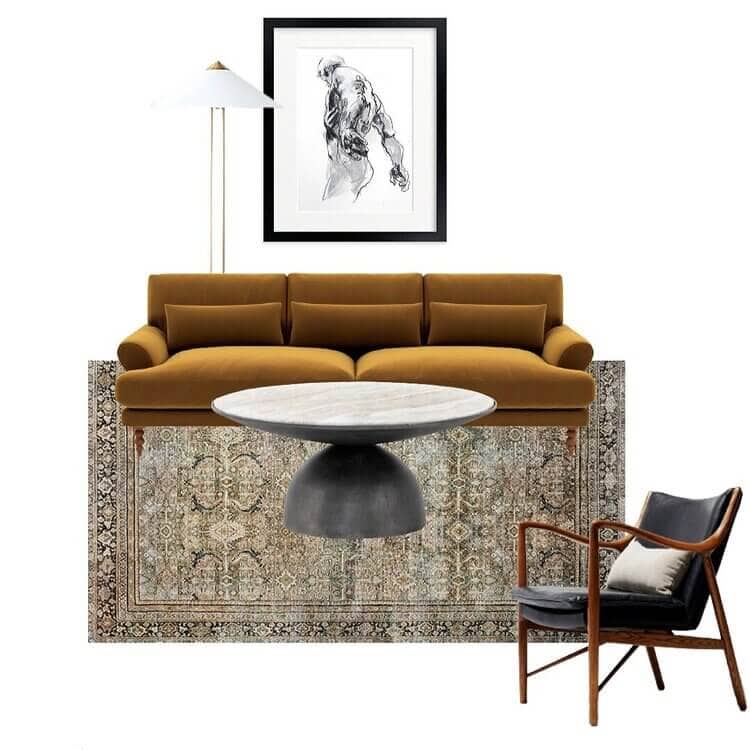 Rug – Loloi Alexander Olive Charcoal

Ya gotta get a good rug. This rug goes well with literally any space. I have yet to see a room that it doesn't look good in. The rich jewel tones contrast any couch or art like it was meant for it. Even better? It is great if you are on a budget, comes in tons of different sizes, and will ship quickly.

Couch – Jasper

I love clean lines and and the ripple of these cushions. Of course, this gold velvet finish is everything. If you like clean lines, a bold look, and a great price point. This couch is for you. It comes in different colors, but for me this color is perfection.

Accent Chair – Olsen Black

An accent chair needs to contrast your couch, and boy does this piece do that. I think that nothing contrasts better than walnut and leather. I love the masculine look and industrial feel juxtaposed against the soft plush of the couch. The subtle curve of the arms is another touch that makes the whole feel up a notch. In this case, I selected black for a pop.

Coffee Table – Terrazzo

Terrazzo is just sexy. That's all there is to it. I use walnut a lot in my home, but this texture and stone are radiant. I love the circle shape to offset the square elements in the room and that the light speckle reflects the light. The texture is invigorating and introduces a ton of visual interest.

Lighting – Stacatto

This floor lamp is so epic. First, it's brass, so we know I love that. Also, the roman lamp shade says modern and vintage all in the same breathe. I love the way the neck is mirrored with two lines and the sleek silhouette.

Art – Standing Man

Yall know I love charcoal, and I love sketches. This print is one of my all-time favorites and it really makes a statement. The human form is beautiful and this piece is is tasteful while adding depth to any room.
Okay, now let's consider a similar vibe with slightly different pieces. I love them all equally just for different reasons. What I really like about this design alternative is that it's a bit more neutral for someone who is less into big bright pops of color. After all, you can never go wrong with a more monochromatic color palette. But as you can see just a few swaps of key elements (like the rug or couch) can instantly transform a space. Let's dive in: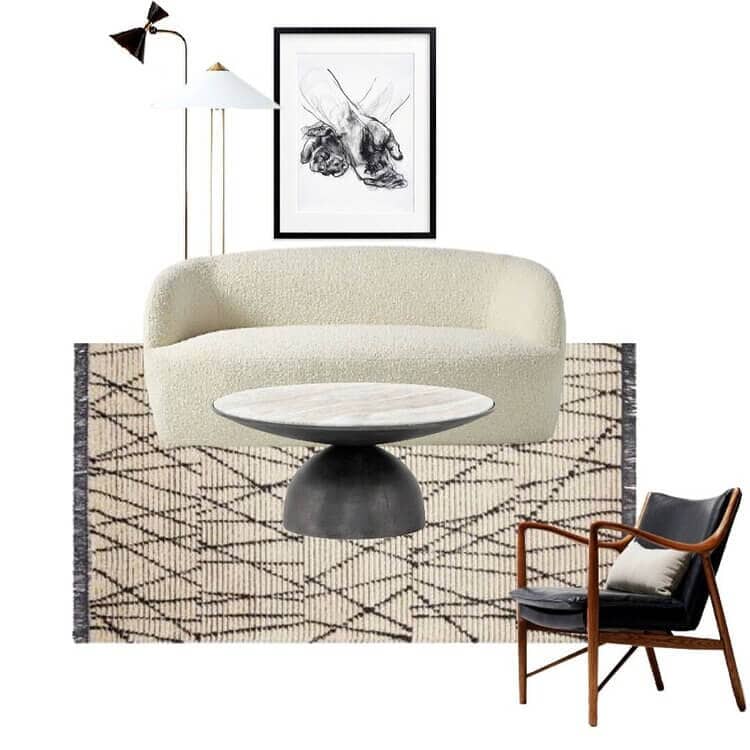 Rug – Alice Loloi Chris Loves Julia Collection

I just love black and white. But it has to be done right. This hash texture and soft fluffy knit is like a cloud on your feet. It really helps to establish a moment on your floor. Like the Alexander rug. It really is a rug that will pair well with any room. It can look great placed under bold bright color or even in a calming monochromatic scheme. It's a great price too.

Which design do you love best? Maybe you like em' both. The reality is you can't go wrong, and the chances of getting it just right are higher when you start with a mood board – at least in my opinion.
I hope these two rooms inspire you. If you love em' I linked all the sources so you can get back to them at any time. If you want more mood boards let me know. I love creating them.
Or if you want to chat design and work on a space together send me a note. I'd be happy to talk about your hole and get you on the path to your dream space. Send me an email: [email protected]
If ya got comments, drop em below and follow along on Instagram for more Design, DIY, Decor, and more. I am so glad you are here. xo.