Does anyone need day hike lunch ideas? Here's the thing. Adorning your home with plants is always a great way to bring the beauty of nature into your space, but let's face it: nothing beats the real thing. As such, getting out into the fresh air and taking a day hike is a fun and easy way to enjoy the great outdoors while also getting exercise, elevating your mood, and just plain feeling great. I hike all over the San Francisco Bay Area, and these are my favorite hikes north of San Francisco. While on these hikes I adore having an amazing day hike lunch to treat myself to.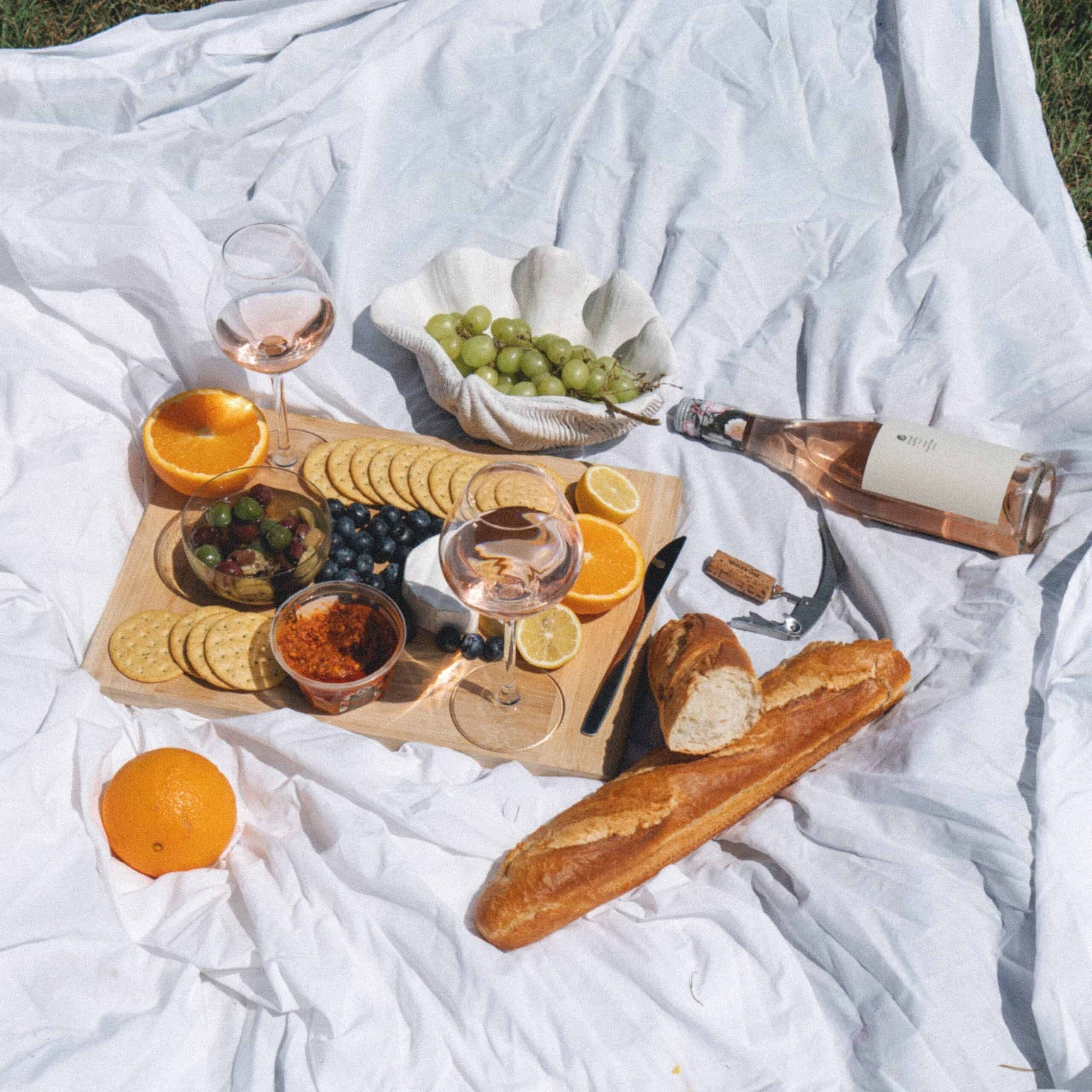 But packing a great day hike lunch can be tricky. There aren't unlimited (good) options while you're out and about and some practical limitations must be considered such as keeping your meal chilled, and not smashed etc. But don't worry, I pulled together the best day hike lunch ideas for your next backpacking trip.
Day Hike Lunch Ideas of the Snack Kind
Starting your day off with a hearty breakfast is a good way to prevent getting hungry and tired on a day hike. I'll be sharing some of my favorite day hike lunch ideas in a bit, but first, I figured we should go over some snack ideas that are perfect for the trail. After all, sometimes I prefer to just have a snack while heading up the trail.
If you want to keep your hunger at bay and your energy levels up then bringing some snacks along is the perfect solution. Just remember to save some room for your main meal. But for those needing a quick idea. See below.
The Most Common Day Hike Lunch Ideas for Those Wondering "What Kind of Food do you Take on a Hike?"
Peanut Butter Pretzels
Trail Mix
Apple and Peanut Butter
Sandwiches
Dried Fruit or Fruit Roll-Ups
Medjool Dates and Nut Butter
Protein Bars
Pasta Salads
Tuna Packets with Crackers
Chicken Salad Sandwich with Chips and Fruit
Bananas and Whole Wheat Chocolate Chip Cookies
Dried Sausages
Soups
Cheese and Crackers
Baguette with Avocados, Tomatoes and Limes
Great Day Hike Lunch Ideas
Beef Jerky
Beef jerky is a classic and also a kind of perfect hiking food. It's high in protein and extremely tasty, There are tons of options to choose from when shopping for this flavorful snack. Since it doesn't require any special storage conditions and holds up well on a trail beef jerky can just be shoved into your backpack for a grab at any time. This is my favorite beef jerky – my mom (I mean Santa) gives me a pack every year in my stalking.
That said, it's important to remember that beef jerky contains a lot of sodium. This isn't necessarily a bad thing though, as sodium actually helps your body stay hydrated. Still, it's easy to become dehydrated when you're eating salty things, especially if you're eating something as tasty as beef jerky so be sure to bring lots of water on the trail.
Dried Fruit Both Dried and Fresh is a Perfect Option for Your Day Hike Lunch Ideas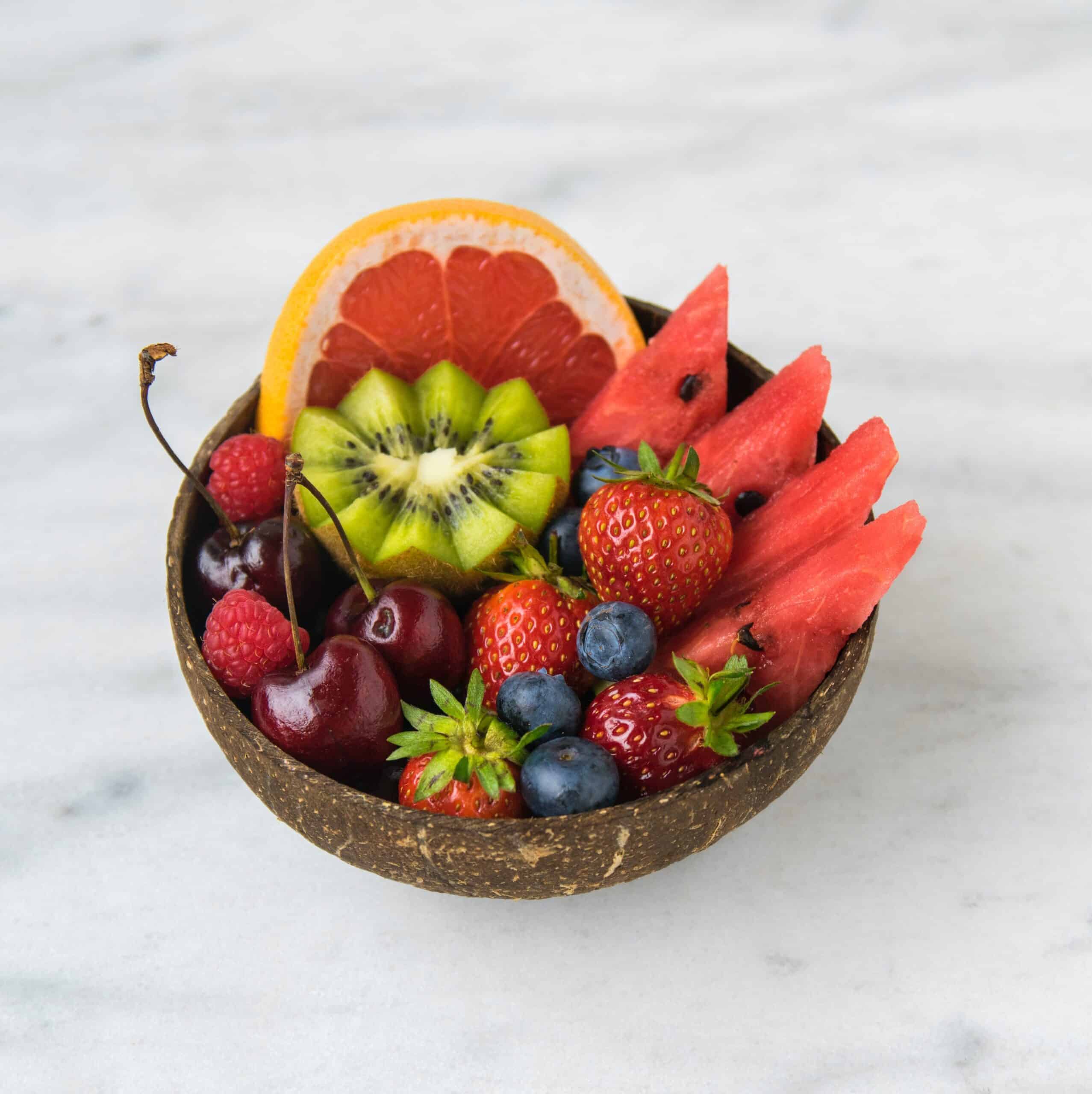 Both fresh fruits and dried fruits are great for hiking trips, with the latter being the preferred option for longer outings. Fruits are great because they give you a mixture of vitamins, sugar, fiber, and delicious flavors. Plus, there is just something about biting into an apple, or pear on a hike that just tastes magical. Even better if it's chilled from a cooler. Plus fruit is always great on the pocketbook. I recommend mixing dried fruits with trail mix.
Granola Bars are Great for the Trail to Include in Your Day Hike Lunch Ideas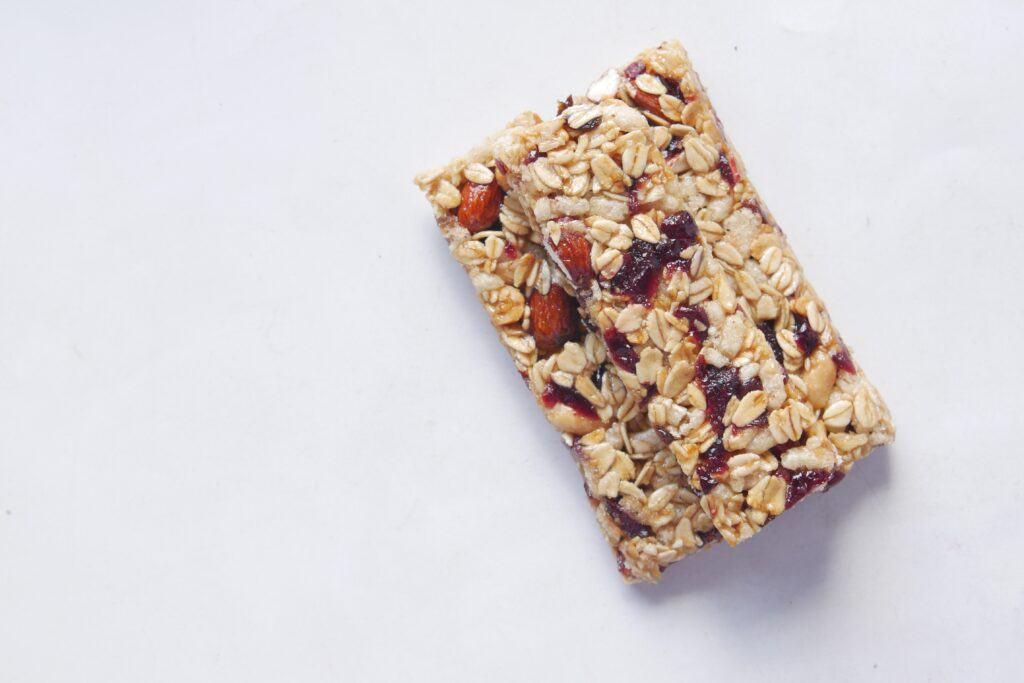 Individually wrapped, affordable, and sold in bulk, granola bars are perfect for snacking on the trail. There are tons of different flavors available, but I'd suggest trying to find one that's low in sugar and high in protein. Save the S'mores bars for when you're snacking back home. Lots of granola bars are loaded with sugar.
If granola bars aren't really your thing, you can try mixing regular granola with Greek yogurt as an alternative. The downside of this is you now need to keep the yogurt chilled. Adding granola to a yogurt cup is also slightly more time-consuming than just eating a granola bar but it sure is good.
Still, if you hate granola bars but still want to enjoy the health benefits, mixing it with Greek yogurt is a great solution.
Hard-boiled Eggs Are the Perfect Fuel for the Trail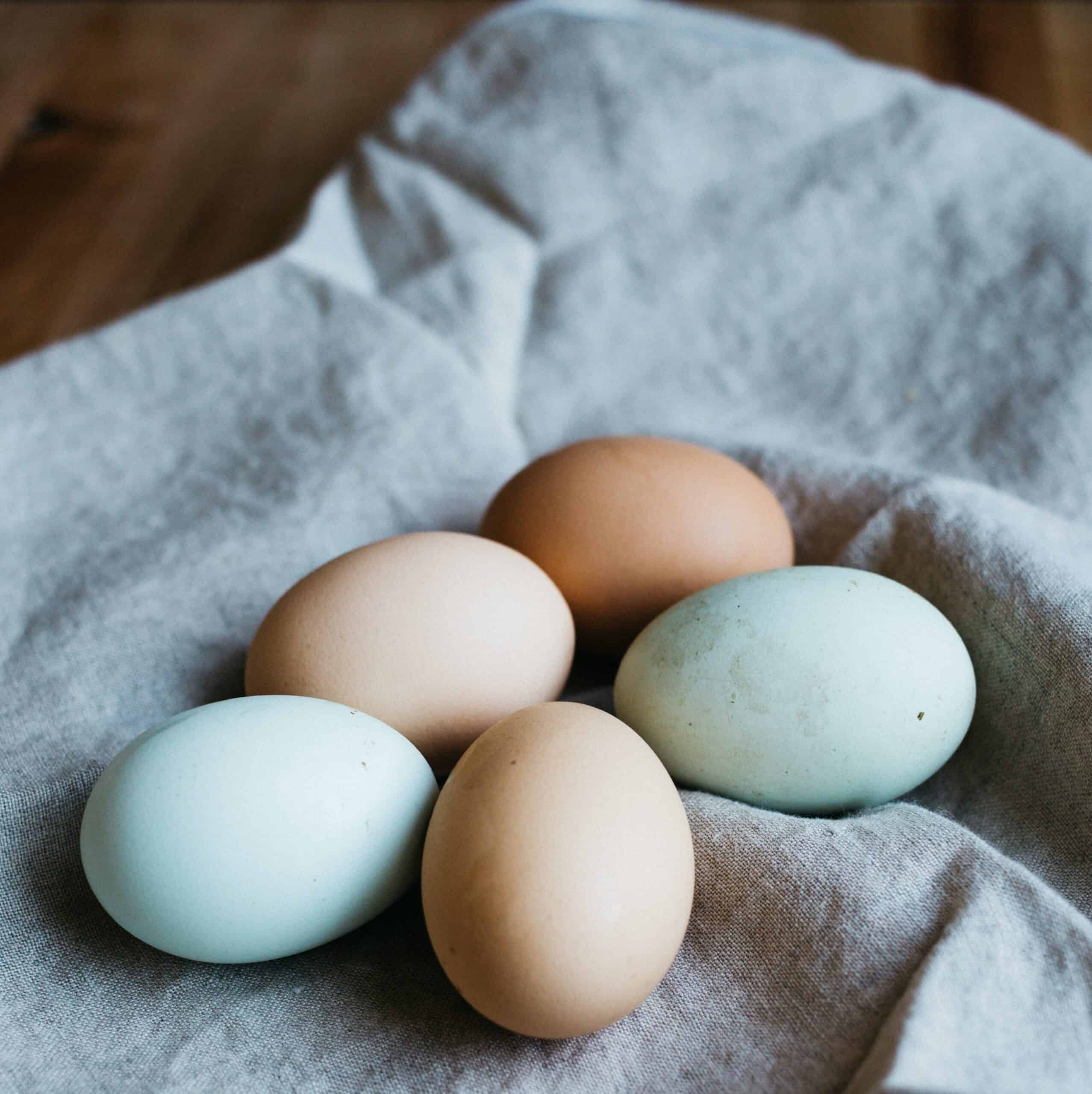 Low in calories and high in lean protein, hard-boiled eggs are easy to make and convenient to eat on a hike. Eat them alongside a few vegetables, cheese crackers, or even chips and you will be in good shape. If you're extra healthy, consider pairing it with fruit. Eating a hard-boiled egg is a great way to ensure to get the heaviest most caloric-rich fuel into your body. Eggs really are the perfect snack.
Looking for something sweet to enhance your morning breakfast routine or throw in your backpack for a sugary treat? Check out my post on how to make some irresistible cinnamon rolls.
Trail Mix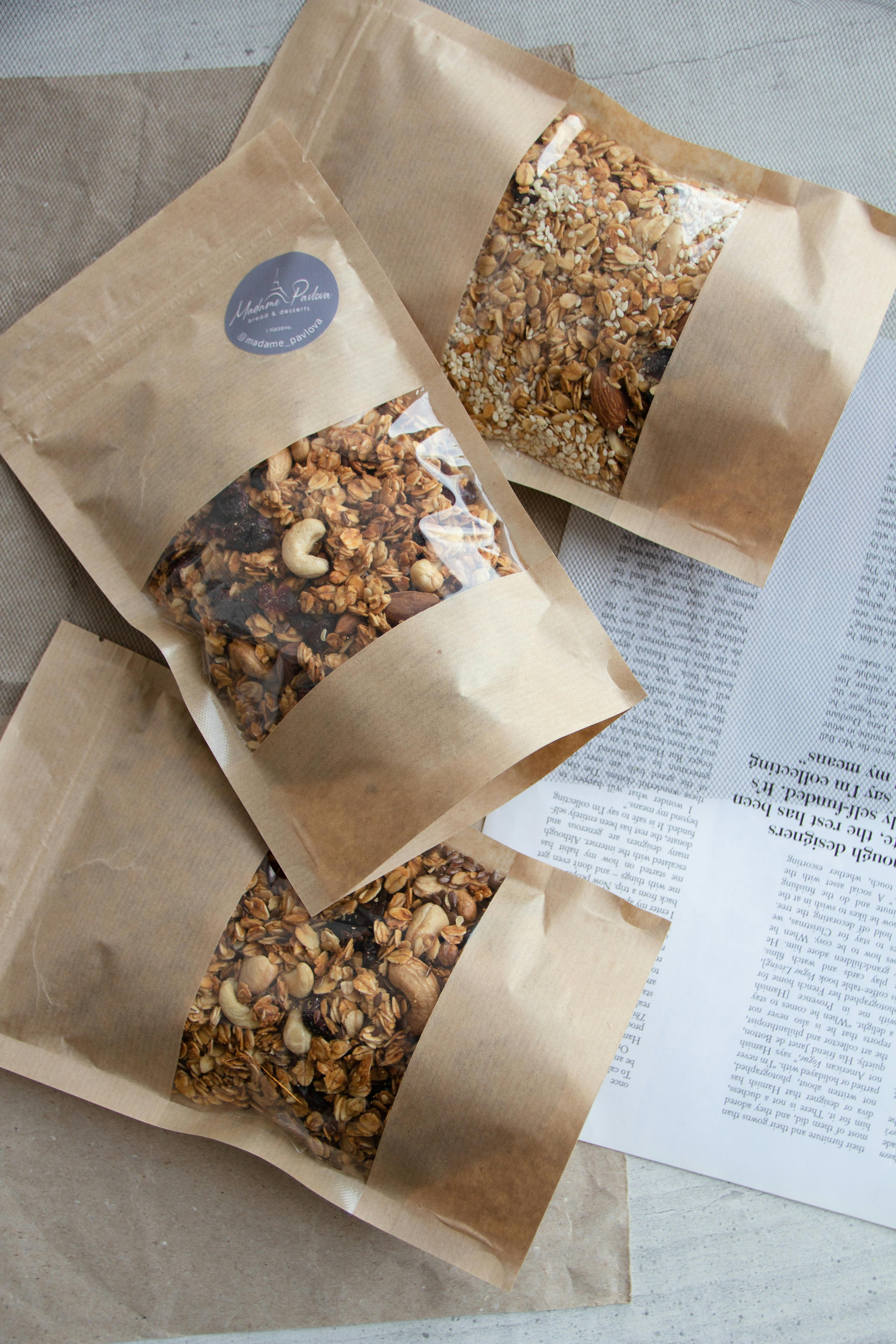 Well, the word "trail" is in the name trail mix, so you can rest assured that this mix is perfect for your next day hike! There are plenty of pre-packaged trail mixes available, but you can also make your own if you'd prefer a curated—and likely healthier—mix to enjoy.
Day Hike Lunch Ideas
Alright, now on to my favorite day hike lunch ideas now that you have a few good snack options. Remember, you can pretty much bring along anything that you can find a way to store at the required temperature.
The ones I've included below are some of my favorites that I tend to bring along whenever I go out for a day hike. You can either stick to the list or perhaps just use it as a starting point for your larger meal plan.
Grab Dehydrated Meals For an Extra Long Hike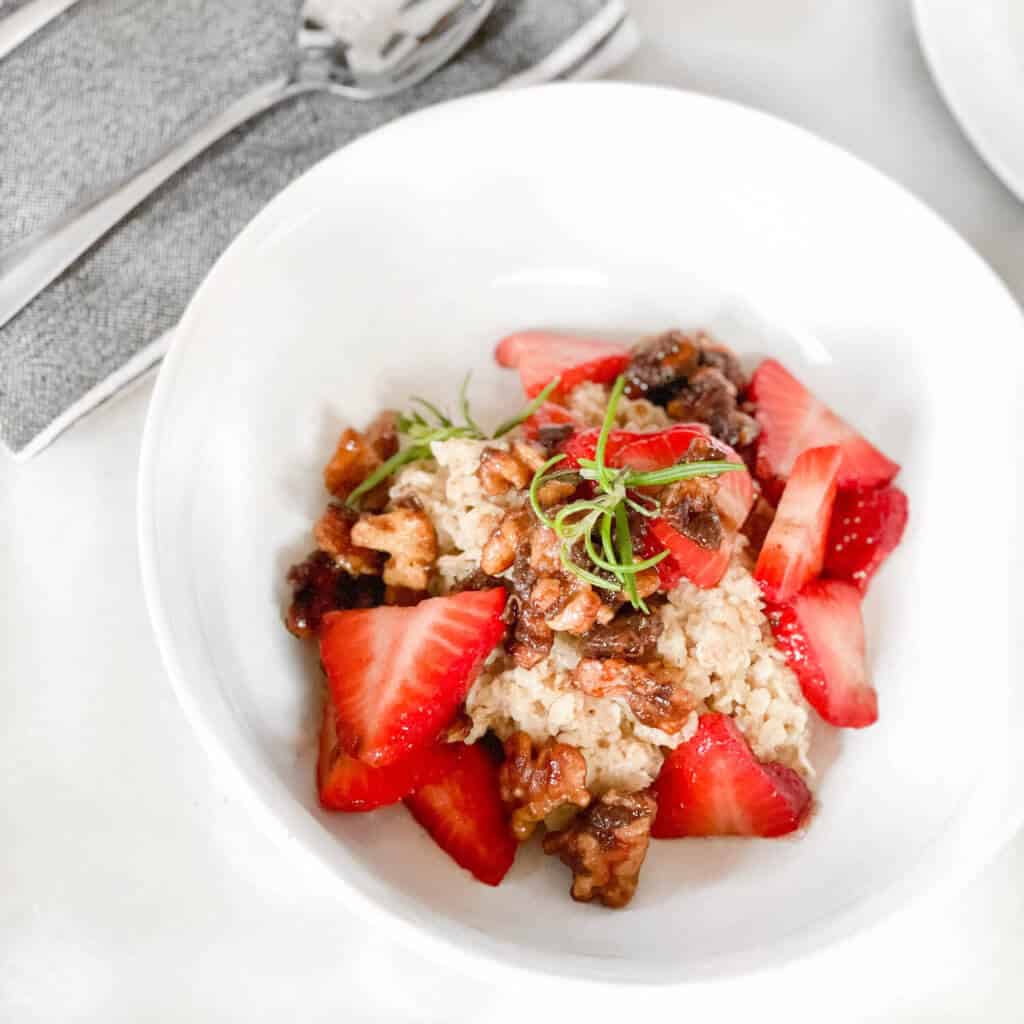 Dehydrated meals are a great option if you're going on a longer hike – say more than five hours or so. I don't do quite as often as I would like, but sometimes we do, and when we do we bring along a few of these – just to be safe in the event we get stuck out for longer than we planned. There are plenty of choices to choose from when considering freeze-dried meals, but pasta, stews, and soups would be a few of my recommendations.
Oatmeal
Technically, oatmeal is also a dehydrated meal, but I put it separately since most people consider this hot meal to be more of a "breakfast food". There are many different flavors of instant oatmeal offered at your average grocery store. You can make the dish more filling by adding a few dehydrated fruits into the hot water while heating your meal.
Of course, if you brought fresh fruits then those can work as well! Berries work great for this so try to get your hands on some blueberries or blackberries if you can. Alternatively, bananas and apples will do if you're not a fan of berries. Just pre-cook and store in Tupperware. I like it cold too! This candied oats oatmeal recipe is literally what I bring with me anytime we head out early and I don't eat before hitting the trail.
Onigiri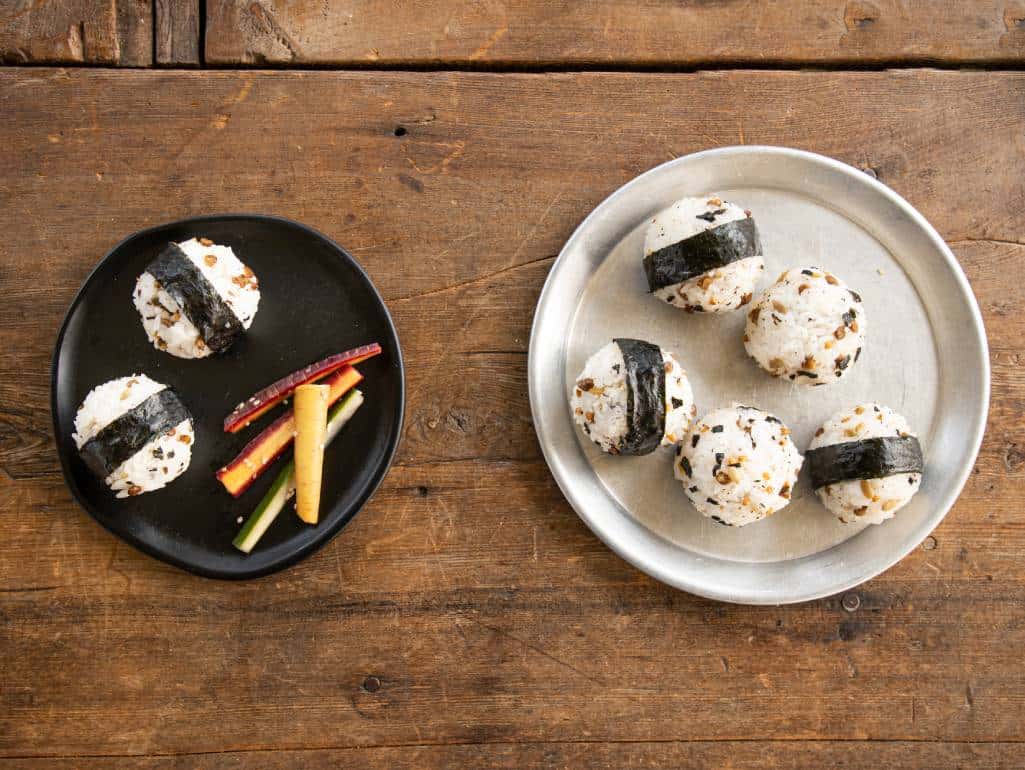 I love having Onigri on the trail. If you aren't familiar Onigiri is a popular Japanese snack made from a ball of sweet rice, filled with fish, and wrapped with nori or seaweed. It's a great way to enjoy the flavors of the ocean while in the woods. My favorite filling is a toss-up between salmon and tuna.
While you probably won't be able to find these ​healthy snacks at your local convenience store, they can be picked up at a deli or the grocery deli section where pre-made food is often served. Just look close! They're quite easy to make yourself – this is my go-to Nigiri recipe. Remember, one is a snack, but a few make a meal.
Not a fan of fish? That's okay, G isn't either so I always make a version of this for him, using chicken instead of fish as a popular alternative. Pickled plum, soy-sauce-simmered seaweed, or shrimp are also worth considering as fillings.
Pasta Salad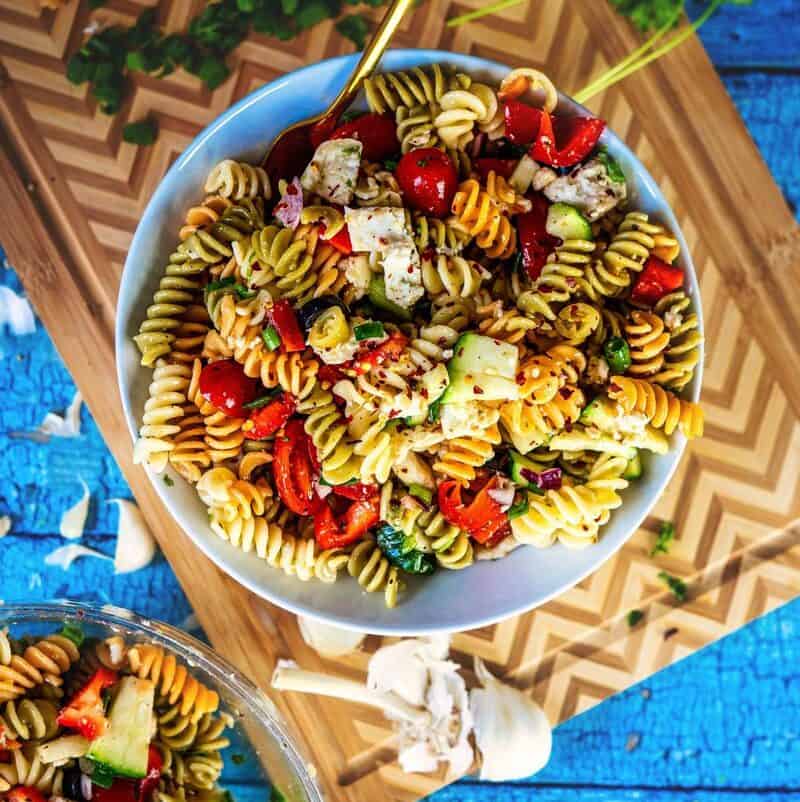 Who doesn't love pasta? It's always satisfying and easy to bring along with you. While hot pasta dishes like smoked macaroni and cheese, are a little tricker for the trail a cold pasta salad is a fantastic, satisfying meal to pack for lunch. Here are my favorite pasta salad recipes. In the end, it's so easy to prepare and eat on a hike. Plus, pasta offers lots of carbs, while the tomatoes give you a variety of vitamins and the olive oil provides healthy fats.
Check out this pasta cookbook for more pasta-based recipes, or click here for a pasta-free alternative!
Sandwiches Are the Ultimate Option for Day Hike Lunch Ideas
Okay, don't be mad at me. I know this one might be a little obvious, but for real though. I love a good sandwich on the trail.
When it comes to sandwiches, you have a pretty much-unlimited number of options to choose from. Which one you decide to go with is up to you! A toasted peanut butter and banana sandwich is always a favorite for me. But other go-to options for me are a chopped cheese sandwich for something extra special, a creamy Japanese-style egg sandwich, a fried chicken sandwich, or a mouth-watering Avocado turkey BLT. Just be sure to squeeze some lemon on that avocado to avoid browning and pack your lettuce separately from your sammie so the leaves don't wilt! I gotcha.
Soup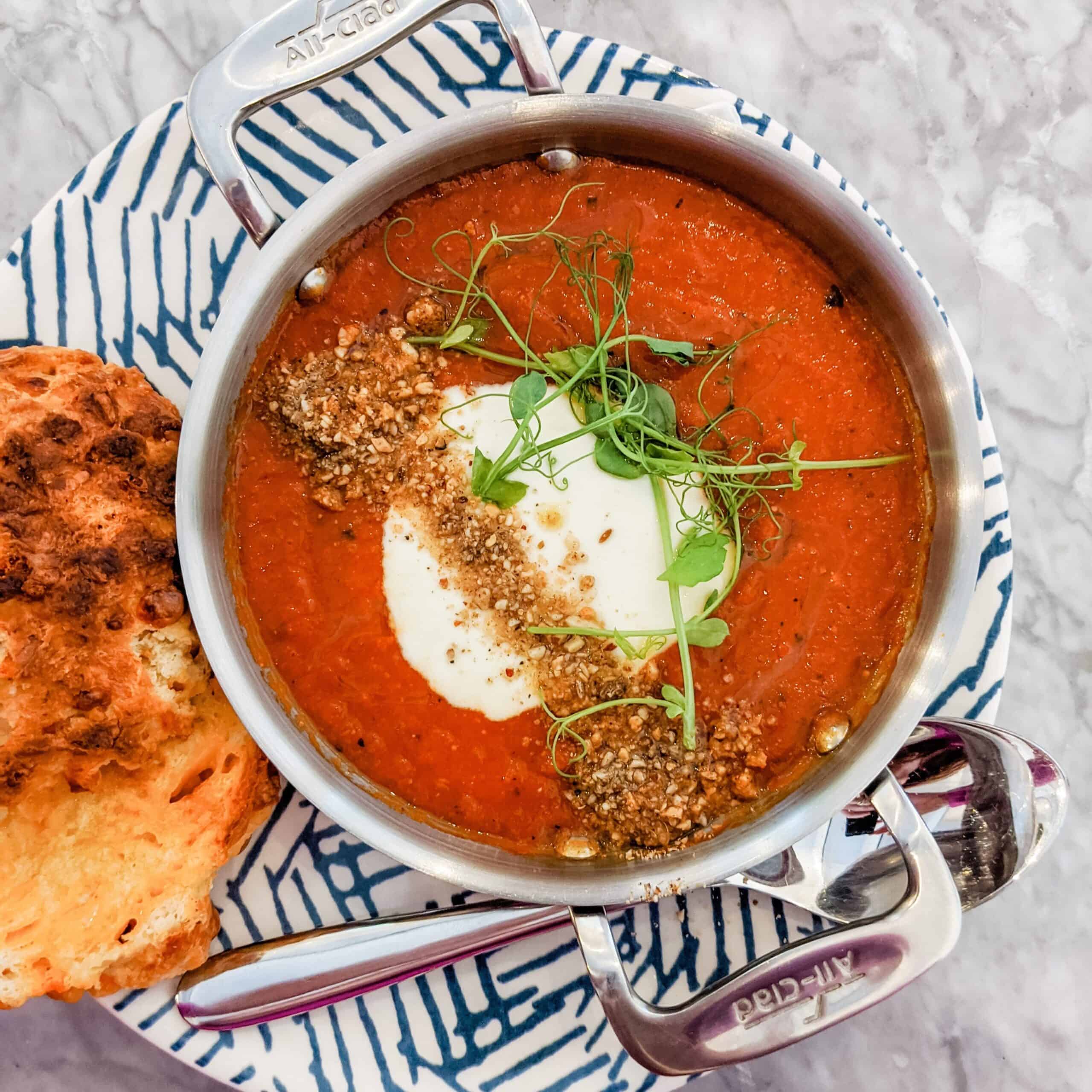 Assuming you have an insulated tumbler to keep your soup warm on the trip, soup can be a very easy, filling option. You'll want to stick with lighter soups like vegetable soup though, as heavier soups can make you tired after eating them!
If you don't like soup but still want a warm meal, consider ramen instead. Prepackaged ramen flavoring is pretty sodium-heavy so that's something you'll want to be mindful of if you're already eating other salt-heavy foods.
However, you can always make your own spice mix to flavor the ramen, easily reducing the salt content! If that's not an option, you might want to look specifically for a low-salt ramen pack. Feel free to add your choice of meats and veggies for extra flavoring!
Don't Forget to Bring Water
By now, you've probably noticed that there's one thing I haven't really covered in this day hike lunch ideas post: the importance of bringing enough water! It's easy to remember to bring water when you're going on long hikes. Still, even if your hike is short, an accessible water source is still the most important thing to have on hand.
You should make sure you're properly hydrated before heading out. While hiking, try to drink about half a liter—16.9 fl. ounces—of water every hour. If your trip will be short then a single water bottle may do.
However, for longer trips, you may need to pack a few bottles. In that case, I recommend splitting the water-carrying duties between all involved, as water can get quite heavy!
The Makeup of a Meal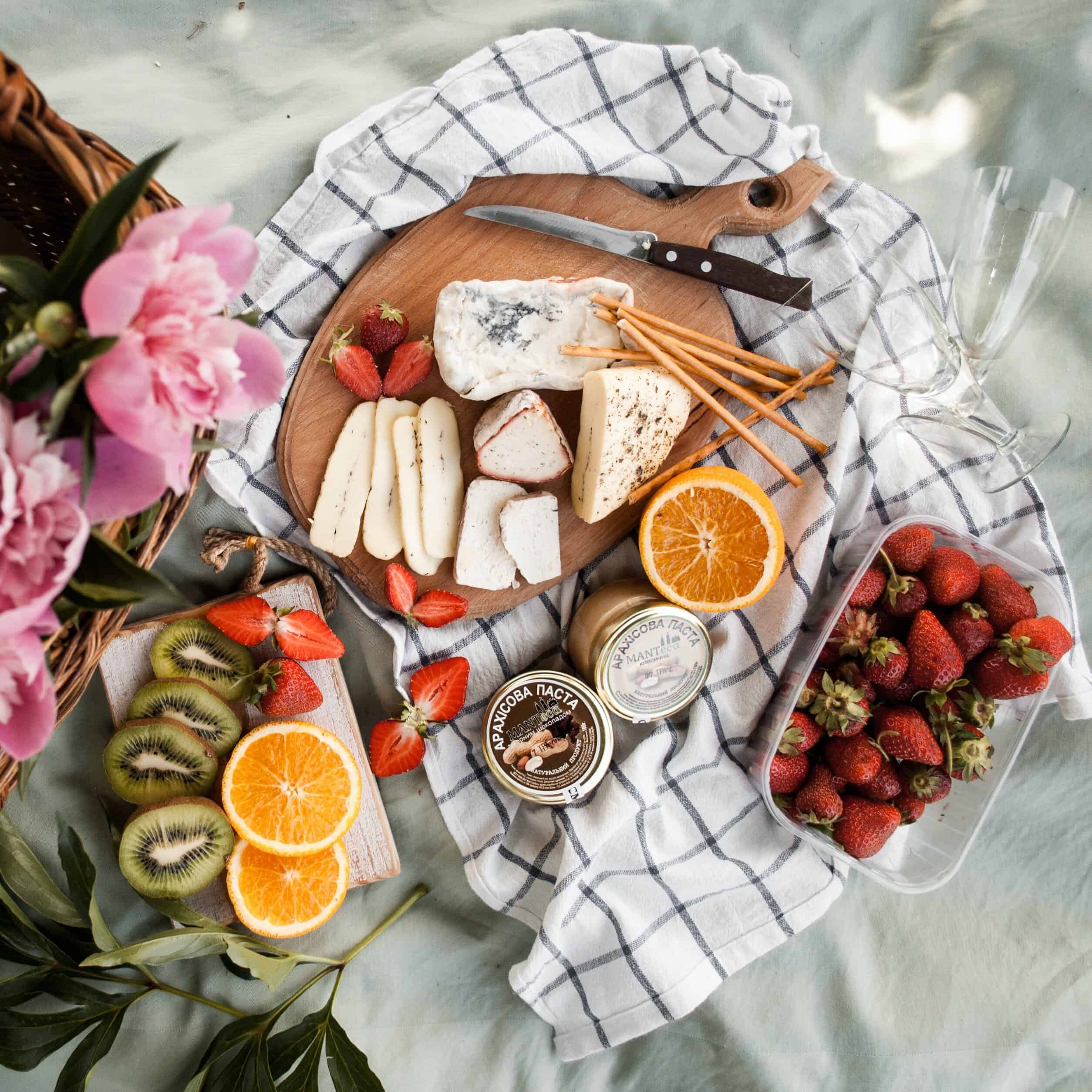 When planning out your day hike lunch ideas, remember to ensure that your meal will meet your nutritional needs for the upcoming trip. Ideally, your meal plan should include a combination of healthy fats, complex carbs, and protein.
It's a good idea to avoid things high in sugar, greasy foods, carbonated beverages, or anything that you can't keep at an appropriate temperature for a long time. While cheese and crackers could be a great snack on the trail, you're sure to regret your selection should the cheese start to spoil!
Always double-check any cooling solutions you have set up to make sure they'll keep your food nice and cool the entire hike. Better safe than sorry!
Things to Bring Along
Once you've figured out your day hike lunch ideas, you'll want to make sure you have everything to properly store your food. Ideally, your storage solution will be lightweight, require limited space, and give your easy access to food on the go.
I'd suggest picking up a backpack to carry all of your stuff in. You don't necessarily need a hiking backpack though. Just one large enough to hold all of your stuff! From there, pack a few meal prep containers, ice packs to keep your food cold, water bottles, and anything else you might need.
Also, I recommend getting your hands on a rain jacket or water-repellent sweatshirt if you can swing it, and for good reason. You never know when it will rain, and you surely don't want to be drenched for hours!
What do I pack for a day hike? Here's a quick list:
Day hiking pack
Hiking boots
Layers
Trekking poles
Flashlight
Navigation (GPS device/maps)
First Aid Kit
Water, snacks and lunch
Blanket or towel as needed
sunscreen and a hat or sunglasses
Protect your eyes from bright sunlight in style with my go to Ray-Ban sunglasses
I Hope You Loved My Day Hike Lunch Ideas
Going out for a backpacking trip is great, whether it's a short hike or a long one. With the right food and a wide assortment of different flavors to enjoy, a good trip can easily turn into a great one. There's always tons to see and new places to explore!
With luck, you'll end up with a great nature pic for your photo frame, as well as tons of memories to talk about! I like to enjoy a bottle of my favorite affordable wine as I sort through the day's photos, searching for the keepers.
So, how did your latest hike go? Did you eat well, and—if so—did you use any of my day hike lunch ideas on your trip? Let me know in the comments below. I love hearing from y'all!
Have a great week xoxo
---
Commonly Asked Questions for Day Hike Lunch Ideas
What should I pack for a day hike?
A good lunch for hiking should try to include carbohydrates and healthy fats that keep you full with enough calories to tackle the day. A good way to do this is to bring white meats and whole grains with veggies.
What sandwiches to pack for hiking?
Great options include ham and turkey or chicken. Roast beef is also another great option. Hummus and cheese are two other delicious and less conventional options. If you're worried about your sandwiches getting hot consider placing them in a secure Tupperware next to a frozen water bottle to keep cool and fresh for later.
What is the best sandwich filling for hiking?
Lean deli meats such as ham, turkey, chicken, or roast beef are solid options. Hummus is a great alternative option for all you vegans and vegetarians out there!
Should you eat lunch before or after hiking?
If you're planning to enjoy a short lunch-free hike then that's fine, but you'll still want to have something in your stomach before heading out. Of course, the key is not to eat too much food before you go, as this will make you tired.
Have a snack at least an hour before heading out. This should give you enough energy to make it through your short hike. Then, when you get back, you can enjoy a big lunch!
What not to eat before a hike?
Anything greasy, high in sugar, carbonated, or high in dairy should be avoided. In other words, save the fast food, soda, fruit juices, milk, and cream-heavy soups until after your hike!
Instead, you should try to opt for foods that are high in fiber, carbohydrates, and protein. Fortunately, many foods fit in this category! Some noteworthy options are oatmeal, eggs, peanut butter, vegetables, pasta, and lean meats.
Are Uncrustables good for hiking?
Uncrustables are a good option if you want a "sandwich" or two for your hike but don't feel like making them yourself. The Peanut Butter and Honey ones tend to last longer than their jelly-filled counterparts, whereas the jelly/spread versions have reduced sugar versions available.
Should you carb load before a hike?
Most of the time, this simply isn't necessary! Heavy carb loading is great for shorter, high-intensity adventures, but it won't really provide many benefits on extended low-intensity hikes. That said, there's nothing wrong with adding a few extra carbs into your pre-hike meal for added endurance.
How do you pack sandwiches for hiking?
It's fairly simple. If possible, you'll want to keep the dry parts of your sandwich separate from the "wet" parts until it's actually time to eat. Store the sandwich/sandwich parts in plastic bags in a hard container to prevent them from getting squished. Keep an ice pack nearby to make sure your sandwich stays nice and fresh!