Pasta is among the best comfort foods in the world. While you can do a lot of elaborate preparations with pasta, in this post, I'll give you a quick, easy-to-make, and delicious salad with pasta recipe. It'll take you under 20 minutes to make, and if you do it as I tell you, you'll be making it over and over again. I'll also take you through 14 other salad with pasta recipes that you can try if you ever get bored of this one. So, without any further delay, let's jump right in!
Types of pasta to consider for salad with pasta recipes
Pasta comes in a variety of shapes, and the shape you choose can have a profound impact on your salad with pasta recipe. Before I get to my recipe, I'd like to tell you about the different pasta shapes and how they can make or break your salad.
Tortellini
Tortellini is a stuffed pasta and an unconventional choice for salad with pasta recipes. However, it can work well if you choose the right dressing and ingredients. For instance, basil leaves, cherry tomatoes, and diced mozzarella are amazing with tortellini pasta.
Farfalle
Farfalle is one of the best pasta shapes for salads as it consists of folds and ridges. These are perfect for holding in the flavor of the veggies and additionally, pasta salads with Farfalle pasta look wonderful.
Orzo
Orzo or risoni is a short pasta and its similarity to rice makes it a great choice for salad with pasta recipes. Just be careful with mayonnaise if you want to use this pasta type. Too much mayo can make your salad mushier than you'd like it. Also, be careful that you don't overcook this pasta.
Rotelle
Rotelle is another short pasta that's perfect for pasta salads. This pasta type has numerous nooks and crannies – ideal if you're using an oil-based dressing.
Cavatappi, Fusilli, and Rotini
Even though cavatappi, fusilli, and rotini are slightly different from each other, they're often clubbed together due to their complicated shapes. They have twists that allow for the dressing to be held immaculately.
How to make my salad with pasta recipe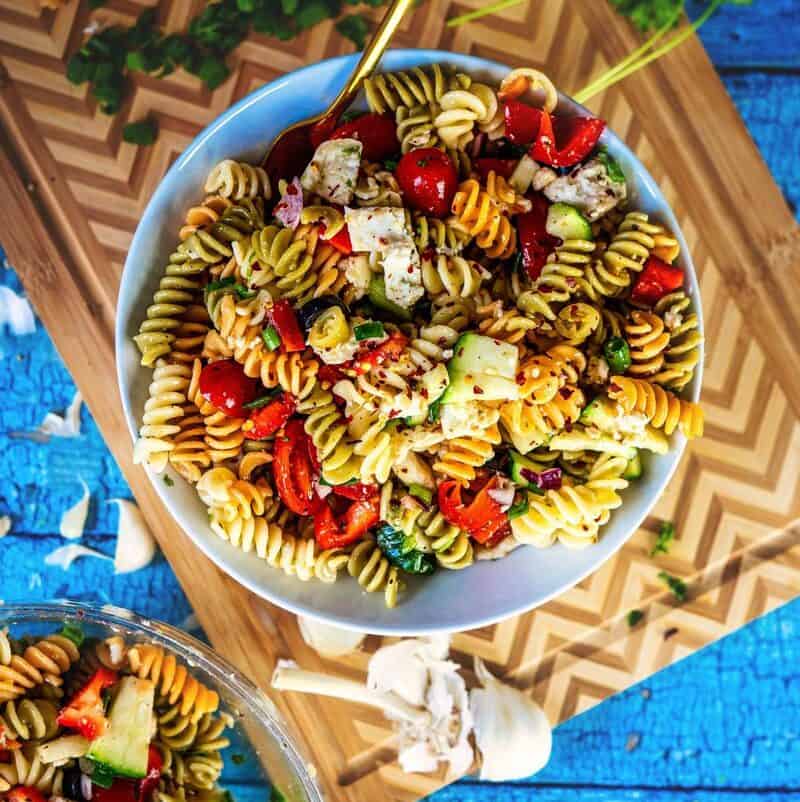 Now that you know the difference between the various pasta types, it's time to learn my salad with pasta recipe. Personally, I prefer the shorter pasta types for this recipe, but you're free to experiment. I recommend using a cavatappi, fusilli, or rotini pasta if it's your first time making a pasta salad.
Step 1: Cook 1 pound of your preferred pasta in some extra-salty water. I recommend cooking it for a minute more than you would cook it for a sauce-based preparation. Check for mushiness from time to time as you cook it.
Step 2: Once your pasta is cooked, it's time to add the veggies. My favorite veggies for this salad with pasta recipe include green onions (1/3 cup), fresh cherry tomatoes (1 cup, halved), zucchini or cucumber (1/2 medium, thinly-sliced), and bell peppers (1 medium, sliced). Other vegetables that work wonderfully well in pasta salads include broccoli, cauliflower, radish, carrots, fennel, beet, and winter squash. Ultimately, the vegetables you choose boil down to what's available (and that's dependent on the season).
Step 3: Now it's time to add the cheese. Mozzarella and parmesan are the best cheeses for salad with pasta recipes. I personally prefer shredded parmesan (2 ounces). Feel free to add some feta cheese if you're craving a Greek-style pasta salad.
Step 4 (optional): This step is not mandatory, but I like it as it adds some extra flavors. I like adding pickled vegetables. You can also add some peppers if you want to spice things up.
Step 5: This step is all about adding the dressing. I like whisking olive oil (1/2 cup), red wine vinegar (1/3 cup), pepper (1/2 teaspoon), salt (1/2 teaspoon), and some oregano (1/2 teaspoon). Even though it's simple, it tastes incredible when mixed with the pasta and all the other ingredients.
14 other salad with pasta recipes to try
Once you've nailed my recipe, you can experiment with these 15 salad with pasta recipes – they won't disappoint you, that's for sure!
1. Chicken pasta salad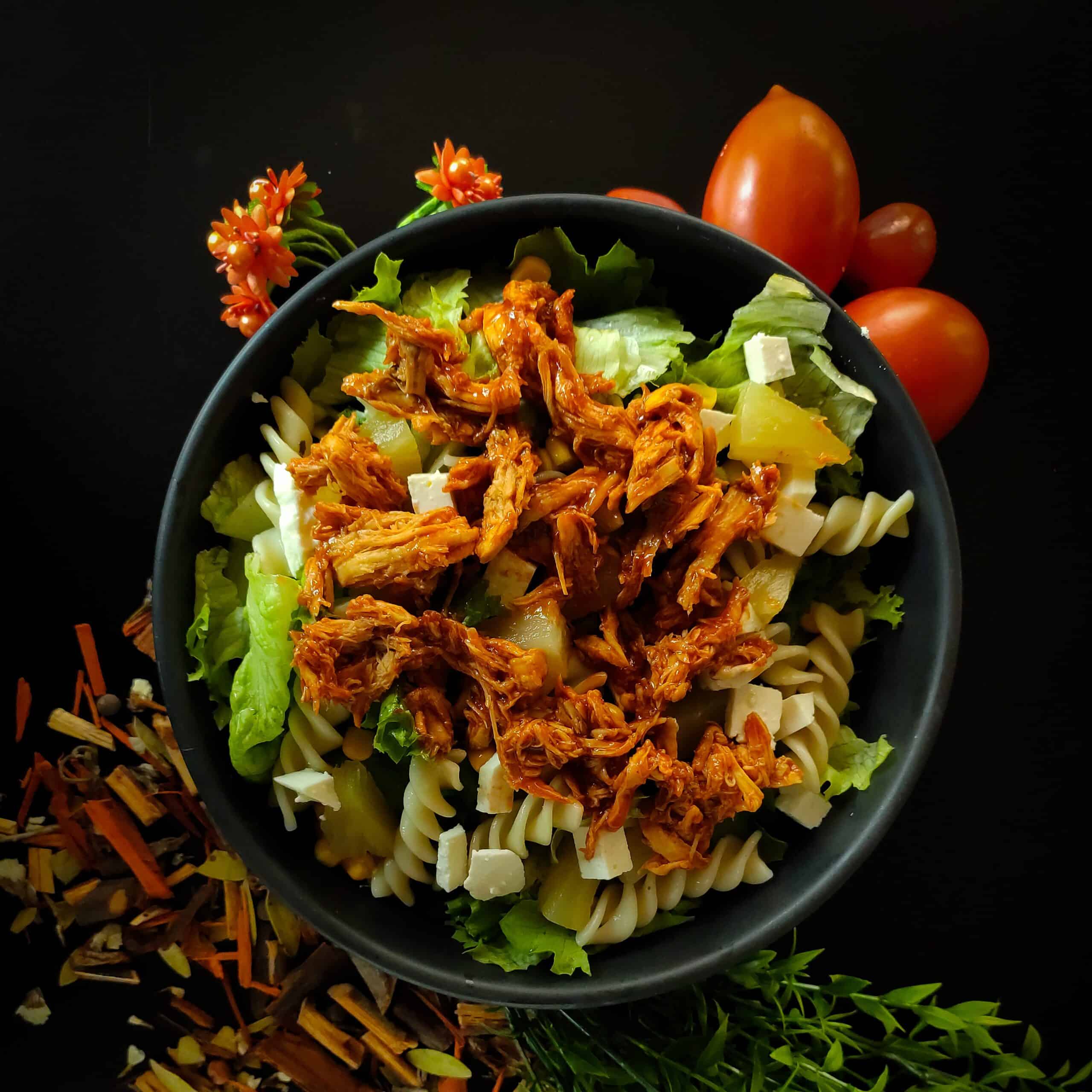 If you're hosting a potluck or a barbecue, this pasta salad recipe can't go wrong. Feel free to go for a mayo-based dressing or spice things up with a mustard vinaigrette.
2. Tuna macaroni pasta salad
Are you fond of eating fish? If you are, why not add some tuna to your pasta salad? Also, remember to add some chopped pickles, carrots, and red onions to enjoy this salad to the fullest.
3. Tuscan tortellini salad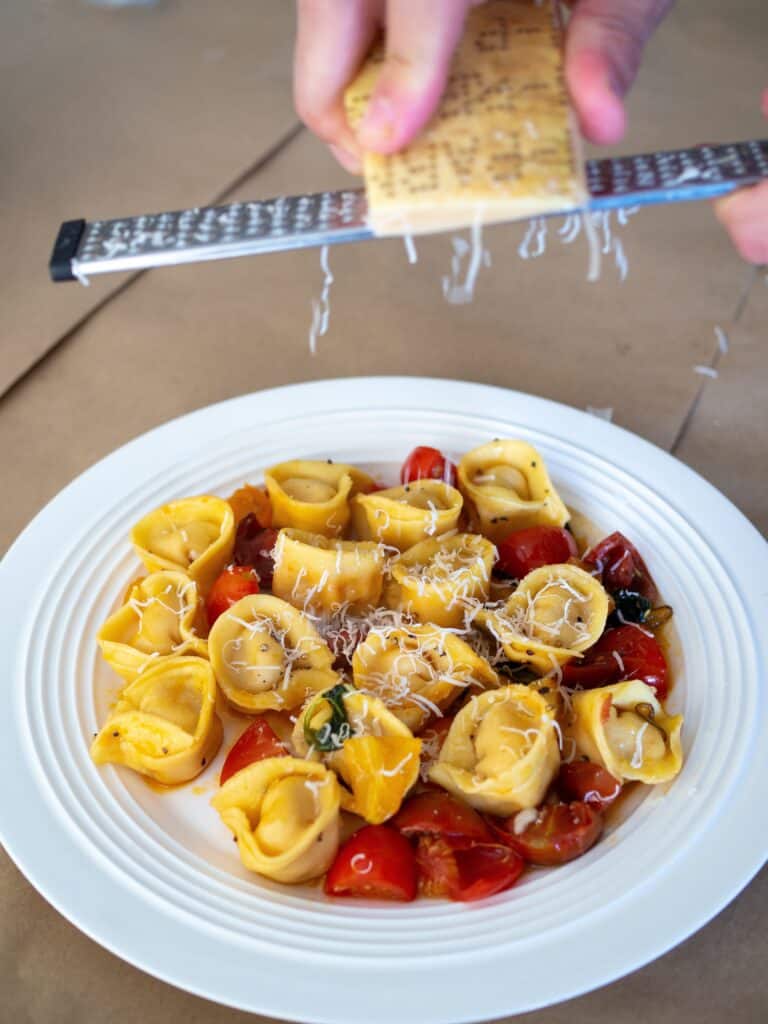 Tortellini-based pasta salads don't get any better than this. Tomatoes are compulsory for this one – take your pick between cherry tomatoes and sun-dried ones. Some bacon and kale would be great for this salad as well.
4. Esquites pasta salad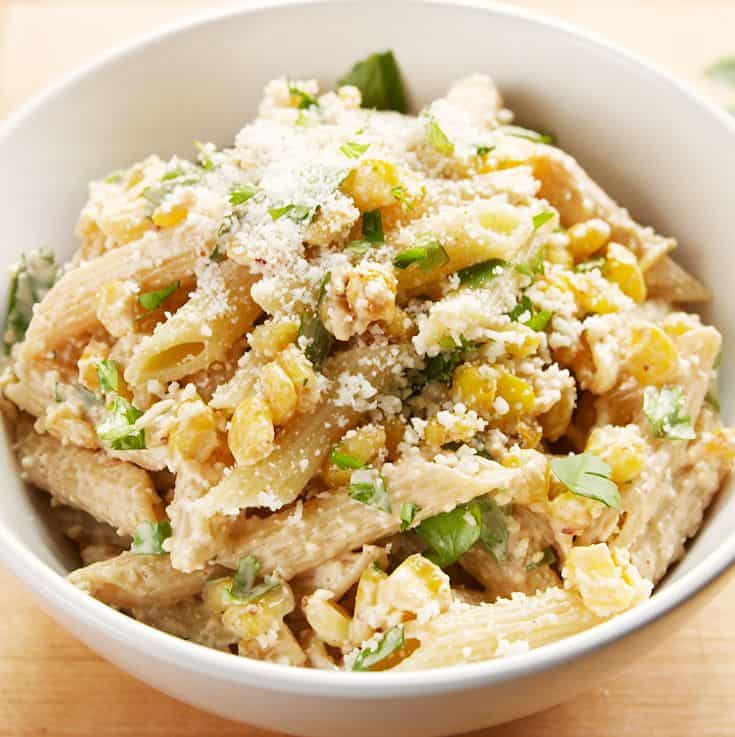 This is a pasta salad that's incredibly popular in Mexico, and you'd need to get your hands on some Mexican street corn (also known as elote) for this one. Also recommended are cotija and Mexican crema.
5. Greek orzo salad
Orzo pasta, feta cheese, and some Mediterranean veggies – that's all you need for this Greek orzo salad recipe. I like adding a lemon-and-dill dressing to this salad. Preferably, make the dressing at home instead of buying a bottle from the store.
6. Cowboy pasta salad
Pasta salad with ground beef – need I say any more? Feel free to make it meatier with some bacon.
7. Ravioli pasta salad
Take your average pasta salad to the next level by adding some ravioli. I make do with square, cheese-filled ravioli, but you can experiment with other shapes and/or flavors as well.
8. Pizza pasta salad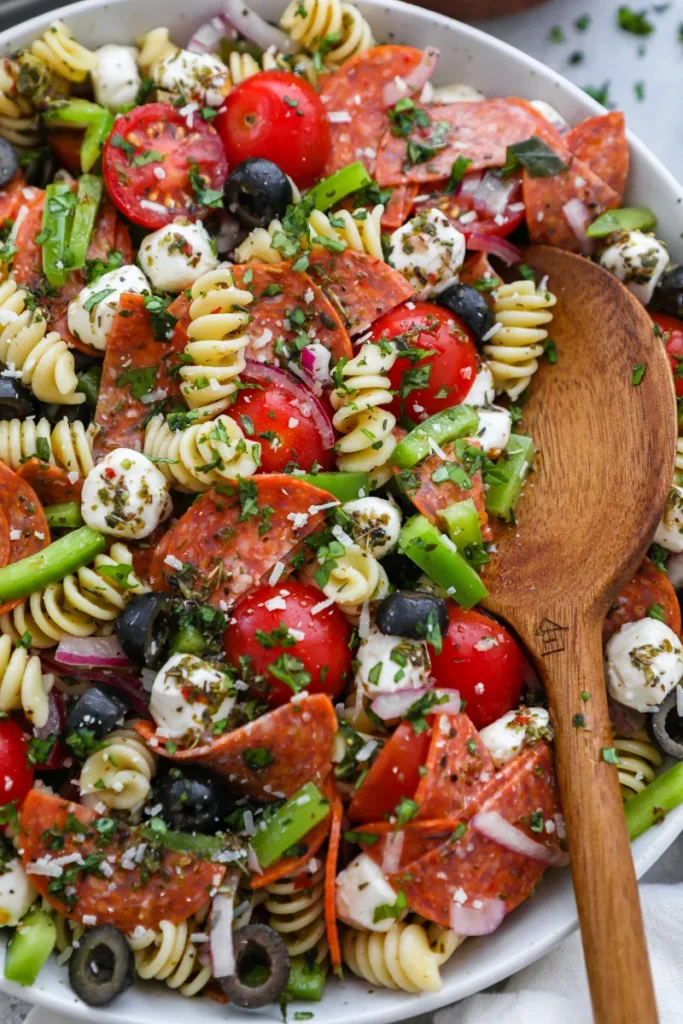 This unconventional pasta salad will give you the best of both the pizza and the pasta worlds. All you need to do is to add some black olives, bell peppers, and pepperoni.
9. Southwestern pasta salad
Some of the highlights of the Southwestern pasta salad include cheddar cheese, cilantro, corn, black beans, taco seasoning, and avocado. Oh, don't forget the Greek yogurt dressing!
10. Strawberry balsamic pasta salad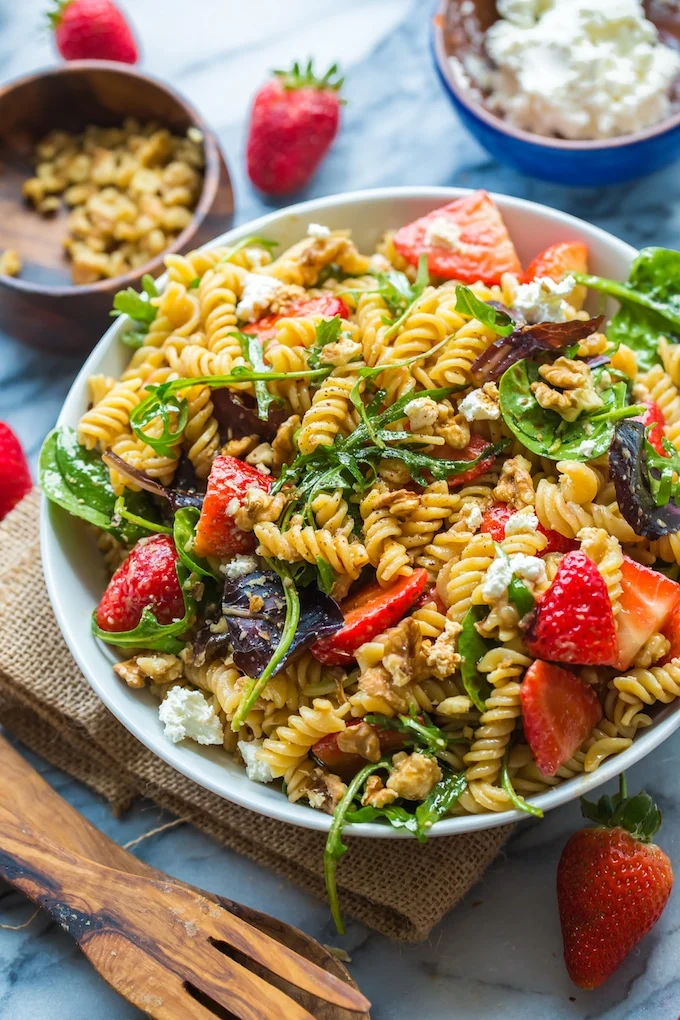 If you're on the lookout for a sweet and savory salad with pasta recipe, look no further than this one! It's a macaroni-based salad, but feel free to experiment with other pasta types.
11. Green pasta salad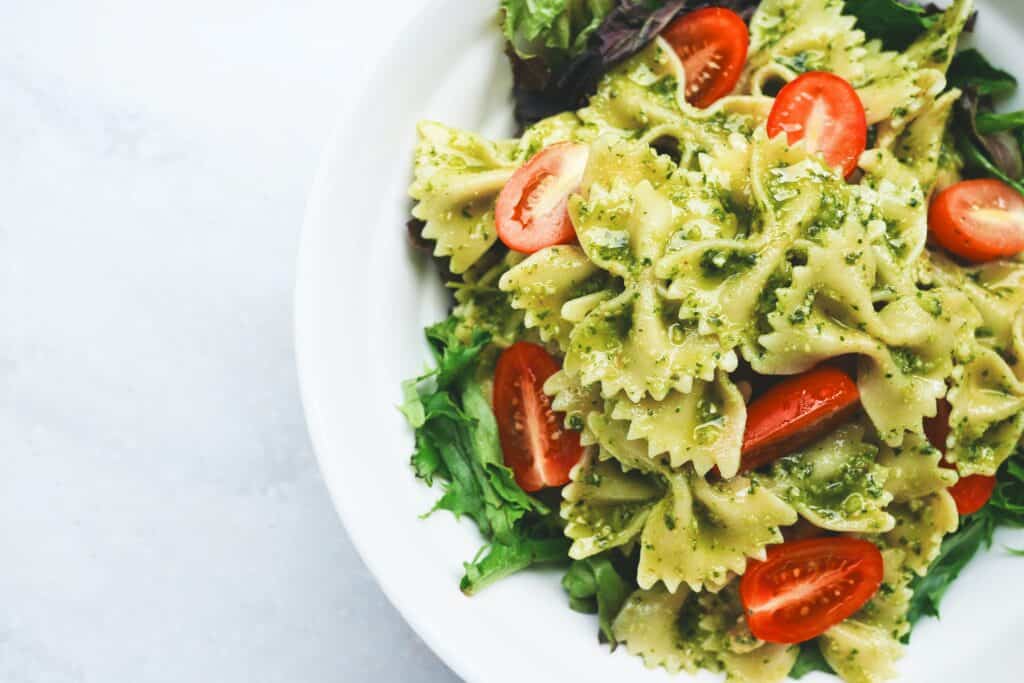 A pasta salad loaded with greens is just what you need to get those nice nutrients into your system. Baby spinach is preferable, but you can make do with baby kale or arugula too.
12. Pesto pasta salad
A homemade pine nut-and-basil pesto would work well for this classic pasta salad recipe. Also, don't forget grape tomatoes and Parmesan cheese.
13. Bruschetta pasta salad
This is a perfect pasta salad recipe for the summer, and it's best served with either a dash of balsamic vinegar or an olive oil dressing.
14. Diced chicken bruschetta pasta salad
If you want a non-vegetarian version of the simple bruschetta pasta salad, this is the recipe you need to try! Top it off with some vinaigrette – you'll be surprised by the results.
Commonly asked questions about salad with pasta recipes
What are the best sides to serve with salad with pasta recipes?
I personally love serving sides such as BBQ chicken, grilled hotdogs, hamburgers, and corn on the cob with salad with pasta recipes.
What are the mistakes I should avoid when making a salad with pasta recipe?
Some of the mistakes to steer clear of when making a salad with pasta recipe are:
Undercooking or overcooking the pasta
Using the incorrect shape and size of pasta for the recipe you're making
Dressing the salad after it's gone cold
Failing to sufficiently season the pasta
I made a bland pasta salad. How do I spice it up?
Add some salt and pepper for starters. If you want the salad to be more cheesy, grate some cheese into a bowl and then add it to the salad. If more spice is what you crave in your pasta salad, add some red pepper flakes.
Should I rinse the pasta for my salad with pasta recipe?
Yes. Pasta salads are served cold. So, I'd recommend rinsing your pasta.
Is hot pasta better than cold pasta?
Cold pasta is better as your body can digest it similar to how it would digest a healthy fiber. This results in a steadier and safer rise in blood sugar levels.
How do I season my pasta salad properly?
I season my pasta salad with every step as it enhances the salad's taste. Sure, you can season it once, but if you do, you'll need to ensure that you do it at the right time. Doing it at the wrong time can lead to a tasteless pasta salad.
Should I serve a pasta salad immediately after making it?
You sure can, but I'd recommend making it 8 – 12 hours before you plan on serving it and then putting it in the refrigerator. This will make the flavors more pronounced.
Is putting oil on pasta a good idea after the pasta is cooked?
It definitely is if you're making a pasta salad, as the pasta won't stick together due to the oil.
Can I eat pasta salad regularly without increasing my weight?
Pasta itself doesn't cause any weight gain – this has been scientifically proven. So, go ahead and enjoy as much pasta salad as you want to. Of course, try and maintain a healthy routine and incorporate as much exercise as you can. That should help you steer clear of weight gain.
What's better for my health – pasta or pizza?
Pasta is definitely the healthier option as pizza is rich in carbs, fats, and sodium.