We love breakfast around here. In fact, it's my favorite meal of the day. Sometimes I even have breakfast for dinner. You know, we play by our own rules over here at 136 home. One of my favorite treats is a delicious pancake – sure I like my candied oats recipe, but few breakfast recipes make me smile bigger than a good old-fashioned pancake especially if it's a McDonalds Pancake. This copycat recipe is by far the best recipe to get those iconic fluffy pancakes made with simple ingredients you probably already have on hand. They make a delicious breakfast.
Why McDonald's style pancakes are delicious
I don't know. There's something about the light fluffy texture, and the way each pancake perfectly absorbs a good dollop of butter and drizzle of syrup that makes them perfect. Want to check out my perfected recipe to get the look and taste good enough to feel like you just took a run through the McDonald's drive-thru? Read on.
Reasons to make McDonald's style pancakes
This recipe is awesome because you can make a large batch and save them for later. They reheat in the air fryer for 2 minutes, and in the microwave for 45 seconds. Be sure to serve with room-temperature butter and your favorite syrup. They last for about a week. No more frozen store-bought pancakes for you and the family. Make these instead.
McDonald's Style Pancake Prep Time:
Prep: 5 min
Cook: 10 min
Total: 15 min
Serves: 3-4
McDonald's Pancake Recipe Ingredients:
2 cups all-purpose flour
2 Tablespoons of baking powder
1 teaspoon salt
4 Tablespoon sugar
2 eggs beaten
2 cups of milk
4 tablespoons oil
How to Make McDonald's Pancakes:
Mix dry and wet ingredients to make the prepared batter until there are no lumps in a single bowl. Don't forget a pinch of salt. It's one of a few secret ingredients that lots of people forget to add the achieve the perfect pancake mix. The best way to remove all lumps is to use a high speed electric mixer. It usually takes about 3 minutes for these Mcdonald's hotcakes. If you are doing this by hand just take your time. If you want that signature McDonald's look and the fluffiest pancakes you want to remove almost all the lumps while being careful not to over-mix.
Prepare your non-stick skillet or hot griddle
Preheat your pan to medium heat and after 1 minute. Then…
Grease your frying pan or skillet with a pat of butter or tablespoon olive oil until a light bubble happens. Be careful not to let in brown. If it does, the pan is too hot. Start over by removing the butter with a paper towel and removing the pan from the flame to cool. Then start over. You want the butter to cartelize to a golden brown and not burn. You can do it!
Cook your Mcdonald's pancake batter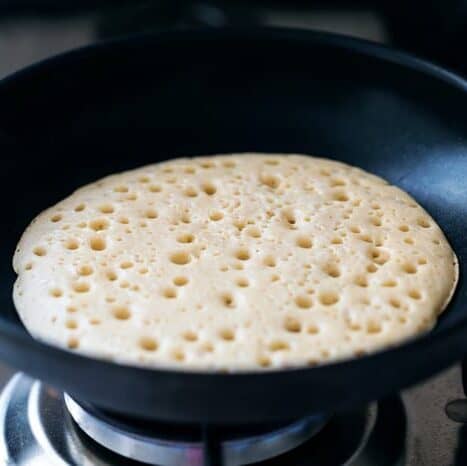 Next, pour approx 1/3 cup of the pancake batter into your skillet of bubbling butter. Don't worry about the shape. It will make perfectly round shapes if you pour slowly from the center and keep the pan flat. make a circle. I can usually fit two in a pan at a time, but if you are new to this, just make one and go from there until you get the confidence.
It's time to flip your pancakes when you start to see a few bubbles popping through the top and the edges pull away dry creating a crispy outer shell. This usually takes around 2-3 minutes. Do this on each side and work into batches until you have enough for the family. If you aren't serving a size 3 usually does the trick per kid.
Serve and save leftovers
Feel free to make extras and freeze while storing in air-tight Tupperware and reheat in the microwave or air fryer.
I like to serve with a brick of room temperature – yes room temperature butter. Don't serve right out of the fridge or it won't melt. Drizzle with your favorite syrup – I prefer golden syrup. Try it, you won't go back. See? I got you. We're friends after all.
Finally, don't forget bacon or sausage patties. If ya want a side with pancakes nothing is better than a good piece of crispy bacon. The salty crunch will delight against the sweet syrup. My mouth is watering!
What are some other ways to elevate pancakes?
I love to modify this recipe with some of my favorite add-ins. It gets wild. Some of my favorite upgrades are adding a few extra ingredients to the batter mixture. My favorites are :
Chocolate chips – let's make it a cookie – add one cup of chocolate chips for a cookie-like treat.
Blueberries – classic I know. But, I love the tangy flavor paired with sweet syrup and rich butter.
Sprinkles – I love doing this for a birthday 0 just sprinkle at the end with some white cream.
Peanut Butter – add a 1/2 cup to the batter then serve with jam or blueberry syrup!
Vanilla – one drop of vanilla extract will do ya. Add a dash of cinnamon to the mix as well.
Bananas – mash a ripe banana and fold it into your batter. Sprinkle with candied walnuts.
Syrups – they make all kinds! Find one you love and keep it exciting.
Freshly-cut fruit – it's a fun and healthy alternative that can liven up any pancake
Okay, guys. What do you think? Will you give this quick and easy pancake recipe a try? I promise it couldn't be easier and it's always a crowd-pleaser over here. Plus, the ability to make a big batch and save them for breakfast all week always makes it a no-brainer in our household. If you are craving the McDonalds pancake recipe I promise this is the best recipe to get the job done. So, grab those McDonald's pancake recipe items and get your cook on. See ya in the comments. xo.
So now you have the best recipe for fluffy and light pancakes and a ton of ways to enjoy them. Make sure you leave me a comment and tell me your favorite way to enjoy pancakes!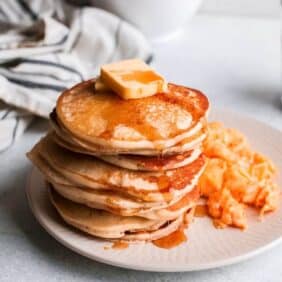 Copycat McDonald's Pancake Recipe Quick and Easy
These fluffy pancakes perfectly absorb a dollop of butter and drizzle of syrup that makes them perfect for breakfast or let's be honest sometimes dinner
Equipment
skillet, frying ban or griddle
Ingredients
2

cups

all-purpose flour

2

tbsps

baking powder

1

tsp

salt

4

tbsps

granulated white sugar

2

each

eggs beaten

2

cups

whole milk

4

tbsps

vegetable oil
Instructions
Mix dry and wet ingredients until there are no lumps. I prefer to do this with an electric mixer. It usually takes about 3 minutes. If you are doing this by hand just take your time. If you want that signature McDonald's look and texture you want to remove almost all the lumps while being careful not to over-mix.

Preheat your pan to medium heat and after 1 minute.

Grease your frying pan or skillet with butter until a light bubble happens. Be careful not to let in brown. If it does, the pan is too hot. Start over by removing the butter with a paper towel and removing the pan from the flame to cool. Then start over. You want the butter to cartelize to a golden brown and not burn. You can do it!

Next, pour approx 1/3 cup of the pancake batter into your skillet of bubbling butter. Don't worry about the shape. It will naturally make a circle. I can usually fit two in a pan at a time, but if you are new to this, just make one and go from there until you get the confidence.

It's time to flip your pancakes when you start to see a few bubbles popping through the top and the edges pull away dry. This usually takes around 2-3 minutes. Do this on each side and work into batches until you have enough for the family. If you aren't serving a size 3 usually does the trick per kid.

Feel free to make extras and freeze while storing in air-tight Tupperware and reheat in the microwave or air fryer.

I like to serve with a brick of room temperature – yes room temperature butter. Don't serve right out of the fridge or it won't melt. Drizzle with your favorite syrup – I prefer golden syrup. Try it, you won't go back. See? I got you. We're friends after all.

Finally, don't forget the bacon. If ya want a side with pancakes nothing is better than a good piece of crispy bacon. The salty crunch will delight against the sweet syrup. My mouth is watering! Prepare your skilletCook your Mcdonald's pancake batterServe and save leftovers
Notes