I love the holidays. They are so totally magical, and to me what makes them extra special are the traditions. Sometimes they are as simple as watching the dog show. I always can't wait to see the toy group – cuz' well I love Cavaliers. Sometimes it's gathering around the fire and playing a favorite board game with my loved ones. Others involve sweet treats that just make your heart and taste buds burst with joy.
This holiday got me thinking about a tradition around here that I look forward to every year. It's making cinnamon rolls – like literally the most delicious chewy-gooey (and easy) cinnamon rolls ever. They are super simple to make – taking just 30 minutes using store-bought dough. More on that later. Trust me – there is nothing better than a cinnamon roll with your morning coffee. Wanna know how to make them? Of course, you do. Let's get to it:
Time:
Prep: 10 min
Cook: 20 min
Total: 20 min
Serves: 3-4
Ingredients:
1 box frozen dough
1/2 cup stick softened butter
3/4 cup granulated sugar
2 teaspoons ground cinnamon
1 cup powdered sugar
1/4 teaspoon vanilla
1 cup of walnuts
Directions:
The morning of …… be sure to take your rolls out of the refrigirator and let the rolls rise in a warm spot. They are ready to bake when they have doubled in size. It's like magic. But feel free to make 'em' day of. The steps are the same:
Roll dough on an un-floured surface into a rectangle as best you can. Don't fuss if it's not perfect! A 12″ by 8″ rectangle is ideal.
Dice up your walnuts. You can leave this out if you prefer but I love the added texture and flavor these add.
In a bowl combine walnuts, sugar, and cinnamon. Set aside.
Spread slightly melted butter (I zap the butter in the microwave) evenly over the dough. Be sure to get a nice even coat and don't feel like you have to get to the very edge.
Next, sprinkle the buttered dough with the walnut + sugar mixture.
Starting at one side (the longest), roll up your dough as tightly as you can. I like lots of swirls. When you get to the end aim to pinch the seam shut.
Slice 2″ thick slices and place them on a buttered 9″ round cake pan about 1/2″ apart. Then…
Let them rise (in the fridge overnight or..) on the counter for 1 hour.
Preheat the oven to 375 degrees.
Bake until slightly golden, about 20-25 minutes. I like them a bit under. Shhh, don't tell anyone. Make the frosting! It's super easy:
Whip together the powdered sugar, 1/4 teaspoon vanilla, and 1 tbsp. of water. Let thicken for 10 minutes.
Once the Cinnamon rolls are done and slightly cooled simply drizzle your frosting glaze over your rolls and serve warm with your favorite coffee drink or ice-cold milk. Enjoy!
Reheat the next day by zapping them in the microwave for 15 seconds. Make extra frosting to add as you see fit.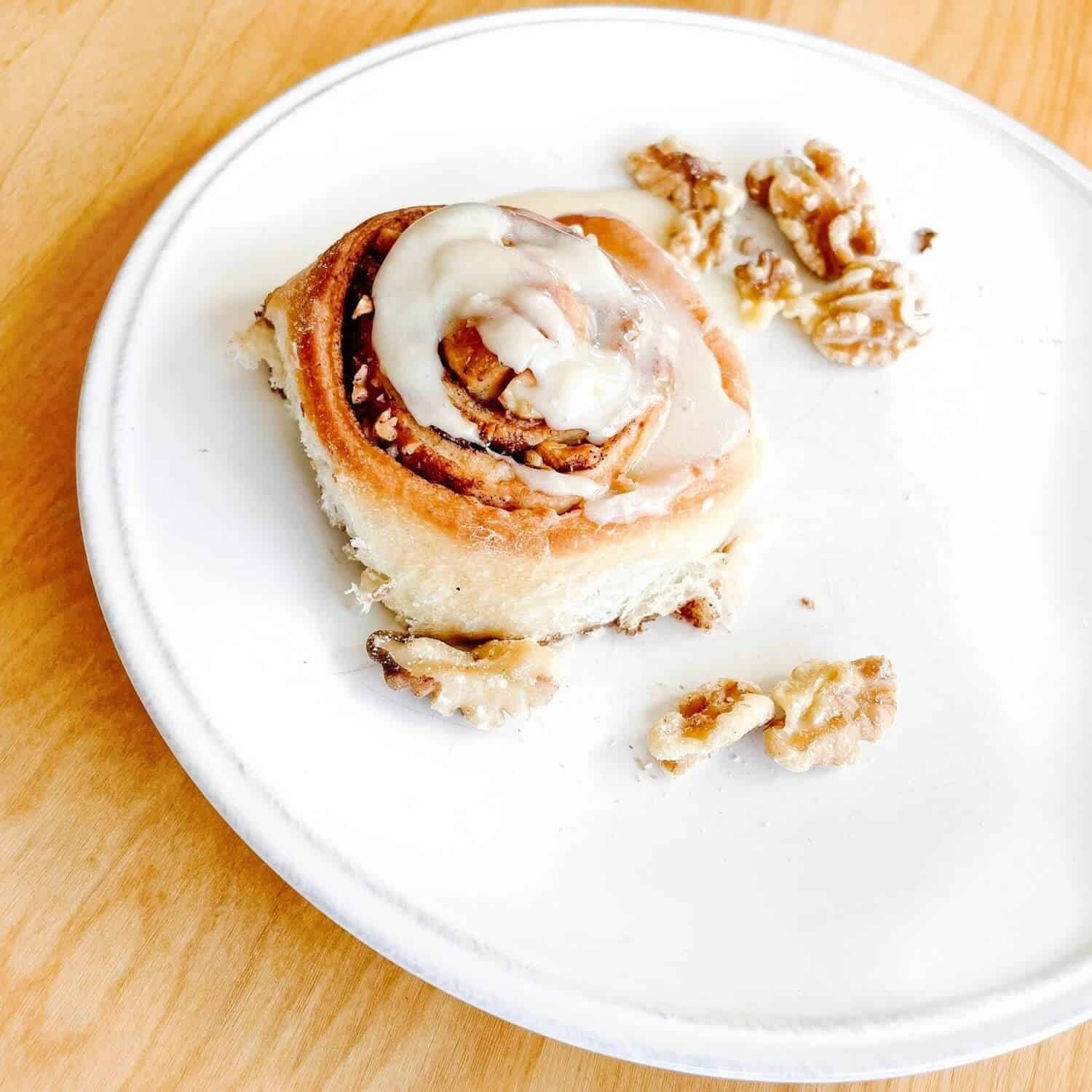 I love a warm cinnamon rolll – especially one that is this fast and this delicious.

Will you give this a try? It's quick and easy while bursting with sugary sweet deliciousness. There is nothing easier (and more delicious) to make your holiday (or really any day) sweeter. Enjoy!