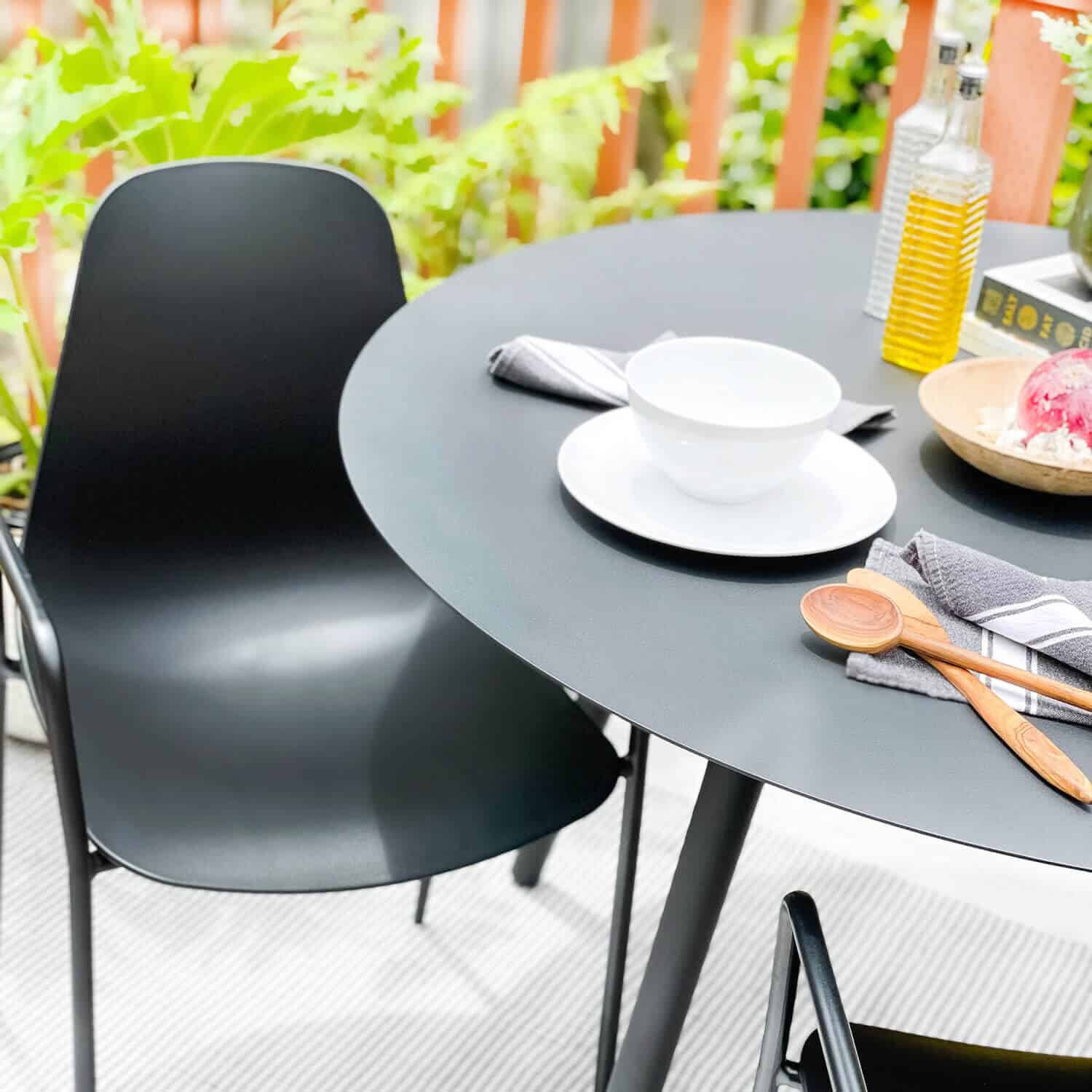 An outdoor deck is always my low-key favorite spot in any home because it's where a ton of relaxation and fun happens – whether it's reading a book, sunbathing in the afternoon, or having an intimate lunch-time conversation with a friend while sipping a glass of wine, my deck is the place to be. I already have so many fond memories here, and they are about to get so much better.
Here's the thing, my deck is quite small. But, having a small outdoor space wasn't going to stop me from having the outdoor lounge I craved. Certainly, I wasn't going to sacrifice style or comfort – no m''am. But, in order to do that I was going to need to be smart about the floor plan and judicious about the scale and style of the furnishings, I placed. The final result, with the help from my friends at Article, is truly epic! Guys, just because your outdoor space is limited doesn't mean that your imagination or final design has to be! There are so many things you can do to turn your deck into the perfect getaway for entertaining guests or just to unwinding by yourself on a glorious summer day.
All it takes is a smart combination of a few key furnishings from a great source that are carefully curated at the proper scale. Wanna see what I chose for my space? Of course, you do, and I love ya' for it. Here are the essentials:
LOUNGE CHAIRS
You have to have a comfortable (and gorgeous) place to lounge. So I am starting with chairs. These are a must-have for any outdoor deck. I mean, what else are you going to sit on when you're having a casual chat with friends? I love The Svelti Armchairs because they are durable enough for the SF Fog, lightweight, and have a gorgeous matte finish in black. There are a ton of other colors too. They can easily be moved around when need be but heavy enough to withstand the wind too. The Svelti Pure Black Dining Armchairs are perfect because not only are they gorgeous, they are durable and hassle-free. No one wants deck furniture that looks terrible after one rain. They stand the test of time.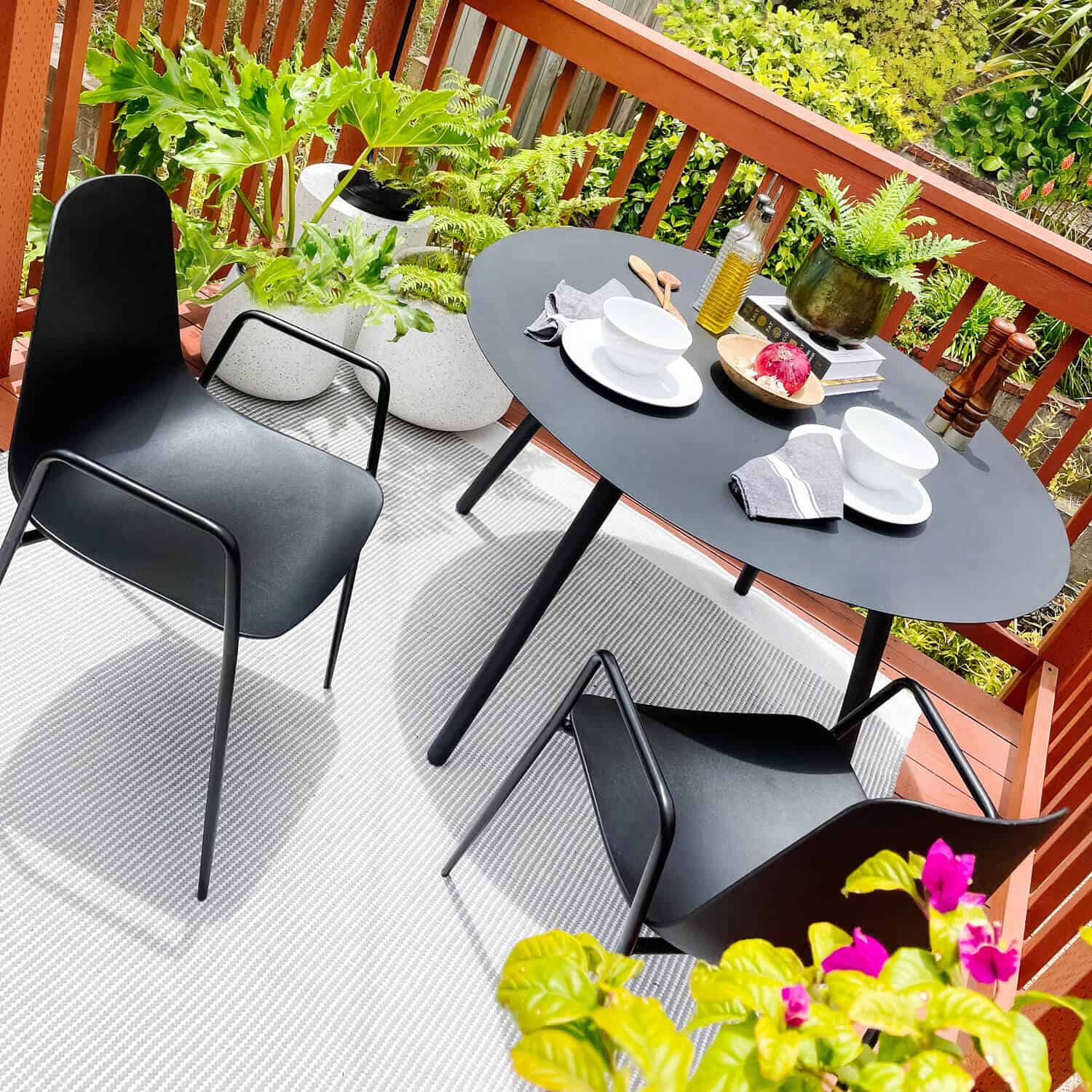 These chairs keep it minimalist and maintain versatility — you can always style em' up or down using patterned throw pillows in bold colors to let your taste and personality shine through.
Pro tip: You should also consider these Solina White Terrazzo Stools to spice things up with a little variety to create added visual interest. The best part? They can also function as side tables when the need arises. I know I always need a spot for my iced coffee on the fly.


A STYLISH RUG

An outdoor rug makes space – period. Just get one. Because, deck decor is more casual and relaxed compared to indoor styling it's nice to add instant coziness with a rug, preferably one that is simple yet eye-catching. It's best to opt for one in a solid color instead I suggest a patterned design because loud patterns can make a small space look and feel even more chaotic. Ideally, your rug will provide strong contrast for your furniture pieces too. I am pleased to report that the Redondo Light Gray Rug is ideal for this because it's light, comfy, relaxed, and uncomplicated. I love her so much.
A ROUND TABLE

Ya' gotta have a table to gather around and snack on lazy afternoons – at least you sure do around here. For me, a table needs to be substantial and act as a key focal point without dominating the space. Be sure to measure twice before ordering. I loved the Ballo Round Dining Table because it was a sleek compact size, and did not overly complicate the space. It was bold, not unobtrusive all at once. How? I am not sure really, but I love it. It also pairs perfectly with the rug and chairs listed above. In the end, this table along with the rest of the deck furnishing really helped to tie everything together. My deck sure has become a modern moment while not losing that sense of coziness. I am just obsessed.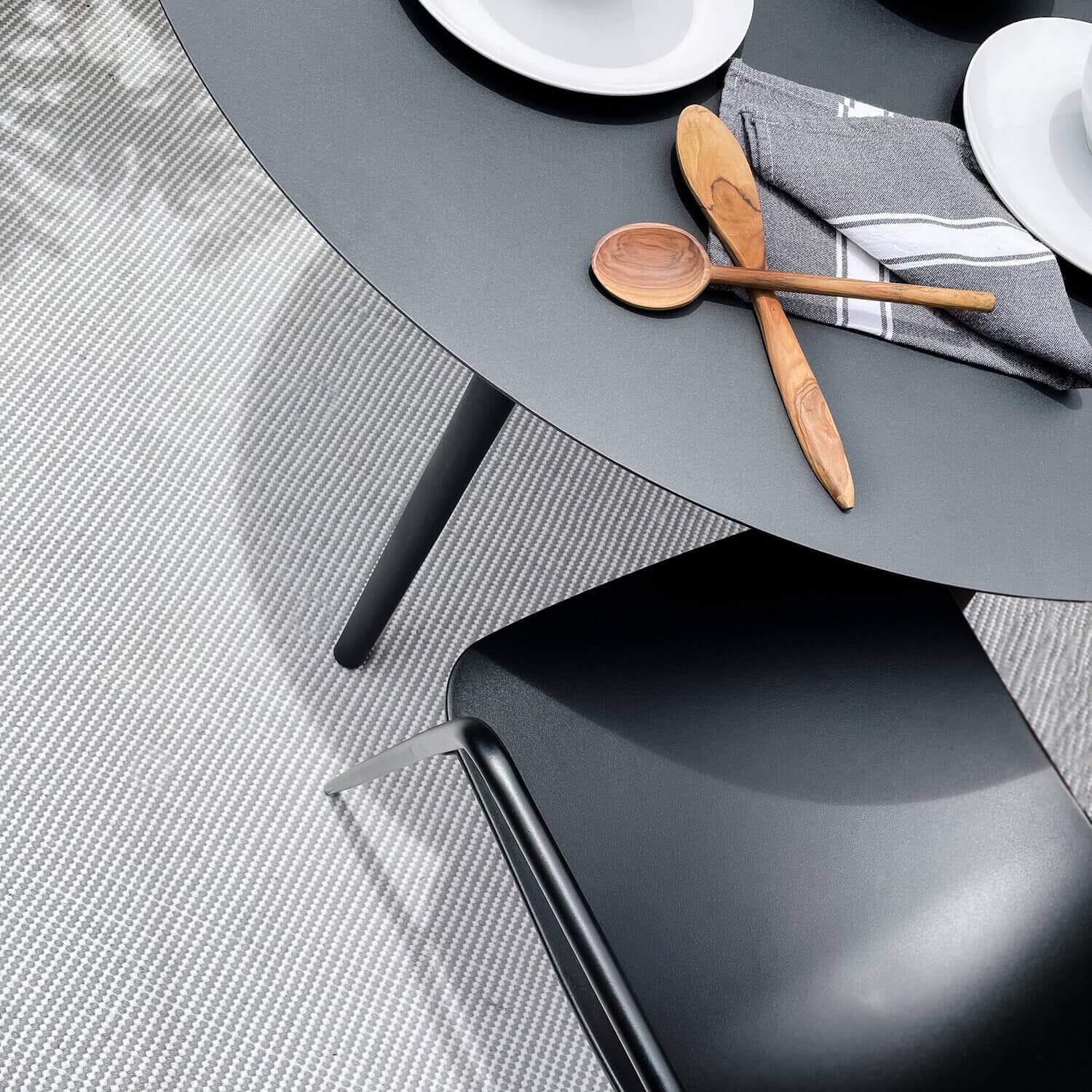 PLANTERS
Having a few plants placed strategically around your outdoor space will help to make it feel welcoming and lush. The greenery (or any form of nature for that matter) just makes the rest of your elements pop. In the end, I suggest tucking in at least three or four plants in key locations in any outdoor space. But make sure they are in a planter that adds to the aesthetic of your outdoor space. You will want to take advantage of the opportunity to incorporate plants that love the outdoors. I used the Torenia and mandevilla planters to add a coastal dreamy vibe. In the end these stylish and modern planters will let your plants shine and integrate seamlessly into any design effortlessly. They come in two different sizes too. Consider using a big and small one for added visual interest.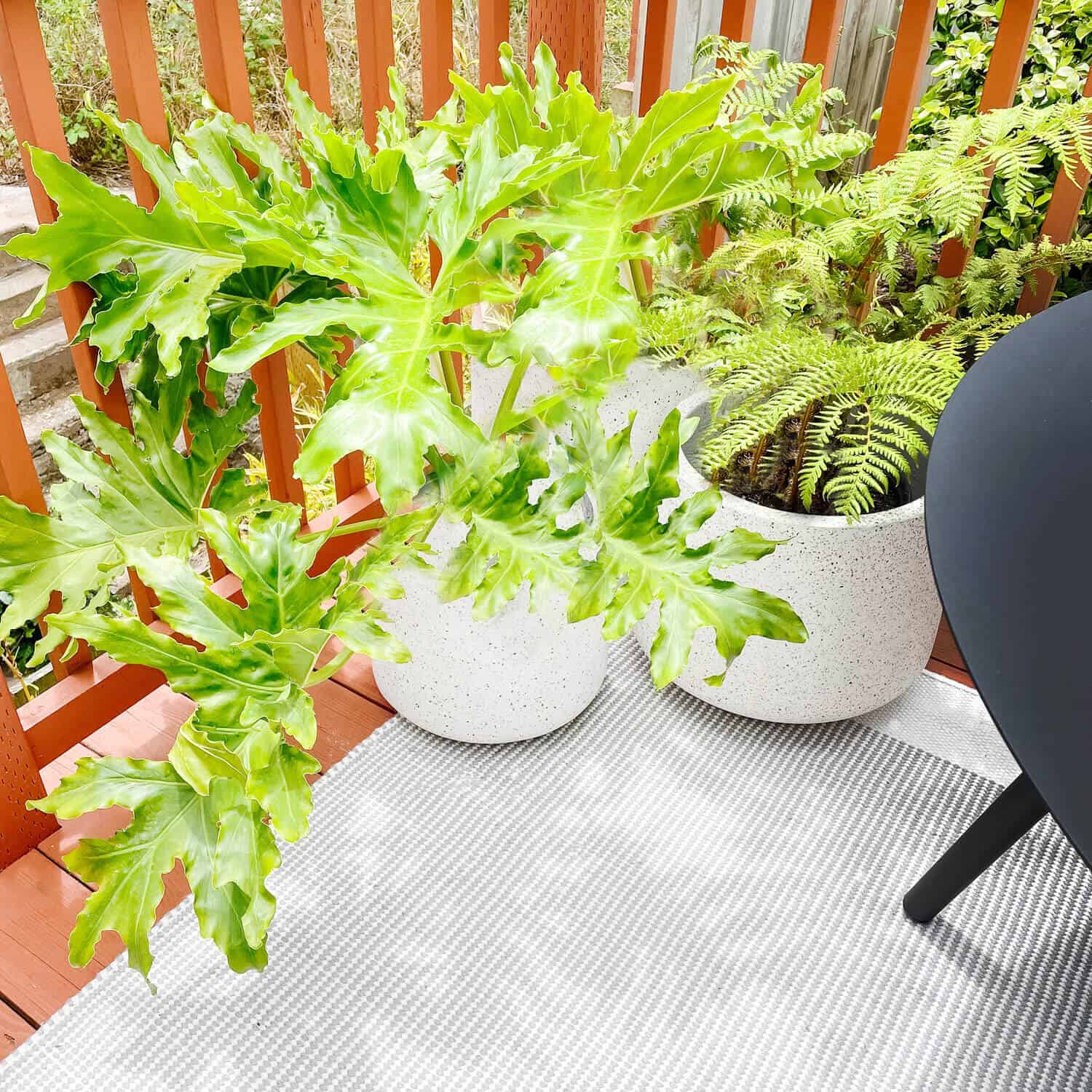 LANTERNS
Lastly, an outdoor deck isn't complete without beautiful lighting because let's face it lighting can make or break the overall mood. The type of lights you choose will determine whether your backyard will have a dreamy-romantic vibe or a more festive atmosphere. I prefer an intimate ambiance – one that just screams 80's rom-com. You too? It's just magic to me. So, this is why it was love at first sight when I found the Vezda lanterns. The matte-black (so me) metal frame gives them a boho-contemporary look while still maintaining an ethereal vibe that's literally perfect for your backyard, and my space. I suggest hanging one or two of them from these lantern stands for a more romantic feel. They come with a glass casing for a candle. Can you hear the 80's power ballad music playing now? I sure hope so. These are showstoppers guys. Check em out if you can.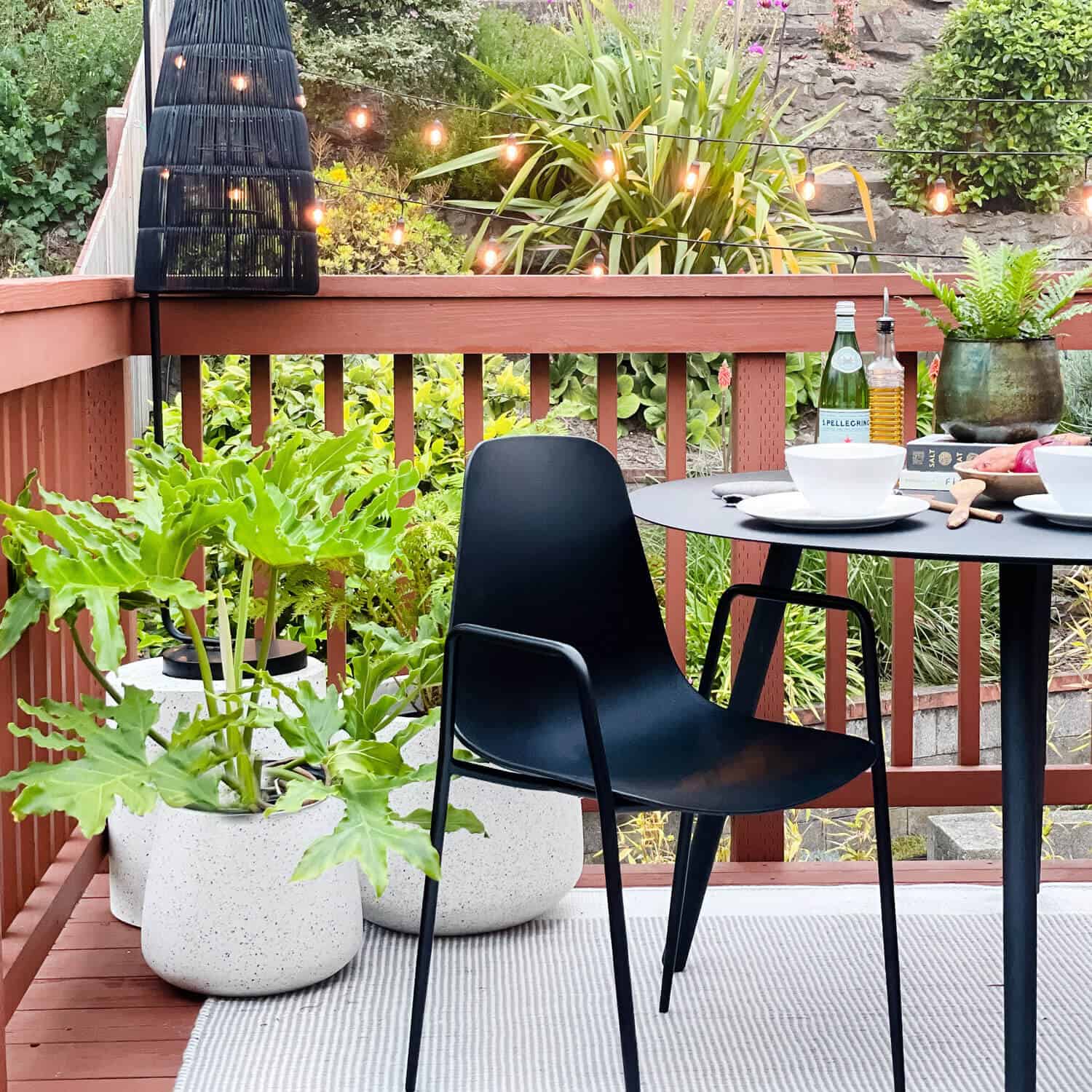 If you're thinking about styling your outdoor deck but are feeling a bit overwhelmed, these five essential items from Article are a great way to get started affordably. Use this link to get $50 off any order of $200 or more. These pieces are really all you need. If you want more, you can develop the space and add more pieces over time. That's what I am doing – after all it's easy on the budget and frankly fun. No need to rush – home takes time!
Also, remember even if you don't have a ton of space – a little bit can go a long way. Don't settle for an empty deck. You deserve better. Trust me, there are countless ways you can execute a tiny outdoor space in order to turn your deck or patio into another living room of your dreams. With carefully selected furnishings (like the ones above) some smart placement, and a plant or two you can achieve the vibe!
Let's keep at making a home we love – one detail at a time together. I am so glad you are here. Will you try making over an outdoor space now? LMK if you do. I know I am loving mine. xoxox