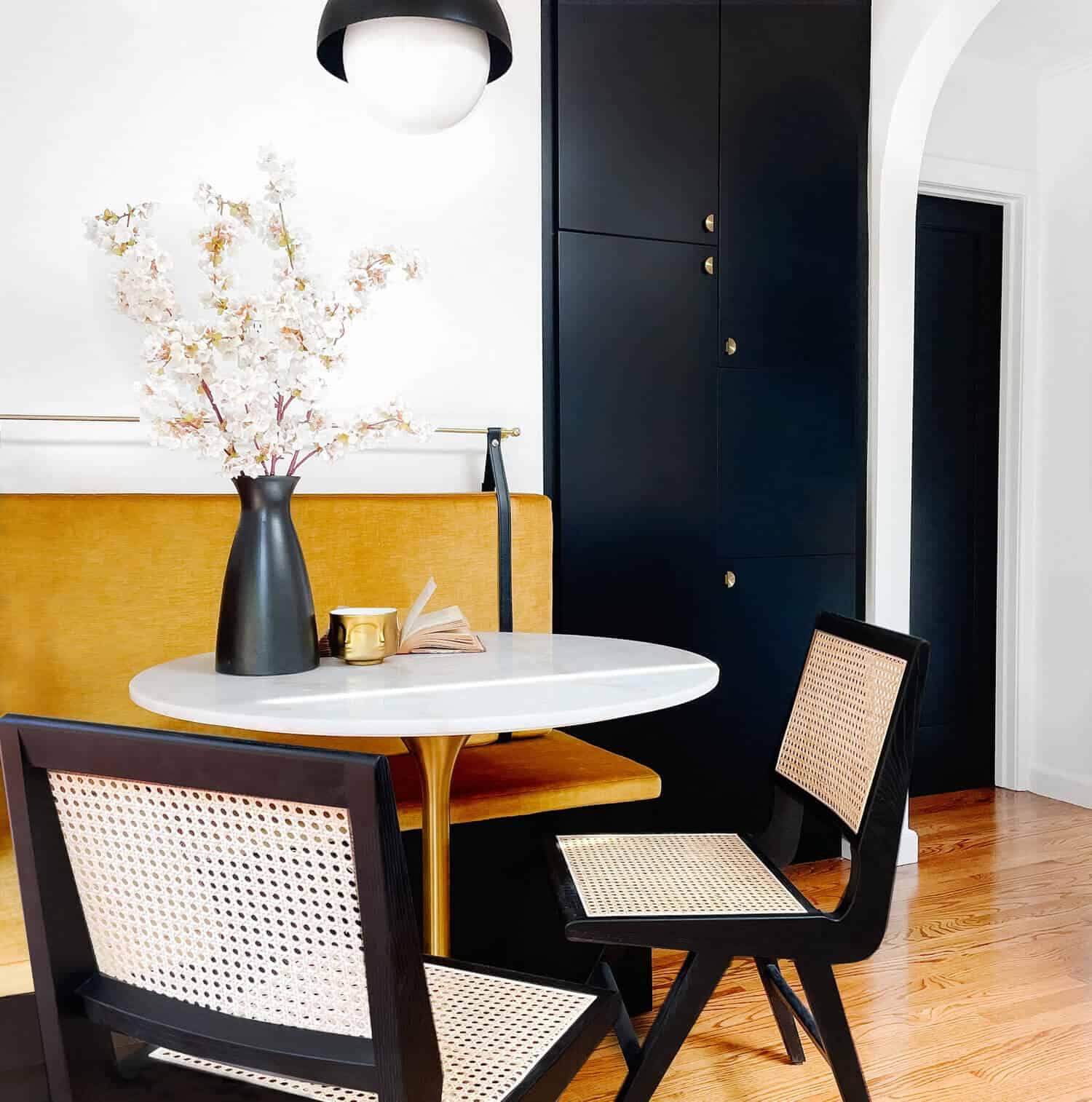 Is there a more important chair in your home than the one you sit in for dinner every single night? I am not sure that there is. I guess maybe it could be your office computer chair, but in the end, having a perfectly paired dining room chair is a must for me, and I happy to report that I have discovered the perfect dining room chairs for me and my boo.
Here's the thing. I had some very specific needs for my breakfast nook. If you have been around for a while you know this citrine gem is a knockout. So, any old dining room chair simply should not do here.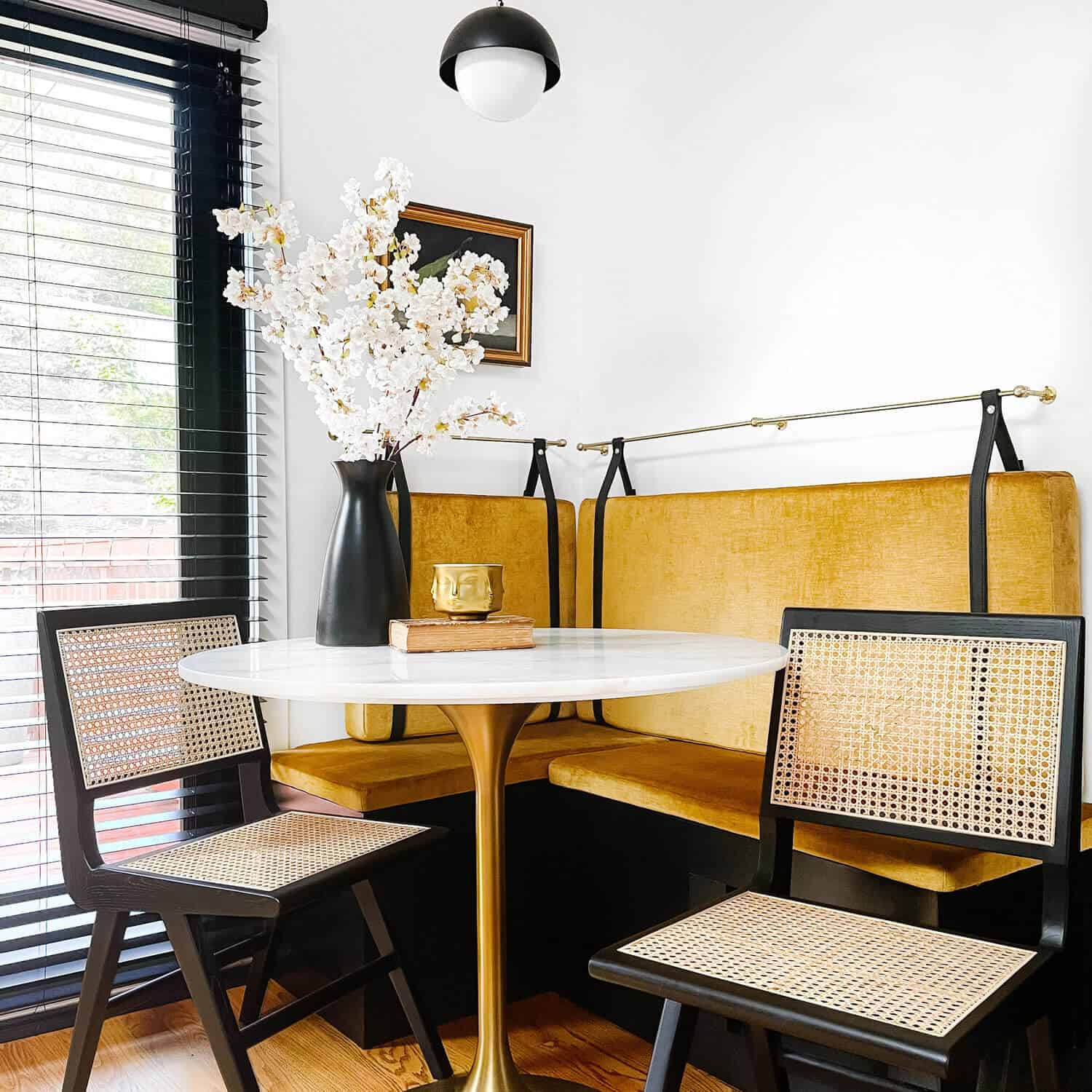 I needed something small, but also sturdy, gorgeous, and practical. Why? Because this nook is in a corner of our eat-in kitchen and near our pass-thru arch that leads into the living room. As such we couldn't have anything too big and bulky. Also, I knew based on the height of our bench seating and bistro table that I was going to need to go without arms. It was critical that they be able to tuck in under the table to create extra foot traffic clearance in our space. Also, I just like the look of a chair tucked neatly under a table.
As you can see I was being picky. As such, imagine my joy, after years (yes years) of searching when I stumbled upon the perfect set of dining chairs – The Mulholland from Industry West Is it possible for a chair to be sexy? Because boy is these chairs are stunning. They are also an awesome deal.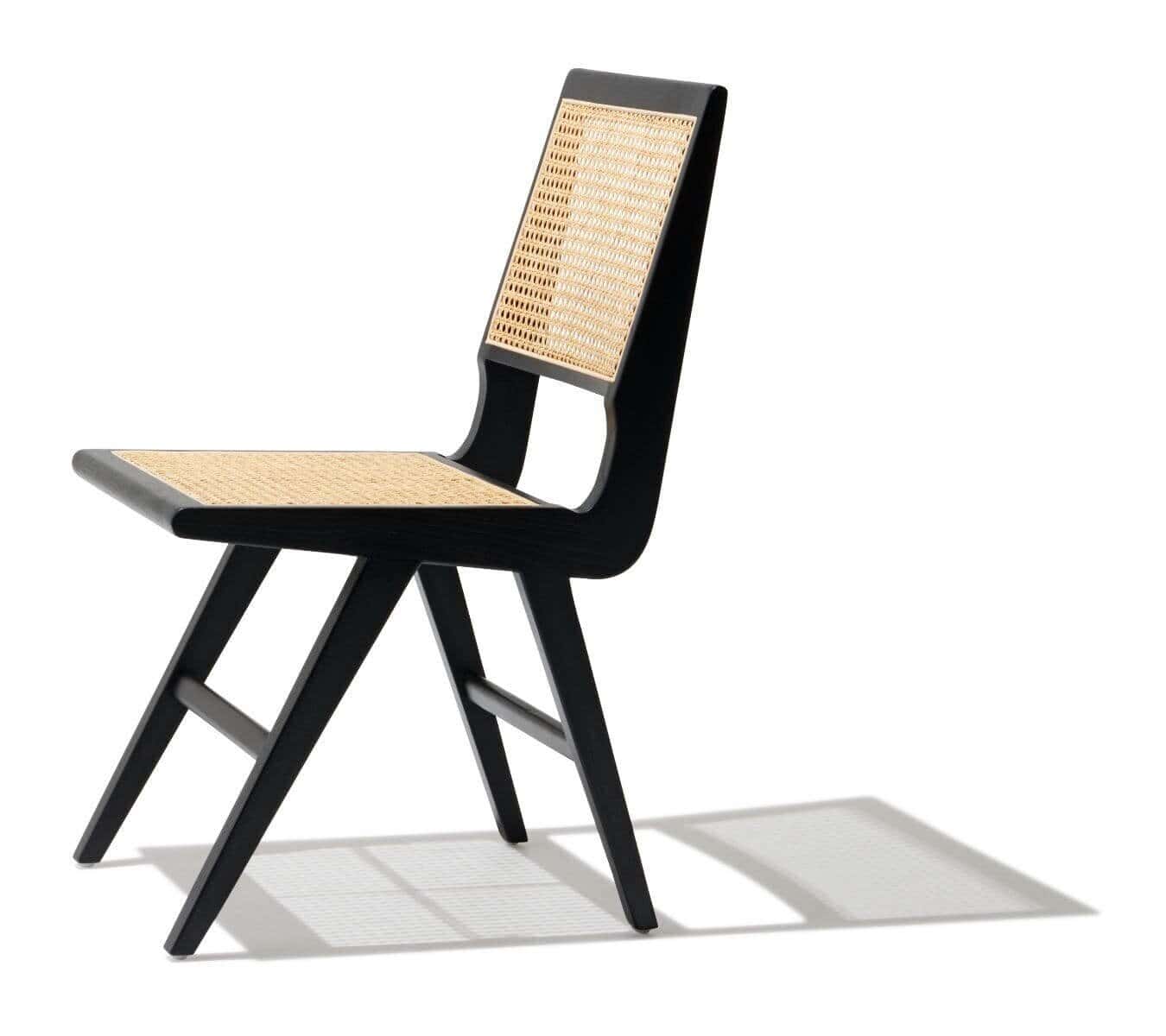 I am just in love with the caning which added a deeper level of texture and visual interest to the space. They also warmed up nicely when placed against the black bench and poped brilliantly next to our gold velvet cushions.
These chairs are bold, sleek + modern while still being inviting. Sometimes I wonder if these chairs were made especially for this spot? I feel like they were. It's been a month and I still can't get over how gorgeous, and comfortable they are. Guys. You gotta check em' out. If you do USE CODE: 136HOME during check out @Industrywest for 25% off.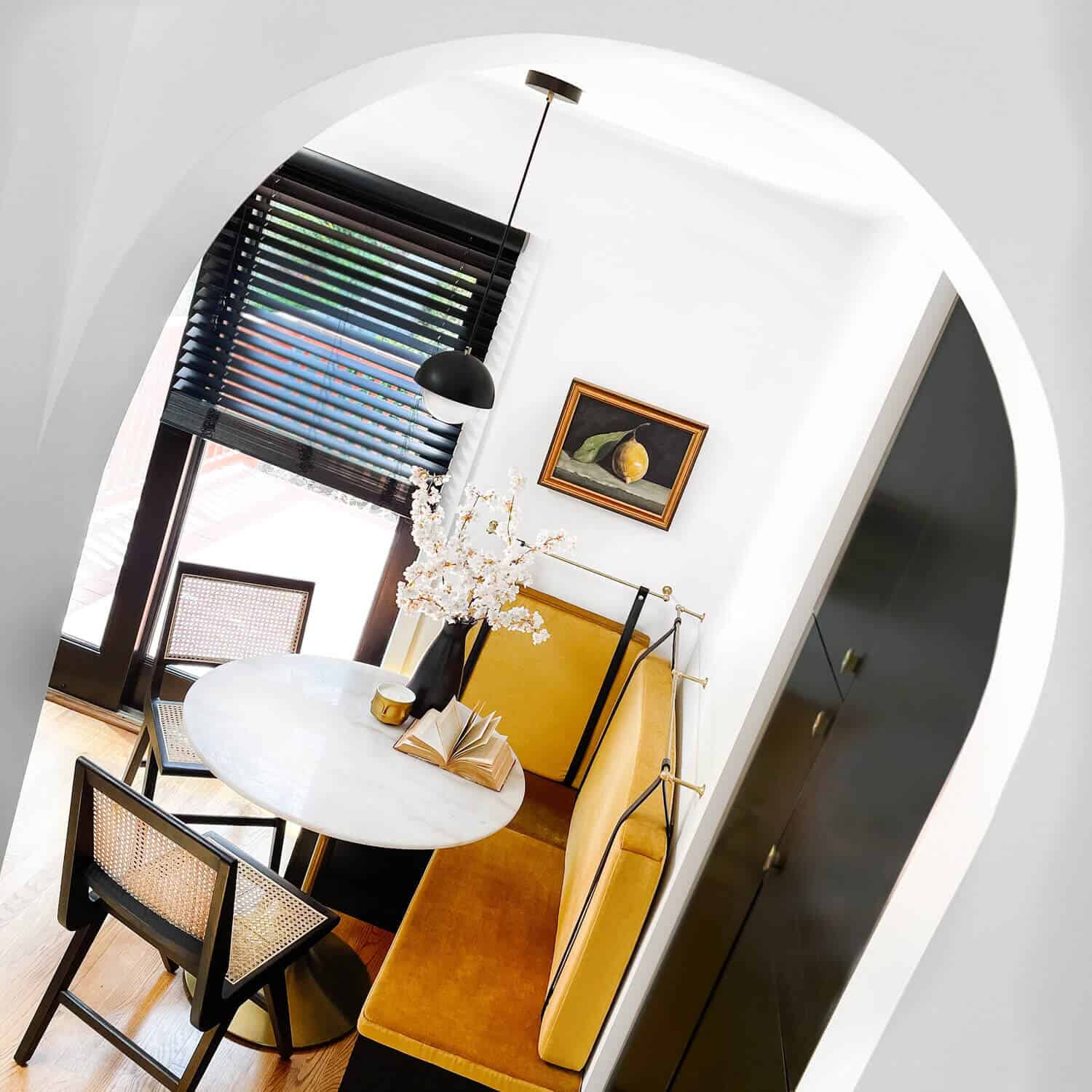 While you are at it, I wanted to share a few tips on what I look for and consider when you are on the hunt for dining room chairs. These tips helped me make the right choice in the end. I hope they help you too. After all, no one wants a chair that's too big or worse too small, etc! Check out the list here and head over to Industry West and get that 25% off guys. Let's dive in:
Scale + Proportion
Before getting too distracted (like I often do) on the style of the chair, start with the actual size and height that will fit appropriately at your dining room table. Honestly, I do this mostly by eye, but to be sure I will tape a square on the floor for each chair's dimensions. I like to check the spacing both while seated and pushed in with frog tape. This way I can confirm it won't be too cramped. Use a tape measure to check the height and eyeball. You can even tape the top of a chair on a wall then step back and see. No need to overcomplicate this part, but I do suggest a quick check to be sure.
Next, make sure each chair seat won't touch one another – a three-inch space between each when in use is a good idea. No one wants to be too close for comfort! When not in use just make sure the chairs don't bump into the table's legs or base.
Seat Height
Another important thing to consider is the chair's seat height so that it places you not too low or too high up from the top of your table. Ya want your guests to not have to slouch or have them reaching up if it can be avoided. I have found that a seat height that places you approx. 18 inches above the floor, so your arms can rest comfortably at the table without neck tension, is usually best. Although….
Believe it or not, there is a bit of variance on standard table height depending on the type of table you get and from what era so get out that measuring tape and check by simulating sitting in mid-air at the table with your bum at the height of the seat. See if it feels right. It's worth checking!
Distance to Table
You also want to make sure that you are able to sit close enough to the table so that you aren't too close or too far from it while dining. 10-12 inches is ideal. Don't forget that a good rule of thumb is that you want at least 36 inches of clearance behind you.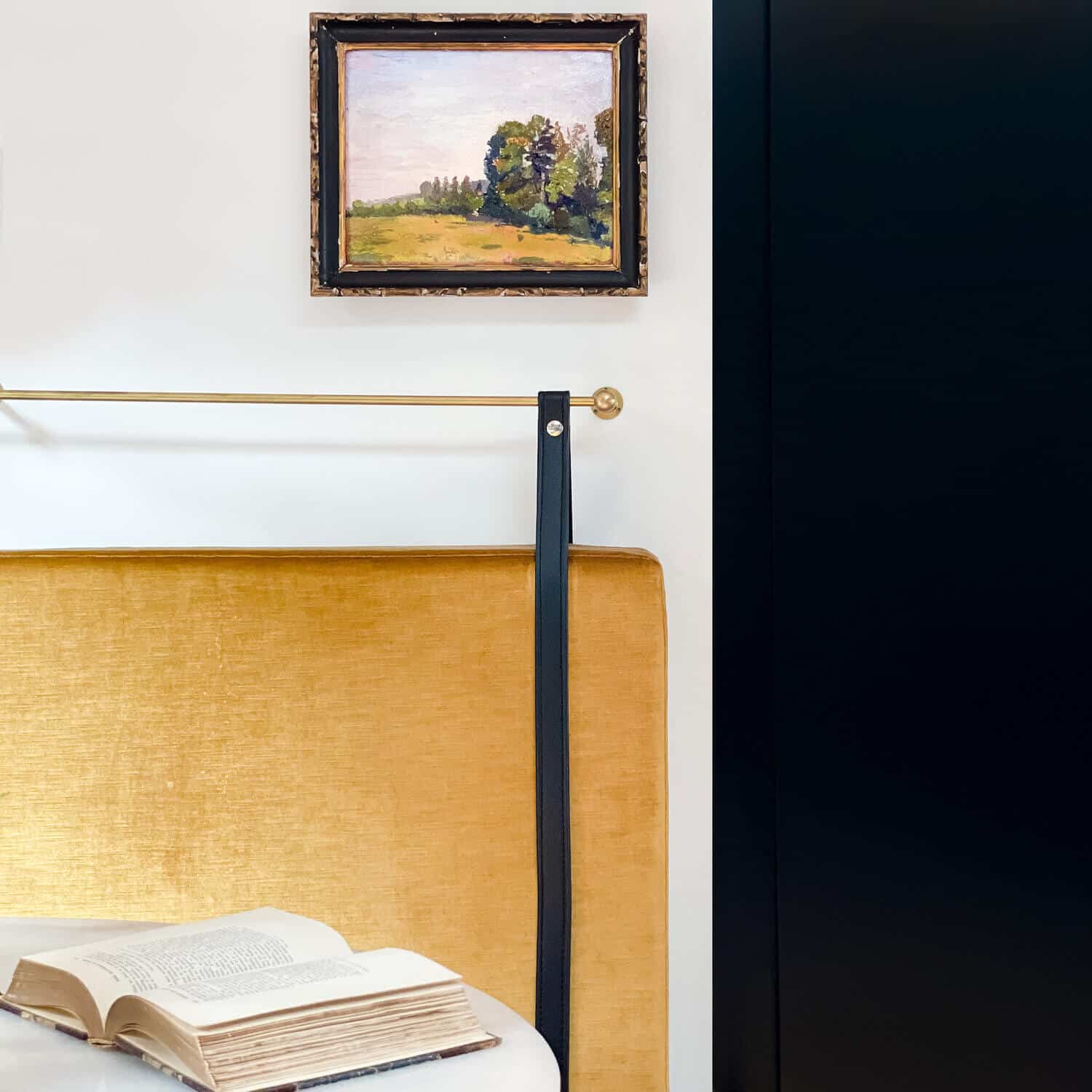 Style
This is totally personal, but like all things, @136home I am gonna give it to ya' straight. I like to avoid dining chairs or sets that match too closely. They can look good, but I like a bit of a contrast. For me, it's a marble tabletop and brass table with matte black and cane seating. I love a thrifted walnut wood table with a wingback chair or two armless or painted chairs with a bench. Sometimes the more beaten up the better. An eclectic mix can read have a tone of comfort and visual interest. However, go for what makes you happy and with a style that you love. Either way, take some time to consider what you like and always look for inspiration that makes your heart flutter. When in doubt, check out my favorites on Pinterest here.
Arms or Not
Again, this is a personal choice. In general, for dining chairs, I prefer a chair that is armless. I tend to spill on dining room chairs with arms, but also they tend to read bulky to me. I have seen it done well thoughl, and maybe when I have a bit more space I will be brave enough to give it a try. Just make sure whichever direction you take they will fit in your space without a fuss. See above for my suggestions on the matter.
Fabric or Not
There are pros + cons. I actually love a lush velvet fabric. I love the look so much that my banquette is dripping in velvet. But, for some that can be a challenge with kids and spills. Consider wood or leather that wipes easily and still looks great. Before getting set on a specific chair do take a moment to consider how functional you need the space to be with kids and spills. You will know right away what the right choice is based on your lifestyle.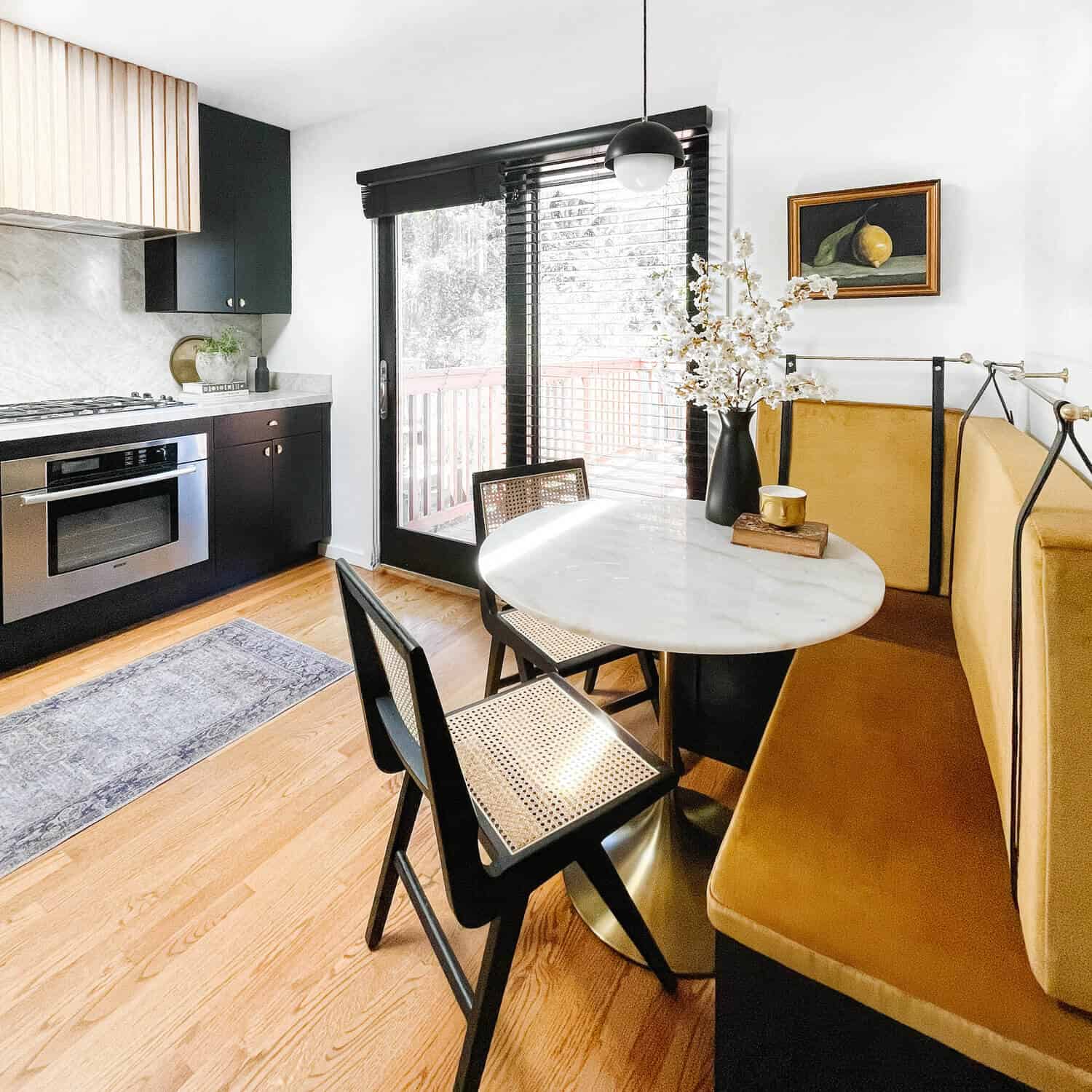 In the end, select a pair of dining room chairs – like mine, that bring your space to life. Don't forget to check measurements to ensure that they will fit properly in your space. There are lots of options and styles to choose from. Consider fabrics and materials that will suit your lifestyle – but most importantly have fun. Do you love these chairs? How do they look in my space? I hope you enjoyed this post and it will help you on your interior design journey. Let me know your thoughts in the comments below.

For more DIY, tips, and design inspiration be sure to check us out on Instagram. Love ya. xoxo