It's 2022, some people believe that a gallery wall is a thing of the past. However, when done right, a gallery wall like mine can be an absolutely brilliant way to display your artwork collection and make a wow moment from a blank wall.
I love them so much I have 3 gallery walls in my home. Yes, three. Want some great tips on how to achieve a designer-worthy look while getting inspired along the way?
Of course, you do! That's why you are my loves. Let's dive into some of my favorite tips to create the perfect gallery wall with ease.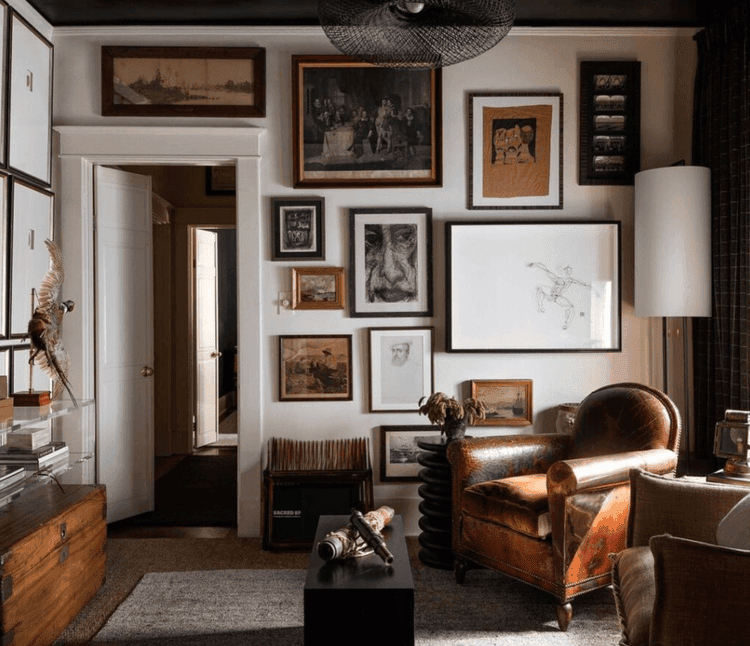 Mix Up Your Frames For a Gallery wall
If you want an eclectic gallery wall, I suggest mixing up your artwork without thinking too much. For instance, you can combine landscapes, typography with oil paintings and graphic art. Also, feel free to add your own photography, sketches, and DIY art to the mix.
This will ensure that your gallery wall has variety, which is bound to make it a spectacle for both you and guests visiting your place. However, if you'd rather have your gallery wall look more coherent, you can put the following gallery wall ideas into practice.
Choose up to 3 main Gallery Colors colors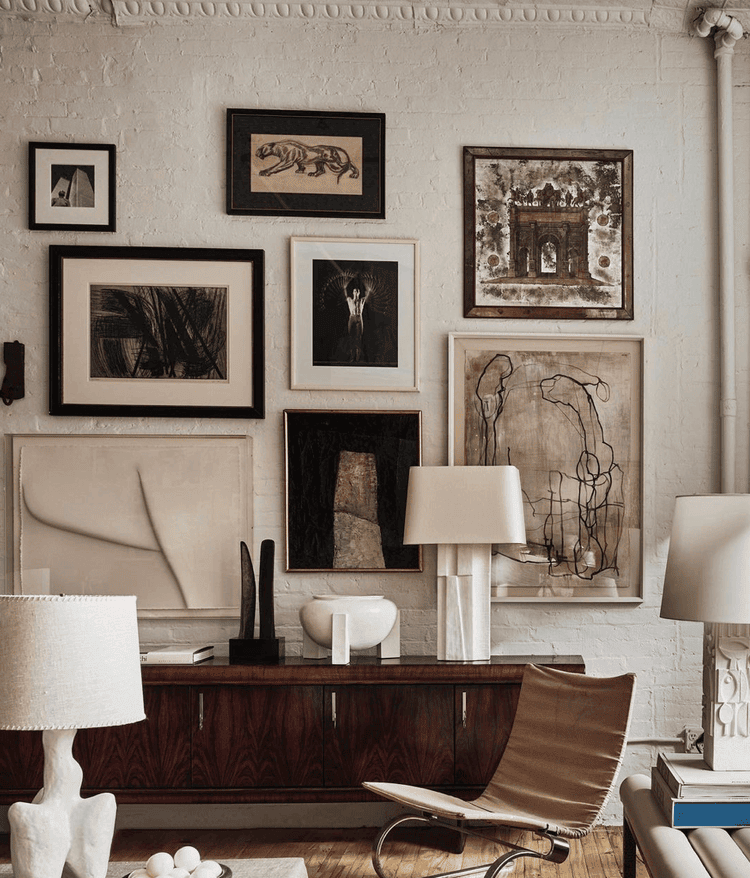 When choosing your gallery wall frames, you can try experimenting with 2 – 3 main colors. This will help your gallery wall appear coherent and consistent; you don't want to overdo it with too many colorful frames. Pick colors that complement your interiors.
Additionally, you should also keep certain secondary accent colors in mind, which will add some much-needed pop and contrast.
The key is to keep experimenting until you find the ideal color palette. Then try to keep those colors in the art you are hanging and in the frames for a gallery wall you choose.
Let Your Gallerywall Have Negative Space
A gallery wall layout with too much artwork can feel crowded and congested, and it can quite easily overwhelm the viewer's sense of sight. So, let there be some space between the different works of art. This will be of help particularly when you're going for a large gallery wall.
Quite simply, in general, the more space there is, the more comfortable it will be for the viewer's eyes. Ideally, consider hanging your frames 3″ apart like I did on my bedroom gallery wall. You can even go for 4″ spaces between frames.
However, don't make the mistake of spacing them too far apart as it can make everything look haphazard and start to feel less cohesive. It's a bit of magic. Trust me.
Know What's Not On Trend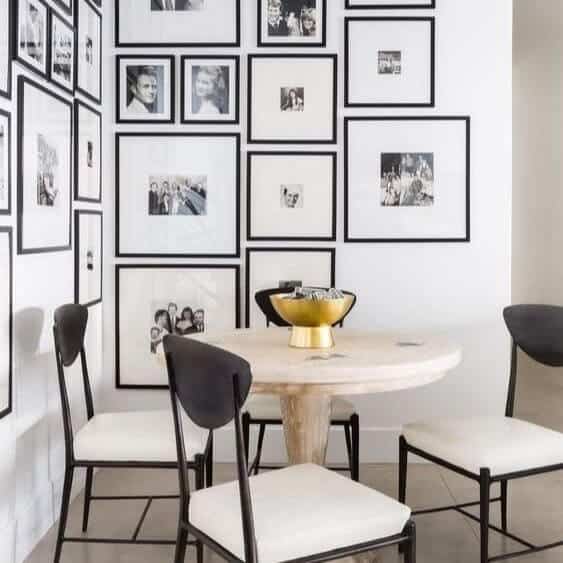 Certain gallery wall elements feel dated, and you should know what they are. After all, you don't want your gallerywall to look like it's made its way to the future from the distant past, right?
Some of the elements you'd want to steer clear of include spindles, wood signs, oversized clocks, arrows, wood letters, and empty gallery wall frames.
None of that live, laugh, love okay guys? Want a classic look that never goes out of style? Consider black and white prints with frames for a gallery wall utilizing wall large mattes and simple black frames.
Stack Gallery Wall Picture Frames in Rows + Columns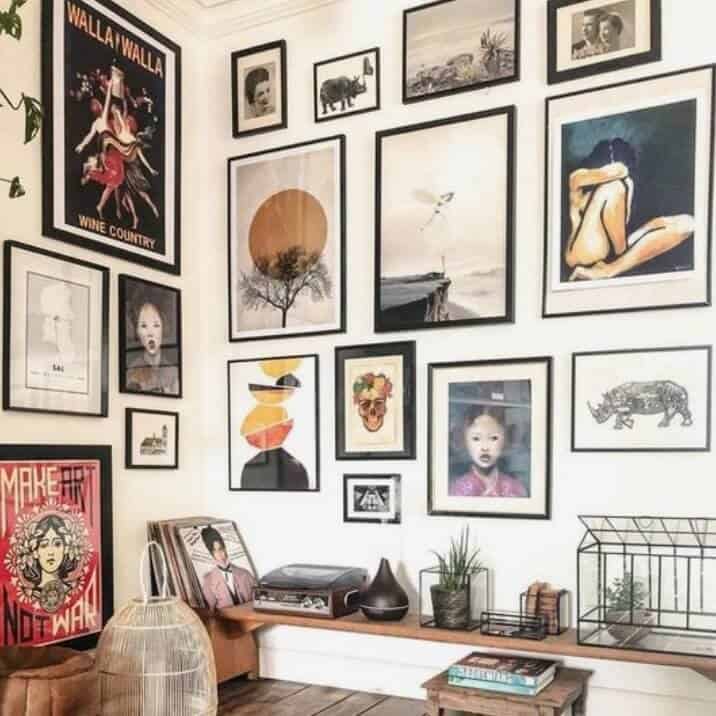 If you want your gallery wall to have a symmetrical look, it's best to stack the frames in rows and columns. For simple or acrylic gallery frames, this can work wonders.
To perfect the symmetrical look, you can try matting down this style to show white space. Mattes sized 4×4, 5×7 and 8×10 would be ideal.
For a more artistic appearance, you can try weighting the matte at the bottom of the top. If you're not very keen on having a symmetrical gallerywall, go for a stair-step pattern, which appears asymmetrical and less structured.
Another way to create symmetry is to keep the spacing between the pieces of art equal. Trust me this works too! You can't go wrong.
Hang your Picture Frame gallery Wall at 57″ from the Ground
You might think that a height of 57″ is way too low, but there's a scientific reason why the center point of your artwork should be placed 57″ from the ground. Here's why – 57″ is indicative of the average eye level of humans.
Go to any reputed museum or art gallery, and you'll find that the artwork's center point is almost always at the height of 57″. When in doubt, start your anchor piece in the center at just above eye level.
You don't have to, but I often place the largest pieces (or my favorite prints) here. Make the center piece of art your strongest and build out from there.
Make your floor the Gallerywall First
The ideas in your head may not always come out well, which is why it's important to place the artwork on the floor to see how it looks.
If you rush the process and start hanging your artwork directly on the walls, you may end up with way too many holes. Check out my gallery wall supplies to avoid this. Let your floor become the wall for some time and place your artwork according to how you've imagined it in your mind.
Spice Up Those Boring Hallways
In any home, hallways tend to be the most boring spaces, as people mainly treat them as pass-thru spaces to the main areas and rooms. Not in my home. Check out this gallery wall and wallpaper moment I created.
However, just because hallways tend to be boring doesn't mean they have to be. You can transform your hallway wall space from drab to fab by creating a gallery wall. Just make sure that the hallway has enough space to accommodate your affordable wall art and thrift finds.
If your hallways are already a bit congested, feel free to incorporate your gallery wall art into your living room, dining room, or bedroom.
Also, remember that it's completely fine to use multiple frame sizes! If there's just a few art pieces or family photos, it simply looks like mismatched frames. However, once the entire wall has been covered, it takes on the appearance of an eye-catching gallery wall!
Use Kraft P aper To Map Your Gallerywall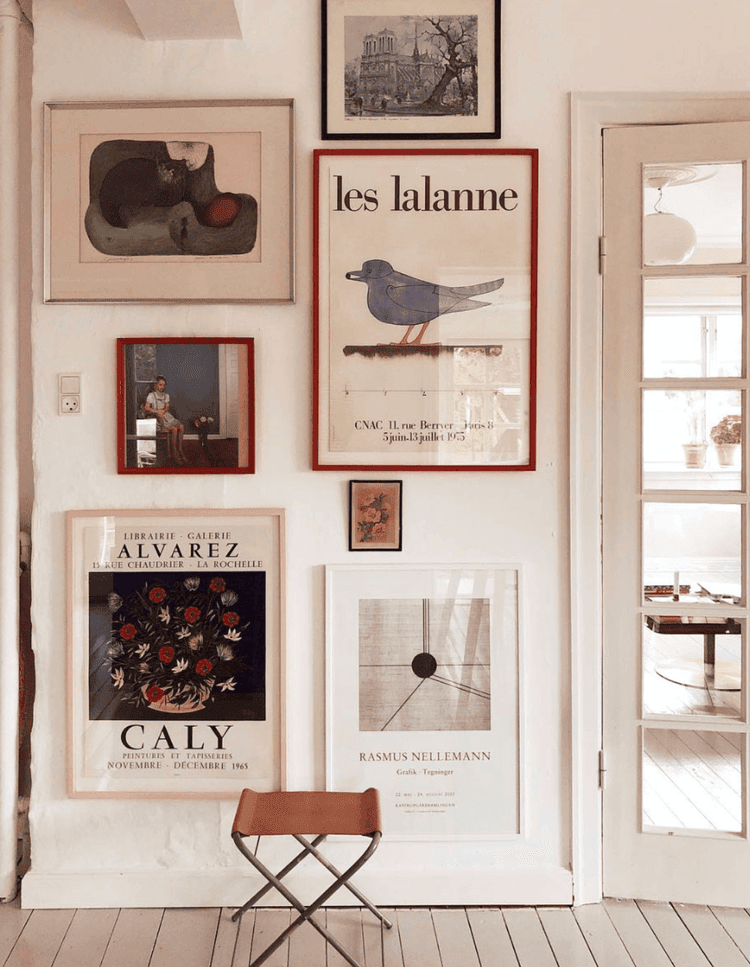 Some spaces and everyday life might make it hectic if you are trying to place your picture frame artwork on the floor before hanging it on the walls won't be the most efficient way to go about things.
Instead, you can use kraft paper and save not just time but also your walls from needless holes. Don't want holes in your walls? I use these command hooks to hang my art.
Here's how you can use kraft paper to your advantage – place the frames for the gallery wall on it individually and use a pencil to trace around the frames' edges. Once you've traced a frame, cut it out and write a description of the traced frame.
Next, hang the kraft paper templates on the wall and set the nails. As long as you set them at the right spots, you should have no issues in hanging your artwork. Just mark where the hook is too so you know where to nail in that nail or place a command hook.
CHOOSE GALLERY WALL FRAMES STRATEGICALLY
When choosing frames for a gallery wall, you've got to keep in mind the type of artwork that they'll contain. For instance, if the artwork is modern, you might want to opt for picture frames with modern styling like matte black.
In such a situation, choosing an antique-looking golden frame might lessen the impact, irrespective of how good it looks. Of course, at the end of the day, it's completely your choice as to the frames you want to buy.
However, if you want your art gallery wall to look amazing, you've got to determine how well the frames complement the art. Here are a few pro tips on how I score thrifted frames.
I look for frames that have antique brass and detailing that incorporates walnut woods. You would be surprised how awesome a frame can be at a flea market or thrift store, but the art is not ideal.
Simply swap out the art and save the frame. Can't thrift? Here are some of my favorite gallery wall frames you can get quickly.
Use a Level For Picture Frame Gallery Walls
A picture hanger and level or laser level can come in handy when placing the frames, especially if you're going for a symmetrical look. Sure, you don't need it to hang every piece of artwork, but it's vital to use it for the first few frames and then match them.
This ensures that no rows or columns are slanted or crooked. Quite simply, even if one row appears slanted or crooked, there's a high chance that the entire gallerywall will look odd.
Just be sure to focus on keeping the tops and bottoms of the level of the frame with your favorite piece of gallery wall art.
Swap Painter's Tape For a Measuring Tape
Painter's tape like this can be cut into the space you desire between the different frames. This comes in really handy when you want the frames to be spaced uniformly. Sure, you can use unwieldy rulers or measuring tapes as well, but the problem with these is that the spacing may not be uniform.
Cut a piece of tape and use it over and over. Want to visually see the art frame? Cut a few pieces to match and map it out. Painters tape is your friend.
Place Art From the Middle Out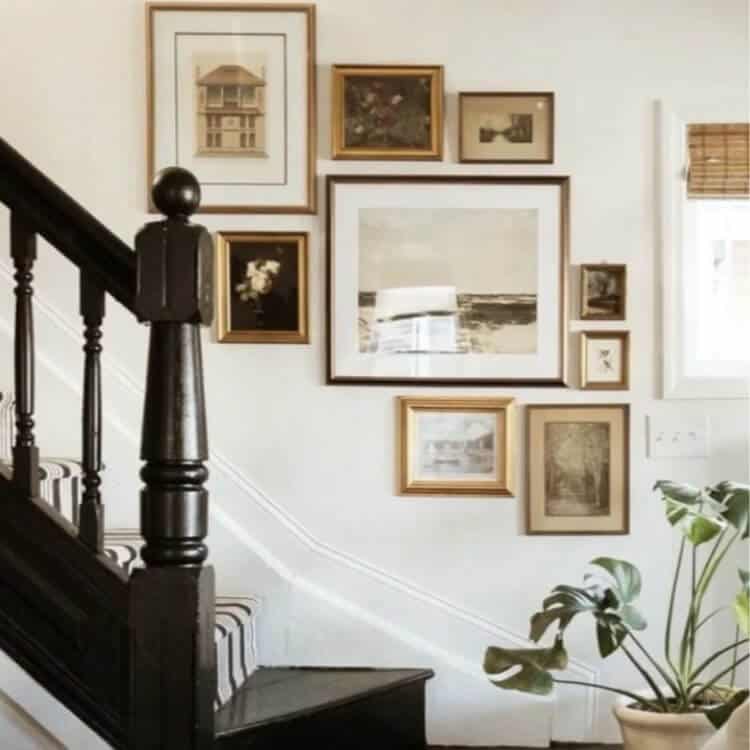 After you've placed the center point of the gallery wall, it's best to start placing the frames from the bottom to the top or from the middle out.
While you can also place them from top to bottom, you're likely to run out of space. Even still, the final layout will look best if you start from the middle anchor point. On the other hand, placing the frames from the bottom upwards will ensure that there's ample space.
This is especially important when you're making a gallerywall above a bed or a sofa. Keep both factors in mind for the best results.
Go Beyond Frames with Your Gallerywall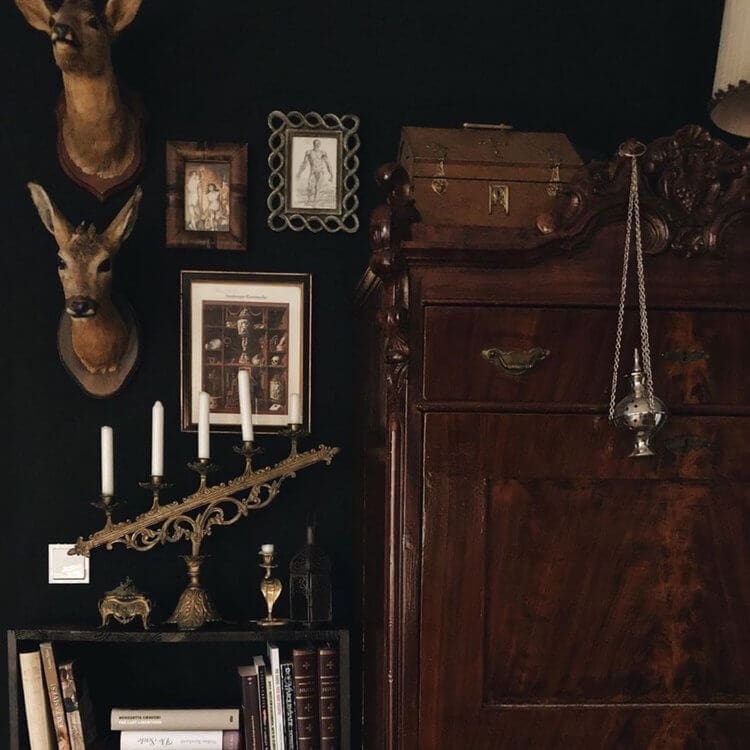 Traditionally, gallery walls have always consisted of frames containing artwork. However, we like to be trend setters around here.
You can get creative and end up with stunning results by incorporating unexpected elements such as dried flowers, taxidermy, clothing, hats, instrument clocks, mirrors, dreamcatchers, and more. I love to incorporate a piece of furniture into the space and build the art around it too.
It's a great way to make the entire vignette come to life a moment beyond the wall. Go fit it! Remember to experiment, keep things cohesive, and fold in unexpected elements that work best with your frames to level up the entire moment. Fun styling objects here.
Don't Hang Picture Frames too high
You might have the best picture frames and artwork for your gallery wall. However, if you hang them too high or too low, you'll make it difficult for yourself and others to appreciate the beauty of your art collection and worse, it will feel chaotic.
Think about it – would you like to look at something which requires you to excessively bend your neck upwards or downwards? No, right? So, make sure that all the frames are placed around the average human eye level.
Avoid Low Quality Materials with Frames
Frames for a gallery wall come in a variety of budgets, and if you're on a tight budget, you might feel like grabbing the cheapest option. But don't forget that the frames are part of what makes a good gallery wall sung.
Be cautioned – the cheapest frames in the market look average at best and can really dampen the mood. They can even be prone to damage and bending.
So, steer clear of the cheapest plastic frames with plastic where glass should be, and try to find options that provide a fine balance between quality and affordability. Here are some frames that are affordable that I stand by.
I hope these top tips have helped you figure out how to make a gallery wall. Of course, these aren't the only ideas for a gallery wall, but they sure are the most impactful ones I have found to help you to set up frames for a gallery wall that's nothing short of gorgeous.
Follow along here for more gallery wall inspiration.
Ultimately, I recommend creating a gallery wall based on your artistic tastes and preferences. Don't forget to tell a story. It will keep them' talking. Now, go to and gallery wall. Love y'all. xoxox
DON'T FORGET IT. PIN IT.
FAQ
Is a gallery wall out of style?
Although they may be fairly common, no, the gallery wall isn't going out of style. Even the experts agree: it's here to stay!
How do I create a gallery wall layout?
First, you'll need to consider potential gallery wall ideas. Do you want a neutral gallery wall? Something striking? An entire wall showcasing your black and white photo collection? Decide which art/photos you want first.
From there, start building your layout starting 57" from the ground (as mentioned above), and then implement all of my tips to create an amazing gallery wall!
What photos to put in a gallery wall?
A gallery wall is a reflection of you and your home. As such, you can use whichever photos (or art pieces) you'd like. Family photos are fine, as are artistic statement pieces. You can even create entire photo walls of your favorite photos if you'd like!
That said, you should keep a sort of theme between the pictures, both in content and in color scheme. If not, your gallery wall won't be able to reach its true visual potential!
Do gallery walls look cluttered?
They certainly can, but a properly planned-out gallery wall won't end up looking cluttered.
Should a gallery wall have all the same frames?
No, you are actually free to vary the frame style. Actually, using the same uniform wood frame for every picture can look quite boring!
I recommend matching each frame to each individual piece. While you'll obviously need larger frames for larger pieces, the question is what style of frame should you choose?
For some photos, vintage frames may look best. For others, modern frames, wooden frames, or even a white frame might look better. Approach each frame on a case-by-case basis!