Hello loves! I hope your week has been as spectacular as mine has been. I was traveling for work in Austin recently. If you have never been – you must give it a go! I love the incredible food, friendly folk, artsy vibes, and charm of every nook and cranny of the city
Of course, the antiquing is out of this world! It was a great trip and I even had a chance to finally read every single page of Memoirs of Home by Heidi Caillier on the flight.
If you haven't skimmed it yet, you must! After reading I was never more confident in how I want the cottage bar and area under the stairs to look. Check out my super sophisticated cocktail napkin sketch that I did between ginger ales.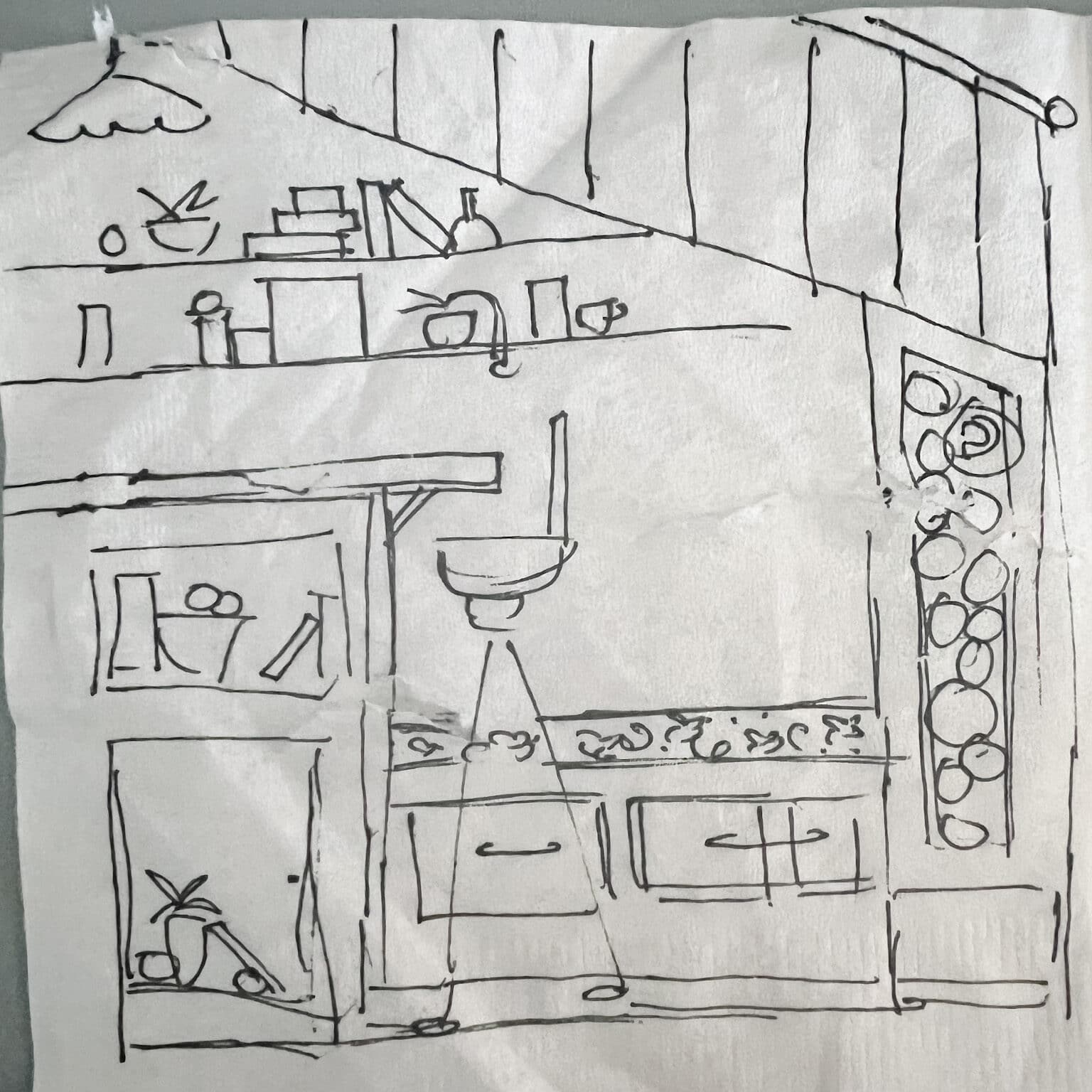 But get this, I found the cutest antique Mall while in Austin, and scored some amazing finds including – you guessed it, another antique brass item to add to my collection on my brass hanging rail. This time it was a pitcher. So I am feeling quite pleased with myself, and am confident I will have that perfect antique brass set for the cottage kitchen when it comes time to decorate.
Of course, I ate my way through the city if you want amazing. If you want a fun local dinner head to Elementary. They played 90's music all night. The food was out of this world, but the music was even better. I was singing every word all night long!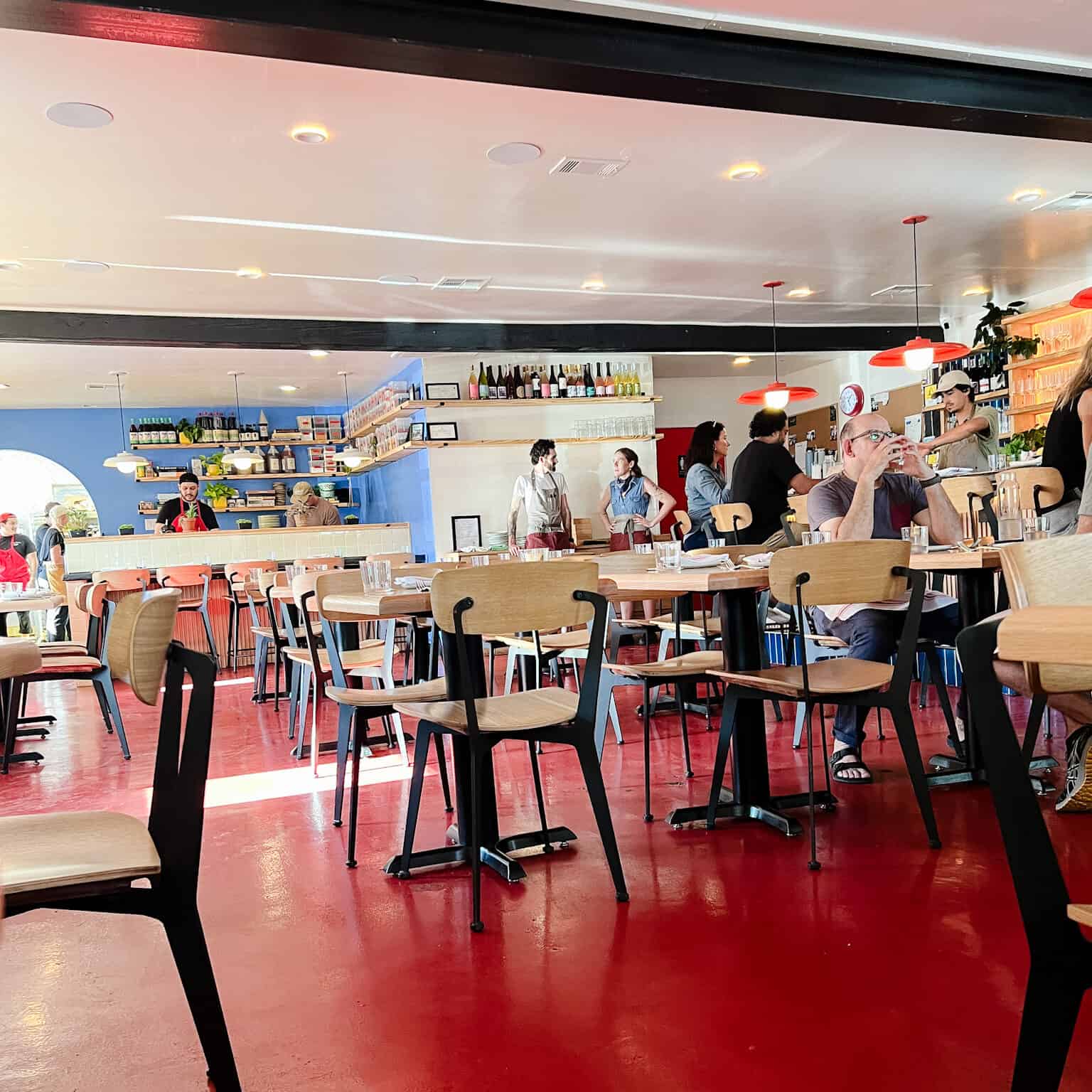 For BBQ with a Japanese twist, Kmreui was a totally stand-out experience. and be sure to head to East Austin and grab Vera Crus Tacos + Desnudo Coffee in the most charmed outdoor dining space.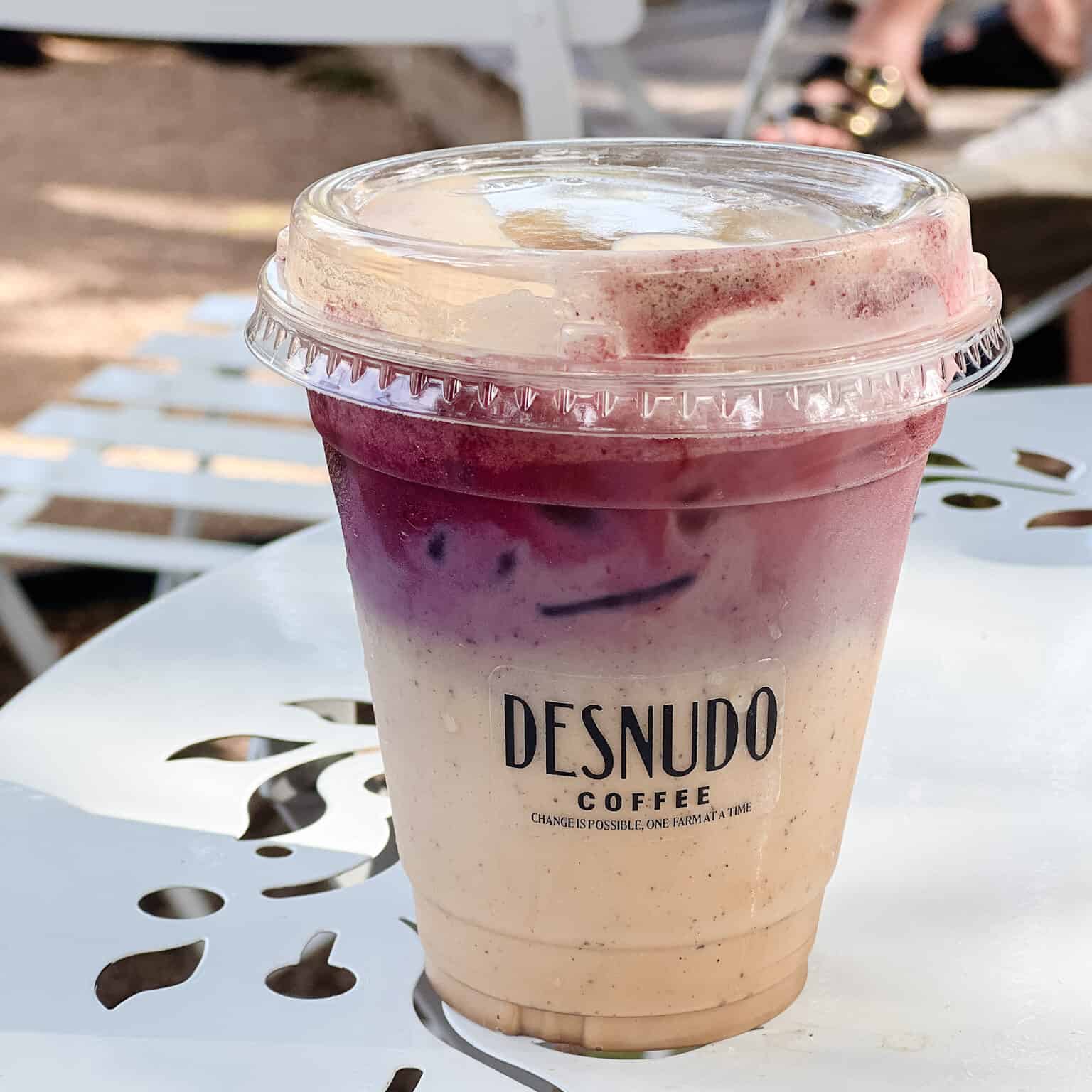 Oh! And if you are craving something sweet (like I always am) try The Salty in South Congress! I devoured their Banna cream doughnut with so much joy! These are all must-try y'all.
But now that I'm back in San Francisco with my cold foam iced coffee in hand, I've started, a bit late, decorating for the spooky season with these super affordable fall decor ideas.
We are at the cabin as you read this! I am throwing up paint and wallpaper to see how things read, taking final measurements for elevations to begin drafting renders, and finally fixing that well once and for all! Of course, I am getting so excited about finalizing some major details. We have our permit for electrical upgrades with the season – it's the little victories guys! It will be amazing when I can start sharing more of our renovations & start the decor process. Stay tuned!
Okay, now let's talk about interior design! Last week, I shared stunning Baroque Banquette that I'm still obsessing over. This week, I found a beautiful office interior design from SB Long Interiors. Just look at this room! It's pretty, it's functional, and it has the the perfect blend of modern & traditional styles. It's the perfect home office space to bring in vintage home accents and get into a productive mindset. Alright, let's jump into the mood board!
First up, we have this plaid linen window shade! The pattern and the soft gray coloring set the vibe for the traditional office interior design. It's the perfect home accent
Next, we have this black & white art print of the Union Station in DC. It's all about the mesmerizing play of light and shadow in a stunning hall – it doesn't just look amazing, but it also creates that perfect chill yet focused vibe in your workspace. You can also add it to a gallery wall and it would be beautiful!
Okay, this faux hydrangea arrangement is the perfect office desk decor. They come in this modern glass vase that you can mix and match other florals and branches in. Trust me – these flowers will create such a calming vibe for your work time!
Next up, we have this contemporary table lamp. Every desk needs a lamp– right?! This one is perched on a stylish gold leaf base and has an elegant curve to it. The color shade just compliments the room vibe perfectly!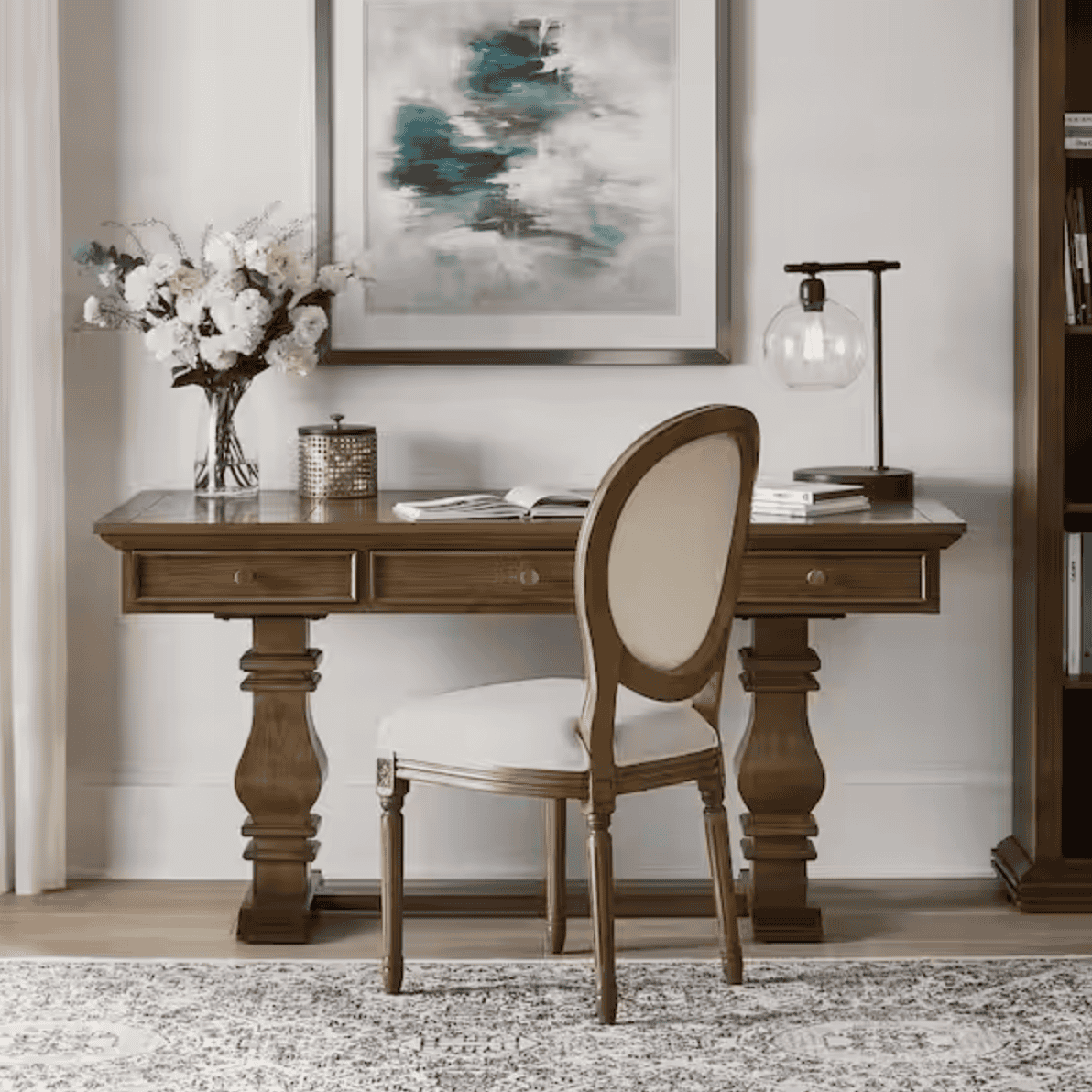 Okay, this pedestal wood desk is just STUNNING! Not only is it the perfect desk height, but it has a great antique feel to it that really matches the traditional office interior design style.
Check out this upholstered desk chair to go with your office desk! Its legs are perfectly finished in wood to match your desk's rustic charm, and it brings that modern flair to your workspace that's sure to turn heads. A touch of comfort and style – the perfect combo for your office sanctuary.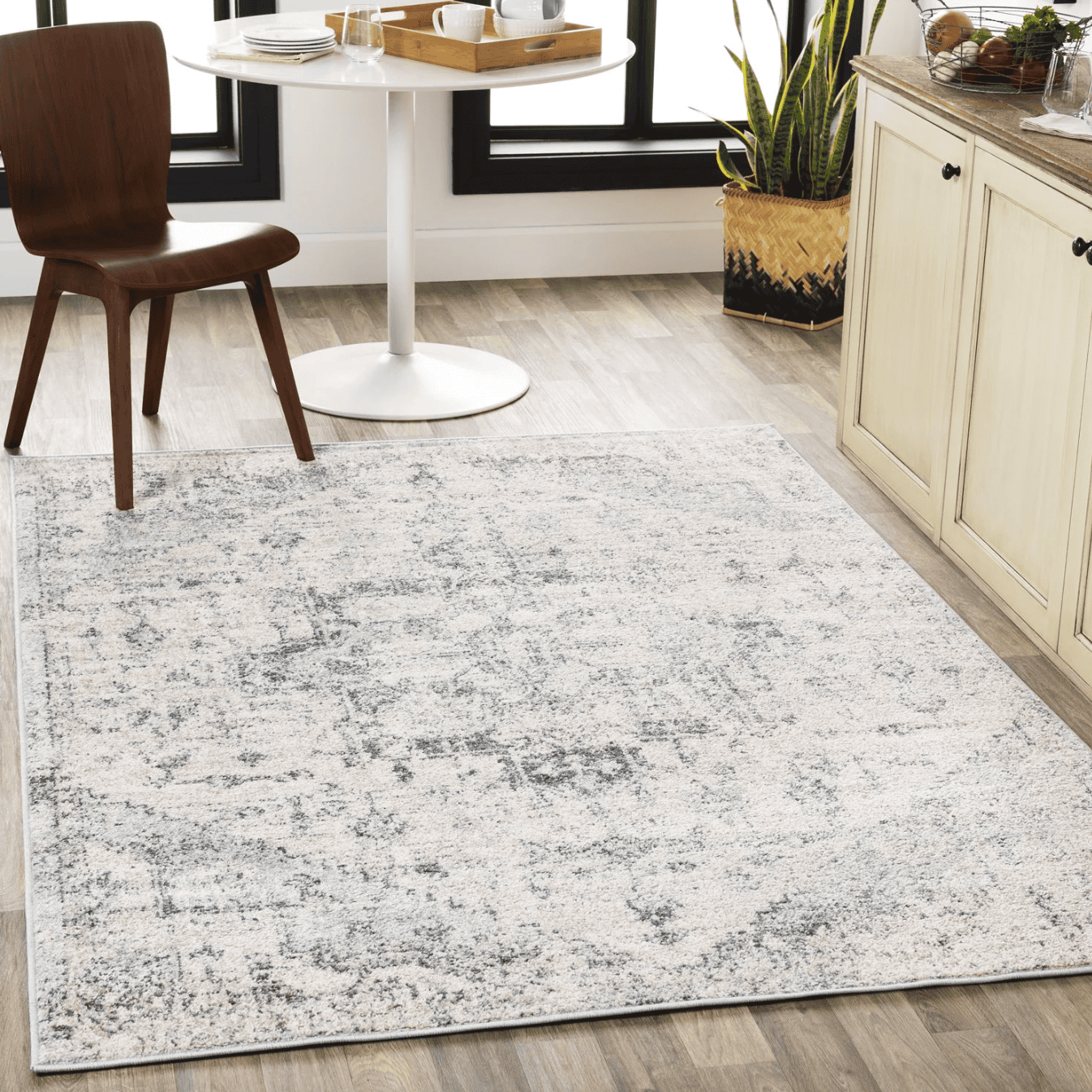 This pale blue area rug is the perfect piece to tie together different accents of the room. It was inspired by traditional designs and infuses a sense of sophistication to the office interior design. Check out why you should have a rug refresh here!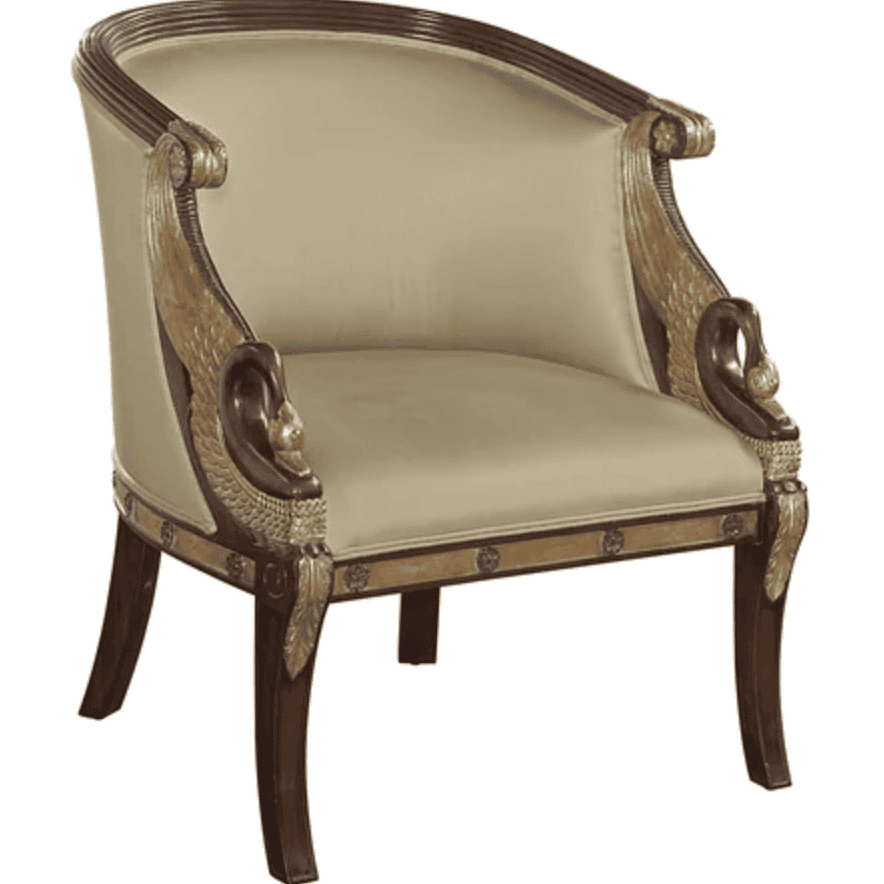 Next, we have this mahogany empire armchair! This chair is a touch of vintage grandeur and perfectly complements the traditional decor of the space. This chair isn't just a piece of furniture; it's a statement of elegance and luxury. Check out more accent chairs here!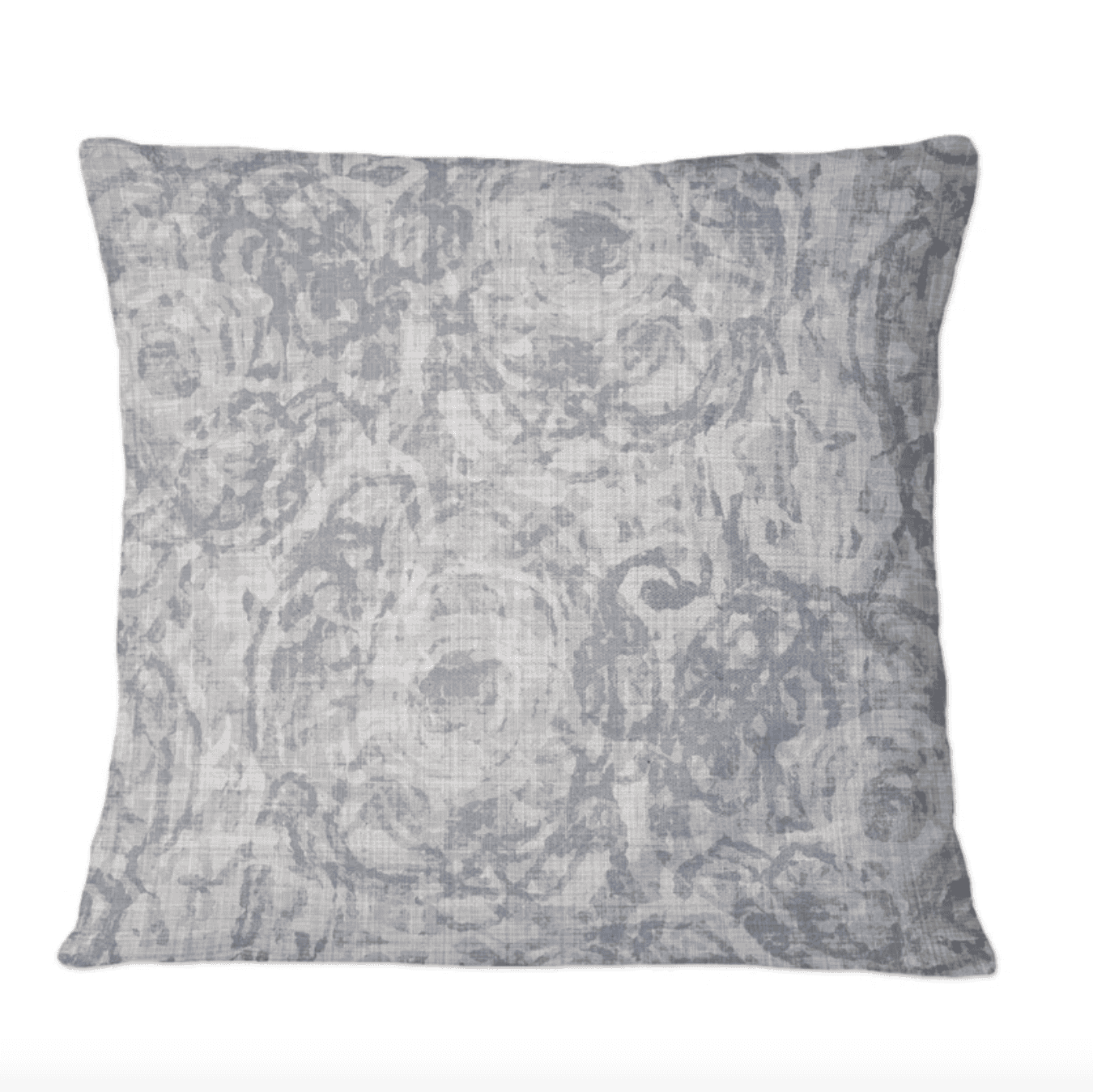 Check out this floral throw pillow! It's the perfect way to infuse a burst of color and fresh energy into your office interior design. Plus, that pale blue hue matches the accents in the space and adds a finishing touch of coordinated style.
Last up, we have these stunning decorative vintage books to add to your desk or bookshelves! These effortlessly infuse a timeless, vintage charm to the space and instantly add a touch of sophistication and character. Find more decorative book stacks here!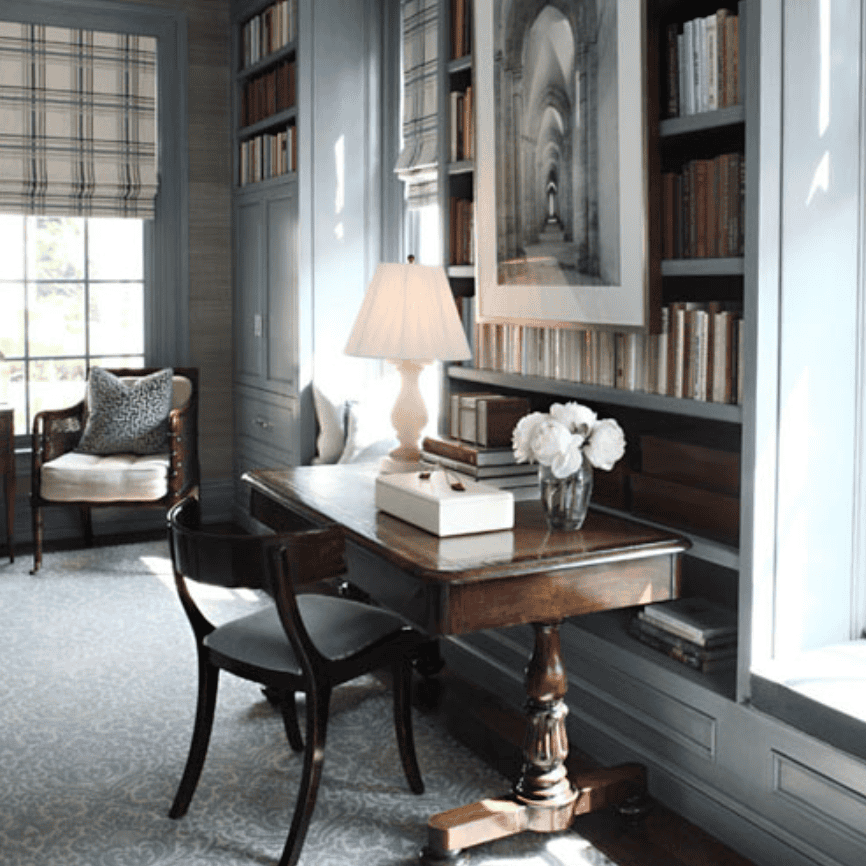 Are you obsessed with this home office? Just think how productive you could be sitting at that desk! Thank you to Pinterest for once again inspiring my future home designs. Check out more mood boards on my blog here. Hope you all have a beautiful rest of your week! xoxo